GMCLA releases dance mix of 'Gay Spirit Song' celebrating Laura Dern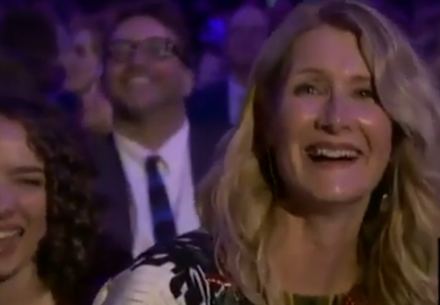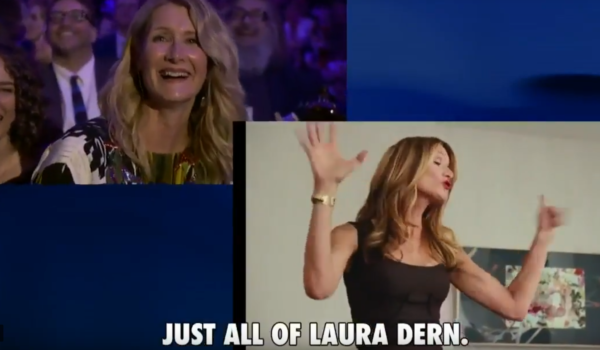 The Gay Men's Chorus of Los Angeles might have a brand new dance track heading into the clubs, thanks to a one-off appearance at the Film Independent Spirit Awards that turned into a viral steamroller.
The iconic LGBTQ singing group showed up at the February 8 Spirit presentation to perform "Gay Spirit Song," penned by lyricist Jordan Firstman and Greg O'Connor as a tribute to the year's "gayest movies that you didn't know were gay." Accompanied by a hilarious video presentation that singled out "all things gay" in the movies of 2019, the song pointed up the gayness of such cinematic moments as "Idina Menzel in 'Uncut Gems,' J. Lo pole-dancing to Fiona Apple," and "FKA Twigs talking about snakes" while paying special homage to actress and LGBTQ ally Laura Dern's performance in "Marriage Story." Dern, in the audience, was moved to laughter, and later posted on Twitter, "Did this…really happen? Thank you @GMCLA @filmindependent and @JTfirstman for making me realize how much I need a choir to go everywhere with me!"
A video of the performance went viral after being shared by the likes of the Hollywood Reporter, IFC, James Corden, and Dern herself, receiving over 7 million views online. Prompted by its success, GMCLA's new Music Director and Conductor Ernest H. Harrison took thirty GMCLA members back into the studio to work with the song's original composer O'Connor, lyricist and producer Firstman, and GMCLA member Quinn Coleman and the Perry Twins – known for some of the best dance tracks in clubs today – to create a brand new dance mix. The resulting track is a fundraiser for the organization, which has grown into a world-class performance and advocacy group since being founded in 1979 during the emergence of the gay rights movement.
GMCLA Executive Director and Producer Lou Spisto commented, "This entire experience has been amazing. The response to the original video was both unexpected and unprecedented and now Greg, Quinn, and the Perry Twins have generously created this dance version to benefit GMCLA. At the heart of our success is always the members of the Chorus, who donated their time to perform at the Awards show and again on this track. We are grateful to all of the guys, and especially Dave Pannell, who brilliantly sang the part performed by the wonderful Alex Newell in the live show. Without the GMCLA members none of this is possible. I invite any of our 7 million new fans to our next concerts at Alex Theater in Glendale, where Ernest H. Harrison, our new Music Director, will take the main season podium and we will celebrate all things California."
That show, "The California Sound," will perform April 4 and 5 at the Alex Theatre in Glendale, California, and features GMCLA's 250 singers, dancers, and musicians in a celebration of California songs and songwriters, from classical to pop, spanning the decades. The program includes legendary songs from The Beach Boys, The Mamas and The Papas, The Byrds, The Turtles, Sonny & Cher and some of today's artists including Billie Eilish. Also on the program is the male chorus world-premiere of "There Will Be Rest" and "Earth Song" by nationally-esteemed Los Angeles composer and USC professor Frank Ticheli, and the acclaimed work "I'll Be On My Way" by Shawn Kirchner of Los Angeles Master Chorale.
No word yet on whether GMCLA plans to launch a new campaign to dominate the dance charts, but in the meantime, you can help them raise funds for their various outreach programs, like the Alive Music Project and the Arts for Incarcerated Youth Network, by streaming the new dance mix here.
You can also watch the video of the original Spirit Awards performance below.
Deaf, gay poet explores loss of a twin in new book
'Once Upon a Twin' ponders how life would differ if sibling had survived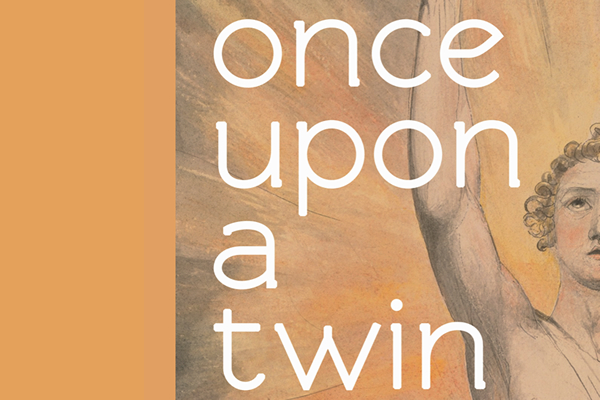 "Asshole/battybat/big baby/blundering boob/…deaf & dumb/dick/dumbdumb/fag," Deaf, gay poet and playwright Raymond Luczak writes in his poem "the easiest words to lipread in a schoolyard (even if you're not deaf).
The poem appears in Luczak's new book "Once Upon a Twin," released this year by Gallaudet University Press.
Luczak, 55, who lives in Minneapolis, graduated from Gallaudet University in Washington, D.C. with a bachelor's degree in English in 1988. He has written and edited more than 20 books, including "QDA: A Queer Disability Anthology," the award-winning Deaf, gay novel "Men with Their Hands," "The Kiss of Walt Whitman Still on My Lips" and the drama "Snooty: a Comedy."
Growing up wasn't easy for Luczak. He grew up in Ironwood, a small mining town in Michigan's Upper Peninsula.
At eight months old, he lost his hearing due to double pneumonia and a high fever. This wasn't detected until he was two-and-and-a-half years old. He was one of nine siblings in a hearing family.
At that time, many Deaf people weren't permitted to communicate with their language – American Sign Language. Forbidden to sign, he was outfitted with a rechargeable hearing aid. There was no program for deaf children in Ironwood. For nine years, he stayed with foster families during the week in Houghton, a town two hours away. In Houghton he was in a speech therapy program.
Life opened up for Luczak when he enrolled at Gallaudet where he could communicate with American Sign Language.
In interviews conducted by email, Luczak talked with the Blade about a wide range of topics from coming out to what inspired him to write "Once Upon a Twin" to why Whitman would take selfies today.
Growing up as the only Deaf person in a hearing family was frustrating and infuriating for Luczak. "A classic situation: I'm sitting at the big kitchen table with all 11 of us, and everyone is talking at once," Luczak said, "Where do I focus for lipreading? Why is my sister laughing? What was so funny?"
Luczak wants you to imagine what going through this for every meal would be like. It's one thing if you endure this with strangers who know nothing about deafness, he said. But, it's quite another thing if you're with a family who should know better about your deafness.
"It's as if they wanted to believe that my lipreading skills are so superior I didn't need further assistance. Not true," Luczak said. "I don't have the ability to geolocate a sound so this explains why I cannot catch who is speaking and turn my attention in order to lipread that person."
Language is a powerful bond for a community. In Milan, Italy in 1880, there was a conference on the education of the Deaf, Luczak said. There it was decreed that the use of sign language would be banned as a teaching method.
Up until then, "the Deaf community had a real Golden Age in which they came together through the establishment of Deaf residential schools, Deaf clubs and whatnot," Luczak said.
It was devastating to the Deaf community when Alexander Graham Bell and his ilk made every effort they could to eradicate sign language, Luczak said. Luczak likens the attempt to eradicate sign language to the attempts made throughout history to force LGBTQ people to change their sexual orientation.
Luczak always knew that he was interested in men. Though, it didn't have a name or specific feeling, and it had nothing to do with sex. He gradually came out, slowly, when he was in his teens.
Luczak came to Gallaudet University in the summer of 1984 and came out publicly a month later.
"What gave me the strength to come out were the first batch of books I'd bought from Lambda Rising [the LGBTQ bookstore that closed in 2010]," Luczak said. "That place was really my second home away from Gallaudet…And the fact that I was allowed to use ASL really gave me the self-confidence I had sorely needed all my life."
Luczak in poetry, non-fiction, and plays has written in various styles from formal poetry to free verse about many topics from love to Thomas Edison to Walt Whitman to being queer. If Walt Whitman had a love child with a photographer's eye, it would be Luczak.
In "Once Upon a Twin," Luczak imagines what his life would have been like if he had a twin. Growing up, he knew that his mother had had three miscarriages, but he never asked her about them. When he was 16 "she mentioned that her third miscarriage happened in the same year I was born," Luczak said, "and that it happened while she was sitting on the toilet. The fetus had apparently popped out."
"I couldn't get that image out of my head," Luczak added.
Over the years, his mother told Luczak conflicting stories about the miscarriage. About 10 years ago, he looked into whether it was possible for a twin to miscarry and to have the other twin undetected in the womb. "It turns out that the ultrasound technology during the 1960s wasn't advanced enough so the possibility was quite real," Luczak said.
Luczak had long wondered how different his life would have been if his twin had survived. In 2018, he wrote a collection of formal verse. After that, he was eager to write in a different style. "Once I realized how I should write my next book (no formal poetry, almost no punctuation, etc.), it hit me that I really should explore the idea of my lost twin," Luczak said.
"Would I feel as left out at family gatherings if my twin helped include me?" he said, "…Would my twin speak up for me?…I hadn't dared to examine the possible changes in our family's dynamics, and how it would've affected my self-confidence."
Luczak was surprised by how easily the book wrote itself. It had been waiting a long time to be written.
Like queer poet Walt Whitman, Luczak's creativity contains multitudes. In 2016, Luczak's volume of poetry "The Kiss of Walt Whitman Still on My Lips" was released by Squares & Rebels. Because Whitman wasn't taught to him when he was in high school or college, Luczak had few preconceptions about Whitman. Other than, he said, that Whitman was a poet with a boyfriend who was a streetcar conductor. But when he read the opening of the "Song of my Self," Luczak said "Whoa!"
"The poet had conjured a palpable vision of what America could be," he said, "if Walt were alive today, he'd be sharing selfies and Tweeting away."
"He loved having his picture taken; he had 127 photographs taken when Abraham Lincoln scored 128 photographs," Luczak said, "in fact, Whitman was probably America's first celebrity nude model!"
How does Luczak feel about being a Deaf, gay writer? It's complicated. On one level, he doesn't think of himself as a Deaf, gay writer at all. "I do mention this fact but that's only because I need to stand out a bit more in a country that brings out thousands and thousands of new books each year. It's a marketing angle," Luczak said.
He hopes readers will recognize that he's much more than just a Deaf, gay writer and accept his work as beyond those labels.
Yet, "I still feel proud of being a Deaf gay man," Luczak said. "It's enriched my life in ways that I don't think anyone would've anticipated. It's certainly led me to meet people I wouldn't have met otherwise. For that I'm grateful."
PHOTOS: Dupont Circle fountain turns 100
Iconic landmark site of protests, vigils and meetings for decades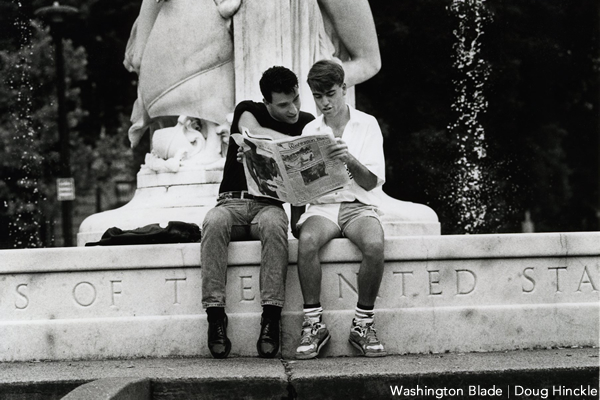 The 100th anniversary celebration of the dedication of the iconic Dupont Circle fountain is to be held from noon until sundown today. The fountain has long been considered a center for the LGBTQ community in Washington, D.C. The park in the circle has been the site of many protests, vigils and a place to meet people. Here are some photos from the Washington Blade archive documenting Dupont Circle through the years.
'Hamlet/Horatio' queers the Bard
A contemporary take on classic play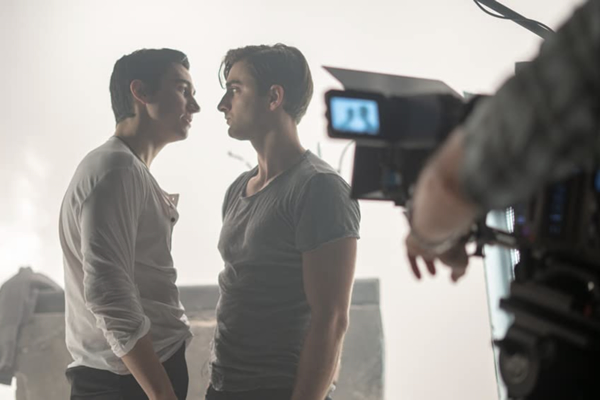 While it's not exactly a pressing topic in most people's lives, the subject of Shakespeare's sexuality has been hotly debated by literary scholars, theater artists, and historians for centuries. After all, not only are his plays filled with gender-swapping characters and sexual confusion, he also wrote a series of sonnets, widely considered the most romantic poems ever composed in English, and dedicated them to a mysterious young nobleman. Even in the Renaissance, when the "cult of male friendship" was a real thing and male artists could create breathtakingly erotic depictions of young men to be displayed in a church, such a bold gesture of affection from one man to another must have raised at least a few eyebrows.
It's a controversy that isn't likely to go away, considering the fact that anyone who might give us first-hand knowledge on the subject has been dead for about 400 years. And while some contemporary artists, across various media, have been willing to explore the playwright's work through the lens of his possible queerness, most cinematic interpretations – with a few notable exceptions, like Derek Jarman's "The Tempest" – have kept things decidedly hetero-centric.
Paul Warner, director of the soon-to-be-released "Hamlet/Horatio," which riffs on a central but often overlooked relationship in Shakespeare's most famous tragedy, can't imagine why. A graduate of both Harvard and the American Film Institute, Warner is currently a senior instructor of acting, directing, and producing at The New York Film Academy. He's also a Shakespeare veteran, having been involved in many stage renditions of the Bard's work (including a rock musical version of "Twelfth Night") throughout his career – and as he tells the Blade, it's obvious to him that the revered wordsmith was either gay or bisexual.
"There's a tremendous amount of exploration of gender fluidity in his work," he says. "There's never a label on it, but it permeates Shakespeare. There are a lot of characters who fall in love with the soul of the person, rather than the gender."
While these themes may run through comedies like "Twelfth Night" or "As You Like It," they are considerably less obvious in Shakespeare's tragedies – but that doesn't mean they aren't there, and Warner's new film hinges on using them to illuminate one of the most iconic male friendships in literature.
For those unfamiliar, Shakespeare's "Hamlet" is the tale of a Danish prince, who is visited by the ghost of his recently murdered father and told to seek revenge against the murderer – none other than Hamlet's uncle Claudius, who has not only murdered the former king but taken both his throne and his queen, Gertrude, who is also Hamlet's mother. Seeking confirmation of the crime, Hamlet engages in a game of cat-and-mouse with his uncle, in which both Hamlet's presumed future bride Ophelia and her brother Laertes become unwitting pawns. It goes without saying that things don't turn out well – but through it all, one steadfast and trusted figure stands at Hamlet's side: his confidant and companion, Horatio.
"Hamlet/Horatio," which Warner directed from a script by playwright (and frequent stage collaborator) David Vando, reimagines the original play through an unusual conceit. In his dying moments, Hamlet (Andrew Burdette) sees his life flashing before his eyes, unfolding through a film that Horatio (Themo Melikidze) directs to tell his story. By shuffling dialogue, resetting scenes, and leaning deeply into subtext, Warner reframes Hamlet's experience into a story of spiritual and humanistic transcendence – and reveals a deeply intimate, loving bond between these two young men that has perhaps been "hiding in plain sight" all along.
Despite his interest in exploring the relationship between Hamlet and Horatio, Warner insists that he didn't set out to make a "gay Shakespeare movie." Indeed, he is adamant even now that the intention behind Vondo's script (which he helped to adapt into a screenplay) was to "move past" that conception.
"Part of it was trying not to make things 'gay' or 'straight,' or 'this' or 'that' anymore, but really it's about two people who are flip sides of each other," he explains. "They are spiritually two sides of the same coin. And they're in a relationship – it's clear that there is a repressed love there. And there's definitely an exploration of their homosexuality, but also of the fluidity of their sexuality.
"This is why the characters don't wear their 'identities' on their sleeves. We wanted to show something more closely resembling a non-binary, gender-fluid vision of love and sexuality that is part of a bigger story about human truth."
To that end, he envisioned a version of "Hamlet" in which the Denmark's Elsinore castle bears a striking resemblance to the Trump White House. The usurping king is a despot posing as a benefactor, exerting an authoritarian rule and setting the people close to him against each other to prove their loyalty, while his queen turns a blind eye to his increasingly obvious misdeeds.
"Maybe I'm one-sided, but I tried to depict the 'ickyness' of that Melania-Donald dynamic between Claudius and Gertrude," he says, not without a hint of relish. "I've made her trapped, like Melania, and she's constantly drinking – she's an immigrant, and she doesn't speak up because she's controlled by his finances."
In this light, as Warner puts it, Hamlet becomes a hero of resistance, who rises to "slay" fascism, while Horatio is the filmmaker who documents it.
"It's ultimately about Hamlet's spiritual journey to fullness. It's about him letting go of rage and embracing the light."
Yet, when all is said and done, it's the love between these two men that shines above all else.
"Hamlet eventually sacrifices his life to root out the corruption and to save those who are still alive – which is basically Horatio, his boyfriend, because everybody else is dead."
"Hamlet/Horatio" has already played in front of audiences at a number of festivals, and has taken honors at several of them – including a Best Feature Film Jury Award at last year's inaugural FFTG (Film Festivals to Go) Fest. The enthusiastic response has given Warner reason to hope that, despite his "queering of Shakespeare," his film will find a "wider audience" when it debuts on digital platforms in June.
Of course, Warner fully expects to be raked across the coals for some of the liberties he has taken, such as the choice to cast transgender Native American actor Ty Defoe as the Player King and the inclusion of a scene where Hamlet and Horatio take a steam bath together – "which is not anywhere in 'Hamlet,' of course," he says with a laugh.
Still, for him, his approach to the material rings true to the source.
"There's a timelessness in the way Shakespeare deals with the danger of rage, and how that threatens spirituality. In his plays, you always have the autocrats, who want to control others, and then you have the purer people, usually younger characters, like Hamlet, who propose love, who pursue a humanitarian vision against them. That's Shakespeare, who was, of course, writing under a monarchy.
"And after four years of authoritarian rule under Trump, I think he was way ahead of his time."