Golden Globes winners include surprises, diversity, and LGBTQ wins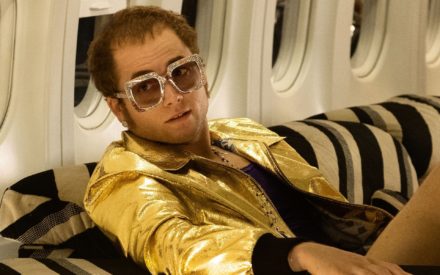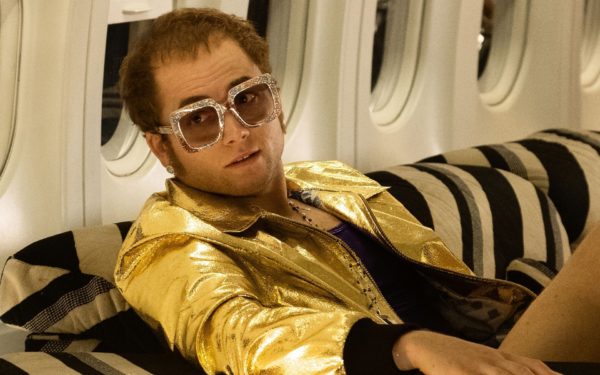 The Hollywood Foreign Press Association's 77th annual Golden Globe Awards are now a matter of history, and in an evening of surprises and upsets, several of the most noteworthy moments reflected the growing significance of LGBTQ voices in the content created by the film and television industry.
Going into the presentation Sunday night, the slate of nominations included nods for several LGBTQ-inclusive films, actors and characters.
In performance categories, several openly LGBTQ performers were nominated, including out actors Billy Porter and Ben Platt for Best Performance by an Actor in a Television Series in the Drama and Comedy categories, respectively. Porter lost to actor Brian Cox, for HBO's "Succession," while Platt's category was won by Muslim-American writer and actor Ramy Youssef, for Hulu's "Ramy."
Out Irish actor Andrew Scott had received a nod as Best Supporting Actor in a Television Series (Comedy) for his role as "Hot Priest" in "Fleabag," an award which went to Russell Crowe for his performance as Roger Ailes in Showtime's "The Loudest Voice."
For Best Performance by an Actress in a Motion Picture (Musical or Comedy), out actress Beanie Feldstein was nominated for her portrayal of a high school overachiever in the hilarious sleeper hit, "Booksmart," but the award went instead to rapper-turned-actress Awkwafina, who made history by becoming the first Asian-American performer to win a Golden Globe in any lead actress film category; she took the prize for "The Farewell," a film created by Asian-American female filmmaker Lulu Wang.
The performance nominations also included LGBTQ allies playing queer characters:
Taran Egerton, nominated for Best Performance by an Actor in a Motion Picture (Musical or Comedy), scored with a win for playing Elton John in "Rocketman." Antonio Banderas had received a nod as Best Performance by an Actor in a Motion Picture (Drama) for his role in Pedro Almodóvar's "Pain and Glory," but the award was taken home by Joaquin Phoenix for his electrifying turn as the title character in "The Joker."
In actress categories, Margot Robbie had been nominated for Best Performance by an Actress in a Supporting Role in any Motion Picture for "Bombshell," and Jodie Comer for Best Performance by an Actress In A Television Series (Drama) in "Killing Eve." Those categories were won by Laura Dern (for "Marriage Story") and Olivia Colman (for "The Crown"), respectively.
In one of the evening's surprises, the award for Best Performance by an Actress in a Motion Picture (Drama) went to Renée Zellweger for her performance as Judy Garland in the biopic, "Judy." Though Zellweger is straight (as was Garland) the film is notable for its dramatization of an episode in the life of an undisputed LGBTQ icon.
Several films and television shows with queer-themed content were also nominated going into the evening.
Netflix's "The Politician" had picked up a nod as Best Comedy Series, but the award ended up being given to the Amazon juggernaut, "Fleabag" – a series which also includes LGBTQ content, and which also picked up the award for Best Actress In A Television Series (Comedy) for its creator and star, Phoebe Waller-Bridge.
"Killing Eve" was also nominated for Best Television Series (Drama). That award went to "Succession."
In film categories, "Rocketman" received a nod as Best Motion Picture (Comedy or Musical), but lost to Quentin Tarantino's "Once Upon a Time… In Hollywood," which also picked up a Best Supporting Actor win for Brad Pitt. The Best Foreign Language Film nominations had included two queer films, the period lesbian romance "Portrait of a Lady on Fire" and Almodóvar's "Pain and Glory." That award went to South Korean filmmaker Bong Joon Ho's widely-acclaimed thriller, "Parasite."
"Rocketman," the musical fantasy biopic of singer Elton John, nevertheless managed to pull off one of the evening's biggest LGBTQ-friendly moments, when it snagged a win for John himself in the category of Best Original Song (Motion Picture) for "I'm Gonna Love Me Again," who claimed the prize alongside longtime collaborator Bernie Taupin.
"It's the first time I won an award with him. Ever," said the LGBTQ legend while accepting the award. "We never won a Grammy, we never did anything together except for this and I'm so happy, thank you very much."
Taupin, whose early friendship with John is documented in the film, added, "This isn't just a song we wrote for a movie; This is a song we wrote for a movie that deals with our relationship."
The ceremony's queerest moment was also arguably the most emotionally potent moment of the entire evening; in presenting the Carol Burnett Award to Ellen DeGeneres for her contributions to television, out actress and comedian Kate McKinnon paid tribute to the queer icon by giving her a personal thank you.
"If I hadn't seen her on TV, I would have thought, 'I could never be on TV. They don't let LGBT people on TV,'" the "Saturday Night Live" star said. "And more than that, I would have gone on thinking that I was an alien, and that I maybe didn't even have a right to be here. So, thank you, Ellen, for giving me a shot. A shot at a good life."
For a complete list of the evening's nominees and winners, click here.
Sharon Gless on new memoir and connection to LGBTQ community
Beloved TV icon's book was seven years in the making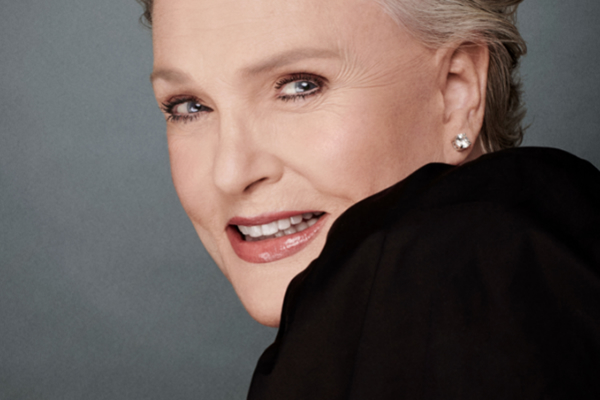 Have you ever read a memoir that is so intimate, so revealing, so honest, that as you were turning the pages it felt like the writer was sitting next to you, speaking directly to you?
Kudos to multiple Emmy Award-winning actress Sharon Gless for making that a part of the experience of reading her new memoir "Apparently There Were Complaints" (Simon & Schuster, 2021). The Los Angeles native with Hollywood in her veins (her maternal grandfather was a hotshot entertainment lawyer), Gless rose to prominence via her portrayal of New York police detective Christine Cagney in the popular and groundbreaking 1980s TV series "Cagney & Lacey"(alongside Tyne Daly). As if she hadn't already established an LGBTQ following through that show, she went on to play Debbie Novotny, the smart and sassy mother of Michael on Showtime's equally groundbreaking "Queer As Folk"in the early 2000s. Gless sat down for an interview in advance of the publication of her book.
BLADE: Your new memoir, "Apparently There Were Complaints" opens on a serious note with your 2015 pancreatitis diagnosis. So, I'd like to begin by saying that, from one Gemini to another, I hope you are in good health.
SHARON GLESS: Thank you, honey, I'm in very good health. Thank you, my fellow Gemini.
BLADE: Why was now the time to write your memoir?
GLESS: Well, it's taken seven years. It's not like it was yesterday. I never actually intended to write a memoir, Gregg. I was called in to a meeting by CBS for what I thought was a conversation to offer me a new series. We talked for an hour and, apparently, I was so entertaining that at the end of the hour meeting, the president of CBS said, "You know we own Simon & Schuster." I said, "I didn't know that." She said, "We do, and I think you've got a book in you." I said, "I don't usually write." She said, "That doesn't matter. You're a storyteller, Sharon." So I walked out with a book deal [laughs] with Simon & Schuster and not the series I was hoping for. Actually, I didn't meet (with) Simon & Schuster for another year. I sort of let it go. The next day there was a text from the president of Simon & Schuster. I sort of ignored it because I didn't want to do that. I wanted to act! A year went by, and I wasn't so busy, and I was in New York, and I said, "What the hell!" I went to meet him. I read one chapter to him, one chapter that I had written in case he asked for anything. He signed me that day [laughs].
BLADE: Were you a journal or diary keeper or did you rely on your memory for the details?
GLESS: Never. No. My very best friend Dawn (LaFreeda), who's been my best friend forever and … I'm a talker, a storyteller, and I would tell her stories about my life throughout our relationship. She kept them! She said, "You have a book in you." So, there's another person saying so. She kept the stories. When Simon & Schuster made me the offer, Dawn dragged out all my stories. A couple of times I had gatherings at my house where I had four people over, and I said, "Ask me some questions," and put a recorder down. I'd just start talking. Then as more of my life coming out on the page, which is hard to do, I started remembering more and more. It took a form that I had always intended. I came up with the title, "Apparently There Were Complaints," very early on. I made the book about all the complaints people had about me throughout my life. It helped that Dawn had kept records of all the stories I've told. Some of those I used in the book. It's funny, as you write, as you keep going, you start remembering more and more and more because one emotion leads to the next emotion or the next time someone hurts your feelings or the next complaint.
BLADE: I'm glad you mentioned the emotional part of it, because writing a memoir means revisiting the past, including your complicated relationship with your grandmother, whom you called Grimmy, as well as your parents. Did you find it to be painful, freeing or both?
GLESS: Sometimes because some of the memories were painful. There were times when I was reading some of it that I would go back to that place. I just finished recording [the audio book] a couple of weeks ago. What surprised me is when I'd get to certain places, especially about Grimmy, you can hear on the recording, my voice breaks. I left it in. They asked me if I wanted to rerecord it and I said, "No. Leave it in." She was really the best thing that ever happened to me. It's that she was tough.
BLADE: One of the things that stood out to me about "Apparently There Were Complaints"is the way that not only does it sound like you — I've interviewed you before so in reading the book, it sounded like you…
GLESS: Thank you! It's very important to me that you hear my voice in that.
BLADE: It totally comes through. The other thing that shines through is your sense of humor and comic timing.
GLESS: Thank you!
BLADE: How important was it for you to make that aspect of your personality a part of the book?
GLESS: Very important. I do have a sarcastic, not a mean sarcastic, a funny sarcastic side. Some of the complaints and some of my addictions and some of the things I talk about…you've got to take some of it lightly or who's going to want to read that? Clearly, I survived. It's not all bad news. When I came up with the title, [laughs] which was perfect because there were so many complaints about me in my life, sometimes you just have to laugh, even at the sadder stuff. I'm still standing, Gregg!
BLADE: Yes, you are! Memoirs, like TV shows such as "Finding Your Roots," are a way for both the subject and the audience to uncover fascinating details that might not otherwise have been public knowledge. The story about your boarding school classmate Gibbie, also known as the late Abigail Folger, in chapter seven feels like an example of that. Would you ever consider being on one of those genealogy tracing shows?
GLESS: I didn't know a show like that existed. I would never do something like "This Is Your Life"[laughs], remember that? I didn't know about a show that traces your genealogy. I'm always fascinated in my background. I'm certainly not opposed to anybody scraping up my genealogy.
BLADE: You write about your interactions with LGBTQ+ people in your life, personally and professionally, and Chapter 43, titled "I'll Be There," which is about your experience playing Debbie Novotny in Showtime's "Queer As Folk"made me weep, it was so beautiful. This is less a question than it is an expression of gratitude for, well, being there.
GLESS: Thank you! The pleasure, for lack of a better word, is all mine. You have all changed my life. I became so much more educated. I thought, "Oh, I know it all. All my best friends are gay." Right? But I learned so much on "Queer As Folk." Thestories that they wrote and the performances. I didn't realize the real plight, the behind-the-scenes pain that went on in the gay community. Because of "Queer As Folk" I became quite educated and impassioned. I meant it when I said, "I'll be there."
BLADE: The Peacock streaming service is doing a "Queer As Folk" reboot. What do you think about that?
GLESS: Yes, I'm aware they're doing a reboot of it. What I think about it is I'm so sorry they're not using the original cast. It's never going to be better. But good luck to them, and I hope they have even close to the hit we were. I think the biggest star of that show right now is going to be the city of New Orleans. We'll see how the stories go.
BLADE: Because the entertainment industry is a central component to your memoir, if "Apparently There Were Complaints"was to be made into a theatrical movie or TV miniseries, who would you want to play you?
GLESS: It would take several actresses because there's a lot of years. If there was somebody who could span it. I'm a big fan of Jennifer Lawrence. She has a husky voice, too. And there's also an irreverence and a sensitivity to her. If anybody ever wanted to do that, I think she'd be great.
BLADE: Finally, in addition to us both being Geminis, we also share South Florida as our home. What do you like best about living here?
GLESS: The happiness on my husband's (TV producer Barney Rosenzweig) face. When he retired he moved us here. I'm married to a man who if he's happy, everybody's happy [laughs]. He adores Florida. Los Angeles was always my home. I was born there, raised there. I'm an Angeleno, through and through. I've been to Los Angeles over the last year and I don't like what's happened to it. Now I'm grateful to be returning to an island as beautiful as the one I live on. Los Angeles needs a total reboot, rebuild, re-everything. It's fallen on hard times, L.A. I remember it when I lived there. It was a magical city.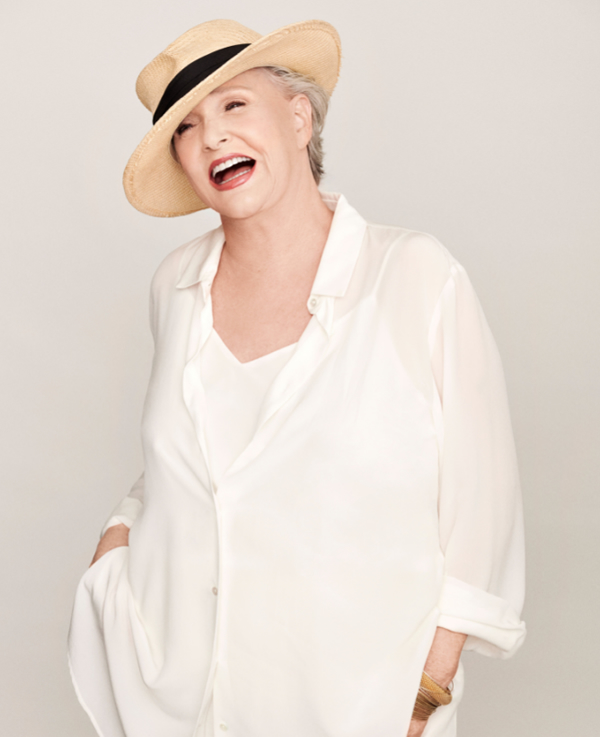 PHOTOS: High Heel Race
Spectators cheered along drag queen contestants for the 24th annual event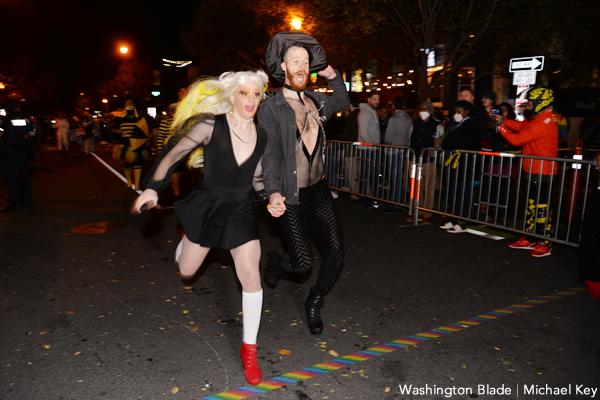 The 34th annual High Heel Race was held along 17th Street on Oct. 26. The winners this year were @dragqueenathena and "Dan." D.C. Mayor Muriel Bowser, D.C. Police Chief Robert Contee and members of the D.C. Council joined drag queen contestants and hundreds of spectators for the event.
(Washington Blade photos by Michael Key)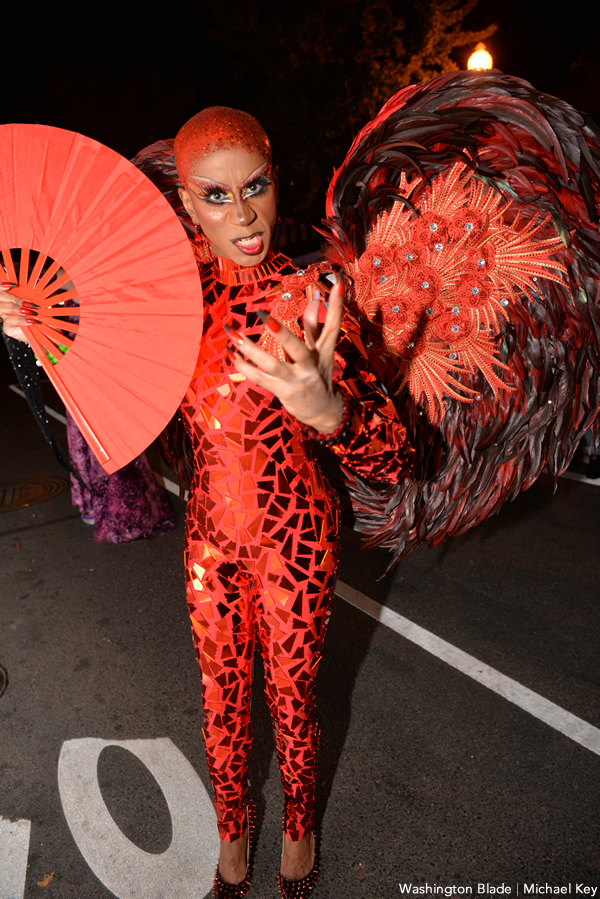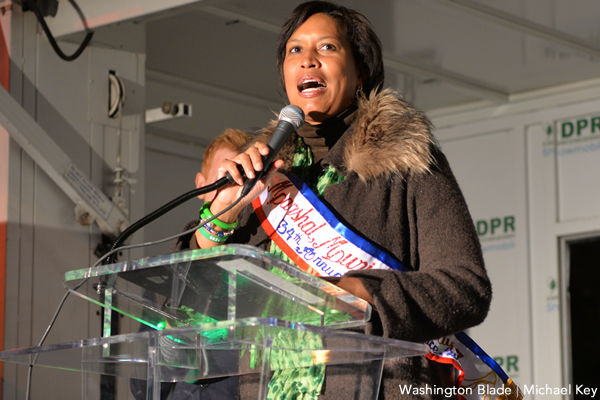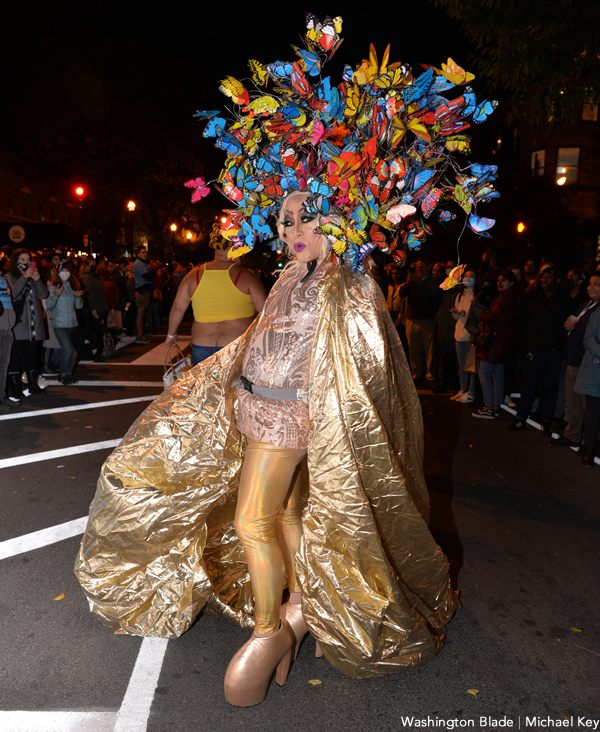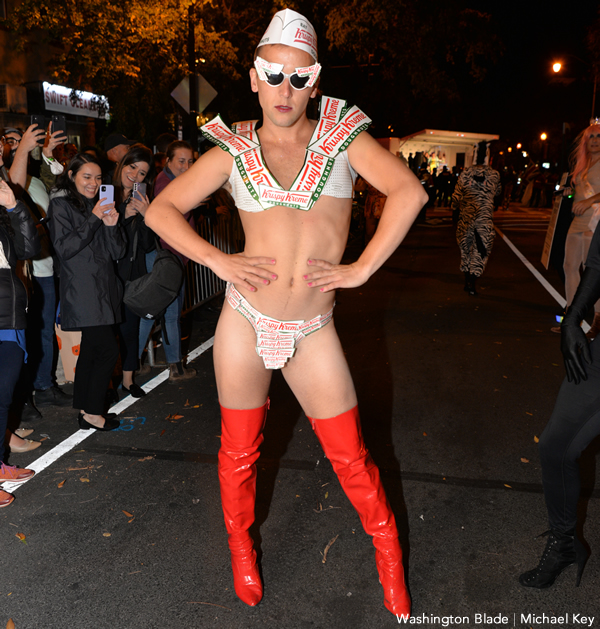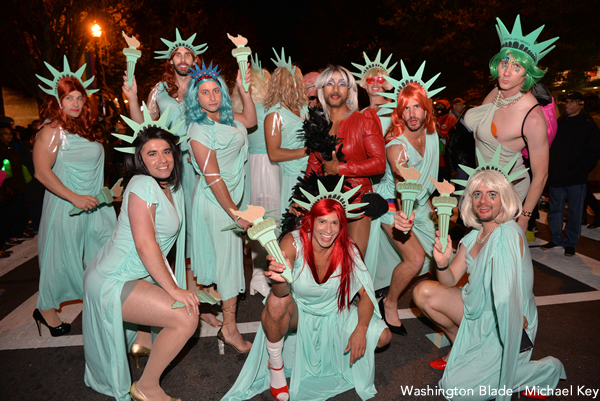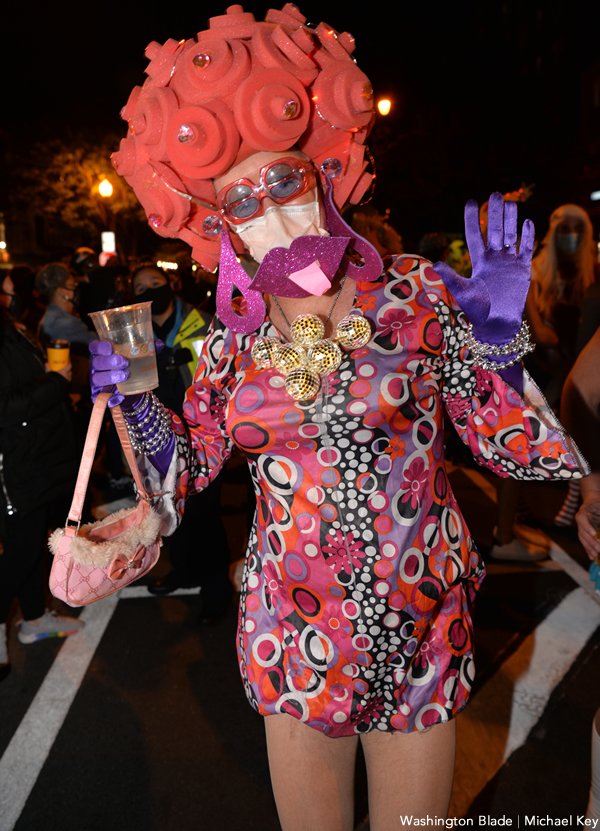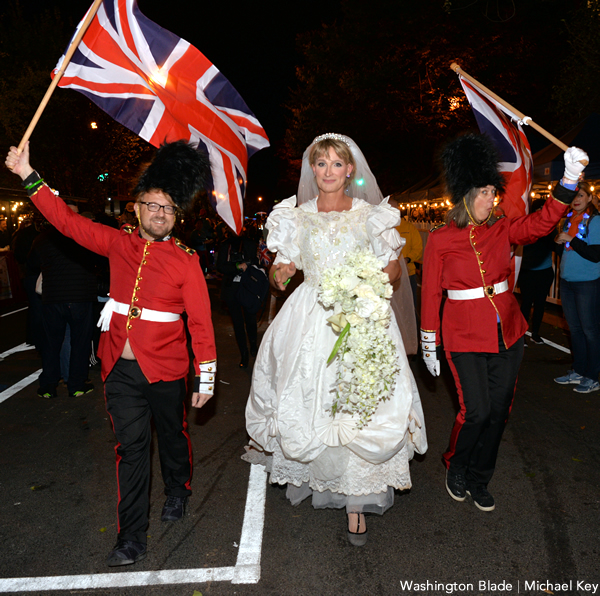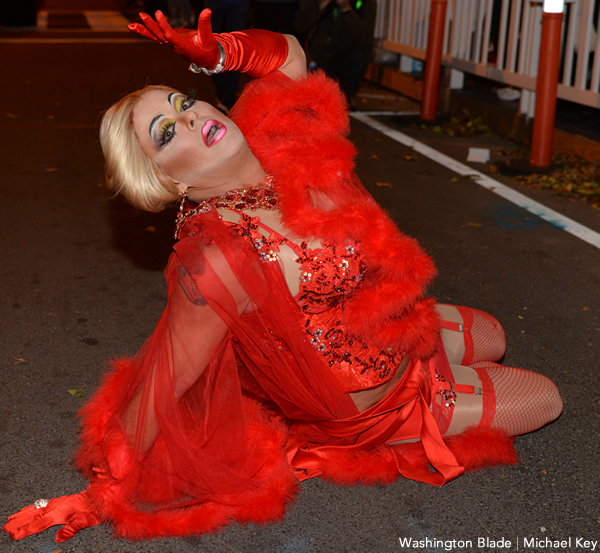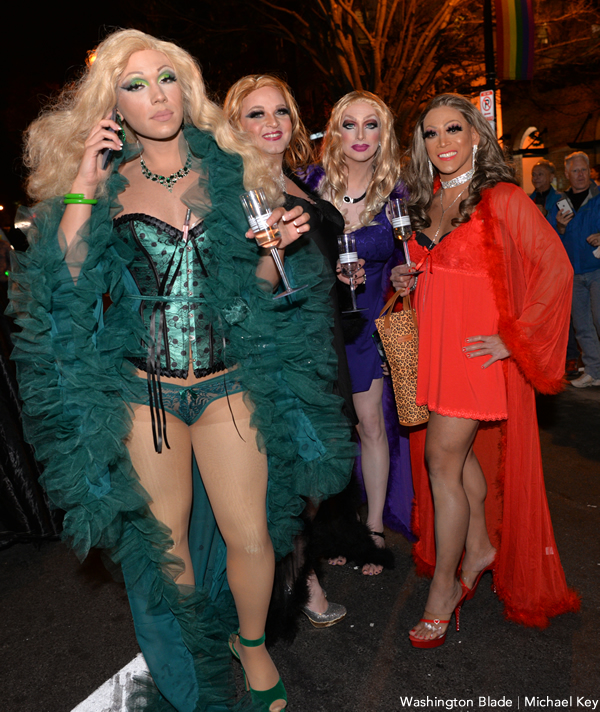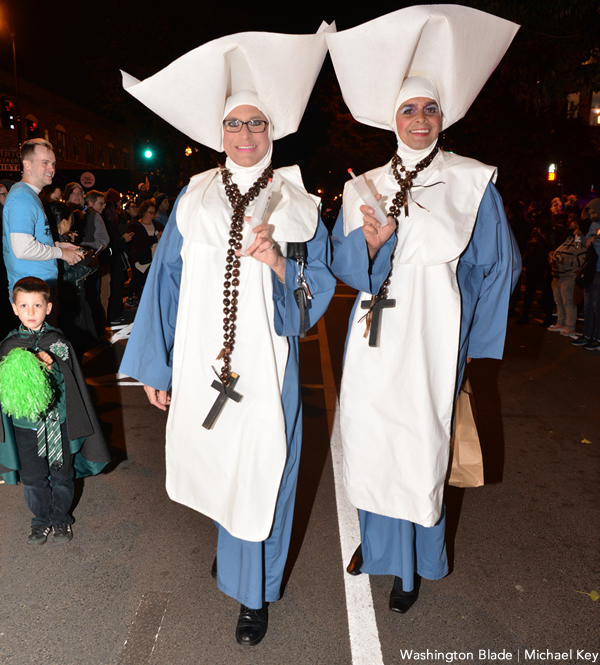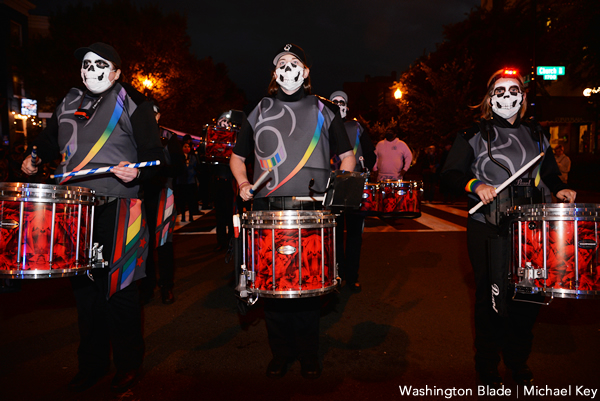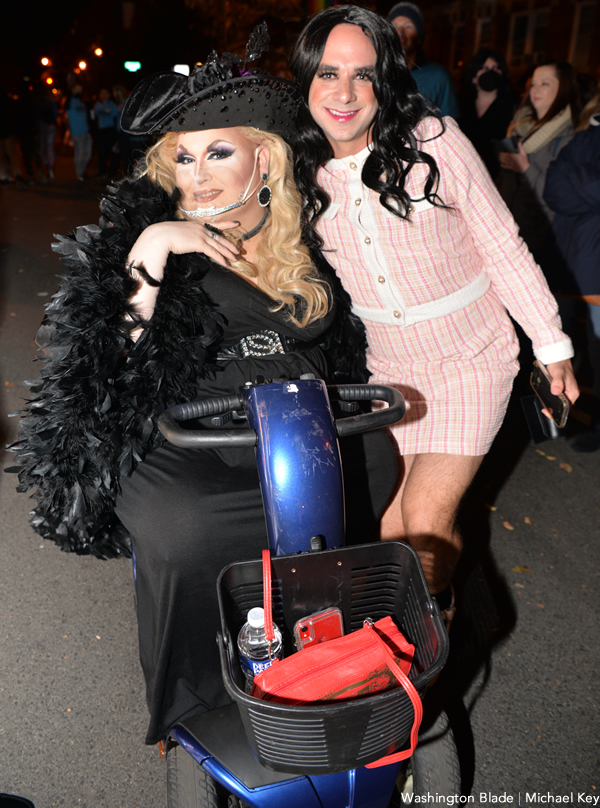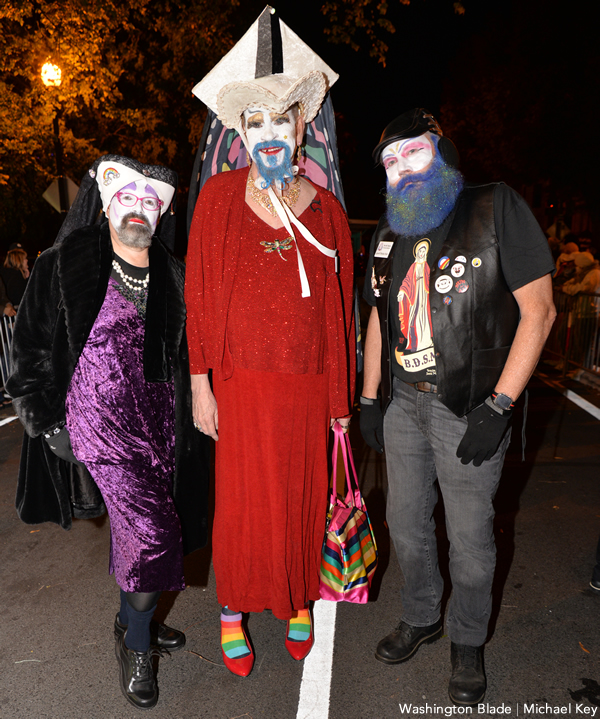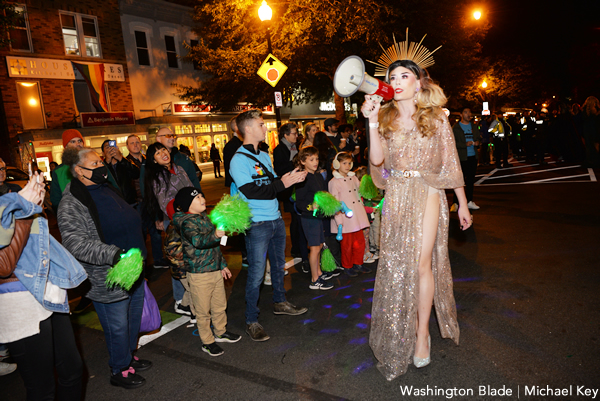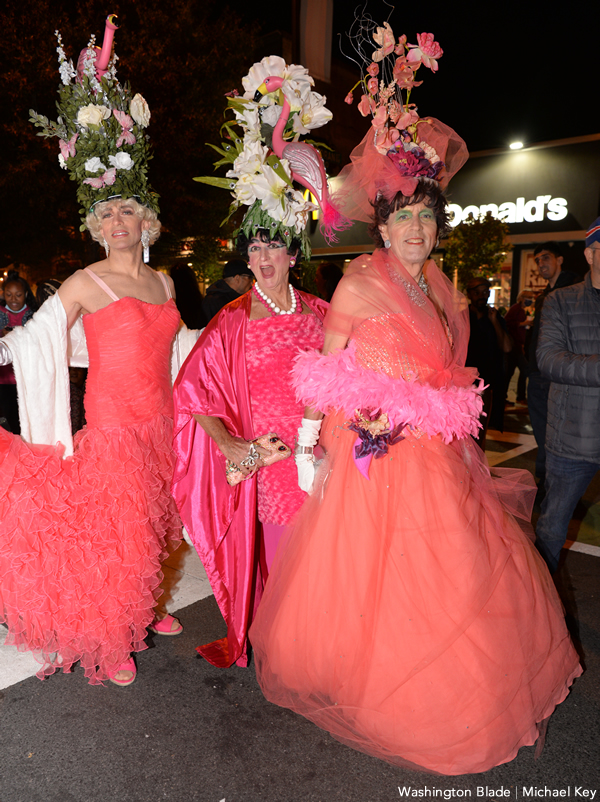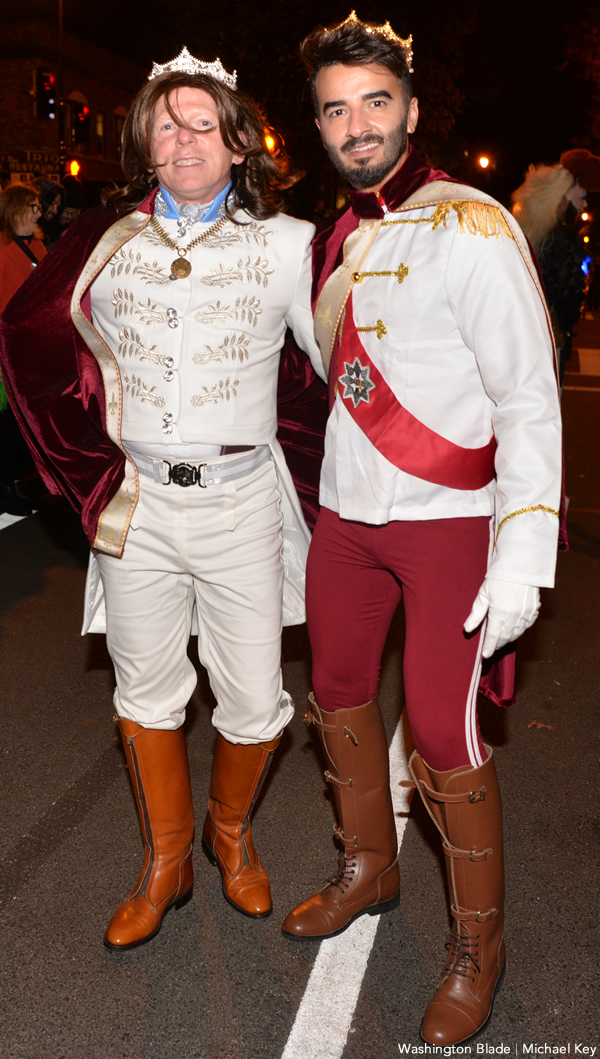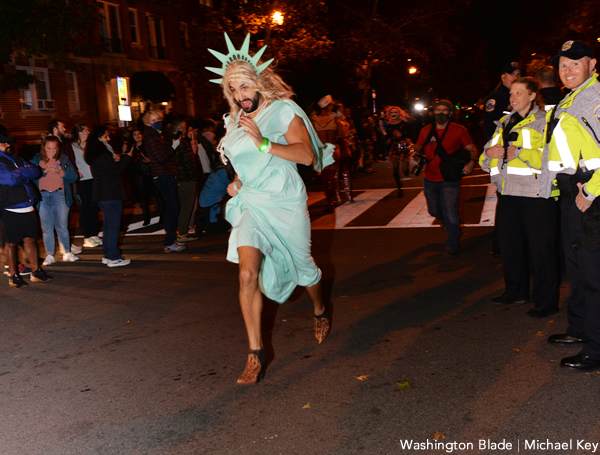 New music documentary is 'Velvet' perfection
A piece of pure cinema that exemplifies its genre while transcending it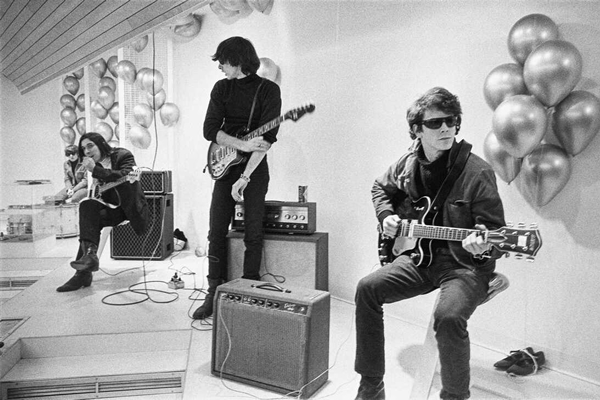 When it comes to great music documentaries – the ones that stick with you after you watch and make you want to come back to them again and again – there is one ingredient that stands out as a common thread: immediacy.
From D.A. Pennebaker's fly-on-the-wall chronicle of young Bob Dylan's 1965 tour of the UK in "Don't Look Back," to Martin Scorcese's joyful document of The Band's final concert performance in "The Last Waltz," to Jonathan Demme's thrilling cinematic rendering of the Talking Heads in performance at the peak of their creative genius in "Stop Making Sense," all of these now-revered films have endured – indeed, even grown – in popularity over the years because they captured the talent, the personality, and the power of their subjects on celluloid and preserved it for the ages, allowing generations of audiences, fans and soon-to-be-fans alike, to feel as if they were there.
But none, perhaps, have ever done it quite so viscerally as Todd Haynes' "The Velvet Underground." This is a remarkable feat when you consider that the films listed above, as well as most of the other highly regarded "rockumentaries" of the past, were all concert films, showing the performers at their center in the full bloom of their musical gifts, and Haynes' film is not that. It's something else, something singular, a piece of pure cinema that exemplifies its genre while transcending it entirely.
The basic outline of the band's story is well known, now. Coalesced in the early '60s New York art scene around a pair of charismatic geniuses (John Cale and Lou Reed), the Velvet Underground was swept into the orbit and under the wing of Andy Warhol, who turned them into the house band at his famous "Factory," added to their mix an exotic European chanteuse named Nico, and launched their record career by producing their first album – and designing an instantly iconic cover for it featuring a banana, to boot. They were, for a while, the darlings of the New York underground set, birthing a handful of additional albums across the latter years of the decade; but their sound, which was experimental, rough, and a far cry from the flower-power sound being embraced within the status quo of Middle American music fans, did not catch on. That, combined with the volatility of the relationships at its core, ensured an ignoble and unsung dissolution for the band; though its two front men went on to forge expansive solo careers on their own, the Velvets themselves remained a kind of blip, an ephemeral presence in the history of rock – and the history of New York – remembered by anyone who wasn't actually on the scene as nothing more than a buzzy band they never actually heard with a catchy name and a familiar album cover.
As one of the voice-over interviewees in Haynes' movie points out, however, the counterculture wasn't actually the counterculture – it was the culture. The rest of the world just didn't know it yet. Decades later the Velvet Underground is credited with, among other things, providing early inspiration for what would become the punk rock movement, to say nothing of influencing the aesthetic palate of (surely without exaggeration) thousands of musicians who would go on to make great music themselves – often sounding nothing like the Velvets, but somehow cut from the same raw, edgy, white-hot honest cloth, nonetheless. Yet in their moment, they were doomed before they had even begun to become a sideshow attraction, hurling performative realness in the face of a curious-but-disinterested glitterati crowd that was already embodying the superficial fakeness that would be so aptly monikered, both as an ethos and a watchword, as "Plastics" by Buck Henry and Mike Nichols in "The Graduate" barely a year after their first album was pressed.
Frankly, it's the kind of story that makes for a perfect rock 'n roll legend, and the kind of legend that deserves to be explored in a film that befits its almost mythic, archetypal underpinnings. There's nobody more qualified to deliver that film than Todd Haynes.
Haynes, of course, is a pioneer of the '90s "New Queer Cinema," whose body of work has maintained a consistent yet multi-faceted focus on key themes that include outsider-ism, dysfunctional socialization, and the fluid nature of sexuality and gender. Each and any of these interests would be enough to make him a perfect fit as the person to tell the story of the Velvet Underground, but what gives him the ability to make it a masterpiece is his ongoing fascination with music and nostalgia. Beginning with his controversial debut short "Superstar: The Karen Carpenter Story," the musical landscape of his formative years has been inseparable from his milieu, and films such as his glam-rock fantasia "Velvet Goldmine" or his post-modernist Dylan biopic "I'm Not There" have dotted his career like cornerstones. Likewise, his painstaking recreation of the past in period pieces like "Far From Heaven," "Carol," or "Wonderstruck" has proven his ability not just to capture the look and feel of a bygone era, but to transport audiences right back into it.
In "The Velvet Underground," it's more like he transports the era to the audience. His comprehensive chronicle is not just the story of the band or its members, but the story of the time and place that allowed them to exist, in which a generation waking up from the toxic artificiality of their parents' "American Dream" took creative control of the future through an unprecedented explosion of art and culture. Art was a by-any-means-necessary endeavor that now demanded a fluency across various forms of media, and a blending together of any and every thing that worked to get the message across. And yes, sometimes the media itself was the message, but even within that depressingly superficial reality was room for an infinite layering of style and substance that could take your breath away.
That description of the era in which the Velvet Underground thrived, in which Andy Warhol turned the shallow into the profound (whether he knew it or not), in which music and film and photography and poetry and painting and every other form of expression blended together in a heady and world-changing whirlwind, is also the perfect description of Haynes' film. Yes, there are famous veterans of the age sharing their memories and their insights, yes there is copious archival footage (including the godsend of Warhol's filmed portraits of the legendary faces in his orbit), yes we get to hear about Lou Reed's struggle with his sexual identity – and it's refreshing that Haynes makes no effort to categorize or finalize that aspect of the rock legend's persona, but merely lets it be a fact. But even though "The Velvet Underground" checks off all the boxes to be a documentary, it's something much more. Thanks to Haynes' seamless blend of visuals, words, history, and – always and above all – music, it's a total sensory experience, which deserves to be seen in a theater whether you subscribe to Apple TV or not. It puts you right in the middle of a world that still casts a huge shadow on our culture today.
And it's unforgettable.