February 5, 2020 at 7:11 pm EST | by Lou Chibbaro Jr.
Failure to mandate treatment for Alice Carter was 'death sentence'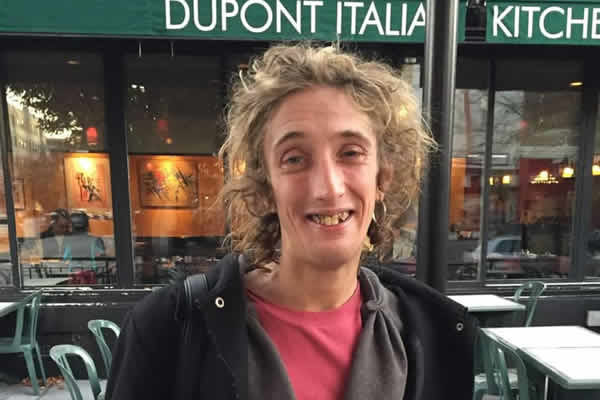 Brian Carome is one of the many people who knew and admired Alice Carter, the 35-year-old D.C. transgender woman who was homeless for most of the last 12 years of her life.
He's the executive director of Street Sense Media, a local nonprofit group that provides assistance to the homeless and offers them a voice of their own in its newspaper by the same name, for which he said Carter published poems that reflected the pain and joys of her life.
After surviving many close calls from alcohol and drug abuse related to mental health issues, Carter didn't make it through her last episode of what Carome believes was an opioid related drug overdose. It happened on the sidewalk in front of the McDonald's restaurant on 17th Street, N.W., near Dupont Circle where Carter lived off and on in a makeshift tent for at least a dozen years.
For the last several months of her life, Carter had a place to live through arrangements made by Street Sense Media and the local homeless assistance group N Street Village, according to Carome. But sadly, he said, having a permanent home wasn't enough to stabilize her due to her ongoing addiction and mental health problems.
On Tuesday, Dec. 17, passersby saw her lying unconscious on the sidewalk near the McDonald's and flagged down D.C. police officers, who administered CPR and helped resuscitate her as Fire Department rescue workers arrived. She was taken to Howard University Hospital where she died the next day.
A memorial service was held in her honor on Feb. 1 at D.C.'s Foundry United Methodist Church.
Carome reflected on Carter's life and his own frustrations over his and his organization's interaction with Carter during the last 19 months of her life in a Jan. 12 guest column in the Washington Post and in an interview with the Washington Blade on Jan. 21.
"We've got to get better at engaging people in the treatment that they need and not simply walking away when someone doesn't accept the treatment when it's initially offered," he told the Blade.
He was referring to multiple incidents in which Carter got into trouble with the law, resulting in numerous arrests for nonviolent, misdemeanor offenses such as public intoxication or "illegal entry" into public places, including the McDonald's, that barred her from entering due to alleged misbehavior.
Nearly all of these incidents, according to Carome, were due to Carter's struggle with addiction and serious mental health problems that he says D.C. government agencies that deal with the homeless and the federally run D.C. Superior Court's special Mental Health Community Court did not give Carter the help she needed.
And that help, Carome said in a pained voice, should have been action by the city or the court system to place Carter involuntarily into a mental health treatment program that she for years declined to submit to, even when it was available free of charge and in a nonjudgmental setting.
Carome said that around March of 2019 a judge with the Mental Health Community Court grew impatient with Carter's repeated failure to enter into a mental health treatment program that the court arranged for her. The judge discharged her from the Mental Health Court, which by policy sentences offenders to treatment rather than to jail, and placed her back in the regular court system.
"When she was discharged from the Mental Health Court back to the mainstream court, that turned out to be a death sentence since they had the power to force her into treatment," Carome told the Blade.
"And again, I'm not a fan of taking people's rights away," he said. "But when it comes to losing your life or getting treatment I side with getting the treatment," he continued. "And I have seen in a few instances where involuntary treatment radically turned someone's life around for the better. And Alice could have lived a long life where she contributed to our community in various ways, including as a taxpayer."
Carome said that a judge in the regular D.C. Superior Court issued an order requiring Carter to enter into a mental health and substance abuse treatment program as a condition for her release. As she had in past cases, she missed the deadline for entering into the program, prompting the judge to issue a warrant for her arrest.
At the time of her arrest, according to Carome, a D.C. police officer insulted her by addressing her by her former male name. She responded by spitting in the officer's face, resulting in a new charge of resisting arrest. This landed her in the D.C. Jail for the next two months.
"In jail, Carter was subjected to an array of dehumanizing treatment, including being housed in the male general population," Carome wrote in his Washington Post column. "Not surprisingly, on her first night out of jail Carter almost died of alcohol poisoning," he wrote.
"I was among those who were convinced that she was suicidal and in need of civil commitment for both mental health and substance abuse treatment," he continued, adding, "We have to look at our laws for civil, involuntary commitment to protect people who are so impaired by mental illness and substance abuse that they present a danger to themselves."
The Blade contacted the three D.C. government agencies that provide programs to assist the homeless and people suffering mental health issues to ask if they provided assistance to Alice Carter – the Department of Housing and Community Development, the Department of Human Services, and the Department of Behavioral Health. The latter two agencies did not respond.
Richard Livingstone, Interim Deputy Chief of Staff and Special Assistant to the Director at the Department of Housing said he was "unable to speak of the specifics of Alice Carter's housing." He provided detailed background information on how his department provides different types of housing assistance to homeless people, including its Permanent Supportive Housing program.
He did not say whether Alice Carter was eligible for his department's programs or received specific assistance from the DHCD.
A spokesperson for the D.C. Department of Corrections said she would look into whether the department has changed its policy put in place in the past at the request of LGBT rights advocates that trans prisoners be assigned to the living quarters consistent with their gender identity.
The spokesperson, Keena Blackmon, said all prisoners at the D.C. Jail are segregated in separate male and female sections.