Madonna lashes out after London Palladium cuts off concert for going past curfew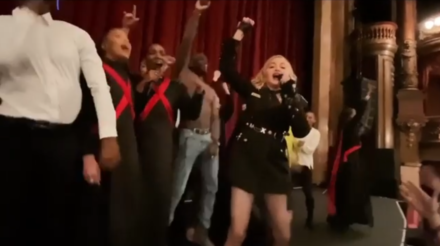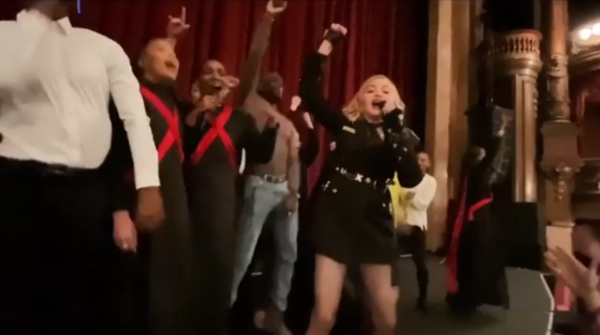 Madonna is making news again for a disruption of her current "Madame X" tour, but it's not because she cancelled another show.
Variety reports that the 61-year-old "Queen of Pop" has been venting her anger at the London Palladium after the venue cut short her concert for running over an 11 p.m. curfew on Wednesday night.
The singer was still performing when Palladium staff closed the stage curtain and switched off the sound when she went past the deadline, prompting an expletive-laced outburst from the "Vogue" hitmaker, who emerged from behind the curtain and continued the show despite the house lights being on and her microphone being off.
The pop icon later took to Instagram to further express her fury at the Palladium, accusing the venue of attempting to "censor" her "Madame X" performance in a post which included a video showing her coming through the curtains with her backup dancers and launching into the concert's final song, "I Rise," as the audience applauded and sang along.
The singer wrote, "…it was 5 minutes past our 11:00 curfew—-we had one more song to do and The Palladium decided to censor us by pulling.down the metal fire curtain that weighs 9 tons. Fortunately they stopped it half way and no one was hurt………….. Many Thanks to the entire Audience who did not move and never left us. ?????? Power to The People!! #Irise #ongod #madamextheatre #thelondonpalladium"
The video as posted on Madonna's Instagram begins with a caption that says, "Everybody's hurt. What is important, what drives you, torments you, is that you must find some way of using this to connect with everyone else alive. Artists are here to disturb the peace."
On Thursday, a Palladium spokeswoman issued a statement disputing the controversial star's claim that the metal fire curtain had been lowered, saying, "Contrary to a number of reports, at no point during last night's performance did staff at The London Palladium pull down, or attempt to pull down, the Iron Fire Curtain."
At a previous Palladium show last week, Madonna told the audience that she had been warned by the local Westminster council that an "iron curtain" would fall over the production if she went beyond the designated cutoff time.
According to The Daily Mail, the star trolled the venue again at her Palladium show on Thursday, the following night, by saying on stage, "You know there's an iron curtain waiting for me. Some handcuffs? I hope someone will arrest me."
Not all of Madonna's fans agreed with her take on the incident. At least one fan at the Wednesday show blamed the singer, telling The Mail, "Classic Madge. All her own fault." Her original Instagram post also included several comments from concert-goers scolding her for her tardiness, such as @jpstunnas, who wrote, "Bravo to the theater. This should of been done in the states. You need to learn to not be super tardy."
The Wednesday concert had been scheduled to begin at 8:30pm, but the singer did not take the stage until approximately 30 minutes later, causing the performance to run past its scheduled ending time. Madonna has a long history of being late for performances, and is currently being sued by fans over the devaluation of show tickets due to her tardiness.
She has previously cancelled 10 of the 93 scheduled dates for her current tour due to injury.
Tragedy and comedy intertwined in witty 'Quietly Hostile'
Irby's fourth essay collection addresses pandemic, TV writing career, more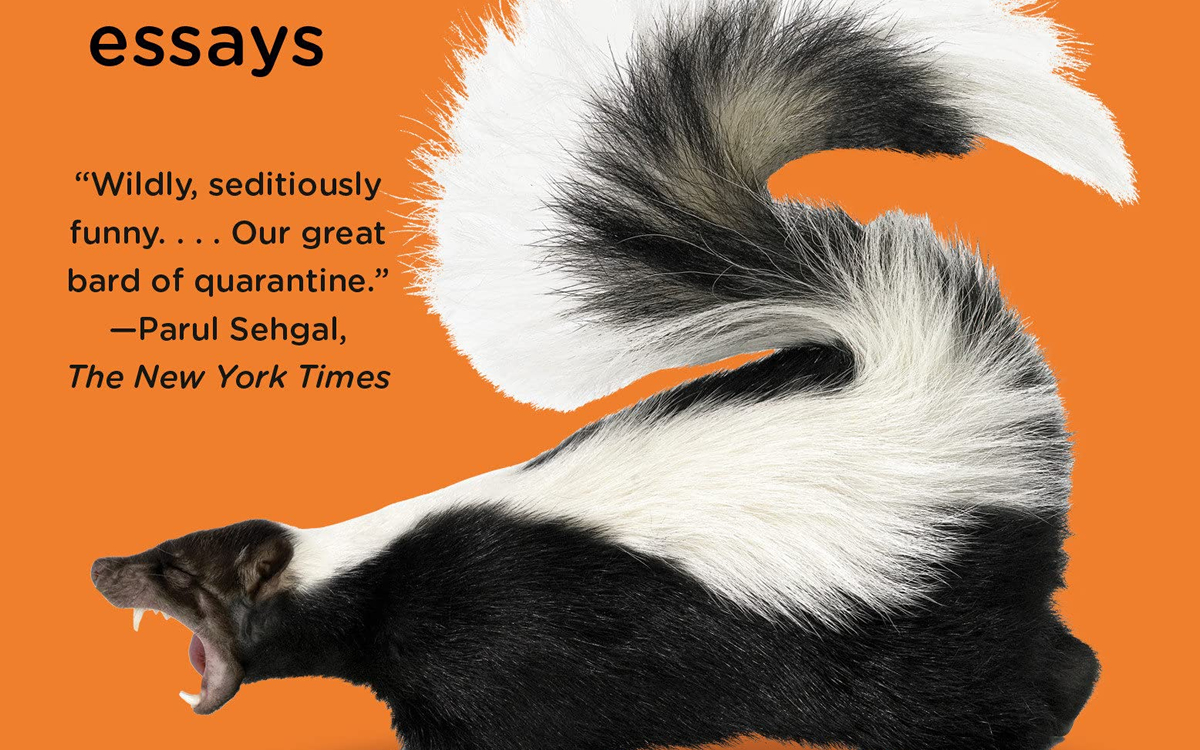 'Quietly Hostile: Essays'
By Samantha Irby
c.2023, Vintage
$17/304 pages
You know from the get-go that "Quietly Hostile," essayist, television writer and humorist Samantha Irby's fourth essay collection, is filled to the brim with the author's mordant wit, cynicism and empathy. Who else but Irby, 43, who has struggled with depression, would write: "This book is dedicated to Zoloft"?
There are zillions of essay collections. But few are as memorable, poignant, funny (sometimes grossly, in a good way) and heart-filled (a term Irby might hate) as "Quietly Hostile"

This long-awaited collection is filled with what Irby would call "good shit": from hilarious descriptions of her bad dog in doggie day care to bits about, literally, shit, (that will gross you out, but reduce your shame about pooping).
Irby, who is Black and bisexual, grew up in poverty in Evanston, Ill. Her parents died when she was 18 (her mother from multiple sclerosis; her father, who gambled, likely, suffered from post traumatic stress disorder).
At the age of nine, Irby's mother's MS went out of remission. While still a child, she was called upon to care for her Mom.
"When I was an actual kid growing up on welfare with a sick mom and expired Tuna Helper from the dollar store, the future and its infinite possibilities stretched before me like a sumptuous buffet I couldn't afford to go to," Irby writes.
There is a backdrop of pain, sadness and, sometimes, anger to much of Irby's humor. But self-pity and rage don't consume the book.
Irby, the author of "Meaty," "We Are Never Meeting in Real Life" and "Wow, No Thank You," knows that the cliche is true: tragedy and comedy often are often intertwined.
It's fun to learn in "Quietly Hostile" that Irby, who was a writer for the popular TV shows "Shrill" and "Tuca & Bertie," is as much a fan as the rest of us of the TV shows she loves.
In 1998, Irby couldn't afford cable or HBO. She had to wait to watch the "City" until it came out on VHS. "The show reflected nothing of my life," she writes, "but provided something of a road map for my future…" she writes.
In a future, she wouldn't have dreamed of then, she grew up to become a writer on "And Just Like That," the "Sex and the City" reboot. (She's a writer on season two of "And Just Like That" which premieres on June 22 on Max.)
Irby was stunned when Michael Patrick King of "And Just Like That" asked her to write for the show. "I was like … Are you allowed to work on a show like this if you only wear nine-dollar T-shirts," she writes, "and have no idea how many Brooklyns there are."
"During my interview," Irby jokes, "I said, 'Can I give Carrie diarrhea?' and I was hired immediately."
Even ardent "Sex and the City" aficionados may find too much of SATC in "Quietly Hostile."
No worries: Irby who speaks of herself as being "fat" and "sick" (she has arthritis and Crohn's disease), riffs on many things in "Quietly Hostile." Irby turns her sharp wit on everything from what it's like to run for a public toilet when you have diarrhea to why she's a David Matthew's fan girl to her love for (approaching addiction to) Diet Coke to the "last normal day" before the pandemic to the "food fights" that are a part of the most loving marriages.
Grab a Diet Coke (or libation of your choice), tell your bad dog to quit barking and enjoy "Quietly Hostile."
The Blade may receive commissions from qualifying purchases made via this post.
Arena's 'Exclusion' is a piece of art about art
Majority Asian production features intelligent performance by Karoline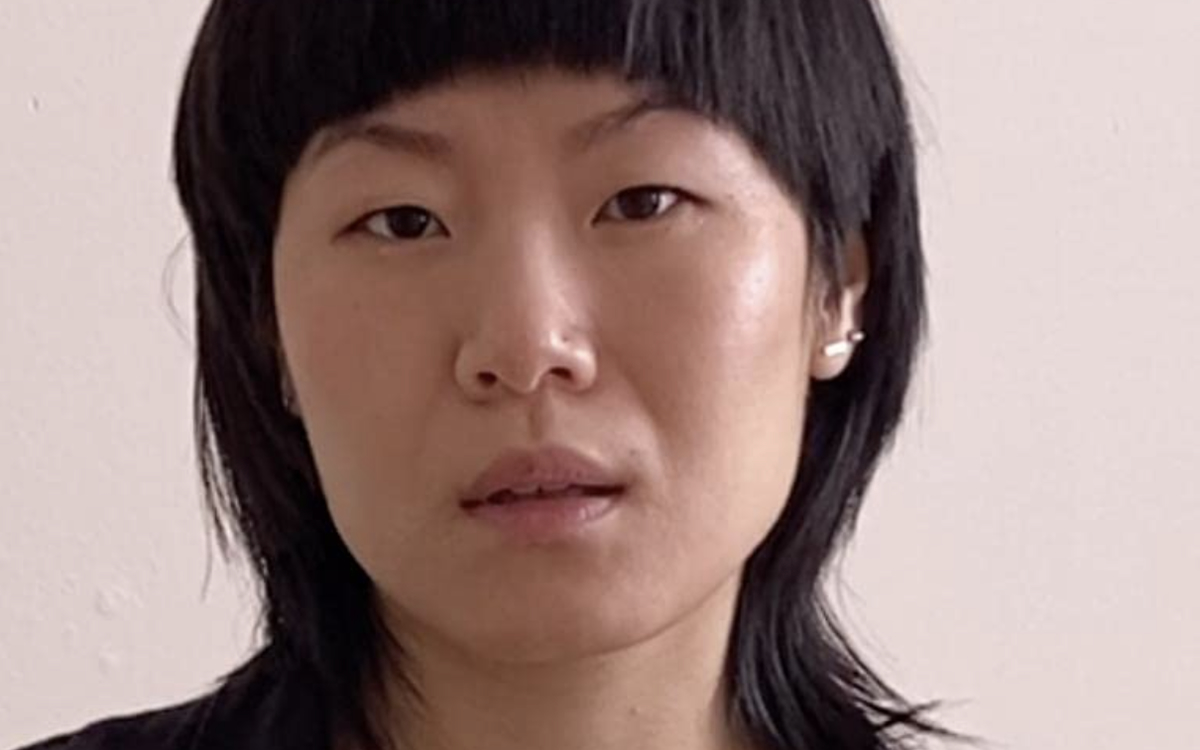 'Exclusion'
Through June 25 
Arena Stage
1101 Sixth St., S.W.
$56-95
Arenastage.org
When Asian-American historian Katie's best-selling book about the racist Chinese Exclusion Act of 1882 is optioned for a mini-series by a Hollywood mogul, she couldn't happier. However, artistic and commercial visions clash and things go awry. This is the premise of Ken Lin's new comedy "Exclusion" now at Arena Stage.
Katie is played by Karoline, the mononymously named New York-based actor who brings intelligence and energy to every role they tackle.
"I'm similar to Katie — honest to a fault, optimistic, both strong and naïve," says Karoline, 28. "For me, the challenge is watching Katie choose yes or no at every turn. Should she address what's coming at her with truth or not? Or hide what she's thinking? My struggle in life has been similar. How do I stay true and at the same time get what I want in a corrupt world."
When asked to be part of "Exclusion's" early development, Karoline was unsure: Doing a piece of art about art can be tricky. But they soon changed their mind.
"The workshop changed my life. I got into the room and it was majority Asian. Seeing Ken [Lin] talk about coming back to theater and about being able to write about Asian people with a play that's ostensibly a comedy and obviously super personal, drawing from his life and what he's learned from colleagues."
Karoline describes their experience with anti-Asian racism as more microaggressions. "I don't have people point at me saying 'you're a chink.' It's been subtler versions of that."
As a stage actor, they've had an activist history, taking complaints of racism to a company's board, a move that can be contentious. Typically, it's preferred actors "be grateful, listen and interpret, and not speak up."
When a respected mentor later asked Karoline whether they wanted to be an actor or an activist, they didn't understand why it had to be mutually exclusive. "I was too young to say it could be both. Now it depends on the situation. Maybe both in theater because I have more of a career there. But in TV, I don't know."
Karoline was born in Shanghai and grew up in South Texas where they had little exposure to the arts. After graduation from a pre-med magnet high school (with no intention of a career in medicine), they headed off to Harvard on full scholarship: "I showed my family that I can be smart, but I was going to do my own thing."
They took a gap year from Harvard to train at Atlantic Acting School, then went to apprentice at Actors Theatre of Louisville. Weeks after moving to New York they were cast as closeted lesbian Bo in Tom Stoppard's "The Hard Problem" at Lincoln Center Theater.
"I've played more than one lesbian in my career," says Karoline with a chuckle. In the fall, they can be seen in the entire first season of "Death and Other Details" (Hulu) as a very rich lesbian heiress, a darkly funny role.
"It seems when you're Asian, you're expected to talk about your parents' accents or dumplings," they add. "The narrative is vivid and bright. I wanted to do classical theater so my work could speak about everything else. From the start, I was ready to do the work, and hoped to have a long career that included many different things."
Not long ago, Karoline shed their surname owing to a difficult childhood and a feeling of estrangement from their family. "It's unusual, especially for Asian Americans, but after some self-healing and thinking, I decided I didn't need it. Now I feel a lot freer."
And there have been other changes in addition to their last name including coming out as queer and sharing their gender identity. This is the first year they've only used "they" pronouns.
"When you're queer, I believe you're always queer even if you're not in a queer relationship. I think of my character like that. In this space and time, Katie's with a man but that doesn't mean that's the whole conversation about this person.
"For me, playing Katie in 'Exclusion' has been a huge vote of confidence. Sometimes it takes someone writing something wonderful and casting you for you to know where you need to be."
Mayor's office to host Pride tie-dye party
Guests to make colorful shirts for 'PEACE. LOVE. REVOLUTION' theme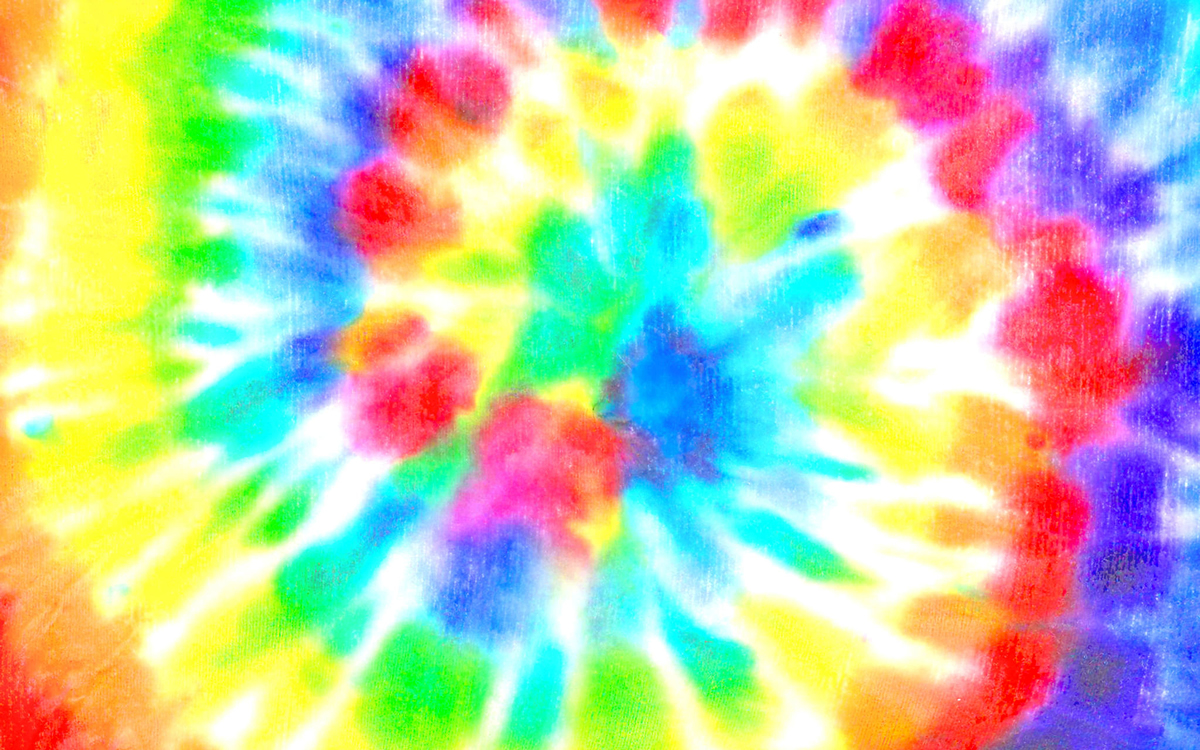 The Mayor's Office for LGBTQ Affairs will host "Love Out Loud: Tie Dye Party for Pride" on Wednesday, June 7 at 5 p.m. at the Frank D. Reeves Center of Municipal Affairs.
The event, hosted along with the DC Center for the LGBT Community and Capital Pride Alliance, will be an afternoon for community and artistry. Guests are encouraged to bring their creativity to make some colorful tie-dye shirts in line with this year's Pride theme, "PEACE. LOVE. REVOLUTION."
This event is free to attend and more details are available on Eventbrite.