Oscars 2020 surprises with diversity, a queer opening
From Monae and Porter, Judy and Elton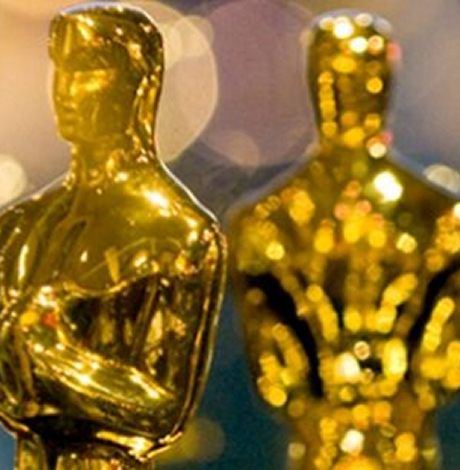 The 92nd annual Academy Awards started off with a bang, with gender fluid, pansexual singer/actress Janelle Monae and the illustrious gay actor/singer Billy Porter killing it in their opening duet. Amid performers dressed as characters from snubbed films, she sang: "It's time to come alive, because the Oscars is so white!"
Watching the extraordinary Monae perform, the influence of Prince on her music is evident. "I'm so proud to stand here as a black, queer artist, telling stories," she noted.
Another highlight during the evening was the eloquent Joaquin Phoenix, accepting his award for Best Actor in "The Joker."
"I've been thinking a lot about some of the distressing issues that we are facing, collectively, and I think at times we feel or are made the feel that we champion different causes," he asserted. "But for me, I see commonality,"
Phoenix continued: "I think whether we're talking about gender inequality, or racism or queer rights or indigenous rights or animal rights, we're talking about the fight against injustice. We're talking about the fight against the belief that one nation, one people, one race, one gender or one species has the right to dominate, control and use and exploit another with impunity."
Renee Zellweger, who won Best Actress for her portrayal of Judy Garland in the film Judy, was circumspect in her acceptance about Judy's iconic stature in the gay community, mentioning only that Judy was accepting of people. It was evident though she had intended a more full inclusion.
"Judy Garland did not receive this honor in her time," the actress continued. "I am certain that this moment is an extension of the celebration of her legacy that began on our film set and is also representative of the fact that her legacy of unique exceptionalism and inclusivity and generosity of spirit, it transcends any one artistic achievement. Ms. Garland, you are certainly among the heroes who unite and define us and this is certainly for you. I am so grateful."
GLAAD live-tweeted the awards
"@TaikaWaititi, who won adapted screenplay tonight at #Oscars, is next going into an adaptation of the documentary "Next Goal Wins" about the Samoan soccer team who made history. And then into "Thor: Love and Thunder" where Valkyrie will "find her queen."
Elton John Wins!
Elton John was excited to win Best Song for "Rocketman," the film that's based on his life.
"This is for my partner of 53 years," he said in the pressroom. "Without him, I wouldn't be here. He starts the process. He gives me the lyrics, and then I go ahead. Without the lyrics, I'm nobody. This is the man who started the journey, and we are still together after 53 years. I have one of these already, but I so wanted to get one for everybody involved in the film."
He added: This film has taken 12 years together. David, my husband, has been on and on about 12 years trying to get this made. In the end, we got it made the right way, the way we wanted to. I'm so thrilled for him, because I love him so much. And Taron Egerton especially — he should have been in the the nominated category, as one of the best actors. For me, his was the best performance this year."
At Elton John's annual AIDS fundraiser for his foundation, celebrity chef Wayne Elias, one-half of the team behind Crumble Catering and Rockwell Table & Stage in Los Feliz, was hard at work creating amazing, unique dishes for party attendees.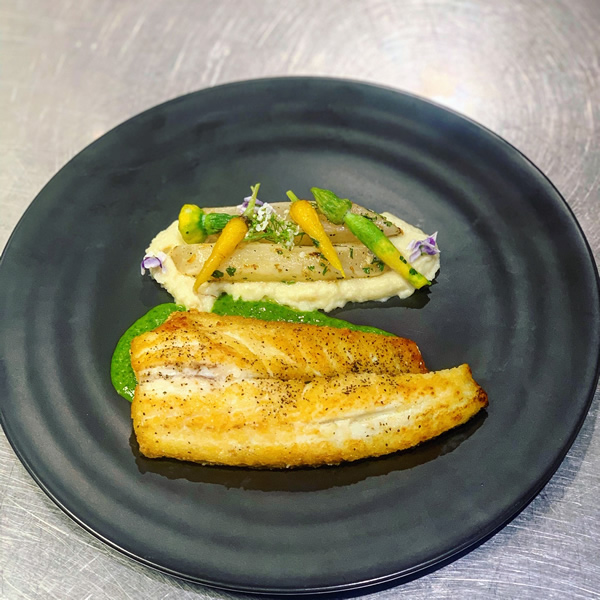 "We keep the menu current to healthy trends; I like to include Asian and French Cuisines and consider them classic meals that will also exist," Chef Elias told Los Angeles Blade.
"In order to create a menu that encompasses every guest, I do not use any nuts in any of the dishes, in case of an allergy and source the best ingredients and produce from local farmers in California," Elias said.
There were some fun items for the party menu, like zucchini fritters with tahini yogurt and espellette oil for starters, following with a parsnip and Granny Smith apple soup, a vegan option.
"We served a soup that is topped off with kale chips and lemon zest oil,"said Elias. "Guests could choose between a roasted branzino with cauliflower puree and watercress emulsion entree or short rib with caramelized yams, celery root mash, beech mushrooms and dijon shallot sauce."
An arugula salad served with manchego cheese and citrus vinaigrette, while a pear raspberry tart with pear mousse, raspberry cream and matcha ice cream finishes off the dinner.
Elias knows he must serve Elton John's very favorite dishes . "Top of the list is the beloved Grilled Cheese, a favorite throughout the years. It's what I call an Adult Grilled Cheese, as it's prepared on raisin bread and served with mascarpone cheese, crumble blue cheese and Asian pears. Simply rich and delicious!"
On The Carpet
Gay celebrity stylist Michael O'Connor talked with Los Angeles Blade about all the Oscar red carpet excitement. "I am loving the richness of color; the jewel tones are always the most flattering to skin tones and striking to see. Examples of this are in Sigourney Weaver wearing emerald green, America Ferrera in garnet and Idina Menzel in fuchsia. Christy Metz also looked incredible in ruby red."
O'Connor loved how glamorous the red carpet was. "I loved Salma Hayek with her Grecian Goddess inspired look, complete with a bejeweled laurel hair ornament. Rebel Wilson looked SO exquisite. I really enjoyed her swept over hair with jeweled clip. Jason Woo gown and Vintage Pomellato jewelry."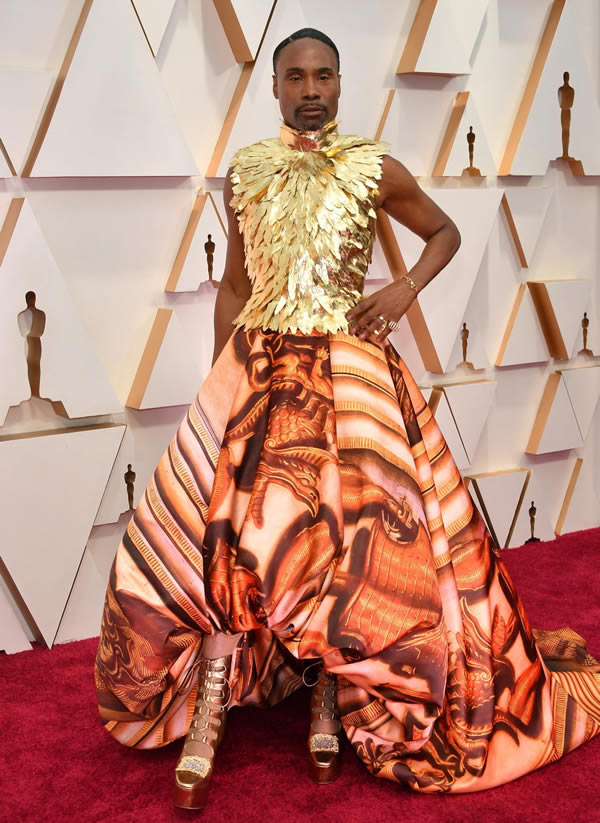 Many of the male celebrities at the Oscars were a fantastic sight to see too. "I thought Spike Lee looked great wearing his amethyst and golden tux. We are starting to see more jewelry on men, lapel pins being a very popular trend on the red carpet. Antonio Banderas is wearing a really nice 'man brooch,' O'Connor enthused.
The veteran stylist is thrilled that Hollywood in embracing more jewelry. "I love the bling; it adds so much glamor and completes a look. We are also seeing a lot more necklaces, which I really like. Julia Louis Dreyfus is wearing a lovely statement necklace. And Janelle Monae was so amazingly sparkly with her bejeweled dress and choker necklace. I LOVED the look!"
Still, O'Connor did see a few fashion faux pas. "I have to say, that as a gay man, Billy Porter's outfit is so over the top that it makes me nervous. I realize that the pendulum sometimes needs to be pushed hard to get it into a right place, but I feel that his golden bird feather top and patterned skirt is just too contrived and over the top.
"I know that men's fashion needs a push, but don't push it off the cliff!" O'Connor quipped.
Gift Bags
Distinctive Assets indulged the major Oscar® nominees with the annual "Everyone Wins" Nominee Gift Bags, which have become the most buzzed about swag in history. This year's gift bonanza features Soma's Sensuous Silk Kimono Robes along with SOMAINNOFIT™ smart-fit bra; a one-of-a-kind private in-home cannabis-infused chocolate culinary experience by Coda Signature; gold and silver signature Moon bead bracelets from Officina Bernardi; health, nutrition and longevity programs from ProLon; and a discovery voyage aboard the ultra-luxury Scenic Eclipse expedition yacht.
"One of the greatest joys in life is to do something you love," said Lash Fary, the company's gay owner. "I have been so fortunate to do just that for 21 years now. In recent years, I have been able to use my access to talent and brand relationships to help organizations doing good in the world to amplify their messages."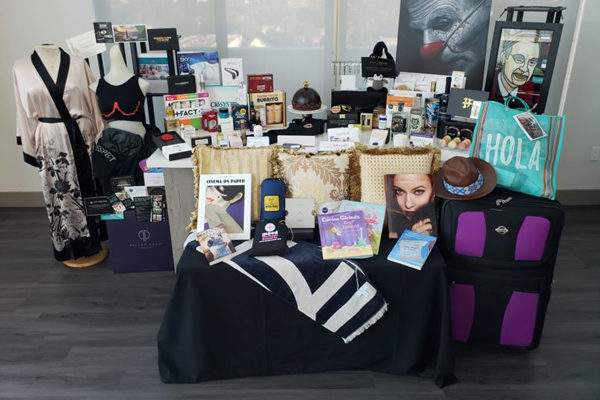 Fary loves to have gifts for celebrities that give back in meaningful ways. "I am able to publicize PETA's incredible efforts to increase awareness about the connection between animal agriculture and climate change, through partnerships with DIFF Charitable Eyewear and Veestro Plant-Based Meals."
So much detail goes into creating these gift bags, Fary said. "I often feel like a kid in my own candy store, as i go through the gift bags my team creates. I genuinely use and love so many of the items I share …like the ProLon fasting mimicking meal program, Instytutum Result Driven Skincare, Flora Farms field to table restaurant in Cabo, and Soma's Sensuous Silk Kimono Robe."
One of the exciting items in Fary's gift bag is Origin Stretch Spa, which is owned by a gay couple, and are gifting a day of pampering.
"I'm excited to participate in the 'Everyone Wins" Nominee Gift Bags because it gives me the opportunity to educate even more people about the benefits of IV Therapy," said owner Garrett BellRios.
"Actors – much like athletes and performers – are always on the go and their systems get run down, BellRios noted. "They're not getting enough sleep, working too much, always on airplanes and breathing recycled air. Through IV Therapy and vitamin injections, I can customize their protocol using European homeopathic remedies and treat their specific symptoms. So many of my clients now tell me, 'I haven't been sick in ages.' And my treatment is mobile, can be done anywhere and they often feel better immediately."
Oscar Gifting Lounges
Doris Bergman's 12th Annual Valentine Oscar Luxury Lounge & Party was held at Weho hotspot, Fig & Olive. There were lots of great gifts to choose from BeautyStat Cosmetics, Precious Vodka, BuyWine.com, Pachamama, My Saint My Hero, Twisted Silver and Appletinis.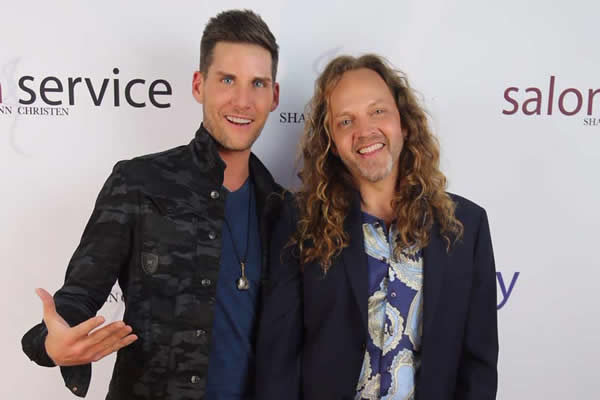 In the spirit of giving back, guests and sponsors made monetary donations and/or donated unwrapped gifts for young adults (ages 13-18) for a Gift Drive benefiting 'Wednesday's Child' — a weekly segment airing on KTTV FOX 11 News with anchor Christine Devine. Bergman always invites beloved foster children to join in on the festivities and experience what it feels like to be treated as a VIP.
Shann Christen, celebrity stylist and owner of a hair loss clinic and full service salon and ColorBar on Westwood Blvd, gifted his biology based, dual shampoo system, BioMethod.
"It was exciting to meet all the celebrities at this years event. Any day is a good day when you get your photo taken with Richard Grieco! Miles Tagtmeyer never fails to be charming and it was fun to do 'boomerangs with the Social Media Guru."
Business and lifestyle influencer and ambassador in the LGBTQ space, Chad Brittian, was happy to meet all the vendors attending. "I was quite impressed with the diversity and overall inclusion of brands. There were quite a few companies that I could see myself aligning with on an influencer branding basis."
True Gold Honey's line of all/natural honey was delicious and packaged in a beautifully designed and well-branded wooden box, Brittian noted. "No attention to detail was missed which I can really appreciate from a branding and marketing perspective. I also received a warm welcome from Bio Method and can appreciate the time, energy and passion Shann has for his products. I am thoroughly looking forward to a collaboration with his brand in the future."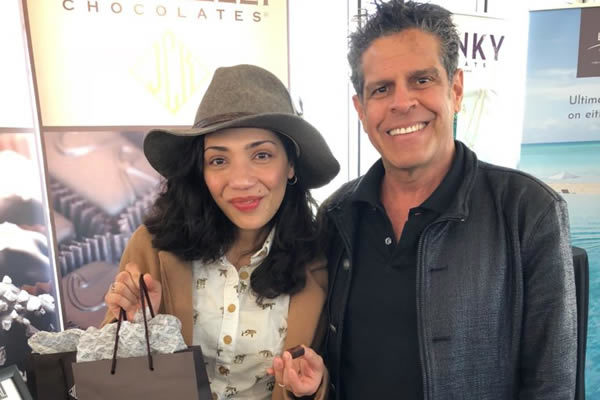 At GBK Productions, Brittian met Dapper & Dashing custom clothing for men and women. "They had a beautifully designed area that was welcoming and really showcased their brand. I am hopeful to partner with them for future events and I definitely can see a lot if potential and look forward to seeing how this brand grows."
Owned by a gay couple, John Kelly Chocolates also had a great time at the GBK gifting suite. "We have a fairly large celebrity clientele, being located in Hollywood, and it was nice to see some people who already know about us as well as make some new friends," Kelly said.
At the suite, they gifted the 8-pc assortment box filled with their most popular flavors, inviting celebs to come visit them at their chocolate factory. "Our chocolate really is unique and has something special, and it was fun seeing celebrities have that visceral reaction when they tasted it."
She Phillips, who owns Scenterprises, gifted numerous celebrities her unique perfumes. "Marcus Gay Harden chose a Woodsy and Spicy perfume and was excited by the combination of these lovely scents. I love this one as it has a hint of exotic spices.. soft…alluring and proactive"!
Calendar: May 15-20
Events in the week to come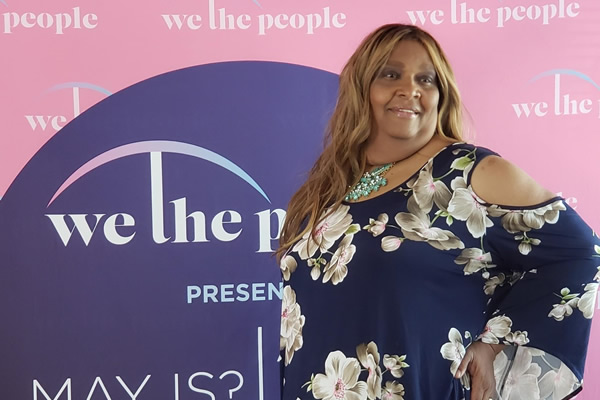 Saturday, May 15
May Is Trans DC will host a free virtual event, "May Is: Trans Pride" at 10 a.m. The event, curated by SaVanna Wanzer, will focus on addressing the critical gaps in information, services, and visibility of the transgender, gender non-conforming and gender expansive communities in the DMV. For more information, visit: mayistransdc.com/event-details/may-is-transpride.
The DC Center will host online support for LGBTQ+ people of color via Zoom at 1 p.m. This peer support group is an outlet for LGBTQ People of Color to come together and talk about anything affecting them in a space that strives to be safe and judgement free. For more information, visit thedccenter.org/poc or facebook.com/centerpoc.
Sunday, May 16
The DC Center and the Beta Kappa Chapter of the Beta Phi Omega Sorority will host a peer-led support group devoted to the joys and challenges of being a Black lesbian via Zoom at 1 p.m. You do not need to be a member of the Beta Kappa Chapter or the Beta Phi Omega Sorority in order to join, but they do ask that you either identify as a lesbian or are questioning that aspect of your identity. For more information, email [email protected].
May Is Trans DC will host a movie night over Zoom at 5 p.m. The movie will focus on stories about the transgender community. Grab your PJ's, a blanket and pillow and cozy up for a relaxing night of fun. To RSVP, visit: . mayistransdc.com/event-details/movie-night.
Monday, May 17
Join GenderQueer DC for their monthly support group for people who identify outside of the gender binary. Whether you're bigender, agender, gender fluid, or just know that you're not 100% cis – this is your group. The event will be on Zoom and will begin at 7 p.m. For more information, visit genderqueerdc.org or their Facebook page.
Join May Is Trans DC for "Trans Led Organizations via Zoom at 7 p.m. The event will feature panelists Queen Victoria Ortaga, Jevon Martin, Kayla Gore, and Lee Blinder who will discuss how to observe the unique needs of transgender communities to create non-profit organizations. To RSVP, visit: mayistransdc.com/event-details/trans-led-organizations.
Tuesday, May 18
The DC Center will host "Bi Roundtable Discussion" via Zoom at 7 p.m. This monthly event will be an opportunity for people to gather to discuss issues related to bisexuality or as bi individuals in a private setting. For more information visit Center Bi's Facebook page: facebook.com/centerbiplus.
"Ask Me About My Pronouns" will be on Zoom at 7 p.m. Join Will Wanzer III, Grayson Baker, and Marian Cooper for an educational conversation about how to use pronouns and best practices if you do not know someone's pronouns. To RSVP, visit: mayistransdc.com/event-details/ask-me-about-my-pronouns-1.
Wednesday, May 19
"Allies of the Transgender Community" is an online panel that will be hosted on Zoom at 7 p.m. This event, organized by May Is Trans DC, will discuss the ins and outs of transgender allyship. The featured panelists are Justin Woods, Stephania Mahdi, and Jewel Addy. For more information, visit: mayistransdc.com/event-details/allies-of-the-transgender-community.
Join BookMen DC as they discuss gay literature over Zoom at 7:30 p.m. For more information, visit: bookmendc.blogspot.com.
Thursday, May 20
The DC Center will host an online Poly Discussion group starting at 7 p.m. on Zoom. This group is designed to be a forum for people at all different stages to discuss polyamory and other consensual non-monogamous relationships. Newcomers will be given a basic introduction into what polyamory is and what some of the advantages and disadvantages are. Attendees who are already in relationships will also be given the opportunity to discuss their situations and get advice from the group if they feel that would be helpful. This group is open to people of all sexual orientations and people who are interested in non-monogamy in both kinky and non-kinky relationships. For more information, visit: thedccenter.org/events/poly-group-discussion-2021-05-20.
MCBC honors veterans with free COVID testing
Event sponsored by African American Health Program, National Center for Children and Families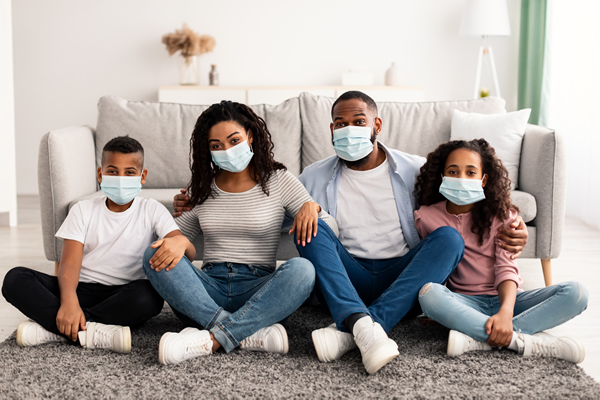 Montgomery County Black Communities hosts "Veterans Celebration!" at Montgomery College (Rockville Campus) on Saturday May 22 at 10 a.m. The event, associated with the catchphrase "Don't Stress. Take the Test," will salute veterans by providing free on-site COVID-19 testing, bags of food, COVID-19 swag, and on-site vaccine pre-registration. This event is sponsored by organizations such as the African American Health Program and the National Center for Children and Families. For more information visit AAHPcovid.com.
NAMI in conversation about managing mental health
Guided discussion and Q&A with a panel of experts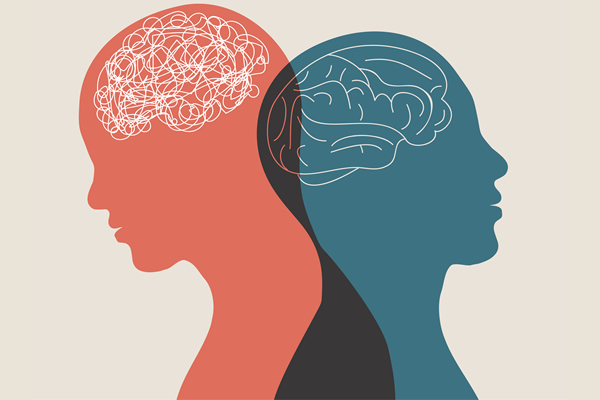 The National Alliance on Mental Illness hosts the fourth edition of "NAMI Ask the Expert Help Not Handcuffs," a webinar dedicated to addressing mental health crises with effective community responses. During this webinar, community experts provide an overview of the crisis model being developed and implemented in St. Tammany Parish, Louisiana, and offer background on how to get started locally on implementation of a new crisis system.
Following the presentations, NAMI's Chief Medical Officer Dr. Ken Duckworth will lead a guided discussion and Q&A with a panel of experts including Mary Burckell, Director of Safe Haven, Nick Richard, Executive Director of NAMI St. Tammany, Tom Rowan, Project Director and Peer Support Specialist Supervisor of NAMI St. Tammany, and Judge Alan Zaunbrecher, 22nd Judicial District Court of Louisiana. To register, visit NAMI's website.