February 17, 2020 at 3:37 pm EST | by Richard J. Rosendall
Vengeance is mine, saith Lord Donald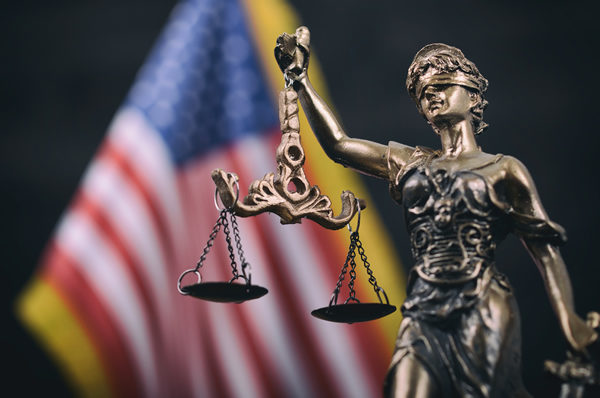 Get out your tiny violins for right-wing radio host Dennis Prager, who complained last week that "the Left made it impossible to use the N-word any longer."
When I hear Prager's name I recall his outrage in Nov. 2006 at Congressman-elect Keith Ellison's plan to take his ceremonial oath of office on his faith's holy book. For the occasion, Ellison (the first Muslim elected to Congress, now Attorney General of Minnesota) borrowed Thomas Jefferson's copy of the Qur'an from the Library of Congress.
It came as no shock that the embrace of "religious freedom" by 'wingers like Prager is only meant to protect those who agree with them, not all people of faith. The same goes for attacks on politicians' family members: Republicans who savage Joe Biden over his son's business activities have no problem with the rampant nepotism in Trump's White House.
Democrats, meanwhile, are busy applying purity tests. Already in this election cycle, various denizens of the Left have embraced the Right's divide-and-conquer strategy by declaring that Kamala Harris wasn't black enough and Pete Buttigieg wasn't queer enough.
Across the aisle, Trump adds partisan privilege to race and class privilege. He exploits the nihilistic proposition, enforced by Mitch McConnell, that electoral victories only count if Republicans win them. Similarly, Republicans' respect for the right to vote extends only to white people; citizens of color have their voting franchise infringed under the pretext of fighting voter fraud, despite scant evidence of any such problem.
Conservatives endlessly attack "identity politics" because they take it for granted that all rights and power properly belong to white male Christians. That, of course, is not how they put it. But how else to explain, for example, someone like conservative commentator Andrew Sullivan presuming to judge which populations are suitable immigrants, considering that he himself was an HIV-positive immigrant at a time when there was a ban on people in that category? Race- and class-based privileges remain so ubiquitous they are like wallpaper.
Trump is an extreme case of such privilege. Just as he brazenly insists that the summary of his July 25 phone call with the president of Ukraine proves his innocence, he claims that Article 2 of the Constitution allows him "to do whatever I want" — effectively asserting that the Constitution magically alters itself to conform to his latest tweet.
This owes more to King Louis XIV ("I am the State") than to our Founders, who crafted a tripartite government with careful separation of powers. At base, he is asserting that his power is granted not on behalf of the people, but as a plaything to use as he pleases. Currently, his pleasure is to use our Justice Department to protect his accomplices and retaliate against anyone who puts devotion to country ahead of fealty to him.
Former Acting Solicitor General Walter Dellinger writes, "Trump has never understood that the literal power to take an action does not mean that it is not profoundly wrong to do so."
As Preet Bharara, former U.S. Attorney for the Southern District of New York, tweeted in May 2018, "If prosecutors did EVERYTHING within their lawful and constitutional authority, we'd be living in a hellscape. Discretion, judgment, wisdom, restraint matter too. Someone tell POTUS (and defenders) that constitutional authority is not the end of the argument; it's the beginning."
Years ago, when I studied federal procurement procedures as an employee of the Department of Labor, the course ended with a section on ethics. It was made clear that abusing the federal contracting process for personal gain can land a person in prison. Unlike the current president, and contrary to his promiscuous branding of anyone who gets in his way as an enemy of the state, most civil servants are honest. More than that, they adhere to norms he regards with contempt.
We are at an inflection point. We can yield to the worst in us and slide into kleptocracy, or take inspiration from the public servants who have risked a tyrant's wrath by obeying their oaths of office. If we rise to the best in us, we can restore the rule of law and continue pursuing America's promise.
Richard J. Rosendall is a writer and activist at [email protected].
Copyright © 2020 by Richard J. Rosendall. All rights reserved.