February 28, 2020 at 9:45 am EST | by Jonathan Mathias Lassiter
All queer folk ain't kinfolk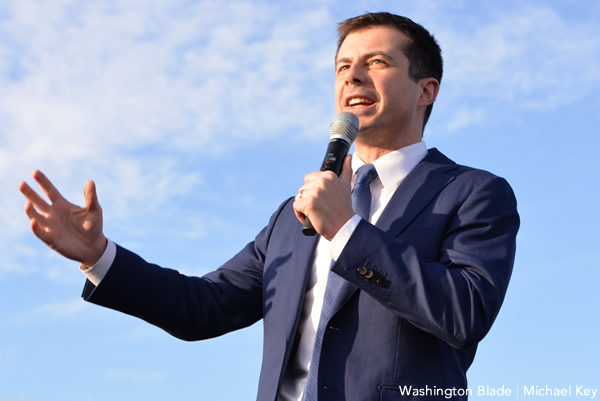 Pete Buttigieg happens to be a gay man. Being gay appears less to be a central part of his identity and more of an added feature. I am not implying that one's sexuality should be the totality of them or the thing that they lead with. Nor do I think that there is a certain way to be gay. However, being part of a marginalized community should imbue one with a commitment to the most marginalized members of society. It should fundamentally inform one's worldview. I'm not sure this is the case with Buttigieg.
It is probably unrealistic to have a president like the one described by Zoe Leonard: "a dyke..fag..crossdresser." But is it unrealistic to have a Democratic president who does not willingly cede to the center? Is it unrealistic to want a president who unapologetically owns their minority status, sees it as a strength, a way to connect with the most vulnerable, and a motivation to lead based on conviction not consensus? Pete seems to view his minority status as something he overcame, not through shunning but through taming it. His approach to being gay reminds me of Barack Obama's approach to Blackness.
Pete is the white Obama wannabe. He's a Harvard alum, Rhodes Scholar, a veteran, a Christian, and a married man in a monogamous relationship. He's a symbol of gay exceptionalism just like Obama was a symbol of Black exceptionalism. He is not the norm. He moves beyond his gayness like Obama moved beyond his Blackness. His appeal to most is not that he is a queer with radical ideas but that he is not like those marching rainbow gays. He's safe, and being gay is a bonus that centrist voters can feel good about. See, I'm open-minded. It's a sort of colorblindness that many people applied to former President Obama. Is this queer-blindfolding? Are people happy to pretend that sexual orientation does not make one different from another? That LGBTQ people don't have different experiences of life than heterosexual people? As people proclaimed the world post-racial after Obama's election, will they announce that we've overcome homophobia if we have a President Pete?
But more than being post-queer, Pete's ideas are a bigger problem. He is not progressive; he's a centrist. While his policies like the Douglass Plan and Medicare for All Who Want It are fine enough, when put alongside his record of gentrification, poor race relations in South Bend, and cozy relationships with billionaires, they ring hollow.
He apes a pristine homonormative identity – privileging heterosexual norms and ideals within a LGBT context. These norms often emphasize corporate interests and market values. These are the characteristics that make him popular among cisgender, able-bodied, middle-class and affluent gay white men. If Pete is elected he will be the most heterosexual gay president possible, the same as Obama was the whitest Black president possible. Pete's homonormativity makes him suspect among LGBTQ people who do not share a desire to move beyond queerness.
As a Black same-gender-loving man, I am just as enthused about Buttigeig as I was about Obama the second time around. After Obama's first term he had failed to close Guantánamo Bay, sent more soldiers to Afghanistan, hosted a "beer summit" to address police racial profiling, and paid lip service to the murder of an unarmed teenager remarking: "If I had a son, he'd look like Trayvon." Furthermore, by some estimates, Black Americans, in particular, were worse off than they were before his election. Obama was a symbol of post-racialism more than anything else. And progressives like me wanted more substance than symbolism in 2012. I want more substance now.
Many older generations of Black Americans used to say "all skin folk ain't kinfolk." This saying highlighted the fact that belonging to (or claiming membership in) a group does not mean that you will fight for that group. Pete Buttigieg may be a gay man, but is he kin?
Jonathan Mathias Lassiter, PhD is a licensed clinical psychologist, professor, and author. His book 'Black LGBT Health in the United States: The Intersection of Race, Gender, and Sexual Orientation' won the Gay and Lesbian Medical Association's Achievement Award in 2017.