February 28, 2020 at 8:39 am EST | by Carl Schmid
New insurance proposal would hurt Americans with HIV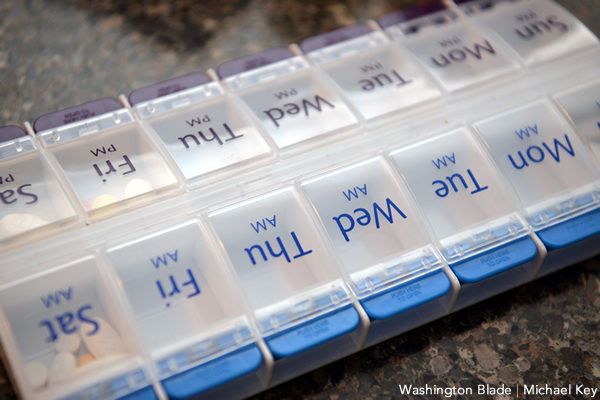 Americans living with HIV, hepatitis, and other illnesses such as cancer, multiple sclerosis, and hemophilia are used to fighting for their lives. A new proposal from the Trump administration could make that fight a whole lot harder and costlier.
In January, the Centers for Medicare and Medicaid Services issued a draft rule that would permit insurers to disregard "copay coupons" for prescription drugs when computing a patient's out-of-pocket spending.
These coupons function just like the ones at grocery or department stores — they reduce patients' copays at the pharmacy checkout counter. In 2018, patients used $13 billion worth of coupons from pharmaceutical companies. By making drugs more affordable, the coupons help ensure patients get the medicines they need.
Traditionally, insurers have applied these coupons toward patients' deductibles and out-of-pocket maximums. For instance, imagine a patient faces a $1,000 cost-sharing requirement for an HIV drug. Currently, that patient might receive a $900 coupon from the drug manufacturer, and pay the remaining $100 himself. But the entire $1,000 would count toward his deductible, which can be as high as $6,900 for an individual.
But under the proposed rule, insurers could ignore that coupon and not apply it toward the deductible. As a result, it'd take far longer for patients to reach their deductibles — and thus they'd face far higher out-of-pocket liabilities.
President Trump has said that he wants to lower the cost of prescription drugs for Americans, but this proposal will do the complete opposite — it will increase patients' costs. As more people can't afford these higher costs, they'll start skipping doses. Between 2016 and 2017, more than one in 14 HIV patients reported deviating from their drug regimen as a result of cost.
Missing just a few doses can have disastrous consequences. One recent analysis found that interrupting HIV treatment for only two days was enough to increase an individual's viral load. And higher viral loads don't just impact the patient's life — they increase the chances of transmitting HIV to someone else. This will make it more difficult to achieve the goals of President Trump's historic Ending the HIV Epidemic initiative, which calls for increased access to antiretroviral medications for treatment and PrEP for prevention.
The same is true for Americans with hepatitis B & C, who in the case of hepatitis B, depend on daily medications to stay healthy and for hepatitis C, can be cured in as little as 8 to 12 weeks, if they can afford and access their drugs. 
Americans with HIV and hepatitis aren't the only ones struggling to keep up with their medications. A recent study found that nearly 80 percent of patients who rely on top brand drugs abandoned their prescription regimen if the copay was $250. Even if the cost was $50 per month, 30 percent of the people did not pick up their drug. As many as 50 percent of chronic disease patients don't adhere to their prescription regimens. This nonadherence causes roughly 100,000 preventable deaths each year and one in ten hospitalizations.
Thanks to new medications, we are making great progress in treating many diseases and illnesses. HIV now can be a manageable condition, hepatitis C can be cured, and many cancers have effective treatments. But these medicines only work if people can afford them.  
The administration's proposal favors the powerful insurance lobby, rather than helping the American people. Let's hope the president overrules officials at the Centers for Medicare and Medicaid Services and rejects the proposal.
Carl Schmid is executive director of the HIV + Hepatitis Policy Institute, a national, non-profit organization whose mission is to promote quality and affordable healthcare for people living with or at risk of HIV, hepatitis, and other serious and chronic health conditions.