March 1, 2020 at 10:23 am EST | by Kathi Wolfe
Honoring Renaissance woman Pauli Murray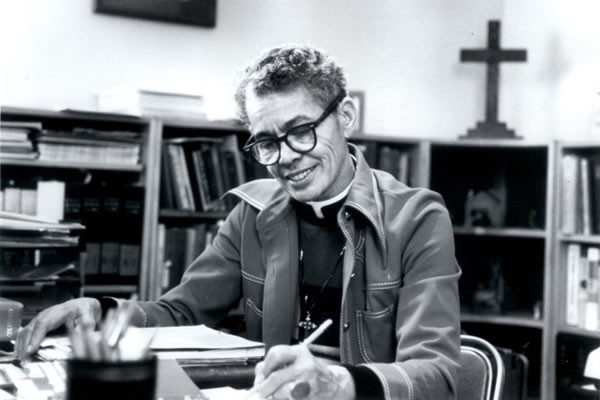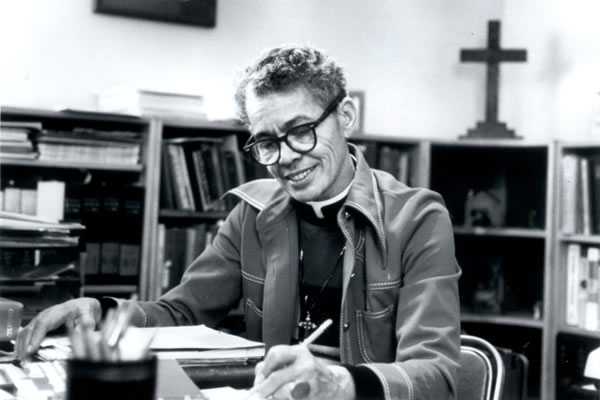 (Editor's Note: This column is part of an occasional series highlighting queer women feminists.)
Sometimes we don't know who our heroes are – even when we're six degrees of separation from them.
That's the case with me and Anna Pauline (a.k.a. Pauli) Murray, the black, queer, lawyer, poet, writer, priest, civil rights activist and National Organization for Women co-founder.
Friends of mine from my Yale Divinity School days knew who Murray, the first African-American woman to be ordained as an Episcopal priest, was. As I've written before in the Blade, Murray was helpful in the 1960s to my friend the Rev. Joan Forsberg's (then) husband Bob. He was doing urban ministry in New Haven. "A white landlord was unfairly evicting a black woman from her apartment," Joan told me, "…he called on Pauli Murray for free legal counsel and she was immediately responsive."
As I write, it's Black History Month. As a white, cisgender queer woman, I've known intellectually that women of color, queer women and women from other marginalized groups have been largely erased from the history of feminism. I knew it in my guts after hearing my friends' stories about Murray on whose shoulders we all stand.
To say that Murray was a Renaissance woman is an understatement.
Murray earned three law degrees, organized sit-ins in the 1940s against eateries that discriminated against people of color (decades before the modern Civil Rights movement began) and took part in bus boycotts 15 years before Rosa Parks.
Her writing ranged from autobiography to poetry and jurisprudence. Murray wrote "Song in a Weary Throat: Memoir of an American Pilgrimage" and the poetry collection "Dark Testament and Other Poems."
In 1948, at the request of the United Methodist Church women's division, she wrote the book "States' Laws on Race and Color." Known as 'the bible" of Brown v. Board of Education, the volume became an invaluable resource for people working against segregation.
That's just the tip of the iceberg!
Murray was friends with not only Langston Hughes but Eleanor Roosevelt. "The Firebrand and the First Lady: Portrait of a Friendship: Pauli Murray, Eleanor Roosevelt, and the Struggle for Social Justice" by Patricia Bell-Scott tells the story of Murray's friendship for nearly 25 years with Roosevelt. Their friendship began when Murray, 27, was working for the WPA, a New Deal program and continued until Roosevelt died in 1962. (Bell-Scott's book, a Lillian Smith Book Award winner, was nominated for the National Book Award.)
A Baltimore native, Murray was sent to Durham, N.C. at age three after her mother died. There, she was raised by her grandparents and two aunts, one of whom became her adoptive mother.
From her youth onward, Murray endured discrimination based on her sex and race. As a child she loathed having to sit in movie balconies for "colored" people. The University of North Carolina refused to accept her because she was black. Later, Harvard Law School wouldn't admit her because she was a woman. In the 1940s, long before people talked of "intersectionality," Murray wrote of living with both Jim Crow and Jane Crow.
Ruth Bader Ginsburg referred to Murray as a role model, Bell-Scott emailed the Blade. It was "Murray's legal argument – that the Fourteenth Amendment forbids discrimination on the basis of race and sex – which Ginsburg successfully used in precedent-setting cases before the high Court," she said.
It's hard to know how people from a different time identified by gender or sexuality. Yet, Murray didn't hide who she was. She wore boys' clothes and had a loving, "Christian" 17-year relationship with a woman.
Homophobia kept Murray from being hired by the government. The discrimination she encountered often plunged her into financial insecurity. Today, thankfully, Murray's legacy is being honored. Yale University has named one of its residential colleges after her and the National Park Service has designated Murray's childhood home as a National Historic Landmark.
"Hope is a song in a weary throat," Murray wrote. Yet, she never stopped working for justice.
Let's honor Murray by continuing to strive for justice. Thank you, Pauli! R.I.P.
Kathi Wolfe, a writer and a poet, is a regular contributor to the Blade.