February 29, 2020 at 5:52 pm EST | by Michael K. Lavers
Blade witnesses man scale U.S.-Mexico border fence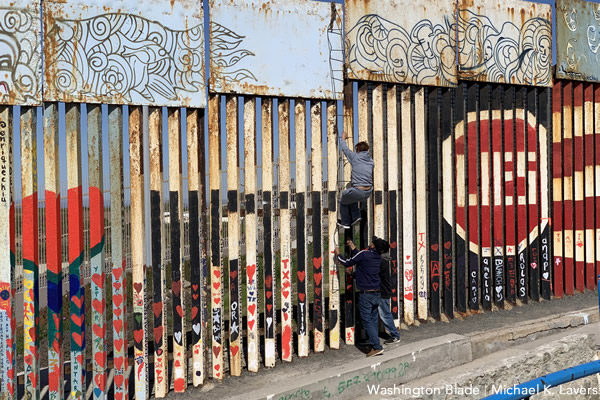 TIJUANA, Mexico — The Washington Blade this week saw a man enter the U.S. after he scaled two fences that mark the U.S.-Mexico border.
The man, who was wearing a gray sweat suit, used a makeshift ladder to scale a fence on the Mexican side of the border near the beach in Tijuana's Playas de Tijuana neighborhood at around 1:15 p.m. on Feb. 26.
A man who was standing near the fence told him to "hurry up" as he ran across a narrow strip of land between the fence and a second fence on the U.S. side of the border. The man quickly climbed over it and ran to set a Jersey barriers on the beach at Border Field State Park in San Diego.
A man who was standing near the fence in Playas de Tijuana saw this reporter and asked him whether he was "filming."
"No," this reporter responded.
This reporter used his iPhone to record a short video of the border fence a couple of minutes before the man scaled it. The video did capture a man hoisting the ladder that was used to scale the fence.
A picture this reporter took with his iPhone captured the man climbing up the ladder as two men held it in place.
The Blade a few minutes later saw a group of seven young men who were wearing the same gray sweat suits as the man who scaled the fence. They were sitting on a bench under a gazebo that is located about 100 feet from the fence.
Several men — presumably smugglers who are known as "coyotes" in Mexican Spanish — who were in the immediate area were talking quietly into headphones. A Tijuana Police Department patrol car arrived at the gazebo a few minutes after the man scaled the fence.
The group of men were no longer at the gazebo. It was also not clear whether the patrol car was responding to the man who scaled the fence.
The Blade saw a U.S. Border Patrol truck driving through the strip of land between the two border fences a few minutes after the man scaled them. It is not clear whether he was taken into custody in the U.S.
The incident took place while the Blade was in Tijuana to continue its reporting on the plight of LGBTQ migrants.
The Blade earlier in the day visited Jardín de las Mariposas, an LGBTQ migrant shelter that is located in a working-class neighborhood between Playas de Tijuana and downtown Tijuana. The Blade on Tuesday visited Casa de Luz, a migrant shelter in Playas de Tijuana in which a number of LGBTQ migrants currently live.
Casa de Luz is less than two miles south of the section of border fence the man scaled.
The Minneapolis-based Organization for Refuge, Asylum and Migration organized the trip that brought the Blade to the two shelters.