March 10, 2020 at 5:06 am EDT | by Richard J. Rosendall
'Black voters saved our sorry white asses — again'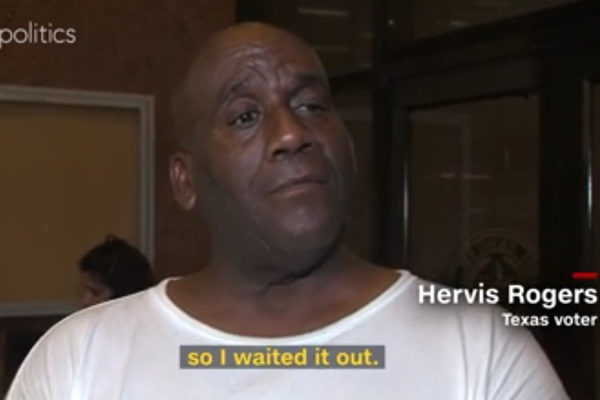 A generation from now, countless women will recall a moment in their childhood when they met a United States senator: "My name is Elizabeth," said the woman who proposed and established the Consumer Financial Protection Bureau, crouching to the child's level so they could see eye-to-eye, "and I'm running for president, because that's what girls do." And they made a pinky promise to remember.
Disappointment is part of life. Most candidates lose, most business startups fail, most revolutions are stillborn. The revolution 244 years ago in America was a rare success. That does not mean it was sufficient or forever. On December 5, 1955, a young black preacher spoke from a Baptist church pulpit near the Alabama state capitol when I was in my mother's womb in Maryland, "[W]e are determined here in Montgomery to work and fight until justice runs down like water, and righteousness like a mighty stream." He echoed the prophet Amos.
The following decade saw passage of the Civil Rights Act and the Voting Rights Act. The latter was gutted by the Supreme Court in 2013 in Shelby County v. Holder, which unleashed a torrent of voter suppression efforts in Republican-controlled states.
Seven years further on, the hostile takeover of the Republican Party by a sociopath with feral cunning (as George F. Will described Trump) looked as if it might be answered with a similar takeover of the Democratic Party by an angry demagogue who brands even allies who quibble with him as tools of billionaires, and poses as an outsider after three decades in Washington.
Then came Super Tuesday and a course correction led by African Americans across the South. The next morning, former Democratic congressman Tom Downey of New York said, as he entered the coffee shop we both frequent in D.C., "Black voters saved our sorry white asses yet again." And so they had.
We are living in unsettled times. The aforementioned sociopath, our 45th president, has responded to the growing coronavirus pandemic by minimizing the problem, contradicting top public health officials, boasting of expertise he plainly lacks, and saying he has a hunch that the World Health Organization is wrong.
Setting aside the many other ways in which he has shown his unfitness for office, this literally viral incompetence should prompt his removal. Impeachment having already failed due to the near-total capitulation of Republican senators, it is up to us as voters to save our democracy. We face this task in an environment of social division, disinformation by foreign hackers, constant lies from the president, and his attacks on the Defense, State, and Justice Departments, intelligence services, and federal judiciary.
At least we are not responding with apathy. Voter turnout this year is significantly higher compared to 2016. Some voters, not to be deterred, waited six hours to vote in Texas. Katelyn Burns at Vox reports, "Support from black voters translated across the South, with Biden notching double-digit victories in Alabama, Tennessee, North Carolina, Virginia, Arkansas, and Oklahoma." Also, "LGBTQ voters turned out in record numbers."
After dismissing the southern primaries won by Hillary Clinton in 2016, Sanders worked to win more black votes, but has little to show for it. Biden won strong support not only from black voters but from white suburban women voters.
Michael Harriot at The Root, mocking Sanders as "Socialist Democratic Jesus," writes, "Maybe black people voted for Biden because he worked in the administration that gave them healthcare. Perhaps those people trust him because he was part of the largest tax increase on the wealthy since the 1950s." He adds, "Simply surviving to become an old black person in the South is a revolutionary act in itself…. For some black voters, the rabid toxicity of inflexible white liberals is the one thing that repels them from joining [Bernie's] mass movement."
We learned on Super Tuesday that a billionaire cannot buy votes, and that Bernie's maximalist browbeating has limited appeal. Joe Biden, first elected to the Senate in 1972, drew more support with his gaffe-filled authenticity and personal decency than better-funded rivals.
Perhaps our contentious republic, nearing its quarter-millennium anniversary, is sturdier than we thought.
Richard J. Rosendall is a writer and activist at rrosendall@me.com.
Copyright © 2020 by Richard J. Rosendall. All rights reserved.