March 12, 2020 at 11:03 am EDT | by Bill Malcolm
Spring fun in the valley of the sun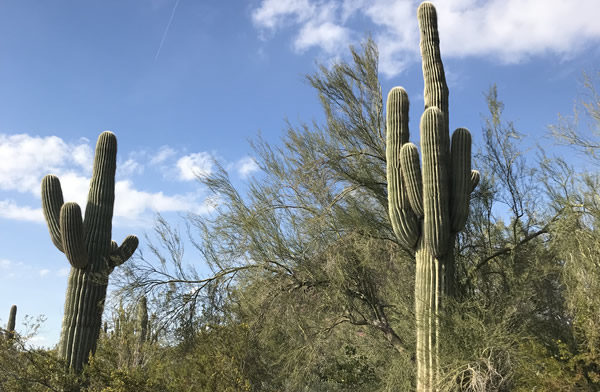 I have been to Phoenix four times in recent years but could never find the gayborhood. Indeed, the local travel guide said they didn't have one. Wrong. You will find it at 7th Avenue near Melrose in midtown. You will not need a rental car if you stay and play in Midtown and use the Light Rail to get around.
Spring is the perfect time to visit. The desert is in bloom. Temperatures are in the 80s. You will wonder why you don't move here.
WHAT TO DO
The Desert Botanical Garden features a great display of native cacti. You can reach the garden and the nearby Zoo via a light rail/bus connection. The Garden is located In Papago Park just northeast of the Airport. After a hike through the gardens, continue on the light rail east to Tempe, home of the beautiful Arizona State University campus. There are lots of restaurants and shops in downtown Tempe which is very walkable.
Work out at the LA Fitness, Camelback at 7th Avenue. It's where the boys are.
Phoenix's Pride Parade Festival is scheduled for April 4-5 (phoenixpride.org). It's the 40th anniversary of Pride here.
Don't miss the new arts district just north of downtown.
NIGHTLIFE
Make your first stop Stacy's at Melrose (4343 7th Ave.). Sunday night is the drag show, Stacy's Follies. It's packed.
Nearby is the Pat O's Bunkhouse (4428 N. 7th Ave.) which is also a lot of fun.
The lesbian owned bar, Boycott Bar (430 N. 7th Ave.), welcomes everyone.
Charlies (727 W. Camelback) has fun karaoke and two-for-one specials on Tuesdays. Wear your cowboy gear.
WHERE TO EAT
The Wild Thaiger (2631 Central) has great Thai food.
The Mexican restaurant at 7th Avenue at Osborn, Mi Patio, is also very good.
Durant's Fine Food is a Phoenix tradition (also on Central).
GETTING THERE
I took American to Phoenix and Southwest home.
I don't like the new uncomfortable Southwest seats, especially on long flights. But the staff is friendly and they don't charge a ticket change fee or bag fee.
Fares can be lower on American (which has a huge hub here) and the service is better. (And the seats are more comfortable.)
From Sky Harbor, hop on the Valley Metro Light Rail (44th Street Station) for the short ride to downtown or midtown. Rental car or Uber not needed.
WHERE TO STAY
I stayed at the Extended Stay Midtown (Metro stop Osborn at Central). It's a doable walk (or bus ride) to the gayborhood and there's a 24-hour Walgreens nearby if you need anything. The Ramada is another option as is the Wyndham. I would recommend also The Clarendon but they charge a "resort fee" (which I avoid).
Other hotel options include the new Cambria Hotel in the Arts District. Downtown has a lot of great hotels. I like The Sheraton and the Residence Inn. Downtown too is very walkable and a short light rail ride up to the bars.
FOR MORE TRAVEL TIPS
Phoenix has two excellent LGBT publications. Ion Arizona Magazine (ionaz.com) is one. See its navigation map for a listing of the bars and other attractions. Echo Magazine is the other publication (echomag.com). It, too, has a great map of Phoenix bars.
Phoenix NewTimes is a new weekly and also lists lots of stuff to do.
The fabulous Arizona Highways has ideas of where to visit around the state. Head up to the Grand Canyon National Park or Sedona if you have time or down to Tucson. Arizona is an amazing and beautiful state.
Phoenix is a great city and is surprisingly gay-friendly. It's the New West. You can't beat the spring weather. You may want to even move here.
Bill Malcolm has lived in Phoenix once but currently resides in Indianapolis. His syndicated LGBTQ value travel column runs in publications from Charlotte to Los Angeles. He focuses on affordable vacations which utilize pubic transit and he tries to go where the locals go. He does travel writing as a hobby although he thanks Visit Phoenix for their travel tips and recommendations.