March 18, 2020 at 2:43 pm EDT | by Patrick Folliard
Black Death-themed play 'The Amateurs' was oddly prescient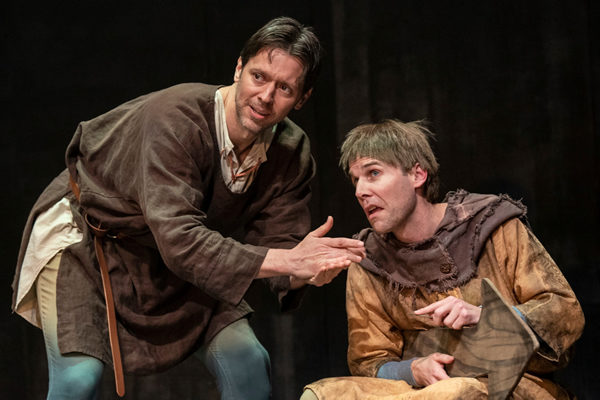 On Tuesday midday, Olney Theatre Center's lovingly rendered and urgently topical production of out playwright Jordan Harrison's "The Amateurs" was officially cancelled, joining the veritable multitude of other area closures. 
Because it was presented in Olney's more intimate Mulitz-Gudelsky Theatre Lab, the play ran a tad longer than shows in larger venues, but ultimately Maryland Gov. Hogan's executive order and Olney's concern for the health and safety of audience, artists and staff shut them down.
What makes Harrison's 2018 play unwittingly and unnervingly timely is that it's set against Medieval Europe's devastating Black Death.
The plot follows a group of itinerant actors doing their best to keep one step ahead of the pestilence. As they pull their cart forward each day and sleep rough by night, they're also rehearsing their new production of Noah's Flood. The cranky troupe's ultimate goal is to delight the Duke with their new work and be granted sanctuary and safety from the terrifying scourge behind the walls of his duchy.
Of course, when Olney hierarchy decided to actually produce the show (spring, 2019), no one had ever heard of COVID-19; they never imagined they'd be staging something that might prove so uncomfortably current.
Out cast member Michael Russotto, who plays the troupe's unsentimental manager Larking, says "Rarely has the phrase 'life imitates art' felt more applicable. I first became aware of this script over a year ago, when I participated in a completely cold reading of several scenes from the play. I fell in love with it instantly."
It's filled with humor, high and low. But it's dark, too.
When one of the actors dies from plague, there's little time to bury much less mourn him. As Larking (Russotto) makes it clear, the show must go on. For the dead actor's sister Hollis (Emily Townley), or his emotionally tortured, lover Brom (John Keabler), it isn't so easy. The remainder of the resilient squad — simple scenery designer Gregory (Evan Casey), hardboiled Rona (Rachel Zampelli) and a mysterious stranger, The Physic (James Konicek) — are survivors.
Shortly after learning the show had closed, Russotto recalls that because the production itself coincided so directly with a deadly, world-wide pandemic, it felt a bit like being in an episode of "The Twilight Zone."
"It's one of those spooky coincidences the universe throws at us occasionally; one that almost makes me believe there is a higher intelligence pulling the strings, an intelligence with a wicked sense of irony," he says.
There's a stunning moment in the play when Evan Casey pulls off his shaggy Gregory wig and plays the playwright, citing his experiences and thoughts on the AIDS epidemic and the early beginnings of humanism. Certainly, there's no mention of the current pandemic, but nonetheless, it's what came to mind for many in the press night audience.
When the COVID pandemic was announced, Russotto says, everyone involved in the production initially felt like they had to continue to share this timely gem of a play with theatergoers no matter what and damn the consequences.
Perhaps the cast and crew were the conduit to deliver a message of hope through art, a circumstance that seemed weirdly ordained by some outside sentient force?
But then practicality set in: "There was lots of lively debate over the virtues of carrying on vs concern over the danger to ourselves and our potential audiences. We want to do what feels right artistically, but we also want to be socially responsible. Rock/hard place."
With so many theaters closed, the weeks and maybe months ahead look pretty bleak for many artists. Nonetheless Russotto remains positive, a sentiment expressed on social media by many actors. He says, "I feel more than ever that artists have a responsibility to keep creating in times of crisis."
In the face of the current administration and the pandemic, he says, it requires artists, "to cling to the artistic impulse, to solve problems creatively, to speak up, and to shrug off (their) own complacency. So it ain't so bad."