May 26, 2020 at 8:42 am EDT | by Michael K. Lavers
Costa Rica becomes first Central America country with marriage equality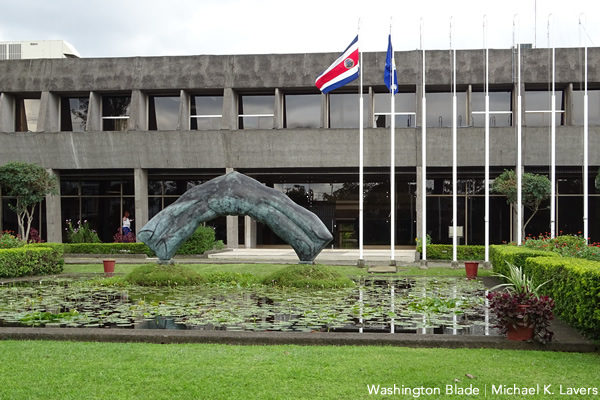 Costa Rica on Tuesday became the first country in Central America to extend marriage rights to same-sex couples.
Two women became the first same-sex couple to legally marry in Costa Rica when they tied the knot in a ceremony that took place in the municipality of Heredia shortly after midnight local time on Tuesday.
"Costa Rica officially recognizes marriage equality," tweeted President Carlos Alvarado. "Today we celebrate liberty, equality and democratic institutions."
"May empathy and love be the moral compass that allows us to move forward and build a country where everyone belongs," he added.
Costa Rica oficialmente reconoce el matrimonio igualitario. Hoy celebramos la libertad, la igualdad y las instituciones democráticas. Que sean la empatía y el amor la brújula que nos permita salir adelante y construir un país donde quepamos todas las personas ???️?

— Carlos Alvarado Quesada (@CarlosAlvQ) May 26, 2020
The Inter-American Court of Human Rights in January 2018 issued a landmark ruling that recognized same-sex marriage and transgender rights. Then-Vice President Ana Helena Chacón subsequently announced the Costa Rican government was going to comply with the decision.
The Costa Rican National Assembly faced a Tuesday deadline to extend marriage rights to same-sex couples. Lawmakers earlier this month who tried to delay the decision from taking effect cited the coronavirus pandemic, but their efforts failed.
"The day has arrived," proclaimed Sí, Acepto, a campaign in support of marriage rights for same-sex couples in Costa Rica, on Tuesday on its Twitter page. "Civil marriage equality is a reality in Costa Rica."
¡Llegó el día! El matrimonio civil igualitario es una realidad en Costa Rica #SiAceptoCR #UnPasoHistorico #MatrimonioCivilIgualitario pic.twitter.com/o7MSXcu2fy

— Sí Acepto Costa Rica (@siaceptoCR) May 26, 2020
Margarita Salas, a Costa Rican LGBTQ activist who previously ran for the National Assembly, on Monday told the Washington Blade the extension of marriage rights to same-sex couples in her country is "fundamental." Salas added, however, it is "not the end of the fight."
"There is much that remains: An anti-discrimination law, classification of hate crimes, recognition of transgender people's identities," Salas told the Blade. "We will keep moving forward until we have all rights, everyday, for everyone."