July 15, 2020 at 9:55 am EDT | by Karen Ocamb
Nats Getty unmasked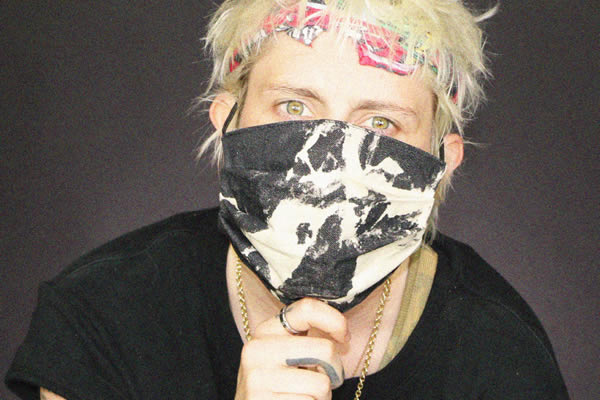 Nats Getty was an artist long before she knew it. Her soul was forged in the fight between the fire of freedom and the cold dictates of a society she tried mightily to understand and follow, only to fail and fall into rebellion, a fury of authenticity that still feeds her art and serves her independent, progressive, philanthropic spirit today.
Of course, it took the model, design and social justice activist much of her young lifetime to realize that real freedom and the path to true self-esteem results from a healthy dose of "fuck them" thinking.
Born Natalia Williams on Nov. 30, 1992, the month Bill Clinton was elected president, ushering into power the Boomer Generation and the promise to end AIDS, Nats was a skateboarding, surfing tomboy in Santa Monica before being sent to a boarding school in Oxford, England. Her creative brother August, who used to design dresses for his Barbie dolls, was sent to England, as well.
Nats was 9. She tried to be a good kid and got straight As but with the low drinking age in England and the freedom of no personal adult supervision except an aunt, she also got into trouble. Nats was also bullied as an outsider from the U.S. and had no one to talk to about her growing attraction to other girls.
Nats dropped out and moved back to LA at 16. Her mother, Ariadne Getty, with whom she is extremely close, tells the story of how Nats came to her one day, extremely nervous, itching to reveal a secret. Ariadne prayed that it wasn't asking permission to get a tattoo. Soon Nats came out with it, disclosing that she was gay. Ariadne was relieved. "Of course, I know you're gay," she said. Nats wished she had said that sooner.
But that was that. Nats was gay. August was gay. And Ariadne became the loving, protective momma bear. It remains that way still.
Nats turned tomboy into a punk androgynous look and flexed her authentic artistic ability to relax and kick back with the family or strike a photographic pose. She took her mother's last name, learned the family history and embarked on the life of a socially conscious philanthropist with her own art studio and street wear clothing line ironically called Strike Oil, inspired by mentor Mr. Brainwash, an LA contemporary pop art icon.
"Nats has an unmistakable energy, kind of a magnetic force, that makes her seem exciting and a bit dangerous: Come too close and you might get zapped, for better or worse. Tattoos on her arms read, 'Forgive me father, for I have sinned' and 'Things turned out so evil,'" reads an excerpt from a June 23, 2018 New York Times Style article intended to counter-balance the film and TV shows capitalizing on the famous Getty name, fortune and mythology.
The Times also took note of Nats' engagement to Gigi Gorgeous, "who became a YouTube star by documenting her gender transition."
Nats started modeling in 2013 as something she would try. She was signed up right away and requested for numerous events. But she actually wound up in her brother August Getty Atelier's high-end fashion show with David LaChapelle by accident.
"David didn't know I was related to August, and he didn't see a professional head shot picture of me. He just saw a selfie of me by mistake when they were showing him the models to pick from. He said I want to base the show around this girl, around her hair and her look. August said, 'Wait, that is my sister, that picture wasn't supposed to be in there.' I didn't even know I was in the show at that point. He ended up picking me and having me be the core of it," Nats told Black Chalk Magazine in 2015.
Nats married trans activist and social media influencer Gigi Gorgeous in 2019, with a lavish and adoring engagement party in Paris, documented and posted on YouTube. An unhighlighted subtext is Ariadne Getty's unconditional love and acceptance for her daughter's new spouse.
This family of four – Ariadne, August, Nats and Gigi — now think how best, wisely and responsibly to contribute the family fortune to good, worthy causes. They have been major donors to GLAAD, the Los Angeles LGBT Center, the Trevor Project – and they have contributed to the Blade Foundation.
"During the last few months, Gigi and I have been unified in our views and passion for the issues that we've all been trying to navigate. We've been each other's rock," Nats told the Blade. "There are so many important issues that have been pushed to the forefront, and Gigi and I have looked at ways to use our platform for good, to offer comfort and influence positive change." 
They are particularly disgusted by the Trump administration's efforts to roll back LGBTQ rights, especially targeting trans rights. 
"It's appalling," says Nats. "Systemic intolerance of the trans community has plagued this country for too long and this presidency has done nothing but further that. Trans people, especially trans people of color, have been vilified and faced terrible discrimination that has led to horrific violence within this community."
Nats Getty is also horrified by the systemic racism exposed by the murders of Black men by police and the inequities in healthcare exposed by the coronavirus pandemic. She has created art work, street war and most recently, COVID-19 masks to benefit Black Lives Matter and the Los Angeles Regional Food Bank. 
"Trump's actions have made it easier for this discrimination and violence to exist. It's time for change, and it's time for every human to be treated as equal," Nats says about her United Against Racial Injustice initiative.
"I wanted to give back and support my community," she noted. "Philanthropy — and advocacy — is something that is very important to me. I made 600 masks that were donated to hospitals and nursing homes on the frontlines, and 400 masks for the Strike Oil website, where 100 percent of proceeds have gone to the Los Angeles Regional Food Bank," she says. Nats also participates in "Wellness Wednesdays" events with LA CAN, creating/distributing 1,000 masks along with hygiene kits. "Our plan is to continue making masks for 100 percent non-profit, so we're able to raise funds and support the organizations that matter to us," Nats says.
"Everything I create from a jacket to an art piece has a story and serves a purpose in my personal journey," Nats tells the Blade. "I'm currently designing new pieces for my collection, producing a photoshoot, and planning a trip to England. I will be shooting content while I'm there for an exciting new venture I can't disclose just yet," she says.
"I'm working on some new designs that are more pointed and focused on the current social issues we are all living through," Nats says. "My pieces represent a social commentary, inspired by the injustices we fight every day. I'm also mindful of utilizing left-over fabrics from previous garments to create something new, so we minimize waste. I love to breathe new life into something old."