Rep. Wexton leads congressional effort against HUD's anti-trans rule
HUD says shelter can spot transgender woman by Adam's apple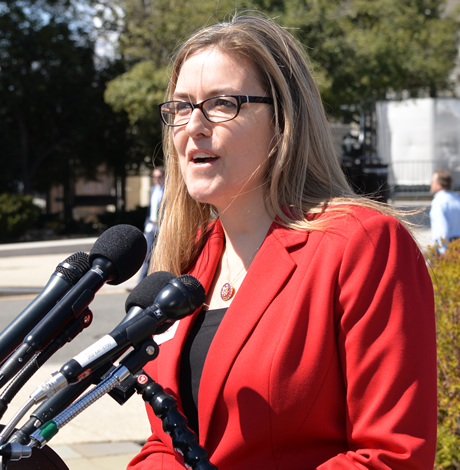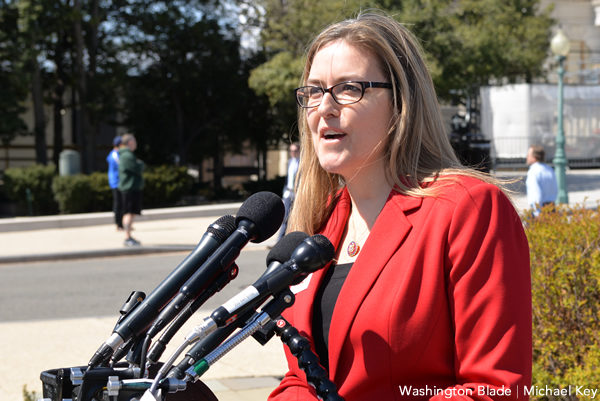 Rep. Jennifer Wexton (D-Va.) is leading a group of congressional lawmakers in formal comments against a proposed Trump administration rule allowing homeless shelters to refuse to accept transgender people consistent with their gender identity.
The bicameral congressional letter in opposition to the anti-trans rule change proposed by the Department of Housing & Urban Development under Secretary Ben Carson has been signed by 122 House members and 23 senators.
"It is absolutely shameful that in the midst of a pandemic and with a record number of Americans unemployed, when access to safe housing is more important than ever, the administration is focused on attacking the basic rights of transgender Americans," Wexton said Thursday in a Zoom call with reporters.
Formally made public July 24 in the Federal Register, the proposed rule allows homeless shelters with single-sex facilities to place transgender people consistent with sex assigned at birth, rather than gender identity.
The proposal downplays the idea such actions would be discriminatory by setting up a referral system: Single-sex homeless shelters can send transgender people to other shelters, for these single-sex shelters to house transgender people according to sex assigned at birth.
As pointed out by Katelyn Burns at Vox, the proposed rule has detailed language to aid homeless shelters in determining whether an individual is transgender, such as making assumptions based on 'height', 'facial hair' and whether or not they have 'an Adam's apple.'
Rep. Mike Quigley (D-Ill.) said on the conference call Carson years ago promised only delays in implementing an Obama-era rule against anti-transgender discrimination in homeless shelters, but then reversed himself by saying changes are coming, just being withheld, because members of Congress won't like them.
"Secretary Carson's words proved prophetic as under his and President Trump's leadership, the administration moved to completely gut core housing discrimination protections, such as HUD's disparate impacts and affirmative fair housing rules," Quigley said. "That wasn't enough. HUD has announced a new proposed rule that would enable shelters to discriminate against trans individuals based on shelter staff suspect an individual's biological sex may be different from the way they self-identify."
The proposed rule also disregards the U.S. Supreme Court's recent decision in Bostock v. Clayton County, which determined anti-transgender discrimination is a form of sex discrimination, thus illegal in the workplace under Title VII of the Civil Rights Act of 1964. The rule has applications to all federal laws against sex discrimination, including the Fair Housing Act.
HUD justifies the legality of the proposed rule by asserting homeless shelters aren't under the purview of the Fair Housing Act, although one legal expert said on the conference call that analysis is incorrect.
Sasha Buchert, senior attorney with Lambda Legal, said the proposed rule is "on very shaky legal ground" not just because of the Supreme Court decision, but also rulings from appellate courts, state and local measures against anti-trans discrimination and questions under the U.S. Constitution.
"If you spend five minutes going through the case law, courts apply a case-by-case analysis when deciding whether or not the Fair Housing Act applies to shelters," Buchert said. "It's a legal question as to whether they're considered dwellings, and there are at least two circuit courts that have held that shelters are considered dwellings under the Fair Housing Act, and therefore subject to that, so their analysis is just wrong."
The Trump administration has previously disregarded public comments against anti-transgender policy. HHS made final a rule under Section 1557 of the Affordable Care Act enabling health care providers and insurance companies to refuse service to transgender people despite more than 120,000 comments in opposition to the proposal.
Wexton, nonetheless, said public comments against HUD's anti-trans rule are still important for other reasons.
"Public comment is always important because even if it's ignored by the administration, it is something that can be pointed to in the lawsuit that will inevitably arise out of this rulemaking to not be allowed to go forward," Wexton said. "It is important that the public be heard and make sure that people make their voices known that they object to this discriminatory rule."
In terms of legislative actions against the proposed rule, Wexton cited legislation she sponsors called the Ensuring Equal Access to Shelter Act, which she said has passed the House Financial Services Committee, but has yet to come up for a floor vote.
Quigley said legislation that would defund the rule is also part of pending T-HUD appropriations legislation, but that hasn't obtained a vote in the Senate, nor is it clear whether President Trump would sign it into law.
Rep. Mary Gay Scanlon (D-Pa.) said on the conference call the Equality Act — which has passed the House, but has been bottled up in the Senate — would also reaffirm discriminatory measures against transgender people in housing are illegal.
"Here we are, 430 days since the House passed the Equality Act, and this rule is just one more demonstration of why we need [Senate Majority Leader] Mitch McConnell to take it up and we need to push it through the Senate," Scanlon said.
Publication of the proposed rule in the Federal Register officially started the clock for a 60-day comment period. Assuming the Trump administration sticks with the measure as proposed, it's expected to be made final in the fall.
Victory Fund honors Maine House speaker at D.C. conference
Ryan Fecteau is gay Catholic University alum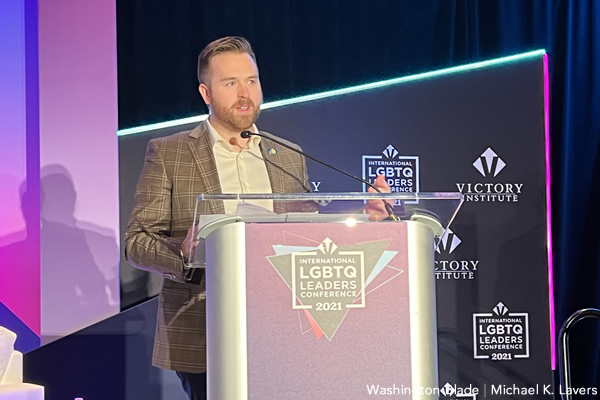 The Victory Fund on Saturday honored Maine House Speaker Ryan Fecteau on the last day of its International LGBTQ Leaders Conference in D.C.
Fecteau — an openly gay Catholic University of America alum — won a seat in the Maine House of Representatives in 2014. He became the chamber's speaker in 2018.
"Hate and intolerance will not derail us," said Fecteau after Florida state Rep. Carlos Guillermo Smith presented him with the Tammy Baldwin Breakthrough Award, which is named after U.S. Sen. Tammy Baldwin (D-Wis.). "Our community will not be intimidated."
The Victory Fund on Friday honored Guatemalan Congressman Aldo Dávila, a gay man who is living with HIV.
Victory Fund honors gay Guatemalan congressman at D.C. conference
Aldo Dávila a vocal critic of country's government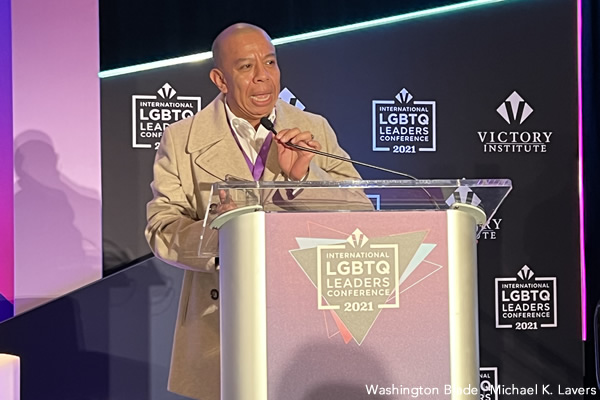 The Victory Fund on Friday honored an openly gay Guatemalan congressman who has faced death threats because of his efforts to fight corruption in his country.
Dávila — a member of the Winaq movement, a leftist party founded by Rigoberta Menchú, an indigenous human rights activist and Nobel Peace Prize winner — in 2019 became the first openly gay man elected to Guatemala's congress. Dávila, who also lives with HIV, had previously been the executive director of Asociación Gente Positiva, a Guatemala City-based HIV/AIDS service organization.
Supporters of President Alejandro Giammattei have lodged several formal complaints against Dávila after he publicly criticized the government over corruption, its response to the pandemic and other issues.
Three men on April 19 approached Dávila's vehicle near Guatemala's National Library and tried to rob him. One of Dávila's bodyguards shot one of the men, but the two other assailants fled the scene before police officers and passersby arrived.
Dávila told the Washington Blade in September during an interview at a Guatemala City hotel that he and his partner installed cameras in their apartment after someone killed their dog.
Two female police officers who arrived at the hotel with Dávila sat in the lobby while he spoke with the Blade. The government a few weeks later reduced his security detail.
"Guatemala is living through the worst democratic crisis in the last 40 years," said Dávila after he accepted the Victory Fund's Global Trailblazer Award at its 2021 International LGBTQ Leaders Conference that is taking place in-person at the JW Marriott in downtown D.C. "Guatemala right now is being paralyzed by corruption and impunity and my voice is uncomfortable because of this."
Dávila became emotional at the end of his remarks.
"I will keep fighting for our rights," he said.
Comings & Goings
Nathanson takes role at Outright Action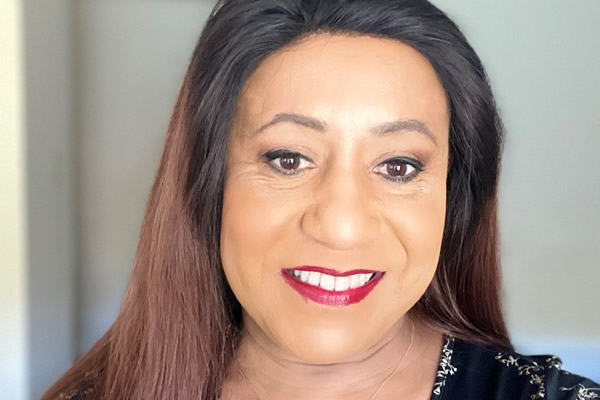 The Comings & Goings column is about sharing the professional successes of our community. We want to recognize those landing new jobs, new clients for their business, joining boards of organizations and other achievements. Please share your successes with us at: [email protected]
The Comings & Goings column also invites LGBTQ+ college students to share their successes with us. If you have been elected to a student government position, gotten an exciting internship, or are graduating and beginning your career with a great job, let us know so we can share your success.
Congratulations to Rikki Nathanson on her new position as Senior Advisor – Global Trans Program with OutRight Action International in New York. Nathanson will be based in D.C.
"I am absolutely thrilled to be taking on this new role as Senior Advisor in OutRight's Global Trans Program," said Nathanson. "I have finally found the perfect fit for me: as a trans woman who has been fighting for equality not only for myself, but for others globally, this position is not only a job, it's intrinsically part of who I am. So, what better way to live, nurture and grow myself."
Nathanson will be working closely with all program staff to ensure a cohesive and intentional approach to gender issues throughout OutRight's programs, including its approach to gender ideology movements. She will lead new initiatives on gender advocacy and policy change, focused but not limited to legal gender recognition and anti-discrimination legislation and policies.
Prior to this Nathanson was director of housing programs at Casa Ruby in D.C. She has also held a number of other positions including: founder/executive director of Trans Research, Education, Advocacy & Training (TREAT), Zimbabwe; chairperson Southern Africa Trans Forum, SATF, Cape Town, South Africa; executive director, Ricochet Modeling Agency, Zimbabwe; and company secretary for Dunlop Zimbabwe Limited, Zimbabwe.