Vehicles to ride out a pandemic
Take a road trip in comfort and style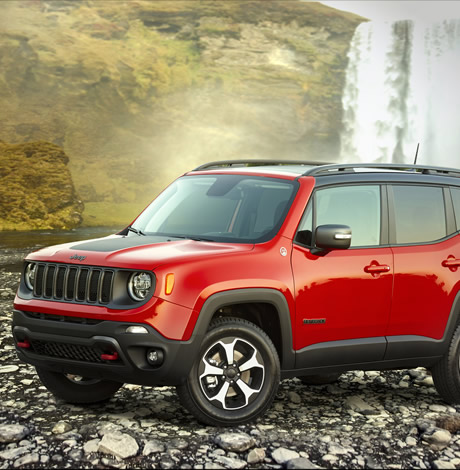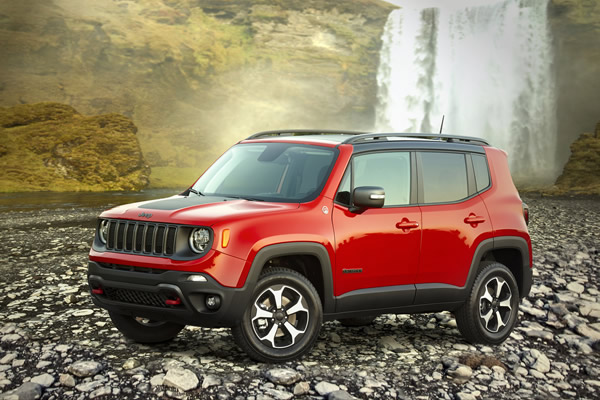 Almost everyone I know is going stir crazy from pandemic-induced cabin fever. But even small—and safe—getaways can help restore some semblance of sanity. At least they have for me. I've taken a few jaunts in test vehicles this year. The three rides below were comfortable and powered by fairly fuel-efficient engines, which meant I could breeze past congested rest areas instead of stressing out about stopping for gas.
JEEP RENEGADE
$24,000
Mpg: 22 city/30 highway
0 to 60 mph: 9 seconds
More a weekend knockabout than a long-trek hauler, the Jeep Renegade is an adult-sized Tonka toy. There's plenty of personality here, starting with the Wrangler-like grille and headlights. Whimsical styling includes square taillamps with an "X" on the reflectors, a paintball splotch to highlight the redline on the tachometer, all-weather floor mats with the profile of a vintage Jeep, and text encircling the ignition switch that reads: "To New Adventures!" The rugged cabin includes lots of hard plastic surfaces, which are easy to wipe clean in this age of coronavirus. Legroom and headroom are decent, though cargo space is limited. And while the suspension is somewhat stiff and the engine less than zesty, Jeeps are all about being tough—and playful. Of the four main trim levels, the Trailhawk is built for off-road thrills: underbody skid plates, raised suspension, hill-descent control, and 17-inch wheels with all-terrain tires. There's even a full-size spare (a rarity these days). While a power sunroof is available, the removable My Sky roof panels were a way to expose the heavens even more. During my time exploring the Maryland and Virginia countryside for a few days, the Renegade was a fun way to escape reality.
LINCOLN AVIATOR
$52,000
Mpg: 18 city/26 highway
0 to 60 mph: 5.4 seconds
The Lincoln Aviator, first launched in 2003 and rebadged as the MKX a few years later, has flown under the radar of most car buyers. I was expecting a similar meh experience with the all-new Aviator for 2020. But then this Cinderella crossover landed in my driveway, and I was hooked: dazzling design, exciting features and competitive price. That's not to say there aren't a few quibbles, such as the clunky push-button gearshift (groan, a shifter in the center console is so much easier to use). But overall, this full-size ride performs gracefully and is outfitted with a mighty 400-hp V6 engine. There's also a clever adaptive-suspension system, which uses a dozen sensors to scan the road then instantly make adjustments so the Aviator can glide smoothly over potholes. With so many luxury features, it's hard to keep track of them all: soft-close doors, heated windshield wipers, 28-speaker stereo, 30-way power/massaging seats and more. Thanks to the 12.3-inch digital instrument cluster and 10-1-inch infotainment screen, you might assume the dashboard was designed with the cockpit of a private jet in mind. Other elegant crossovers, such as the Audi Q7 or BMW X7, offer sportier handling and European cachet. But those Teutonic rides have become rather ubiquitous and usually cost more. After all these years, this is one Aviator that finally stands out.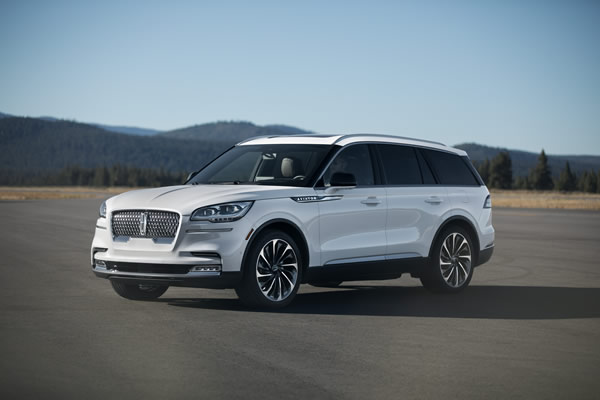 FORD EXPEDITION
$53,000
Mpg: 17 city/24 highway
0 to 60 mph: 6.7 seconds
COVID-19 was just starting to hit the country early this year when I needed to travel to the Midwest for a funeral. Instead of taking a risky 90-minute flight, I opted for the nine-hour drive. The Ford Expedition was my test vehicle that week, and it turned out to be the perfect ride to lift my spirits. Completely redesigned a few years ago, this ginormous hauler handles like it's floating on air. Power running boards automatically deploy when climbing in and out of the vehicle. And the restrained styling, slimmed-down aluminum body and stunning suspension are all reminiscent of Ford's previous stable mate: Range Rover. While the Expedition doesn't have the same level of refinement inside, it certainly has plenty of room. Fold down the second- and third-row seats, and cargo space seems to stretch for miles. For even more capacity, an extended Max body style is nine inches longer. Depending on trim level, there are massaging seats, power-adjustable pedals, motion-activated liftgate and captain's chairs instead of a bench seat in the second row. An optional rear-seat entertainment system features dual displays, DVD player, live-TV streaming and gaming capability. Perhaps most practical were the 15 cupholders, which were perfect for bottles of water—and hand sanitizer.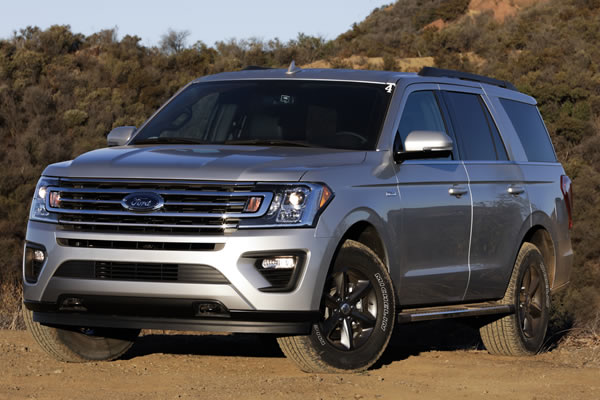 Holiday gifts for car lovers
Something for everyone, from a Barbie Maserati to Subaru dog sweaters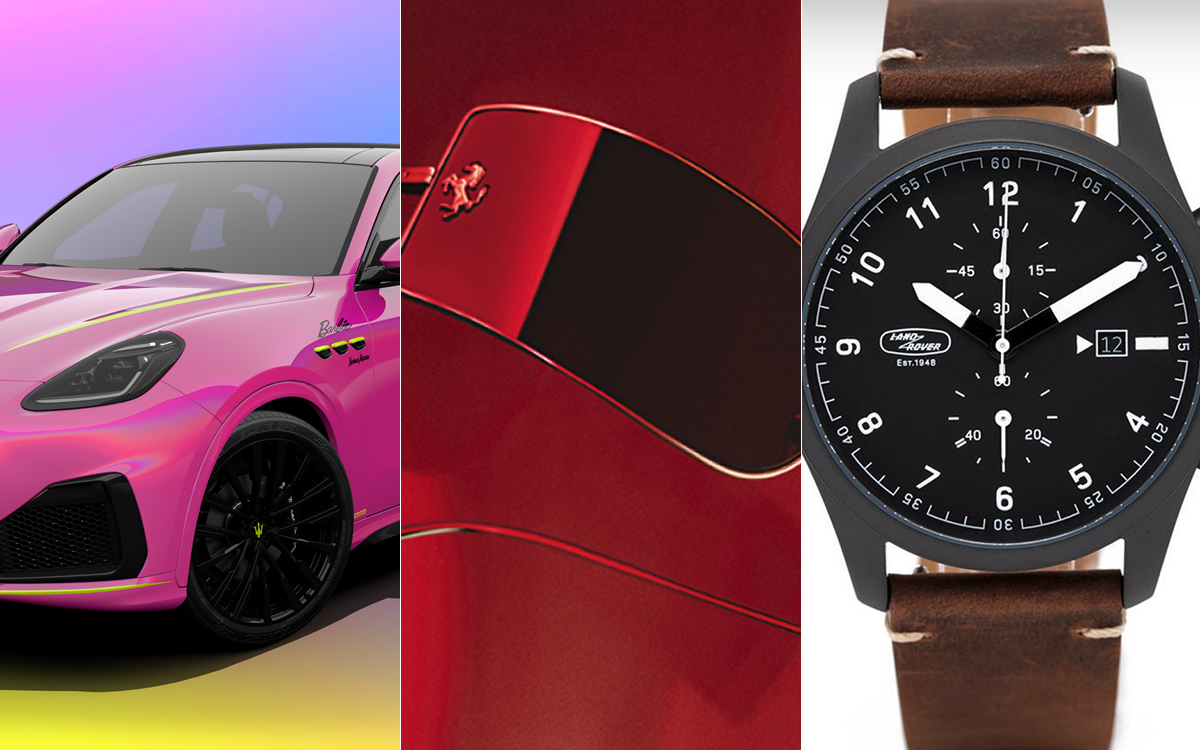 Sure, a $100 gift card to use at the gas pump or EV charging station is a nice stocking stuffer this holiday season, but there are plenty of other much more playful gifts for car fans.
Subaru Blue-Striped Beanie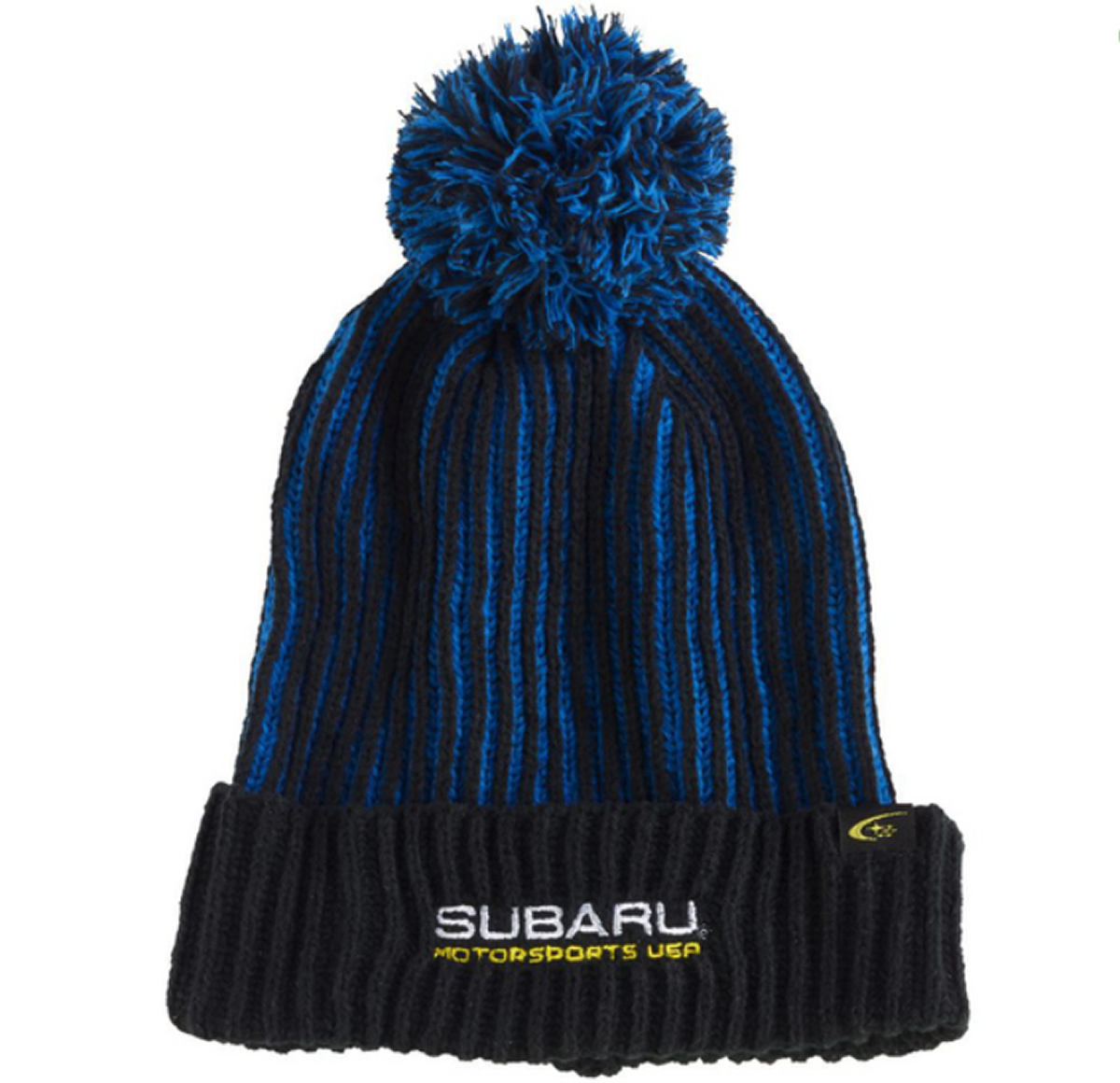 To help reduce waste and carbon emissions, Subaru offers assorted eco-friendly clothing. This includes a blue-striped beanie ($15), made from 100% recycled acrylic knit and festooned with a sassy pom on top. Subaru Motorsports USA logo is embroidered on the side.
Barbie Maserati Grecale Trofeo SUV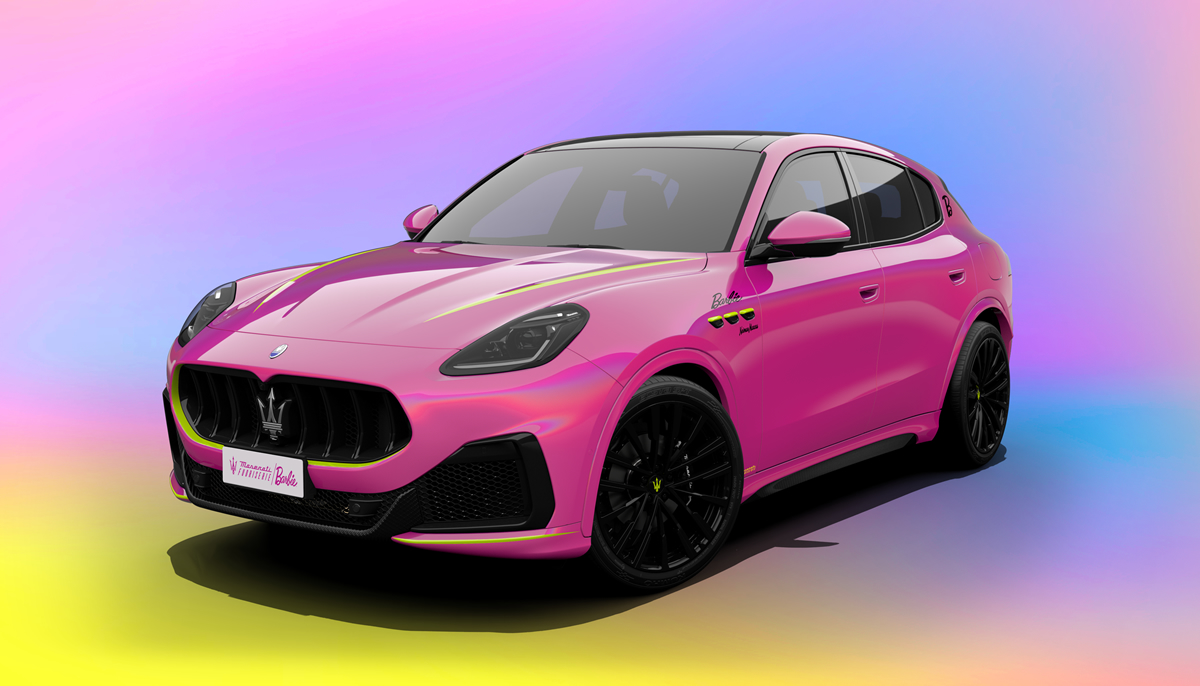 For megabucks motorheads, Neiman Marcus offers its annual holiday catalogue —a collection of "fantasy gifts"— with the Barbie Maserati Grecale Trofeo SUV ($330,000). This fab ride—in shocking pink and with yellow accents—can sprint from 0 to 60 mph in less than four seconds. Only one is available, with 10% of the sale donated to the Barbie Dream Gap Project, which helps provide equal opportunities for girls and young women.
Hyundai Nexo Kiddie Car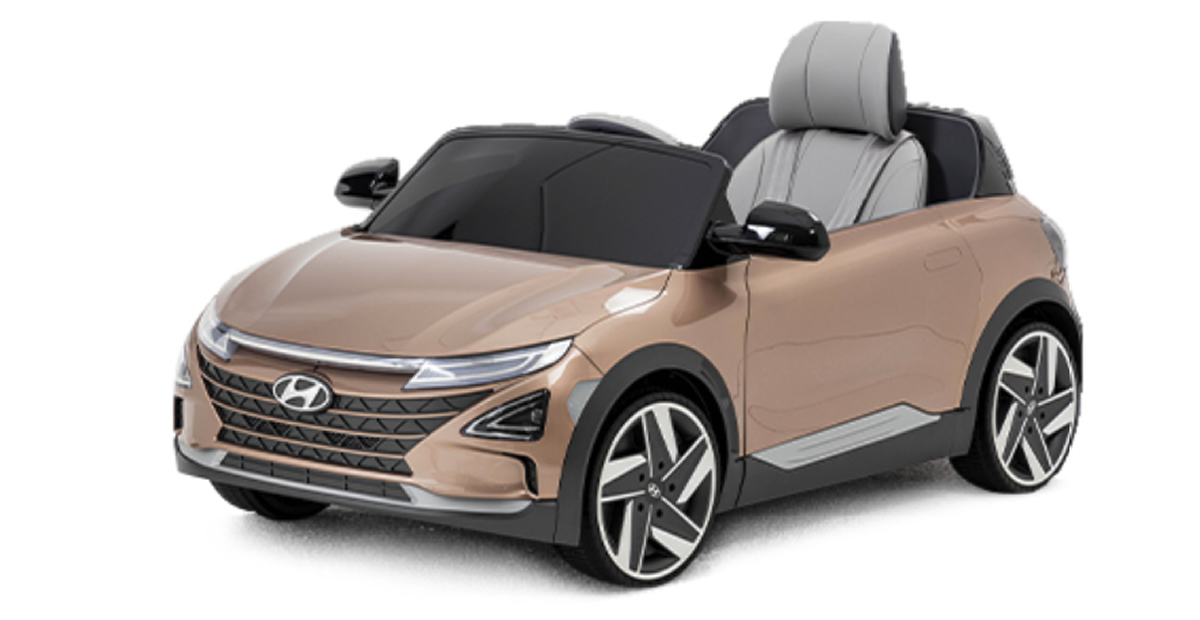 Back in the day, there were Hot Wheels, Matchbox Cars and Tonka Toys. Today, there's the Hyundai Nexo kiddie car ($737), an electric-powered plaything with vegan leather, stitched seating and rear sensors that beep when there's an obstruction. Parents can control the car via a Bluetooth remote-control system. Charging time: seven hours.
Mercedes Classic 300 SL Desk Clock

Turn back time with the Mercedes classic 300 SL desk clock ($85) made of aluminum and stainless steel, with a wave pattern on the dial similar to the design used on the dashboard of that vintage Benz.
The Godfather Cadillac Model Car

Like Marlon Brando, here's an offer you can't refuse: The Godfather Cadillac ($23), a diecast model of the 1955 Fleetwood in that movie.
Ferrari Wraparound Sunglasses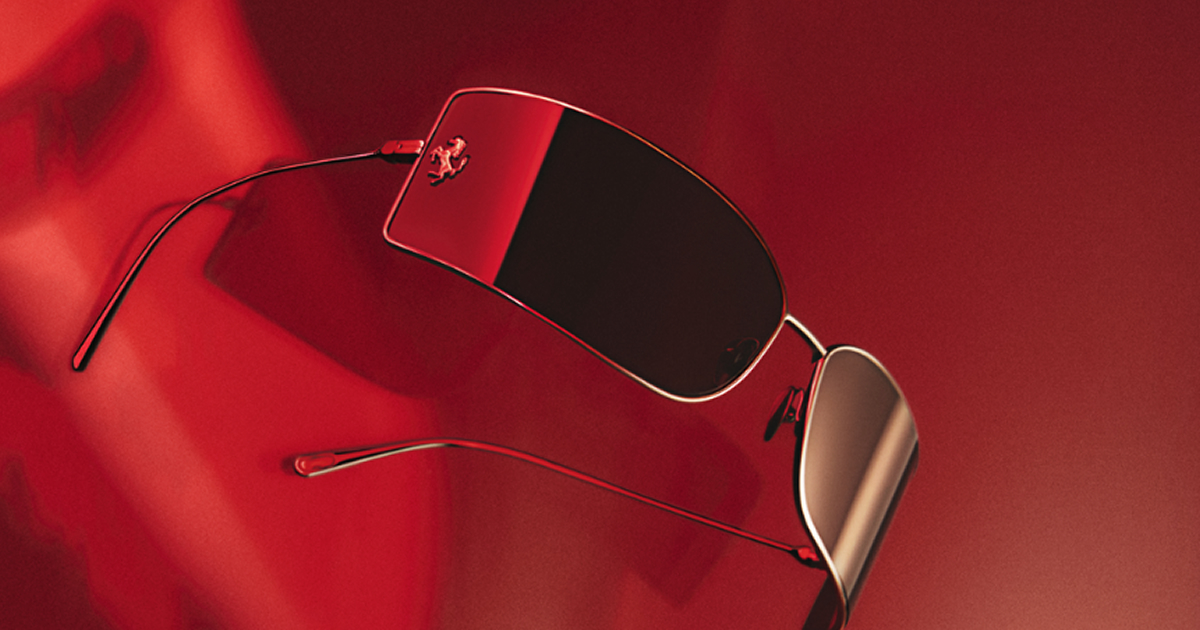 Caio bella! Sleek unisex sunglasses ($1,275) from Ferrari feature a futuristic wraparound design with steel frame, titanium nose pads and the automaker's prancing-horse emblem on each lens.
Maserati Blue Unisex Socks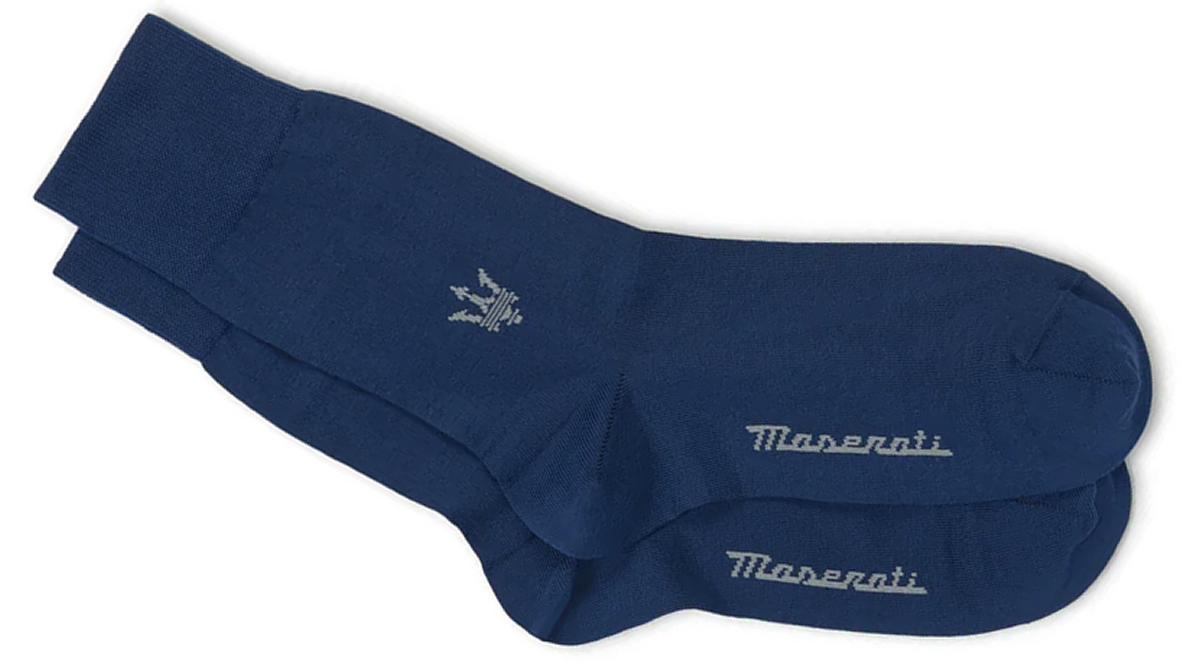 What better stocking stuffer than, well, socks. Maserati's blue unisex socks ($31) are made of a high-quality blend of cotton and technical fabric, with the Maserati trident logo inlaid on the side and sole of each sock. Ideal for outdoor activities or sports.
BMW Scooter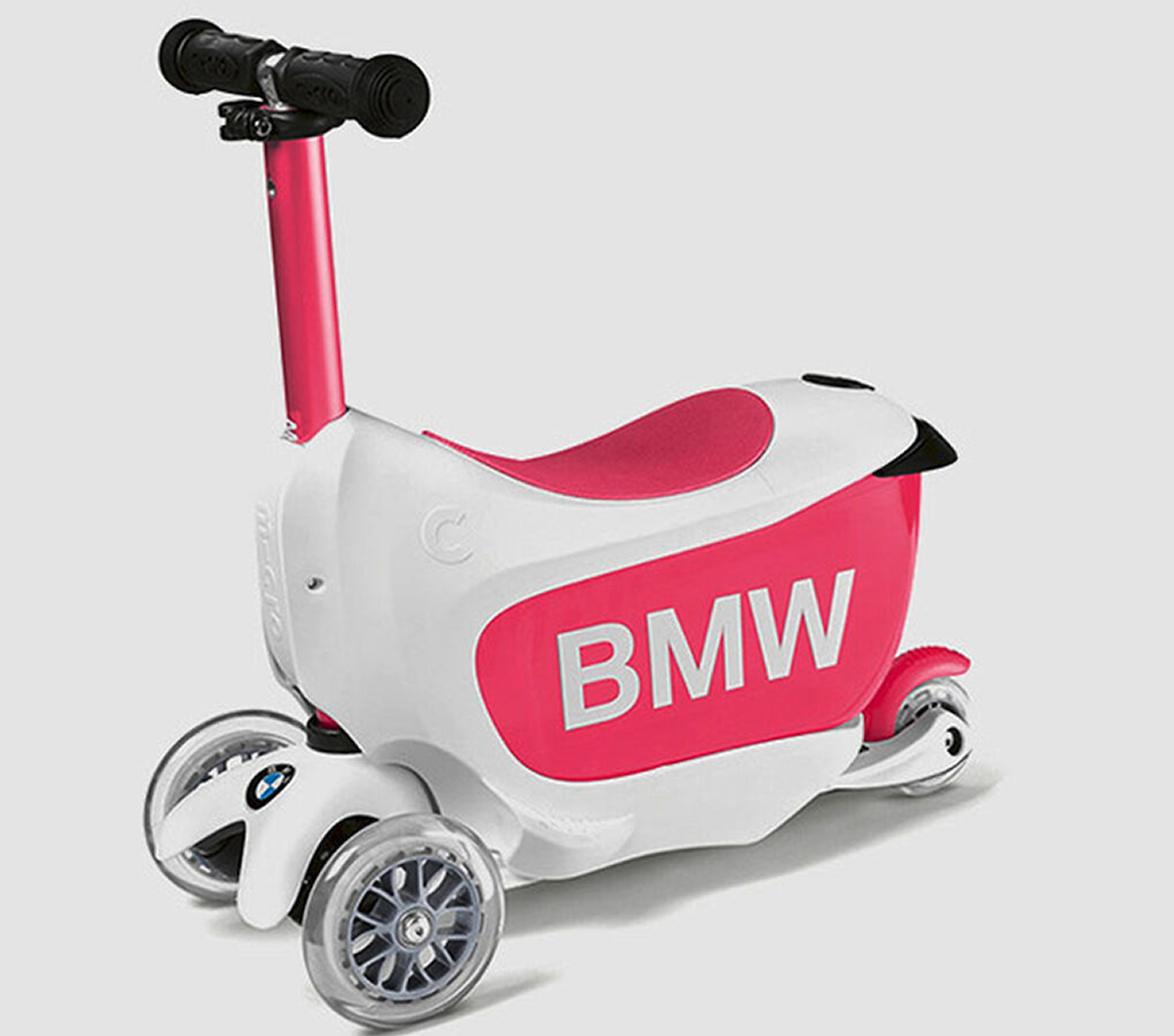 The BMW kid's scooter ($120) is made of durable plastic and metal, with a height-adjustable steering bar and convenient storage drawer to hold stuff. Available in choice of two snazzy color combinations: white/raspberry or black/orange.
Ford Bronco Holiday Adult Onesie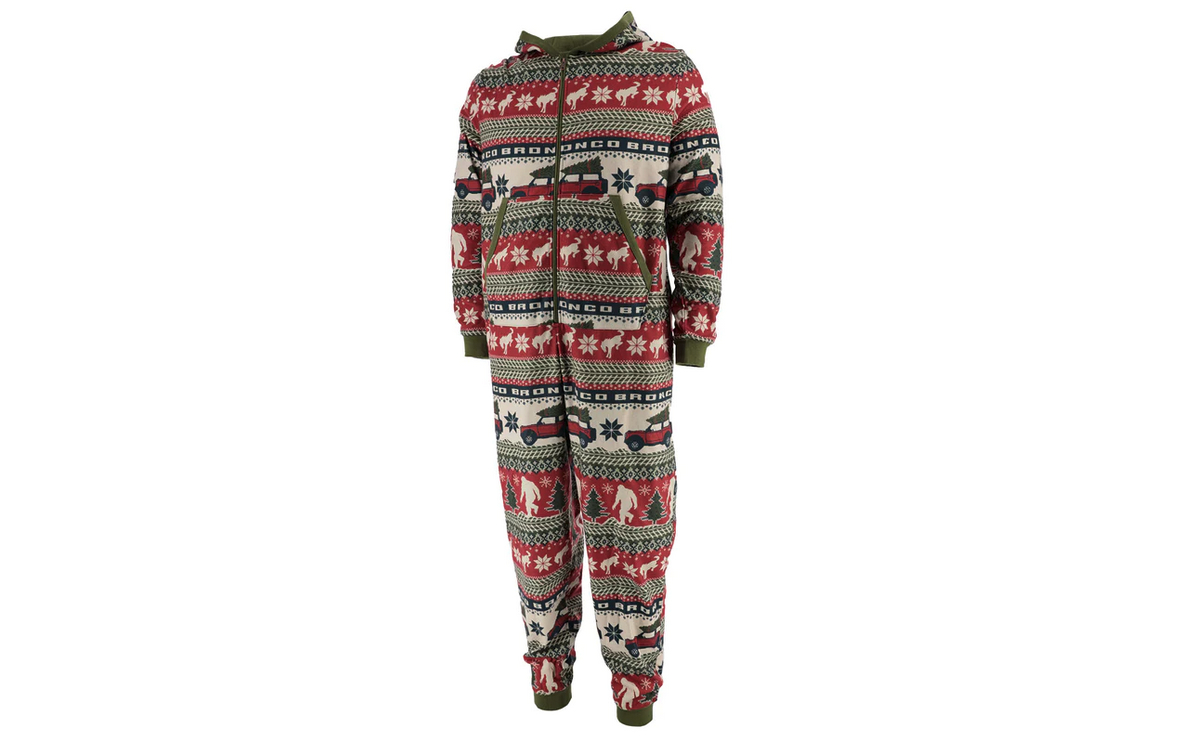 Ford is proud of its ugly holiday sweaters, but this year there's the Bronco holiday adult onesie ($45). Made of 100% polyester polar fleece, this glorified pajama comes with loose-fitting hood, tight-fitting cuffs for your arms and ankles, and a cringe-worthy design in maroon, sage and cream coloring.
Land Rover Heritage Watch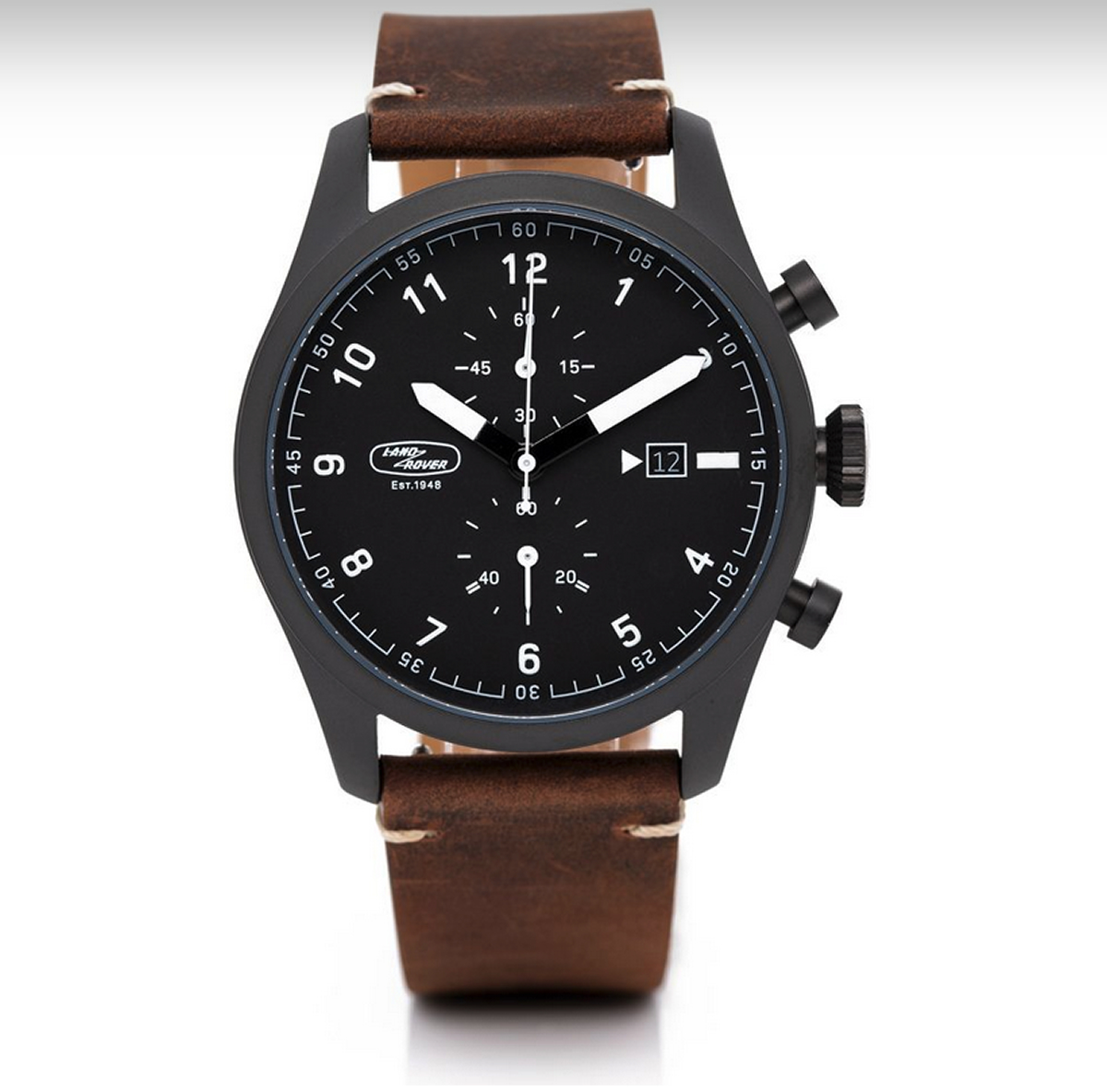 Inspired by old-school aviator timepieces, the Land Rover Heritage Watch ($282) has a leather strap, rugged stitching and early Land Rover logo on a matte black dial and ion-plated case. Available with a snazzy Land Rover presentation box.
Subaru Dog Sweater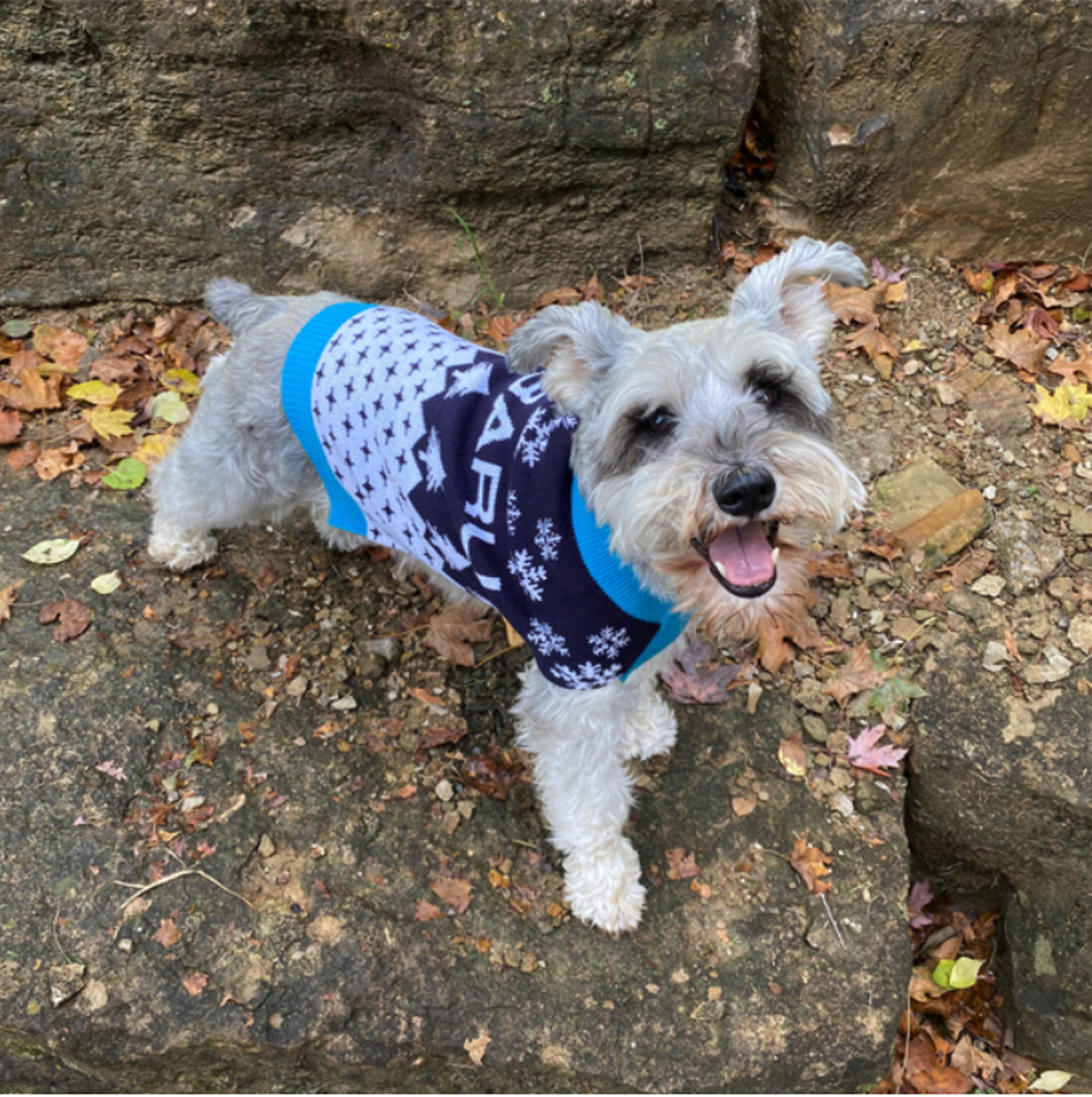 Subaru offers festive gifts for those four-legged members in your family, including a holiday dog sweater ($35) made of jacquard knit. Other Subaru pet-centric presents: collars, leashes, clip-on safety light, travel roll-up mat, toss-n-chew dog toy, fleece plushie full of cat nip, and more.
Retro Datsun Lunch Box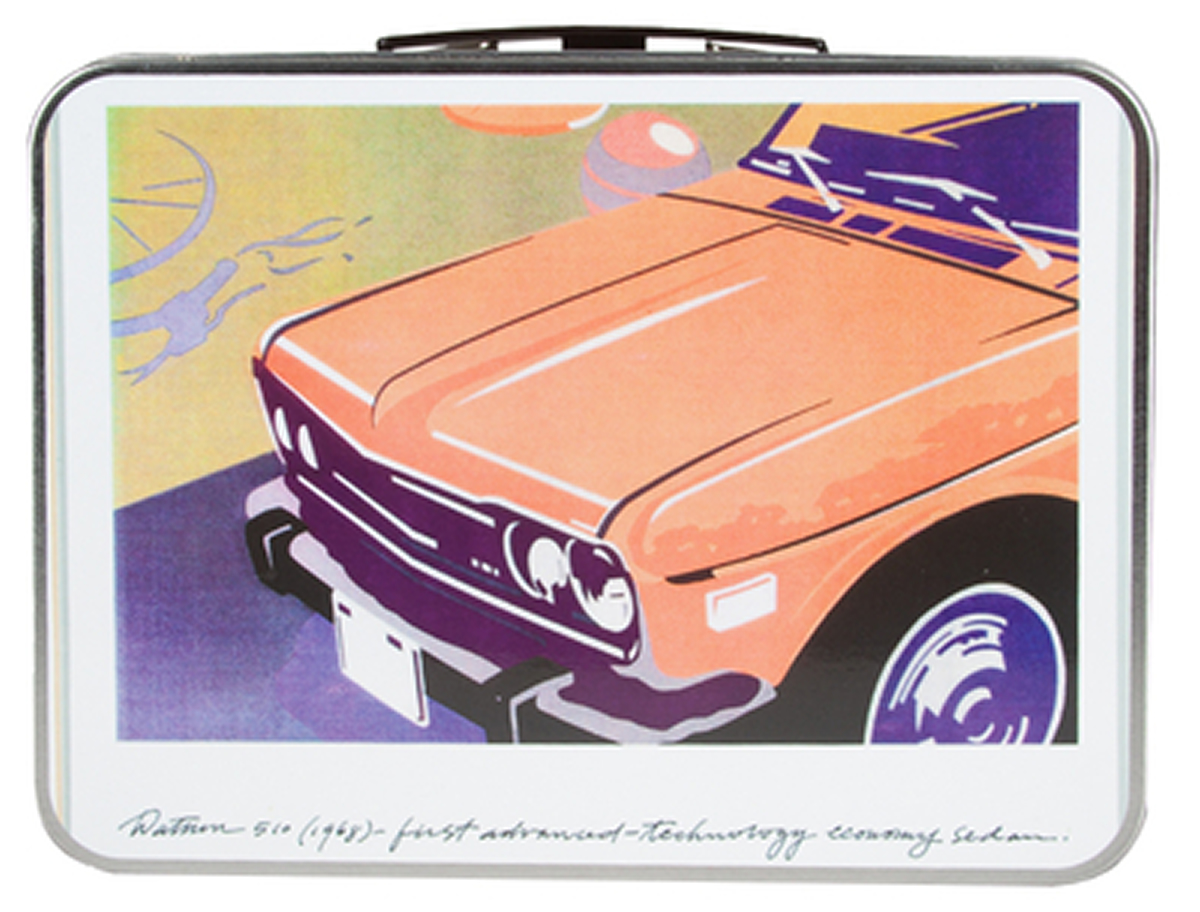 Gearhead foodies will appreciate the Datsun lunch box ($15), with images of two iconic cars from that retro automaker: the racy 240z roadster on one side and the stylish 510 sedan on the other.
Charged up about electric vehicles
Bolt EUV, BMW iX xDrive 50 offer climate-friendly style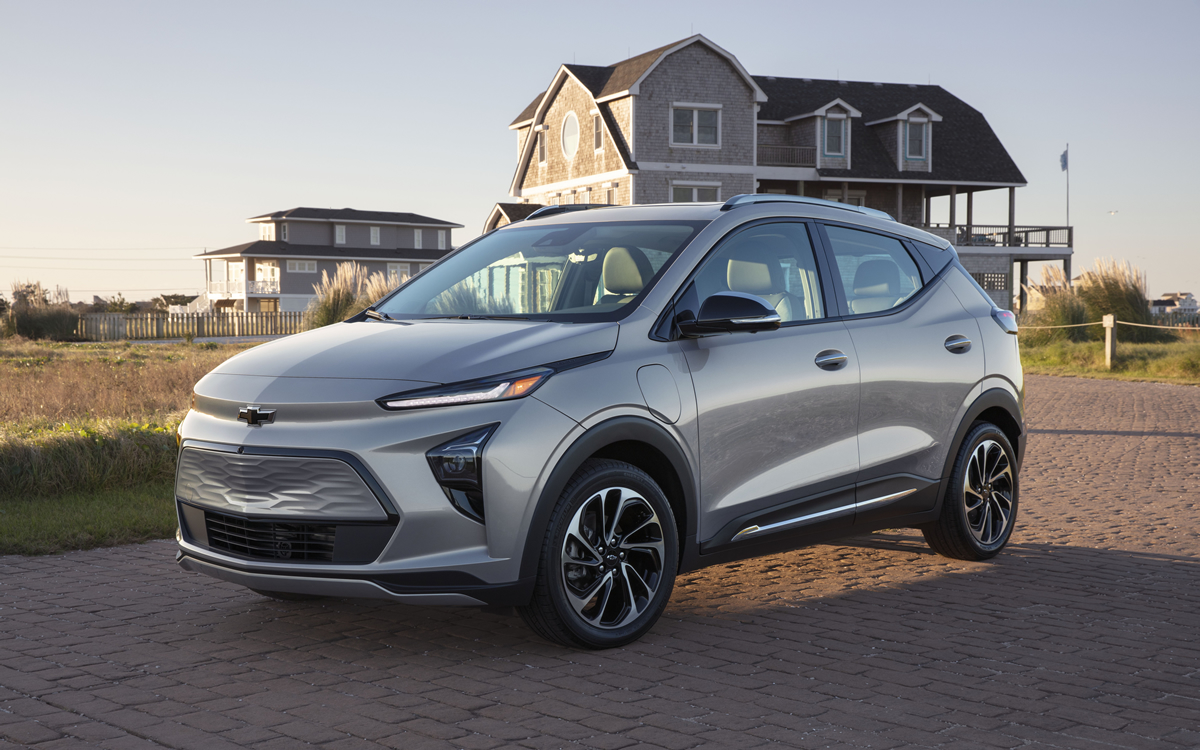 For me, electric vehicles are like superheroes. They nix tailpipe emissions. They combat climate change. And they come with scads of slick gadgets.
Today's cutting-edge EV designs also look, well, electrifying. And you can't beat the adrenaline rush, the ability to dash lickety-split down the road—even when tapping the accelerator ever so slightly.
I recently drove two EVs that gave me a real charge. And who knows, they just may help save the planet. 
CHEVROLET BOLT EUV
$29,000
MPGe: 125 city/104 highway
Driving range: 247 miles
0 to 60 mph: 6.8 seconds
Shazam! As with that comic-book superhero, lightning has struck the compact Chevy Bolt EV hatchback. The result: the all-new Bolt EUV—aka Electric Utility Vehicle—a compact SUV that's six inches longer than the hatchback. Sure, the six-year-old Bolt EV was nicely updated last year, but the surprise addition of the larger EUV brings much-needed legroom for rear-seat passengers. Both Bolts sport the same offbeat design, full of comely creases and large windows for an airy interior. And there are notable amenities, including LED headlights, heated exterior mirrors, remote start and remote keyless entry.
But the EUV comes with so many extras, especially in the Premier trim level: Bose stereo, onboard navigation system, panoramic sunroof, illuminated charging port and more. This is also the first Chevy with Super Cruise, an advanced hands-free-driving system for automatic braking, steering and acceleration. The cabin features a 10.2-inch infotainment screen, 8-inch digital display, smartphone integration and flat-bottom steering wheel with integrated audio controls and such.
While I prefer traditional gearshift levers versus the gear-selector buttons in the Bolt, more automakers are opting for such gearshift buttons, toggles or knobs because they take up less space. Battery range is listed at 247 miles, but I fared closer to 270 miles. You get only four miles of charge per hour using a standard 120-volt outlet, but a full-charge from a 240-volt outlet takes just seven hours, which is decent. Along with the eight-year/100,000-mile battery warranty, roadside assistance is five years/60,000 miles. Overall, both Bolts—whether hatchback or EUV—are stylish and affordable. But expect the new Bolt EUV to ferry around those superheroes in your life a bit more comfortably.  
BMW iX xDRIVE 50
$85,000
MPGe: 86 city/87 highway
Driving range: 315 miles
0 to 60 mph: 4.2 seconds
Beware the magical powers of a BMW iX xDrive 50, the automaker's first all-electric SUV. This rousing ride boasts the speed of The Flash, the tenacity of Thor and the savvy of Storm. In other words, what's not to like? Sure, this all-new BMW costs three times as much as a Chevy Bolt EUV. But the iX scoots down the road a lot faster, tackles twisties with confidence and brakes like a true race car.
Size-wise, the iX is akin to a midsize BMW X5 SUV, with comfortable seating for five passengers and beaucoup storage space. Here the comparisons end. With sci-fi styling, the iX is more futuristic than anything BMW has tried before. Take the signature kidney-shaped grille, which has been bent and stretched as if from another dimension. Cameras, radar gizmos and other sensors are hidden in the grille, which is covered by a polyurethane coating that gives it the power to heal itself—or basically erase—any minor scratches or dings. I mean, like, wow.
Frameless windows and the flush exterior door handles add to the aerodynamic ambience. As for the interior, this is what I imagine cockpits in luxury space shuttles will look like someday. There's a funky hexagonal steering wheel, a center console that seems to float between the front seats, and buttons instead of handles to open the doors from the inside. Hovering atop the dashboard is an elongated digital monitor, stretched to fit the 14.9-inch infotainment display and 12.3-inch digital gauge cluster.
The seat-adjustment controls, infotainment control knob and other switchgear can be ordered in crystal glass. And many materials in the iX are recycled, including carpets and floor mats made from used fishing nets and other items. Also of note: When flying down the highway, the cabin is one of the quietest available, beating even Bentley and Rolls-Royce. For 2023, a high-performance iX M60 model arrives with even more power and pizzazz. Another super vehicle we can look forward to on the road.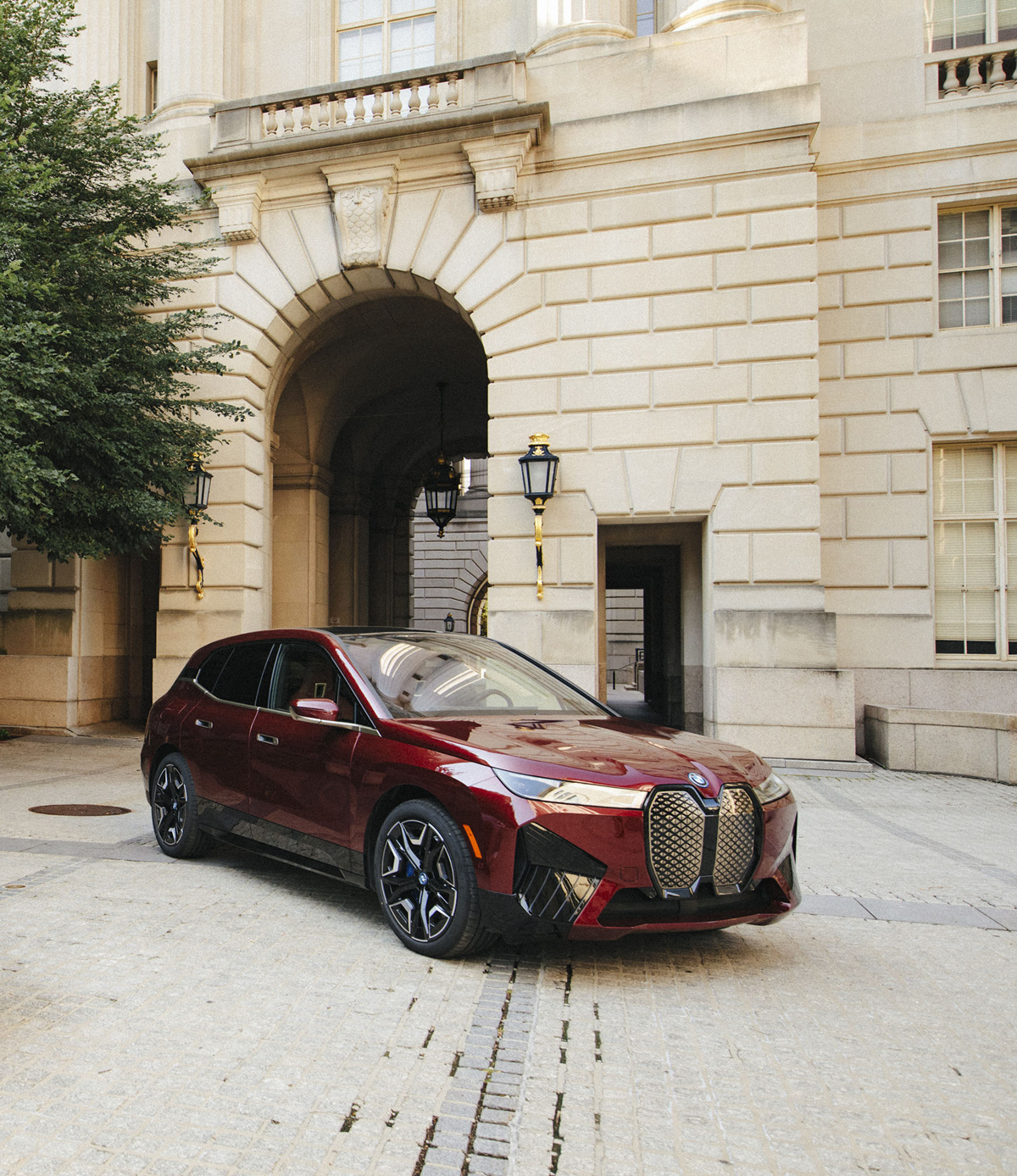 Smart haulers: Nissan Pathfinder and Ford Expedition
Two big bruisers that won't break the budget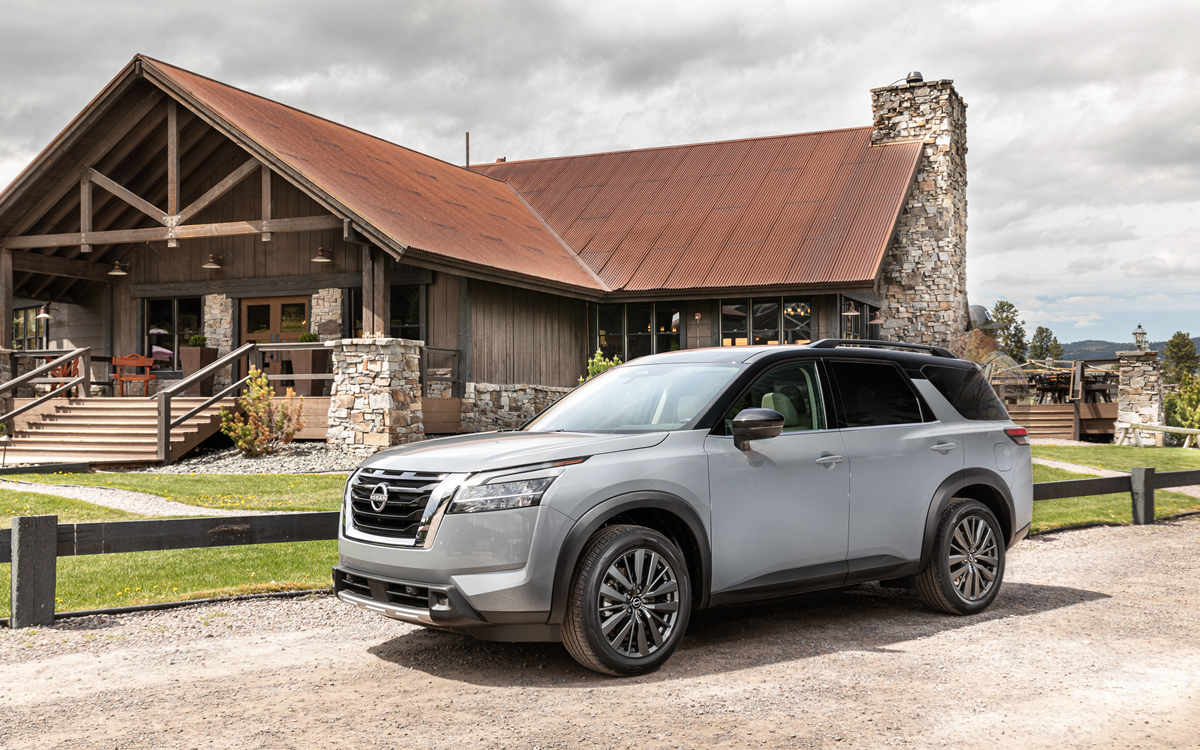 Electric vehicles are charging ahead, with the passage of a landmark clean-energy bill last month and automakers designing innovative new models. But a world of electric-only vehicles will take time. In the U.S. the goal is 2035, but until then many drivers—especially those looking for huge haulers—will still need to rely on traditional gas-powered rides.
Luckily, there are some smart choices out there, including these two big bruisers.
NISSAN PATHFINDER
$35,000
Mpg: 21 city/27 highway
0 to 60 mph: 6.7 seconds
The completely redesigned Nissan Pathfinder is a big step up from the previous model. Although classified as a midsize SUV, this year's new Pathfinder is now a lot longer, wider, and taller. The result: a spacious cabin with oodles more storage compartments and enough room for up to eight passengers. Another plus: Accessing the third row is much easier here than in most SUVs. Gone is the slouching profile of the previous Pathfinder, last updated 10 years ago (about twice the time most vehicles receive a redesign). The edgier styling is also boxier, but in a good way, with a chiseled front fascia, brawny side panels and strapping rear end—you know, sort of like Luke Evans.
Despite having the same capable V6 engine as before, fuel economy is slightly better. An updated transmission improves acceleration, while stiffer springs and other tweaks shore up the steering and overall handing. In other words, there's no mushy bounciness over potholes and speed bumps. Thicker glass and extra insulation create a more muted cabin. And there's a modish vibe with high-quality materials, including finely stitched seats, faux brushed-aluminum trim and a sporty flat-bottom steering. Most impressive, though, are the high-tech bells and whistles: smartphone integration, wireless charging pad, voice-command capability, windshield head-up display, 360-degree bird's-eye camera, ambient interior lighting, 13-speaker Bose stereo and scads of safety options.
During a weekend getaway along the East Coast this summer, my husband Robert sat regally in one of the second-row captain's chairs as he occasionally bellowed, er, gently suggested alternate routes to less congested roads. It may not have been the same as being chauffeured around in a limousine, but it sure felt that way—for both of us.
FORD EXPEDITION
$53,000
Mpg: 17 city/23 highway
0 to 60 mph: 6.7 seconds
Speaking of limos, President Biden's ride—nicknamed "the Beast"—shares dimensions with another jaw-dropping vehicle: the Ford Expedition, which is almost 18-feet long. (An extended-wheelbase model—the Expedition Max—stretches, incredibly, about 20 feet.) At 5,500 pounds, the Expedition is lightweight compared with the Beast, which weighs four times as much. Gas mileage in the Expedition is decent for such a large hauler. And acceleration is superb, with an energetic twin-turbo V6 available in three configurations.
Slipping behind the wheel, I expected this hulking SUV to be a challenge driving in city traffic. But the composed handling is more akin to the midsize Nissan Pathfinder, which itself performs like a smooth yet sporty family sedan. And the front parking sensors, backup camera, surround-view camera and parking-assist feature help you fit this full-size Ford practically anywhere.
For 2022, the Expedition gets a midlife makeover, with some styling cues that echo a ritzy Range Rover: less exterior chrome, streamlined grille and thin wraparound headlights. Luxe amenities include a tech-laden dashboard, tri-zone automatic climate control, massaging front seats, power-folding second and third seats, and running boards that automatically deploy whenever getting in or out of the vehicle. While a 12-inch touchscreen for the infotainment system comes standard, you can opt for the stunning 15.5-inch vertical display found in the all-electric Mustang Mach-E. Other notable goodies: Wi-Fi hotspot, rear-seat entertainment system, 22-speaker Bang & Olufsen stereo and even hands-free driving. Best of all are two new trim levels: the rugged Timberline, with better off-road capability, and the supersonic Stealth, which rockets from 0 to 60 mph in just 4.9 seconds—faster than a high-performance tuner car.
While the Expedition may not be built for heads of state like that other Beast, this behemoth is affordable and full of fine features. And it came in handy when I drove to Goodwill to donate boxes of baubles and such that had been gathering dust in the basement. But don't tell my husband — many of those trinkets were his.