Why do so many gay couples open up their relationships?
Many of us are on autopilot, but we can build more meaningful connections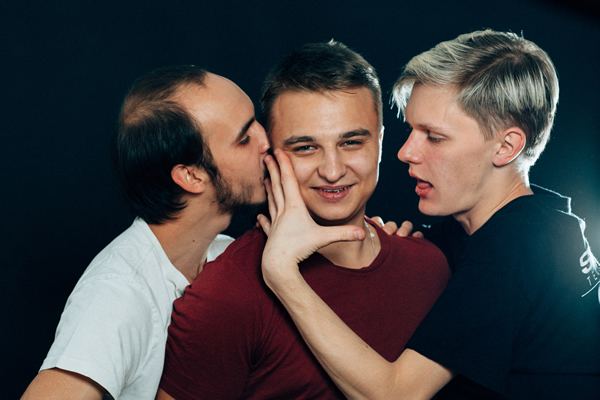 As gay men, we've been through a lot.
For so many years we were deep in the closet, fearful of being arrested, and threatened with pseudo-medical cures.
Then came the Stonewall uprising, the declassification of homosexuality as a psychiatric disorder, and the defeat of sodomy laws. And finally, the legalization of gay marriage.
Now—at least in some parts of the world — we're free to live our lives exactly like everyone else. No one gets to tell us how to live, whom to love, or what we can or can't do in the bedroom. We alone call the shots.
Then again, maybe we're not as free as we think. Ever wonder why so many of us open our relationships? Are we always really deciding for ourselves how we want to live?
Or are we sometimes on autopilot, blithely following expectations and norms of which we aren't even aware, oblivious to the possible consequences?
Spring, 1987: Although I didn't know it at the time, my own introduction to the world of gay relationships was following a script that countless gay men have lived.
Growing up in that era, there were no visible gay relationships, no role models. Astoundingly, a gay porn theater/bathhouse did advertise in the Washington Post, my hometown paper, when I was a kid. While this was titillating, I dreamed of something more traditional and soulful for my future than the anonymous encounters and orgies at which those ads hinted.
So when hunky, adorable Justin* asked me out after a meeting of the campus gay group and we started dating, I was over the moon. That is, until my friends Ben and Tom, an older gay couple, shot me right back down to earth when, one evening over dinner, they asked if Justin and I were "exclusive."
Huh? What a question!
"Just wait," Tom said knowingly,  "Gay men never stay monogamous for long."
More than 30 years have passed, and the world of gay male relationships remains pretty much the same. Working as a psychologist for the past 25 years, I've listened to hundreds of gay clients share their own versions of my long-ago dinner with Ben and Tom. "We just assumed we'd be monogamous, but then this older gay couple told us, 'yeah, let's see how long that lasts.' So we decided to open up our relationship and start playing around."
New generations have the possibility of proudly visible relationships and recently, marriage. And still, for many of us, open relationships are seen as the default choice in one form or another: "Monogamish." Only when one partner is out-of-town. Never the same person twice. Only when both partners are present. No kissing. No intercourse. No falling in love. Never in the couple's home. Never in the couple's bed. Don't ask, don't tell. Disclose everything. Anything goes.
Examining our affinity for non-monogamy can be seen as judgmental or anti-gay, "sex-negative," tantamount to suggesting that gay men should mimic a heterosexual model that is patriarchal, misogynist, oppressive — and maybe not even really workable for straight people. Questioning our penchant for casual sex while we are coupled is also seen as a challenge to the inspirational (to some) narrative that gay men, free of the constraints of history and tradition, are constructing a fresh, vibrant model of relationships that decouples the unnecessary, pesky, and troublesome bond between emotional fidelity and sexual exclusivity.
But we do not honor our diversity if we expect that any of us should choose (or not choose) any particular role or path. After all, gay men are just as multidimensional, complex, and unique as other men.
And while an open relationship may be the best relationship for some couples to have, successfully being in one requires capabilities that many of us do not possess. Simply being a gay man certainly does not automatically provide skills such as:
The solidity of self to be trusting and generous
The ability to sense how far boundaries can be pushed without doing too much damage
The capacity to transcend feelings of jealousy and pain
The strength of character not to objectify or idealize outside sex partners.
Yes, open relationships can be as close, loving, and committed as monogamous relationships, which of course have their own difficulties. But even when conducted with thought, caution, and care, they can easily result in hurt and feelings of betrayal.
Moreover, open relationships are often designed to keep important experiences secret or unspoken between partners. Clients will tell me they do not want to know exactly what their partner is doing with other men, preferring to maintain a fantasy (or delusion) that certain lines will not be crossed. As a result, the ways in which we structure our open relationships can easily interfere with intimacy—knowing, and being known by our partners.
Consequently, we gay men often struggle to form solid, mutually respectful attachments that include both emotional and physical connection. Might any of these scenarios be familiar to you?
Jim and Rob came in to see me after a disastrous cruise with eight of their friends. Although it had not been their plan, between them they had ended up separately having sex with all eight. This had broken several of their "rules," although as Jim pointed out, the rules were unclear because they often made them up to suit whatever they wanted to do, or not allow each other to do. Each partner's ongoing anger over how his partner was hurting him by ignoring admittedly ad-hoc sexual boundaries meant that Jim and Rob hadn't had sex with each other in two years.
Another couple I work with, Frank and Scott, have had an open relationship from the start. When they met, Frank felt strongly that monogamy had no relevance to him as a gay man. Though Scott wanted a sexually exclusive relationship, he somewhat reluctantly went along with Frank's wishes because he wanted to be with Frank. In recent years the two have become near-constant users of hookup apps, and recently Scott met a younger man on Scruff with whom he has "great chemistry." Now, to Frank's dismay, Scott is dating Todd.
Carlos and Greg came to see me after Carlos discovered that Greg was hooking up numerous times a month. Although they had a "don't-ask-don't-tell" agreement and both assumed the other was occasionally having sex with other men, Greg's behavior was far more frequent than Carlos had imagined or wanted to accept in his marriage. Greg was steadfast in his conviction that because he was following their rules, his hookups could not be negatively impacting his relationship with Carlos.
Beyond the hurt, enmity, reduced commitment, lack of connection, and distance they experience, men in these situations often tell me that their relationships and their lives have become overwhelmed by their pursuit of sex.
Another potential drawback to an open relationship: Yes, multiple partners are an easy (and fun) fix for sexual boredom. But when hot times can be easily found with others, we may feel little incentive to put sustained energy into keeping sex with our partners interesting. My educated guess: This is why many gay couples in open relationships have little or no sex with each other, just as a twosome.
Finally, it is troubling how easily, in our open relationship/hookup culture, we objectify those we have sex with and see other men as disposable, replaceable bodies. Treating others and being treated in this manner does not advance our respectfully relating to each other, nor does it benefit our self-esteem as men and as gay men.
What is influencing these behaviors?
Gay men lean toward non-monogamy for many interconnected reasons.
Men (stereotype acknowledged) often enjoy pursuing and having no-strings sex, so gay men readily find willing partners. Open relationships, seemingly fun and unconstrained, offering a stream of new partners to reduce the monotony of an ongoing relationship, can be intrinsically alluring. Gay men's sexual connections have historically not been governed by societal rules, so we've been able to do pretty much whatever we want, as long as we've flown way under the radar.
And, open relationships are what we predominantly see around us as the relationship model for gay men, for the reasons noted above and also in large part due to the influence of gay history and gay culture.
For a deeper understanding of this last point, let's take a whirlwind tour though gay male history in the Western world (much of which overlaps with lesbian herstory). Ancient, recent, forgotten, familiar, all of it is impacting our lives today.
Since at least the fourth century C.E., as Christianity gained influence, homosexual behavior was illegal in Europe, often punishable by death, and European settlers brought these laws with them to what became the United States. Some periods were relatively more tolerant, others less so. France became the first Western nation to decriminalize homosexuality after the 1791 Revolution, but harsh laws remained and were enforced throughout the Western world well into the 20th century. (And at present, 78 countries still have laws prohibiting homosexual behavior; punishments in some include the death penalty.)
Following World War II, America's McCarthy "Red Scare" of the 1950s was accompanied by a campaign against the "Lavender Menace," resulting in hundreds of homosexual government employees being fired. The anti-gay environment in the United States, similar to that in other Western countries, included FBI tracking of suspected homosexuals; the postal service monitoring mail for "obscene" materials including mailings from early gay rights organizations; prison terms for homosexual acts between consenting adults; and nightmarish "treatments" for homosexuality including chemical castration.  Obviously, under conditions such as these, gay men had a difficult time congregating openly, meeting each other, or forming relationships. Many gay men lived fearful lives of isolation and furtive sexual encounters. 
To get a chilling sense of what it was like to live as a gay man in this era, view William E. Jones's "Tearoom" on the Internet. The film presents actual surveillance footage from a police sting operation of men meeting for sex in an Ohio restroom in 1962. The men's fear is palpable, and the absence of affection or connection between them is heartbreaking.
While in 1967 parts of the United Kingdom decriminalized homosexuality, 1969 is known as the start of the modern gay rights movement because in June of that year, patrons of the Stonewall Bar in New York City fiercely fought back against a routine police raid. Following Stonewall, we began to congregate and organize openly, to throw off the cloak of shame, and to fight against third-class status. (In 29 of the United States it remained legal to fire someone simply for being gay until the June Supreme Court ruling in the Bostock case. The scope of that ruling is still being debated.)
During the 1970s, with sexual liberation coming on the heels of the civil rights era, the gay rights movement gained momentum. The American Psychiatric Association declassified homosexuality as a mental disorder in 1973. We became more visible, and gay culture—bookstores, bars, political organizations, and sex clubs—flourished as gay men rejected living in fear and openly celebrated their sexuality.
But by the late 1970s, HIV was silently making its way into the gay community.  As men began to fall sick and die in staggering numbers early in the 1980s, anti-gay sentiment again exploded, and we began to equate our own sexuality with death. Yet the AIDS epidemic ultimately led our community to coalesce and strengthen, organizing to care for our ill and to fight for effective treatment, leading to greater visibility and acceptance, and providing some of the organizational groundwork for the equal rights battles that continue today.
History influences culture, and both our history and culture influence who we become, and how we lead our erotic and intimate lives. Modern gay culture developed in an environment of justified fear. 
Often, the only possibility for us to meet for any sort of intimate encounter was through hookups and anonymous encounters. When connecting, we had to keep one eye over our shoulders, scanning for danger (this can literally be seen in Tearoom). Can such connections really be termed intimate?
For most of us, the days of outright surveillance are over. But the patterns of interacting that developed over many years have been passed down through the generations and still influence us in the present, even those of us who don't face losing our jobs, family support, freedom, or lives if our sexual orientation is discovered. The longstanding need to hide, scan, and be vigilant has helped shape a culture of gay male interaction that— even when we are partnered — often centers on brief encounters, putting greater emphasis on sexual connection than on knowing and being known as multidimensional physical and emotional beings.
At the opposite end of the spectrum: The era of exuberant sexual liberation that followed Stonewall. In part as a reaction to our identity having been badly stigmatized and gay sex having been literally forbidden, both pre-Stonewall and to some degree in the era of AIDS and safer-sex campaigns, gay male culture has leaned toward placing strong emphasis on sex and hooking up. As a result, we often get the message that to be a successful gay man, we should be sexually desirable, open to sex, and have frequent conquests.
Other related factors that can contribute to our so easily leaning away from monogamy and toward multiple partners include:
The stigma around being gay denies many of us opportunities to date and romance early in life. Instead, the experiences of growing up gay, having to hide, and having difficulty discerning who might be a willing partner often lead us to have our first experiences in anonymity and shame, learning how to be sexual apart from and before we learn how to be close.  As a result, we're likely to have a hard time connecting sex and emotional intimacy.  Moreover, our early experiences can set our arousal templates to be most aroused by secrecy, risk, anonymity, and being a sexual outlaw.
Internalized homo-negativity from growing up in a culture that has stigmatized homosexuality and gay relationships may lead us to absorb the idea that our relationships, and gay men generally, are "less than." Consequently, we may think that we, our significant others, our relationships, and our sex partners are unworthy of honor and respect; and we may easily behave in ways that reflect these beliefs, pursuing pleasure without considering the possible costs to what we say we hold dear. And we may not even realize we hold these beliefs.
As gay men, we are likely to have grown up feeling defective and hiding our true selves from our closest family and friends, fearing rejection. When children and young people don't get a sense that they are loved for whom they really are, and instead grow up seeing themselves as damaged, it's difficult to develop a positive sense of self-worth. Many of us are still seeking to heal this wound through our ongoing pursuit of sex and the companion feeling of being desired by another man, unaware of what is driving this pursuit.
Alcohol and other substance abuse are entrenched in gay culture, in great part as a means of soothing the isolation, distress, anxiety, and depression that many of us experience from living in an often-hostile world. Clients routinely tell me they are in a chemically altered state when they make decisions to engage in extracurricular sexual interactions that threaten or damage their primary relationships.
One more key factor, true for all relationships: While closeness can feel good, being close also means being vulnerable, which is scary. Open relationships can be a way for us to keep some distance from each other in an attempt to keep ourselves safer.
I became a psychologist at a time when gay relationships weren't getting much societal support, with the goal of helping gay couples thrive despite a deck stacked heavily against us. Over the years, I've learned that some of the most important work I can do with gay male clients is to help them be more thoughtful about their choices, so that they can better develop stronger, more nurturing, more loving relationships.
We gay men often keep our eyes closed to the ways that we may be damaging our relationships through some of our most commonplace, accepted, and ingrained behaviors. Obviously, it can be painful to acknowledge that we may be harming ourselves through seemingly fun, innocuous choices, or to acknowledge the possible downsides of our ubiquitous open relationships.
Nevertheless, there is great value for each of us in figuring out, as individuals, what it means to live in a way that we respect; in holding our behavior up to our own standards, and only our own standards; and in clarifying how we want to live life even when there is pressure, from the outside world and from other gay men, to live differently.
Pressure from other gay men? That's right.
On first thought one might think that we gay men would have no trouble standing up to others' expectations. Certainly it's true that openly acknowledging we are gay despite societal judgment and pressure to "be" heterosexual demonstrates a strong ability to be true to ourselves, and to manage our anxiety in the face of tough challenges.
But beyond the expectations of society-at-large are the expectations of gay culture about what it means to be a successful gay man. Here is where many of us can get wobbly.
Not finding complete acceptance in the larger world, we have the hope that by coming out, we will finally feel a sense of really belonging somewhere. If this means behaving in the ways that peers do, taking on what we perceive to be the values of our community in order to fit in, many of us are willing to ignore our own feelings, and possibly our souls, so as to not feel excluded yet again.
Jim and Rob, the couple who had sex with all their friends on their cruise, are sitting in my office, with my dog Aviv snoozing at their feet. After some consideration, they had decided to stop having sex with other men for a while, to see if this would help them to feel closer and re-start their sex life with each other. The rancor had decreased and they reported enjoying having sex together again.
Their news: Jim has decided to enroll in a graduate program on the other side of the country, and they are discussing how this will affect their sex life.
"Of course we're going to have to make some allowances for this," Jim says.
I look at him quizzically.
"I mean, we might not see each other for a month or two at a time. So we need to have an agreement that we'll have sex with other guys."
Rob nods in agreement.
I ask them how they each anticipate the impact of both again having sex with others. They respond with shrugs.
"You know, our friends Bill and Dave—Bill has been working in Argentina for the last two years and they only see each other every three or four months. They're definitely hooking up with other guys," Jim notes.
"I mean, what else would we do?" adds Rob. "Not have sex for eight weeks?"
If I didn't regularly have similar conversations with other coupled gay clients, I would be stunned that neither man is stopping to consider his own feelings about what it would mean to resume an open relationship. Both are focusing solely on their perceived need to have sex regularly, and on the notion that this is simply how gay couples should operate.
So much of gay history, culture, and relational development are shaping this moment.
When working with a couple like Jim and Rob, I do my best not to accept much as "simply a given." Here are the questions that I wonder about with them: What have your hopes been for couplehood, and how is reality lining up with those hopes? How have you made your choices? How is your relationship working for you? What is most important to you?
As with Jim and Rob, I often find that clients haven't considered these questions much. "It's what our friends do" is the most frequent answer for how they have made the choice to have an open relationship. Many times it seems to me as if there's a fog around these men's thinking about their relationships.
I don't want to contribute to the fog by colluding with them to believe that the particular heartbreaks that can come with carelessly conducted open relationships are unavoidable; that our relationships are not in fact fragile; or that we gay men must establish our relationships along certain lines simply because that is how it is "usually done."
And when I challenge these clients to go deeper than stating that they are just doing what everyone else does? "Yes, it's a struggle" is the answer I usually get. "It is painful when my husband doesn't come home till the next morning." And then: "But isn't this how gay men have relationships? It's what everyone around me is doing."
These are the poignant and troubling words I hear again and again, echoing what I was told by my friends back in 1987.
Given the numerous interrelated factors that shape our choices in the realm of sex, it is difficult to envision gay men making significant changes in how we operate, especially as committed relationships are—at present—becoming less popular among younger people of all sexual orientations.
But when we look at the arc of gay existence over the past 50 years, from the shadows to the margins of tolerance to marriage equality, it is clear that surprising and dramatic shifts are possible.
So I am hopeful that we gay men can get off autopilot and become more aware of the factors contributing to how we construct and manage our relationships. And I am hopeful that this awareness can go a long way toward our making ever more thoughtful choices, respectful of ourselves and our partners, that help us to build stronger, closer, and more rewarding relationships.
(All names and identifying information changed in this article.)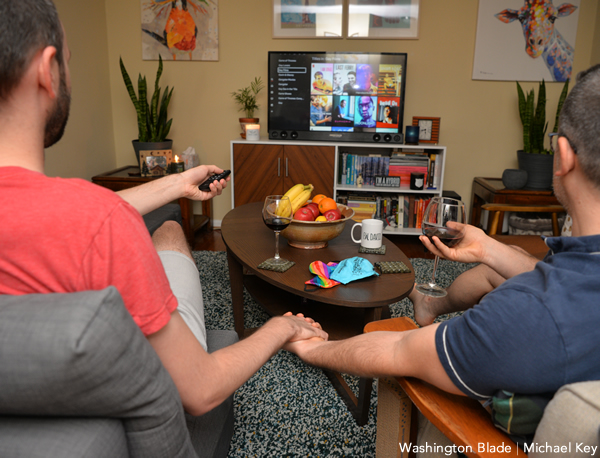 Tagg turns 10
D.C. magazine thriving post-pandemic with focus on queer women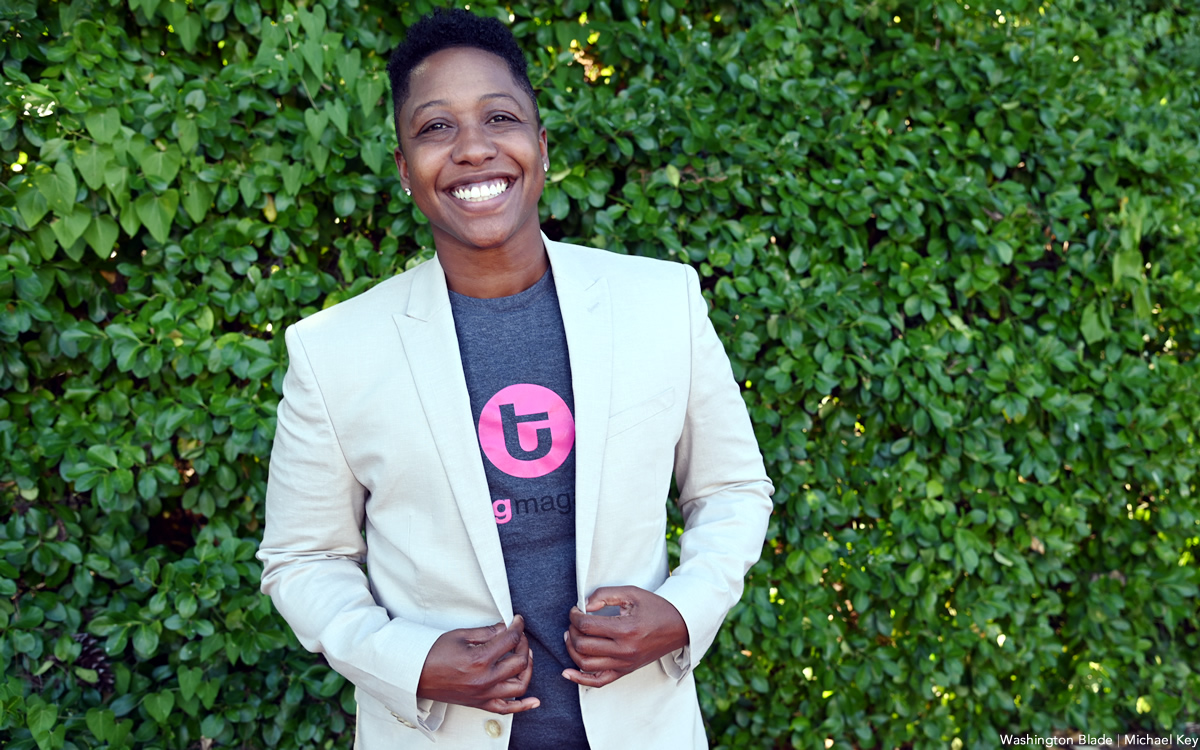 In a 10-year-old YouTube video, owner and editor of Tagg magazine, Eboné Bell, — clad in a white cotton T-shirt, gray vest and matching gray fedora — smiled with all her pearly whites as a correspondent for the magazine interviewed her outside now-closed Cobalt, a gay club in downtown D.C. that hosted the magazine's official launch in the fall of 2012.
"I want to make sure that people know that this is a community publication," Bell said in the video. "It's about the women in this community and we wanted to make sure that they knew that 'This is your magazine.'"
As one of just two queer womxn's magazines in the country, Tagg has established itself as one of the nation's leading and forthright LGBTQ publications that focuses on lesbian and queer culture, news, and events. The magazine is celebrating its 10th anniversary this month.
Among the many beats Tagg covers, it has recently produced work on wide-ranging political issues such as the introduction of the LGBTQ+ History Education Act in the U.S. House of Representatives and the Supreme Court's assault on reproductive rights through a reversal of its landmark Roe v. Wade ruling; and also attracted the attention of international queer celebrities, including Emmy-nominated actress Dominique Jackson through fundraisers.
"Tagg is a form of resistance," Bell said in a Zoom interview with the Washington Blade. "I always say the best form of activism is visibility and we're out there authentically us."
Although the magazine was created to focus on lifestyle, pressing political issues that affect LGBTQ individuals pushed it to dive deeper into political coverage in efforts to bring visibility to LGBTQ issues that specifically affect queer femme individuals.
"We know the majority of our readers are queer women,' said Bell. "[So] we always ask ourselves, 'How does this affect our community?' We are intentional and deliberate about it."
Rebecca Damante, a contributing writer to the magazine echoed Bell's sentiments.
"The movement can sometimes err toward gay white men and it's good that we get to represent other groups," said Damante. "I feel really lucky that a magazine like Tagg exists because it's given me the chance to polish my writing skills and talk about queer representation in media and politics."
Tagg's coverage has attracted younger readers who visit the magazine's website in search of community and belonging. Most readers range between the ages of 25 and 30, Bell said.
"[The magazine] honestly just took on a life of its own," said Bell. "It's like they came to us [and] it makes perfect sense."
Prior to the magazine becoming subscription-based and completely online, it was a free publication that readers could pick up in coffee shops and distribution boxes around D.C., Maryland, and Virginia.
Battling the pandemic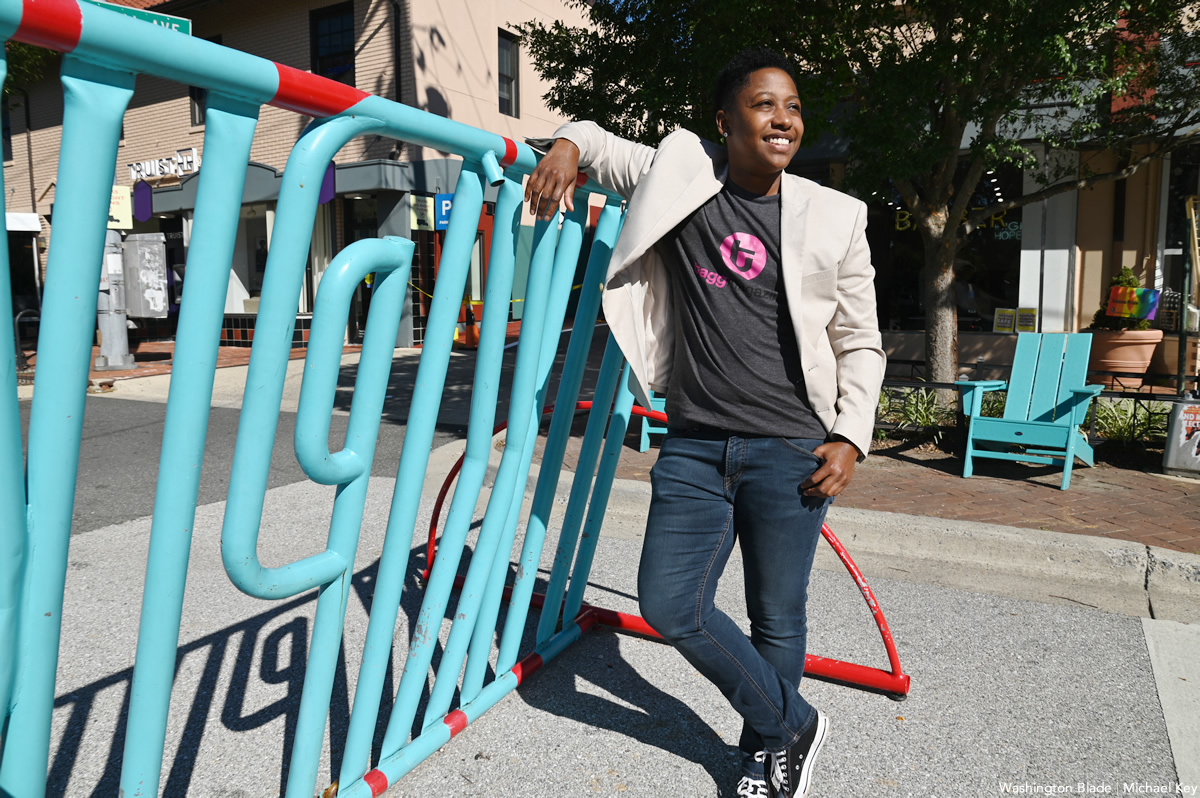 When the COVID-19 pandemic struck in 2020, newsrooms across the world were forced to function virtually. Additionally, economic strife forced many publications to downsize staffs and — in some cases — cancel entire beats as ad revenue decreased, forcing them to find alternative ways to self-sustain financially. Tagg was no exception.
"We didn't fly unscathed," said Bell. "[The pandemic] took a huge emotional toll on me because I thought we were going to close. I thought we were going to fail."
However, the magazine was able to stand firm after a fundraiser titled "Save Tagg Magazine" yielded about $30,000 in donations from the community.
The fundraiser involved a storefront on Tagg's website where donations of LGBTQ merchandise were sold, including a book donated by soccer superstar Megan Rapinoe.
There was also a virtual "Queerantine Con" — an event that was the brainchild of Dana Piccoli, editor of News Is Out— where prominent LGBTQ celebrities such as Rosie O'Donnell, Lea DeLaria and Kate Burrell, gave appearances to help raise money that eventually sustained the publication.
"There was a time where I was ready to be like 'I have to be OK that [Tagg] might not happen anymore," said Bell. "But because of love and support, I'm here."
While the outpouring of love from community members who donated to the magazine helped keep the magazine alive, it was also a stark reminder that smaller publications, led by women of color, have access to fewer resources than mainstream outlets.
"It's statistically known that Black women-owned businesses get significantly less support, venture capital investments, things like that," said Bell. "I saw similar outlets such as Tagg with white people making $100,000 a month."
Bell added that Tagg had to work "10 times harder" to survive, and although the magazine didn't cut back on the people who worked for it, it ended free access to the magazine in the DMV especially as the places that housed the magazine were no longer in business. The publication also moved to a subscription-based model that allowed it to ameliorate printing costs.
Despite the challenges brought about by the pandemic, Tagg remains steadfast in its service to the LGBTQ community. The magazine hired an assistant editor in 2021 and has maintained a team of graphic designers, photographers, writers and an ad sales team who work to ensure fresh content is delivered to readers on a regular basis.
For Bell, Tagg mirrors an important life experience — the moment she discovered Ladders, a lesbian magazine published throughout the 1950s, 1960s and early 1970s.
"To that young person coming up, I want you to see all the things that happened before them, all the people that came before them, all the stories that were being told" she said.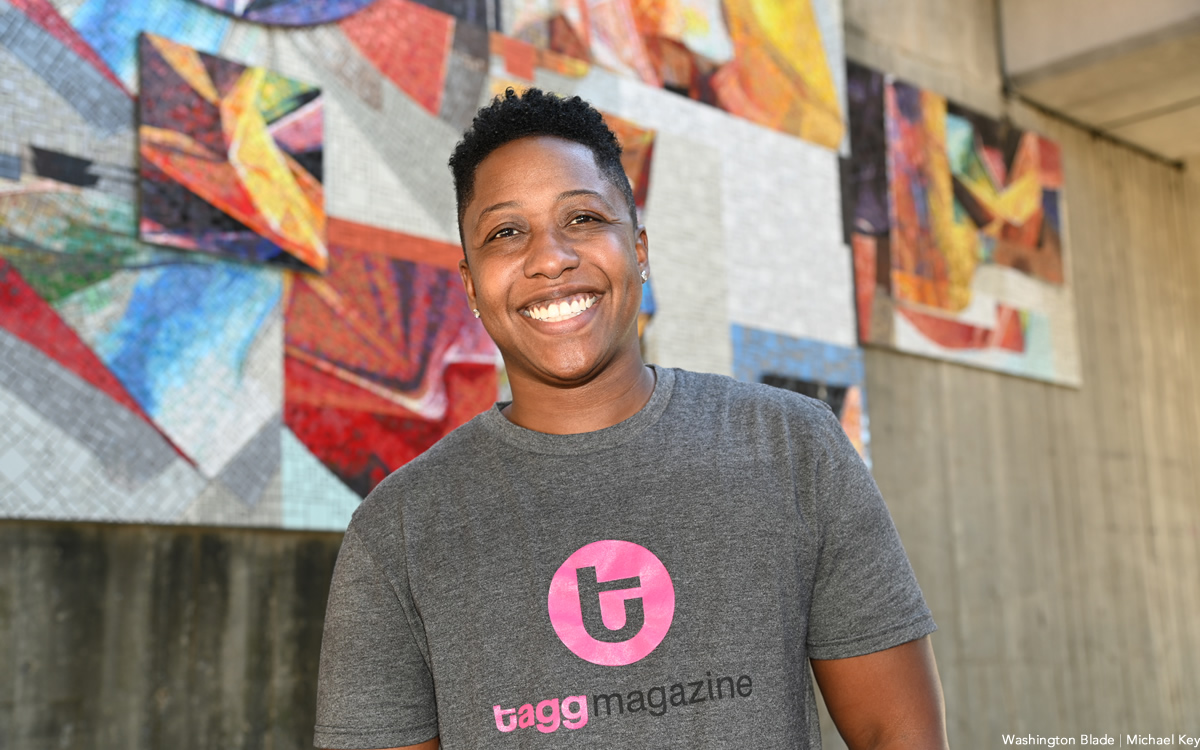 Daisy Edgar-Jones knows why 'the Crawdads sing'
Actress on process, perfecting a southern accent, and her queer following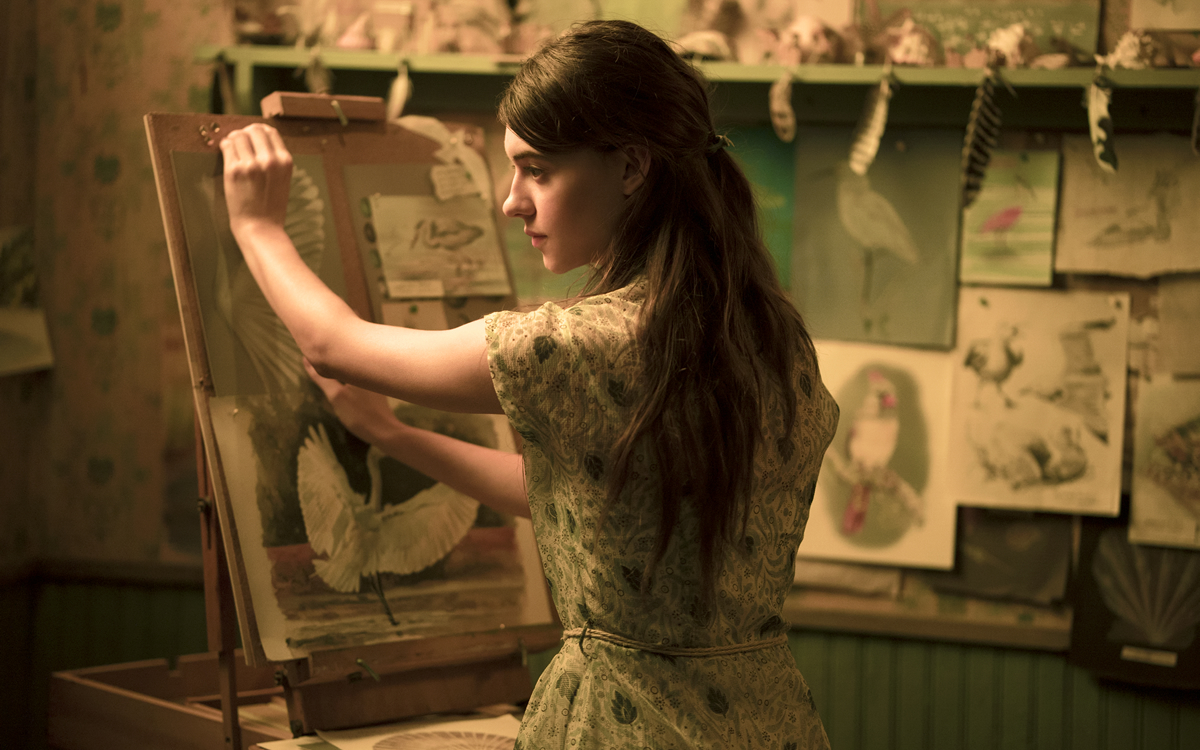 Daisy Edgar-Jones is an actor whose career is blossoming like her namesake. In recent years, she seems to be everywhere. LGBTQ viewers may recognize Edgar-Jones from her role as Delia Rawson in the recently canceled queer HBO series "Gentleman Jack." She also played memorable parts in a pair of popular Hulu series, "Normal People" and "Under the Banner of Heaven." Earlier this year, Edgar-Jones was seen as Noa in the black comedy/horror flick "Fresh" alongside Sebastian Stan.
With her new movie, "Where the Crawdads Sing" (Sony/Columbia), she officially becomes a lead actress. Based on Delia Owens' popular book club title of the same name, the movie spans a considerable period of time, part murder mystery, part courtroom drama. She was kind enough to answer a few questions for the Blade.
BLADE: Daisy, had you read Delia Owens's novel "Where the Crawdads Sing" before signing on to play Kya?
DAISY EDGAR-JONES: I read it during my audition process, as I was auditioning for the part. So, the two went hand in hand.
BLADE: What was it about the character of Kya that appealed to you as an actress?
EDGAR-JONES: There was so much about her that appealed to me. I think the fact that she is a very complicated woman. She's a mixture of things. She's gentle and she's curious. She's strong and she's resilient. She felt like a real person. I love real character studies and it felt like a character I haven't had a chance to delve into. It felt different from anyone I've played before. Her resilience was one that I really admired. So, I really wanted to spend some time with her.
BLADE: While Kya is in jail, accused of killing the character Chase, she is visited by a cat in her cell. Are you a cat person or do you prefer dogs?
EDGAR-JONES: I like both! I think I like the fact that dogs unconditionally love you. While a cat's love can feel a bit conditional. I do think both are very cute. Probably, if I had to choose, it would be dogs.
BLADE: I'm a dog person, so I'm glad you said that.
EDGAR-JONES: [Laughs]
BLADE: Kya lives on the marsh and spends a lot of time on and in the water. Are you a swimmer or do you prefer to be on dry land?
EDGAR-JONES: I like swimming, I do. I grew up swimming a lot. If I'm ever on holidays, I like it to be by the sea or by a nice pool.
BLADE: Kya is also a gifted artist, and it is the thing that brings her great joy. Do you draw or paint?
EDGAR-JONES: I always doodle. I'm an avid doodler. I do love to draw and paint. I loved it at school. I wouldn't say I was anywhere near as skilled as Kya. But I do love drawing if I get the chance to do it.
BLADE: Kya was born and raised in North Carolina. What can you tell me about your process when it comes to doing a southern accent or an American accent in general?
EDGAR-JONES: It's obviously quite different from mine. I've been lucky that I've spent a lot of time working on various accents for different parts for a few years now, so I feel like I'm developed an ear for, I guess, the difference in tone and vowel sounds [laughs]. When it came to this, it was really important to get it right, of course. Kya has a very lyrical, gentle voice, which I think that North Carolina kind of sound really helped me to access. I worked with a brilliant accent coach who helped me out and I just listened and listened.
BLADE: While I was watching "Where the Crawdads Sing" I thought about how Kya could easily be a character from the LGBTQ community because she is considered an outsider, is shunned and ridiculed, and experiences physical and emotional harm. Do you also see the parallels?
EDGAR-JONES: I certainly do. I think that aspect of being an outsider is there, and this film does a really good job of showing how important it is to be kind to everyone. I think this film celebrates the goodness you can give to each other if you choose to be kind. Yes, I definitely see the parallels.
BLADE: Do you have an awareness of an LGBTQ following for your acting career?
EDGAR-JONES: I tend to stay off social media and am honestly not really aware of who follows me, but I do really hope the projects I've worked on resonate with everyone.
BLADE: Are there any upcoming acting projects that you'd like to mention?
EDGAR-JONES: None that I can talk of quite yet. But there are a few things that are coming up next year, so I'm really excited.
CAMP Rehoboth's president talks pandemic, planning, and the future
Wesley Combs marks six months in new role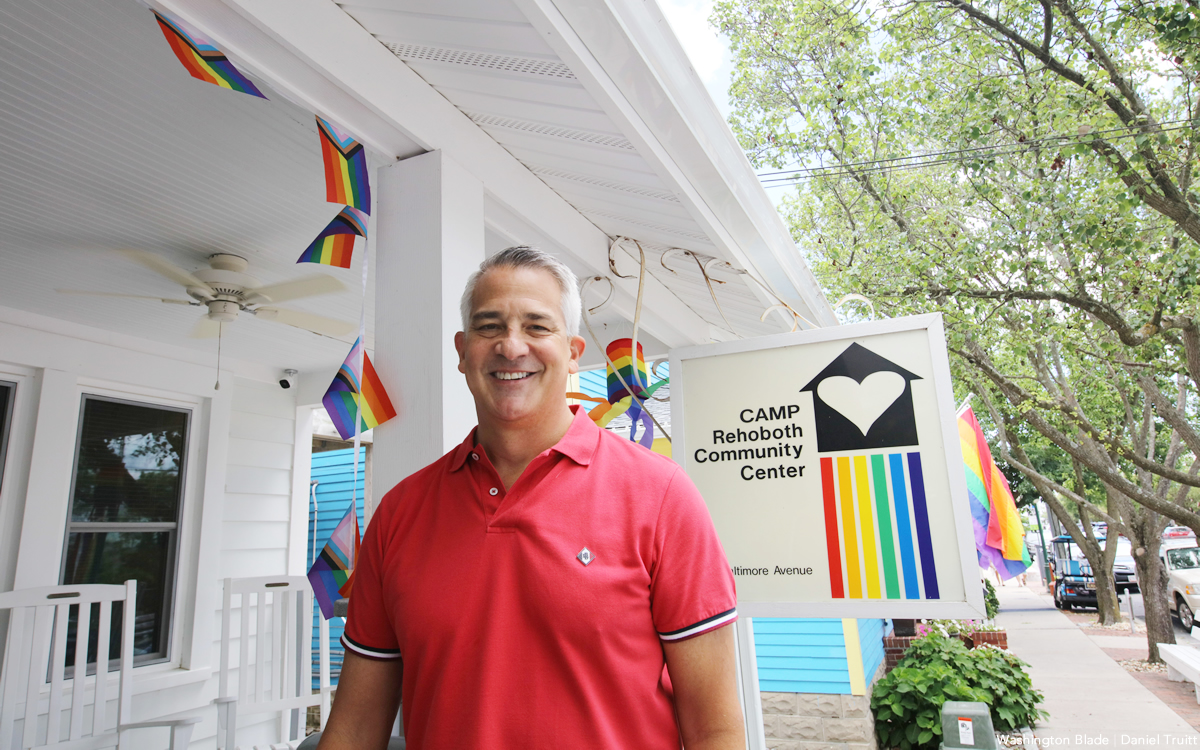 June marks half a year since Wesley Combs stepped into his role as president of CAMP Rehoboth. In a conversation with the Blade, Combs recounted his first six months in the position — a time he said was characterized by transition and learning.
Since 1991, CAMP Rehoboth has worked to develop programming "inclusive of all sexual orientations and gender identities" in the Rehoboth Beach, Del. area, according to the nonprofit's website. As president, Combs oversees the organization's board of directors and executive director, helping determine areas of focus and ensure programming meets community needs.
For Combs, his more than three decades of involvement with CAMP Rehoboth have shaped the course of his life. In the summer of 1989 — just before the organization's creation — he met his now-husband, who was then living in a beach house with Steve Elkins and Murray Archibald, CAMP Rehoboth's founders.
Since then, he has served as a financial supporter of the organization, noting that it has been crucial to fostering understanding that works against an "undercurrent of anti-LGBTQ sentiment" in Rehoboth Beach's history that has, at times, propagated violence against LGBTQ community members.
In 2019, after Elkins passed away, Combs was called upon by CAMP Rehoboth's Board of Directors to serve on a search committee for the organization's next executive director. Later that year, he was invited to become a board member and, this past November, was elected president.
Combs noted that CAMP Rehoboth is also still recovering from the pandemic, and is working to restart programming paused in the switch to remote operations. In his first six months, he has sought to ensure that people feel "comfortable" visiting and engaging with CAMP Rehoboth again, and wants to ensure all community members can access its programming, including those from rural parts of Delaware and those without a means of getting downtown.
Still, Combs's first six months were not without unexpected turns: On May 31, David Mariner stepped down from his role as CAMP Rehoboth executive director, necessitating a search for his replacement. Combs noted that he would help facilitate the search for an interim director to serve for the remainder of the year and ensure that there is "a stable transition of power." CAMP Rehoboth last week announced it has named Lisa Evans to the interim director role.
Chris Beagle, whose term as president of CAMP Rehoboth preceded Combs's own, noted that the experience of participating in a search committee with the organization will "better enable him to lead the process this time."
Before completing his term, Beagle helped prepare Combs for the new role, noting that the "combination of his professional background, his executive leadership (and) his passion for the organization" make Combs a strong president. Regarding the results of the election, "I was extremely confident, and I remain extremely confident," Beagle said.
Bob Witeck, a pioneer in LGBTQ marketing and communications, has known Combs for nearly four decades. The two founded a public relations firm together in 1993 and went on to work together for 20 years, with clients ranging from major businesses like Ford Motor Company to celebrities including Chaz Bono and Christopher Reeve. According to Witeck, Combs's work in the firm is a testament to his commitment to LGBTQ advocacy.
"Our firm was the first founded primarily to work on issues specific to LGBTQ identities, because we wanted to counsel corporations about their marketing and media strategies and working in the LGBTQ market," he explained. By helping develop communications strategies inclusive of those with LGBTQ identities, Combs established a background of LGBTQ advocacy that truly "made a mark," Witeck said.
Witeck emphasized that, in his new position, Combs brings both business experience and a renewed focus on historically underrepresented in LGBTQ advocacy — including people with disabilities, trans people and people of color.
Looking to the rest of the year, CAMP Rehoboth hopes to host a larger-scale event during Labor Day weekend. In addition, the organization will revisit its strategic plan — first developed in 2019 but delayed due to the pandemic — and ensure it still meets the needs of the local community, Combs said. He added that he intends to reexamine the plan and other programming to ensure inclusivity for trans community members.
"CAMP Rehoboth continues to be a vital resource in the community," he said. "The focus for the next two years is to make sure we're doing and delivering services that meet the needs of everyone in our community."