Why do so many gay couples open up their relationships?
Many of us are on autopilot, but we can build more meaningful connections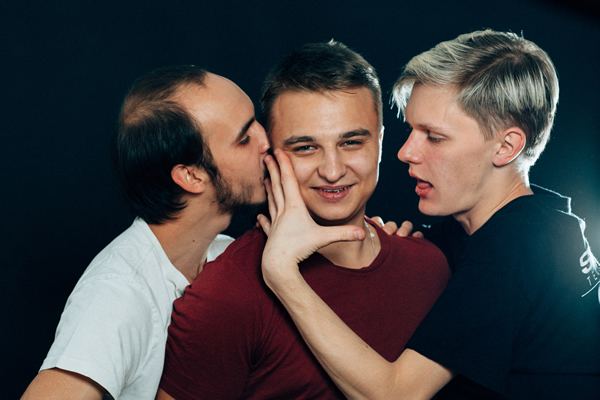 As gay men, we've been through a lot.
For so many years we were deep in the closet, fearful of being arrested, and threatened with pseudo-medical cures.
Then came the Stonewall uprising, the declassification of homosexuality as a psychiatric disorder, and the defeat of sodomy laws. And finally, the legalization of gay marriage.
Now—at least in some parts of the world — we're free to live our lives exactly like everyone else. No one gets to tell us how to live, whom to love, or what we can or can't do in the bedroom. We alone call the shots.
Then again, maybe we're not as free as we think. Ever wonder why so many of us open our relationships? Are we always really deciding for ourselves how we want to live?
Or are we sometimes on autopilot, blithely following expectations and norms of which we aren't even aware, oblivious to the possible consequences?
Spring, 1987: Although I didn't know it at the time, my own introduction to the world of gay relationships was following a script that countless gay men have lived.
Growing up in that era, there were no visible gay relationships, no role models. Astoundingly, a gay porn theater/bathhouse did advertise in the Washington Post, my hometown paper, when I was a kid. While this was titillating, I dreamed of something more traditional and soulful for my future than the anonymous encounters and orgies at which those ads hinted.
So when hunky, adorable Justin* asked me out after a meeting of the campus gay group and we started dating, I was over the moon. That is, until my friends Ben and Tom, an older gay couple, shot me right back down to earth when, one evening over dinner, they asked if Justin and I were "exclusive."
Huh? What a question!
"Just wait," Tom said knowingly,  "Gay men never stay monogamous for long."
More than 30 years have passed, and the world of gay male relationships remains pretty much the same. Working as a psychologist for the past 25 years, I've listened to hundreds of gay clients share their own versions of my long-ago dinner with Ben and Tom. "We just assumed we'd be monogamous, but then this older gay couple told us, 'yeah, let's see how long that lasts.' So we decided to open up our relationship and start playing around."
New generations have the possibility of proudly visible relationships and recently, marriage. And still, for many of us, open relationships are seen as the default choice in one form or another: "Monogamish." Only when one partner is out-of-town. Never the same person twice. Only when both partners are present. No kissing. No intercourse. No falling in love. Never in the couple's home. Never in the couple's bed. Don't ask, don't tell. Disclose everything. Anything goes.
Examining our affinity for non-monogamy can be seen as judgmental or anti-gay, "sex-negative," tantamount to suggesting that gay men should mimic a heterosexual model that is patriarchal, misogynist, oppressive — and maybe not even really workable for straight people. Questioning our penchant for casual sex while we are coupled is also seen as a challenge to the inspirational (to some) narrative that gay men, free of the constraints of history and tradition, are constructing a fresh, vibrant model of relationships that decouples the unnecessary, pesky, and troublesome bond between emotional fidelity and sexual exclusivity.
But we do not honor our diversity if we expect that any of us should choose (or not choose) any particular role or path. After all, gay men are just as multidimensional, complex, and unique as other men.
And while an open relationship may be the best relationship for some couples to have, successfully being in one requires capabilities that many of us do not possess. Simply being a gay man certainly does not automatically provide skills such as:
The solidity of self to be trusting and generous
The ability to sense how far boundaries can be pushed without doing too much damage
The capacity to transcend feelings of jealousy and pain
The strength of character not to objectify or idealize outside sex partners.
Yes, open relationships can be as close, loving, and committed as monogamous relationships, which of course have their own difficulties. But even when conducted with thought, caution, and care, they can easily result in hurt and feelings of betrayal.
Moreover, open relationships are often designed to keep important experiences secret or unspoken between partners. Clients will tell me they do not want to know exactly what their partner is doing with other men, preferring to maintain a fantasy (or delusion) that certain lines will not be crossed. As a result, the ways in which we structure our open relationships can easily interfere with intimacy—knowing, and being known by our partners.
Consequently, we gay men often struggle to form solid, mutually respectful attachments that include both emotional and physical connection. Might any of these scenarios be familiar to you?
Jim and Rob came in to see me after a disastrous cruise with eight of their friends. Although it had not been their plan, between them they had ended up separately having sex with all eight. This had broken several of their "rules," although as Jim pointed out, the rules were unclear because they often made them up to suit whatever they wanted to do, or not allow each other to do. Each partner's ongoing anger over how his partner was hurting him by ignoring admittedly ad-hoc sexual boundaries meant that Jim and Rob hadn't had sex with each other in two years.
Another couple I work with, Frank and Scott, have had an open relationship from the start. When they met, Frank felt strongly that monogamy had no relevance to him as a gay man. Though Scott wanted a sexually exclusive relationship, he somewhat reluctantly went along with Frank's wishes because he wanted to be with Frank. In recent years the two have become near-constant users of hookup apps, and recently Scott met a younger man on Scruff with whom he has "great chemistry." Now, to Frank's dismay, Scott is dating Todd.
Carlos and Greg came to see me after Carlos discovered that Greg was hooking up numerous times a month. Although they had a "don't-ask-don't-tell" agreement and both assumed the other was occasionally having sex with other men, Greg's behavior was far more frequent than Carlos had imagined or wanted to accept in his marriage. Greg was steadfast in his conviction that because he was following their rules, his hookups could not be negatively impacting his relationship with Carlos.
Beyond the hurt, enmity, reduced commitment, lack of connection, and distance they experience, men in these situations often tell me that their relationships and their lives have become overwhelmed by their pursuit of sex.
Another potential drawback to an open relationship: Yes, multiple partners are an easy (and fun) fix for sexual boredom. But when hot times can be easily found with others, we may feel little incentive to put sustained energy into keeping sex with our partners interesting. My educated guess: This is why many gay couples in open relationships have little or no sex with each other, just as a twosome.
Finally, it is troubling how easily, in our open relationship/hookup culture, we objectify those we have sex with and see other men as disposable, replaceable bodies. Treating others and being treated in this manner does not advance our respectfully relating to each other, nor does it benefit our self-esteem as men and as gay men.
What is influencing these behaviors?
Gay men lean toward non-monogamy for many interconnected reasons.
Men (stereotype acknowledged) often enjoy pursuing and having no-strings sex, so gay men readily find willing partners. Open relationships, seemingly fun and unconstrained, offering a stream of new partners to reduce the monotony of an ongoing relationship, can be intrinsically alluring. Gay men's sexual connections have historically not been governed by societal rules, so we've been able to do pretty much whatever we want, as long as we've flown way under the radar.
And, open relationships are what we predominantly see around us as the relationship model for gay men, for the reasons noted above and also in large part due to the influence of gay history and gay culture.
For a deeper understanding of this last point, let's take a whirlwind tour though gay male history in the Western world (much of which overlaps with lesbian herstory). Ancient, recent, forgotten, familiar, all of it is impacting our lives today.
Since at least the fourth century C.E., as Christianity gained influence, homosexual behavior was illegal in Europe, often punishable by death, and European settlers brought these laws with them to what became the United States. Some periods were relatively more tolerant, others less so. France became the first Western nation to decriminalize homosexuality after the 1791 Revolution, but harsh laws remained and were enforced throughout the Western world well into the 20th century. (And at present, 78 countries still have laws prohibiting homosexual behavior; punishments in some include the death penalty.)
Following World War II, America's McCarthy "Red Scare" of the 1950s was accompanied by a campaign against the "Lavender Menace," resulting in hundreds of homosexual government employees being fired. The anti-gay environment in the United States, similar to that in other Western countries, included FBI tracking of suspected homosexuals; the postal service monitoring mail for "obscene" materials including mailings from early gay rights organizations; prison terms for homosexual acts between consenting adults; and nightmarish "treatments" for homosexuality including chemical castration.  Obviously, under conditions such as these, gay men had a difficult time congregating openly, meeting each other, or forming relationships. Many gay men lived fearful lives of isolation and furtive sexual encounters. 
To get a chilling sense of what it was like to live as a gay man in this era, view William E. Jones's "Tearoom" on the Internet. The film presents actual surveillance footage from a police sting operation of men meeting for sex in an Ohio restroom in 1962. The men's fear is palpable, and the absence of affection or connection between them is heartbreaking.
While in 1967 parts of the United Kingdom decriminalized homosexuality, 1969 is known as the start of the modern gay rights movement because in June of that year, patrons of the Stonewall Bar in New York City fiercely fought back against a routine police raid. Following Stonewall, we began to congregate and organize openly, to throw off the cloak of shame, and to fight against third-class status. (In 29 of the United States it remained legal to fire someone simply for being gay until the June Supreme Court ruling in the Bostock case. The scope of that ruling is still being debated.)
During the 1970s, with sexual liberation coming on the heels of the civil rights era, the gay rights movement gained momentum. The American Psychiatric Association declassified homosexuality as a mental disorder in 1973. We became more visible, and gay culture—bookstores, bars, political organizations, and sex clubs—flourished as gay men rejected living in fear and openly celebrated their sexuality.
But by the late 1970s, HIV was silently making its way into the gay community.  As men began to fall sick and die in staggering numbers early in the 1980s, anti-gay sentiment again exploded, and we began to equate our own sexuality with death. Yet the AIDS epidemic ultimately led our community to coalesce and strengthen, organizing to care for our ill and to fight for effective treatment, leading to greater visibility and acceptance, and providing some of the organizational groundwork for the equal rights battles that continue today.
History influences culture, and both our history and culture influence who we become, and how we lead our erotic and intimate lives. Modern gay culture developed in an environment of justified fear. 
Often, the only possibility for us to meet for any sort of intimate encounter was through hookups and anonymous encounters. When connecting, we had to keep one eye over our shoulders, scanning for danger (this can literally be seen in Tearoom). Can such connections really be termed intimate?
For most of us, the days of outright surveillance are over. But the patterns of interacting that developed over many years have been passed down through the generations and still influence us in the present, even those of us who don't face losing our jobs, family support, freedom, or lives if our sexual orientation is discovered. The longstanding need to hide, scan, and be vigilant has helped shape a culture of gay male interaction that— even when we are partnered — often centers on brief encounters, putting greater emphasis on sexual connection than on knowing and being known as multidimensional physical and emotional beings.
At the opposite end of the spectrum: The era of exuberant sexual liberation that followed Stonewall. In part as a reaction to our identity having been badly stigmatized and gay sex having been literally forbidden, both pre-Stonewall and to some degree in the era of AIDS and safer-sex campaigns, gay male culture has leaned toward placing strong emphasis on sex and hooking up. As a result, we often get the message that to be a successful gay man, we should be sexually desirable, open to sex, and have frequent conquests.
Other related factors that can contribute to our so easily leaning away from monogamy and toward multiple partners include:
The stigma around being gay denies many of us opportunities to date and romance early in life. Instead, the experiences of growing up gay, having to hide, and having difficulty discerning who might be a willing partner often lead us to have our first experiences in anonymity and shame, learning how to be sexual apart from and before we learn how to be close.  As a result, we're likely to have a hard time connecting sex and emotional intimacy.  Moreover, our early experiences can set our arousal templates to be most aroused by secrecy, risk, anonymity, and being a sexual outlaw.
Internalized homo-negativity from growing up in a culture that has stigmatized homosexuality and gay relationships may lead us to absorb the idea that our relationships, and gay men generally, are "less than." Consequently, we may think that we, our significant others, our relationships, and our sex partners are unworthy of honor and respect; and we may easily behave in ways that reflect these beliefs, pursuing pleasure without considering the possible costs to what we say we hold dear. And we may not even realize we hold these beliefs.
As gay men, we are likely to have grown up feeling defective and hiding our true selves from our closest family and friends, fearing rejection. When children and young people don't get a sense that they are loved for whom they really are, and instead grow up seeing themselves as damaged, it's difficult to develop a positive sense of self-worth. Many of us are still seeking to heal this wound through our ongoing pursuit of sex and the companion feeling of being desired by another man, unaware of what is driving this pursuit.
Alcohol and other substance abuse are entrenched in gay culture, in great part as a means of soothing the isolation, distress, anxiety, and depression that many of us experience from living in an often-hostile world. Clients routinely tell me they are in a chemically altered state when they make decisions to engage in extracurricular sexual interactions that threaten or damage their primary relationships.
One more key factor, true for all relationships: While closeness can feel good, being close also means being vulnerable, which is scary. Open relationships can be a way for us to keep some distance from each other in an attempt to keep ourselves safer.
I became a psychologist at a time when gay relationships weren't getting much societal support, with the goal of helping gay couples thrive despite a deck stacked heavily against us. Over the years, I've learned that some of the most important work I can do with gay male clients is to help them be more thoughtful about their choices, so that they can better develop stronger, more nurturing, more loving relationships.
We gay men often keep our eyes closed to the ways that we may be damaging our relationships through some of our most commonplace, accepted, and ingrained behaviors. Obviously, it can be painful to acknowledge that we may be harming ourselves through seemingly fun, innocuous choices, or to acknowledge the possible downsides of our ubiquitous open relationships.
Nevertheless, there is great value for each of us in figuring out, as individuals, what it means to live in a way that we respect; in holding our behavior up to our own standards, and only our own standards; and in clarifying how we want to live life even when there is pressure, from the outside world and from other gay men, to live differently.
Pressure from other gay men? That's right.
On first thought one might think that we gay men would have no trouble standing up to others' expectations. Certainly it's true that openly acknowledging we are gay despite societal judgment and pressure to "be" heterosexual demonstrates a strong ability to be true to ourselves, and to manage our anxiety in the face of tough challenges.
But beyond the expectations of society-at-large are the expectations of gay culture about what it means to be a successful gay man. Here is where many of us can get wobbly.
Not finding complete acceptance in the larger world, we have the hope that by coming out, we will finally feel a sense of really belonging somewhere. If this means behaving in the ways that peers do, taking on what we perceive to be the values of our community in order to fit in, many of us are willing to ignore our own feelings, and possibly our souls, so as to not feel excluded yet again.
Jim and Rob, the couple who had sex with all their friends on their cruise, are sitting in my office, with my dog Aviv snoozing at their feet. After some consideration, they had decided to stop having sex with other men for a while, to see if this would help them to feel closer and re-start their sex life with each other. The rancor had decreased and they reported enjoying having sex together again.
Their news: Jim has decided to enroll in a graduate program on the other side of the country, and they are discussing how this will affect their sex life.
"Of course we're going to have to make some allowances for this," Jim says.
I look at him quizzically.
"I mean, we might not see each other for a month or two at a time. So we need to have an agreement that we'll have sex with other guys."
Rob nods in agreement.
I ask them how they each anticipate the impact of both again having sex with others. They respond with shrugs.
"You know, our friends Bill and Dave—Bill has been working in Argentina for the last two years and they only see each other every three or four months. They're definitely hooking up with other guys," Jim notes.
"I mean, what else would we do?" adds Rob. "Not have sex for eight weeks?"
If I didn't regularly have similar conversations with other coupled gay clients, I would be stunned that neither man is stopping to consider his own feelings about what it would mean to resume an open relationship. Both are focusing solely on their perceived need to have sex regularly, and on the notion that this is simply how gay couples should operate.
So much of gay history, culture, and relational development are shaping this moment.
When working with a couple like Jim and Rob, I do my best not to accept much as "simply a given." Here are the questions that I wonder about with them: What have your hopes been for couplehood, and how is reality lining up with those hopes? How have you made your choices? How is your relationship working for you? What is most important to you?
As with Jim and Rob, I often find that clients haven't considered these questions much. "It's what our friends do" is the most frequent answer for how they have made the choice to have an open relationship. Many times it seems to me as if there's a fog around these men's thinking about their relationships.
I don't want to contribute to the fog by colluding with them to believe that the particular heartbreaks that can come with carelessly conducted open relationships are unavoidable; that our relationships are not in fact fragile; or that we gay men must establish our relationships along certain lines simply because that is how it is "usually done."
And when I challenge these clients to go deeper than stating that they are just doing what everyone else does? "Yes, it's a struggle" is the answer I usually get. "It is painful when my husband doesn't come home till the next morning." And then: "But isn't this how gay men have relationships? It's what everyone around me is doing."
These are the poignant and troubling words I hear again and again, echoing what I was told by my friends back in 1987.
Given the numerous interrelated factors that shape our choices in the realm of sex, it is difficult to envision gay men making significant changes in how we operate, especially as committed relationships are—at present—becoming less popular among younger people of all sexual orientations.
But when we look at the arc of gay existence over the past 50 years, from the shadows to the margins of tolerance to marriage equality, it is clear that surprising and dramatic shifts are possible.
So I am hopeful that we gay men can get off autopilot and become more aware of the factors contributing to how we construct and manage our relationships. And I am hopeful that this awareness can go a long way toward our making ever more thoughtful choices, respectful of ourselves and our partners, that help us to build stronger, closer, and more rewarding relationships.
(All names and identifying information changed in this article.)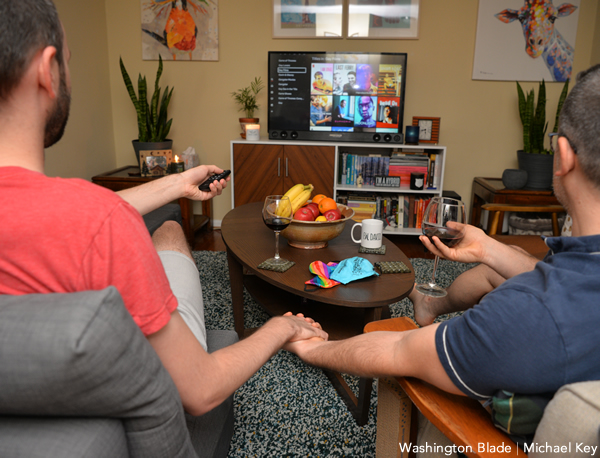 Rodriquez scores historic win at otherwise irrelevant Golden Globes
Award represents a major milestone for trans visibility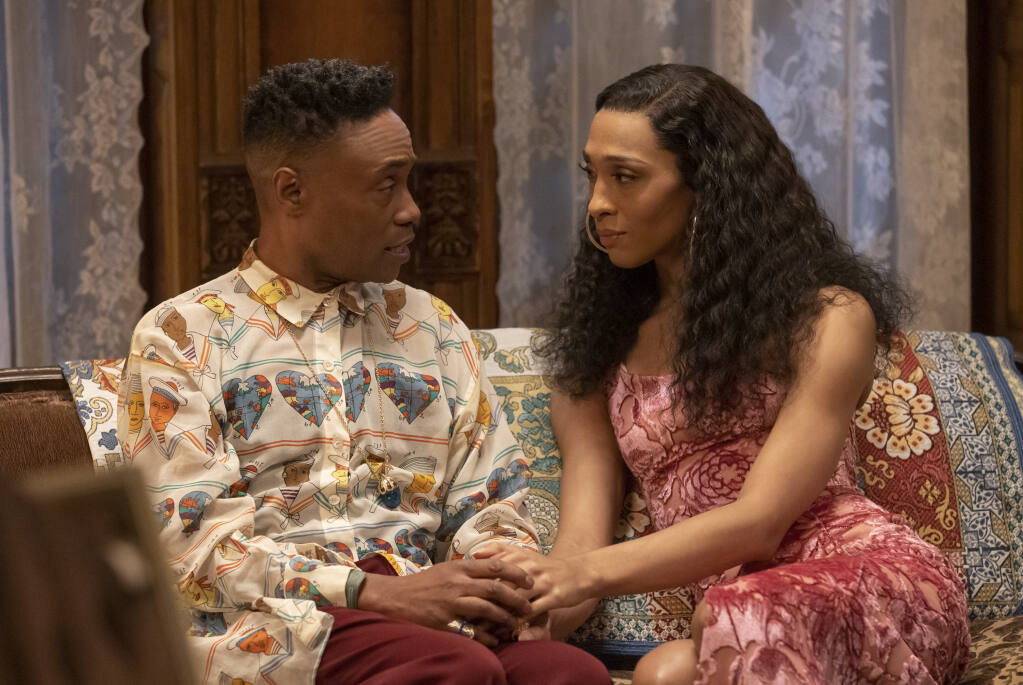 HOLLYWOOD – Despite its continuing status as something of a pariah organization in Hollywood, the Hollywood Foreign Press Association has managed to cling to relevance in the wake of last night's behind-closed-doors presentation of its 79th Annual Golden Globe Awards by sole virtue of having bestowed the prize for "Best Leading Actress in a Television Series – Drama" on Michaela Jaé Rodriguez for her work in the final season of "Pose" – making her the first transgender performer to win a Golden Globe.
The ceremony took place as a private, no-press-or-audience event in which winners were revealed via a series of tweets from the Golden Globes Twitter account. No celebrities were present (not even the nominees or winners), although actress Jamie Lee Curtis participated by appearing in a video in which she pronounced her continuing loyalty to the HFPA – without mention of the longstanding issues around diversity and ethical practices, revealed early in 2021 by a bombshell Los Angeles Times report, that have led to an nearly industry-wide boycott of the organization and its awards as well as the cancellation of the annual Golden Globes broadcast by NBC for the foreseeable future.

While the Golden Globes may have lost their luster for the time being, the award for Rodriquez represents a major milestone for trans visibility and inclusion in the traditionally transphobic entertainment industry, and for her part, the actress responded to news of her win with characteristic grace and good will.
Posting on her Instagram account, the 31-year old actress said:
"OMG OMGGG!!!! @goldenglobes Wow! You talking about sickening birthday present! Thank you!
"This is the door that is going to Open the door for many more young talented individuals. They will see that it is more than possible. They will see that a young Black Latina girl from Newark New Jersey who had a dream, to change the minds others would WITH LOVE. LOVE WINS.
"To my young LGBTQAI babies WE ARE HERE the door is now open now reach the stars!!!!!"
As You Are Bar and the importance of queer gathering spaces
New bar/restaurant poised to open in 2022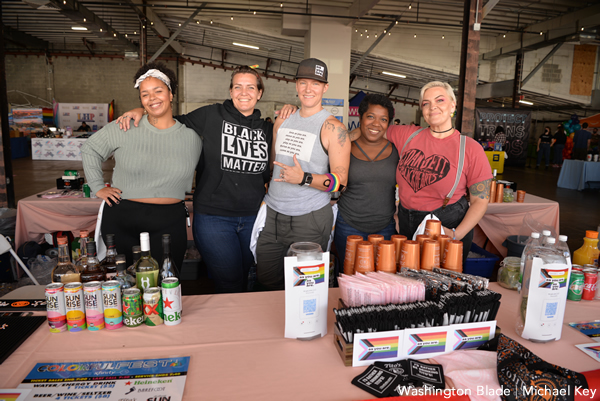 More than just a watering hole: As You Are Bar is set to be the city's newest queer gathering place where patrons can spill tea over late-morning cappuccinos as easily as they can over late-night vodka-sodas.
Co-owners and founders Jo McDaniel and Rachel Pike built on their extensive experience in the hospitality industry – including stints at several gay bars – to sign a lease for their new concept in Barracks Row, replacing what was previously District Soul Food and Banana Café. In a prime corner spot, they are seeking to bring together the disparate colors of the LGBTQ rainbow – but first must navigate the approval process (more on that later).
The duo decided on this Southeast neighborhood locale to increase accessibility for "the marginalized parts of our community," they say, "bringing out the intersectionality inherent in the queer space."
Northwest D.C., they explain, not only already has many gay bar options, but is also more difficult to get to for those who don't live within walking distance. The Barracks Row location is right by a Metro stop, "reducing pay walls." Plus, there, "we are able to find a neighborhood to bring in a queer presence that doesn't exist today."
McDaniel points out that the area has a deep queer bar history. Western bar Remington's was once located in the area, and it's a mere block from the former Phase 1, the longest-running lesbian bar, which was open from 1971-2015.
McDaniel and Pike hope that As You Are Bar will be an inclusive space that "welcomes anyone of any walk of life that will support, love, and celebrate the mission of queer culture. We want people of all ages, gender, sexual identity, as well as drinkers and non-drinkers, to have space."
McDaniel (she/her) began her career at Apex in 2005 and was most recently the opening manager of ALOHO. Pike (she/they) was behind the bar and worked as security at ALOHO, where the two met.
Since leaving ALOHO earlier this year, they have pursued the As You Are Bar project, first by hosting virtual events during the pandemic, and now in this brick-and-mortar space. They expressed concern that receiving the Alcoholic Beverage Regulation Administration (ABRA) liquor license approval and the local Advisory Neighborhood Commission, or ANC, approval will be a long and expensive process.
They have already received notice that some neighbors intend to protest As You Are Bar's application for the "tavern" liquor license that ABRA grants to serve alcohol and allow for live entertainment (e.g. drag shows). They applied for the license on Nov. 12, and have no anticipated opening date, estimating at least six months. If ABRA and the city's Alcoholic Beverage Control Board give final approval, the local ANC 6B and nearby residents can no longer protest the license until the license comes up for renewal.
Until approval is given, they continue physical buildout (including soundproofing) and planning their offerings. If the license is approved, ABRA and the ABC Board can take action against As You Are Bar, like any bar, at any time if they violate the terms of the license or create a neighborhood disturbance that violates city laws such as the local noise ordinance. In the kitchen, the duo snagged Chef Nina Love to develop the menu. Love will oversee café-style fare; look out for breakfast sandwiches making an appearance all the way until close. They will also have baked goods during the day.
McDaniel and Pike themselves will craft the bar menu. Importantly, they note, the coffee bar will also serve until close. There will be a full bar as well as a list of zero-proof cocktails. As with their sourcing, they hope to work with queer-, minority-, and women-owned businesses for everything not made in-house.
Flexible conceptually, they seek to grow with their customer base, allowing patrons to create the culture that they seek.
Their goal is to move the queer space away from a focus on alcohol consumption. From book clubs, to letter-writing, to shared workspaces, to dance parties, they seek an all-day, morning-to-night rhythm of youth, families, and adults to find a niche. "We want to shift the narrative of a furtive, secretive, dark gay space and hold it up to the light," they say. "It's a little like The Planet from the original L Word show," they joke.
Pike notes that they plan on working closely with SMYAL, for example, to promote programming for youth. Weekend potential activities include lunch-and-learn sessions on Saturdays and festive Sunday brunches.
The café space, to be located on the first floor, will have coffeehouse-style sofas as well as workstations. A slim patio on 8th Street will hold about six tables.
Even as other queer bars have closed, they reinforce that the need is still present. "Yes, we can visit a café or bar, but we always need to have a place where we are 100 percent certain that we are safe, and that our security is paramount. Even as queer acceptance continues to grow, a dedicated queer space will always be necessary," they say.
To get there, they continue to rally support of friends, neighbors, and leaders in ANC6B district; the ANC6B officials butted heads with District Soul Food, the previous restaurant in the space, over late-night noise and other complaints. McDaniel and Pike hope that once nearby residents and businesses understand the important contribution that As You Are Bar can make to the neighborhood, they will extend their support and allow the bar to open.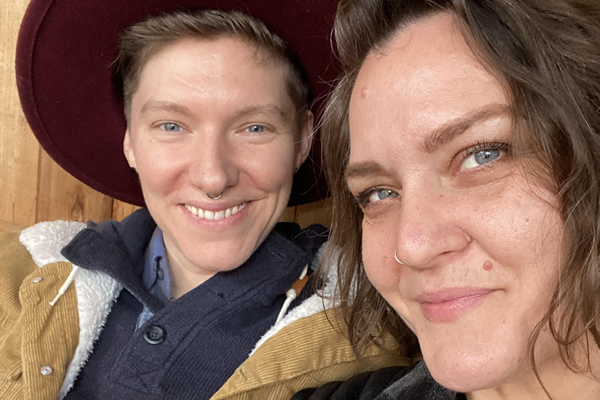 Need a list-minute gift idea?
Books, non-profit donations make thoughtful choices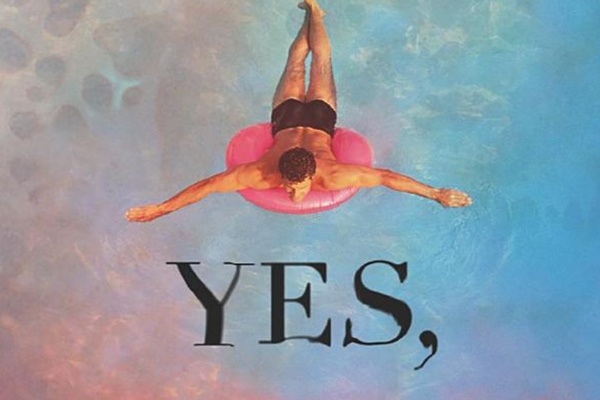 You knew this was coming.
You knew that you were going to have to finish your holiday shopping soon but it snuck up on you, didn't it? And even if you're close to being done, there are always those three or five people who are impossible to buy for, right? Remember this, though: books are easy to wrap and easy to give, and they last a while, too. So why not head to the bookstore with your Christmas List and look for these gifts.
And if you still have people to shop for, why not make a donation to a local non-profit in their name? A list of D.C.-area suggestions follows.
BOOKS: NONFICTION
If there's about to be a new addition to your family, wrapping up "Queer Stepfamilies: The path to Social and Legal Recognition" by Katie L. Acosta would be a good thing. In this book, the author followed forty LGBTQ families to understand the joys, pitfalls, and legalities of forming a new union together. It can't replace a lawyer, but it's a good overview.
For the parent who wants to ensure that their child grows up with a lack of bias, "Raising LGBTQ Allies" by Chris Tompkins is a great book to give. It's filled with methods to stop bullying in its tracks, to be proactive in having That Conversation, and how to be sure that the next generation you're responsible for becomes responsible in turn. Wrap it up with "The Healing Otherness Handbook" by Stacee L. Reicherzer, Ph.D., a book that helps readers to deal with bullying by finding confidence and empowerment.
If there's someone on your gift list who's determined to get "fit" in the coming year, then give "The Secret to Superhuman Strength" by Alison Bechdel this holiday. Told in graphic-novel format (comics, basically), it's the story of searching for self-improvement and finding it in a surprising place.
So why not give a little nostalgia this year by wrapping up "A Night at the Sweet Gum Head" by Martin Padgett? It's the tale of disco, drag, and drugs in the 1970s (of course!) in Atlanta, with appearances by activists, politics, and people who were there at that fabulous time. Wrap it up with "After Francesco" by Brian Malloy, a novel set a little later – in the mid-1980s in New York City and Minneapolis at the beginning of the AIDS crisis.
The LGBTQ activist on your gift list will want to read "The Case for Gay Reparations" by Omar G. Encarnacion. It's a book about acknowledgment, obligation on the part of cis citizens, and fixing the pain that homophobia and violence has caused. Wrap it up with "Trans Medicine: The Emergence and Practice of Treating Gender" by Stef M. Shuster, a look at trans history that may also make your giftee growl.
FICTION
Young readers who have recently transitioned will enjoy reading "Both Sides Now" by Peyton Thomas. It's a novel about a high school boy with gigantic dreams and the means to accomplish them all. Can he overcome the barriers that life gives him? It's debatable… Pair it with "Can't Take That Away" by Steven Salvatore, a book about two nonbinary students and the troubles they face as they fall in love.
The thriller fan on your list will be overjoyed to unwrap "Yes, Daddy" by Jonathan Parks-Ramage. It's the story of a young man with dying dreams of fame and fortune, who schemes to meet an older, more accomplished man with the hopes of sparking his failing career. But the older man isn't who the younger thinks he is, and that's not good. Wrap it up with "Lies with Man" by Michael Nava, a book about a lawyer who agrees to be counsel for a group of activists. Good so far, right? Until one of them is accused of being involved in a deadly bombing.
For the fan of Southern fiction, you can't go wrong when you wrap up "The Tender Grave" by Sheri Reynolds. It's the tale of two sisters, one homophobic, the other lesbian, and how they learn to forgive and re-connect.
NON-PROFIT GIVING
Like nonprofit organizations throughout the country, D.C.-area LGBTQ supportive nonprofit groups have told the Blade they continue to rebuild amid the coronavirus pandemic, which disrupted their fundraising efforts while increasing expenses, at least in part by prompting more people to come to them for help.
This holiday season, if you're looking for a thoughtful gift, consider making a donation to one of our local LGBTQ non-profit organizations in someone else's name. This list is by no means exhaustive, but a good place to start your research.
Contributions to the LGBTQ supportive nonprofit organizations can be made via the websites of these local organizations:
• Blade Foundation, which funds local scholarships and fellowships for queer student journalists, bladefoundation.org
• DC Center, our local community center that operates a wide range of programming,  thedccenter.org/donate
• Food & Friends, which delivers meals to homebound patients, foodandfriends.org
• HIPS, which advances the health rights and dignity of those impacted by sex work and drugs, hips.org
• SMYAL, which advocates for queer youth, smyal.org
• Wanda Alston Foundation, which offers shelter and support for LGBTQ youth, wandaalstonfoundation.org
• Whitman-Walker Health, the city's longtime LGBTQ-inclusive health care provider, whitmanwalkerimpact.org
• Casa Ruby, which provides shelter and services to youth in need, casaruby.org
• Us Helping Us, which helps improve the health of communities of color and works to reduce the impact of HIV/AIDS on the Black community, ushelpingus.org/donate