Drew Pisarra's 'dangerously funny and queerly inventive brain'
'You're Pretty Gay' shatters expectations and social mores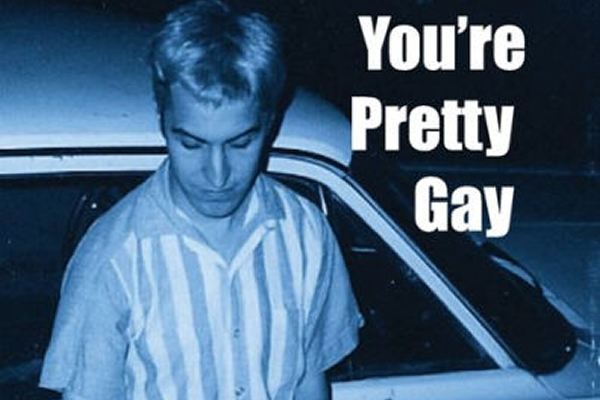 Is there anything more absurd than this, wondered gay poet and writer Drew Pisarra. Pisarra, then, was an assistant to a paralegal at a toothpaste company.
Fiercely protective of the pattern on its toothpaste, they wrote letters to rivals who, they felt, were infringing on their copyright.
Even when their competitors were in countries in the middle of a civil war, "They would write back, 'we can't respond now, we're in a war,'" Pisarra said.
But that didn't soften the heart of the toothpaste company. They'd insist that "this most important matter be dealt with as soon as the war ends," Pisarra said.
If you think that authors don't encounter the absurdity and grit of everyday life or that all writers do is drink coffee (or sip stronger libations) while looking at the sunset, you haven't met Pisarra.
Pisarra, 56, whose new short story collection "You're Pretty Gay" is just out from Chaffinch Press, has worked at everything from ventriloquism to domestic work.
The word "unique" is so hackneyed that it's a cliche to say it's a cliche. But there's no other way to describe "You're Pretty Gay."
This collection "is a prime example of Drew Pisarra's dangerously funny and queerly inventive brain," said Kevin Sampsell, author of "This Is Between Us." "Each story is its own performance, its own shattering of expectations and social mores."
Pisarra, who lives in Manhattan, gives readers a mosaic of wit, surrealism, sex, queerness, memory, mortality and self-discovery.
In "You're Pretty Gay," there are gay bars in New York and New Orleans.
You'll find everything from adolescent bullies fighting over a rare caterpillar to a character taking an AIDS test and, later, meeting up with Mrs. Claus.
"Mrs. Claus I didn't even know you were alive," says the narrator of "Arctic Chill." "I didn't even know you were real. I haven't received a gift from you or your husband in ten years."
Another of Pisarra's tales revolves around a trip to hell. "I love traveling," says the narrator of "The Hat from Hell, "I got this hat when I was in Hell back in 1992."
In "Granny," siblings gather after their mother's death. "All anyone could remember of her was that chair, how she sat in it for the last 40 years," Pisarra writes, "immobile as 'Jeopardy' and the 'Wheel of Fortune' glared at her night after night."
Pisarra's characters yearn to find love, sex, and who they really are.
"In my quest to bed mankind, I tended to avoid perfection's rejection," says the narrator of "Every Man for Myself."
Pisarra, whose first short story collection "Publick Spanking" was published in 1996, was born in Orange, N.J. When he was in the third grade, he moved to Maryland. There, except for living in Oxon Hill for a year, he grew up in Silver Spring.
When Pisarra was growing up, being gay wasn't even remotely on the horizon. "There was such denial in the culture then," Pisarra said.
From early on, he had feelings for men. "I had a crush on a boy in kindergarten," Pisarra said.
He consulted books and a priest, which wasn't helpful. They said he'd grow out of it.
"As a teenager, I recognized that I hadn't outgrown it," Pisarra said.
Pisarra was a college freshman when he came out. "I sobbed the night I came out," he said.
He was out in college, Pisarra said, "but I wasn't getting laid." That changed when he moved to New Orleans after college.
Pisarra graduated from Hofstra University in 1987 with a bachelor's degree in theater.
In college, a professor had the students sit in a circle. Then, the teacher told them how she thought they'd be cast.
"She told me, 'you're a grotesque,'"Pisarra said, "'You won't work until you're in your fifties. Because your face and body don't match.'"
Pisarra was relieved to hear this. His sense of relief was related to being a young gay man in the late 1980s.
"I wasn't interested in being closeted," Pisarra said, "I wrote. I wanted to perform. I wasn't interested in conforming."
Since then, Pisarra has been creating – performing and writing his own material. Some of the stories in "You're Pretty Gay" were originally created for the stage.
"I don't write that often," Pisarra said, "I started writing the stories in 'You're Pretty Gay' 20 years ago."
A prodigious reader, Pisarra has always "written to some degree," he said.
Pisarra got turned on to writing poetry when he went to a meeting of a gay and lesbian writers group.
"There were, like, 10 people in this apartment," Pisarra said, "there was a terrible woman sitting next to me."
He would have dropped out of the group, if he hadn't met writer Mare Davis, now his close friend.
"I said to her, 'I never want to see any of these people again except you,'" Pisarra said, "She inspired me to get into poetry."
Davis wrote the introduction to Pisarra's poetry collection "Infinity Standing Up" (Capturing Fire Press).
Released in 2019, the volume of sexy, playful sonnets received glowing reviews from the Washington Post, the Blade and other outlets.
"Devour me! Think me not some crazy nut!," Pisarra writes in one of his sonnets.
With lines like these, he gives Shakespeare a run for his money.
Pisarra has held a variety of jobs – many of which have involved the arts. He has helped homeless people with mental health issues to find housing.
"I ran a writers group for them," Pisarra said, "I encouraged a super-talented woman to send her work out."
The woman and Pisarra submitted their work to the same magazine. "Her work was accepted. Mine wasn't," he said, "I was thrilled!"
In an unusual career twist, Pisarra, who received a literary grant from the Café Royal Cultural Foundation, toured a ventriloquist act entitled "Singularly Grotesque." He created the act after the Portland Institute for Contemporary Art commissioned him to develop a new solo piece.
"I was wandering around the library aisles and I found two (self-help) pamphlets on talking with 'multiple' selves,'" Pisarra said, "and I thought this is ventriloquism in a nutshell."
Pisarra hadn't watched much TV. But that didn't keep him from interviewing with AMC to be its director of digital media.
"I thought why not," Pisarra said, "it would be a chance to see what else is out there in the world."
He worked on the websites for "Mad Men" and "Breaking Bad." "It was a pleasure to be part of the online team for these cultural phenomena!" Pisarra said.
With Molly Gross, Pisarra co-founded Saint Flashlight. In this project, he and Gross find inventive ways to get poetry into public spaces.
One of the project's most innovative efforts has been putting haiku on movie marquees. It's fun to see people, looking up, counting the syllables, Pisarra said. You sweat when you put the letters up on the marquee, he added.
"It's part of the fun! It makes you feel like you're making something matter," Pisarra said.
He doesn't want poetry to be confined to "The New Yorker." "It should push the envelope," Pisarra said, "It's not just for the upper crust."
'Fiona and Jane' an enticing look at lifelong friendship
Two women bicker, fall distant – then meet again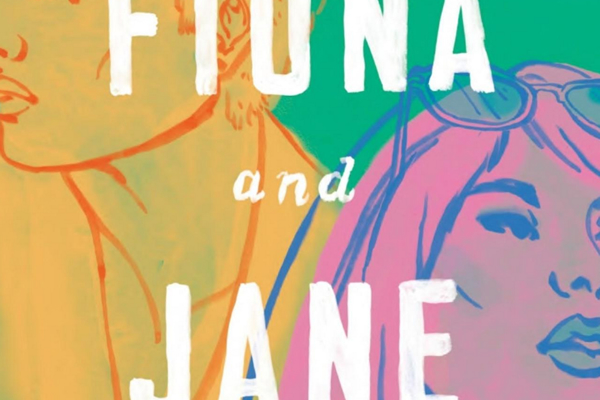 'Fiona and Jane'
By Jean Chen Ho
c. 2022, Viking
$26/275 pages
"Fiona and Jane," a new short story collection by Jean Chen Ho is an enticing New Year's present. The captivating volume features secrets, family conflict, queerness, astute cultural observations, and above all, friendship.
We long to fall in love. So we lose our hearts to our lovers and go to pieces when our relationships break up.
Yet, especially, if we're women and/or queer, we want a best friend as much, maybe more, than we do a lover.
Fiona and Jane, Asian Americans, grew up in Los Angeles. They've been best friends since they met in LA in second grade. Jane's family emigrated to Los Angeles from Taiwan. Fiona, with her mother, came to LA from Taiwan when she was a young child.
In "Fiona and Jane," Ho's debut collection, the two friends over 30 years grow from second-graders to 30-somethings. Ho's linked stories draw us into Fiona and Jane's friendship as they become, at different times, incredibly close, then distant (both geographically and emotionally) from each other.
Ho, 41, has more writing chops than you can imagine. She is a doctoral candidate in creative writing and literature at the University of Southern California where she is a Dornsife Fellow in fiction. Ho has an MFA from the University of Nevada, Las Vegas. Her writing has been published in The Georgia Review, GQ, Harper's Bazaar, McSweeney's, and other publications.
Ho was born in Taiwan, grew up in Southern California and lives in Los Angeles. But, "none of the things that happen to Fiona and Jane are autobiographical," she said on the podcast "All of It with Alison Stewart," "I didn't mine my particular life experiences and put them in the book out of respect to my oldest and dearest friends."
Fiona is hetero, smart and attractive. As a teen, she earns enough money to buy a secondhand car (named Shamu, Ho writes, "after the Sea World killer whale because of the corroding white patches all over the black paint.").
While Fiona's mother isn't religious, Jane's Mom is devoutly Christian. Jane is bisexual. When she and Fiona are teens, they kiss "to practice" – what kissing's like. Though she doesn't tell her Mom, Jane, when a teenager, has a romantic relationship with her female piano teacher.
When she's young, Jane often does what Fiona does. Because Jane's tall, she's often thought of as "Fiona's bodyguard." As she grows older, Jane begins to rely more on herself.
Fiona is eager to leave LA. She goes to college, then moves to New York City with her first boyfriend. She enters law school, then drops out.
Jane stays in Los Angeles. She opts to take a gap year between high school and college. The gap year morphs into a couple of years. Jane has relationships with women as well as with Julian, a vet who has PTSD.
Though Fiona and Jane are quite different from one another, they keep circling back to each other. Despite their differences, they have one thing in common: they both have lost their fathers.
In one of the collection's most moving stories, "The Night Market," Jane speaks of her visit before she graduated high school to Taiwan where she has come to see her Dad. Her Dad has gone from LA to Taiwan for a temporary job. Jane learns that he's going to stay in Taiwan because he's fallen in love with a man there. Her Dad asks her to keep this a secret. But, in her pain at his revelation, she outs him. Jane blames herself for his suicide.
Fiona discovers as a child that she's never known her father. Her mother raises her on her own.
Over the years, Fiona and Jane bicker, fall distant – then meet again. As teens, they help each other get fake IDs so they can drink. As adults, they help each other through moving apartments, love affairs and mourning.
"Sixteen years since my father died, and I was still alive," Jane thinks, "I got up, every morning. I lived, day by day. I had my best friend, Fiona Lin."
Check out "Fiona and Jane." Then, text your best friend.
Seeking love and community in Nicaragua
'High-Risk Homosexual' explores author's youth, coming out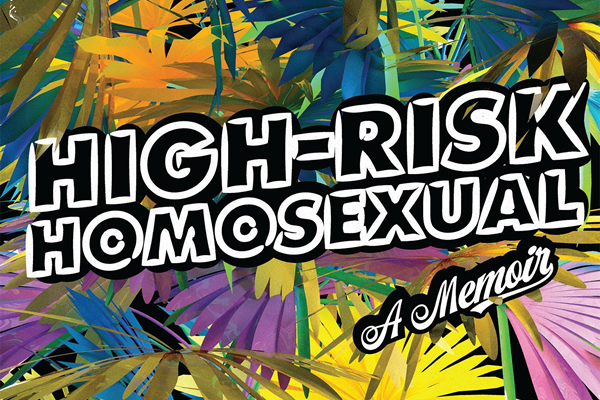 'High-Risk Homosexual: A Memoir'
By Edgar Gomez
c.2022, Soft Skull Press
$16.95/304 pages
Here. Try this.
It fits you, but the color isn't flattering. It's too long, too short, too tight, too loose. That's not your style, so try something else until you find the thing that looks like you. The perfect thing is out there. As in the new book "High-Risk Homosexual" by Edgar Gomez, when something's right, it's right.
He was 13 when he figured out that he was a problem to be solved.
Edgar Gomez' mother had left him in her native Nicaragua with his tíos, just for a while because she had to return to Florida to work. He wasn't there without her for long, but it took years for him to understand that his time with his uncles was meant to make him more masculine.
In retrospect, he says, nobody wanted him to be a man more than he did. He wanted to be liked by other kids and so he told lies in school to make himself stand out. He wanted his mother to see his love of pretty things and say that it was OK. He wanted his brother to acknowledge that Gomez was gay, and to tell him that he loved him.
Instead, after his brother left for college, Gomez got his first boyfriend, a boy he came out to but who couldn't come out to himself. He was called names in school. He came out to his mother, who freaked out about it. He befriended a drag queen, but "Princess" used him.
Things he wanted: a real boyfriend. Love. A ban on the stereotype of a macho Latinx man.
Things he still had, while in college: his mother and older brother. A tormentor-turned-mentor. A part-time job. His weirdness. His virginity.
Things he wanted to lose, while in college: his room at his mother's house. His virginity, but that wouldn't happen until later, during a painful one-afternoon-stand with a hot man who said he had a girlfriend. That hurt, both physically and emotionally but like so many things at so many times, Gomez tried not to think about it.
If he never considered what he didn't have, he says, "I wouldn't miss it."
In a way, you could say that "High-Risk Homosexual" is a book in search of a point. It's really quite random and told (mostly) linearly, but not quite. It has its peaks, but also low valleys. And you won't care about any of this, because you'll be enjoying every bit of it.
Yeah, this memoir is good: author Edgar Gomez's literary wandering makes it feel much like an honest conversation with readers. There are wince-worthy moments that allow empathy here, and experiences that are unique but oddly ubiquitous, that leave space for a sense of sympatico. There are passages that are so wistfully uncomfortable that you might squirm, or start "snort-laughing," or want to stop a moment and just think.
And there's room for that, too, so take your time. "High-Risk Homosexual" is an affable book with just enough seriousness to make it worth a try.
A lesbian Baby Boomer's relatable story
'Audacity of a Kiss' a warm, familiar biography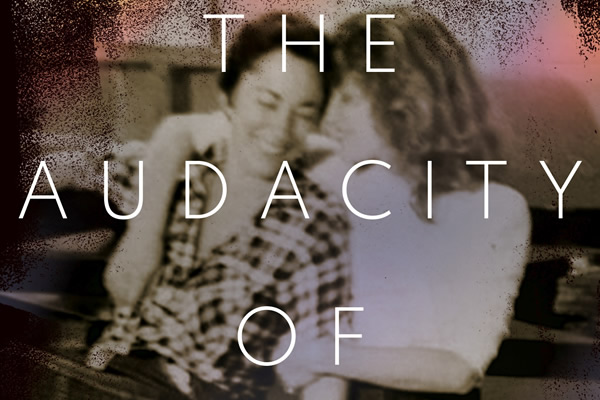 'The Audacity of a Kiss: A Memoir'
By Leslie Cohen
c.2021, Rutgers University Press
$24.95/235 pages
Don't move.
Stay entirely still, don't even breathe. You're about to become a symbol of something that's bigger than you are, something you'll be proud of for the rest of your days. Don't flinch, scratch, or sneeze, just don't do anything. Don't. Move. Unless it's to turn the pages of "The Audacity of a Kiss" by Leslie Cohen.
Behind every statue is a story, and the one behind those representing four people in Christopher Park in New York's Greenwich Village is no different. But to explain how this monument came about means also telling a long love story and a tale about a nightclub.
Leslie Cohen's mother was her very best friend, although there were misunderstandings in the relationship. Seven-year-old Leslie couldn't see why she received pink girly things for her birthday. In later years, she couldn't understand why her mother deferred to Leslie's father and endured his abuse.
The one thing Cohen did understand was that once puberty hit, the boys in her neighborhood were no longer pals to roughhouse with. She was supposed to want to date them and it didn't entirely make sense, but Cohen went along with it even after she left home for college. She went out with boys and lost her virginity to one, but meeting Beth was the most remarkable thing about higher learning. She was sure she was in love with Beth, but Beth was obsessed with a boy and so Cohen moved on.
She moved on to other men and then women, at a time when women loving women was unthinkable, and the Summer of Love. Cohen embraced her lesbianism, fell in and out of love, and went into a partnership with three other women to open New York's first lesbian club, where lesbians and straight feminists were welcome to dance and drink.
To be sure, it was a heady time. Cohen worked nonstop, gained confidence and learned to run a bar business. She was busy, but happy.
And then Beth came back into her life.
Let's face it: author Leslie Cohen's life story is basically like that of a lot of lesbians born at the beginning of the Baby Boom. A solid childhood, confusion, self-awareness, entrepreneurship all make a somewhat familiar story set apart by one abundant thing: warmth.
Indeed, "The Audacity of a Kiss" is an easy tale. It's comfortable, like a crackling fireplace and a glass of wine on a cushy sofa.There are accomplishments here, told so that you really share the pride in them. Readers are shown the struggle that Cohen had, too, but experiences are well-framed by explanations of the times in which they occurred, with nothing overly dramatic – just the unabashed truth, and more warmth. Opening this book, in a way, then, is like accepting an invitation to own the recliner for an evening, and you won't want anything else.
Younger lesbians will get a lot from this book, but anyone who's been there will relish it. Get "The Audacity of a Kiss," then sit down and don't move.