Sen. Klobuchar leads Dems in seeking answers on LGBTQ asylum seekers
Letter to Blinken calls for update on global strategy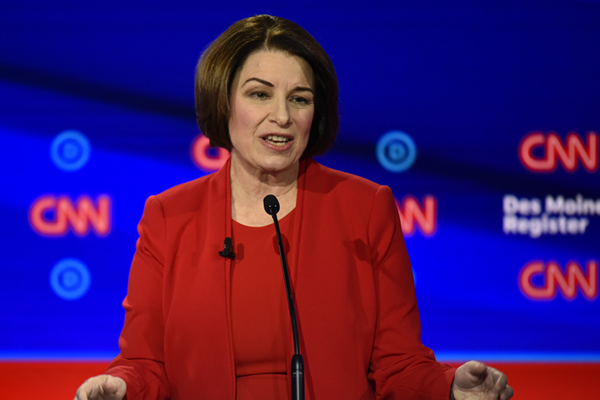 Sen. Amy Klobuchar (D-Minn.) is leading a group of 13 Senate Democrats in calling on the Biden administration to answer questions about its commitment to LGBTQ people overseas seeking asylum in the United States.
In a letter dated Aug. 2 and made public on Friday, Klobuchar and others cite a statistic an estimated 11,400 applications for asylum were filed in the United States on the basis of LGBTQ status from 2012 to 2017.
"The United States has been a beacon of hope for many LGBTQ migrants escaping persecution, including domestic violence, rape, and murder, as well as discrimination in areas like education, employment, housing, and healthcare," the letter says.
Following up on the State Department's announcement in February it would "use a broad range of diplomatic and programmatic tools and resources to protect vulnerable LGBTQI+ refugees and asylum seekers," the senators seek more information on efforts to "protect and promote the rights of LGBTQ asylum seekers."
The letter, addressed to Secretary of State Anthony Blinken, poses to the State Department two specific questions on LGBTQ asylum seekers, as well as the global strategy for international LGBTQ human rights:
What are the Department's plans for restoring our former commitments to LGBTQ refugees and asylum seekers and expediting resettlement for the most at-risk LGBTQ refugees globally?
What progress has been made in the Department's global strategy to address discrimination against the LGBTQ community and to integrate LGBTQ concerns into U.S. foreign policy? In what ways can Congress assist in these efforts, including and beyond the Global Equality Fund (GEF)?
A State Department spokesperson declined to comment on the letter, citing a policy of no comment on correspondence between members of Congress and the department.
The 13 Democrats who signed the letter are Klobuchar as well as Sens. Richard Blumenthal (Conn.), Cory Booker (N.J.) Sherrod Brown (Ohio), Richard Durbin (Ill.), Dianne Feinstein (Calif.), Kirsten Gillibrand (N.Y.), Jacky Rosen (Nev.), Bernard Sanders (Vt.), Tina Smith (Minn.), Elizabeth Warren (Mass.), Alex Padilla (Calif.), Edward Markey (Mass.) and Patty Murray (Wash.).
Nellie's agrees to $5,000 fine, 7-day license suspension over brawl
Penalty prompted by security guard dragging Black woman down stairs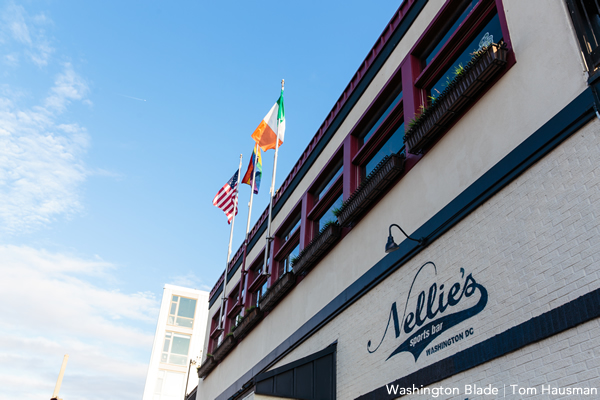 The D.C. Alcoholic Beverage Control Board on Wednesday, Oct 20, approved a compromise agreement it reached with Nellie's Sports Bar that calls for the U Street, N.W. gay bar to pay a $5,000 fine and serve a seven-day license suspension over a June 13 incident in which a Black woman was dragged down a flight of stars by a Nellie's security guard during a brawl between Nellie's customers.
The agreement calls for a license suspension of 24 days with 17 days to be suspended and seven days to be served "so long as the Respondent does not commit any violations within (1) year from the date of this Order," the ABC Board declared in a three-page order confirming the agreement.
The order states that the license suspension will be served from Dec. 20-26 of this year. It also states that Nellie's must pay the fine within 120 days from the date of the order. If the fine is not paid during that time "its license shall be immediately suspended until all amounts owed are paid."
As a final stipulation of the agreement, the ABC Board states that Nellie's must file a "legally compliant security plan" within 10 calendar days of the Oct. 20 order.
The security plan requirement stems from an earlier finding by the city's Alcoholic Beverage Regulation Administration related to the June 13 incident that Nellie's was in violation of several provisions of the city's liquor law, including a provision that a security plan that meets the standards of the city's liquor regulations is in place.
An ABRA investigation of the June 13 incident found, among other things, that "multiple assaults occurred inside the establishment while the licensee was engaged in a method of operation conducive to unlawful conduct."
The action by the Nellie's security guard, which took place during the city's LGBTQ Pride weekend, was captured on video taken by one of the customers on their phone. The video went viral on social media, prompting a series of protests against the bar by LGBTQ activists and Black Lives Matter advocates.
Nellie's issued an apology for the incident the following day and announced it had fired the private security company whose employee, who is Black, dragged Keisha Young, 22, down the stairs. Nellie's also announced it would temporarily close for business to assess what had happened and develop plans for reopening as a safe space for all members of the community. It reopened 35 days later, with protesters continuing to assemble outside the bar for several more weeks.
When the five-member ABC Board on Oct. 20 held a roll call vote to approve what is officially called an Offer-In-Compromise or OIC agreement with Nellie's that includes the fine, license suspension, and other provisions, gay ABC Board member Edward Grandis voted against the agreement, becoming the only member to do so.
A video recording of the virtual ABC Board meeting available through YouTube shows that Grandis expressed general support for the decision by both the board and Nellie's to reach a compromise agreement. But he said he objects to the license suspension requirement.
"In this particular regard, when the facts and the testimony indicate that the licensee on its own initiative without any knowledge, at least in the testimony, of prompting from the government or MPD or any party, to itself close for 35 days during – generally – the pandemic when so many companies lost their companies and their employees lost their jobs and the neighborhoods lost their establishments, I really believe that this particular situation shows that the licensee took this event seriously and accordingly in a manner that hopefully will prevent it from happening again or have better security measures to avoid this type of situation in the future," Grandis told his fellow board members.
"And I just wanted the record to show I'm supportive of the OIC generally, but I don't believe it was constructed in a way that indicates what this licensee has done since that incident," Grandis said.
Nellie's owner, Douglas Schantz, and Nellie's attorney, Andrew Klein, couldn't immediately be reached for comment.
Klein, who spoke at the ABC Board hearing on Wednesday, said in response to a question by Grandis that Nellie's reluctantly agreed to the fine and license suspension, which he called "excessive," among other things, because Schantz wants to put the matter behind him and to "heal" and "move on" with the community.
The ABC Board's action came one day after the Washington City Paper announced that Nellie's Sports Bar finished in second place among its readers in its annual Best of D.C. contest for the category of "Best Gay Bar/Club/Lounge."
UDC hosts event recognizing LGBTQ support at HBCUs
Seven campuses participate in annual event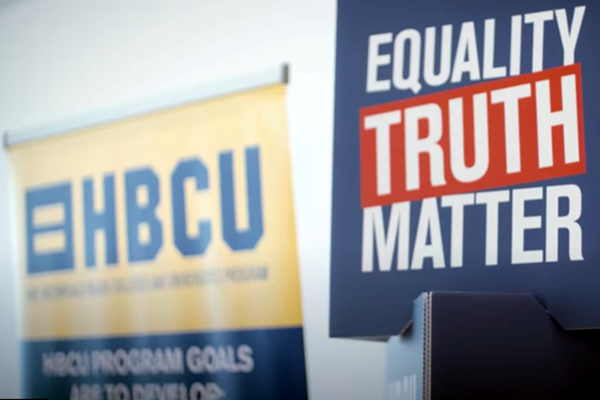 The University of the District of Columbia on Wednesday, Oct. 20, hosted one of seven "Out Loud Day" events highlighting LGBTQ visibility and inclusion at Historically Black Colleges and Universities (HBCUs) on college campuses throughout the country.
The Human Rights Campaign Foundation, the educational arm of the national LGBTQ advocacy group Human Rights Campaign, said in a statement that it created the annual Out Loud Day event three years ago to "celebrate LGBTQ+ people and develop innovative inclusion efforts" at the nation's historically black colleges and universities.
"It is also a day to take stock of all the challenges that LGBTQ+ students face in their daily lives at HBCUs and to have discussions on how to foster even more inclusion on their campuses," said Leslie Hall, the HRC HBCU Program Director in a statement.
"This is the third time that the Human Rights Campaign has hosted the day, and we couldn't be more excited to continue to expand upon the LGBTQ+ inclusion work we have been doing for years alongside HBCU administrations and student leaders," Hall said.
Rishard Butts, HRC's HBCU Program Senior Manager, told the Washington Blade that the UDC event included in-person activities that began at 5 p.m. on its campus in Northwest D.C. Among the events were an open dialogue session covering LGBTQ topics of interest to student participants. He said another session focused on LGBTQ figures in history, including those who were Black, and their impact on historic developments locally or worldwide.
He said a third session included a trivia contest in which student participants received small prizes for answering questions about LGBTQ topics of interest to the community.
Butts noted that the HBCU Out Loud Day event was taking place at UDC a little over two years after the university celebrated the grand opening of its Center for Diversity, Inclusion & Multicultural Affairs. At the time of its opening, the Center said it would provide services and a space to meet and socialize for "students of all sexual orientations and gender identities/expressions."
According to Butts, the concept for Out Loud Day at historically black colleges and universities began, in part, as a response to National Coming Out Day, which he said is not something that all LGBTQ people of color could do.
"So, we flipped this day around and instead of putting the responsibility of someone coming out, we put the responsibility on everyone to celebrate everyone," he said. "So, it's HBCU Out Loud Day so everyone is 'out loud', and everyone is proud, and everyone is celebrating and uplifting the stories of LGBTQ people and it's not just the responsibility of the person who is out or coming out."
Venezuelan man with AIDS dies in ICE custody
Pablo Sánchez Gotopo passed away at Miss. hospital on Oct. 1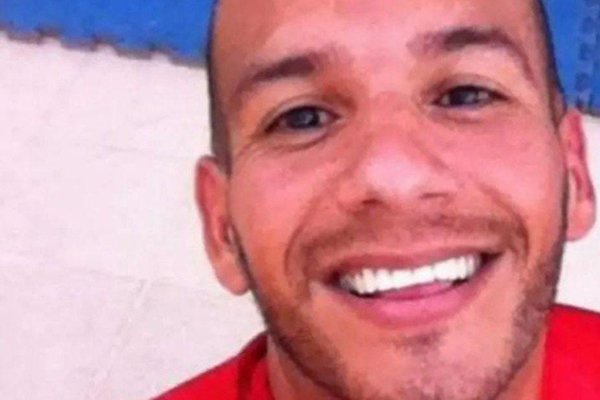 A Venezuelan man with AIDS died in U.S. Immigration and Customs Enforcement custody on Oct. 1.
An ICE press release notes Pablo Sánchez Gotopo, 40, died at Merit Health River Oaks in Flowood, Miss., which is a suburb of Jackson, the state capital. The press release notes the "preliminary cause of death was from complications with acute respiratory failure, Acquired Immune Deficiency Syndrome (AIDS), pneumonia, acute kidney failure, anemia and COVID-19."
ICE said U.S. Border Patrol took Sánchez into custody near Del Rio, Texas, on May 17. He arrived at the Adams County Detention Center in Natchez, Miss., four days later.
"Upon arrival to an ICE facility, all detainees are medically screened and administered a COVID-19 test by ICE Health Service Corps (IHSC) personnel," said ICE in its press release. "Sánchez's test results came back negative."
The press release notes Sánchez on July 28 received another COVID-19 test after he "began showing symptoms of COVID-19." ICE said he tested negative, but Adams County Detention Center personnel transferred him to a Natchez hospital "for additional advanced medical care."
ICE Enforcement and Removal Operations staff in its New Orleans Field Office, according to the press release, "coordinated with hospital staff to arrange family visitation" after Sánchez's "health condition deteriorated." Sánchez was transferred to Merit Health River Oaks on Sept. 25.
"ICE is firmly committed to the health and welfare of all those in its custody and is undertaking a comprehensive agency-wide review of this incident, as it does in all such cases," says the press release.
Venezuela's political and economic crises have prompted more than 10,000 people with HIV to leave the country, according to the New York-based Aid for AIDS International.
Activists and health care service providers in Venezuela with whom the Washington Blade has spoken in recent years have said people with HIV/AIDS in the country have died because of a lack of antiretroviral drugs. Andrés Cardona, director of Fundación Ancla, a group in the Colombian city of Medellín that works with migrants and other vulnerable groups, told the Blade last month that many Venezuelans with HIV would have died if they hadn't come to Colombia.
The Blade has not been able to verify a Venezuelan activist's claim that Sánchez was gay. It is also not known why Sánchez decided to leave Venezuela and travel to the U.S.
ICE detainee with HIV described Miss. detention center as 'not safe'
Activists and members of Congress continue to demand ICE release people with HIV/AIDS in their custody amid reports they don't have adequate access to medications and other necessary medical treatment.
Two trans women with HIV—Victoria Arellano from Mexico and Roxsana Hernández from Honduras—died in ICE custody in 2007 and 2018 respectively. Johana "Joa" Medina Leon, a trans woman with HIV who fled El Salvador, died in 2019, three days after ICE released her from a privately-run detention center.
The Blade in July 2020 interviewed a person with HIV who was in ICE custody at the Adams County Detention Center. The detainee said there was no social distancing at the privately-run facility and personnel were not doing enough to prevent COVID-19 from spreading.
"It's not safe," they told the Blade.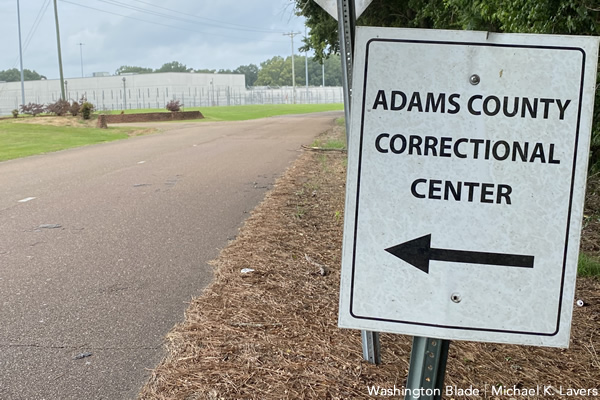 Elisabeth Grant-Gibson, a Natchez resident who supports ICE detainees and their families, on Wednesday told the Blade that she was able to visit the Adams County Detention Center and other ICE facilities in the Miss Lou Region of Mississippi and Louisiana from November 2019 until the suspension of in-person visitation in March 2020 because of the pandemic.
"Medical neglect and refusal of medical care has always been an issue in the detention center at Adams County," said Grant-Gibson. "After the facilities were closed to public visitation, those problems increased."
Grant-Gibson told the Blade she "worked with a number of families and received phone calls from a number of detainees, and I was told again and again that detainees were being refused the opportunity to visit the infirmary."
"When they did visit the infirmary, they were given virtually no treatment for the issues they were presenting with," said Grant-Gibson.
ICE in its press release that announced Sánchez's death said fatalities among its detainees, "statistically, are exceedingly rare and occur at a fraction of the national average for the U.S. detained population." ICE also noted it spends more than $315 million a year "on the spectrum of healthcare services provided to detainees."
"ICE's Health Service Corps (IHSC) ensures the provision of necessary medical care services as required by ICE Performance-Based National Detention Standards and based on the medical needs of the detainee," notes the ICE press release. "Comprehensive medical care is provided from the moment detainees arrive and throughout the entirety of their stay. All ICE detainees receive medical, dental, and mental health intake screening within 12 hours of arriving at each detention facility, a full health assessment within 14 days of entering ICE custody or arrival at a facility, and access to daily sick call and 24-hour emergency care."
An ICE spokesperson on Wednesday pointed the Blade to its Performance-Based Detention Standards from 2011, which includes policies for the treatment of detainees with HIV/AIDS.
A detainee "may request HIV testing at any time during detention" and ICE detention centers "shall develop a written plan to ensure the highest degree of confidentiality regarding HIV status and medical condition." The policy also states that "staff training must emphasize the need for confidentiality, and procedures must be in place to limit access to health records to only authorized individuals and only when necessary."

"The accurate diagnosis and medical management of HIV infection among detainees shall be promoted," reads the policy. "An HIV diagnosis may be made only by a licensed health care provider, based on a medical history, current clinical evaluation of signs and symptoms and laboratory studies."