Report: Brothers returned to Chechnya have been tortured
Salekh Magamadov and Ismail Isaev fled anti-LGBTQ crackdown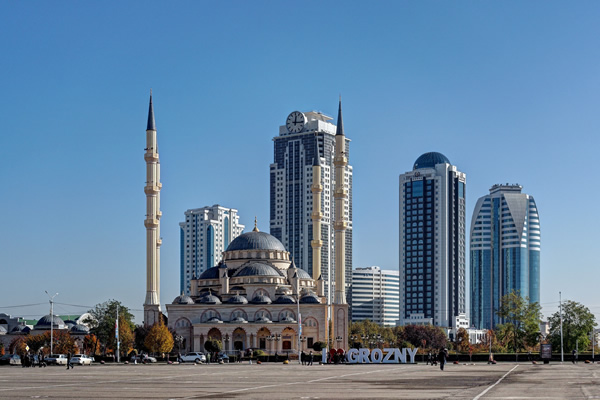 The lawyer who represents two brothers from Chechnya who Russia returned to their homeland from which they had fled says they have been tortured.
The Russian LGBT Network in a press release it sent to the Washington Blade said Alexander Nemov on Thursday met with Salekh Magamadov and Ismail Isaev in the jail in Grozny, the Chechen capital, where they are currently incarcerated.
"Previously the lawyer was being denied access to the facility under the pretense that the brothers had fallen ill with COVID-19 despite the fact that they were being held in solitary cells," said the Russian LGBT Network. "The employees of the detention facility did not provide Mr. Nemov with any justification or legal basis for such non-admission."
The Russian LGBT Network in its press release said Nemov "managed to talk to the detainees and they shared what had been happening to them, in other words — how they had been subjected to violence — and gave insight into possible reasons for the non-admission."
Magamadov and Isaev said they were scheduled to appear in court on July 22.
"They were being brought there in the enclosed back compartment of a truck-like vehicle with no ventilation," said the Russian LGBT Network. "Due to the heat Magamadov and Isaev felt sick, however, in response to their pleas to open the windows the employees of the detention facility escorting them started laughing and insulting the brothers because of their sexual orientation. Ismail then asked one of them to stop and that resulted in violent actions on the part of the escorting personnel."
The Russian LGBT Network notes the brothers' court appearance "was postponed with no explanation, although the defendants were brought to the court building and the lawyers were awaiting inside in the courtroom."
"Magamadov and Isaev were never let out of the car and simply driven back to the detention facility," says the Russian LGBT Network.
The Russian LGBT Network says Isaev was "put into a room with no cameras and rudely told how wrong he was, that he had no right to talk back to people who had authority over him" once he and his brother returned to the jail.
"After an hour of 'conversations' one of those who had been escorting us came into the room and started beating me — fists bumping into my face and body, and then, later, he tried to strangle me," said Isaev in the Russian LGBT Network press release. "The deputy head of the detention facility who had been present during the entire ordeal only stopped him from strangling me — he dragged him away from me and I was brought back to my cell."
The Russian LGBT Network says jail personnel earlier this month beat both brothers after they refused to shave their heads.
Magamadov claims jail personnel beat him on Aug. 11 after he refused to say "he cut himself because of a nervous breakdown, not because of violence he had experienced" when he refused to shave his head.
"They made me spread my legs as wide as possible and then were beating me for a long time," Magamadov told the Russian LGBT Network. "I could not take it and told them that I would sign anything they wanted. After that they put me back in my cell."
Isaev told the Russian LGBT Network he developed a fever after jail personnel attacked him on Aug. 12. Isaev says he "was visited by a case officer" on Wednesday "and it was demanded that he should not tell (sic) about the former events."
"If he disobeyed, Ismail was told, his conditions would worsen and he would be put in solitary confinement," notes the Russian LGBT Network.
The anti-LGBTQ crackdown in Chechnya, a semi-autonomous Russian republic in the North Caucasus has sparked outrage around the world.
The Russian LGBT Network says Chechen authorities in April 2020 arrested Magamadov and Isaev after they made a series of posts on Osal Nakh 95, a Telegram channel used by opponents of Chechen President Raman Kadyrov, who is a close ally of Russian President Vladimir Putin. Chechen authorities reportedly forced the brothers to make "apology videos" after they were tortured.
The Russian LGBT Network helped Magamadov and Isaev flee Chechnya in June 2020 after their release.
Police in the Russian city of Nizhny Novgorod on Feb. 4 arrested the brothers and transferred them to the custody of Chechen authorities.
Biden highlights LGBTQ rights in UN General Assembly speech
President noted crackdowns in Chechnya, Cameroon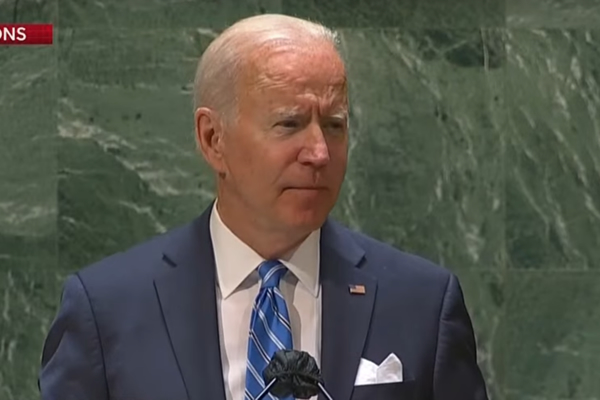 President Biden on Tuesday in his speech to the U.N. General Assembly spoke in support of LGBTQ rights around the world.
"We all must defend the rights of LGBTQI individuals," he said.
Biden in his speech specifically cited anti-LGBTQ crackdowns in Chechnya and Cameroon. He spoke after Brazilian President Jair Bolsonaro, who is a vocal opponent of LGBTQ rights, addressed the General Assembly.
The White House earlier this year released a memorandum that committed the U.S. to promoting LGBTQ rights abroad.
The Washington Blade will update this story.
Bolsonaro: Brazil has president who believes in 'family principles'
Brazilian president opened U.N. General Assembly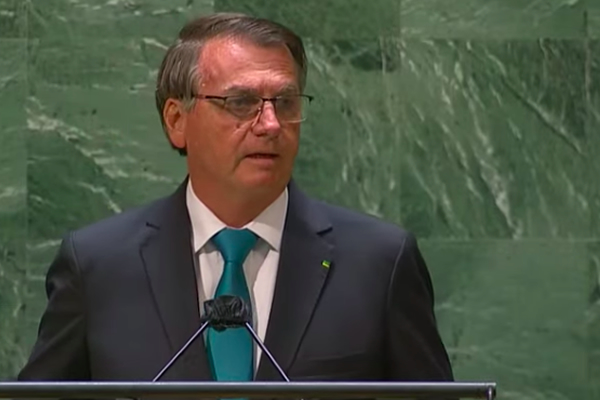 Brazilian President Jair Bolsonaro on Tuesday told the U.N. General Assembly he believes in "family principles."
"We believe the traditional nuclear family is the foundation of civilization," said Bolsonaro.
The Washington Blade will update this story.
Trudeau's party wins Canada election
Prime minister champions LGBTQ rights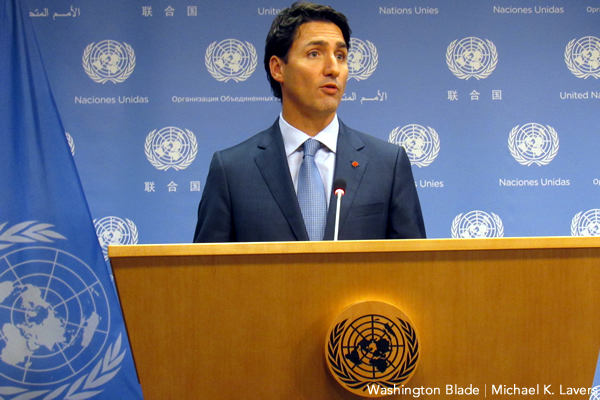 Canadian Prime Minister Justin Trudeau's Liberal Party won the country's election that took place on Monday.
The Canadian Broadcasting Corporation reported Trudeau's party won 157 seats in the House of Commons, but failed to secure the 170 seats necessary to have a majority government. Erin O'Toole of the Conservative Party was Trudeau's main challenger.
"You are sending us back to work with a clear mandate to get Canada through this pandemic into the brighter days ahead," Trudeau told supporters on Montreal after the election. "My friends that's exactly what we are ready to do."
"Millions of Canadians have chosen a progressive plan," he added.
Trudeau has been prime minister since 2015.
He won re-election in 2019, even though a picture of him in blackface emerged a few weeks before the vote. His party lost its majority in Parliament.
Trudeau last month called a snap election in the hopes his party could once again have a majority government.
The prime minister in 2017 formally apologized to those who suffered persecution and discrimination under Canada's anti-LGBTQ laws and policies and announced the Canadian government would settle a class-action lawsuit filed by those who were forced to leave the military and civil service because of their sexual orientation.
A law that added gender identity to Canada's nondiscrimination and hate crimes also law took effect in 2017. Trudeau supports a bill that would ban so-called conversion therapy in the country.
Canada in 2018 joined the Global Equality Fund, a public-private partnership the U.S. launched in order to promote LGBTQ rights around the world. Canada has also said it would offer refuge to LGBTQ Afghans who are fleeing their country after the Taliban regained control of it in August.