Russian court dissolves LGBTQ rights group
Sphere provided legal, psychological assistance across country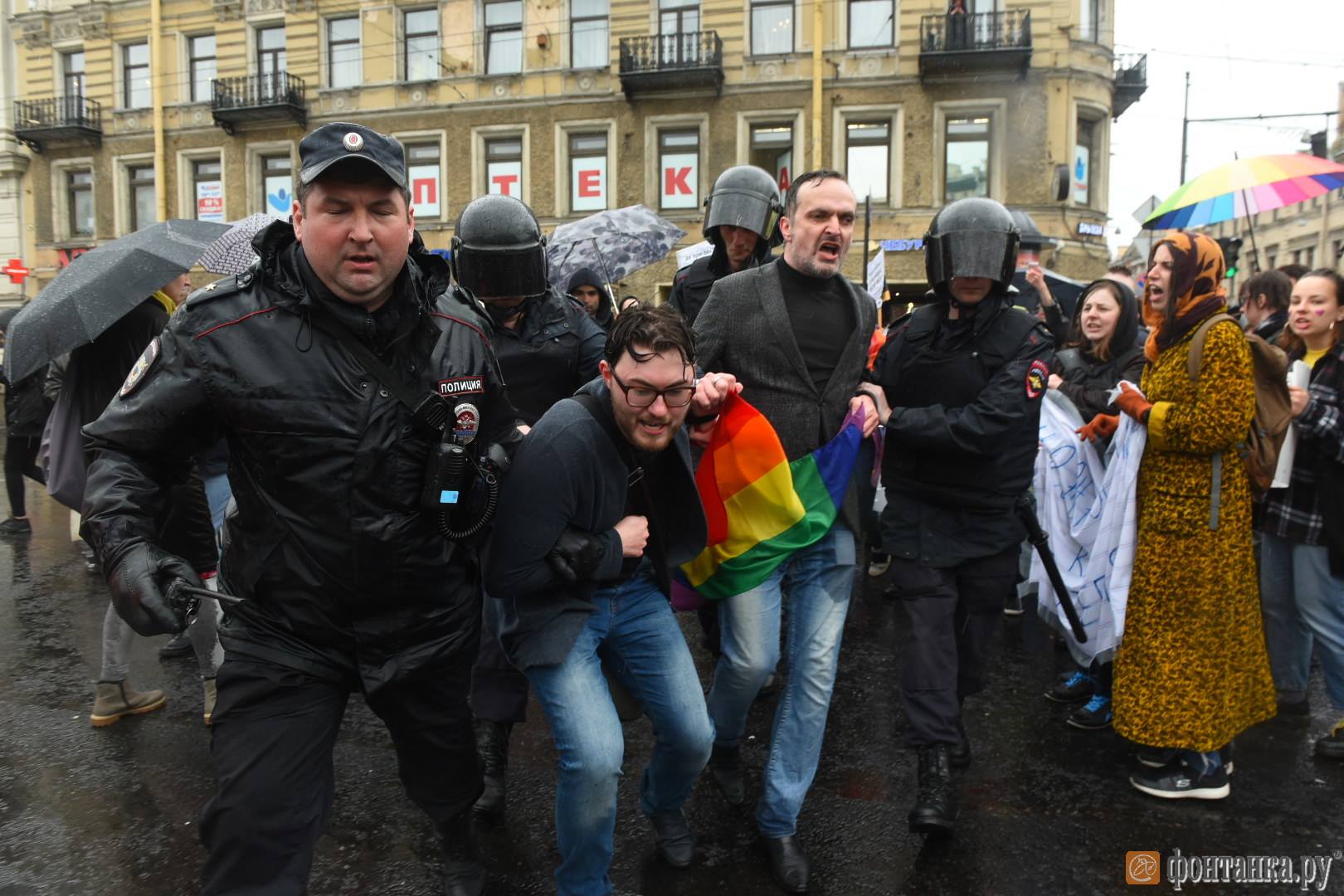 Last week the Kuibyshevsky District Court in St. Petersburg ordered that Charitable Foundation Sphere be liquidated.
In February, Russia's Justice Ministry filed a lawsuit seeking to "liquidate" [disband and dissolve] Sphere Foundation, the legal entity under which the Russian LGBT Network operates, arguing the group's activities run contrary to "traditional values."
On April 21, Judge Tatiana Kuzovkina ruled in favor of the Justice Ministry's argument that the activities of Sphere ran contrary to the Russian state policy designed to preserve, expand and develop [the country's] human capital."
The ministry also accused Sphere of spreading "LGBT views" and working with people under the age of 18, aspiring, among other things, to "change Russian federal legislation regarding the LGBT movement" – in other words, the country's infamous discriminatory "gay propaganda" law.
Sphere Foundation was founded in 2011 by Russian LGBT rights activist, Igor Kochetkov. In 2016, authorities designated Sphere Foundation a "foreign agent."
In 2021, the Russian LGBT Network and Kochetkov personally were also slapped with the toxic "foreign agent" designation. At around that time, state-sponsored media organized a vicious smear campaign against the network and Kochetkov.
"During [its] 11 years, Sphere … was never found in breach of any regulations. The government's claims against us are ideological, rather than law-based," Kochetkov said in a social media post.
Upon learning of the ruling Kochetkov stated; " No, I'm not crying or crying. I'm proud of the work done by the foundation in 11 years. It should be clear that the ministry and the court made this decision not on legal, but on ideological basis. No Russian law prohibits the activity of organizations that 'do not correspond' to any values. There is simply no such basis in the law for the liquidation of NGOs. In this sense, the decision of the court is iconic — mandatory state ideology has returned. It is now official." He then added; "The work continues. Their hands are dirty but too short to ban us."
Tanya Lokshina, the associate director of Human Rights Watch's Europe and Central Asia Division, wrote at the time of the lawsuit being filed;
"With Sphere, the authorities have explicitly disclosed their political and anti-rights motivation from the starting block. After years of hindering the work of LGBT rights activists with the use of the 'foreign agent' and 'gay propaganda' laws, the authorities now demand the organization be shut down in the name of 'traditional values.' The courts should not be compliant with this act of political, homophobic censorship that blatantly violate Russia's human rights obligations."
Vitaly Isakov, a lawyer from the Institute of Law and Public Policy, who defended Sphere during the court sessions narrated the timeline of events leading up to Kuzovkina's ruling:
In the fall of 2021, the Justice Ministry began an unscheduled audit of the foundation. In the course of the audit, Sphere provided the Justice Ministry with more than 5,000 pages of documents — the entire documentation flow over the past three years.
According to the act on the results of the audit, which Sphere received in December 2021, the Justice Ministry believes that gross violations were committed in the activities of the fund. Among the claims of the Justice Ministry is that "all the actual activities of the organization are aimed at supporting the LGBT movement in Russia": according to the state agency, the Constitution of the country enshrines "basic traditional family values," and the foundation's work is aimed at "changing the legislation and moral foundations in the Russian Federation."
The claim for liquidation was filed with the Justice Ministry's Main Department on Feb. 4, 2022, following an unscheduled inspection. On Feb. 9, 2022, Kuibyshev Court Judge Irina Vorobyova left the claim for the liquidation of the Sphere Foundation without movement.
The judge pointed out the need to refer to the specific grounds provided for by the current legislation, through which the plaintiff — the Justice Ministry — asks for liquidation. The arguments in this part were not presented to the court.
Judging by the case file on the court's website, the liquidation claim was filed again on March 9, 2022, with another judge, Tatyana Kuzovkina.
The court process began on March 29, when Isakov and Vyacheslav Samonov, a lawyer working with Sphere, appeared at the court hearing on behalf of the foundation. The hearing was postponed on technicality until April 21.
Due to the pressure of the authorities, many organizations that contribute to solving a wide range of human rights problems, as well as the independent media, are forced to stop their work in Russia, — the news about the liquidation of the International Memorial and the Memorial Human Rights Center at the end of 2021 was especially shocking.
In many ways, a similar attempt to liquidate Sphere is the contribution of the ruling structures to negating the entire human rights movement, including the LGBT movement. After the start of unscheduled inspection concerning Sphere in November 2021, the registers of "foreign agents" got longer with the inclusion of Kochetkov, the founder of Sphere, and the Russian LGBT Network, a movement whose programs are implemented by Sphere.
By the end of 2021, the Far Eastern Center for LGBT and Victims of Violence "Mayak" and the St. Petersburg LGBT initiative group "Coming Out" also got into the registers of "foreign agents."
The register of the Justice Ministry clearly states that Mayak, Exit and the Russian LGBT Network receive funding from Sphere — in other words, these organizations were persecuted among the first because their connection with the Sphere is the most obvious, which means that actions against them are easier to justify.
There is every reason to believe that this trend will continue. At the moment, the register of "unregistered public associations that are recognized as foreign agents" consists of seven items, five of which are represented by LGBT initiatives: It seems that the authorities have created a separate list to suppress the LGBT movement, bypassing the need to name it as such directly.
Additionally, starting from November 2021 five LGBT activists found themselves recognized as 'media-foreign agents' by the Justice Ministry.
In particular, Sphere is the initiator of a campaign to counteract the discriminatory law banning "LGBT propaganda," which stigmatizes the LGBT community, creates conditions of social hostility and complicates the living conditions of many people.
In addition, Sphere has contributed to helping hundreds of LGBT survivors of abduction and torture in the North Caucasuses, helping them to start a new life in a safe place.
In 2017, when the massive nature of these crimes became known for the first time, the representatives of the foundation and its partners managed to activate the mechanisms of international investigation and draw the attention of the general public to this problem. At the same time, Russia demonstrated a complete lack of political will to recognize these crimes.
Isakov also released a statement on behalf of Sphere after the ruling:
As the team of Sphere, we declare: "The decision to liquidate the fund, especially on these grounds, is absolutely unreasonable and inconsistent with the norms of the law. We consider it politically and ideologically motivated, separately noting the state's desire to destroy the majority of civil and human rights organizations in the country.
At the moment, our services continue to provide legal, psychological and emergency assistance to the LGBT+ community, and we will do everything possible to ensure that this work continues without interruption, regardless of the legal status of our team.
We cannot leave the community without protection and support at such a difficult time. Our team has always seen it as its duty to help the community and unite it based on the principles of human rights and humanitarianism.
Sphere provides legal and psychological assistance to LGBT+ people throughout the country, supports various initiatives and organizations, provides emergency assistance in crisis situations, and is engaged in monitoring and advocacy.
The Justice Ministry on April 8 canceled the registration of Human Rights Watch, along with Amnesty International and 13 other offices of foreign nongovernmental organizations and foundations.
Human Rights Watch had maintained an office in Russia for 30 years. The action was announced just days after an appeals court upheld the liquidation of Russia's human rights giant, Memorial.
"Human Rights Watch has been working on and in Russia since the Soviet era, and we will continue to do so," said Human Rights Watch Executive Director Kenneth Roth. "This new iron curtain will not stop our ongoing efforts to defend the rights of all Russians and to protect civilians in Ukraine."
Putin slams LGBTQ people in Ukraine annexation speech
The international community has condemned sham referenda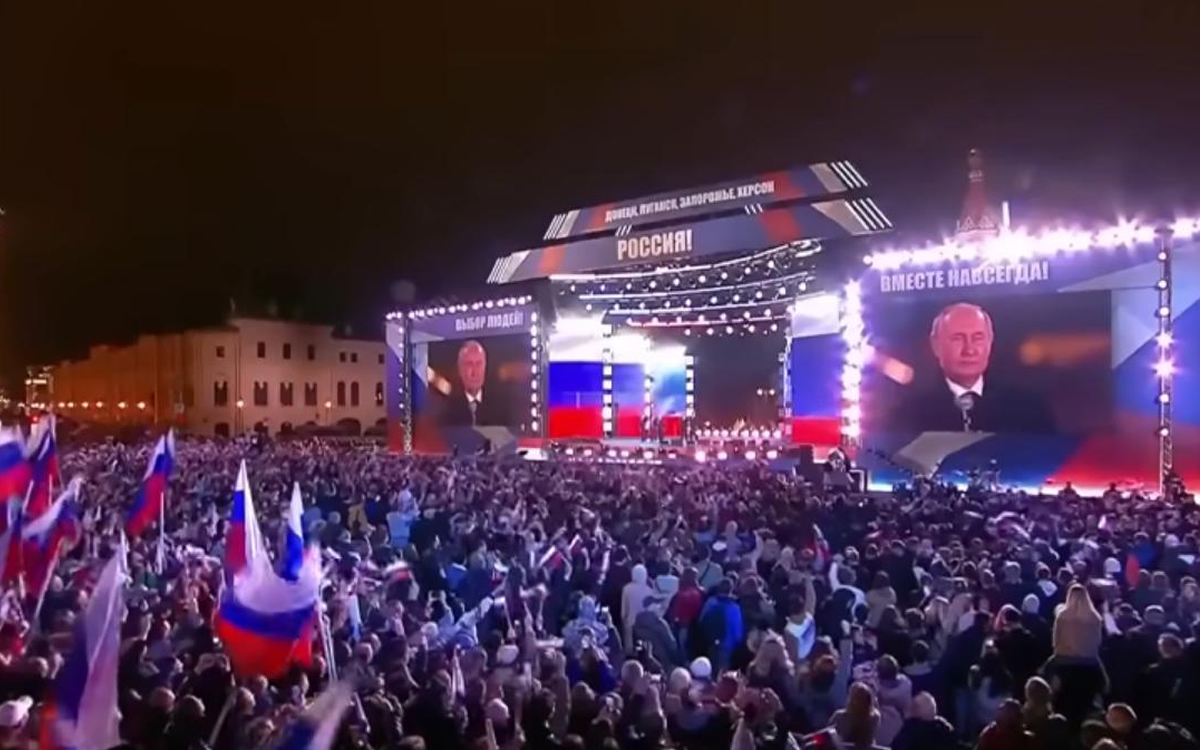 In a rally ceremony that resembled a political convention on Sept. 30, Russian President Vladimir Putin celebrated his signing a decree that Russia had annexed four regions of Eastern Ukraine that were overrun by Russian military forces and Russian-backed separatists.
"The people made their choice," said Putin in the formal signing ceremony at the Kremlin's St. George Hall. "And that choice won't be betrayed" by Russia, he said.
This past week, in an election President Joe Biden labeled fraudulent and a sham, Ukrainians in the occupied territories of Donetsk, Luhansk, Kherson and Zaporizhzhia voted to join Russia in elections supervised by heavily armed Russian troops.
Speaking from the White House on Sept. 30, Biden said the U.S. and its allies will not recognize Russia's annexation of the Ukrainian regions and reaffirmed that NATO countries will defend all territory in the alliance.
Addressing the Russian leader, Biden said "Mr. Putin, don't misunderstand what I'm saying. Every inch."
America and its allies are not going to — I'm going to emphasize, are not going to be intimidated, are not going to be intimidated by Putin and his reckless words and threats. He's not going to scare us and he doesn't — or intimidate us.
Putin's actions are a sign he's struggling. The sham referenda he carried out and this routine he put on, don't worry, it's not there if you're looking, OK. The sham routine that we put on this morning that's showing the unity and people holding hands together. Well, the United States is never going to recognize this and quite frankly, the world is not going to recognize it either. He can't seize his neighbor's territory and get away with it. It's as simple as that.
And they're going to stay the course. We're going to continue to provide military equipment so that Ukraine can defend itself and its territory and its freedom, … And we're fully prepared to defend, I want to say this again, America is fully prepared with our NATO allies to defend every single inch of NATO's territory, every single inch. So Mr. Putin, don't misunderstand what I'm saying. Every inch."
Putin in his speech at the ceremony, which took place on a massive stage in Moscow's Red Square opposite the Kremlin's walls, took aim at the West with particular emphasis on Western values and culture.
"Western countries have been repeating for centuries that they bring freedom and democracy to other peoples. Everything is exactly the opposite: instead of democracy — suppression and exploitation; instead of freedom — enslavement and violence," Putin said.
Later during the speech Putin decried the LGBTQ community and Western nations that allow equity and equality and human rights:
"In fact, they spit on the natural right of billions of people, most of humanity, to freedom and justice, to determine their own future on their own. Now they have completely moved to a radical denial of moral norms, religion, and family.
Let's answer some very simple questions for ourselves. I now want to return to what I said, I want to address all the citizens of the country — not only to those colleagues who are in the hall — to all the citizens of Russia: do we want to have, here, in our country, in Russia, parent number one, number two, number three instead of mom and dad — have they gone made out there? Do we really want perversions that lead to degradation and extinction to be imposed on children in our schools from the primary grades? To be drummed into them that there are various supposed genders besides women and men, and to be offered a sex change operation? Do we want all this for our country and our children? For us, all this is unacceptable, we have a different future, our own future?"
Putin then implied directly that the U.S. and its NATO allies assisting Ukraine were trying to erase Russian culture and then justified the annexation of the four regions in Eastern Ukraine:
"Today we are fighting so that it would never occur to anyone that Russia, our people, our language, our culture can be taken and erased from history. Today, we need the consolidation of the entire society, and such cohesion can only be based on sovereignty, freedom, creation and justice. Our values ​​are humanity, mercy and compassion.
And I want to end my speech with the words of a true patriot Ivan Alexandrovich Ilyin: 'If I consider Russia my Motherland, then this means that I love in Russian, contemplate and think, sing and speak Russian; that I believe in the spiritual strength of the Russian people. His spirit is my spirit; his fate is my fate; his suffering is my grief; its flowering is my joy.'
Behind these words is a great spiritual choice, which for more than a thousand years of Russian statehood was followed by many generations of our ancestors. Today we are making this choice, the citizens of the Donetsk and Lugansk People's Republics, the residents of Zaporozhye and Kherson regions have made this choice. They made the choice to be with their people, to be with the Motherland, to live its destiny, to win together with it."
Putin has long held homophobic and transphobic opinions and has signed multiple pieces of legislation that has sharply curtailed LGBTQ rights and expression in Russia during his 18 years as president, including the country's "Don't Say Gay" law signed in 2013 that has been strengthened and augmented by succeeding measures.
Brittney Griner appeals 9-year prison sentence
Russian court on Aug. 4 convicted WNBA star of drug smuggling.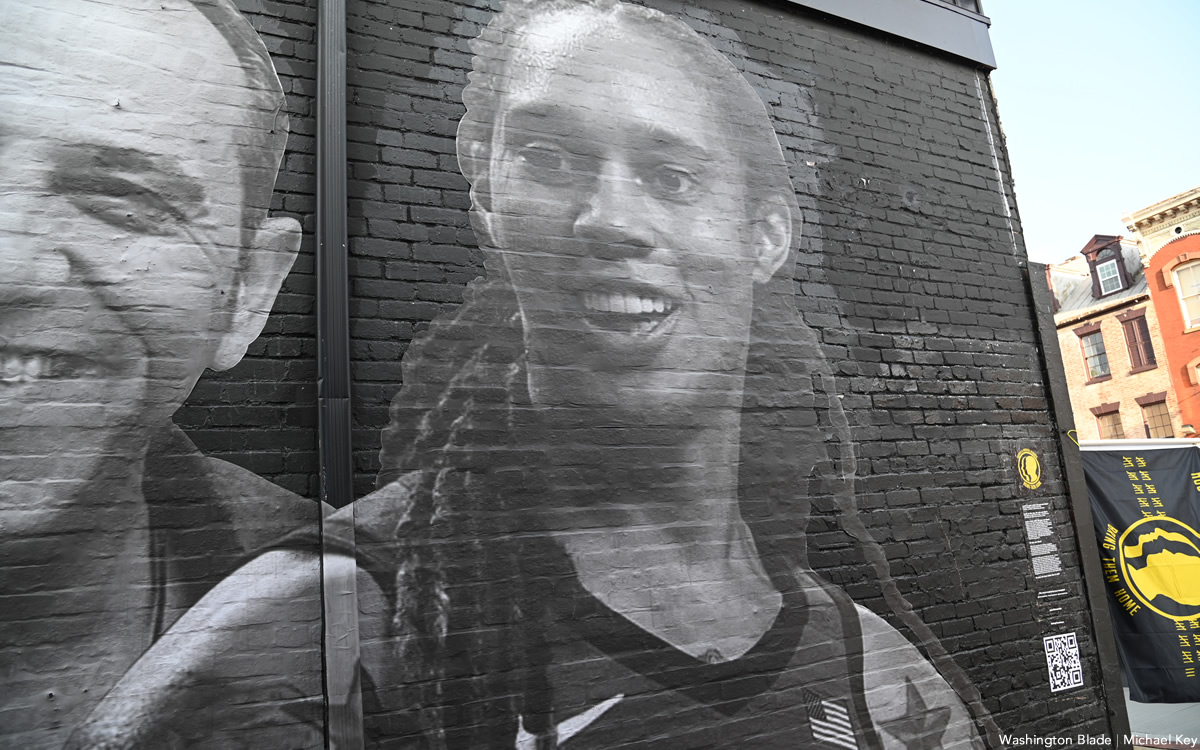 Lawyers for WNBA star Brittney Griner on Monday appealed the nine-year prison sentence she received earlier this month after a Russian court convicted her of smuggling drugs into the country.
The court on Aug. 4 convicted Griner — a Phoenix Mercury center and two-time Olympic gold medalist who is a lesbian and married to her wife, Cherelle Griner — and sentenced her to nine years in a penal colony.
Officials at Moscow's Sheremetyevo Airport in February detained Brittney Griner after customs inspectors allegedly found hashish oil in her luggage. The State Department subsequently determined that Russia "wrongfully detained" her.
Brittney Griner in July pleaded guilty to the drug smuggling charges.
U.S. Secretary of State Antony Blinken has publicly acknowledged the U.S. has offered Russia a deal to secure the release of Brittney Griner and Paul Whelan, another American citizen who is serving a 16-year prison sentence after his conviction for spying.
American officials have reportedly expressed a willingness to release Viktor Bout, a Russian arms dealer who is serving a 25-year prison sentence in the U.S., as part of a prisoner swap.
Russian Foreign Minister Sergey Lavrov last week said his country was "ready to discuss" a potential deal with the U.S. A spokesperson for Russia's Foreign Ministry later confirmed negotiations between the two countries over a potential prisoner swap have begun.
Russian court convicts Brittney Griner
WNBA star sentenced to nine years in penal colony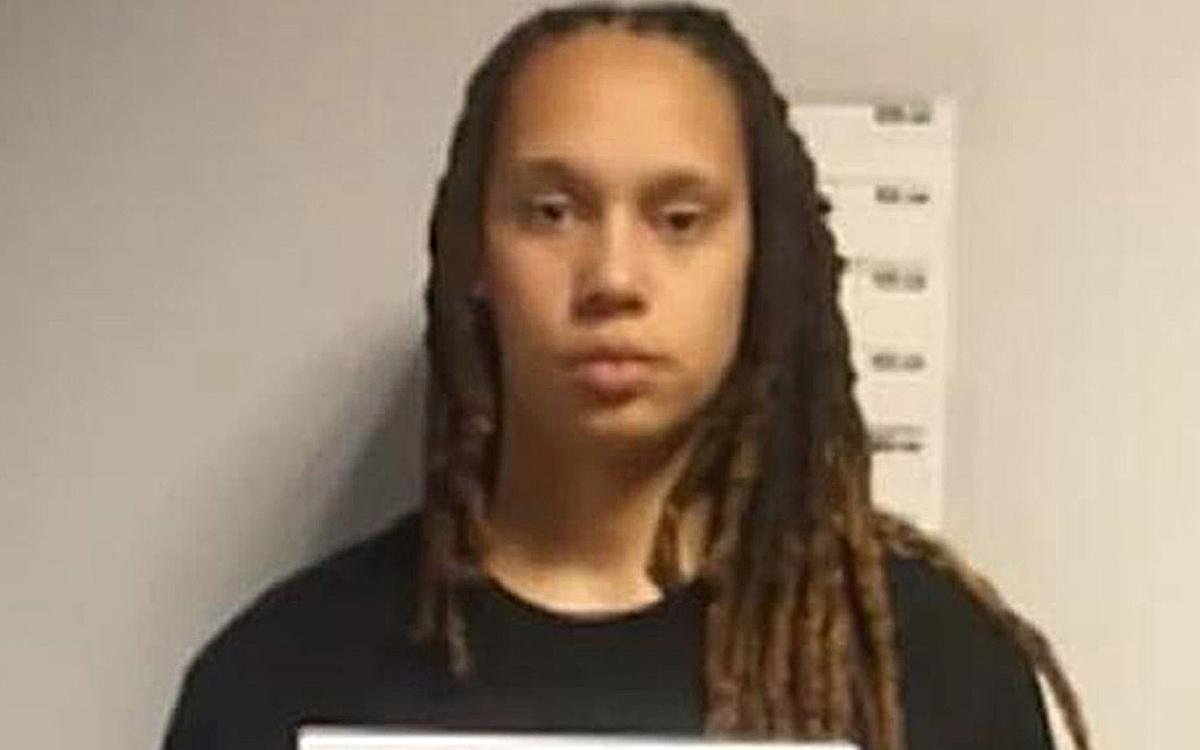 A Russian court on Thursday found WNBA star Brittney Griner guilty of charges that she smuggled drugs into the country.
The court sentenced Griner to nine years in a Russian penal colony. Prosecutors had sought a 9 1/2-year prison sentence.
Griner — a Phoenix Mercury center and two-time Olympic gold medalist who is a lesbian and married to her wife, Cherelle Griner — spoke in court earlier on Thursday.
"I had no intent on breaking any Russian law," said Brittney Griner.
Officials at Moscow's Sheremetyevo Airport in February detained Brittney Griner after customs inspectors allegedly found hashish oil in her luggage. The State Department subsequently determined that Russia "wrongfully detained" her.
Brittney Griner last month pleaded guilty to the drug smuggling charges.
U.S. Secretary of State Antony Blinken has publicly acknowledged the U.S. has offered Russia a deal to secure the release of Brittney Griner and Paul Whelan, another American citizen who is serving a 16-year prison sentence after his conviction for spying.
American officials have reportedly expressed a willingness to release Viktor Bout, a Russian arms dealer who is serving a 25-year prison sentence in the U.S., as part of a prisoner swap.
"Today, American citizen Brittney Griner received a prison sentence that is one more reminder of what the world already knew: Russia is wrongfully detaining Brittney," said President Joe Biden in a statement after Brittney Griner's conviction and sentencing. "It's unacceptable, and I call on Russia to release her immediately so she can be with her wife, loved ones, friends, and teammates. My administration will continue to work tirelessly and pursue every possible avenue to bring Brittney and Paul Whelan home safely as soon as possible."
National Security Council spokesperson John Kirby during the White House's daily press briefing described the sentence as "reprehensible in its scope" and stressed Griner "shouldn't have even been on trial."
"I certainly can't get inside the head of a Russian judge," said Kirby. "We have seen similar maximum sentences for drug charges of foreigners in Russia. Just historically speaking, foreigners that are arrested on drug charges and then convicted under their system tend to get much higher sentences than would be Russian citizens."
Elizabeth Rood, the chargé d'affaires at the U.S. Embassy in Moscow, described the verdict as "a miscarriage of justice" in a statement she read to reporters outside the court. Blinken in his own statement agreed.
"Today's conviction and sentencing by a Russian court of U.S. citizen Brittney Griner to nine years in prison further compounds the injustice of her wrongful detention," said Blinken. "This step puts a spotlight on our significant concerns with Russia's legal system and the Russian government's use of wrongful detentions to advance its own agenda, using individuals as political pawns."
WNBA Commissioner Cathy Engelbert and NBA Commissioner Adam Silver issued a joint statement after the court announced its verdict and sentencing.
"Today's verdict and sentencing is unjustified and unfortunate, but not unexpected and Brittney Griner remains wrongfully detained," reads the statement. "The WNBA and NBA's commitment to her safe return has not wavered and it is our hope that we are near the end of this process of finally bringing BG home to the United States."
The Human Rights Campaign also condemned the conviction and sentencing.
"This sentencing is unjust, plain and simple," tweeted HRC. "Brittney Griner deserves to be back home with her family and loved ones."
Blinken said "nothing about today's decision changes our determination that Brittney Griner is wrongfully detained, and we will continue working to bring Brittney and fellow wrongfully detained U.S. citizen Paul Whelan home."
"This is an absolute priority of mine and the department's," he stressed.