The road to DADT repeal — remember their names
'Maybe not in my lifetime, but we are going to win in the end'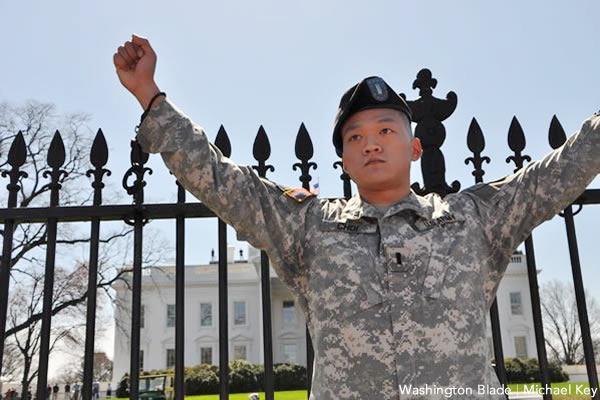 "Maybe not in my lifetime, but we are going to win in the end." – Air Force TSgt. Leonard Matlovich, Sept. 19, 1975.
The road to repeal of the codified charade known colloquially as "Don't Ask, Don't Tell" (DADT), masquerading as something different than the Pentagon policy ban dating to World War II, was long and built by many hands. While a straight-identified Congress and president were necessary to reach the destination, LGBT Americans made it happen. But "DADT Speak" can unintentionally erase the some 100,000 discharged before its creation. The following focuses on some of the First Volunteers; those very few service members who chose to risk their careers by outing themselves, putting faces to the ban, without which it would still be destroying lives.
In March 1974, Leonard Matlovich was the happiest he'd ever been in his life. It had taken him until he was 30, and surviving thoughts of suicide-by-war and direct suicide, to finally accept and embrace that he was gay, and now he had a job that he loved: Race Relations Instructor for the Air Force. He was so good in this job that he was sent around the country to train other instructors. An African-American fellow instructor said that, "He has the classroom in the palm of his hand."
His department chief wrote, "As a Race Relations Instructor there is none better. His mastery of group dynamics and group facilitation has enabled him to conduct seminar after seminar around the difficult and sensitive subject of race relations without incident. He should be promoted to Master Sergeant well ahead of his contemporaries."
And then he read an interview with Frank Kameny in the Air Force Times.
World War II veteran Frank Kameny had a genius IQ and Harvard Ph.D. in astronomy. Hired by the Army Map Service (AMS) in 1957, his dream of being one of the first astronauts, in fact, his entire scientific career, crashed and burned when the AMS learned he was gay. LGBs were already banned in the military; now, per Republican President Dwight Eisenhower's Executive Order banning "sexual perversion" among civilian federal employees, he was fired five months later, and, worse, blackballed from employment by any other federal agency or private company or university receiving federal funding.
Unaffiliated with any gay group, he did what no other fired gay person had done. Eight years before Stonewall, he appealed his case against the Secretary of the Army to the Supreme Court in a self-penned brief whose eloquent fury still stuns today.
"The government's regulations, policies, practices and procedures, as applied in the instant case to petitioner specifically, and as applied to homosexuals generally [including in the military], are a stench in the nostrils of decent people, an offense against morality, an abandonment of reason, an affront to human dignity, an improper restraint upon proper freedom and liberty, a disgrace to any civilized society, and a violation of all that this nation stands for. These policies, practices, procedures, and regulation have gone too long unquestioned, and too long unexamined by the courts."
Yale Law School professor William Eskridge, Jr., later called it revolutionary, "the birth of Gaylegal Equality Arguments"; and Frank "the Rosa Parks and the Martin Luther King and the Thurgood Marshall of the gay rights movement."
In a "court of last appeal" letter to newly inaugurated President John F. Kennedy in May 1961, two months after the Court refused to hear his case, Kameny, still on his own, also denounced "the policies, practices, and official attitudes of the military" and "less-than-fully-honorable discharges."
That November he cofounded the militant Mattachine Society of Washington (MSW; not a chapter of original Mattachine) whose four missions included challenging military homophobia— 29 years before the creation of the first national group dedicated to fighting the ban, and 32 years before its codification into DADT.
MSW's unprecedented three pickets of the White House in 1965 included signs protesting the ban, and he led a picket at the Pentagon itself.
"STOP Wasting Taxpayers Money on Hunts for HOMOSEXUALS." "65,000 Homosexual Sailors DEMAND NEW NAVY POLICY." "Quarter Million Homosexual American Servicemen & Women Protest Armed Services Policies." "15 Million U.S. Homosexuals Protest Treatment by Armed Forces."
That year the Navy alone kicked out at least 1,365—some 100 more than all the branches kicked out in the worst year under DADT.
The ban was the subject of the first same day, nationally coordinated gay rights protests in 1966. Frank led another Pentagon picket then flew to New York City to lead a protest there. He was essentially the only non-lawyer source of help for LGB service members trying to avoid being kicked out or at least be granted an Honorable Discharge characterization.
Since at least 1964, he'd been looking for a "perfect test case" — a service member with a clean record willing to out themselves and fight the ban in court. Leonard Matlovich read that in the Air Force Times and called him describing his three tours in Vietnam, Bronze Star, Purple Heart, and outstanding performance ratings. After a number of meetings, Leonard agreed to carry the banner, coming out on the front page of The New York Times and on the CBS Evening News with Walter Cronkite on Memorial Day 1975.
The response was seismic, rippling from the Times to the Kokomo, Indiana, Tribune and around the world. So unlike the mainstream concept of a gay male one reporter asked him if he was really gay. The effect was magnified when he appeared in uniform on the cover of Time magazine with the bold, black caption "I Am a Homosexual"—putting a face on the ban for millions for the first time. Gay historian Nathaniel Frank, author of the definitive book on the evolution of DADT, "Unfriendly Fire," said, "it began a national discussion on gay rights."
Accounts of his four-day discharge hearing filled newspapers and TV screens. When the Air Force board couldn't see past "Homosexual" to the perfect airman, they recommended his discharge; Leonard telling the crush of reporters outside: "Maybe not in my lifetime, but we are going to win in the end." He failed to overturn the ban, but a 1981 Pentagon mandate that, barring extenuating circumstances such as sex on base, all discharge characterizations for gays should be Honorable can be linked to his case. No one imagined how short his lifetime would be, but he filled it fighting for gay equality. Frank was the lead honorary pallbearer, walking by the horse-drawn caisson carrying his body in 1988, and today his grave in Washington's Congressional Cemetery with its iconic gravestone is a place of pilgrimage next to a Veterans Administration cenotaph for Frank.
"Exemplary" Army Reserve Drill Instructor Miriam Ben-Shalom was honorably discharged in 1976 after refusing to deny she was a lesbian during questioning about her criticizing the discharge of Leonard Matlovich. In 1980, a federal judge ruled that her discharge violated the First, Fifth, and Ninth amendments of the Constitution—the first court ruling that the ban was unconstitutional and 30 years before the ruling against DADT in the Log Cabin Republicans challenge—and ordered her reinstated. The Army simply ignored the order for seven years; until a Circuit Court forced them to return her to duty. But they refused to allow her to reenlist at the end of that period of service.
The Supreme Court refused to hear her appeal in February 1990. Three months later, she and five other veterans founded Gay, Lesbian & Bisexual Veterans of America, the first such national lobby group; today American Veterans for Equal Rights (AVER). She and several other veterans were arrested at the White House in 1993 protesting the ban's refashioning as DADT. She was arrested there again in 2010 protesting President Obama's slow walk on repeal along with eight fellow veterans and four civilians including myself.
Sgt. Perry Watkins' 16-year adventure in the U.S. Army began when Lyndon Johnson was president and would not end until George Bush père sat in the Oval Office. It spanned the globe, sometimes a comedy, sometimes a tragedy. It was sometimes even a musical comedy—but it was always, just as the ban itself, nonsensical; here ignoring that he was gay, there trying to kick him out because he was gay. Year after year, time after time, he demanded justice; and, in the end, it was his own truth that set him free—the truth he had told from the very beginning, during his draft physical in 1967 when he was 19 and checked the box indicating "homosexual tendencies."
The first gay African-American soldier to make headlines, while the Army ignored a court order to reinstate Miriam, in May 1982, Watkins also became the first out gay service member returned to duty by a court. But he was kicked out again, and, eventually, the Supreme Court let a lower court ruling stand that he should be reinstated in the name of fairness. Like Leonard, for whom he was an honorary pallbearer in 1988, he chose a settlement; passing himself in 1996.
Petty Officer Keith Meinhold, a certified Master Training Specialist teaching sonar crews on P-3 Orion aircraft how to hunt submarines outed himself on ABC's World News Tonight on May 19, 1992. Formerly recognized as "Aircrew Instructor of the Year," his usually perfect performance ratings drop. Without any evidence, they claimed knowledge of his sexual orientation had "adversely affected his performance of duty and adversely affected the good order and discipline." Though given an honorable discharge he sued and was ordered reinstated. Overall, his return was met positively, and his crew continued to win new awards. He retired four years later with full military honors, naval band music, a Navy Achievement Medal, and a 60-foot American flag.
Purposely coinciding with Meinhold's coming out the same day, 25-year old Navy Lieutenant Junior Grade Tracy Thorne, first in his class in flight training, outed himself on "Nightline." A bombardier-navigator flying A6 Intruders, like a ship on a roiling sea, his status repeatedly changed due to the unknowns of what might happen—or not—to the ban following Bill Clinton's possible election, then election. He joined a five-week, 32-city cross-country veterans bus Tour of Duty to try to drum up public support for an end to the ban. He testified against the ban before the Senate Armed Services Committee — homophobic Sen. Sam Nunn's dog and pony show where he was jeered by 1,000 sailors and Marines. To wild applause and laughter, infamous racist Sen. Strom Thurmond told him, "Your lifestyle is not normal. It's not normal for a man to want to be with a man or a woman with a woman. Have you considered getting help from a medical or psychiatric standpoint?" He filed a lawsuit in 1994 and returned to active duty with the stipulation that the Navy could attempt to discharge him under DADT. In 1995, he was discharged. He sued again; his challenge ending when the Supreme Court refused to hear his case.
Their high-profile outings were planned to coincide with the same-day introduction of the long forgotten end-the-ban Military Freedom Act of 1992. Popular war hero and chair of the Joint Chiefs Colin Powell's statements to Congress killed not only that bill but crippled Bill Clinton's intentions even before he had the party's nomination. Powell: "Skin color is a benign, non-behavioral characteristic. Sexual orientation is perhaps the most profound of human behavioral characteristics." His disingenuous, pseudo intellectual way of saying, "they choose to be gay so it's not a civil rights issue."
Navy Reserve Lieutenant Zoe Dunning outed herself at a Jan. 16, 1993, rally in support of Keith Meinhold. She was allowed to stay in after convincing a board that "status" did not equal "conduct" — a finding immediately forbidden in future cases by the Pentagon. By retirement in 2007, she'd risen to the rank of commander, having served openly for more than 13 years. In December 2010, as co-chair of Servicemembers Legal Defense Network (SLDN) Board of Governors, she was invited to stand next to the president as he signed the provisional DADT repeal bill. Co-founder Dixon Osburn just released "Mission Possible," his account of the crucial role SLDN played in ending the ban.
Former Marine of the Year Sergeant Justin Elzie had served 10 years when he outed himself on "World News Tonight" on Jan. 29, 1993. The Corps reneged on their existing approval for his early separation in April with benefits, moving to honorably discharge him immediately with none. He testified to Congress in support of ending the policy ban. A judge ordered he be retained until his legal challenge was resolved. He eventually settled out of court, receiving the early retirement bonus after having served as an out gay Marine for four more years during which he was recommended for promotion three times. He was one of our 13 arrested at the White House in November 2010 demanding DADT repeal.
Twenty-three-year old Desert Storm veteran and former Sixth Army Soldier of the Year Joe Zuniga outed himself at a huge event honoring gay military activists the night before the April 1993 March on Washington, including Meinhold and Thorne. "The roar was deafening. People cried. People hugged each other." – The Washington Post. The next morning the three joined the veterans' contingent in the march with hundreds of thousands.
Conversely, his Army command was enraged, discharging him, however honorably, in record time—in less than a month. They also brutally demoted him from Sergeant to Specialist after falsely accusing him of wearing a decoration he had not earned. His battalion commander melodramatically threw newspapers in which his story had appeared into a trashcan during his administrative hearing. But he continued to speak out all across America, and appeared in the historic first national gay TV ad; created for the Campaign for Military Service, an ad hoc group representing multiple existing gay groups hoping to offset the rabidly homophobic campaign of those in and out of the Democratic-controlled Congress determined to prevent President Bill Clinton from ending the ban. He also travelled the country and TV newsrooms trying to promote public support.
Army First Lieutenant and Iraq veteran Dan Choi came out on "The Rachel Maddow Show" on March 19, 2009, resulting in his discharge in June 2010. Far from just another came-out-on-TV story, Dan was the first Asian-American to become a leader in the anti-ban movement, and shook that movement when he began to engage in nonviolent direct action in the second year of the Obama administration after the president broke his promise to start working with Congress to end DADT when he took office. Dan allied with new direct action group GetEQUAL, and a small but growing number of people joined him in handcuffing themselves to the White House fence (including transgender veteran Autumn Sandeen); each time growing more media coverage, never more critical than in November 2010 when word went round that the repeal provision bill, stalled in the lame duck Congress, was going to be withdrawn likely damning the chance for repeal for years. Republicans would take over the House in 2011.
I have no proof that the action Dan led that month, joined by Miriam, Justin, et al., helped salvage the bill and, thus, repeal. I can only say that I am proud to have been next to them; one wrist handcuffed to the White House fence behind me; and holding Leonard's Time magazine cover aloft with my free hand.
"Remember your roots, your history, and the forebears' shoulders on which you stand." – Marion Wright Edelman.
Turkey Pride crackdowns only strengthen LGBTQ resistance
Hundreds arrested in Istanbul on Sunday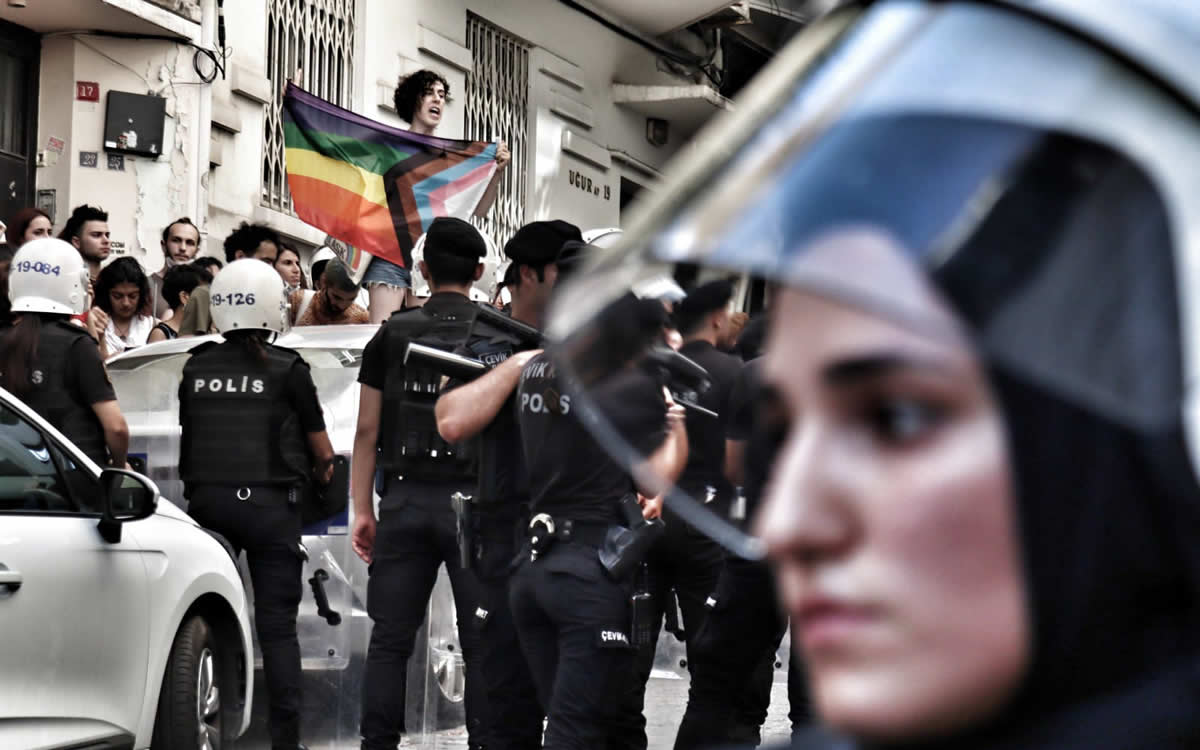 The waving colors of the thousand shades inside of a rainbow,
The sparkling joy from the pride and honor of self-declaration,
The echoing sounds of the steps for solidarity in the cobblestone streets of İstanbul, 
To unite for equality, for justice, for solely our right to be.
This was our goal, our expectation and our hope for Pride Turkey 2022. It has, however, been overshadowed by the government's vicious attempts to repress the colors of the LGBTQI+ community.
First, it started with the ban of Pride speeches and panels that many district governors and other local authorities across Turkey announced. Local police officers raided the many event venues as if "illegal" activities were being conducted.
As in the last couple of years, it was already expected the government would ban the Pride marches in many cities. It was, however, the first time the government officially tried to prevent even face-to-face community gatherings of LGBTQI+ organizations. It was a type of intervention reflecting the level of fear and intolerance of the government regarding the growing connection, solidarity and public visibility of LGBTQI+ community.
Nevertheless, oppression often brings out the most creative means. As such, Pride committees have carried all the activities on digital platforms. Many activists and civil society representatives have shown support by participating in live broadcasts from event venues, and the voice of LGBTQI+ solidarity still reached a wide audience.
Subsequently, the most drastic pressure by the government has manifested itself during the Pride marches. The police violently intervened and used unproportionate force against marchers in many cities, which resulted in a radical number of unwarranted detentions.
While 530 LGBTQI+ activists were taken into custody over the last 37 days across Turkey, 373 of them were arrested during the Istanbul Pride march on June 26. This constitutes a first, since the Istanbul Pride arrests constituted the largest number of people taken into custody during a street march since the Gezi protests.
Will these enormous efforts to pressure win the day? The answer is "definitely no." On the contrary, it sparked a backlash by triggering strong solidarity among Turkey's queer community. The outstanding resistance of LGBTQI+ marchers gained public recognition on social media, while persistent legal support of LGBTQI+ initiatives canceled all the detentions. In the end, the exhaustive pressures of the government could not manage to fade the multicolor of LGBTQI+ identity. In fact, it helped our rainbow flag to shine even more glamorous and visible.
We, as members of the LGBTQI+ community, have once again proved through this entire experience that solidarity, togetherness and collective resistance are the most powerful facilitators in our fight to exist equally.
In honor of the unbreakable resistance of Turkey Pride 2022 supporters,
Thanks to you, the cobblestones of Istanbul and every street in Turkey echoed with the steps of LGBTQI+ solidarity.
Dilek İçten is a journalist, researcher and civil society expert with a demonstrated history of working in interdisciplinary and investigative research projects examining the socio-cultural dynamics of media, gender and migration. The focus of her work varies from freedom of expression, media censorship and journalistic independence to gender based-discrimination and hate speech against disadvantaged groups and minorities.
As Israel readies for new elections, the LGBTQ community is at risk
U.S.-based groups attacking transgender Israelis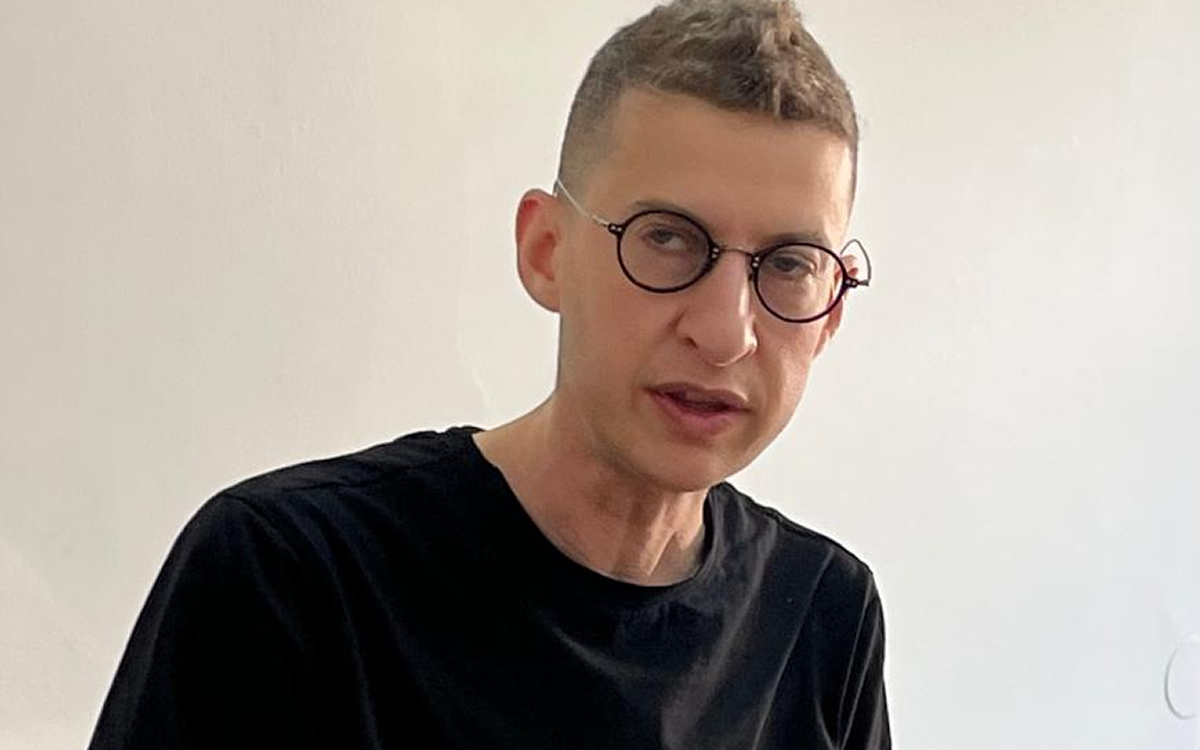 Israel's government has collapsed — and the county is headed to new elections for the fifth time in three years. In this renewed period of uncertainty, Israel's LGBTQ community has cause for particular concern. Any new coalition would likely welcome parties that oppose LGBTQ inclusion back into government, posing a clear and imminent threat to their human rights.
But amidst this trepidation, there is still much to celebrate: 30 LGBTQ leaders from the U.S. met with their counterparts in Israel this month. The backdrop was Tel Aviv Pride, one of the largest in the world. The leaders were there for more than celebrations. They came to learn. As with past A Wider Bridge trips, North Americans travelling to Israel and Israelis travelling to North America shared strategies for building LGBTQ inclusion, fighting conversion therapy, protecting young people needing shelter, and building vibrant pride centers. Pride celebrations got their start in the U.S. and will take place in more than 60 Israeli cities this month. Over the years, both of our countries have imported many successful approaches from one another. But one American import to Israel is less than welcome: Political transphobia. Let's not let it become something that unites our nations.
As leaders of groups in Israel and the U.S., we've watched with sadness as trans kids in America have been put in harm's way through legislation making their medical care less available and prohibiting their teachers and school counselors from providing the lifesaving support they need. And it turns out that the same retrograde forces fighting trans inclusion in the U.S. are backing similar efforts in Israel. There have always been opposition to LGBTQ rights, including trans inclusion in both countries and around the globe. What's new is a vastly well-funded campaign — with plenty of American backing — directed at attacking the Israeli trans community. While the fight for LGBTQ equality in Israel hasn't been easy, historically the community hasn't been used as a political cudgel. That's changing, and we're ringing the alarm bell.
Groups like the Kohelet Forum, which is largely American-funded, are trying to take their American brand of anti-trans hate to Israel. While think tanks and policy shops aren't a new phenomenon in Israel, Kohelet has adopted the broader American model of political change-making. They've launched a constellation of organizations working informally together to usher in transformational policy change. With the support of Kohelet and others, the anti-trans movement has exploded in Israel.
Their orchestrated effort comes at a very unfortunate moment. Ma'avarim, Israel's most prominent trans organization, and the entire Israeli trans community have worked tirelessly for years, building careful relationships, educating important allies — and is making tremendous advances due to an Israeli government that was willing to embrace many key goals. There are historic opportunities to implement new life-saving policies including access to healthcare, legal recognition of gender identity, and diversity in the education system. All of this is now in jeopardy. Just as these successes are coming to fruition, the anti-trans movement is using social media and other tactics to spread disinformation and false accusations such as "men in dresses raping women in bathrooms." These fabrications are felt by many in the trans community to be like anti-Semitic blood libels — made-up stories that lead to fear, hatred, and even violence. They help fuel anti-trans advocacy and lobbying to advance exclusionary policies and legislation to deny Israeli transgender persons their dignity and rights.
The new anti-trans movement has several distinctive features that require new responses. Firstly, unlike the traditional opposition for LGBTQ rights that springs from religious and social conservatives, anti-trans advocacy is now often fronted by self-styled "progressive" women. They bring with them established connections within liberal circles. Secondly, the central arena of the "progressive" anti-trans campaign is both traditional and social media — drawing on existing networks with hundreds of thousands of followers, while trans community organizations have minimal presence in social media beyond the trans community. Thirdly, the funding being poured into anti-trans campaigns eclipses the budgets of LGBTQ organizations. In Israel alone, the groups waging battle against the trans community have budgets in the tens of millions with hundreds of paid staff, many of whom work on anti-trans campaigns.
None of us should sit idly by while these attacks on the trans community take place. As in other countries, this anti-trans hate movement poses an immediate threat to the safety and wellbeing of transgender and gender non-conforming persons. We cannot allow them to have their very existence denied.
But it doesn't stop there. While transgender persons are the immediate targets of hate and violence, anti-trans campaigns have far-reaching political aims: dividing the liberal bloc of women's, LGBTQ and minority rights, instilling hate, and turning liberal democratic societies against a newly created enemy from within. Anti-trans propaganda has proved instrumental in spreading disinformation and conspiracy theories that further undermine democratic values in society.
The eyes of the world often look to Israel on LGBTQ rights. Dana International, a trans woman from Tel Aviv, won the Eurovision music contest, became an international hero, and played a role in ushering greater acceptance of the trans community.
The world will be watching after Israel's new elections: Will they continue to make progress in affording rights and protections to LGBTQ people? Or will they turn back the clock? Now more than ever, fighting the anti-trans movement must be a top priority not only for the transgender community but for LGBTQ people, feminists, and the wider progressive community in Israel- and in the United States.
Ethan Felson is the executive director of A Wider Bridge, an organization that fights for LGBTQ inclusion, counters anti-Semitism, and strengthens relationships between the LGBTQ community in Israel and North America. Elisha Alexander is the founding director of Ma'avarim, Israel's leading NGO advocating for the transgender community.
To Biden: No Pride in detention of transgender, queer communities
Jennicet Gutiérrez declines to attend White House Pride event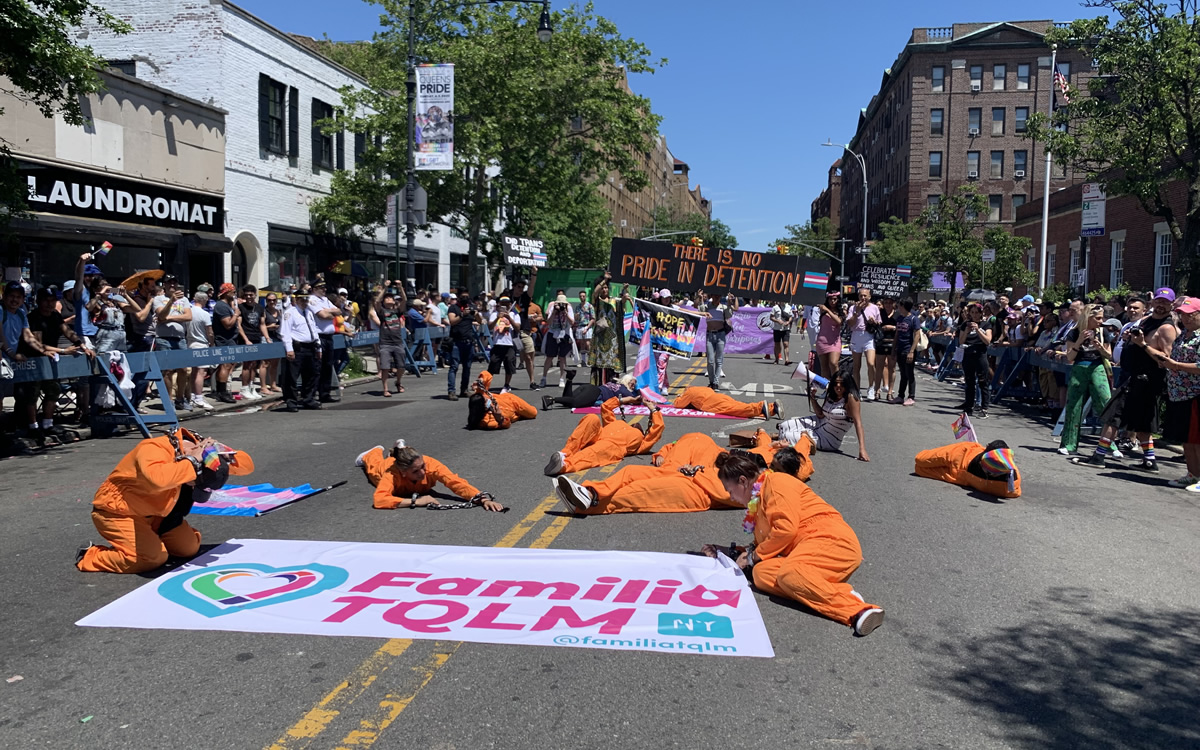 Editor's note: This is the letter that Jennicet Gutiérrez sent to the White House in response to the invitation she received to attend its Pride Month celebration.
June 13, 2022
Dear President Biden and Dr. Biden,
I received your invitation to the White House Pride Celebration on June 15, 2022, and with a clear conscience I am letting you know that I will not be attending this event. There should be no White House celebration when trans and queer communities are suffering and being detained by your administration. There is no pride in detention.
At the start of your administration you pledged to protect LGBTQ+ people worldwide, but it's a commitment that you have failed to uphold at home.
Almost a year ago, while you were holding a Pride reception, trans and queer immigrant leaders from across the nation marched to the White House, demanding the release of trans people, people living with HIV, and any medical condition, from detention centers across the country. We are still seeking justice for Victoria Arellano, Roxsana Hernández, and Johana Medina, trans women who died because of the negligence of Immigration and Customs Enforcement (ICE).
Our members across the country are marching and protesting this Pride Month with the same demand of ending the violence and killings of trans people. There have been over two million deportations since you took office, setting you up to be the next deporter-in-chief. Your administration has used Title 42 as an excuse to deport immigrants seeking a better future, most of them Black and brown people and including trans and queer immigrants, even as your administration is relaxing requirements for people traveling to the United States. More than 32 states have drafted bills that would criminalize trans youth and their families for providing life affirming healthcare. Transgender people and children are under attack by the same white supremacist forces that are plaguing our nation and we haven't seen your administration's response be enough in the face of these attacks.
The reality is that as this celebration is taking place, trans people currently in ICE custody will be in unsafe conditions. You could easily stop their suffering by instructing the Department of Homeland Security to implement a policy of liberating trans people, people living with HIV and other medical conditions, as well as other vulnerable people.
Ending trans detention and using your executive powers to protect LGBTQ people would have a greater impact on our community and would save many lives rather than hosting an event to deliver a well-crafted speech with broken promises.
Respectfully,
Jennicet Eva Gutiérrez
—
13 de julio del 2022
Estimados presidente Biden y Dr. Biden,
Recibí su invitación a la Celebración del Orgullo de la Casa Blanca el 15 de junio de 2022 y con la conciencia clara les hago saber que no asistiré a este evento. No debería haber celebración de Orgullo en la Casa Blanca cuando las comunidades trans y queer están sufriendo y siendo detenidas por su misma administración. No hay orgullo en la detención.
Al comienzo de su administración, se comprometió a proteger a las personas LGBTQ + en todo el mundo, pero es un compromiso que no ha podido mantener en casa.
Hace casi un año, mientras celebraban una recepción de Orgullo, líderes inmigrantes trans y queer de todo el país marcharon a la Casa Blanca, exigiendo la liberación de las personas trans, las personas que viven con el VIH y cualquier condición médica, de los centros de detención de todo el país. Todavía estamos buscando justicia para Victoria Arellano, Roxsana Hernández y Johana Medina, mujeres trans que murieron debido a la negligencia del Servicio de Inmigración y Control de Aduanas (ICE).
Nuestros miembros en todo el país están marchando y protestando este mes del orgullo con la misma demanda de poner fin a la violencia y los asesinatos de personas trans. Ha habido más de dos millones de deportaciones desde que asumió el cargo, lo que lo prepara para ser el próximo jefe-de-deportaciones. Su administración ha utilizado el Título 42 como una excusa para deportar a los inmigrantes que buscan un futuro mejor, la mayoría de ellxs personas Negras y personas de color, e incluyendo a inmigrantes trans y queer, mientras su administración está relajando los requisitos para las personas que viajan a los Estados Unidos. Además, más de treinta y dos estados han redactado proyectos de ley que criminalizan a los jóvenes trans y sus familias por proporcionarles atención médica que afirma su género y salvan sus vidas. Las personas transgénero y los niños están siendo atacados por las mismas fuerzas supremacistas blancas que están plagando nuestra nación y no hemos visto que la respuesta de su administración es suficiente frente a estos ataques.
La realidad es que a medida que se lleva a cabo esta celebración, personas trans actualmente bajo custodia de ICE estarán en condiciones inseguras y peligrosas. Usted podría parar fácilmente su sufrimiento instruyendo al Departamento de Seguridad Nacional para que implemente una política de liberación de personas trans, personas que viven con VIH y otras condiciones médicas, así como otras personas vulnerables.
Poner fin a la detención trans y usar sus poderes ejecutivos para proteger a las personas LGBTQ tendría un mayor impacto en nuestra comunidad y salvaría muchas vidas en lugar de organizar una celebración de Orgullo para pronunciar un discurso bien elaborado con promesas incumplidas.
Respetuosamente, 
Jennicet Eva Gutiérrez