CONCERT REVIEW: The daffy brilliance of Sophie B. Hawkins
Icon performs at Tally Ho Theater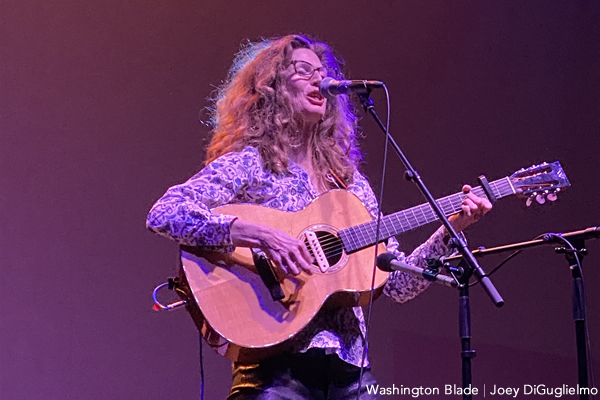 Washington-area fans got an uber-rare chance to hear queer icon Sophie B. Hawkins, mostly known for her '90s monster hits "Damn I Wish I Was Your Lover" and "As I Lay Me Down," live last Friday night when she performed a 90-minute solo set at the Tally Ho Theater in Leesburg, Va. It was her first performance in the region since a mini-set in 2017 and her first full-length concert here in more than a decade.
There was no band or accompaniment tracks; Hawkins, 57, provided all her own instrumentation, mostly on piano and guitar. Pleasantly, since she hasn't had an album out since 2012, she performed five self-penned unreleased songs and one delightfully unexpected cover — Joan Baez's "Diamonds and Rust" — that furnished perhaps the evening's most poignant moments. Sitting atop a stool with her feet propped on a drum and picking gently at an acoustic guitar, Hawkins kept listeners rapt with Baez's 1975 story song.
Appearing almost four years to the day since her last D.C.-area appearance, Hawkins was in fine form. I wrote last time that her vocals sounded a bit ragged, as though she were not properly warmed up. Thankfully this time, that was not an issue. There were several full-throttled wails throughout the evening demonstrating both Hawkins' impressive lung capacity and the slight scratch in her voice that keeps it just shy of crystalline.
She toyed a bit with her various singles and album cuts. Opener "Right Beside You," a single from her second album "Whaler" (1994), was slowed significantly to solid effect; while "No Connection," "California Here I Come" and "Walk on Fire" were given more faithful readings. She indulged a request for daffy "Swing From Limb to Limb" with an impromptu, a cappella rendition.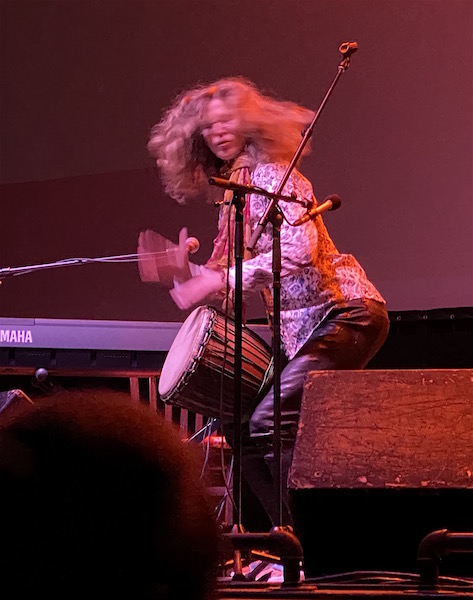 She was also more candid than ever about "Lose Your Way," the controversial track from her last major label effort "Timbre" (1999) that found her drawing a line in the sand with label execs and insisting on banjo accompaniment. Introducing it as "the song that ruined my career," Hawkins offered a lovely and understated performance — on banjo, of course. She also teased a 2022 deluxe reissue of her debut album "Tongues and Tales" for its 30th anniversary. A tour is rumored as well.
Of the five new songs, three were also featured in her 2017 set at Jammin' Java in Vienna, Va. She introduced the other two variously as a song from a musical she's writing she called "Birds of New York," possibly titled "I Want to Be Myself With You"; she said she wrote "You Are My Balloon" when her daughter was an infant. It was requested by a hardcore fan who drove down from Ontario for the concert. I didn't catch his name, but he said he'd seen her many times in concert over the years and this particular night she was "truly on fire."
All the new material sounded solid. Despite the bare-bones accompaniment, it was apparent Hawkins' songwriting prowess has not diminished. The last time Hawkins spoke to the Blade, in 2017, she spoke of having an album in the can. It remains unreleased.
It's hard to tell to what degree Hawkins' often batshit crazy stage banter is her true personality or not. She says just about whatever seems to pop in her head; tells snippets of stories, the pertinence of which is not always apparent; remains unperturbed when she fumbles a piano line, etc. It has echoes of Cyndi Lauper's stage schtick, though thankfully Hawkins spent most of her time focused on the music (Lauper sometimes rambles interminably). She cut off a second performance of "Damn" (once on piano, once on guitar) abruptly saying, "OK, that's enough of that song." She introduced her trademark Dylan cover "I Want You" as the encore and told the crowd to just pretend she'd left the stage and come back.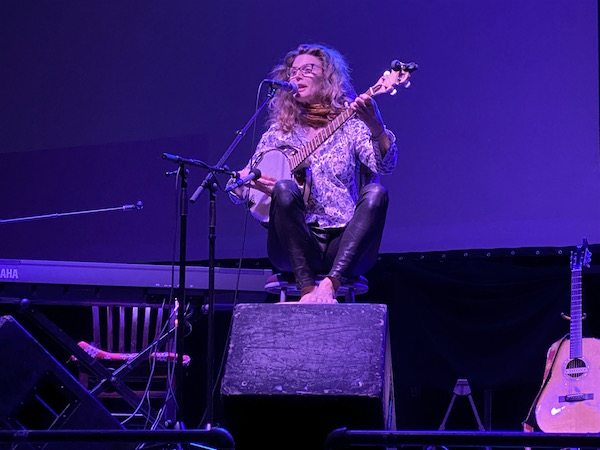 Though Hawkins has never used the "L" word, most of her public relationships have been with women and her love songs are rife with female pronouns. She has a strong lesbian fan base and there were many female couples in the crowd. I don't know how many the Tally holds — it's smaller than the Birchmere, but not tiny — but it appeared to be about three-quarters full.
A slightly longer set, considering we see her so infrequently in our area, would have been welcomed but that's a quibble. Hawkins seemed in exceedingly good spirits throughout the evening; she laughed easily, often at herself, and thanked the crowd repeatedly for coming. Despite COVID, she signed autographs and posed for photos after the show. Up close and in person with no special lighting, Hawkins looks like she's in her 30s.
Hawkins, who had a strong '90s run, is one of the great hitmakers of that era whose catalogue, while limited, holds up astoundingly well. She's a sonic cousin to Tori Amos, the Indigo Girls, Joan Osborne and the like. All are still touring, writing and recording and have solid fan bases but have long been written off by mainstream pop radio and undeservedly so.
Hawkins, who got an especially raw deal from industry gatekeepers after "Timbre," deserved way more industry recognition than she ever got. Here's to hoping the "Tongues" re-release A. happens (Hawkins spoke of it as a sure thing) and B. reminds the industry what a talent they snuffed out when they put her out to pasture. I suppose show biz is full of similar stories, but hearing Hawkins live last weekend was a reminder of how much she has been missed and how much the world could benefit from the perspectives of queer women in music.
SET LIST:
1. Right Beside You
2. California Here I Come
3. Walk on Fire
4. As I Lay Me Down
5. I've Only Hungered for Love Before*
6. I Can't Replace You
7. Better Off Without You
• drum solo
8. Lose Your Way
9. No Connection
10. Swing From Limb to Limb
11. I Want to Be Myself With You*
12. Diamonds and Rust
13. You Are My Balloon
14. Damn I Wish I Was Your Lover (piano)
15. Damn I Wish I Was Your Lover (guitar)
16. I Want You
* title unsure
8:02-9:29 p.m.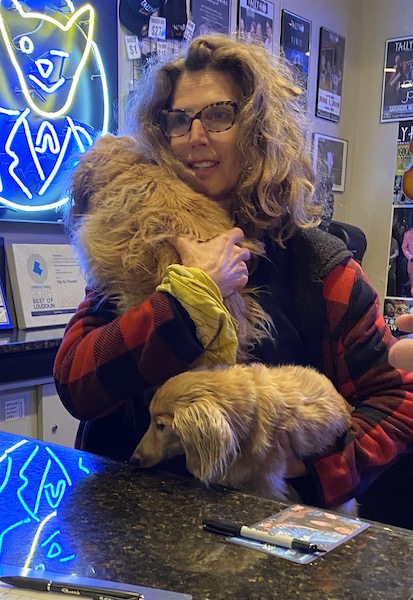 New dance single pays tribute to Town Danceboutique
Local musicians pen 'Town' in honor of shuttered club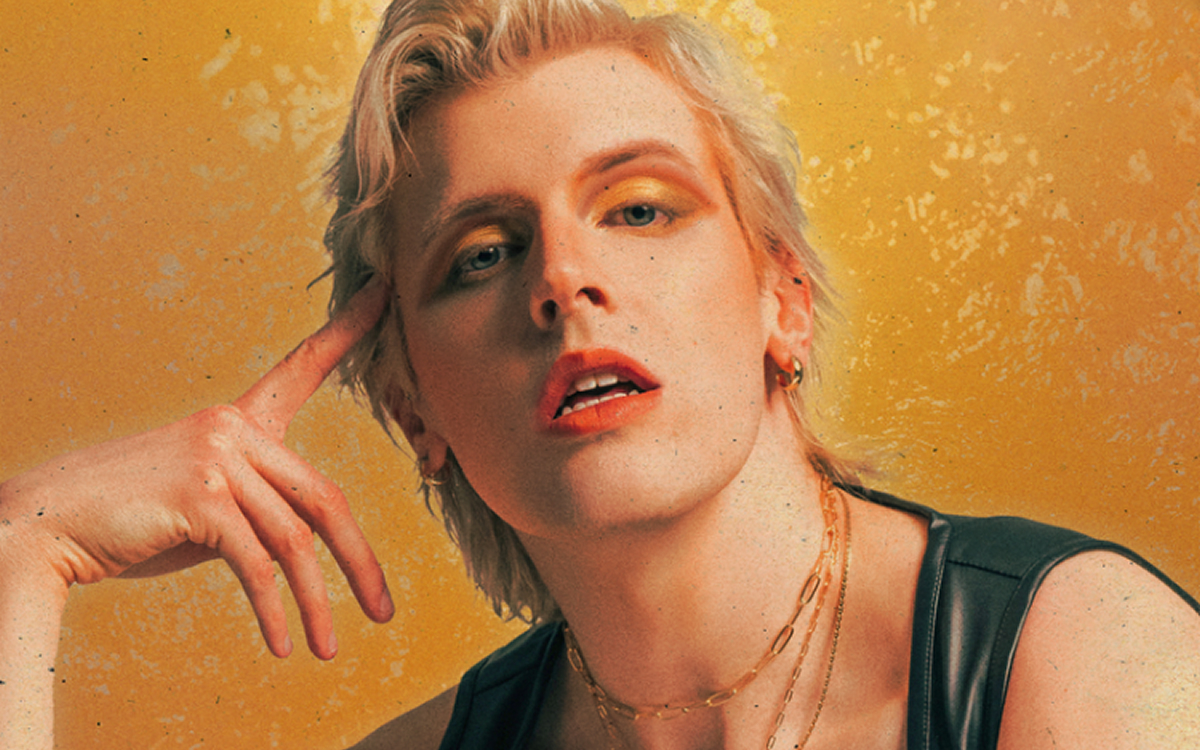 The closing of the LGBTQ nightclub Town Danceboutique in the summer of 2017 was heartbreaking to local musician Bryce Bowyn. He and his Los Angeles-based singer/songwriter friend Lexie Martin decided to honor its legacy in their new single, "Town."
For Bowyn, who moved to the District about a decade ago to attend school at American University, the memories he has from Town Danceboutique are endless. And when it closed, it was a massive loss to Bowyn and many others.
"It was such a cool space," Bowyn said. "It was just disappointing to see a place that brought so many people together become part of the landscape again." The building Town Danceboutique used to be housed in is now home to upscale apartments and a CVS.
Town Danceboutique was a formative place for Bowyn and Martin, and it was Bowyn's first experience in an open and accepting LGBTQ environment. His favorite memories at the club were always on Halloween, he said. Patrons, including Bowyn, would go all out with their costumes to look their very best.
Bowyn and Martin met while they were both in the musical theater program at American University. Despite their years-long friendship, "Town" is the first song they have written together. They sat down over FaceTime and got to work. It was Martin's idea to pay homage to Town Danceboutique, and the song follows the story of pre-gaming, going out, and hitting the dance floor.
But the single also serves as a hype song for going out in any city, at any place.
"It was important to me for the song to remain relatable and accessible," Bowyn said. "So the whole foundation of the chorus, 'Let's go to town,' can either mean Town Danceboutique, or painting the town red and having the night of your life."
Bowyn started writing and producing his own music in 2018. He released an EP titled "A Rosy Retrospect" in 2022, and most recently released a single "A Bridge Burned Down" in June. His music is inspired by late 2000s pop and '80s synthpop, influenced by stars like Madonna and Charli XCX. Lexie Martin released her self-titled EP in 2019 and most recently came out with her single "SUPERPOWER" in 2021.
Bowyn has been a lifelong pop music enthusiast. He distinctly remembers watching Britney Spears perform "Oops!…I Did It Again" at the MTV Video Music Awards when he was a kid and thinking "That was what I wanted and what I was set to do in life."
"My heart was always with pop music," Bowyn said.
"Town" is available now for streaming on Spotify, Apple Music, and Soundcloud.
From Monáe to Madonna, fall will rock in D.C.
Local venues hosting array of queer artists in coming months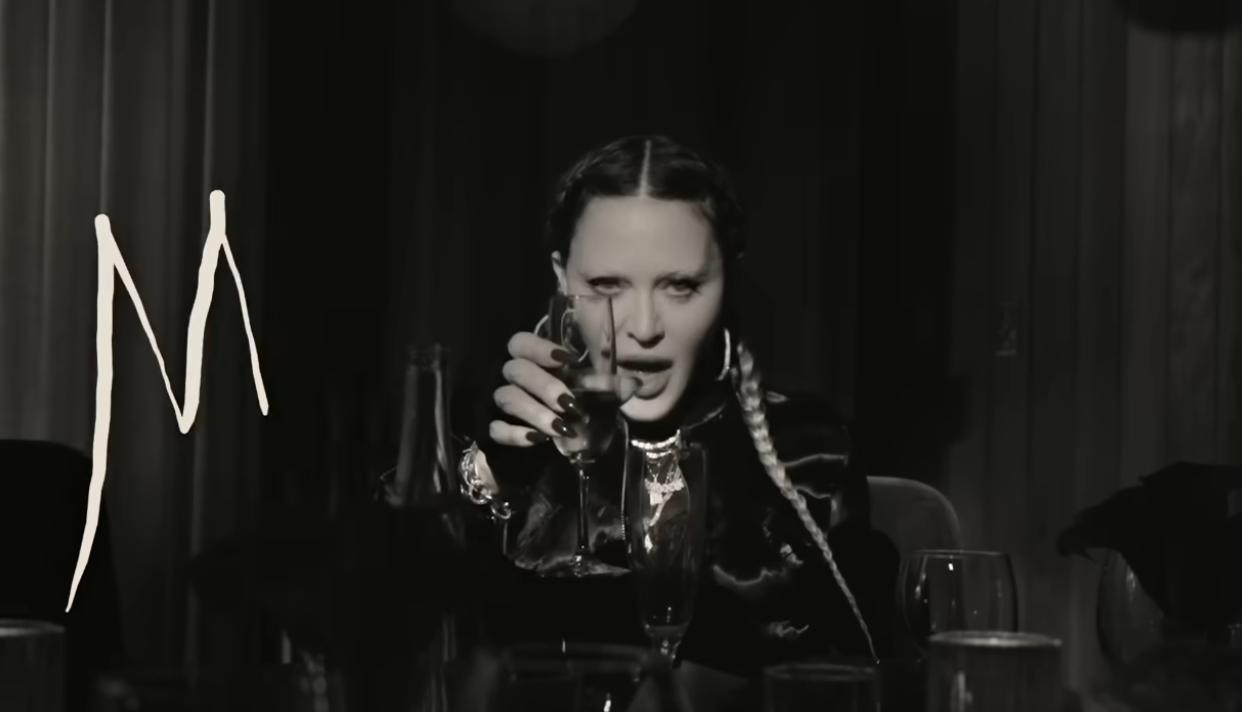 The D.C. area has many LGBTQ musical acts to look forward to this fall. Starting with pansexual and nonbinary actor and R&B singer Janelle Monáe, performing at the Anthem on Sept. 24-25 with ticket prices ranging from $135 to $301 on StubHub.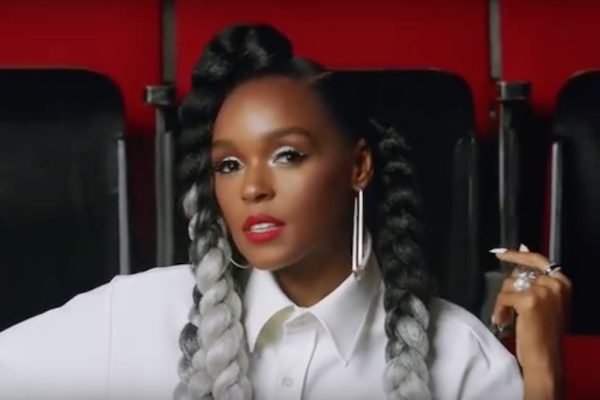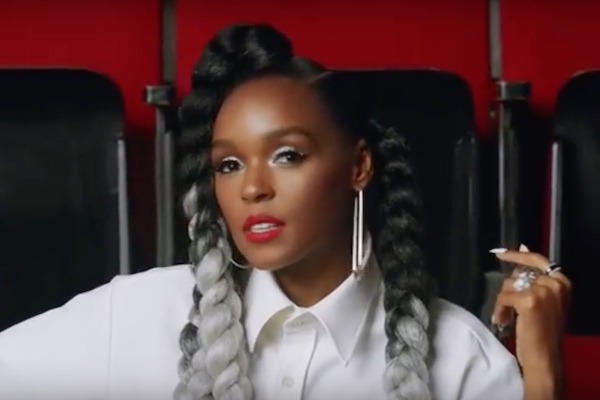 Singer Hozier's "Unreal Unearth Tour" is coming to the Anthem on Sept. 26-27. Tickets are available on StubHub starting at $324.
On Sept. 28 the CFG Bank Arena in Baltimore will see lesbian pop artist SZA's "SOS Tour" with tickets starting at $165 on Ticketmaster.
Queer indie pop singer Ashnikko is coming to the Anthem on Sept. 29 to perform their "Weedkiller Tour." Tickets available on StubHub range from $49 to $279.
Coming to Merriweather Post Pavilion in Columbia, Md., is the All Things Go Festival. Performing are lesbian singers Tegan and Sara, alt-pop singer Lana Del Rey, pop singer Carly Rae Jepson, and more. The festival will take place Sept. 30-Oct. 1 with two day passes starting at $397 on SeatGeek.
Rock band Queen will perform "The Rhapsody Tour" at the CFG Bank Arena along with Adam Lambert on Oct. 4-5. Tickets are starting at $181 on Ticketmaster.
Pop star and trans woman Kim Petras' "Feed the Beast World Tour" will reach the Anthem on Oct 12. Tickets range from $72 to $817 on StubHub.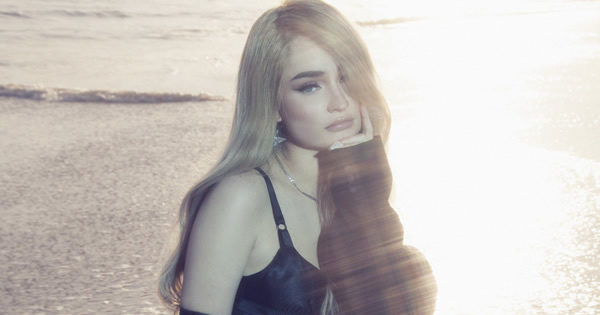 Queer pop singer Kesha is coming to the Anthem on Oct. 29 to support her new album, "Gag Order." Tickets go from $86 to $261 on Event Ticket Center.
Queer pop rapper Shygirl is co-headlining with bisexual singer Tinashe for the "Nymph" tour at the Anthem on Nov. 5. Tickets range from $45 to $145 on Ticketmaster.
Indie band Men I Trust is performing at Echostage on Nov. 15. Tickets are available on Ticketmaster for $30.
Nonbinary rapper Lil Uzi Vert's "PINK TAPE TOUR" will be at the Anthem on Nov. 21. Tickets start at $90 on StubHub.
Doja Cat's "The Scarlett Tour" will reach Capital One Arena on Nov. 27. Tickets start at $100 on Ticketmaster.
Madonna will bring her highly anticipated and delayed "The Celebration Tour" to the Capital One Arena Dec. 18 and 19. Tickets are available on Ticketmaster starting at $110.
Tom Goss to perform at Rehoboth Beach Bear Weekend
Out singer entertains at the Sands Hotel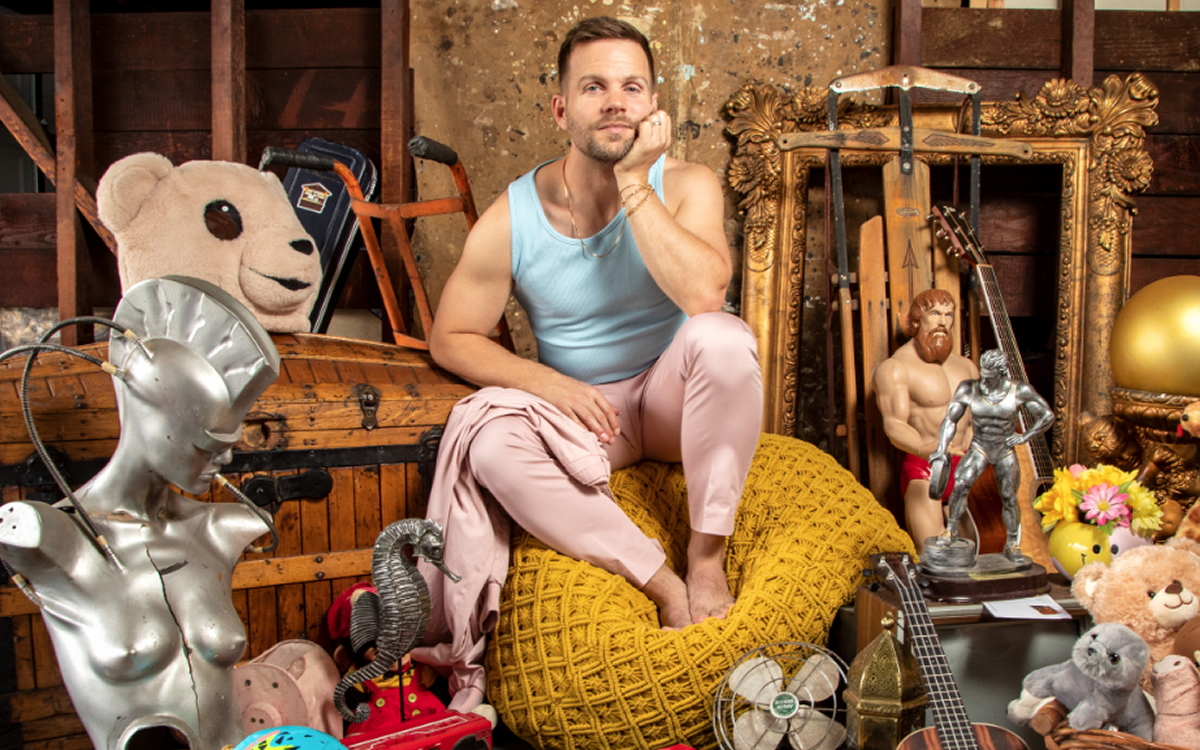 Out singer Tom Goss will perform at the Rehoboth Beach Bear Weekend on Saturday, Sept. 16 at 7 and 9 p.m. at the Sands Hotel.
He will sing his memorable songs like "Son of a Preacher Man" and "Bears," as well as tracks from his new album, "Remember What It Feels Like," where he sings about being a 42-year-old gay man still reeling from his husband's infidelity who was recently conned by a lover with a secret life now serving time in prison.
Tickets to Rehoboth Beach Bear Weekend start at $20 and can be purchased on Eventbrite.