Grenell emails reveal internal talk on Trump era policy against Pride flag
U.S. embassies barred from rainbow flag on official poles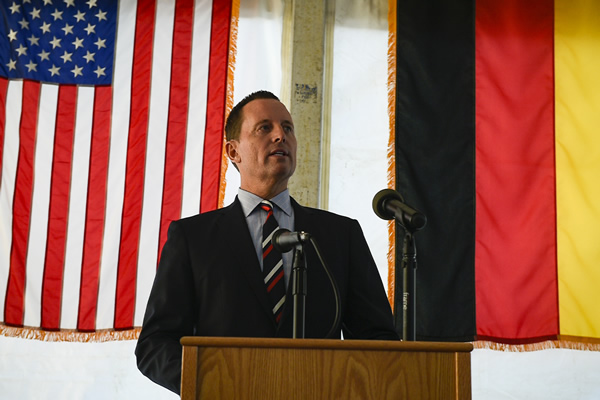 The latest emails from the State Department obtained by the Washington Blade via its lawsuit under the Freedom of Information Act reveal internal deliberation in the Trump administration over news reports about the prohibition of displaying Pride flags on the official pole at U.S. embassies.
Former U.S. Ambassador Richard Grenell, whose emails the Blade is seeking as the public face of a global initiative that pledged to decriminalize homosexuality, is repeatedly shown in the communications instructing his aides at the embassy in Berlin to give no comment to the media, including in response to an inquiry at the time from the Blade, on the flag policy for embassies.
"Thanks. Say nothing. I'm working it internally," Grenell responds in an email chain after being updated on the latest media inquiries, which included requests from ABC's Conor Finnegan, the Huffington Post, Buzzfeed, and CBS.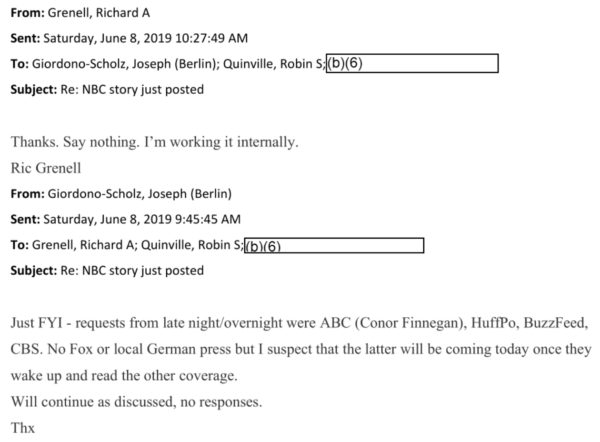 It's unclear what, if anything, Grenell was doing as part of "working it internally" as news broke that embassies were barred from flying Pride flags on the official pole, or even whether he was seeking a substantive change as opposed to crafting talking points to mitigate the appearance of the Trump administration being anti-LGBTQ.
"No Fox or local German press but I suspect that the latter will be coming today once they wake up and read other coverage," writes Joseph Giordono-Scholz, who was handling media relations for the embassy. "Will continue as discussed, no responses."
In 2019, shortly after Grenell announced he'd spearhead a global initiative to decriminalize homosexuality on behalf of the Trump administration, U.S. embassies that had sought to raise the rainbow flag in recognition of June as Pride month were barred from doing so under guidance from the State Department.
Critics at the time jumped on the policy as further evidence the Trump administration was anti-LGBTQ, despite having recently launched the decriminalization initiative. Trump defenders pointed out the prohibition was limited to the official pole, was a general ban of flying any flag other than the U.S. flag, and embassies found other ways to display the Pride flag on their grounds.
Grenell didn't respond Tuesday to the Blade's request for comment on the meaning of "working it internally," but Log Cabin Republicans, an organization close to Grenell, volunteered a message shortly after the Blade sent its inquiry to him.
Charles Moran, managing director of Log Cabin Republicans, said in the email the conception the Trump administration banned Pride flags at embassies is erroneous.
"We were very pleased that President Trump made it clear that pride flags could continue to be flown at embassies around the globe, despite logistical discussions internally being had at the State Department," Moran said.
Attached in the email is an image of Moran standing below a pole with both a U.S. flag and a rainbow flag, which Moran said was taken at the U.S. Embassy Berlin on July 26, 2019, when he was en route to a decriminalization discussion forum being hosted there.
Asked by the Blade whether that was the official pole, Moran replied, "I don't know what an 'official pole' is. It was a professionally installed flag pole, on the embassy next to the front door." Moran didn't respond to an additional follow up question on what he meant by Trump making it clear Pride flags would be allowed at embassies.
Morgan Ortagus, then-spokesperson for the State Department, defended former Secretary of State Mike Pompeo's policy against Pride flags on as she acknowledged "Pride Month that we're in right now celebrated around the world by many State Department employees, by many embassies."
"The secretary has the position that, as it related to the flag pole, that only the American flag should be flown there," Ortagus said.
The email chain within the U.S. embassy in Berlin on the news development began with Giordono-Scholz forwarding Grenell a link to a story from NBC News's Josh Lederman, who broke the story on U.S. embassies being unable to fly Pride flags, followed by a subsequent email with the text of his article. The immediacy with which the aide sends the link in an email first before the story itself in a subsequent message suggests a sense of urgency in distribution and awareness the article would be forthcoming.
Other news outlets were quick to follow up, including the Blade, as evidenced by Giordono-Scholz's follow up question to Grenell after sharing the initial NBC News story.
"CNN (Michelle Kosinski) just called, asked if we had anything to add," Giordono-Scholz writes. "Wash Blade also just emailed. How would like me to respond to these and coming inquiries — just point them to the NBC statement you gave and refer back to DC on questions about the Dept?"
Grenell was succinct in response: "Say nothing. Right now don't respond."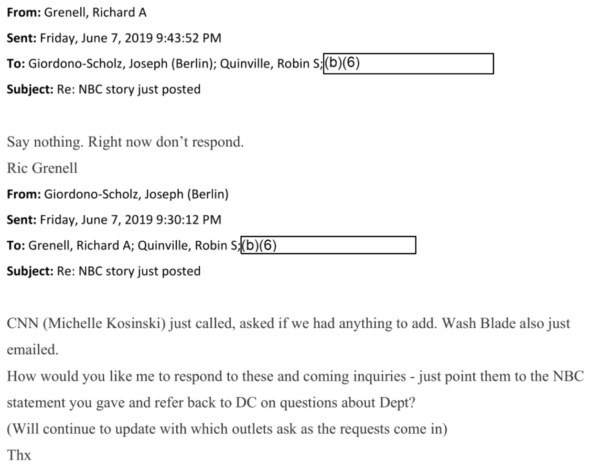 Giordono-Scholz acknowledges the instructions from Grenell in a subsequent email, which also notifies him of an inquiry from the Washington Post's Carol Morello.
"Will continue to let you know about inquires but not respond to any," Giordono-Scholz writes.
The emails were obtained in a FOIA production from the State Department this week as a result of a lawsuit filed by the Blade with attorneys at the law firm Davis Wright Tremaine LLP. The litigation was filed in August 2021 after interminable delays in production of communications, which the Blade initially sought by a FOIA request in September 2020.
The State Department has identified tens of thousands of emails potentially responsive to the Blade's request and is expected to release those it deems to be responsive periodically as a result of an agreement in the litigation.
Also ensnared in the latest email dump are communications on other foreign policy topics, including the Nord Strom 2 pipeline and Iran's seizure of oil tankers. Many of these emails reveal a preoccupation with using tweets as a tool to convey foreign policy messages with little else mentioned in terms of engagement.
"I'm watching. Already tweeted about it ;)" Grenell responds when an aide informs him that Iran has seized oil tankers.
Evyenia Sidereas, political minister-counselor at the U.S. embassy in Berlin, responds: "My twitter alerts can't keep up :)," which prompts Grenell to reply: "I've been a little busy today. Lol."
The emphasis on Twitter is also seen after an aide in May 2019 brings to Grenell's attention the Kenya high court has affirmed the country's law against homosexuality. An aide (whose name the State Department redacted in the email) informs him then-U.S. Ambassador Kyle McCarter is set to have a meeting with staff "to discuss whether he'll issue a statement" and the embassy in Nairobi had updated the State Department while awaiting further guidance.
"I'll tweet about this one, too," Grenell says. "Can you make a suggestion and I'll tweet Hungary today. Kenya tomorrow." (It's unclear what the reference to Hungary was regarding.)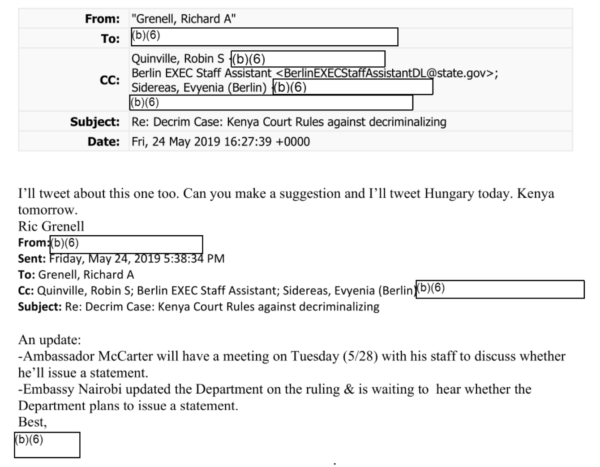 In terms of discussion at the U.S. embassy on the Kenya decision, whatever was considered apparently didn't bear fruit. The Blade couldn't immediately find any public statement on the Kenya decision from McCarter in his capacity as a U.S. ambassador during the Trump administration. McCarter didn't respond to the Blade's request to comment for this article.
In 2018, McCarter was grilled during his Senate confirmation hearing on his record as an Illinois state legislator who opposed LGBTQ rights, including his vote against an anti-bullying measure after stating he believed it would promote homosexuality. McCarter also had a history of misogynistic tweets and in 2016 tweeted: "Hillary for Prison. No, really."
Much of the focus on the Trump administration's global initiative appeared to be Iran, which has been an antagonist on the global stage and more so after Trump withdrew from the Iran deal. Iran is also one of the countries where homosexuality is not only criminalized, but punishable by death.
Although Grenell has publicly disputed Iran was the focus, he was quick to provide a quote to his assistant seeking a response from him after the country's foreign minister affirmed its anti-gay policy in response to questions from a reporter with a German newspaper.
"The UN's Declaration of Human Rights makes clear that these answers from the Iranian regime are violating basic UN principles," Grenell writes. "UN members should agree with the Declaration in order to be members. Criminalizing homosexuality violates the Declaration, plain and simple."
Grenell's response was later found online in an article in The Jerusalem Post, which covered reaction to the news in an article titled, "Iran's FM affirms right to execute gays and blasts U.S. and Israel."
California mom claims school manipulated child into changing gender identity
Jessica Konen gave the school permission to use the boy's name for attendance and tried to be supportive but noted it was difficult for her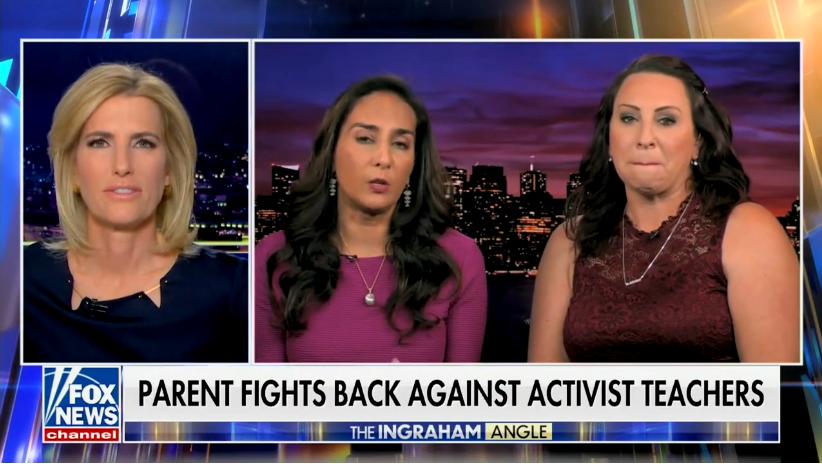 A Northern California mother is claiming teachers in a small school district in the state manipulated her daughter into changing her gender identity and name in a legal claim. 
The claim, filed by the ultra-conservative Center for American Liberty on behalf of the mother, alleged "extreme and outrageous conduct" by the Spreckels Union School District, leading Jessica Konen's 11-year-old daughter to change her gender identity and drive a wedge between them.
Specifically, the claim, a precursor to a lawsuit, names two teachers – Lori Caldera and Kelly Baraki – at Buena Vista Middle who, in addition to teaching, ran the school's Equality Club, later known as UBU (You Be You). Buena Vista is a part of the district.
It comes after Abigail Shrier, the author of a book widely criticized as anti-trans, quoted what the two educators said last year at the California Teachers Association's annual LGBTQ+ Issues Conference in a piece headlined "How Activist Teachers Recruit Kids." Caldera and Baraki spoke about the difficulty of running a Gay-Straight Alliance (GSA) in a socially conservative community.
After the article was published, the teachers were put on administrative leave, and the district hired a law firm to investigate, which is ongoing. The UBU club was suspended.
Spreckels is a town of about 400 people in the agricultural Salinas Valley, approximately 90 miles south of San Francisco.
According to the complaint, Konen's daughter began attending Equality Club meetings after being invited by a friend when she started sixth grade at Buena Vista. After attending one session, she decided it wasn't for her until Caldiera convinced her to come back. At the gatherings, Caldera and Baraki held LGBTQ-centered discussions and introduced students to different gender identities and sexualities.
During her time in the club, Konen's daughter began exploring her own gender identity and sexuality, choosing to wear more masuline clothes. At some point, she decided to change her name and pronouns, which she has since changed back to her original name and pronouns.
Konen said she was aware her daughter was bisexual but did not know she began using a male name and gender pronouns until she was called into the school when her daughter was in seventh grade. The meeting caught both Konen and her daughter by surprise – Konen's daughter had said she wanted to notify her mother, but she did not know the meeting was that day.
Konen gave the school permission to use the boy's name for attendance and tried to be supportive but noted it was difficult for her.
However, when Shrier's article was published and circulated around the small town, everything changed. At this time, Konen's daughter was again using a female name and pronouns.
In the leaked recording from the LGBTQ conference, Caldera and Baraki were discussing how they kept meetings private, among other things.
"When we were doing our virtual learning — we totally stalked what they were doing on Google, when they weren't doing school work," Baraki said. "One of them was googling 'Trans Day of Visibility.' And we're like, 'Check.' We're going to invite that kid when we get back on campus."
However, Caldera told the San Francisco Chronicle that the quotes were either taken out of context or misrepresented. According to Caldera, the stalking comment was a joke. She also defended their work, saying students lead the conversation and they provide honest and fair answers to their questions.
In addition, a spokesperson for the California Teachers Association criticized the group bringing the lawsuit forward, according to the Associated Press: "We are concerned about a political climate right now in which outside political forces fuel chaos and misinformation and seek to divide parents, educators and school communities for their own political gain, which is evident in this complaint. The Center for American Liberty is concerned with pushing its own political agenda through litigation and has filed multiple lawsuits against various school districts and communities."
Man who killed one in 2000 Roanoke gay bar shooting dies in prison
One of the worst bias attacks targeting LGBTQ community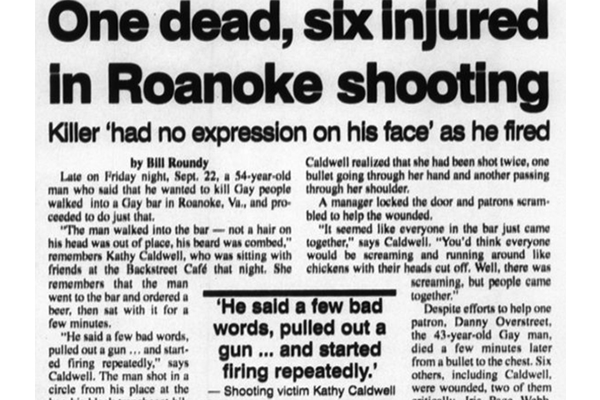 A man sentenced to four consecutive life terms in prison for the September 2000 shooting at a gay bar in Roanoke, Va., in which one man lost his life and six others were wounded, died of natural causes on Jan. 15, according to the Virginia Department of Corrections.
A spokesperson for the Department of Corrections told WSLA 10 TV News that Ronald Edward Gay died while being treated at a hospital near the Deerfield Correctional Center, a state prison where he had been living as an inmate. He was 75.
Witnesses and law enforcement officials reported at the time of the shooting that a middle-aged man later identified as Gay arrived alone at Roanoke's Backstreet Café, a popular gay bar, on the night of Sept. 22, 2000.
According to an account by an eyewitness to the incident who spoke last week with the Roanoke Times newspaper, after ordering a beer and standing next to the bar for a short time, Gay reached into the long trench coat he was wearing, pulled out a 9mm pistol, and fired a round "straight into the chest of 43-year-old Danny Overstreet, before opening fire on the rest of the bar."
Overstreet, a beloved regular patron at the Backstreet Café, died at the scene of the shooting. Six others, who were wounded by bullets fired by Gay, later recovered, but they and many others who were present and witnessed the shooting were left emotionally scarred, the Roanoke Times reported.
In the weeks following the shooting, news media outlets, including the Washington Blade and the Washington Post, reported findings of an investigation by local police that Gay told police he went to Backstreet specifically to target gay people because he became bitter after years of being taunted and teased for his last name of "Gay."
The Roanoke Times reported that, among other things, Gay told police "God told him to do it" and that he once wrote that there was an evil inside of him telling him "to shoot or have no rest."
Gay later pleaded guilty to multiple charges against him, including murder. On July 23, 2001, he was sentenced to four consecutive life sentences in prison for the shooting incident and the murder of Overstreet.
The Backstreet incident in Roanoke was considered by LGBTQ rights advocates and others to be one of the worst incidents in which LGBTQ people were targeted for a shooting until the June 2016 shooting at the Pulse gay nightclub in Orlando, Fla., in which 49 people died and 53 more were wounded in a mass shooting by 29-year-old Omar Mateen.
Mateen, who was shot and killed by Orlando police after a three-hour standoff, told police in a phone call from inside the nightclub after the shooting began that he swore allegiance to the leader of the Islamic State in Iraq and Syria and his attack against the gay nightclub was motivated by the U.S. military intervention in Iraq and Syria. The FBI later classified the incident as a terrorist attack.
The Roanoke Times reported that the shooting incident at Backstreet Café prompted LGBTQ residents and allies to gather in the days and weeks after the incident for vigils and marches. About 1,000 people walked through the streets of downtown Roanoke to honor the life of Overstreet and to urge Congress to pass federal hate crimes legislation, the newspaper reported.
South Korean electronics giant pulls pro-LGBTQ ad after backlash
Singapore campaign showed mother supporting drag queen son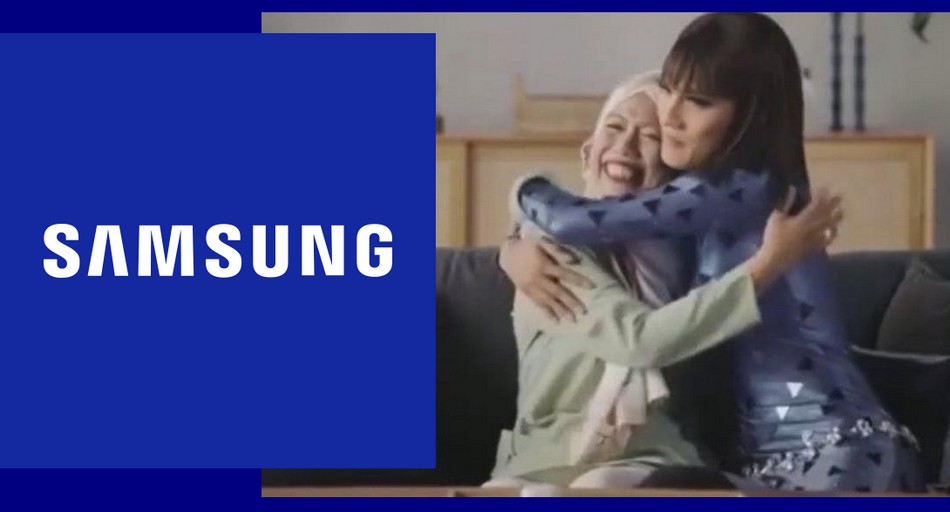 An advert campaign by South Korean electronics giant Samsung was yanked after significant backlash in Singapore from some members of its Muslim-majority community.
The ad, part of the company's "Listen to Your Heart" campaign to promote its Galaxy Buds2 and Watch4, featured a Muslim mother expressing support for her drag queen son.
The ad was meant to promote Samsung's new wearable products, like noise-cancelling earbuds and a smart watch with a heart rate monitor, the BBC reported.
The video featured several participants' reactions as they listened to heartfelt recorded messages from their loved ones. One of the pairs of participants featured a Muslim woman wearing a headscarf as she heard a message from her son, who was a drag performer.
"You are just unbothered having people looking or judging you differently, having a son that does drag," he tells her in his message.
The scene of the Muslim mother embracing her drag queen son sparked a torrent of negative commentary on virtually all social media platforms with some ad hominem remarks directed at Samsung which caused the electronics company to pull the ad.
In a Facebook post Samsung wrote;
"We acknowledge that we have fallen short in this instance, and have since removed the content from all public platforms," Samsung said. "Samsung believes that innovation and growth are driven by diversity and inclusivity. We will certainly be more mindful and thorough in considering all perspectives and viewpoints for our future marketing campaigns."
Members of the local LGBTQ community similarly expressed their disappointment at the ad being taken down.
"It was the first of its kind video coming from a minority group on a relationship between mother and son [and] was so affirming," Hilmi, a center manager at local LGBTQ organization Oogachaga, told BBC News.
"As a queer Malay man, I am saddened to see a video that expresses unconditional love [being] taken down abruptly due to societal pressure from a group of people with conservative values."
Marketing Interactive, an online Singapore-based daily news and email news service which is emailed every work day to advertising and marketing professionals in Singapore, Hong Kong, and Malaysia, interviewed Anand Vathiyar, managing director at Cheil Singapore, the ad agency Samsung partnered with.
The campaign was meant for people from all walks of life to be able to express their true feelings to their loved ones, Vathiyar said.
"What is heartening is that for everyone who is getting politically correct about this episode, there are many others, especially younger Singaporeans, who seem to get that we can do better to listen to each other with due care, empathy, respect, and consideration," Vathiyar added.
Meanwhile, in a video posted on Instagram on Jan. 20, the BBC noted that the son featured in the video also reassured followers that he and his mother were "doing well."
"I'm not going to talk about the comments that [were] said in [that video]," the drag performer known as Vyla Virus said.
"It was all about a mother's love in that video, nothing else was mentioned."