Biden puts his weight on changing Senate rules to pass voting rights
President says changes need to 'protect our democracy'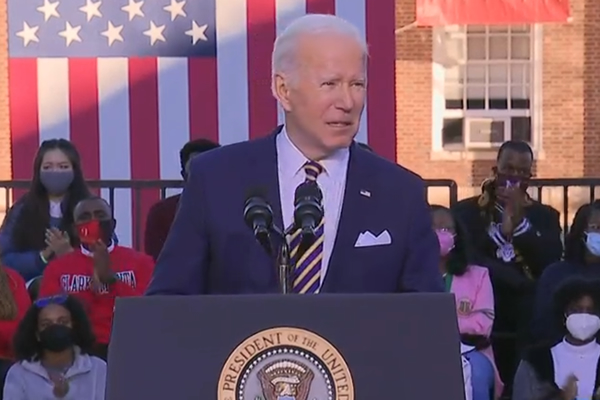 President Biden, after paying tribute to civil rights pioneer Dr. Martin Luther King Jr. by leaving a wreath on his grave, brought the strength of his presidency to bear in a speech Tuesday in an effort to reform U.S. Senate rules to enact voting rights legislation.
"I'm making it clear, to protect our democracy, I support changing Senate rules whichever way they need to changed to prevent a minority of senators from blocking basic voting rights," Biden said.
Biden has indicated before he supports changes to longstanding rules the Senate requiring 60 votes to end a filibuster and proceed with debate on legislation, but the speech marks an elevation of viewpoint in a more formal way and increases the pressure on fellow Democrats like Joe Manchin (W.Va.) and Kyrsten Sinema (Ariz.), who oppose such a change.
Based on his words, Biden's position on filibuster reform appears limited to voting rights legislation, which like so much other legislation has passed in the House and has stalled out in the Senate. The Washington Blade has placed a request in with the White House seeking comment on why, if Biden supports changing the filibuster for voting rights, why hasn't he made the case for other issues, such as police reform or LGBTQ civil rights.
A major reason cited by Biden to bring the force of his presidency down on this issue: The attack on U.S. Capitol on Jan. 6, 2021 instigated by President Trump, who falsely claimed he won the 2020 election against Biden.
Biden conjured images of the long road in the civil rights journey in the United States and a "violet riot" at the Capitol that Biden said undermined the process.
The recently enacted voter law in Georgia, which makes mail-in voting illegal, limits hours and locations for ballot drop boxes and bars the delivery of food and water to persons waiting in line to vote, was another major focus for Biden, who pointed out Republican lawmakers in Georgia put it in place after he won the state in 2020 and Trump pressured officials there to find more votes for him.
As a result, Biden said the "threat to democracy is so grave" he supports changes to the filibuster, which came about in use in the Senate from senators seeking to block civili rights legislation.
"If that bare minimum is blocked, we have no choice but change the Senate rules, including getting rid of the filibuster for this," Biden said.
Biden identified two bills in his speech: the John Lewis Voting Rights Act, which seeks to rectify a U.S. Supreme Court decision undermining the Voting Rights Act and the Freedom of the Vote Act, which would dramatically reform voting process, including the expansion of voting by mail and early voting.
Joining Biden in Atlanta in favor of changing rules to advance voting rights was Vice President Kamala Harris, who said "nowhere — nowhere — does the Constitution give a minority the right to unilaterally block legislation."
"Over the past few years, we have seen so many anti-voter laws, that there is a danger of becoming accustomed to these laws, a danger of adjusting to these laws as though they are normal, a danger of becoming complacent, complicit," Harris said. "Anti-voter laws are not new in our nation, but we must not be deceived into thinking they are normal."
Va. students stage mass walkout over anti-LGBTQ policies
Activists from more than 90 schools across state held rallies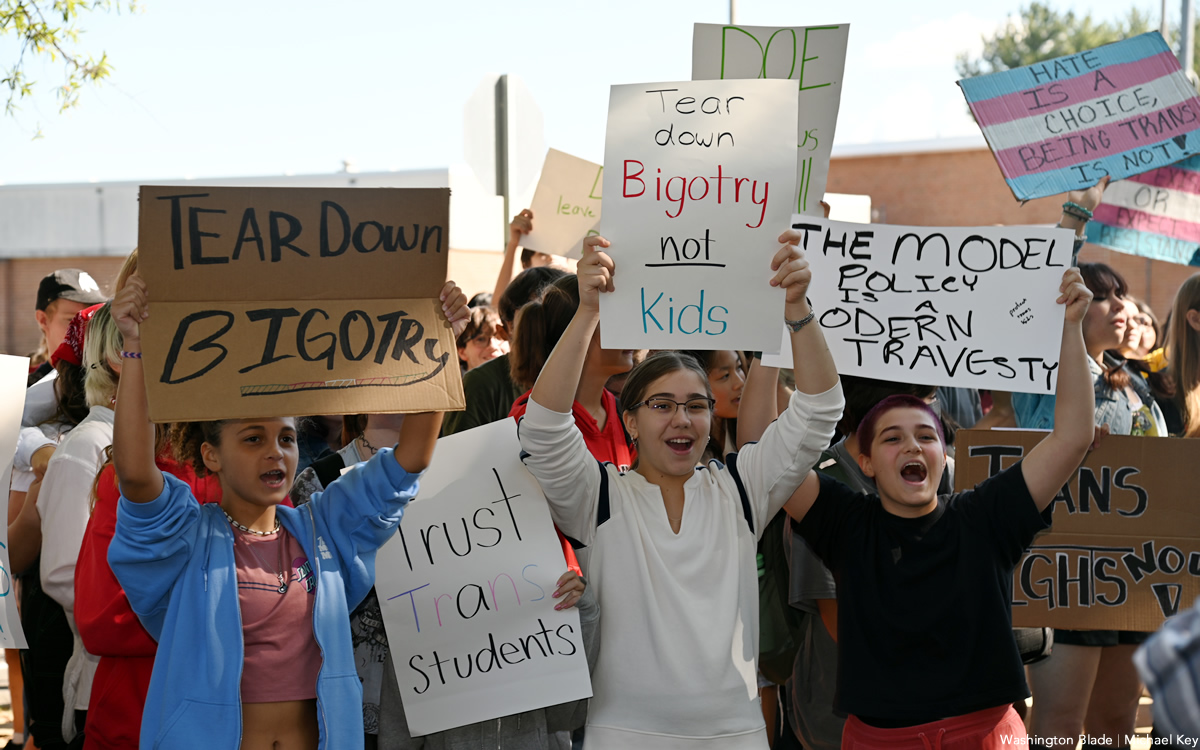 Thousands of students in schools across Virginia participated in walkouts and rallies on Tuesday to oppose the revised "model policies" on transgender students released by the Virginia Department of Education.
VDOE policy revisions were released on Sept. 16 and differ substantially from the policies passed into law in 2020.
The original policies on the treatment of trans students were intended to protect LGBTQ students; but the revised "model policies" have been criticized by activists, educators and legislators for mandating students use school facilities for the sex they were assigned at birth and bars students from changing their names and pronouns without parental permission. Further, the policies direct teachers and staff not to conceal a student's gender identity from parents, even when a student asks to keep that information private.
The student-led Virginia-based Pride Liberation Project responded to these policy changes by organizing mass walkouts and rallies in more than 90 schools from Alexandria to Williamsburg.
"These proposed guidelines are essentially taking that cornerstone and using it to undermine our rights. If these guidelines are implemented, it will be the single biggest loss for queer rights in Virginia in years," Natasha Sanghvi, a student organizer with the Pride Liberation Project, said in a statement.
Openly gay Virginia state Sen. Adam Ebbin (D-Alexandria) in a statement said "these new model policies, which are in flagrant violation of Virginia law, will do serious harm to transgender students. They are not based in science or compassion and will lead to students being outed before they are ready, increased bullying and harassment of marginalized youth, and will require students to jump through legal hoops just to be referred to with their proper name."
Ebbin joined several hundred students at West Potomac High School in Alexandria in a rally opposing the model policies proposed by Republican Gov. Glenn Youngkin.
"The new policy drafts are only going to do more harm to trans students who are already at risk for being outed, harassed and harmed," Jules Lombardi, a Fairfax County high school senior, told the Washington Blade. "These drafts will take schools, which are supposed to be safe environments for students, and make them spaces where students have to hide themselves for fear of their parents finding out about their identities."
"This isn't a matter of 'parental rights,' it's a matter of human rights and we deserve to be treated with the same respect as cis students," Lombardi added.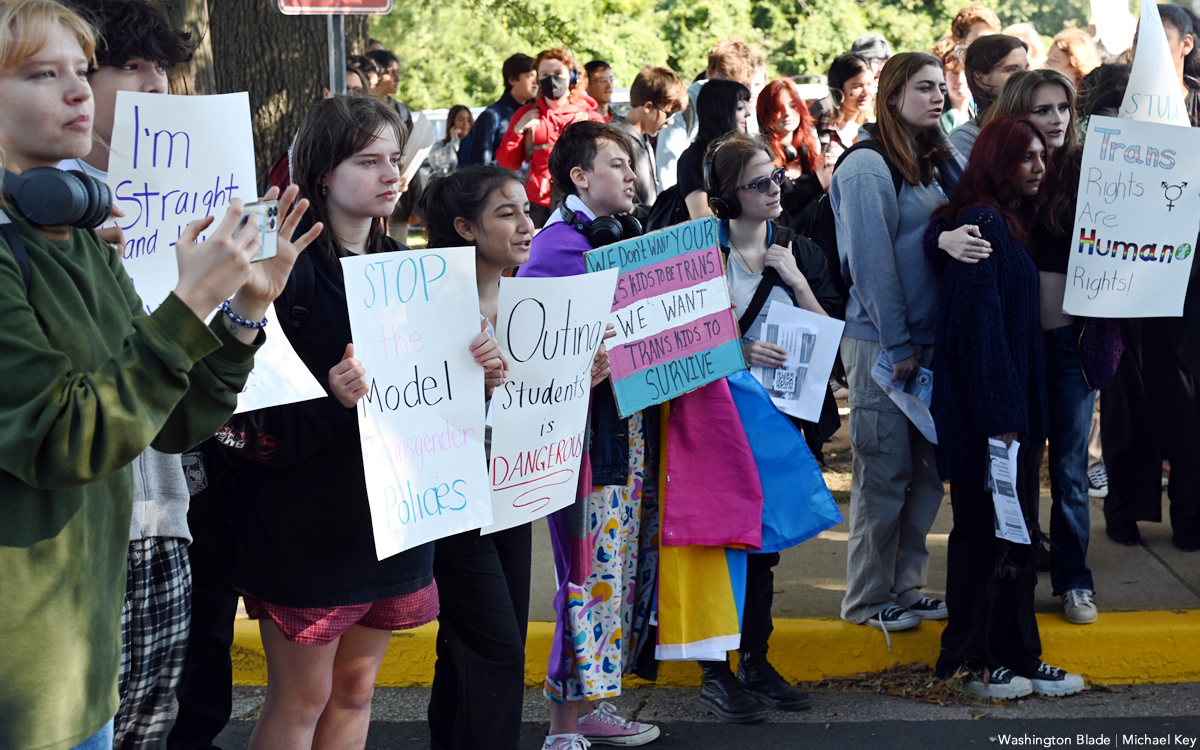 Andrea-Grace Mukuna, a senior at John R. Lewis High School in Springfield, told the Blade that "gender affirmation matters. Something so easily given to cisgender people is a right that our trans and gender non conforming youth deserve. I am walking out because schools will no longer be a safe place for queer students to be in if these policies get passed."
"Requirements for teachers to refer to students by their birth name and pronouns aligning with their sex, rather than trusting our students to know themselves and who they are best, reinforces the idea that we as students have no power, no control and no knowledge over anything in our lives. Gender queer youth exist, and no policy can change that," Mukuna said.
Mukuna continued, "making an attempt at denying them their ability to be who they are is a malicious attack on vulnerable students that could cause deathly harm."
"I walk out for my queer community — there is no erasing us," Mukuna said.
Several hundred students walked out of McLean High School. The walkout was lead by members of the school's GSA and organizers from the Pride Liberation Project including McLean High School senior Casey Calabia.
Calibia asked the crowd, "Do we want Gov. Youngkin to understand that this is not what Virginia looks like?"
The crowd roared, "yes!"
"Virginia stands for trans kids. Trans and queer people are a fact of humanity. We will be accepted one way or another and to see everybody here today is another step toward that change," said Calibia through a bull horn.
Calibia told the Blade in a pre-walkout statement said "to call these policies in favor of respecting trans students' rights and privacy is to call an apple an orange. The 2022 Transgender Model policies, even as a draft, have begun to actively hurt my community's mental health."
"Instead of focusing on academics and our future, we have to sit in class and wonder if we will be safe in school," Calibia concluded. "To not only take away the 2021 policies, a cornerstone in LGBTQIA+ rights for Virginia, but to mock them with these replacements, is a devastating blow to myself, trans students, queer students, and the whole of Virginia's public school student body. How can we be safe, if we can be taken out of school-provided counseling, maliciously misgendered, and denied opportunities given to other students simply because of our gender? Accepting queer students in class does not indoctrinate or brainwash kids. It tells queer students like me that it is okay and safe to be ourselves in school."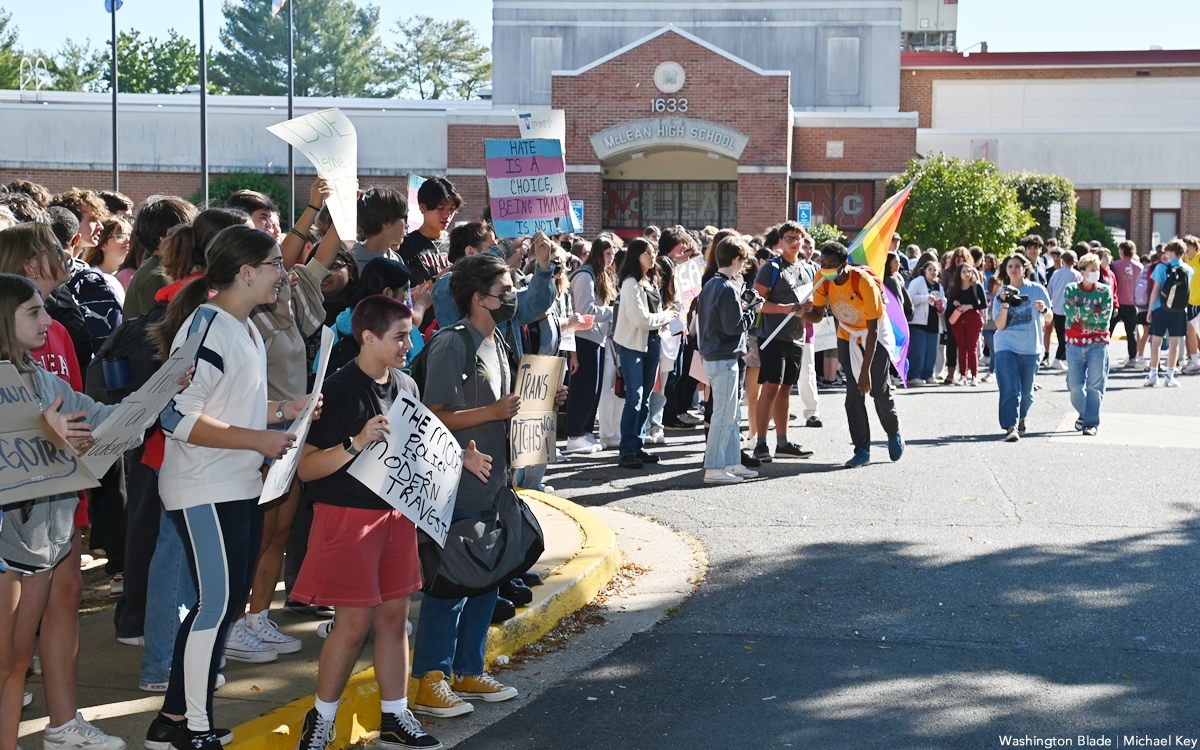 The student protests in Virginia have made national news.
"This is a president who supports the LGBTQI+ community and has been supporting that community for some time now as a vice president, as senator, and certainly as president now," said White House Press Secretary Karine Jean-Pierre in response to a question about the protests during her daily press briefing. "And he . . . always is proud to speak out against the mistreatment of that community … We believe and he believes transgender youth should be allowed to be able to go to school freely, to be able to express themselves freely, to be able to have the protections that they need to be who they are."
"When it comes to this community, he is a partner, and he is a strong ally, as well as the vice president," Jean-Pierre stated.
Walkouts and rallies were held at middle and high schools in Arlington, Bedford, Buchanan, Chesterfield, Culpeper, Fairfax, Fauquier, Frederick, Henrico, James City, Loudoun, Louisa, Montgomery, Powhatan, Prince George's, Prince William, Spotsylvania, Stafford, Warren and York Counties as well as in the cities of Alexandria, Chesapeake, Newport News, Portsmouth, Richmond, Williamsburg and Winchester.
"Every parent wants Virginia's laws to ensure children's safety, freedom, and to encourage a vibrant and engaging learning experience. But the Virginia Department of Education is rejecting those shared values by advancing policies that will target LGBTQ kids for harassment and mistreatment simply because of who they are," said Ebbin.
Members of Congress call for gender-neutral travel documents
Letter sent to the State Department, DHS on Tuesday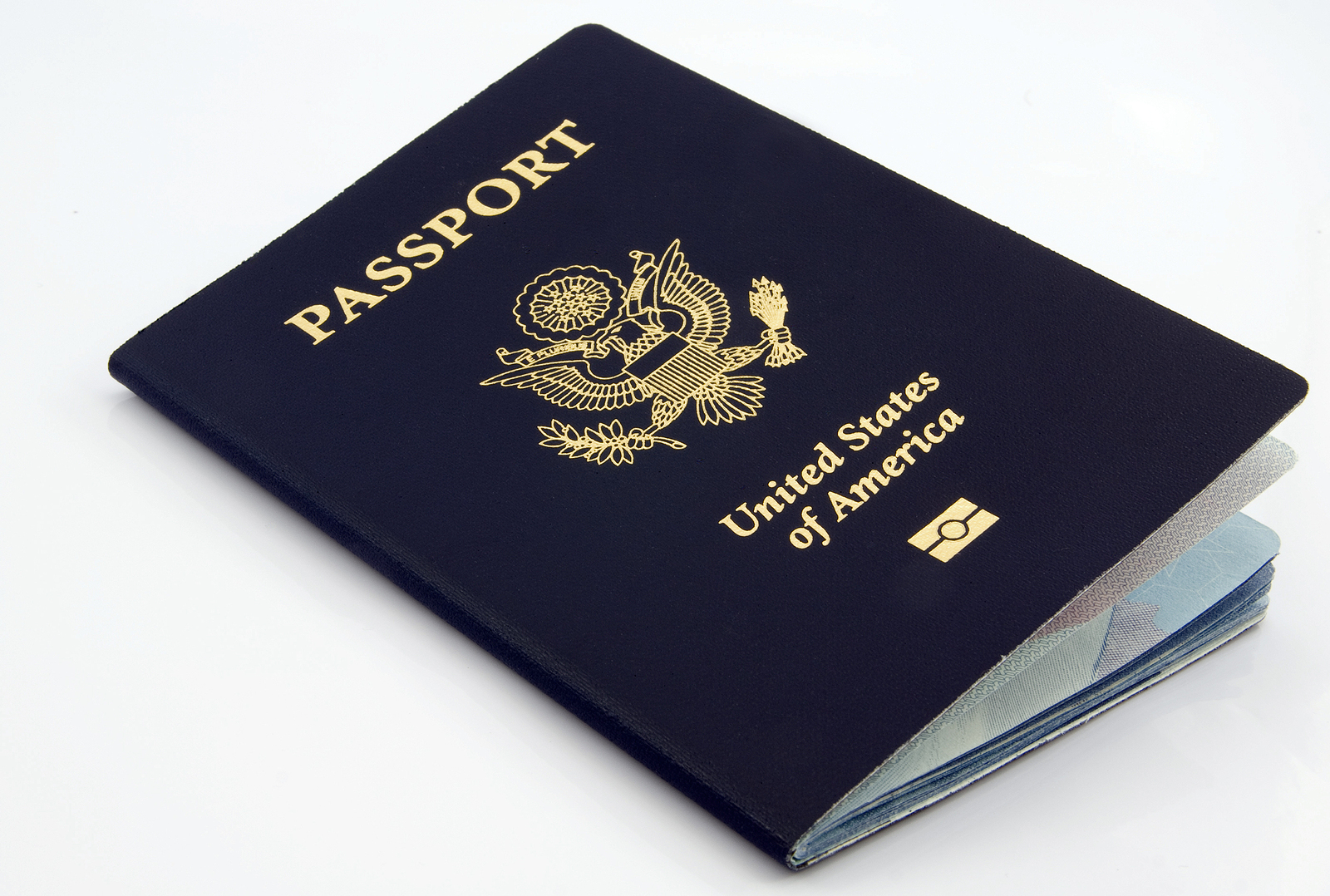 California Congressman Adam Schiff and 18 other House Democrats on Tuesday sent a letter to the State Department and the Department of Homeland Security that encourages them to make the "X" gender marker available for all U.S. passport applications and Trusted Travelers programs.
A spokesperson for Schiff told the Washington Blade in an email:
"The letter was inspired by a constituent who reached out to our office trying to get an emergency passport appointment with an 'X' gender marker — right now you can only get rush passport service with the 'X' gender marker at one passport agency in D.C., so if they had gone through the L.A. passport agency, they only would have been able to get a passport with the M or F gender marker. Our office was able to resolve the case successfully, but it inspired our team to figure out a legislative solution that will help LGBTQI+ individuals access these services in the future."
Secretary of State Antony Blinken in March 2021 announced passports with an "X" gender marker will be available starting April 11.
Dana Zzyym, an intersex U.S. Navy veteran who identifies as non-binary, in 2015 filed a federal lawsuit against the State Department after it denied their application for a passport with an "X" gender marker. Zzyym last October received the first gender-neutral American passport.
In Tuesday's letter, the House members noted that while State Department and the Department of Homeland Security made history by expanding the gender marker options available for U.S. passports and TSA PreCheck applications, creating a new "X" marker for individuals who identify as unspecified or another gender identity.
"The departments have yet to implement the 'X' gender marker for their wide range of passport services and application forms, including the rush, non-routine, and Trusted Traveler programs such as Global Entry that are currently accessible to other travelers."
The letter also highlights: "As long as the Department of State fails to provide non-routine services to individuals seeking an 'X' as their gender marker, non-binary applicants will continue to face an undue and unjust burden when pursuing international travel. The State Department's current timeline to provide these services by late 2023, with no clear date released to the public, would deny these travelers equal access for far too long. Moreover, the Department of Homeland Security's current policy limitations simply force non-binary travelers to choose a gender that does not reflect their gender identity."
The members and concerned LGBTQ and intersex advocacy groups who endorsed the letter are asking the State Department and the Department of Homeland Security to ensure.
Solidified and accelerated implementation of the "X" gender marker option for passport cards, emergency passports printed at embassies and consulates, Consular Reports of Birth Abroad (CRBAs) and on Trusted Traveler Programs forms
A public date by which the "X" gender marker will be available for applicants for all passport services and application forms
Schiff was joined by U.S. Reps. Pramila Jayapal (D-Wash.), Ayanna Pressley (D-Mass.) Eleanor Holmes Norton (D-D.C.), Earl Blumenauer (D-Ore.), Jim McGovern (D-Mass.), Janice Schakowsky (D-Ill.), Raúl Grijalva (D-Ariz.), Mike Quigley (D-Ill.), Suzanne Bonamici (D-Ore.), Donald Payne Jr. (D-N.J.), Dina Titus (D-Nev.), Mark Pocan (D-Wis.), Bonnie Watson Coleman (D-N.J.), Dwight Evans (D-Pa.), Lisa Blunt Rochester (D-Del.), Dean Phillips (D-Minn.), Katie Porter (D-Calif.) and Rashida Tlaib (D-Mich.).
Schiff's office also noted that this request was endorsed by COLAGE, Equality California, Equality Federation, Family Equality, GLBTQ Legal Advocates and Defenders, Human Rights Campaign, Los Angeles LGBTQ Center, National Center for Transgender Equality and the Trevor Project.
Additional reporting by Michael K. Lavers
ANALYSIS: Secretive Arthur Finkelstein, secret no more
Gay GOP consultant pioneered slash-and-burn campaign tactics of '80s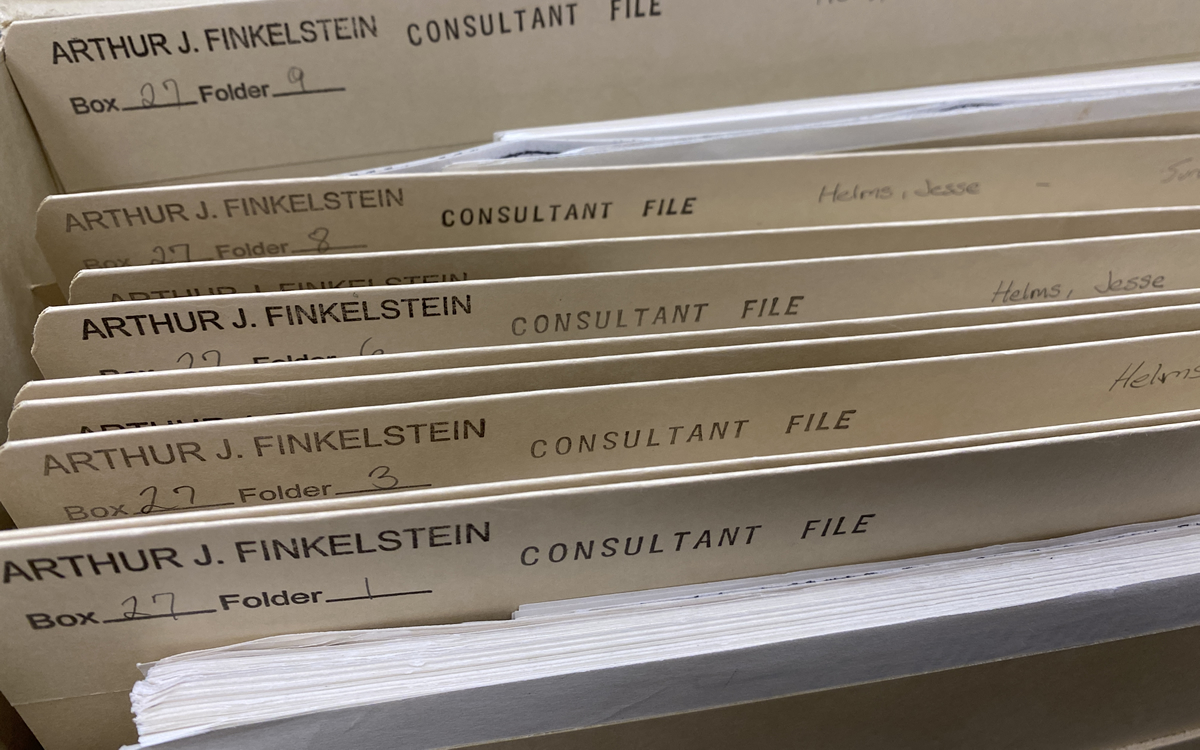 As Archive Activists, we eagerly awaited this year's opening of Republican campaign consultant Arthur J. Finkelstein's papers at the Library of Congress. Donated by Finkelstein's husband, evidently to cement the man's political legacy, the Finkelstein papers are loaded with the ideas and words of his candidates who attacked homosexuals to court the voters who fear them. Finkelstein pioneered the slash-and-burn campaigns of the 1980s, working for clients including Sens. Jesse Helms (N.C.), Bob Smith (N.H.), Don Nickles (Okla.), and Lauch Faircloth (N.C.) — senators who formed the core opposition to gay and lesbian-related legislation in the day. We recall when Sen. Nickles, in 1998 the Senate's second-ranking Republican, declared Ambassador James Hormel unqualified to be named an ambassador because anyone who promotes "immoral behavior" should not represent the U.S.
Political commentary on Arthur Finkelstein is most always "de-gayed," his homosexuality a footnote. When I ask people how Finkelstein could live with such dissonance — being gay with a husband, raising children and working for Helms, Smith, Nickles and Faircloth — one response rang most true: "Did you ever see his palatial estate?" It was not all about "compartmentalization" or "self-loathing," just greed is good for Citizen Finkelstein?
"Arthur J. Finkelstein, Advising Leaders Around the World," one flier proclaims. "It is said that no American political consultant has been involved in as many successful Senate races as AJF," the promotional piece says about this secretive man who lived in a Tudor mansion at the end of a quarter-mile drive through a horse farm. "In the fall, visitors park their Bentleys and Rollses in the pasture. Dressed like plump extras in a Merchant-Ivory film gone wrong, they're here for the annual fox hunt," wrote Stephen Rodrick in a lacerating Boston Magazine profile that famously outed Finkelstein in 1996. "In the amoral world of big league politics … Finkelstein has worked for the chief gay-bashers on Capitol Hill while raising two children with his male live-in partner," says the magazine's press release. His archive, organized into 139 boxes, covers it all.
Through the anger of scrawled notes never released, Finkelstein expresses outrage at having to publicly reconcile his politics with his life. "This (Boston Magazine article) is a political hatchet job. It's about destroying me politically. They are not after me for being gay," he writes. "That we are gay is obvious — but they use it as a weapon meant to unleash the prejudices and hatreds that can bring me down … my strongest personal values are Liberterian [sic]." Jesse Helms, Don Nickles libertarians? He rails against the same "prejudices and hatreds" he helped his candidates unleash in scores of elections.
You can see in the archive his confusion at being confronted on the subject of "who really is this reclusive Arthur Finkelstein?" There are the handwritten scratch-outs on legal pads: "I NEVER CHOSE TO BE A PUBLIC PERSON. I BELIEVED, AND STILL DO, THAT I HAVE A RIGHT TO MY PRIVATE LIFE." Scratched out, "I am a libertarian conservative….I have never seen Eye-to-Eye with my candidate on all the issues!" He wrote, then scribbled over, "I thought, at least I hoped, we were past the point of persecuting people for their lifestyle." Did Finkelstein see eye-to-eye with client Jesse Helms' direct mail? "Do you resent—as I do—the corrupting of the word "gay"? These people are NOT "gays"— they are HOMOSEXUALS. Will you help me counter these latest attacks coming from the homosexuals," Helms asks.
In the archive is a memo to Finkelstein from Tom Ellis, described as the "architect of Senator Helms' rise to political power." "People vote on fears. The AIDS [sic] offers a fear … Can we show that the Haitians who are in the group that has AIDS were part of the mixture of people that now come into the United States from Cuba? I feel like I have seen some statistics that Castro shipped in a large number of homosexuals." People vote their fears.
In another note, Finkelstein vents, "I am a Milton Friedman Republican who believes in Lassize [sic]-faire government and not every gay person must be a Democrat or PERISH." Milton Friedman's bestseller "Free to Choose" was not about fears, but choice. To be fair, the archive documents reveal Finkelstein's close working relationship with New York Sen. Alfonse D'Amato who was "one of the strongest Republican voice (sic) of gays in the Military," he writes in his own defense.
Finkelstein never "perished." He went into international consulting for clients including Hungarian Prime Minister Viktor Orban and his party Fidesz that viciously targets LGBTQ citizens. Working with Orban for five years, Finkelstein also helped invent the now infamous anti-Semitic "enemy of the people" George Soros. Speaking this year in Dallas to the Conservative Political Action Coalition (CPAC), Orban attacked Soros ("The globalists can all go to hell!") and threatened LGBTQ citizens worldwide, "Leave our children alone," he yelled. From Helms to Orban, this is the Finkelstein legacy.
The influence remains. There is this birthday note in 2000 to Roger Stone, then a Trump lobbyist: "Dear Roger, Have a happy next 1,000 years, and may Donald Trump be President for 900 of them. Best, Arthur J. Finkelstein."
The author is president of the Mattachine Society of Washington, D.C.