Biden puts his weight on changing Senate rules to pass voting rights
President says changes need to 'protect our democracy'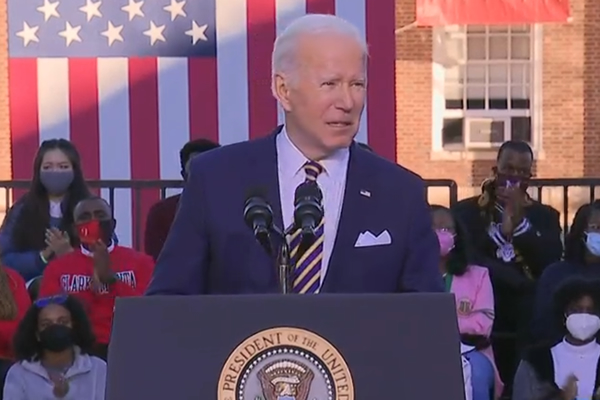 President Biden, after paying tribute to civil rights pioneer Dr. Martin Luther King Jr. by leaving a wreath on his grave, brought the strength of his presidency to bear in a speech Tuesday in an effort to reform U.S. Senate rules to enact voting rights legislation.
"I'm making it clear, to protect our democracy, I support changing Senate rules whichever way they need to changed to prevent a minority of senators from blocking basic voting rights," Biden said.
Biden has indicated before he supports changes to longstanding rules the Senate requiring 60 votes to end a filibuster and proceed with debate on legislation, but the speech marks an elevation of viewpoint in a more formal way and increases the pressure on fellow Democrats like Joe Manchin (W.Va.) and Kyrsten Sinema (Ariz.), who oppose such a change.
Based on his words, Biden's position on filibuster reform appears limited to voting rights legislation, which like so much other legislation has passed in the House and has stalled out in the Senate. The Washington Blade has placed a request in with the White House seeking comment on why, if Biden supports changing the filibuster for voting rights, why hasn't he made the case for other issues, such as police reform or LGBTQ civil rights.
A major reason cited by Biden to bring the force of his presidency down on this issue: The attack on U.S. Capitol on Jan. 6, 2021 instigated by President Trump, who falsely claimed he won the 2020 election against Biden.
Biden conjured images of the long road in the civil rights journey in the United States and a "violet riot" at the Capitol that Biden said undermined the process.
The recently enacted voter law in Georgia, which makes mail-in voting illegal, limits hours and locations for ballot drop boxes and bars the delivery of food and water to persons waiting in line to vote, was another major focus for Biden, who pointed out Republican lawmakers in Georgia put it in place after he won the state in 2020 and Trump pressured officials there to find more votes for him.
As a result, Biden said the "threat to democracy is so grave" he supports changes to the filibuster, which came about in use in the Senate from senators seeking to block civili rights legislation.
"If that bare minimum is blocked, we have no choice but change the Senate rules, including getting rid of the filibuster for this," Biden said.
Biden identified two bills in his speech: the John Lewis Voting Rights Act, which seeks to rectify a U.S. Supreme Court decision undermining the Voting Rights Act and the Freedom of the Vote Act, which would dramatically reform voting process, including the expansion of voting by mail and early voting.
Joining Biden in Atlanta in favor of changing rules to advance voting rights was Vice President Kamala Harris, who said "nowhere — nowhere — does the Constitution give a minority the right to unilaterally block legislation."
"Over the past few years, we have seen so many anti-voter laws, that there is a danger of becoming accustomed to these laws, a danger of adjusting to these laws as though they are normal, a danger of becoming complacent, complicit," Harris said. "Anti-voter laws are not new in our nation, but we must not be deceived into thinking they are normal."
Va. senator introduces anti-transgender student athlete bill
Democrats have vowed to thwart anti-LGBTQ measures in state Senate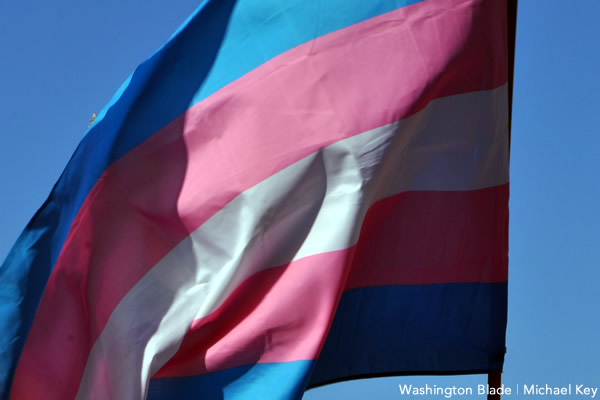 A Virginia lawmaker has introduced a bill that would ban transgender students from joining school sports teams that are consistent with their gender identity.
Senate Bill 766, which state Sen. Jennifer Kiggans (R-Virginia Beach) introduced on Friday, would require "each elementary or secondary school or a private school that competes in sponsored athletic events against such public schools to designate athletic teams, whether a school athletic team or an intramural team sponsored by such school, based on biological sex as follows: (i) 'males,' 'men,' or 'boys'; (ii) 'females,' 'women,' or 'girls'; or (iii) 'coed' or 'mixed.'"
"Under the bill, male students are not permitted to participate on any school athletic team or squad designated for 'females,' 'women,' or 'girls'; however, this provision does not apply to physical education classes at schools," adds the bill. "The bill provides civil penalties for students and schools that suffer harm as a result of a violation of the bill. Such civil actions are required to be initiated within two years after the harm occurred."
Kiggans introduced her bill less than a week after Republican Gov. Glenn Youngkin took office.
Youngkin during his campaign said he does not support allowing trans children to play on sports teams that are consistent with their gender identity. Elizabeth Schultz, an anti-LGBTQ former member of the Fairfax County School Board, has been named the Virginia Department of Education's Assistant Superintendent of Public Instruction.
The General Assembly's 2022 legislative session began on Jan. 12 with Republicans in control of the state House of Delegates. Democrats still control the state Senate, and they have pledged to thwart any anti-LGBTQ bills.
"Let's be clear: This is part of an ongoing, nationwide effort to exclude trans people from enjoying the benefits of sports like their cisgender peers," tweeted the American Civil Liberties Union of Virginia on Friday after Kiggans introduced SB 766. "We won't tolerate this."
🚨ATTN: SB 766 to ban trans kids in Virginia from participating in sports has just dropped.

Let's be clear: This is part of an ongoing, nationwide effort to exclude trans people from enjoying the benefits of sports like their cisgender peers. We won't tolerate this. pic.twitter.com/oSDMvyewge

— ACLU of Virginia (@ACLUVA) January 21, 2022
Comings & Goings
Hazen inducted into Cooperative Hall of Fame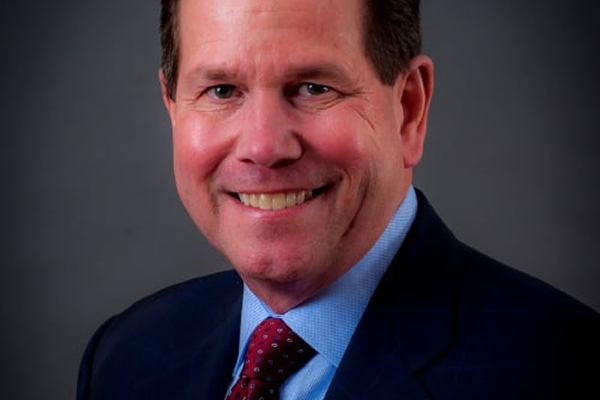 The Comings & Goings column is about sharing the professional successes of our community. We want to recognize those landing new jobs, new clients for their business, joining boards of organizations and other achievements. Please share your successes with us at: [email protected]
The Comings & Goings column also invites LGBTQ+ college students to share their successes with us. If you have been elected to a student government position, gotten an exciting internship, or are graduating and beginning your career with a great job, let us know so we can share your success.
Congratulations to Paul Hazen on his being inducted into the 2022 Cooperative Hall of Fame. On receiving the honor, he said, "I am very lucky to be given the opportunity to combine my work in international development with my volunteer cooperative development work in Washington DC."
Hazen is executive director, U.S. Overseas Cooperative Development Council (OCDC) and has devoted his career to elevating the cooperative voice domestically and internationally. U.S. co-ops include Ace Hardware, Land O'Lakes, Inc., Sunkist, REI and the Associated Press. Hazen helped establish federal legislation promoting rural co-op development.
Prior to joining OCDC, he was CEO of Washington, D.C.-based National Cooperative Business Association CLUSA International. During his 25-year tenure with the organization, he held key positions, including chief operating officer, vice president of public policy, vice president of member services and director of consumer cooperatives.
He worked for Rep. Al Baldus (Wisc.). He was executive director of Rural Housing Inc. in Madison, Wisc., where he developed co-ops and affordable housing projects in rural communities.
As a volunteer, Hazen formed the Community Purchasing Alliance (CPA) with 12 congregations in D.C.  In 2020, CPA secured more than $18.7 million in contracts resulting in an investment of $13 million in D.C.-based small businesses owned by people of color.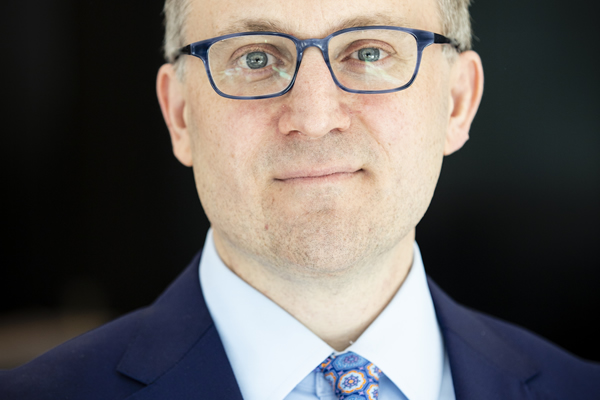 Congratulations also to Ben Finzel, who was inducted into the National Capital Public Relations Hall of Fame. Upon receiving the honor, he said "To be recognized by your peers is wonderful; to be honored by them is amazing. I still can't quite believe I have done enough to be worthy of this recognition, but I know enough to be thankful and appreciative of this high honor. Thank you PRSA National Capital Chapter for including me in such inspiring company; I will be forever grateful."
Finzel is president of RENEWPR, a D.C.-based public affairs, communications consulting firm. In 2004, he helped launch FH Out Front, the first global LGBTQ communications practice at an international firm, Fleishman Hillard, and served as its first global chair. He started DC Family Communicators, a professional networking group for LGBTQ communications professionals. Finzel served on the Victory Campaign Board of the LGBTQ Victory Fund from 2007 to 2017.
His firm is currently celebrating its seventh year in business. To recognize that accomplishment, Finzel is launching an endowed scholarship at his alma mater, Texas Tech University. His business is certified as an LGBT Business Enterprise by the National LGBT Chamber of Commerce.
Corte Suprema de Justicia de Honduras impide que personas LGBTQ puedan casarse y tengan derechos civiles 
Organizaciones presentan nuevos recursos de inconstitucionalidad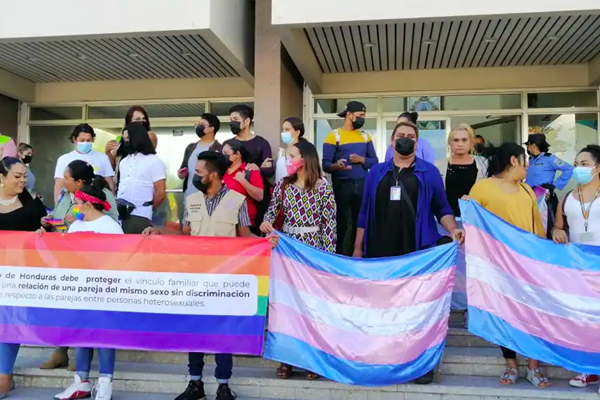 Reportar sin Miedo es el socio mediático del Washington Blade en Honduras. Esta nota salió en su sitio web el 20 de enero.
TEGUCIGALPA, Honduras — Líderes LGBTIQ+ enfrentaron un hecho de discriminación hoy al presentarse en la Corte Suprema de Justicia, donde los guardias de seguridad los reprimieron y cerraron los portones de acceso vehícular y peatonal, impidiéndoles ingresar al edificio para presentar los recursos de inconstitucionalidad sobre el matrimonio igualitario.
En una marcha pacífica, más de 50 personas de la diversidad sexual organizadas en mesas de acceso a la justicia de Honduras salieron del bulevar las Fuerzas Armadas hacia las instalaciones del Poder Judicial para pedirles a los magistrados de la Sala de lo Constitucional que acepten un nuevo recurso tras el fallo anunciado esta semana y presentado en 2018 por las organizaciones Cattrachas y Somos CDC.
Durante los 10 minutos en que se interrumpió el acceso al palacio judicial, lxs activistas denunciaron agresiones verbales del personal de seguridad de la Corte. Al final ingresaron por el portón vehícular. Se instalaron en las gradas de la entrada principal e hicieron un plantón pacífico, durante el cual exclamaron: "Sí se pudo", después de lo cual se permitió que líderes LGBTIQ+ ingresaran a la sala a presentar el nuevo recurso.
Las mesas de acceso a la justicia para población LGBTIQ+ están integradas por Arcoiris, Somos CDC, Asociación Kukulcán, colectivo feminista Ixchel, Somos Trans, Colectivo Violeta, Muñecas de Arcoiris, Grupo Lésbico y Bisexual LITOS de Honduras entre otras.
La directora de Muñecas de Arcoíris, JLo Córdova, y sus compañeras trans marcharon y exigieron a la corte respeto a los derechos civiles de las personas LGBTIQ+ en Honduras.
"No esperamos nada de una clase política opresora", dijo el activista de la Asociación Arcoíris, Donnis Reyes, quien recalcó que el fallo de la CSJ no es nada nuevo, ya que por más de 12 años el Partido Nacional de Honduras ha influenciado las decisiones del Poder Legislativo y Judicial.
"Estamos pidiendo que se deroguen ciertos artículos anticonstitucionales y no están basados en derechos", dijo la directora ejecutiva de la organización feminista Ixchel, Lucía Barrientos, quien se refiere a la opinión consultiva sobre identidad de género, igualdad y no discriminación a parejas del mismo sexo presentada por la Corte IDH.
La Corte IDH ha indicado que existe un vínculo indisoluble entre igualdad y no discriminación y se ha establecido la dificultad de separarlos por cuanto el incumplimiento de uno (igualdad) acarrea necesariamente la verificación de la prohibición del segundo (no discriminación).
En ese sentido, la Corte IDH ha indicado que, en función del reconocimiento de igualdad ante la ley, se prohíbe todo tratamiento discriminatorio. Este principio rector y derecho fundamental fue acertadamente introducido en nuestra Constitución en su artículo 60.
"La falta de reconocimiento jurídico de la realidad conformada por las parejas homosexuales es un atentado contra la dignidad de sus integrantes porque lesiona su autonomía y capacidad de autodeterminación al impedir que su decisión de conformar un proyecto de vida en común produzca efectos jurídico-patrimoniales, lo cual significa que, dado un régimen imperativo del derecho civil, quedan en una situación de desprotección que no están en capacidad de afrontar", resolvió la Corte Suprema de Justicia de Honduras.
La CSJ declaró no ha lugar los recursos de Inconstitucionalidad vía acción y por razón de contenido, ambos contra el Decreto No. 176-2024, emitido por el Congreso Nacional de la República, en fecha 28 de octubre del año 2004, mediante el cual reformó el artículo 112 de la Constitución de la República y el artículo 45 del Código de Familia.
El fallo fue notificado en la tercera semana de enero, a pocos días de la culminación del gobierno nacionalista de Juan Hernández, pero la sentencia fue emitida en abril de 2021, dos meses después (28 de junio) de la sentencia histórica del caso "Vicky Hernández y otros versus Honduras" por la Corte IDH, donde condena al Estado de Honduras por el asesinato de la líder trans de San Pedro Sula y ordena una serie de reparaciones que incluye otorgar, a través de la vía administrativa, el cambio de nombre de las personas trans, así como otra serie de derechos.
Reportar sin Miedo habló con activistas, quienes dijeron: "Hubo un retraso injustificado en la notificación de la sentencia".
En América Latina, 10 países reconocen algún tipo de uniones del mismo sexo. El matrimonio entre personas del mismo sexo es legal en Argentina, Brasil, Chile, Colombia, Costa Rica, Ecuador, México, Uruguay y en los territorios dependientes de Guayana Francesa e islas Malvinas. Bajo una perspectiva del derecho comparado, el reconocimiento de las uniones homosexuales se ha dado a través de dos vías: la judicial (a través de sentencias de tribunales judiciales) y la legislativa.
Sin embargo, en Honduras el artículo 112 Constitucional, en su párrafo primero, literalmente dice: "Se reconoce el derecho del hombre y de la mujer, que tengan la calidad de tales naturalmente, a contraer matrimonio entre sí, así como la igualdad jurídica de los cónyuges. Solo es válido el matrimonio civil celebrado ante funcionario".