Florida 'Don't Say Gay' bill new focal point in battles on racism, politics
Republican Gov. Ron DeSantis widely seen as 2024 presidential candidate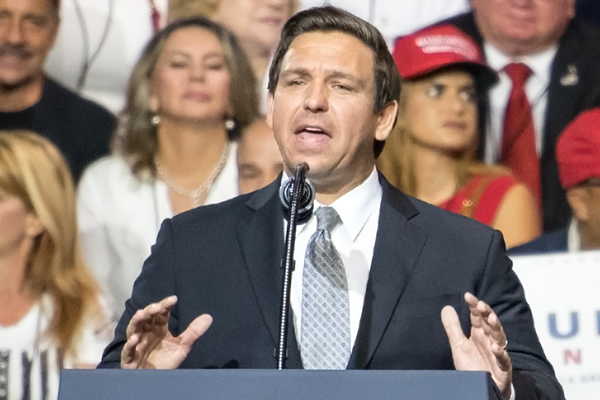 Legislation in Florida known as the "Don't Say Gay" bill, criticized as an effort to quash any discussion of LGBTQ families and identities in schools, has become a focal point of contention in the context of ongoing national battles over politics, critical race theory, restrictions on LGBTQ books and anti-transgender sports legislation in state legislatures.
The shock of the potential reach of the measure, which opponents say would make schools vulnerable to lawsuits simply over a teacher responding to a student's question about a gay family member, followed by comments by Gov. Ron DeSantis signaling support for the bill, has opened up targets in other battles waged by the Democratic Party and progressives seeking attention for other issues and a potential upcoming challenger to President Biden in 2024.
Chief among the fiery battles for which the "Don't Say Gay" bill has provided kindling is the upcoming presidential election. It's no secret DeSantis is widely seen as a potential Republican challenger to Biden, who may be vulnerable amid consistently low approval ratings and criticism over his handling of inflation and coronavirus.
After DeSantis made comments last week favorable to the "Don't Say Gay" bill, saying he thinks it's "entirely inappropriate" for teachers to be having conversations with students about gender identity, his opponents were quick to take him task and tie him to the legislation. Although the legislation had previously faced criticism from Chasten Buttigieg, who tweeted the legislation "will kill kids," among the new voices against the legislation were no less than the White House and Biden himself.
"I want every member of the LGBTQI+ community — especially the kids who will be impacted by this hateful bill — to know that you are loved and accepted just as you are," Biden wrote in a tweet last week. "I have your back, and my administration will continue to fight for the protections and safety you deserve."
Transportation Secretary Pete Buttigieg, the first openly gay person to obtain Senate confirmation for a Cabinet-level role, echoed his husband's criticism of the bill during an appearance last week on CNN's "Newsroom."
When host Jim Sciutto asked whether the bill would inflict any potential harm the measure on LGBTQ kids, Buttigieg replied, "absolutely."
"And the reason is that it tells youth who are different or whose families are different that there's something wrong with them out of the gate, and I do think that contributes to the shocking levels of suicidal thoughts and suicide attempts among LGBTQ youth," Buttigieg said.
The legislation hasn't gone far in Florida.
As of this week, one House committee and one Senate committee have approved it and neither chamber has scheduled a floor vote. But with Republican in control of both chambers of the legislature and the governor's mansion, the measure is well-positioned to become law.
A.G. Gancarski, a reporter with the news website FloridaPolitics.com, told the Washington Blade he could see the "Don't Say Gay" bill coming up for a floor vote in the near future, pointing out "with these big social-message type bills, it seems like they do one a week in the House and the Senate."
"It's going to come up this session because it's in posture where we'll hit the floors probably toward the end of session — the last two weeks after committees, where things get kind of kind of crazy and things happen quickly," Gancarski said. "We're not there yet. We got plenty of time for this to get through the process, and there are no structural impediments to it. I can't see what stops this is what I'm saying."
One saving grace for opponents of the "Don't Say Gay" bill is DeSantis has stopped short of committing himself to signing it. Gancarski drew a distinction between the support DeSantis has offered the bill compared his support for other bills, such a proposed bans on critical race theory.
"It's something that Gov. DeSantis has not explicitly endorsed," Gancarski said. "He hasn't said, 'I back these bills.' Whenever he's asked about these bills, he speaks conceptually supportive of them. This is true with CFO Jimmy Patronis also. So it's something that Republicans on the executive level back, but it's not one of those bills that DeSantis is putting the same emphasis on some other bills with his own name behind it, but he certainly backs it. He's given every indication he would sign it."
LGBTQ groups and commentators aligned with the conservative movement, sensing the legislation could become a political liability for DeSantis, were quick to defend the "Don't Say Gay" bill.
Chadwick Moore, editor of Log Cabin Republicans' media arm Outspoken, told Tucker Carlson last week on Fox News said the measure is "a perfectly reasonable, rational bill" being unfairly maligned by Democrats and "childish wacky gay activists." Brad Polumbo, a gay conservative commentator, in a column for the Washington Examiner criticizes opposition to the legislation as "wildly overblown and not based in reality," then undercuts his own argument by saying the "language is admittedly rather broad."
Key portions of the legislation, numbered House Bill 1557 and Senate Bill 1834, reveal the potential penalty for the slightest hint of talk about LGBTQ kids and families in schools. The legislation is restricted to grade schools, although the bill never defines what constitutes a grade school from other places of education.
Under the legislation schools "may not encourage classroom discussion about sexual orientation or gender identity," or generally in the education system "in a manner that is not age-appropriate or developmentally appropriate for students." Further, the legislation empowers a parent of a student who feel the law was violated to "bring an action against a school district" in court to seek and obtain damages.
Another portion of the bill would give parents "access to information about their child's mental and emotional well-being, as well as information about any changes to their mental or emotional health," which critics could lead to teachers being forced to out LGBTQ kids still going through the coming out process to their families.
Equality Florida was out of the gate on Monday with a new TV ad against the "Don't Say Gay" bill, which is the first of two TV against DeSantis' policies.
The ad features a young girl in a school classroom about to give a presentation on her heroes, which she subsequently says are her two moms. A red light and buzzer goes off in the classroom, after which a teacher informs the students she should be proud of her two parents. The ad closes within a voice from an overhead, saying "please report to the front office."
Although the "Don't Say Gay" bill causing a stir at the national level, Gancarski said opposition to the legislation in Florida comes more from "people who don't like the DeSantis agenda anyway" and the national outcry may not have the desired effect.
"That's sort of the rub," Gancarski said. "The more the White House pushes against DeSantis, the Republicans, the more they take that as validation of their approach. So when President Biden tweeted last week, he set himself up as a foil as the thing moves forward as much as anything vis-and-vis DeSantis-supporter Republicans. And that's the paradox."
'Don't Say Gay' bill tied to ban on critical race theory
The "Don't Say Gay" bill, amid an intense political discussion over topics discussed in schools, is not unlike other measures enacted in Florida and elsewhere seeking to curtail ideas the conservative movement has found objectionable, such as critical race theory or gender ideology. In addition to getting behind legislation against critical race theory, which remains pending before the Florida Legislature, DeSantis signed into law a measure prohibits transgender girls from participating in school sports.
As such, progressives see the fervor over the "Don't Say Gay" bill as a means to highlight these related initiatives, encouraging the public to view them as one issue and part of a greater effort to further oppress marginalized groups, being clear to tie them all to DeSantis ahead of his potential challenge to Biden in the 2024 election.
Nadine Smith, executive director the LGBTQ group Equality Florida, said Monday in a conference call with reporters the "Don't Say Gay" bill is part of a "roster of bills that chip away at freedom of expression, allow for surveillance in the classrooms, video monitoring, microphones on teachers to eavesdrop on their conversations with students."
"They hide behind the guise of parental rights, but really when you read what these laws do they allow anybody in the community, regardless of whether or not they have a child, to challenge any resource and have it removed," Smith said.
A second ad from Equality Florida unveiled on Wednesday called "The Content of Our Curriculum" against the Stop WOKE Act in Florida, which is the vehicle DeSantis to ban the teaching of critical race theory in school. The legislation, House Bill 7 / Senate Bill 148, among other things, would prohibit teaching members of one race are "morally superior" to members of another race, individuals are inherently racist because of their race or an individual's "moral character or status" is privileged or oppressed because of race.
The "Don't Say Gay" bill is also playing into the hands of critics who are decrying efforts to restrict pro-LGBTQ literature in schools and libraries across the country, many of them conservative states like Texas. According to a recent report in NBC News, hundreds of LGBTQ-themed titles have been pulled from libraries across the state for review, sometimes over the objections of school librarians. Many of these books are said to have sexually explicit content, although the Blade couldn't immediately verify that claim.
George Johnson, who says their book on the Black queer youth experience "All Boys Aren't Blue" is banned in 15 states, was on the conference call with reporters and said efforts like bans on books are the result of demographic shifts in the United States and the "conditioning of students' minds."
"The ultimate goal of book banning is to not just silence us," Johnson said. "It's not that they're trying to say we don't exist, it's that the don't want to condition Generation Z with the proper information about our existence, as well as information about the existence and history of this country. Because then, when Gen Z becomes the next CEOs, the next mayors and the next governors, they may actually think about people who are marginalized because they read about them growing up, because they knew them growing up."
With state legislatures across the country advancing at a rapid pace bills that would prohibit transgender girls from participating in school sports, LGBTQ rights advocates are also drawing connections between the "Don't Say Gay" bill and the anti-trans sports measures.
Mary Emily O'Hara, rapid response manager for the LGBTQ group GLAAD, said in the conference call in the national context, more than 170 anti-LGBTQ bills have been introduced throughout the country, many of which are focused on schools.
"There is no separating book bans from anti-trans sports bans in schools," O'Hara said. "They both impact students. They're both about lowering representation on the visibility and equality for LGBTQ students. There is no separating LGBTQ school policy bills from critical race theory bans."
Fla. 'Don't Say Gay' ban now applies to K-12 public schools
Rule takes effect in 34 days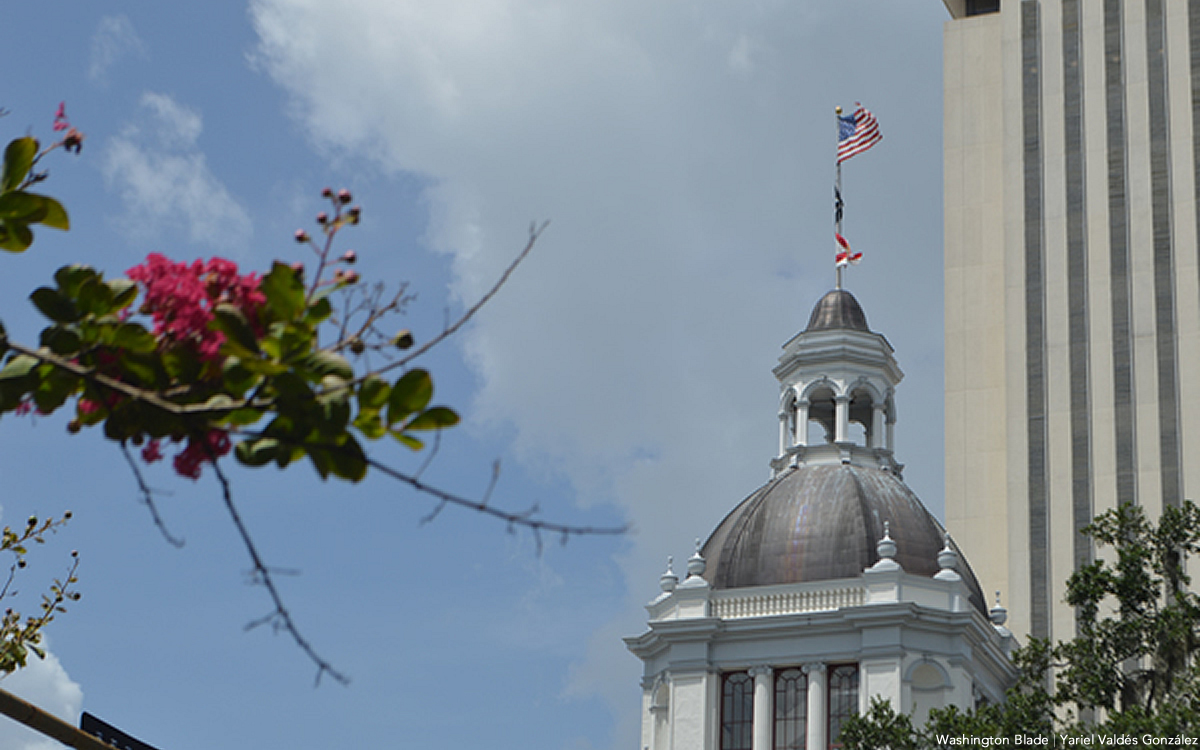 Florida's Board of Education voted Wednesday to implement a rule that expands the state's "Don't Say Gay" law to now prohibit instruction on sexual orientation and gender identity through 12th grade in the state's public schools.
The rule change, which does not require legislative approval, will ban lessons on sexual orientation and gender identity from fourth to 12th grade unless required by state standards or as part of a reproductive health course that parents can opt students out of.
Today's vote was put forth by the Florida Department of Education, both of which are controlled by appointees of Republican Gov. Ron DeSantis, who has publicly stated his opposition to LGBTQ equality and civil rights. The rule goes into effect in 34 days, according to the Florida Department of Education.
LGBTQ advocacy groups and student activist leaders across the state spoke out, including Jack Petocz, a senior at Flagler-Palm Coast High School who had organized and led the statewide protests last spring in opposition to the "Don't Say Gay" bill.
Petocz tweeted defiantly: "This was NEVER about protecting your children. It's all an elaborate plan to ERASE people like me from existence. You won't fucking win."
BREAKING: the Florida Board of Education has just voted to EXPAND Don't Say Gay's restrictions to 12th grade.

This was NEVER about protecting your children. It's all an elaborate plan to ERASE people like me from existence.

You won't fucking win.

— Jack Petocz (@Jack_Petocz) April 19, 2023
Petocz then noted:
As legislators try to erase queer people from public schools, a REMINDER that youth will never comply. We will never accept a world that deems bigotry the status quo and censors our classmates.

They are fucking around, and they're gonna find out one day soon. pic.twitter.com/OTJ8HHwMmw

— Jack Petocz (@Jack_Petocz) April 19, 2023
Petocz was also trolled on his Twitter account by a far-right participant of the Jan. 6, 2021, U.S. Capitol insurrection who homophobically attacked him:
STOP 💀

The idiot who stole Nancy Pelosi's lectern on January 6th just quote tweeted me with such homophobic BS.

Trumpies never fail to surprise me 🤷‍♀️ pic.twitter.com/EugtNWLl4X

— Jack Petocz (@Jack_Petocz) April 19, 2023
Joe Saunders, senior political director for the state's largest LGBTQ advocacy group, Equality Florida, released the following statement:
"Let's put it plainly: this is part of the governor's assault on freedom. Free states do not ban books. Free states do not censor entire communities out of the classroom. Free states do not wage war on LGBTQ+ people to score cheap political points for a man desperate to be president. This policy will escalate the government censorship that is sweeping our state, exacerbate our educator exodus, drive hardworking families from Florida, and further stigmatize and isolate a population of young people who need our support now more than ever. Shame on the DeSantis administration for putting a target on the backs of LGBTQ+ Floridians."
Trial begins for National Black Justice Coalition CEO on conspiracy, fraud charges
Sharon Lettman-Hicks calls allegations 'baseless,' politically motivated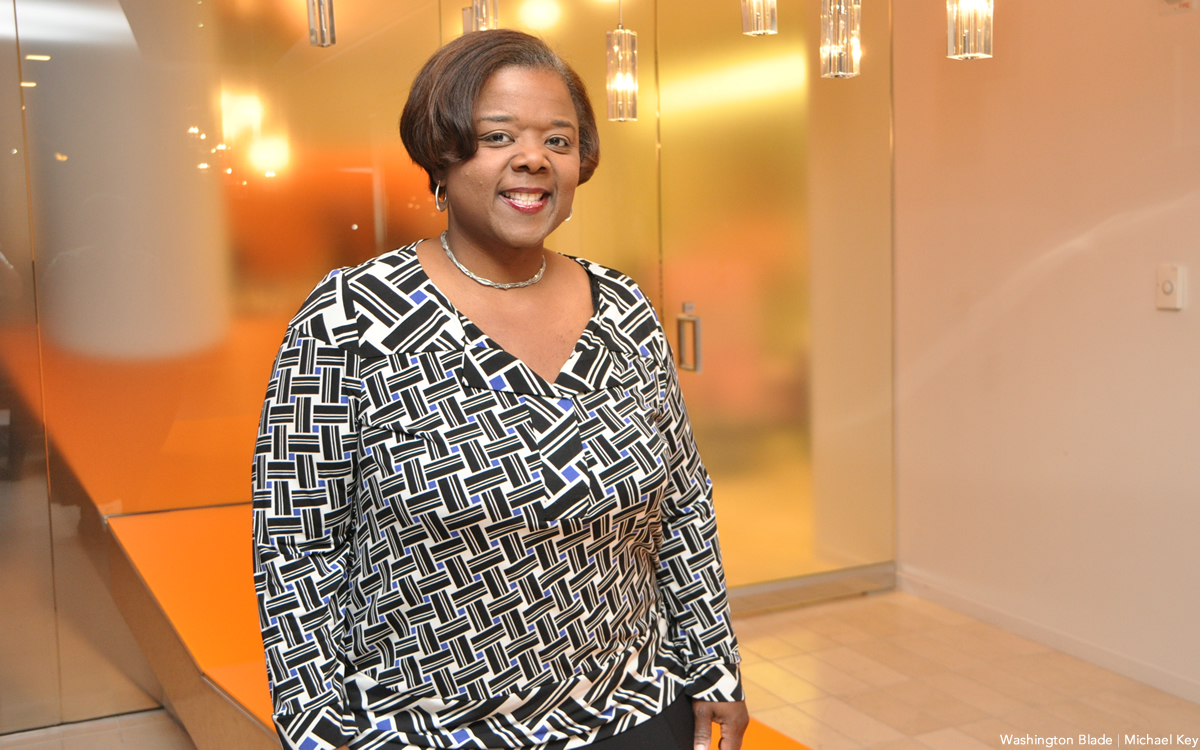 A trial in federal court in Tallahassee, Fla., began on Monday, April 17, for Sharon Lettman-Hicks, the CEO and board chair of the D.C.-based LGBTQ group National Black Justice Coalition, and former Tallahassee mayor and unsuccessful Florida gubernatorial candidate Andrew Gillum.
The trial began about 10 months after a federal grand jury in the Northern District of Florida on June 7, 2022, handed down an indictment charging both Gillum and Lettman-Hicks, who served as a campaign adviser to Gillum, with conspiracy and multiple counts of fraud.
The indictment alleged that Lettman-Hicks and Gillum engaged in an illegal political corruption scheme that began in 2015. It says Lettman-Hicks allegedly helped Gillum improperly funnel money solicited from FBI agents posing as real estate developers with a promise of providing something "very significant in return" for Gillum's support for the developers in his role at the time as mayor of Tallahassee.
The indictment said much of the money Gillum received from the FBI sting operation went for his personal use through a company Lettman-Hicks operated called P&P communications. It charges both Gillum and Lettman-Hicks with 19 counts of wire fraud and one count of attempt and conspiracy to commit mail fraud.
The Tallahassee-based TV news station WCTV reports that last week, on April 11, prosecutors announced they had obtained a new superseding indictment against Lettman-Hicks and Gillum that includes two fewer charges of wire fraud against the two than the previous indictment. WCTV reports the charges that were dropped both involved wire transfers of $66,250 from "Organization E" to Lettman-Hicks' company P&P Communications.
Lettman-Hicks and Gillum, who identifies as bisexual, have strongly denied the allegations against them, calling them politically motivated by Republican politicians who dominate the political landscape in Northern Florida.
At the time the first indictment was handed down, Lettman-Hicks, who is based in Tallahassee, had qualified as a Democratic candidate running for a seat in the Florida State House. She immediately withdrew her candidacy after the indictment was issued.
"I am devastated by these baseless charges, and I have made the painful decision to suspend my campaign," she said in a press release reported by the Tallahassee Democrat newspaper. "I must now focus on fighting for my continued freedom," she said in the release.
Legal observers have pointed out that the FBI's political corruption investigation that led to Lettman-Hicks and Gillum's indictment began in 2015 during the Obama administration, which was in charge of appointing the federal prosecutors involved in the case. Some observers note that Florida state prosecutors associated with the GOP-controlled state government do not appear to have been involved in the case.
Lettman-Hicks was listed this week on the National Black Justice Coalition website as the organization's CEO and board chair. The website says she served as the group's CEO and executive director from 2009 to 2017, when she stepped down as executive director. It says she has been based in Tallahassee during her tenure with the NBJC.
David Johns, the current NBJC executive director, is based in the organization's headquarters in D.C.
A spokesperson for the NBJC did not respond to a request on Monday for comment on Lettman-Hicks' trial that began on Monday.
On its website, NBJC says it has served since its founding in 2003 as "America's leading national civil rights organization dedicated to the empowerment of Black, lesbian, gay, bisexual, transgender, queer+, and same-gender loving (LGBTQ+/SGL) people, including people living with HIV/AIDS through coalition building, federal policy change, research, and education."
Miami Beach Pride parade takes place on Ocean Drive
Advocacy groups last week issued travel advisory for Fla.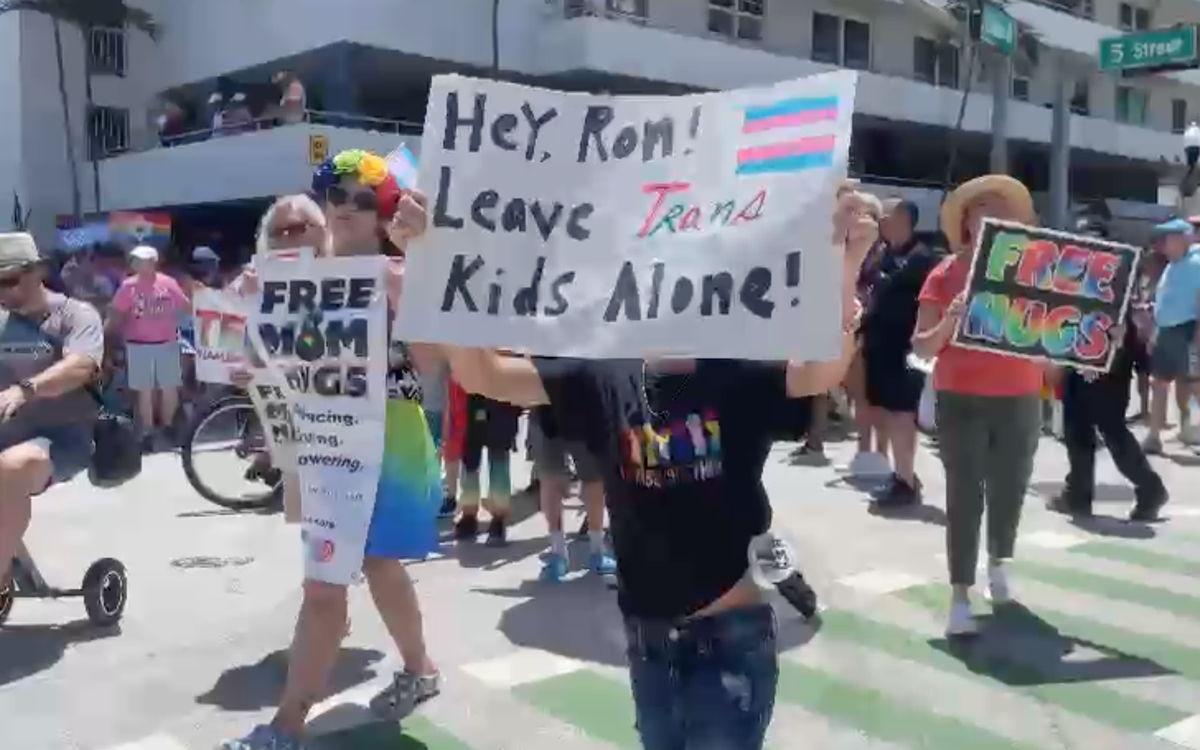 More than 170,000 people attended the annual Miami Beach Pride parade that took place on the city's Ocean Drive on Sunday.
The parade took place against the backdrop of Republican Florida Gov. Ron DeSantis-backed expansion of the state's "Don't Say Gay" law and banning gender-affirming care for transgender children in the state. The Republican-controlled Florida Legislature is also considering a bill that would prevent children from attending drag shows.
Equality Florida and the Florida Immigrant Coalition last week issued a travel warning for the state.
"As an organization that has spent decades working to improve Florida's reputation as a welcoming and inclusive place to live work and visit, it is with great sadness that we must respond to those asking if it is safe to travel to Florida or remain in the state as the laws strip away basic rights and freedoms," said Equality Florida Executive Director Nadine Smith.
State Rep. Fabián Basabe (R-Miami Beach) is among those who participated in the Miami Beach Pride parade. Protesters confronted the Miami Beach Republican over his support of anti-LGBTQ bills in the Florida House of Representatives.