Analysis: Nevada Democratic senator faces attacks on LGBTQ record that defy logic
Masto criticized for defending marriage ban, but GOP opponent Laxalt agreed with her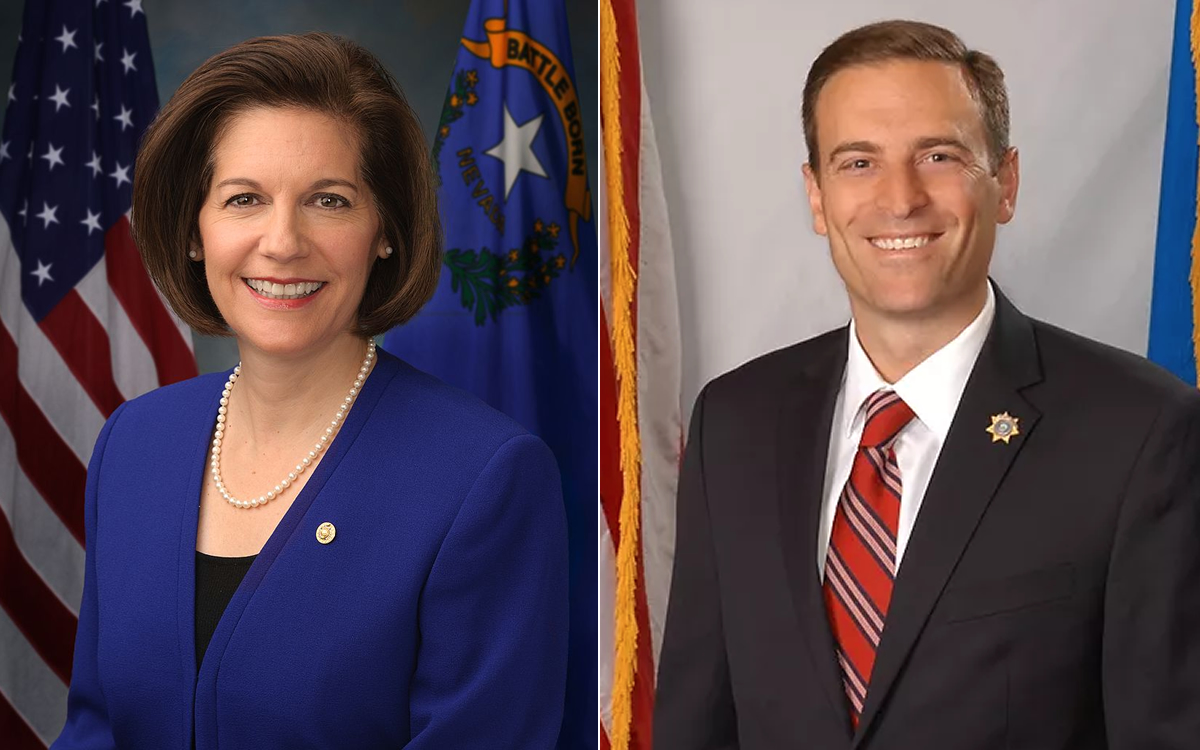 The race for the U.S. Senate seat in Nevada — which may decide control of that chamber of Congress in the upcoming election — is coming down to the wire as polls shows a tight race between Sen. Catherine Cortez Masto (D) and the Republican challenger Adam Laxalt. If Republicans get their way, it will have everything to do with Cortez Masto's defending her state's ban on same-sex marriage as Nevada attorney general — and nothing at all to do with the long record against LGBTQ rights of her Republican opponent.
Cortez Masto, as Republicans want you to remember, made the decision in 2014 as Nevada attorney general initially to defend her state's ban on same-sex marriage against a legal challenge in court. It was after the Supreme Court's ruling against the anti-gay Defense of Marriage Act, which prompted a wave of litigation throughout the country against state bans on same-sex marriage as legal advocates saw a new opportunity to overturn them under the new precedent.
Some other attorneys general at the time came to a different conclusion and determined they didn't need to defend their state bans in court, making legal conclusions the laws were unconstitutional and thus indefensible. Cortez Masto also had some choice words in her initial legal brief comparing the ban on same-sex marriage to bigamy and incest, which Republicans are now able to pounce on largely thanks to the Washington Blade's original reporting at the time drawing attention to the language in the brief.
Matt Wolking, vice president of Axiom Strategies, is among the Republican political strategists invoking Cortez Masto's defense of the marriage ban, rebuking her on Twitter on the basis she opposes gay rights — all while promoting her GOP opponent despite a column he wrote in favor of "Don't Ask, Don't Tell," the military's gay ban.
"Laxalt served in our military. Catherine Cortez Masto did not," Wolking tweeted. "She's been in government her whole life. 4 years after Laxalt's column & 3 years after DADT was repealed, Masto defended Nevada's ban on gay marriage, comparing it to bigamy and incest."
But what Republicans aren't telling voters is that Cortez Masto's legal position on her state's ban on same-sex marriage didn't last long. After issuing a statement the next day signaling she was reconsidering her defense of the law, she later announced after the review she would reverse her position and join legal advocates in seeking to overturn the law.
In 2022, Republican efforts to draw attention to Cortez Masto's record is the latest indication that the issue of same-sex marriage, which years ago was an unpopular idea that sent Democrats running for the hills, has been turned on its head in terms of its political implications. For example, Democrats in the House just this year were eager to bring the floor legislation seeking to codify same-sex marriage after the U.S. Supreme Court decision overturning Roe v. Wade. Support for same-sex marriage is so high that one-fourth of the Republican caucus went along with them.
The Nevada race, however, takes public support for same-sex marriage to a whole new level. Now, Republicans are criticizing a Democratic incumbent up for re-election for defending the ban on same-sex marriage and her choice of words in an initial legal brief when Republicans have largely been responsible for enacting the bans in the first place. The latest Republican Party platform from 2016 continues the party's position in favor of a constitutional amendment that would ban same-sex marriage form coast-to-coast.
As such, it would be hard for Republicans to assert they are bringing up Cortez Masto's record out of a genuine concern for same-sex marriage and not simply as a political ploy to disaffect Democrats and suburban women, whose turnout would be necessary for Democrats to retain control of Congress in a mid-term election with a Democratic president.
Consider the alternative: Laxalt is a conservative who is notorious for having an anti-LGBTQ record. Take, for example, the aforementioned op-ed Laxalt wrote for the National Review in 2010 in favor of "Don't Ask, Don't Tell" when repeal of the ban on openly gay service members was being considered in Congress.
Changing the law, Laxalt wrote, would make "fighting wars harder" on the basis that men "love to have sex" and the military "cannot tolerate the tensions that surround sexual relationships or potential ones" that would come with openly gay service members.
"To those who currently tolerate homosexuals but retain their God‐given right to reject homosexuality as a practiced lifestyle — could you do the above as a leader?" Laxalt wrote. "Even for your country? It is one thing for the military to ask its members to accept
homosexuals, but another for the military to ask its members to accept and live with
homosexuality, the homosexual lifestyle."
That's just one part of Laxalt's longer record, which includes signing a legal brief in favor of allowing a Washington florist to refuse wedding services to same-sex couples based on religious objections and dubbing as "coercive" the Obama administration's guidance on transgender students to use the bathroom consistent with their gender identity.
The real kicker: Laxalt himself said when running for the position of Nevada attorney general he would defend the state's ban on same-sex marriage. During a 2014 interview with the Las Vegas Sentinel, Laxalt emphatically made the case the role of attorney general is to defend state law on the marriage ban.
"As attorney general of Nevada, I would follow and uphold the law as passed by the people of Nevada through our constitutional process, and I would vigorously defend that law when challenged," Laxalt said.
Unlike Cortez Masto, there's nothing in the public record suggesting that Laxalt ever changed his position on same-sex marriage or otherwise embraced LGBTQ rights (save for accepting the endorsement from Log Cabin Republicans and strong support from Richard Grenell). Meanwhile, Cortez Masto has sponsored the Equality Act, legislation that would expand protections against LGBTQ discrimination under civil rights law, and is now a co-sponsor of the Respect for Marriage Act, which supporters say will come up for a vote in lame duck after the election.
If, at the end of the day, Nevada voters decide to oust Cortez Masto and replace her with Laxalt, they would be replacing a supporter of LGBTQ rights measures before Congress with a voice stridently against them. One wonders if Republicans criticizing Cortez Masto for her short-lived defense of her state's ban will come back to criticize Laxalt for voting "no" on those measures based on their newfound standards for political candidates.
Pakistani cinema and television highlights LGBTQ, intersex issues
Government sought to ban 'Joyland'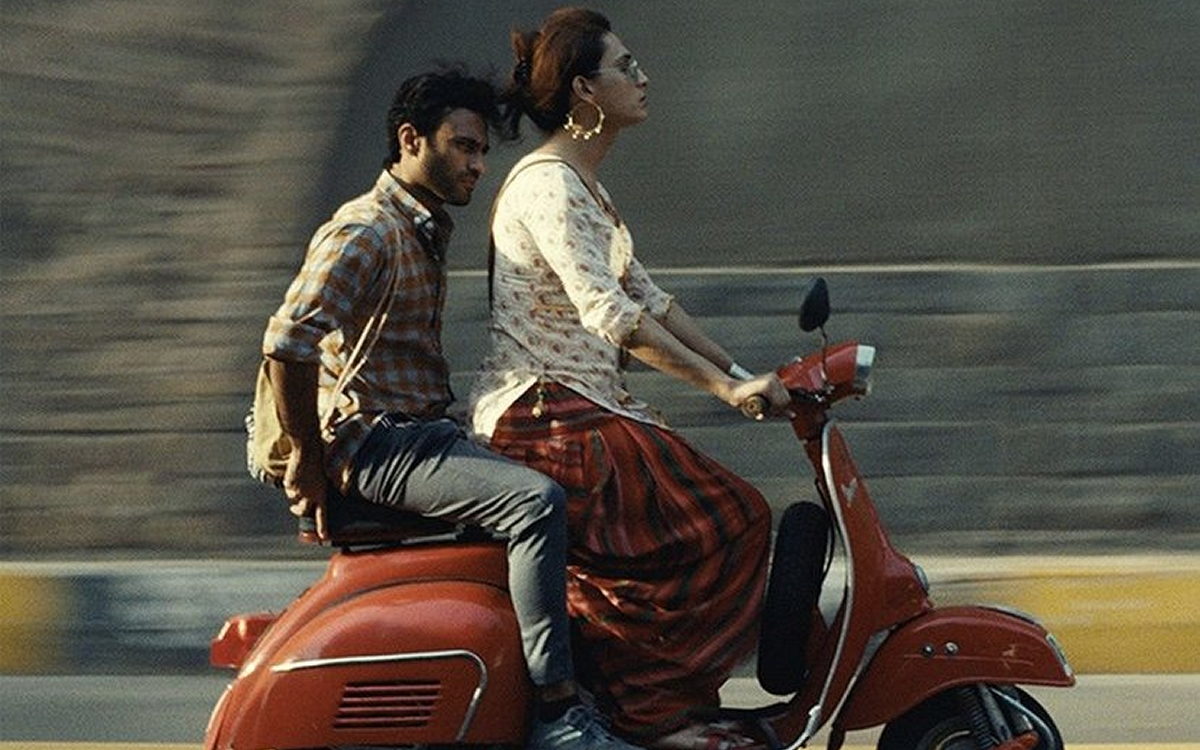 There are several Pakistani movies and television shows that depict the lives of LGBTQ and intersex people in society.
Though some media outlets have become more inclusive, the representation of queer people on screen is still too rare. Pakistan has seen a rise in the production of LGBTQ and intersex movies and television shows that include dramas, documentaries and web series. Some of them are made in Pakistan, while others are produced abroad. Many of them have been released in Pakistan. The government banned some of them, but others have not only amused audiences but won international awards.
Here is a list of some of them.
'Joyland'
"Joyland" is a Pakistani film that made waves at the Cannes Film Festival.
The film follows the story of a transgender woman named Biba, who is trying to make a living as a dancer in Lahore. She faces many challenges in her life, including discrimination and violence from those who do not accept her gender identity. She nevertheless persists, despite these difficulties, and ultimately finds love and acceptance from unexpected sources. This heartwarming film highlights the struggles and triumphs of the trans community in Pakistan and is sure to resonate with viewers around the world. "Joyland" is a powerful and timely film that highlights the struggles of trans people in Pakistan. It is also a celebration of hope and friendship, and an uplifting story about chasing your dreams against all odds.
In a conservative Pakistani family, the youngest son Haider (Ali Junejo) is expected to produce a baby boy with his wife. However, he joins an erotic dance theater and falls for the troupe's director, a trans woman. This film tells the story of the sexual revolution in Pakistan and their struggle against traditional gender roles and expectations.
"Joyland" is the first Pakistani film on the LGBTQ topic that premiered at Cannes Film Festival and received an overwhelming response. It won the prestigious Cannes "Queer Palm" award during its world premiere. The government had tried to ban the film, but it opened in the country last month.
'Poshida: Hidden LGBT Pakistan'
In the conservative, Muslim-dominated country of Pakistan, homosexuality is a taboo topic. However, there is a thriving LGBTQ and intersex community in Pakistan that is forced to live in secrecy. The documentary "Poshida: Hidden LGBT Pakistan" shines a light on this hidden community.
It follows the lives of several LGBTQ and intersex Pakistanis, who bravely share their stories. The documentary was released in 2015 in Pakistan and in the U.K. by director Faizan Fiaz. It was the first kind of movie on the "LGBTQ" topic. The film was screened at film festivals in Barcelona, Spain, and in the U.S. The word "poshida" means "hidden" in Urdu. The film is particularly timely given the current global discussion around LGBTQ and intersex rights. It examines the legacy of colonialism, class structures and the impact of the U.S. government's gay rights advocacy in Pakistan.
The documentary is about a serial killer from Lahore who kills trans people, women and gay men for entertainment purposes. Human rights abuses of trans men and women are also explored in the documentary.
'Churails'
Pakistani cinema has come a long way in recent years, tackling several taboo subjects and exploring new genres and stories. One of the most groundbreaking Pakistani films of recent years is "Churails."
The film is the first Pakistani queer web series that revolves around four women. It is the first time that a lesbian relationship in any Pakistani film or web series is portrayed.
This film features a trans woman Baby Doll (Zara Khan), lesbian lovers Babli (Sameena Nazir) and Pinky (Bakhtawar Mazhar) and a gay husband. Four women who were students — one was a wedding planner, the third one was convicted of a crime and the fourth woman was a socialite set up a secret detective agency in Karachi. The aim was to launch a detective service for those women who were cheated by their husbands.
A web series set in Karachi challenges the status quo and subverts the conventional narrative. The critically acclaimed web series has opened up a debate about Pakistan's patriarchal society. The show doesn't shy away from tough questions: Veils, deception and secrets. "Churails" is the story of four self-made women who come together to break certain stereotypes and challenge societal hypocrisy.
"Churails" is the first Pakistani drama web series which was released in 2020 by ZEE5, an Indian on-demand video platform. The web series is directed and produced by Asim Abbasi. The film was not allowed to screen in Pakistani cinema or channels. The movie was only available on ZEE5. however, at the time of releasing the film the state bank of Pakistan ordered all the banks to block Pakistani consumers to purchase subscriptions to ZEE5.
"Churails" won the "OTT Platform Show of the Year" at the British Asian Media Awards in February 2021. "Churails" is a feminist film in every sense of the word.
Supreme Court hears oral arguments in 303 Creative case
Dangerous implications for LGBTQ consumers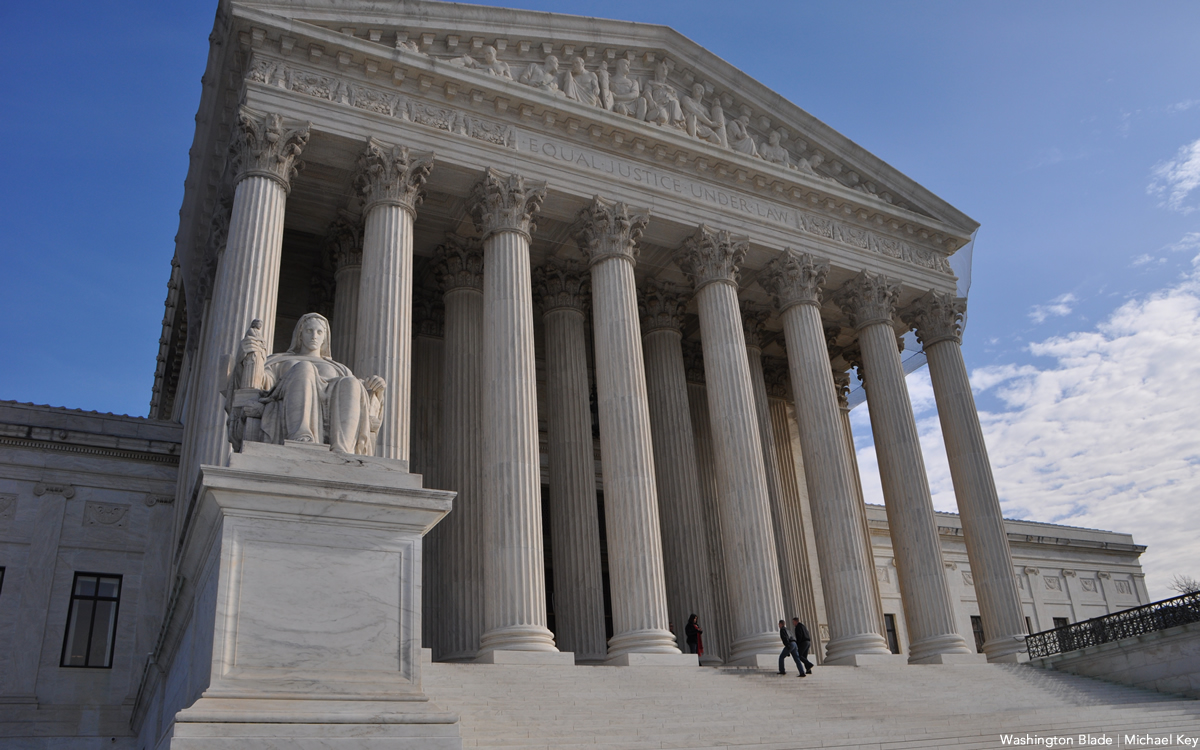 The U.S. Supreme Court on Monday heard oral arguments in 303 Creative v. Elenis, a case that could carry broad implications for whether and in which circumstances states may enforce certain nondiscrimination rules against purveyors of goods and services.
The case was brought by website designer Lorie Smith, who sought to include a disclaimer that her company 303 Creative would not develop wedding announcement websites for LGBTQ couples, but discovered that such a notice would violate Colorado's anti-discrimination laws, which include sexual orientation as a protected class.
Her lawsuit against the state of Colorado, argued by counsel from the anti-LGBTQ group Alliance Defending Freedom (ADF), reaches the Supreme Court following the ruling against Smith from the 10th Circuit Court of Appeals, which created a circuit split with decisions from the 8th Circuit and Arizona Supreme Court. A ruling is expected to come in June.
The fact pattern in 303 Creative closely mirrors the 2018 case Masterpiece Cakeshop v. Colorado Civil Rights Commission, where the Supreme Court declined to rule on the broader legal questions because it found the Commission exhibited hostility toward the religious views of the bakery that refused to design a custom wedding cake for a same-sex couple.
The high court has since moved substantially to the right, with a 6-3 conservative supermajority. Colorado is one of 20 states that enforces laws prohibiting businesses from discrimination based on sexual orientation, and a ruling that would allow for broadly construed exemptions to be carved out for firms based on their First Amendment protections would carry implications well beyond the context of same-sex marriage.
Monday's oral arguments focused on preexisting and hypothetical cases that were presented by counsel from both parties as well as by the justices, examples whose scope and fact patterns reinforced the breadth of the legal issues at play in 303 Creative.
Colorado Solicitor General Eric Olson and U.S. Principal Deputy Solicitor General Brian Fletcher pointed to the Supreme Court's ruling in Rumsfeld v. Forum for Academic and Institutional Rights, 2006, which found that the federal government may withhold funding from universities that, based on their objections to "Don't Ask, Don't Tell," refuse to grant military recruiters access to their resources.
ADF CEO, President and General Counsel Kristen Waggoner cited the Supreme Court's decision in Hurley v. Irish American Gay, Lesbian, and Bisexual Group of Boston, 1995, which upheld the right of private organizations to exclude participation by certain groups without interference by the state, even if that intervention by the government was for the purpose of preventing discrimination.
Much of the discussion during Monday's oral arguments centered on what kinds of goods and services may be considered public accommodations and which constitute artistic speech or expression by the business provider. Also at issue were questions such as whether their refusal to accommodate certain events – i.e., same-sex weddings – are tantamount to refusing goods and services to members of a protected class of people under the state's non-discrimination laws.
LGBTQ rights groups fear the implications of a ruling in favor of 303 Creative
ADF is designated an anti-LGBTQ extremist group by the Southern Poverty Law Center. An amicus brief was filed in support of the government by the corporate law firm White & Case along with a coalition of LGBTQ rights groups and legal advocacy groups: the National LGBTQ Task Force, GLAD, the National Center for Lesbian Rights, Lambda Legal, and the Human Rights Campaign.
"Just two weeks after a shooter killed 5 people, injured 18, and traumatized so many others at Club Q in Colorado Springs, the United States Supreme Court prepares to hear oral arguments in an anti-LGBTQ public accommodations discrimination case from Colorado," wrote the National LGBTQ Task Force in a statement addressing Monday's oral arguments.
Liz Seaton, the group's policy director, highlighted the importance of public accommodations laws and condemned efforts by the opposition to legalize discrimination and segregation in the marketplace. "The brief's most important argument lifts up the powerful amicus briefs of the NAACP Legal Defense and Educational Fund and of the Lawyers' Committee for Civil Rights Under Law," Seaton said. "Those two briefs by venerable civil rights organizations provide a detailed history of public accommodations discrimination against Black and Brown people in this country."
HRC's statement on Monday touched on similar themes:
"Granting the unprecedented 'free speech exemption' sought by petitioners in 303 Creative v. Elenis would be a dangerous change to long standing constitutional and civil rights law. It would inevitably lead to increased discrimination not only related to LGBTQ+ people or weddings, but also for other vulnerable populations including women, people with disabilities, and people of minority faiths. It's crucial that justices of the Supreme Court reject discrimination and affirm the equal dignity of every American."
Likewise, the Congressional LGBTQ+ Equality Caucus released a statement exploring the broad implications that could result from the Court's ruling on 303 Creative:
"…the Supreme Court could issue a broad ruling that not only implicates nondiscrimination laws' applications to graphic designers but to a wide range of businesses providing goods and services that have an artistic component. A broad ruling for the graphic designer could not only provide a constitutional basis for discriminating against same-sex couples, but also for discriminating against all marginalized people currently protected by public accommodations nondiscrimination laws."
New anti-LGBTQ propaganda bill sent to Putin
LGBTQ Russians 'will cease to be publicly known'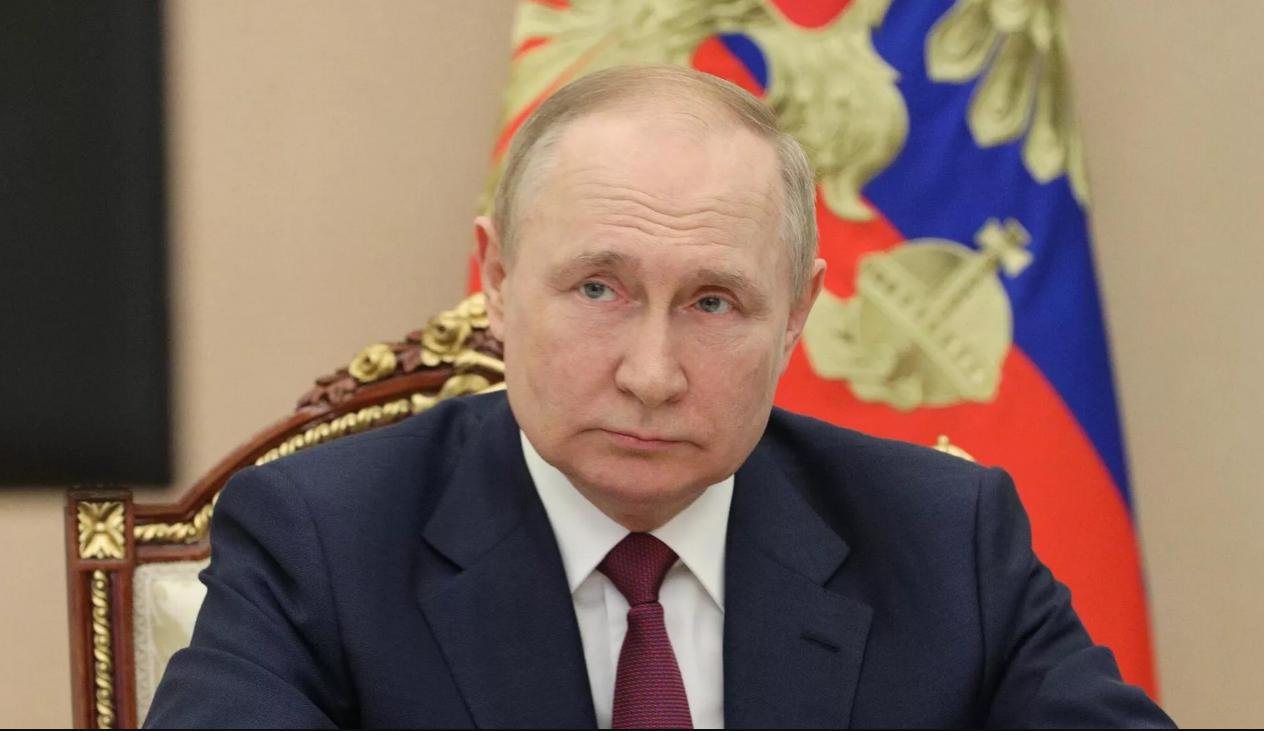 UPDATE: Russian President Vladimir Putin on Monday signed the bill into law.
The upper chamber of the Russian State Duma voted Nov. 30 to approve legislation banning LGBTQ propaganda as well as materials that promote discussion of gender reassignment and mention of LGBTQ issues to minors, which is categorized as promotion of pedophilia. Violation of the ban will result in fines of up to 10 million rubles ($160,212.80.)
The legislation now heads to Russian President Vladimir Putin, who is expected to sign it within the next few days. Russian State Media outlet RIA News reported the new ban on LGBTQ propaganda, gender reassignment and pedophilia will apply to films, books, commercials, media publications and computer games.
The legislation broadens the scope of the existing "Protecting Children from Information Advocating a Denial of Traditional Family Values," statute signed into law by Putin on June 30, 2013.
That statute amended the country's child protection law and the Code of the Russian Federation on Administrative Offenses to prohibit the distribution of "propaganda of non-traditional sexual relationships" among minors.
The definition includes materials that "raises interest in" such relationships, cause minors to "form non-traditional sexual predispositions," or "[present] distorted ideas about the equal social value of traditional and non-traditional sexual relationships."
Businesses and organizations can also be forced to temporarily cease operations if convicted under the law, and foreigners may be arrested and detained for up to 15 days then deported, or fined up to 5,000 rubles ($80.11) and deported.
The new law will extend "responsibility for propaganda of LGBTQ+ people among adults," in addition to the earlier law regarding minors.
The language of the bill also introduces a ban on issuing a rental certificate to a film if it contains materials that promote non-traditional sexual relations and preferences is established. The document also provides for the introduction of a mechanism that restricts children's access to listening to or viewing LGBTQ information on paid services.
The newly expanded law provides for the Russian Federal Service for Supervision of Communications, Information Technology and Mass Media to be vested with the right to determine the procedure for conducting monitoring on the Internet to identify information, access to which should be restricted in accordance with the federal law on information.
A requirement is also set on paid services to enter codes or perform other actions to confirm the age of the user. At the same time, access to LGBTQ information is prohibited for citizens under 18 years of age.
In addition, it provides for a ban on the sale of goods, including imported goods, containing information, the dissemination of which provides for administrative or criminal liability.
Also, the law "on the protection of children from information harmful to their health and development" is supplemented by an article on the promotion of non-traditional sexual relations, pedophilia and information that can make children want to change their sex.
The latter language pointedly inserted as transgender people have been a frequent target of attacks by the Russian president in speeches recently blaming the West for a global decay in moral values that run counter to what Putin describes as "Russia's strong morals."
Human Rights Watch noted that given the already deeply hostile climate for LGBTQ people in Russia, there will be uptick in often-gruesome vigilante violence against LGBTQ people in Russia — frequently carried out in the name of protecting Russian values and Russia's children.
Legal scholars say the vagueness of the bill's language gives room for government enforcers to interpret the language as broadly as they desire, leaving members of the Russian LGBTQ community and their allies in a state of even greater fear and stress filled uncertainty.
The Moscow Times newspaper and webzine, which publishes outside of the Russian Federation to avoid censorship, ran an article Dec. 2 reporting on St. Petersburg LGBTQ activist Pyotr Voskresensky, who in an act of defiance opened up a small "LGBTQ museum" in his apartment prior to Putin's signing the measure into law.
"The museum is a political act," said Voskresensky. "As this era is coming to an end, I felt I wanted to say one last word."
Voskresensky — who has spent years acquiring Russian-made statues, jewelry, vases, books and other art objects that tell stories about the country's LGBTQ subculture — decided this was his last opportunity to share his collection with ordinary people he told the Times.
For safety reasons, the museum's location has not been made public: Hopeful visitors must contact Voskresensky via Facebook to receive the address.
On a recent tour, the first thing visible to visitors at the entrance was a portrait of composer Pyotr Tchaikovsky, one of the most famous gay men in pre-revolutionary Russia.
At the end of the exhibition, there were a few contemporary art pieces, including a satirical model depicting Russian Duma Deputy Vitaly Milonov, a prominent supporter of the anti-gay legislation, wearing a bridal veil.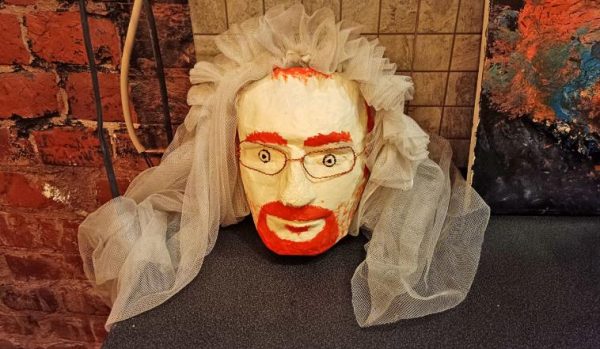 In a phone call with the Washington Blade on Saturday, a young Russian LGBTQ activist who asked to not be identified for fear of Russian government reprisals and who has communicated with the Blade previously from their Helsinki safe space, reiterated:
"These [Russian obscenity] politicians want to so-called "non-traditional" LGBTQ+ lifestyles erased out of public life. They and their so called colluders in church are ignorant of truth that LGBTQ+ people will exist no matter what. It is scientific fact not their religious fairytales and fictions."
The activist also noted that with Putin's signature, Russian LGBTQ people "will cease to be publicly known" effectively driving them underground. "Those bastards have tried to make us erased — they stupidly think we no longer [will] exist" The activist angrily vowed; "we are not disappeared — never. We are human and we are natural and they will not defeat our humanity."