Exploring fetishes, fantasies at Mid-Atlantic Leather Weekend
Annual celebration brings thousands back to D.C.
Mid-Atlantic Leather Weekend returns to D.C. for its 53rd year, bringing thousands of kink and fetish enthusiasts to the area this weekend.
The week's festivities are organized by the Centaur Motorcycle Club and based out of the Hyatt Regency in Capitol Hill. Events run from Thursday to Sunday and include everything from cocktail hours and brunches to blockbuster parties featuring world-famous DJs and celebrity hosts.
MAL has been a fixture in the D.C. LGBTQ community for five decades, dating back to the 1970s. Nearly 30 exhibitors will be on site to sell bondage and fetish products to the thousands who attend.
While the full weekend package tickets have sold out, single day, two-day, and three-day passes can still be purchased for $15, $30, and $40 respectively.
Centaur organized some of the weekend's biggest parties with Kinetic Presents, a D.C.-based event production company founded by three of the city's powerhouse LGBTQ party creators. One of the founders, Jesus Quispe, who goes by "Q", said he has been hosting parties on his own since 2017 through his company La Fantasy Productions.
But when the COVID-19 pandemic hit in 2020, Q said he and other event producers had to take a step back and reevaluate their businesses. He ultimately agreed to join forces with Zach Renovátes of Takeover Presents and Dougie Meyer of Dougie Meyer Presents to form Kinetic.
The trio had planned to host MAL events last year but canceled them due to a surge in COVID cases from the Omicron variant. This is their first year as an official MAL partner.
"We're definitely more organized this year and I think it's just going to help bring everyone together. Last year, people were scattered around a bunch of different parties," Q said. "But this year, you can tell it's going to be different just by talking to the people. Everyone is so excited."
Kinetic's official MAL opening party on Thursday will take place at Soundcheck Nightclub with a "Bootcamp" theme. Diego Barros, one of Only Fans' top performers, will be hosting with music by DJs Conner Curnick and J Warren.
On Friday, guests can mingle at the Hyatt until 10 p.m. for the "Mr. International Rubber Cocktail Party" before heading over to BLISS Nightclub for the Kinetic-produced "Uncut XL" party. The night will feature DJ Alex Acosta and DJ Onyx.
Saturday's events include the "Puppy Park VX" and "Onyx Show" at the Hyatt followed by another cocktail party and the "Parade of Colors." Kinetic is then hosting the weekend's main event "Kinetic: Kink" at Echostage headlined by DJs GSP and Ben Bakson. Q said they also booked Alyssa Edwards from "RuPaul's Drag Race" to appear at the party.
The last day of MAL will kick off with brunch starting at 10 a.m. at the Hyatt before the Mid-Atlantic Leather Contest begins at 1p.m. Contestants will go before a panel of judges on Saturday and Sunday for interviews, and leather-wear events. The outfit categories include "Bar Wear," "Jock Strap," and "Formal Leather." There will be seven judges on the panel with figures like Duke, Mr. Mid-Atlantic Leather 2022 and Gael Leung Chong Wo, International Mr. Leather 2022.
Applications for the contest can still be submitted at the Hyatt on Friday, Jan. 13 from 2-6 p.m.
The festivities will conclude with Kinetic's "discoVERS XL" dance party at UltraBar which will be hosted by Grammy-nominated DJ Abel and disco diva Alexis Tucci. Kinetic's statement promises "a night of jubilant disco and house music with performances seamlessly integrated into their sets."
Tickets for the individual Kinetic events can be purchased on the company's website.
For those who can't get tickets to official MAL events, various LGBTQ and queer-friendly venues are hosting their own events throughout the weekend. Leather-centric nights can be found at Flash Nightclub, Trade, DC9 Nightclub, Zebbie's Garden, and Songbyrd Music House.
DC9's Saturday event, titled "Mid-Atlantic Leather Dykes" was created in part by DC Dyke Night, an organization designed to establish more queer spaces in the district. DJs Jacq Jill and Clamazon will be headlining the show.
DCDN founder and organizer Maria said they wanted to host their own leather-themed party for those who can't or don't choose to go to official MAL events.
MAL weekend "holds such a fun and special place in my weird little heart," Maria said, adding that party-goers should expect "fun, dancing, and hot people in leather" at DC9.
"I love seeing the community come together over a certain love or bond," they said. "I think the leather community is a raw experience filled with joy, exploration, learning and it feels safe."
Jacq Jill, who goes by Lo offstage, described MAL as the city's leather Christmas and highlighted the importance of dyke-run spaces in the queer community.
"We truly have made it our mission to bring our spaces back," Lo said in an emailed statement. "There is a long history of dyke leather, imagery, and celebration. Although it's no secret that leather culture can lean heavy on cis male participation. . .Maria and I are here to help the cause we love so much, and that is to diversify leather and make room for a history that has somewhat been forgotten."
Q said that attendees he has spoken to seem excited to be celebrating MAL weekend without strict COVID-19 restrictions although organizers will still remain cautious about the virus.
"Everyone in the community has to be responsible for their own health," he said. "The venues are all more than equipped to do the cleaning and sanitation. For us, the main thing now is providing information to party-goers."
Ultimately, Q said MAL is about bringing the LGBTQ community together for several days of freedom to explore fetishes and fantasies.
"Everybody has an alter ego, some are more open with theirs than others," he said. "I feel that we provide the community a way to express themselves and be themselves. It's almost like Halloween where you get to put on your alter ego for a couple of days and just explore. It's beautiful."
PHOTOS: New Year Still Queer
The Washington Blade holds appreciation happy hour at Pitchers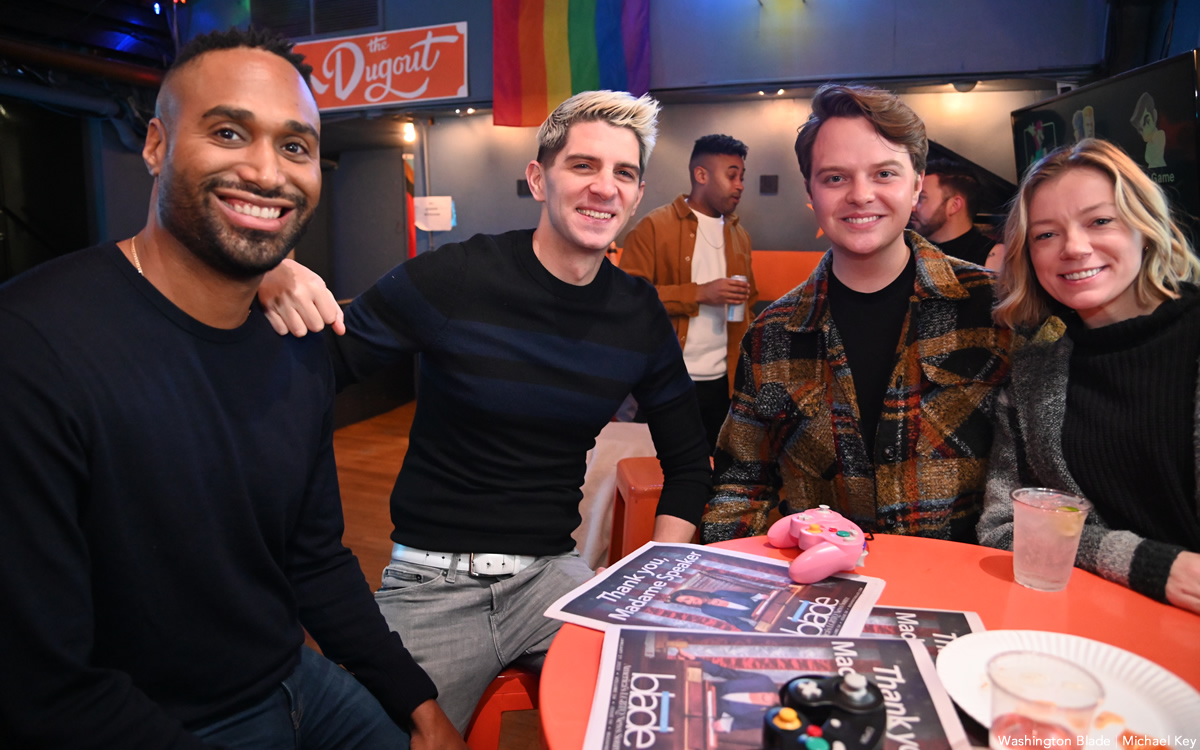 The Washington Blade held a New Year Still Queer appreciation happy hour at Pitchers DC on Friday, January 27.
(Washington Blade photos by Michael Key)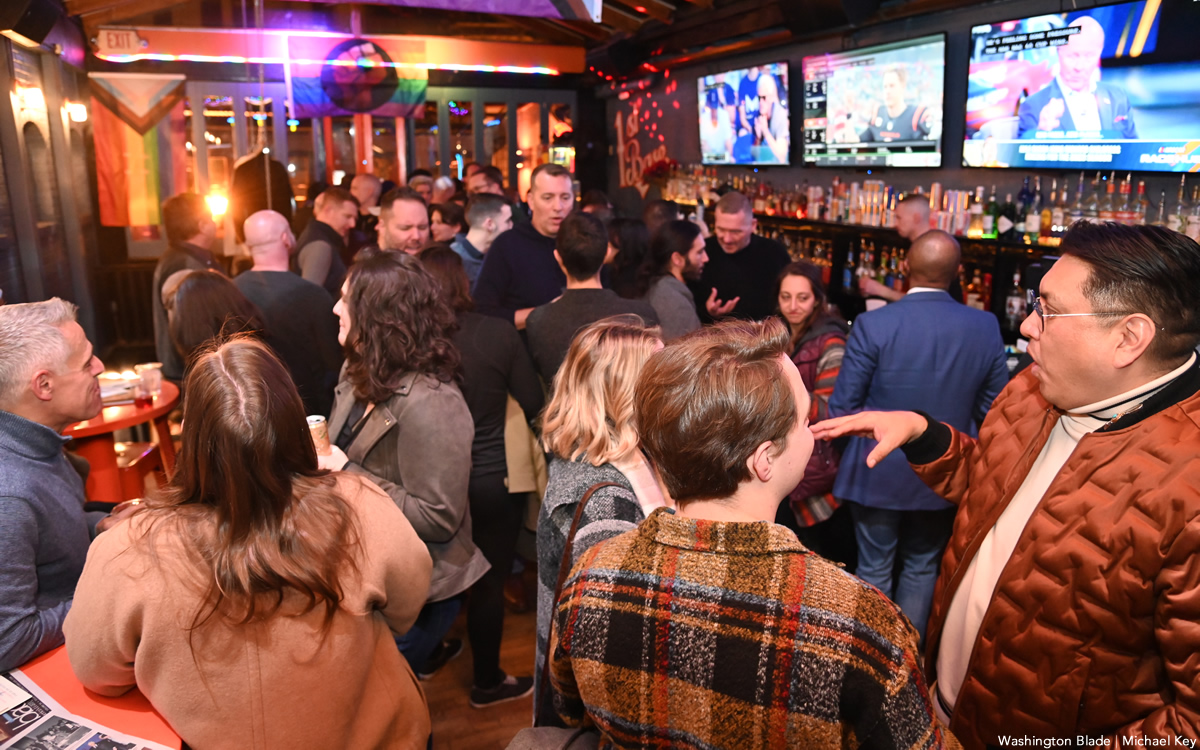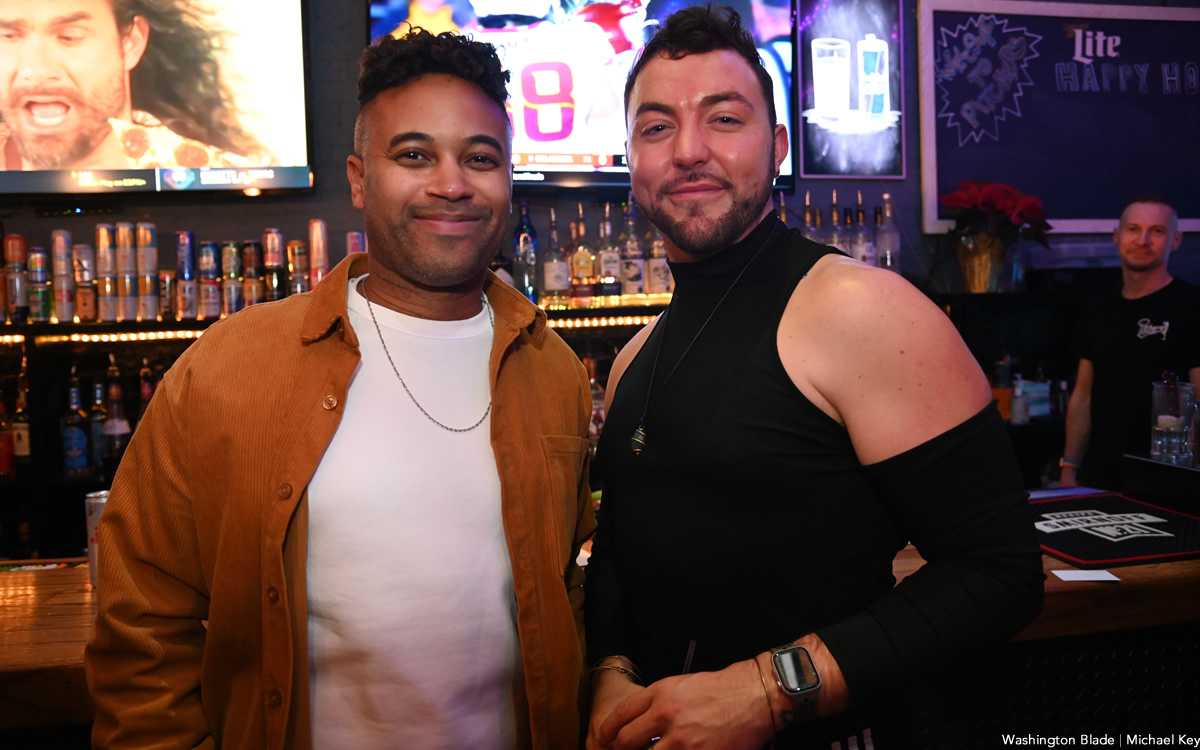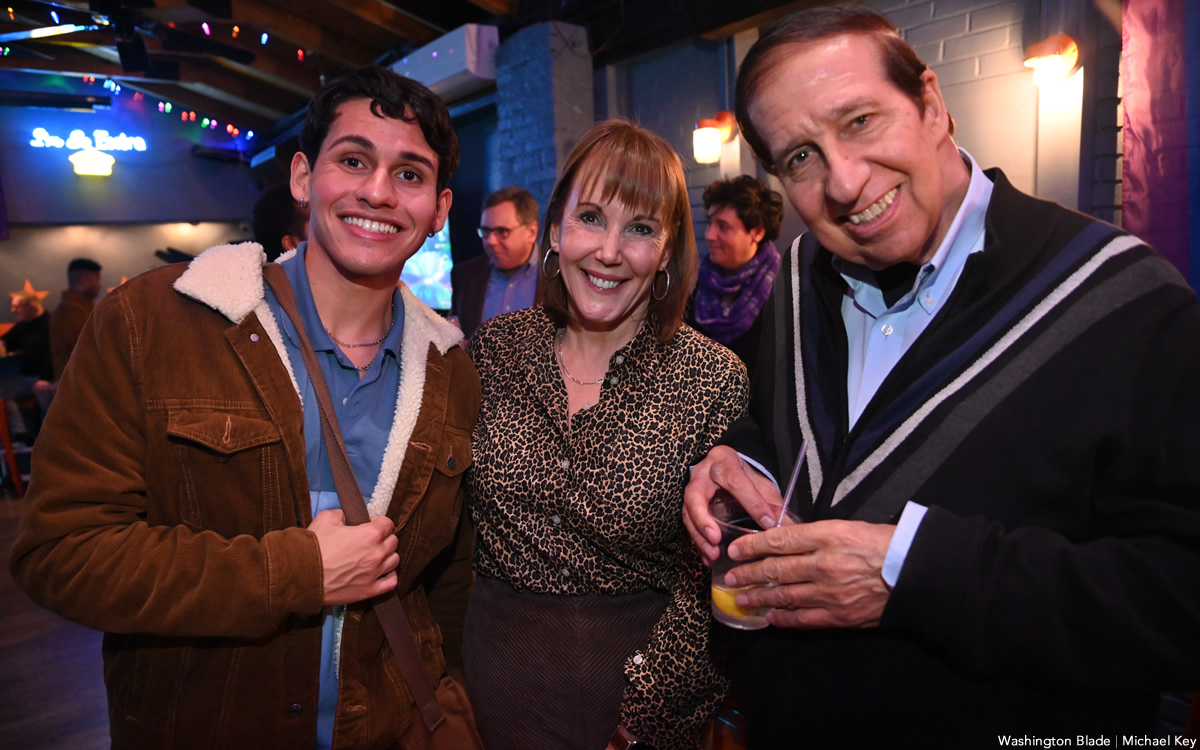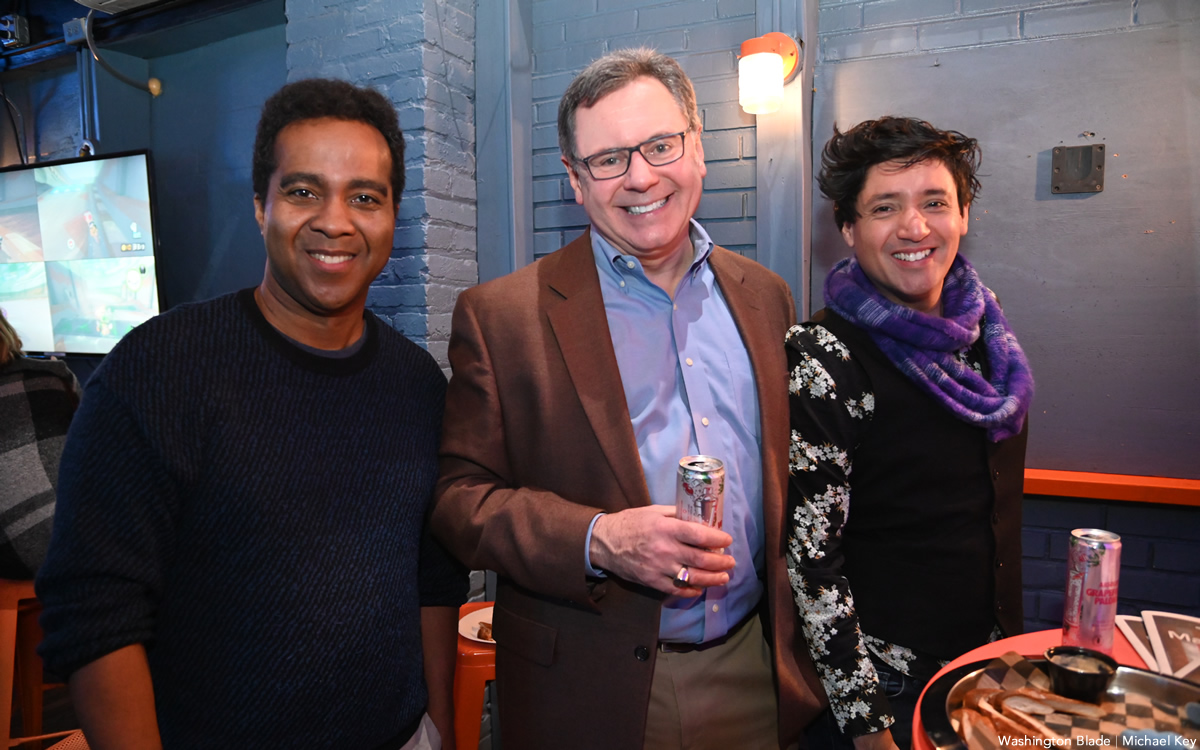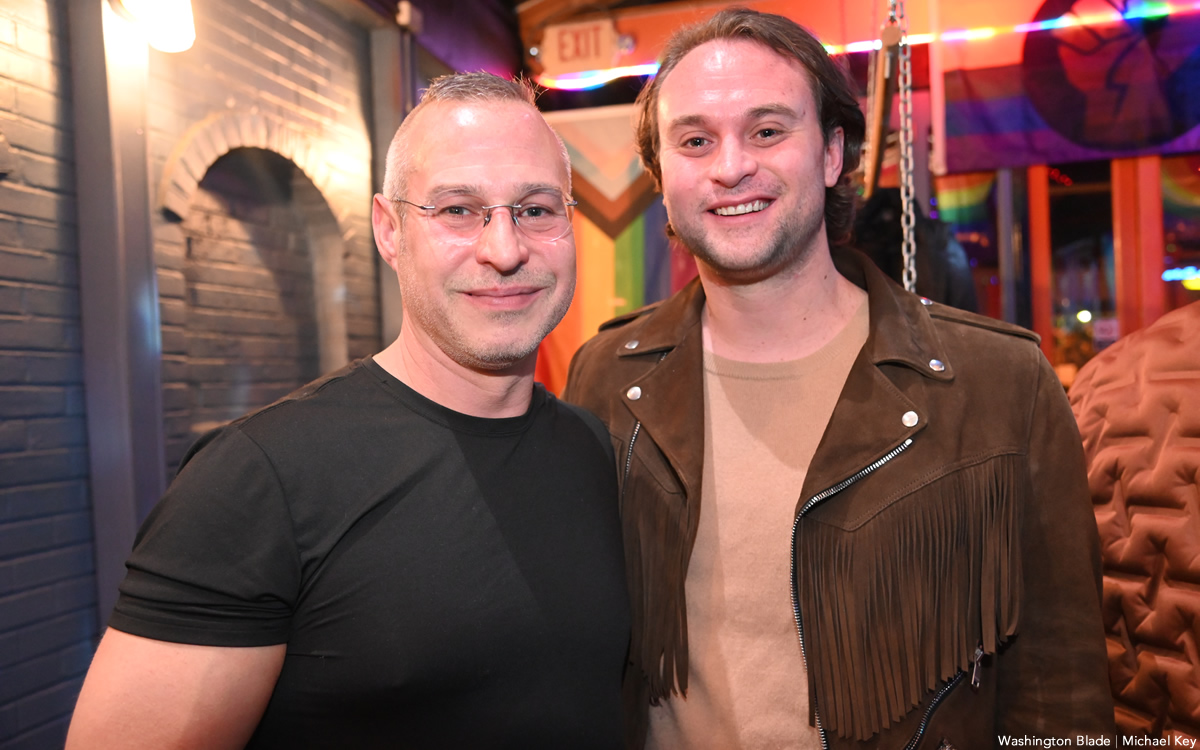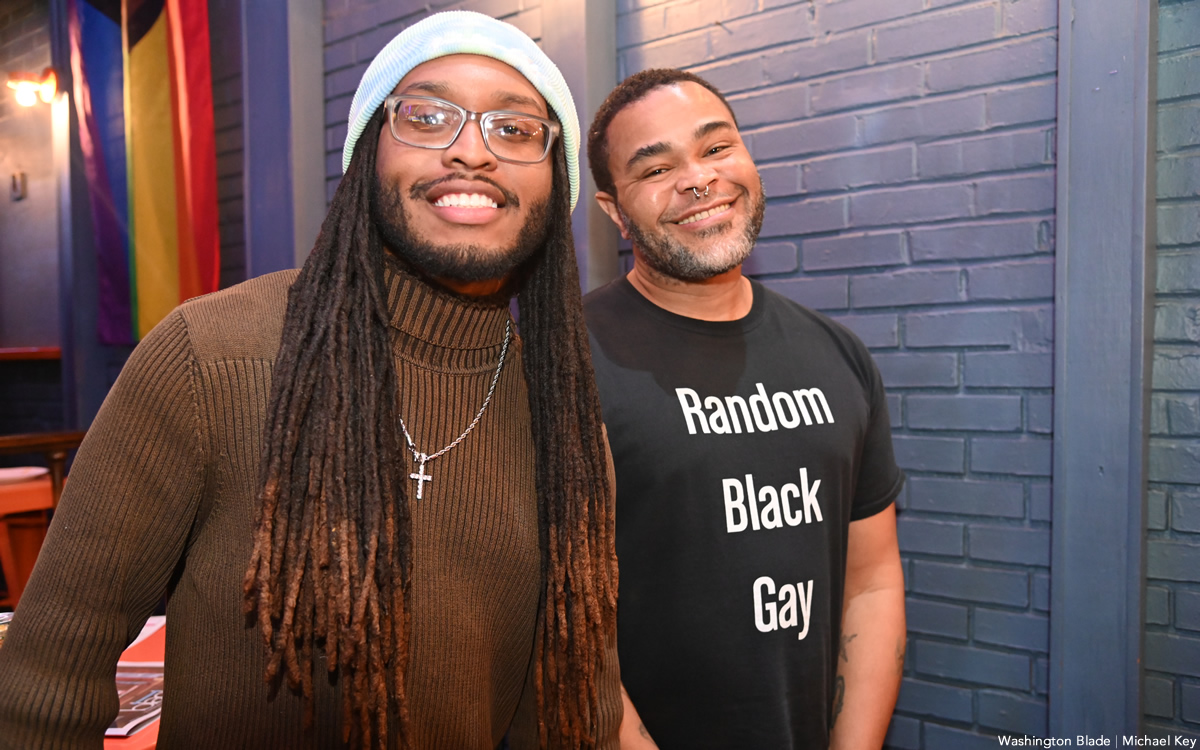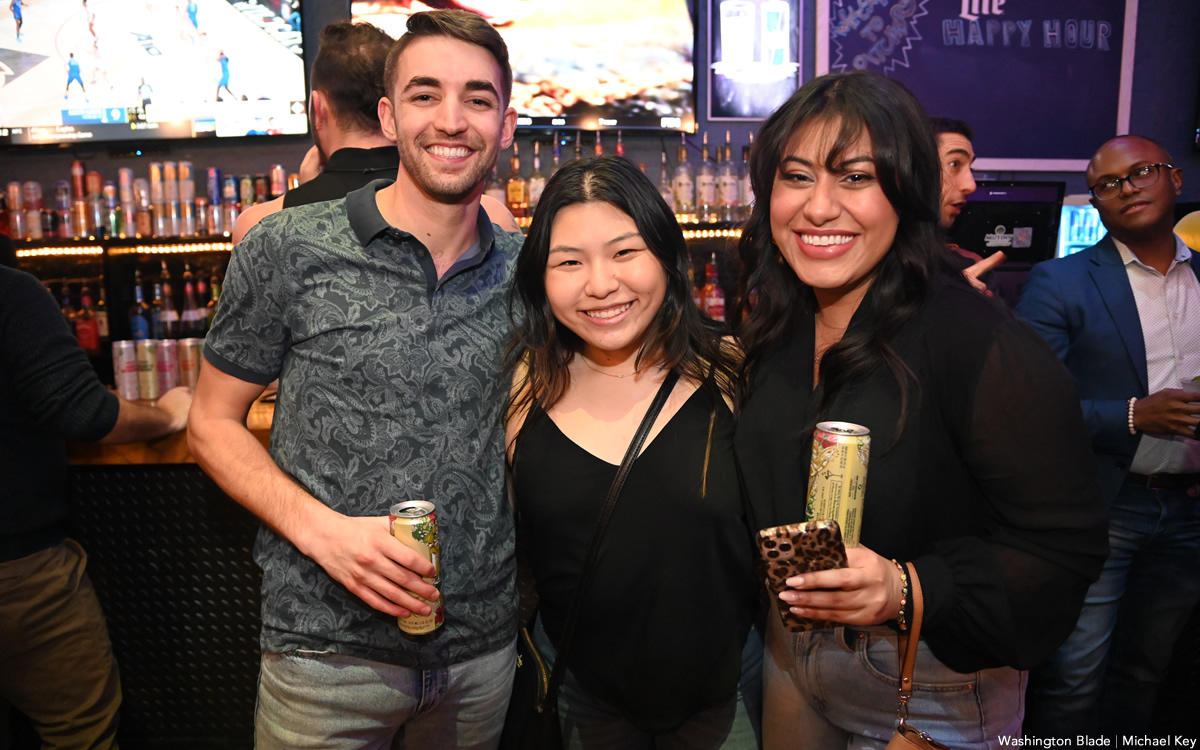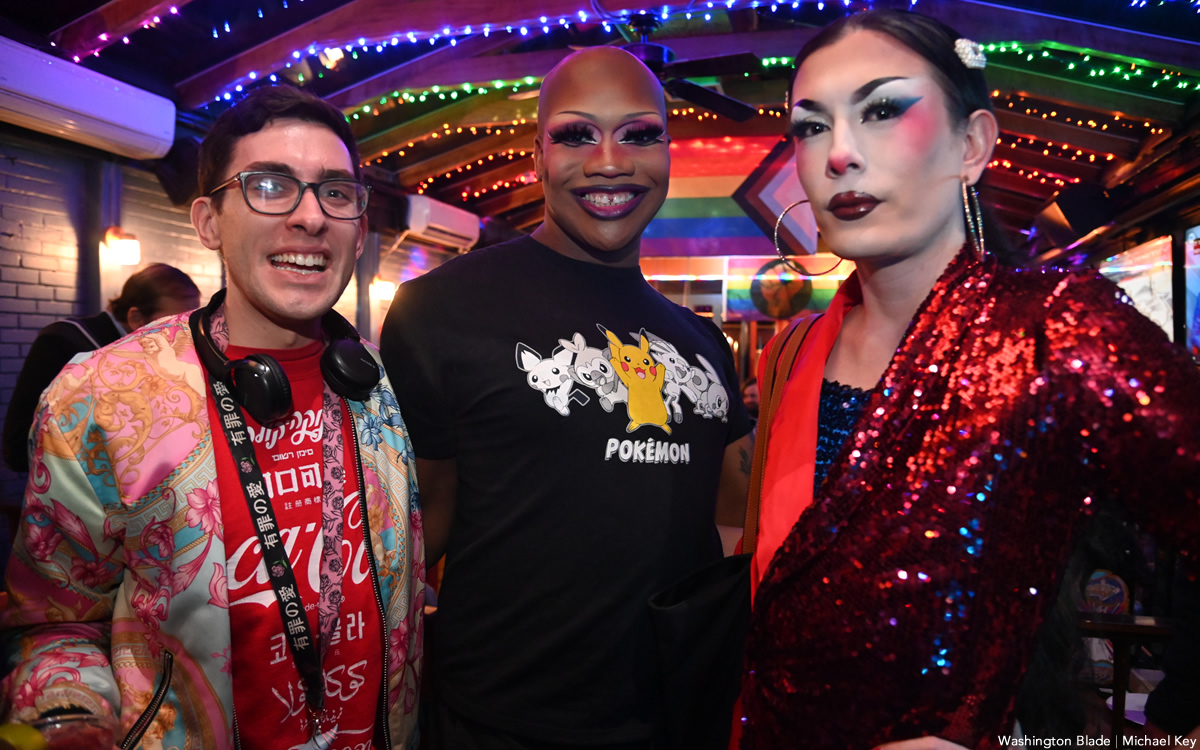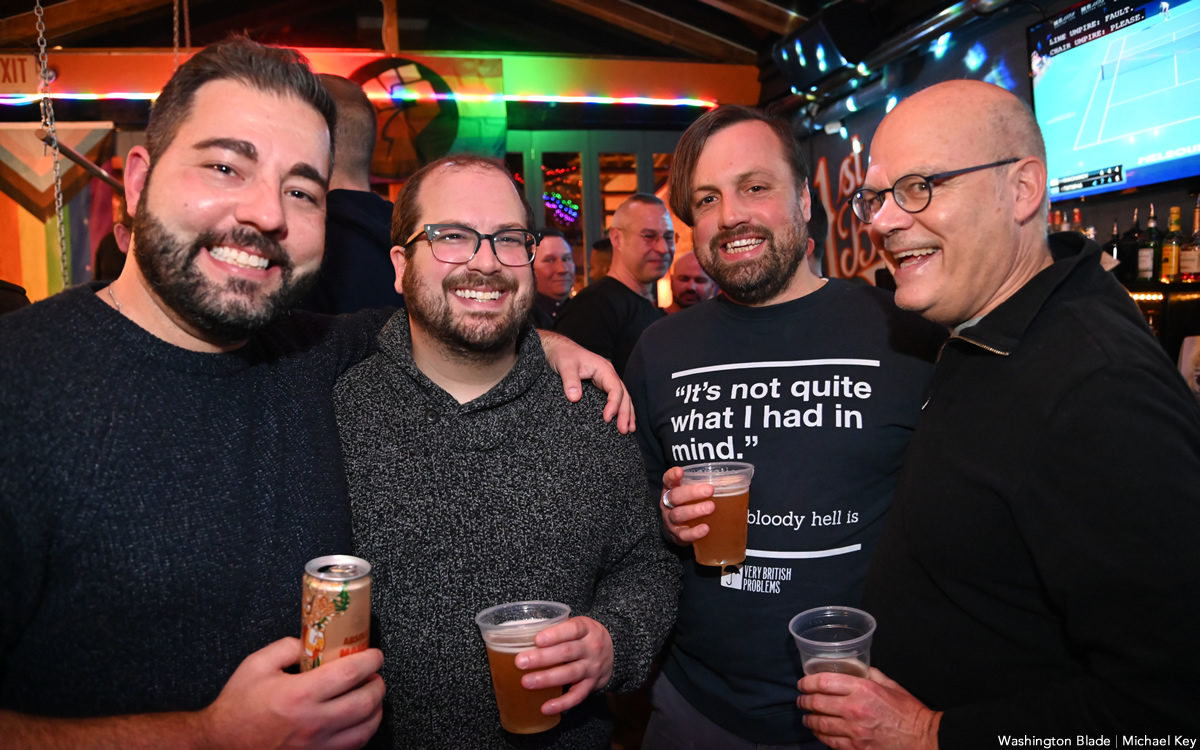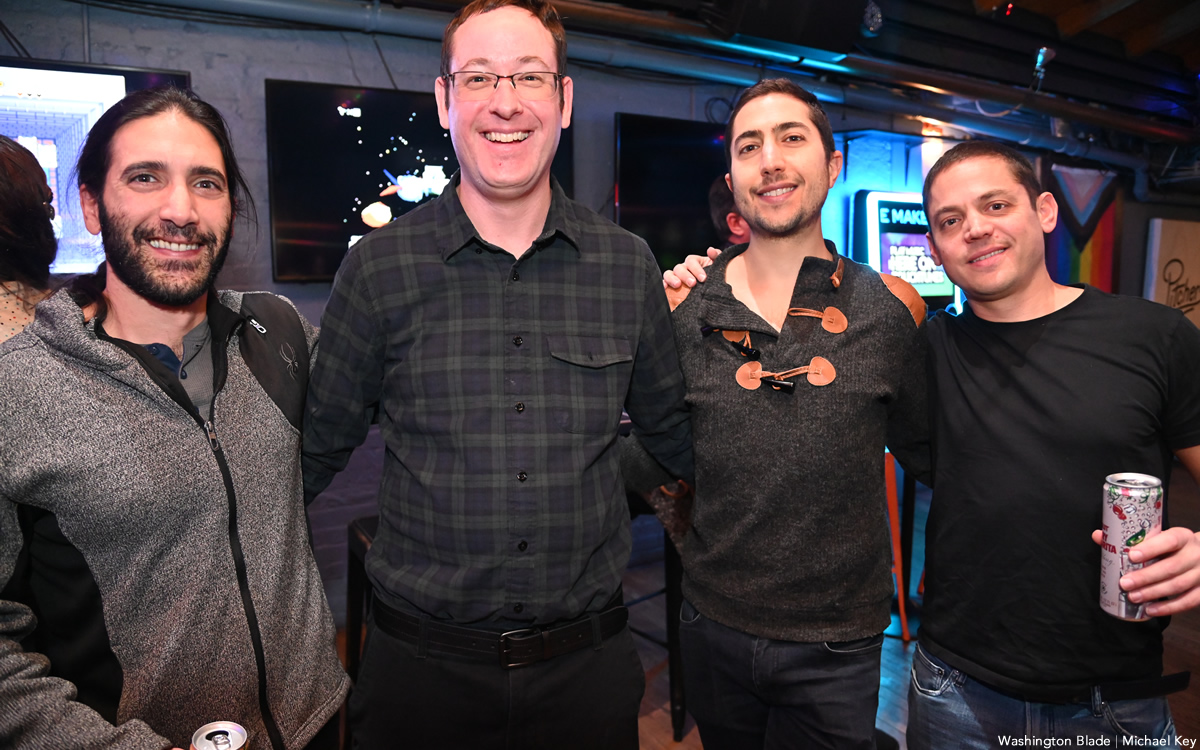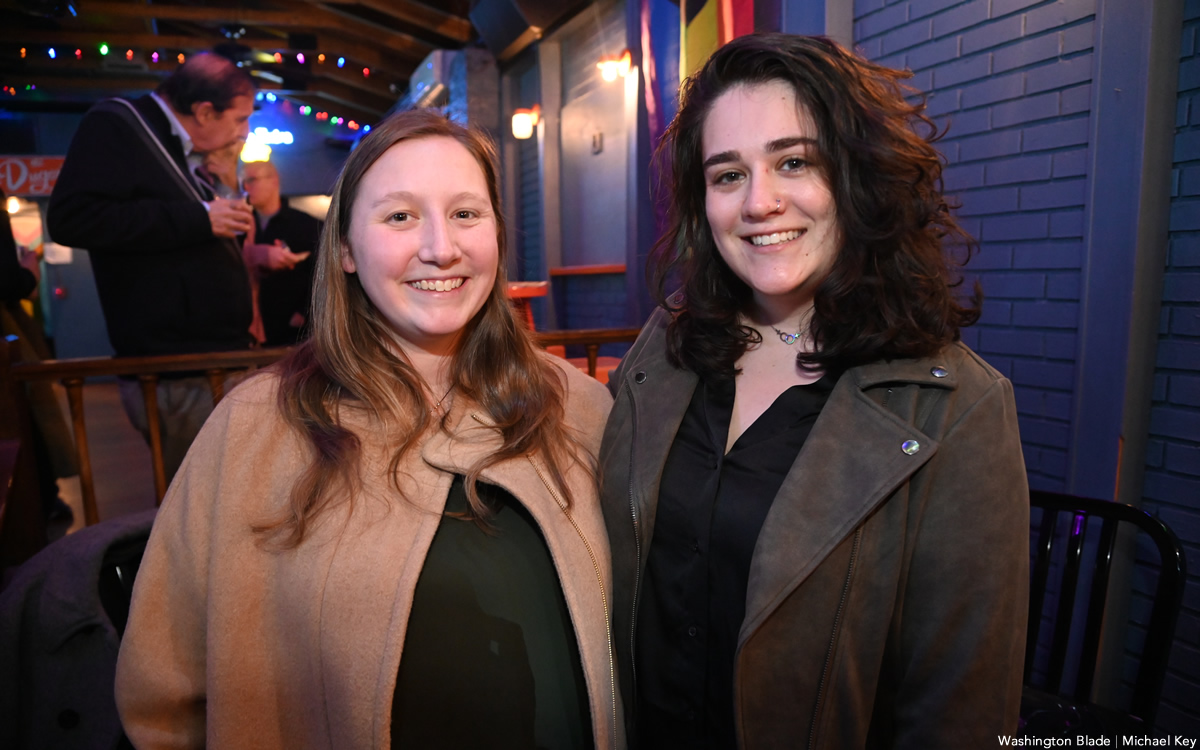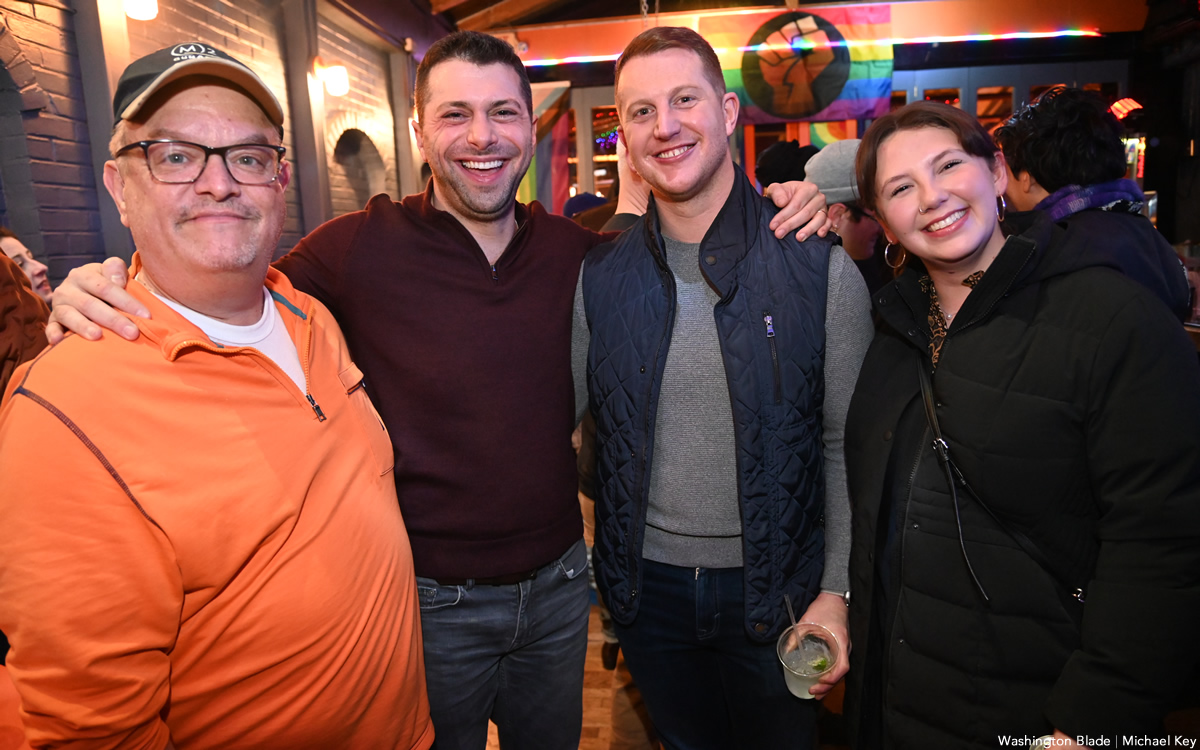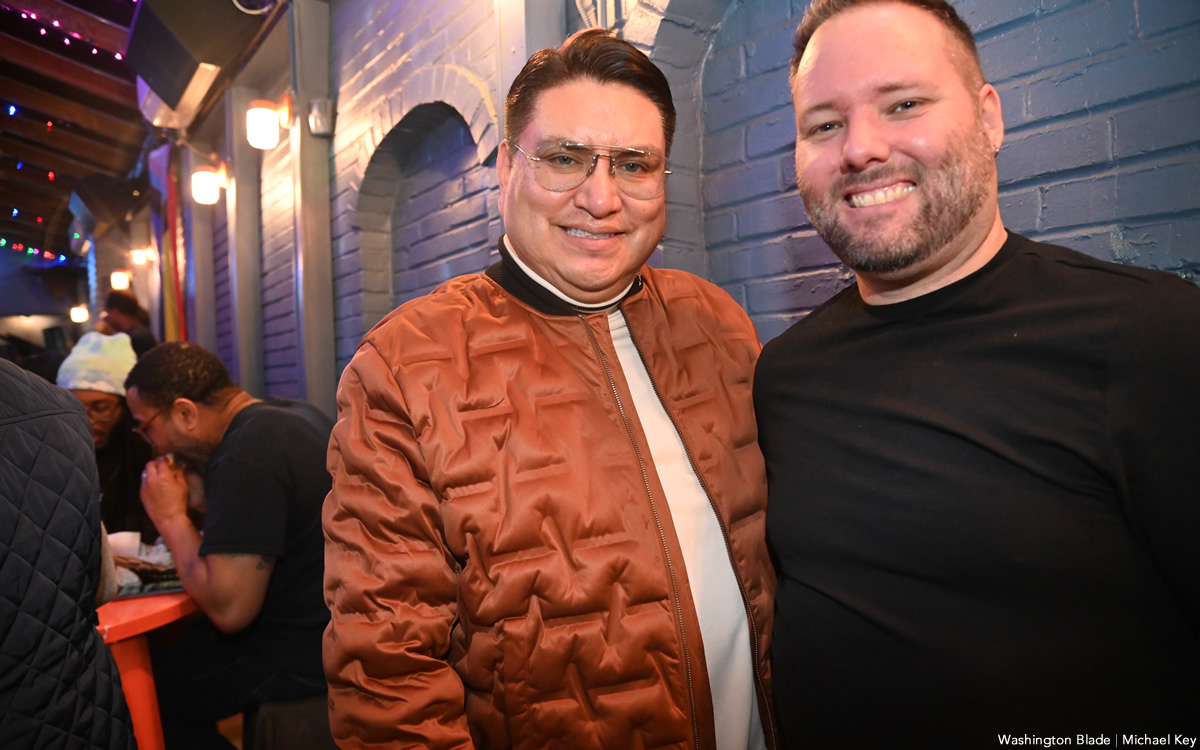 A balanced look at whether to have children
New book, 'So When are You Having Kids?' makes no judgments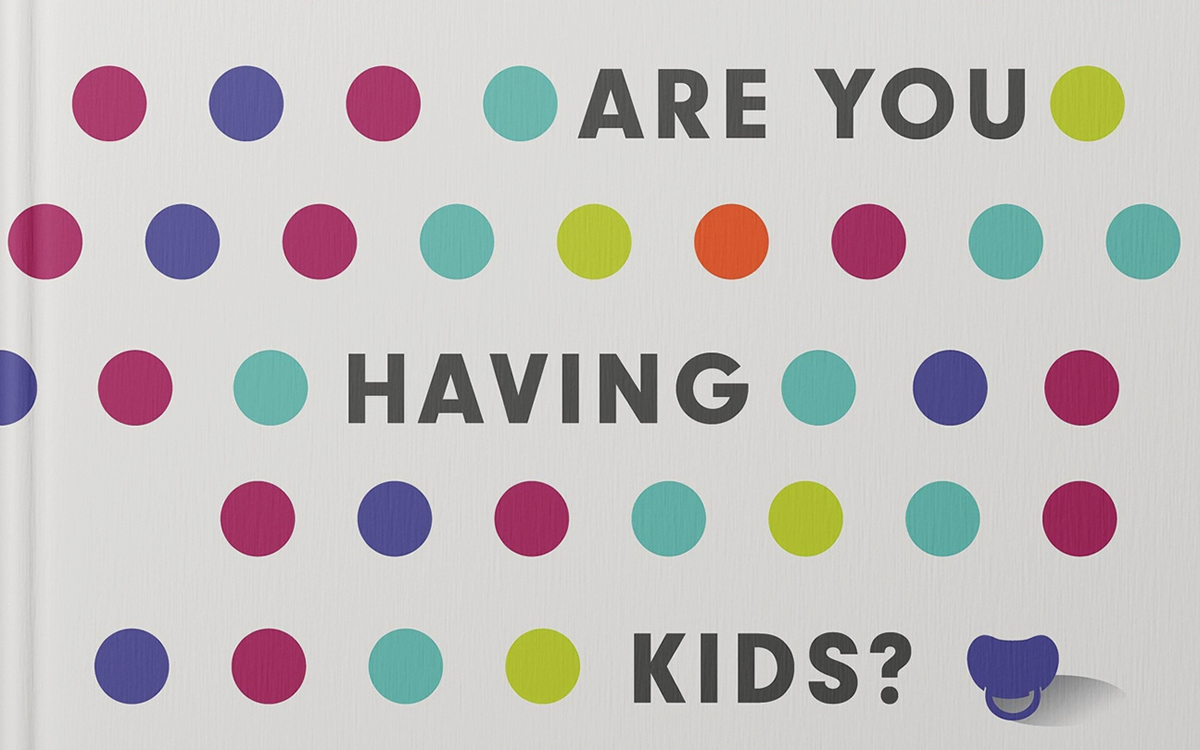 'So When are You Having Kids?'
By Jordan Davidson
c.2022, Sounds True, Macmillan
$28.99/356 pages
Your mother lingers way too long in the children's department.
She sighs over tiny suits and little sneakers, running her fingers along soft blankets, hugging plush animals. You know what she wants but you're not ready; she might be sure but you're not. Maybe baby for you or, with the new book "So When are You Having Kids?" by Jordan Davidson, maybe not.

It's the thorniest of decisions, "one of the biggest you'll ever make." It's personal, but even strangers want to know; the questions start in your 20s and end when you've acquiesced or aged, although having kids is not a given or a thing-by-committee. So how do you quiet the busybodies and make the right decision for yourself?
First, says Davidson, ask yourself if you even want children, and after you've looked inward, "it's worth looking outward" at expectations, culture, and things that "shape our understanding of parenthood." Ask around, to see why others had children but don't be surprised if you get cliches. Throw out the idea that children fulfill you or that they'll take care of you when you're old. Know that genetics, religion, and your parents' parenting styles will affect you; and that if you're queer or Black, there'll be other factors involved in having and raising a child.
Should you decide to the positive, you may still have reservations.
Don't give in to the romance of having kids; it's hard work, and expensive in both money and time. Remember that perceptions of good parenting have "shifted over time" and that having a childhood exactly like yours probably won't be an option for your kids. If you have a partner, communicate your thoughts, hopes, and divisions of household labor and childcare.
Finally, decide how you're going to become a parent. Will you give birth, choose IVF, adopt, foster, or kick the decision down the road?
Says Davidson, the mere ability to ask these questions and decide "is in many ways a privilege."
Chances are that if you hear a screaming baby, you have one of two reactions: you cringe and look for an exit, or you notice and shrug. Either way, "So When are You Having Kids?" is a book for you.
There are many, many parenting books on miles of shelves, and a number of books on being childless, but author Jordan Davidson pulls the two subjects together here with thoughtfulness, candor, inclusiveness, and a refreshing lack of judgment. This is a book that doesn't promise answers, though: it's meant to give readers – whether they want kids, don't, or are ambivalent – an in-one-place, balanced look at myths, truths, pros, cons, and rarely-considered points for an informed decision. It also, perhaps most importantly, offers comforting reminders that there is no right or wrong, no matter what Mom says.
"So When are You Having Kids?" is like having a big sister to bounce ideas with, or a break-out session in your living room. It's like asking Baby Maybe questions you didn't know you had. It's help when you need it in that department.
The Blade may receive commissions from qualifying purchases made via this post.
PHOTOS: SMYAL for the New Year
LGBTQ youth services organization holds fundraiser at Red Bear Brewing
The SMYAL Young Donors Committee held a fundraiser for the LGBTQ youth services organization Supporting and Mentoring Youth Advocates and Leaders (SMYAL) at Red Bear Brewing Company on Thursday, Jan. 26.
(Washington Blade photos by Michael Key)