Transgender journalist who enlisted in Ukrainian military wounded
Shrapnel from a Russian artillery shell struck Sarah Ashton-Cirillo on Thursday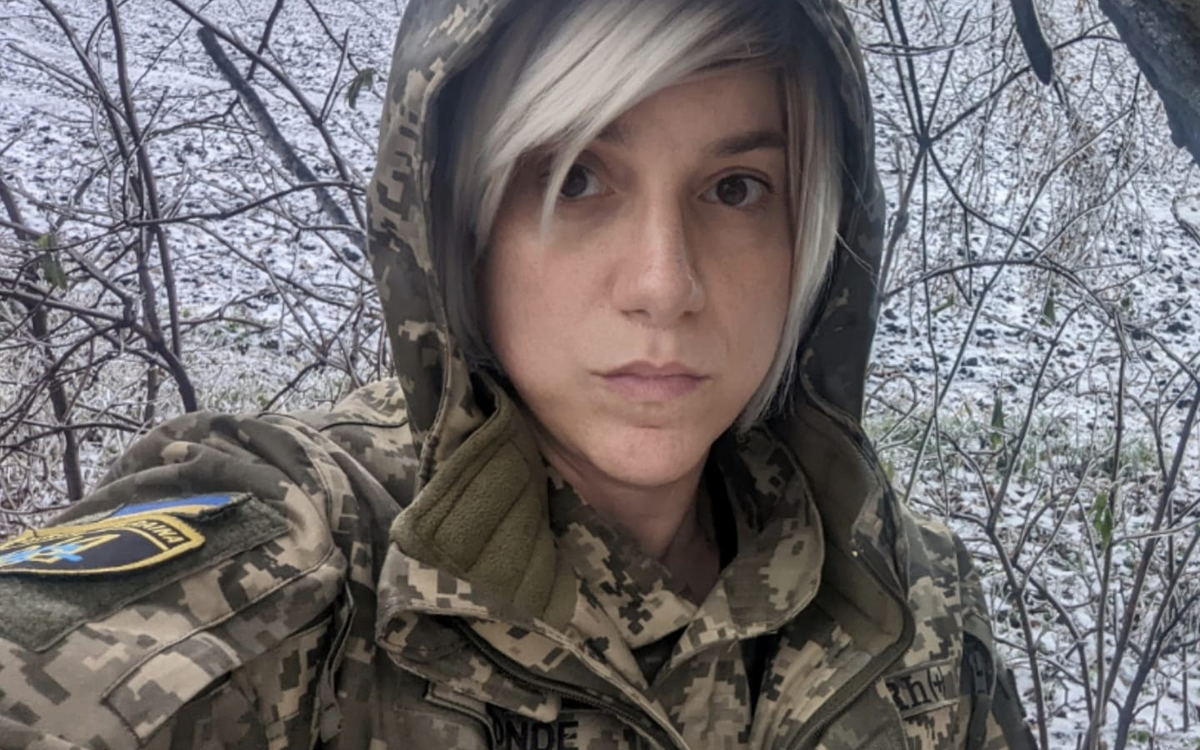 Shrapnel from a Russian artillery shell on Thursday wounded a transgender woman from Las Vegas who is serving in the Ukrainian military.
Sarah Ashton-Cirillo told the Washington Blade that part of the artillery shell hit her in the head and right hand while her unit, the 209th Battalion of the 113th Brigade in the Donbas, was on the frontlines in eastern Ukraine's Donbas region.
"I was hit this morning," she wrote in a tweet. "My injuries are permanent. I've lost part of my hand and have scarring on my face."
A video that Ashton-Cirillo posted to Twitter shows a fellow soldier bandaging her hand.
Explosions can be heard in the distance as Ashton-Cirillo speaks.
"They can't kill us. They can't hurt us. Victory is ours. It doesn't fucking matter. Why? Because we're Ukraine," she said. "Ultimately Putin is going to be the one dead … and this is the small price for liberation and freedom. Slava Ukraini! (Glory to Ukraine!)"
I was hit this morning.

My injuries are permanent.

I've lost part of my hand and have scarring on my face.

We won the battle, though.

And here was my message in the immediate aftermath. pic.twitter.com/2mXFTQ3Cak

— Sarah Ashton-Cirillo (@SarahAshtonLV) February 23, 2023
Friday marks a year since Russia launched its war against Ukraine.
Ashton-Cirillo enlisted in the Ukrainian military after she covered it.
"I want to serve this fight for freedom, this fight for liberty, this fight for all of us," she told the Blade last December while she was in D.C. to speak with lawmakers on behalf of the Ukrainian Defense Ministry about continued support for Ukraine.
Ashton-Cirillo on Wednesday sent the Blade pictures of her "from the trenches" where she and her unit are fighting. Ashton-Cirillo said "this act of war by Putin has set in motion a timely and irreversible civil rights movement in Ukraine, one that has been extraordinarily beneficial to the LGBTQ community."
"From hundreds of openly queer men and women serving in the Armed Forces of Ukraine to President Zelenskyy's positive statement about civil partnerships and human rights as applied to the community, what Putin has done has allowed freedom to bloom in Ukraine."
ILGA-Europe launches new program for racialized LGBTQ, intersex communities
Deadline to apply is April 2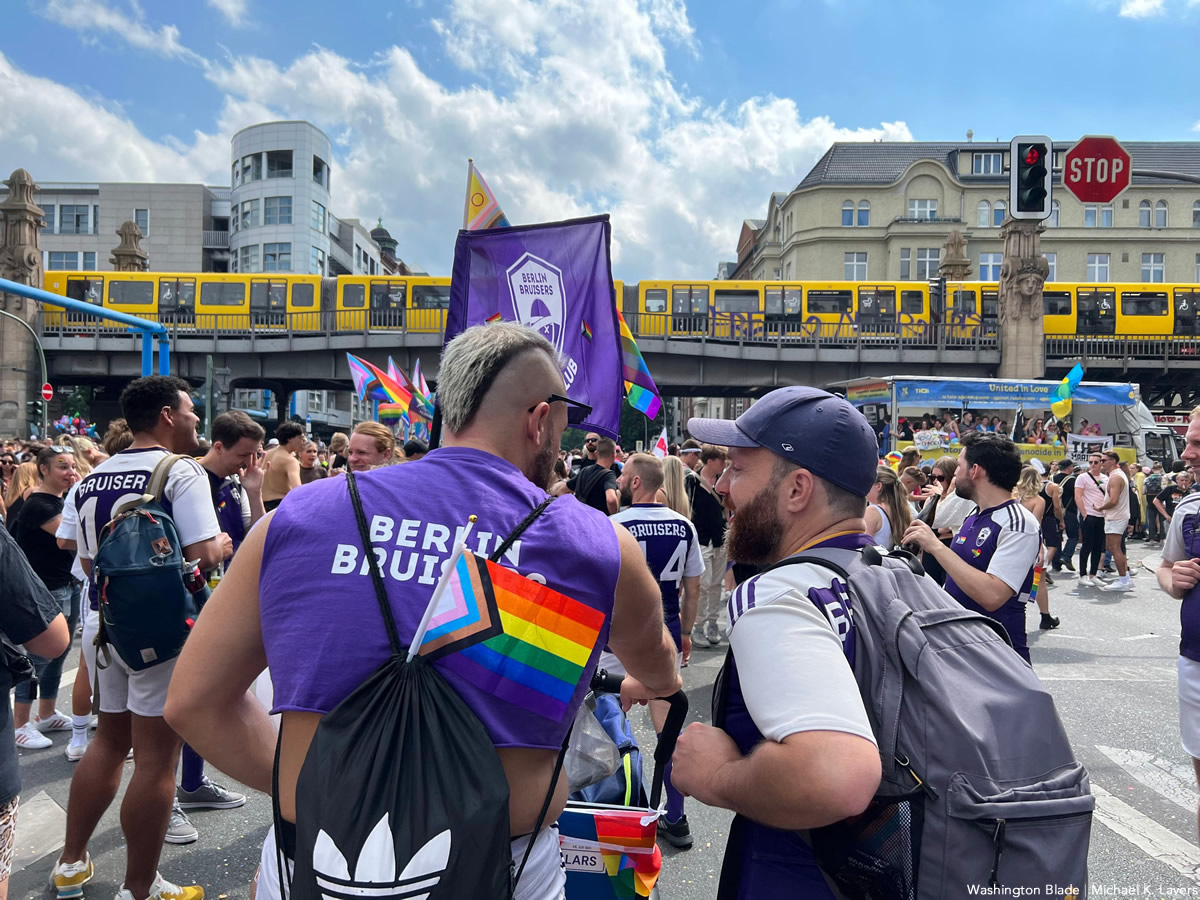 ILGA-Europe this week announced a new two part 12-month program focused on the work being done by and for racialized LGBTQ and intersex communities across Europe.
According to the international LGBTQ and intersex advocacy non-profit, the new initiative will be supporting up to 15 organizations' work on socio-economic justice for racialized LGBTQ and intersex communities through a combination of grants and other resources.
The program has two interconnected components:
Financial support for the implementation of a project (up to 20.000 euros per project), AND
Learning and networking that will bring grantees together (on-line) on a regular basis to exchange learning, share challenges and solutions, build solidarity and find points for collaboration and inspiration.
The aim of this program is to:
Bring together a group of up to 15 European LGBTI organizations/groups across Europe that work on addressing the intersectional impact of socio-economic injustice, racialization, racism and supremacy and specific harms affecting the lives of racialized LGBTI communities across Europe.
Support, strengthen and advance their work on socio-economic justice for racialized LGBTI communities through a combination of grants and regular peer-learning/networking meetings.
ILGA-Europe noted that currently, the LGBTQ and intersex movement across Europe operates in an increasingly hostile environment that directly affects the lives of LGBTQ and intersex communities and the work of activists.
This environment is marked by anti-rights opposition, anti-democratic developments, rising unemployment, economic crises, ongoing and brewing geo-political conflicts, deepening structural inequalities, fear-mongering, mounting transphobic and sexist and racist rhetoric and violence.
In a statement, ILGA-Europe said:
"So many organizations and groups have been doing incredible work and contributing to change, while at the same time being historically excluded from funding. By supporting these groups, we also wish to recognize and acknowledge the specialized knowledge and skills involved in addressing intersectionality. This can mean anything from exposing structural oppressions that shape harm; building and sustaining the resilience of racialized communities; developing and applying anti-racist, feminist and alternative approaches; to working through — and in spite of — institutional violence and trauma.
This programme expresses our commitment to continue our engagement with socio-economic justice and to strengthen our work on anti-racism. We see a great value for the wider movement in making the work of the organizations supported, disseminated and visible. We see an opportunity to bring the learning from this program to the wider movement, as we believe that solutions and approaches that include a few will pave the way and point to the solutions for many."
Key information and details:
In selecting proposals, ILGA-Europe will prioritize projects that:
Demonstrate clear understanding of how the intersection of LGBTI identities, socio-economic injustice and racialisation works in their local contexts
Present a clear plan for how the envisaged change is going to come about in these contexts
Seek to establish practices/tools/solutions that can live beyond the project's lifetime
Have the potential to enhance the movement's thinking on anti-racism and working towards socio-economic justice in general and for socio-economic justice for racialized LGBTI communities in particular.
Respond to the framework, aim, objectives, and areas of work of this call
Are implemented by LGBTI-run organisations and initiative groups in Europe that have history and practice of working with and for racialized LGBTI communities
Deadline and timeline:
Proposals should be submitted using the attached application form and budget template. The last day to submit your application (deadline) is Sunday, April 2, 2023, 23:59 CEST.
We will review applications, decide on projects to be supported and inform all applicants about the results of the review via the e-mail address provided in the application by May 5, 2023.
Contracts will be signed with organisations in May 2023. Successful applicants should be available to respond to requests during that period. The project must start June 1 2023.
To submit an application or if you have any questions in the preparation of your project proposal, please contact:

[email protected]
Questions?
If you have any questions in the preparation of your project proposal please submit them via e-mail to [email protected]
We will answer all of your questions via e-mail and then publish answers on a dedicated ilga-europe.org website page on Feb. 27 and on March 23, in order to share the information among all applicants.
Call for Applications DOWNLOAD
LGBTQ Holocaust victims remembered on International Holocaust Memorial Day
Up to 15,000 gay men sent to concentration camps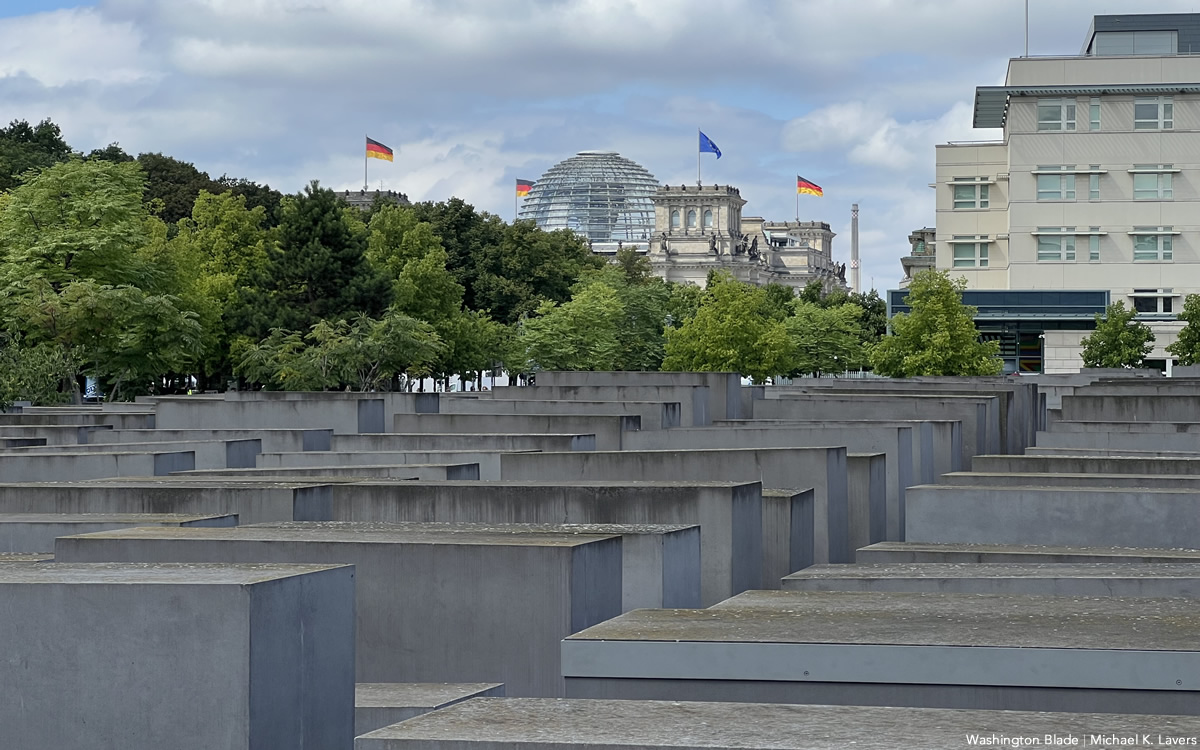 Ordinary People is the theme for International Holocaust Memorial Day 2023 as around the globe the day is set aside for everyone to remember the millions of people murdered in the Holocaust under Nazi persecution.
The Nazis targeted anyone they believed threatened their ideal of a "pure Aryan race," including Roma and Sinti people, disabled people, LGBTQ people, political opponents and others.
In a statement released by the U.S. Embassy in Lithuania, whose ambassador, Robert S. Gilchrist, is openly gay, a coalition consisting of other nation's diplomatic missions to the Baltic nation, including Israel, Germany, the Netherlands, Japan and the European Commission noted:
"As we mark International Holocaust Remembrance Day, we commemorate the Holocaust of six million Jews, men, women and children, including more than 200,000 Jews murdered in Lithuania. We remember other communities who were also murdered: Roma, disabled persons, LGBTQI+ persons, Slavs and others. We do not forget that the Nazis committed these heinous crimes with the support of local collaborators throughout Europe. And we remember the heroism of countless people who, at great personal risk, stepped in to save thousands of Jews."
Amy Gutmann, the U.S. ambassador to Germany, tweeted: "Today we remember the horrors of the Holocaust and the six million Jews, and millions of Roma, Sinti, Slavs, persons with disabilities, LGBTQ+ individuals and political dissidents murdered by the Nazis and their collaborators." Gutmann added: "As my father, a German Jew forced to flee Germany in 1934 said, "Everything we do — and everything we don't do — makes a difference."
Today we remember the horrors of the Holocaust and the six million Jews, and millions of Roma, Sinti, Slavs, persons with disabilities, LGBTQ+ individuals, and political dissidents murdered by the Nazis and their collaborators. pic.twitter.com/wfjBnCeoUB

— Ambassador Amy Gutmann (@USAmbGermany) January 27, 2023
PinkNewsUK journalist Patrick Kelleher wrote:
"It is thought that up to 50,000 gay men received severe prison sentences under Nazi rule. According to the Holocaust Memorial Day Trust, most were sent to police prisons, but between 10,000-15,000 were sent to concentration camps.
Life for queer people in Weimar Germany was a very different picture to what it would become under the Nazis.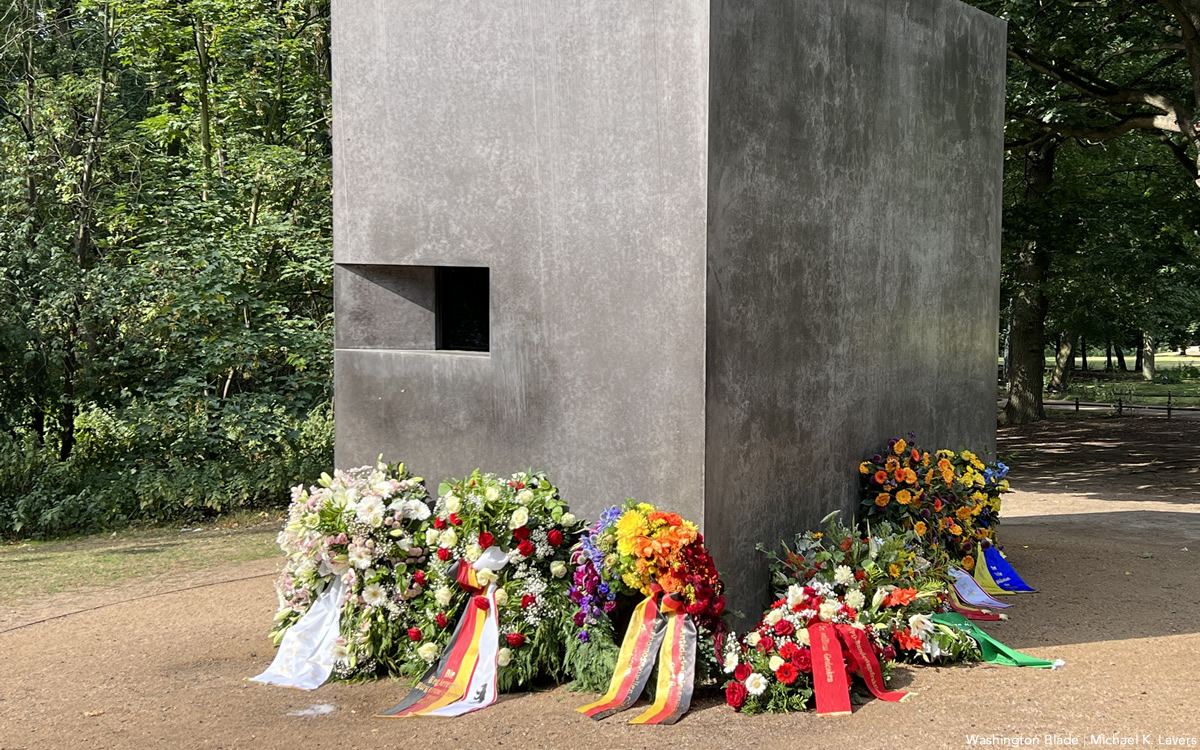 There were gay bars, there was a functioning queer scene — there was even an institute for sexual research, a concept that would be impossible to imagine in most European cities of the day.
When the Nazis came to power in 1933, everything changed. In the years that followed, millions of Jews, alongside other minority groups, were rounded up, tortured and murdered in concentration camps, up until 1945."
David Pressman, the U.S. ambassador to Hungary who arrived in that country with his husband and their two children last fall, also remembered the Holocaust in a tweet:
January 27, 2023
Pope Emeritus Benedict XVI dies at 95
Retired pontiff resigned in 2013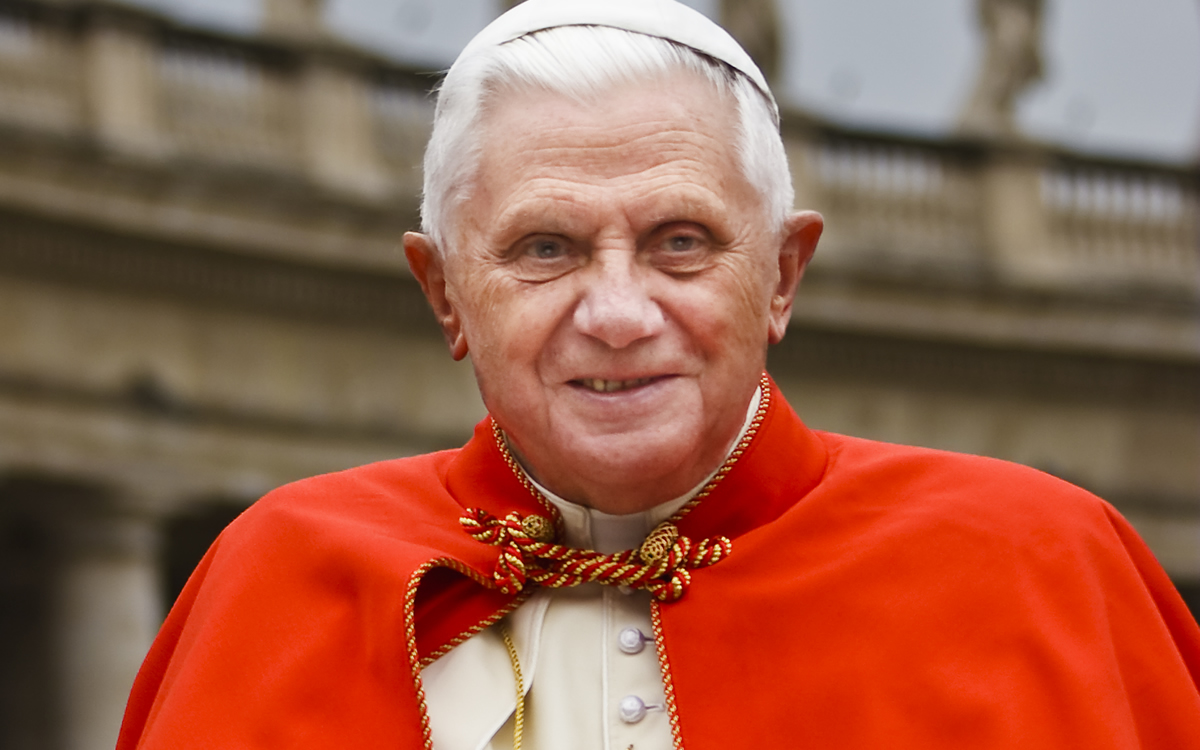 The Vatican on Saturday announced Pope Emeritus Benedict XVI died at the age of 95.
Vatican spokesperson Matteo Bruni said Benedict passed away at 9:34 a.m. local time (3:34 a.m. ET) at the Mater Ecclesiae Monastery in the Vatican.
Benedict was born Joseph Ratzinger in Marktl Am Inn in Germany's Bavaria state on April 16, 1927.
The Associated Press notes Benedict in his memoirs acknowledged his forced enlistment in the Hitler Youth in 1941 and his desertion from the German army just before the end of World War II.
Benedict and his brother, Georg, in 1951 were ordained as priests. He became Munich's bishop in 1977 and then-Pope Paul VI in 1980 elevated him cardinal.
Benedict assumed the papacy on April 19, 2005, after Pope John Paul II died. Benedict on Feb. 11, 2013, became the first pope to resign since Pope Gregory XII stepped down from the papacy in 1415. His successor, Pope Francis II, on Wednesday said Benedict was "very ill."
Benedict described gay men and lesbians as 'intrinsically disordered'
Benedict as the prefect of the Vatican's Congregation for the Doctrine of the Faith enforced the Catholic Church's moral doctrine.
He wrote in a 1986 letter that gay men and lesbians are "intrinsically disordered." Benedict also said in the same document that gay organizations could no longer use church property.
Benedict described marriage rights for same-sex couples as "a manipulation of nature" and categorized marriage equality efforts around the world as a threat to "human dignity and the future of humanity itself." Activists during Benedict's papacy also criticized the Vatican's opposition to condom use as a way to stop the spread of HIV/AIDS.
Benedict during his papacy faced scathing criticism over his handling of clergy sex abuse in the Catholic Church. The Vatican's finances also came under scrutiny.
"Benedict's approach to gay and lesbian issues was clearly hindered by the fact that he did not understand the human dimension of love and relationship that characterizes same-gender couples and individuals," said Francis DeBernardo, executive director of New Ways Ministry, a Maryland-based organization that ministers to LGBTQ and intersex Catholics, in a statement. "He relied on centuries-old, abstract philosophical and theological ideas instead of learning about more recent understandings of sexuality. Most importantly, he failed to listen to the lived experiences of real people."
"While clearly a man of faith seeking to act with good intentions; his resistance to engaging the lives, love and faith of actual human beings means he will be remembered as a church leader who did not listen pastorally to those the church serves," added DeBernardo in his statement. "In contrast, Pope Francis, his successor, has called for pastoral leaders to be listeners and learners, particularly in ministry with those on the margins of church and society, such as LGBTQ+ people."
Marianne Duddy-Burke, executive director of Dignity USA, an LGBTQ and intersex Catholic organization, in her statement also acknowledged Benedict's anti-LGBTQ legacy.
"The death of any human being is an occasion of sorrow. We pray for Pope Benedict's soul and express our condolences to his family, friends and loved ones," said Duddy-Burke. "However, his death also calls us to reflect honestly on his legacy. Benedict's leadership in the church, as pope and before that as head of the Vatican's Congregation for the Doctrine of the Faith (CDF), caused tremendous damage to LGBTQIA+ people and our loved ones. His words and writings forced our community out of Catholic churches, tore families apart, silenced our supporters and even cost lives. He refused to recognize even the most basic human rights for LGBTQIA+ people. Many of us experienced the most harsh and blatant religiously justified discrimination of our lives as a result of his policies."
The Vatican says Benedict's body will be in St. Peter's Basilica on Monday "so the faithful can pay their respects." His funeral is expected to take place on Jan. 5.
.