Families with trans kids sue Fla. over trans youth healthcare ban
Republican Gov. Ron DeSantis signed bill on March 16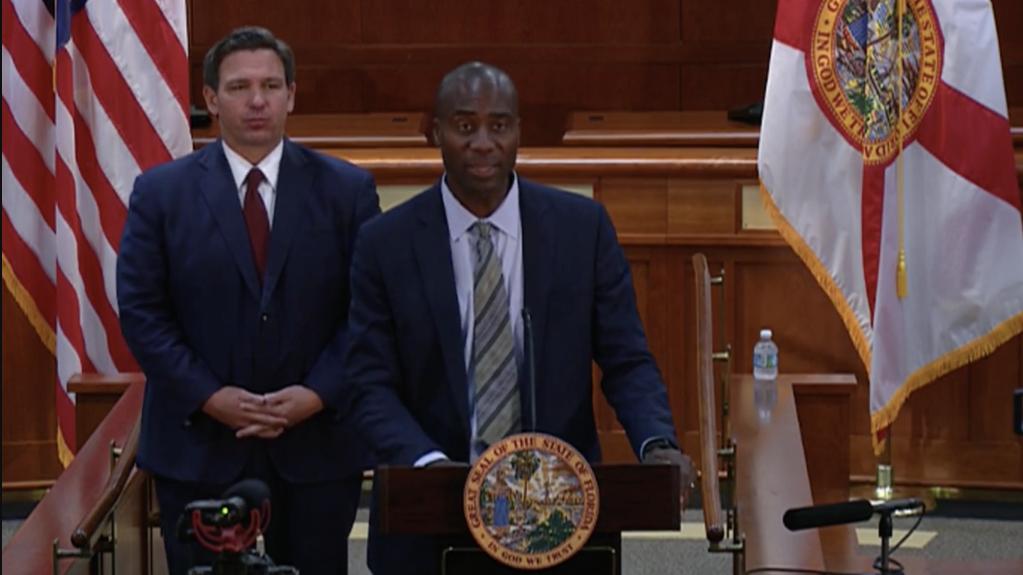 A lawsuit on behalf of four families with transgender children was filed Thursday in U.S. District Court for the Northern District of Florida, challenging the state's Boards of Medicine and Osteopathic Medicine's ban on gender affirming healthcare for minors.
The legal groups representing the four families, GLBTQ Legal Advocates and Defenders (GLAD), the National Center for Lesbian Rights, the Human Rights Campaign and the Southern Legal Counsel, Inc., noted in the suit that the bans contradict guidelines established through years of clinical research and recommended by every major medical association including the American Academy of Pediatrics, the American Medical Association, and the American Academy of Child and Adolescent Psychiatry.
The lawsuit also spells out that the policies unlawfully strips parents of the right to make informed decisions about their children's medical treatment and violates the equal protection rights of transgender youth by denying them medically necessary, doctor-recommended healthcare to treat their gender dysphoria.
The enactment of Florida's transgender healthcare ban, which went into effect on March 16 has faced considerable scrutiny as a politically-motivated process instigated at the urging of the governor and ignoring established medical and scientific consensus on medical care for transgender youth. 
Statewide LGBTQ Equality rights advocacy group Equality Florida has decried the ban saying it was little more than a cultural war maneuver by Republican Gov. Ron DeSantis who is widely expected to announce a run for the presidency in 2024.
In the summer of 2022, Florida Surgeon General Joseph Ladapo and the Department of Health asked the state Boards of Medicine and Osteopathic Medicine to adopt a categorical ban on all treatment of gender dysphoria for people under 18.
In February and March 2023, respectively, the boards adopted formal rules prohibiting all access to safe, effective medical treatments for trans youth who have received a gender dysphoria diagnosis but who have not yet begun puberty delaying medication or hormone treatments. Surgeon General Ladapo and all members of the Florida Boards of Medicine and Osteopathic Medicine are defendants in the families' suit challenging the ban.
"This policy came about through a political process with a predetermined conclusion, and it stands in direct contrast to the overwhelming weight of the evidence and science," said Simone Chriss, director of the Southern Legal Counsel's Transgender Rights Initiative. "There is an unbelievable degree of hypocrisy when a state that holds itself out as being deeply concerned with protecting 'parents' rights' strips parents of their right to ensure their children receive appropriate medical care. I have worked with families and their healthcare providers in Florida for many years. They work tirelessly every day to ensure the best health outcomes for their kids and patients, and they are worried sick about the devastating impacts that this ban will have."
"The Florida Boards of Medicine chose to ignore the evidence and science in front of them and instead put families in the unthinkable position of not being able to provide essential healthcare for their kids," said Jennifer Levi, GLAD's Senior Director of Transgender and Queer Rights.
"Parents, not the government, should make healthcare decisions for their children," said Shannon Minter, Legal Director of the National Center for Lesbian Rights. "This policy crosses a dangerous line and should concern anyone who cares about family privacy or the ability of doctors to do their jobs without undue government interference."
"It's alarming to see such a concerted, top-down effort to target a small and vulnerable population," said Human Rights Campaign Legal Director Sarah Warbelow. "The Florida Surgeon General, Department of Health and Boards of Medicine should be focused on the real and serious public health issues Florida faces, not on putting transgender kids and their families in harm's way."
In a press statement by the legal teams representing them, the four families also weighed in:
"Like most parents, my husband and I want nothing more than for our daughter to be healthy, happy, and safe," said Jane Doe speaking about her 11-year-old daughter, Susan. "Being able to consult with our team of doctors to understand what our daughter is experiencing and make the best, most informed decisions about her care has been critically important for our family. She is a happy, confident child, but this ban takes away our right to provide her with the next step in her recommended treatment when she reaches puberty. The military doctors we work with understand the importance of providing that evidence-based, individualized care. We're proud to serve our country, but we are being treated differently than other military families because of a decision by politicians in the state where we are stationed. We have no choice but to fight this ban to protect our daughter's physical and mental health."
"This ban puts me and other Florida parents in the nightmare position of not being able to help our child when they need us most," said Brenda Boe, who is challenging the ban on behalf of herself and her 14-year-old son, Bennett Boe. "My son has a right to receive appropriate, evidence-based medical care. He was finally getting to a place where he felt hopeful, where being prescribed testosterone was on the horizon and he could see a future for himself in his own body. That has been ripped away by this cruel and discriminatory rule." 
"Working with our healthcare team to understand what my daughter is experiencing and learning there are established, effective treatments that are already helping her to thrive has been an incredible relief," said Fiona Foe, who is challenging the ban on behalf of herself and her 10-year-old daughter, Freya Foe. "I know everyone may not understand what it means to have a transgender child, but taking away our opportunity to help our daughter live a healthy and happy life is cruel and unfair."
"Our daughter has been saying she is a girl since she was three — it hasn't gone away," said Carla Coe, a plaintiff in the lawsuit along with her 9-year-old daughter, Christina Coe. "Since she started being able to live as a girl she has been so much happier and better adjusted. Having the resources and support to make the best decisions for her wellbeing has been so important for our family. I'm scared this ban will take away the essential medical care she may need when she gets older. We just want to do what's right for our kid."
Federal judge rules Tenn. drag ban is unconstitutional
Law was to have taken effect April 1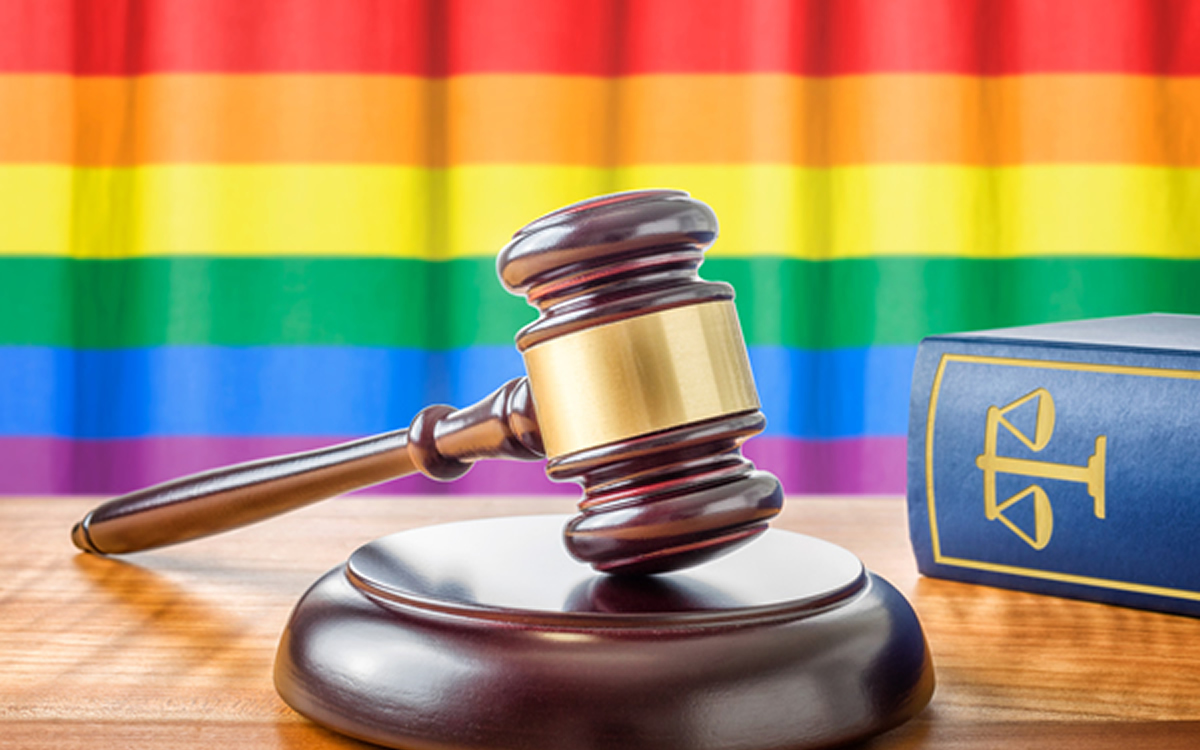 U. S. District Court Judge Thomas L. Parker of the U. S. District Court for the Western District of Tennessee declared Tennessee's anti-drag Adult Entertainment Act to be unconstitutional.
Parker's ruling comes after a two-day trial last month. A Shelby County-based LGBTQ theatre company, Friends of George's, had sued the state of Tennessee, claiming the law unconstitutional under the First Amendment.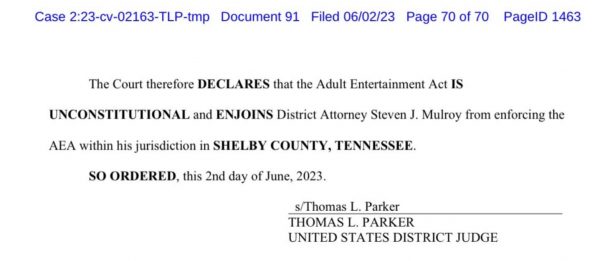 Parker ordered a temporary injunction halting the just enacted Tennessee law that criminalizes some drag performances, hours before it was set to take effect April 1. In his 15 page ruling ordering the temporary injunction Parker wrote:
"If Tennessee wishes to exercise its police power in restricting speech it considers obscene, it must do so within the constraints and framework of the United States Constitution. […] The court finds that, as it stands, the record here suggests that when the legislature passed this statute, it missed the mark."
Attorneys for the theatre company had argued that drag performances were an artform and protected speech under the first amendment.
In his 70 page ruling Friday, Parker wrote:
"After considering the briefs and evidence presented at trial, the court finds that — despite
Tennessee's compelling interest in protecting the psychological and physical wellbeing of
children — the Adult Entertainment Act ("AEA") is an UNCONSTITUTIONAL restriction on
the freedom of speech."
"The court concludes that the AEA is both unconstitutionally vague and substantially
overbroad. The AEA's 'harmful to minors' standard applies to minors of all ages, so it fails to
provide fair notice of what is prohibited, and it encourages discriminatory enforcement. The
AEA is substantially overbroad because it applies to public property or 'anywhere' a minor
could be present."
Read the entire ruling:
Related:
DOJ to ask Supreme Court to halt courts' mifepristone restrictions
Texas judge, 5th Circuit ruled against abortion drug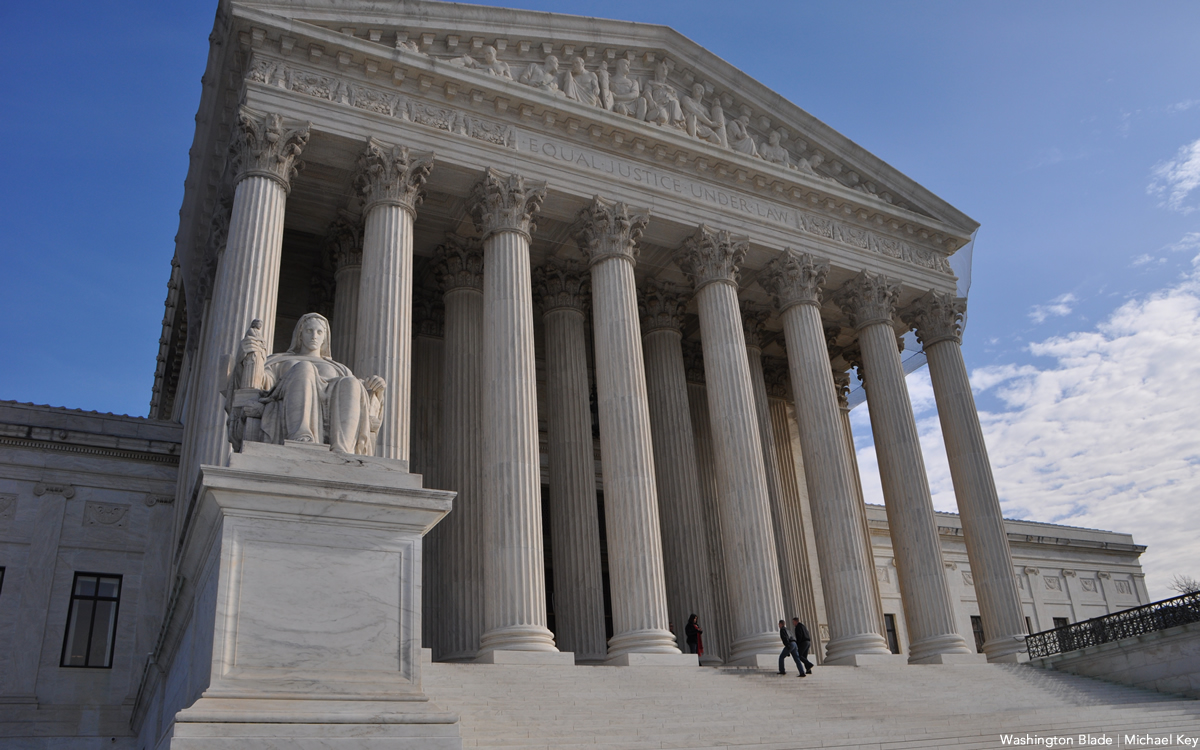 The Justice Department is expected to ask the U.S. Supreme Court to halt a pair of rulings by a federal court in Texas and a federal appellate court in New Orleans that would restrict the sale and distribution of the abortion pill mifepristone.
Last week, Judge Matthew Kacsmaryk of the U.S. District Court for the Northern District of Texas issued a stay of the U.S. Food and Drug Administration's approval of the drug 23 years ago, effectively barring its sale and distribution nationwide.
The 5th U.S. Court of Appeals ruled late Wednesday night that access to the drug would not be prohibited pending the outcome of litigation in the case, Alliance for Hippocratic Medicine v. FDA.
However, in the meantime the appellate court preserved other restrictions on mifepristone from Kacsmaryk's ruling including the prohibition of distributing the medicine by mail or prescribing its FDA approved generic equivalent and requiring that it be prescribed only after three in-person visits with a healthcare provider, and only up to seven weeks of pregnancy.
"The Justice Department strongly disagrees with the 5th Circuit's decision in Alliance for Hippocratic Medicine v. FDA to deny in part our request for a stay pending appeal," U.S. Attorney General Merrick Garland said in a statement on Thursday.
"We will be seeking emergency relief from the Supreme Court to defend the FDA's scientific judgment and protect Americans' access to safe and effective reproductive care," Garland said.
"We are going to continue to fight in the courts, we believe the law is on our side, and we will prevail," White House Press Secretary Karine Jean-Pierre told reporters early Thursday during President Joe Biden's trip to Ireland.
The Supreme Court typically acts on such requests in a matter of days, often without explanation.
Federal appeals court preserves access to abortion drug
The Court also set tighter rules for accessing mifepristone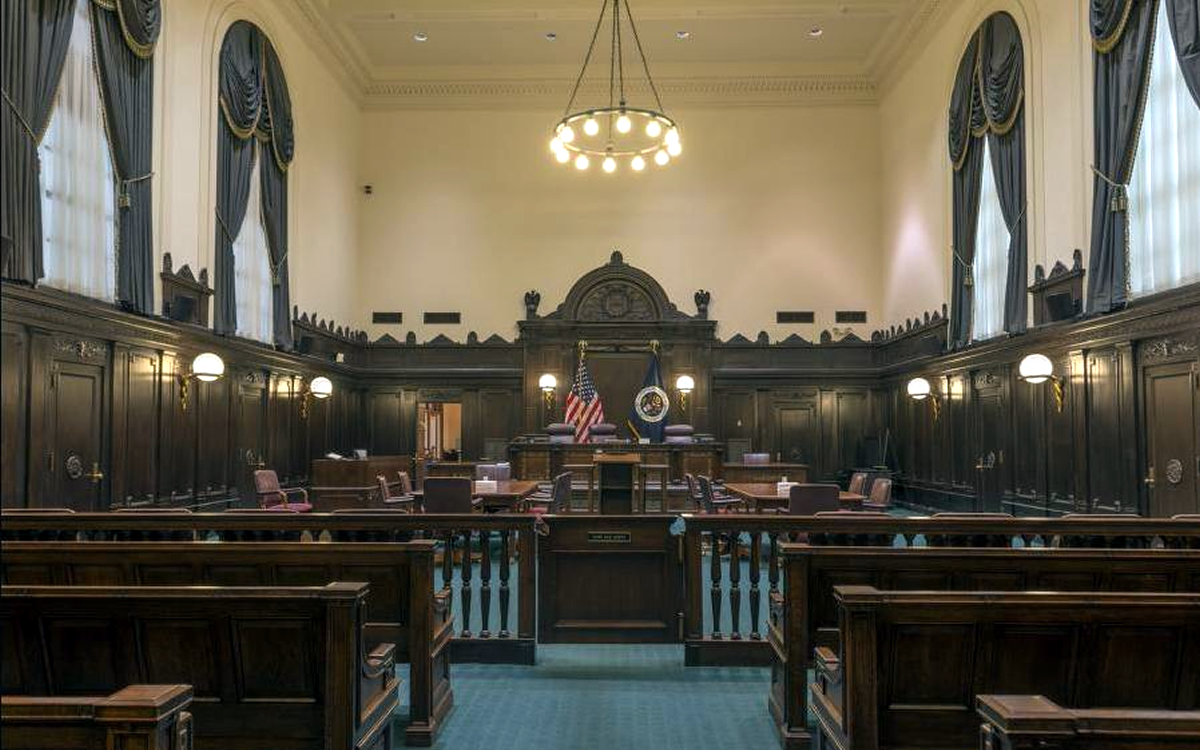 A three judge panel of the 5th U.S. Circuit Court of Appeals issued a ruling Wednesday just before midnight in New Orleans that has preserved access to the abortion drug mifepristone.
In a 2-1 vote the panel blocked the lower court ruling by Judge Matthew Kacsmaryk of the U.S. District Court for the Northern District of Texas for now, but set tighter rules that would allow the drug only to be dispensed up to seven weeks into pregnancy, not 10, and not by mail.
In his ruling in Alliance for Hippocratic Medicine v. FDA, Kacsmaryk had issued a stay on the Food and Drug Administration's conclusion that mifepristone, which is used in combination with a second drug, misoprostol, is safe and effective, a finding the agency reached in 2000 that has since been buttressed by more than two decades of clinical evidence. Kacsmaryk's ruling had been on pause for a week to allow the U.S. Justice Department to file the appeal with the 5th Circuit Court.
U.S. Attorney General Merrick Garland immediately ordered the Justice Department to appeal and seek a stay (of Kacsmaryk's stay) pending the outcome of additional litigation. On Monday the Department asked the U.S. Court of Appeals for the Fifth Circuit to halt implementation of the ruling.
The Associated Press reported that under the appeals court order, the FDA's initial approval of mifepristone in 2000 is allowed to remain in effect. But changes made by the FDA since 2016 relaxing the rules for prescribing and dispensing mifepristone would be placed on hold.
Those include extending the period of pregnancy when the drug can be used and also allowing it to be dispensed by mail, without any need to visit a doctor's office.
The AP also reported that the two 5th Circuit judges who voted to tighten restrictions, Kurt Engelhardt and Andrew Oldham, are both appointees of former President Donald Trump. The third judge, Catharina Haynes, is an appointee of former President George W. Bush.
Haynes said she would have put the lower court ruling on hold entirely temporarily to allow oral arguments in the case.
The decision by the 5th Circuit's 3 judge panel can still be appealed to the U.S. Supreme Court.