Fla. advocacy groups issue travel warning
Equality Florida and the Florida Immigrant Coalition issued advisory on Wednesday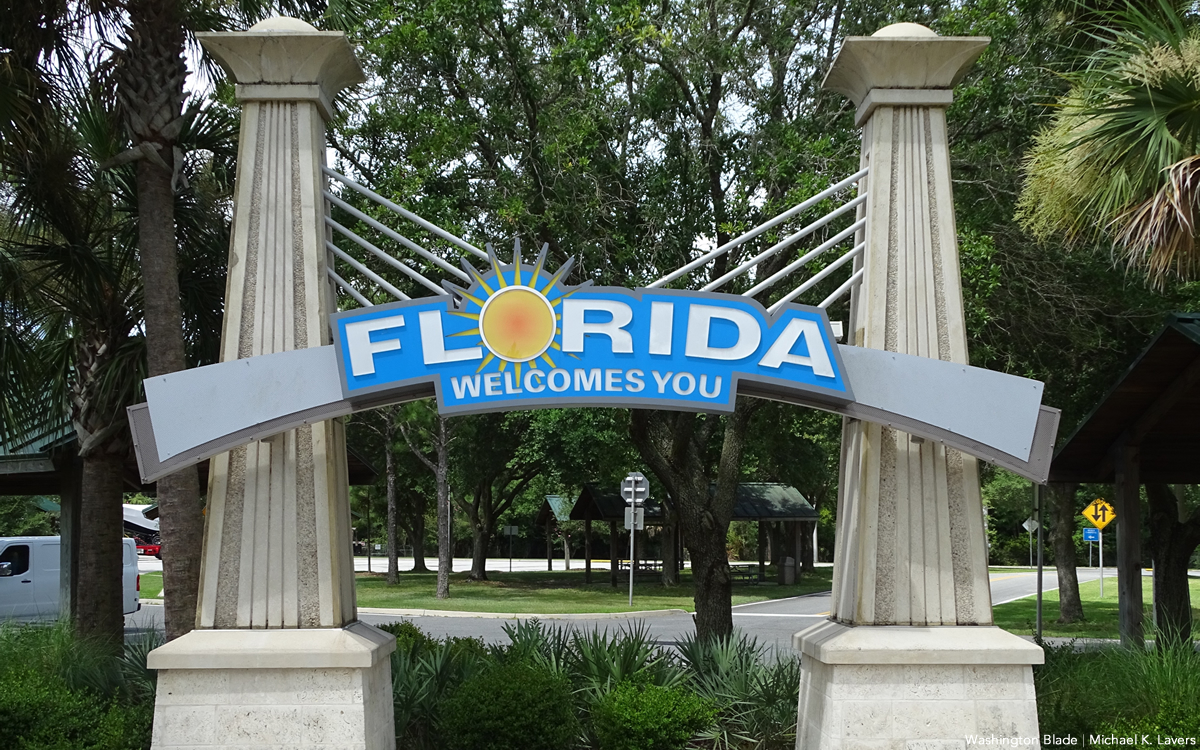 Two of the state of Florida's largest civil and human rights groups took an unusual extraordinary step of issuing a warning to travelers to avoid traveling to the "Sunshine State" as a result of the policies of Republican Gov. Ron DeSantis.
Equality Florida, the largest statewide LGBTQ civil rights advocacy group, and the Florida Immigrant Coalition warned the passage of laws that are hostile to the LGBTQ community, restrict access to reproductive health care, repeal gun safety laws, foment racial prejudice, and attack public education by banning books and censoring curriculum, has made Florida a risk to the health, safety and civil liberties of those considering short or long term travel, or relocation to the state.
BREAKING: Today, we took the extraordinary step of issuing a travel advisory, warning of the risks posed to the health, safety, and freedom of those considering short or long term travel, or relocation to the state. pic.twitter.com/Wt8I5r90w9

— Equality Florida (@equalityfl) April 12, 2023
DeSantis' press secretary Bryan Griffin told Fox News: "As the governor noted previously, this type of thing is a political stunt. We aren't going to waste time worrying about political stunts but will continue doing what is right for Floridians."
"As an organization that has spent decades working to improve Florida's reputation as a welcoming and inclusive place to live work and visit, it is with great sadness that we must respond to those asking if it is safe to travel to Florida or remain in the state as the laws strip away basic rights and freedoms," said Equality Florida Executive Director Nadine Smith. "While losing conferences, and top students who have written off Florida threatens lasting damage to our state, it is most heartbreaking to hear from parents who are selling their homes and moving because school censorship, book bans and health care restrictions have made their home state less safe for their children. We understand everyone must weigh the risks and decide what is best for their safety, but whether you stay away, leave or remain we ask that you join us in countering these relentless attacks. Help reimagine and build a Florida that is truly safe for and open to all, and where freedom is a reality, not a hollow campaign slogan."
DeSantis, who has made the extremist policies the centerpiece of his presidential campaign strategy, has weaponized state agencies to silence critics and impose sanctions on large and small companies that dissent with his culture war agenda or disagree with his attacks on diversity, equity and inclusion.
Already, the adopted and proposed policies detailed in the travel advisory have led Florida parents to consider relocating, prospective students to cross Florida colleges and universities off their lists, events and conferences to cancel future gatherings, and the United States military to offer redeployment for service members whose families are now unsafe in the state. Businesses have spoken out against the governor's abuse of state power to punish dissent, with Disney CEO Bob Iger calling DeSantis "anti-business and anti-Florida." The worsening attacks, especially those targeting transgender youth, have also led to the proposal of policies around the country to provide refuge for those fleeing states like Florida.
The Florida Immigrant Coalition, a statewide immigrant rights coalition of 65 member organizations and over 100 allies, also issued a travel advisory Wednesday, urging reconsideration of travel to Florida and providing critical information about where immigrant travelers can learn more about their constitutional rights. And just weeks ago, Florida chapters of the NAACP voted unanimously to request similar warnings to the Black community about the risk of traveling or relocating to the state.
Members of the NAACP Florida Chapter gathered in Orlando in March for a conference voted to ask the group's national board to issue the travel advisory, according to the Tampa Bay Times. Such advisories have been issued in the past for states with policies the NAACP deemed discriminatory.
"We're just not going to take it anymore, we've been taking it long enough," Isaiah Rumlin, president of the NAACP's branch in Jacksonville, told the paper, which is supporting the push for a travel advisory.
DeSantis responded to the Florida NAACP dismissively:
"What a joke," the governor said. "What a joke. Yeah, we'll see how we'll see how effective that is."
"Our country, you know, it goes through all these — we get involved in these stupid fights," DeSantis added. "This is a stunt to try to do that. It's a pure stunt, and fine if you want to waste your time on a stunt, that's fine. Look, I mean, I'm not wasting my time on your stunts. Okay. I'm gonna make sure that we're getting good things done here. And we're gonna continue to make this state a great state."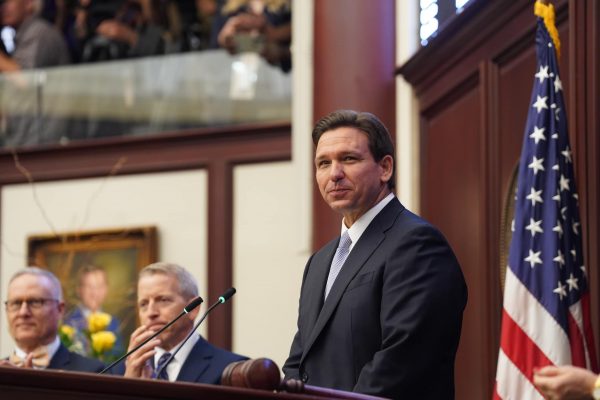 "It is with great sadness that we must respond to those asking if it is safe to travel to Florida or remain in the state as the laws strip away basic rights and freedoms." –@1NadineSmith, @equalityflhttps://t.co/hXCPBt3lts pic.twitter.com/X1BgTDClw6

— Carlos Guillermo Smith (@CarlosGSmith) April 13, 2023
Full text of the travel warning:
MEMORANDUM
To: Interested Parties
From: Equality Florida
Subj.: TRAVEL ADVISORY: FLORIDA MAY NOT BE A SAFE PLACE TO MOVE OR VISIT
Date: April 12, 2023
Today, Equality Florida took the unprecedented step of issuing a travel advisory to individuals, families, entrepreneurs, and students warning that Florida may not be a safe place to visit or take up residence. The advisory comes after passage of laws that are hostile to the LGBTQ+ community, restrict access to reproductive health care, repeal gun safety laws and allow untrained, unpermitted carry, and foment racial prejudice. The governor has also weaponized state agencies to impose sanctions against businesses large and small that disagree with his attacks on diversity, equity and inclusion.
Florida has recently adopted a slate of hateful laws, and is fast-tracking additional measures that directly target the rights of LGBTQ+ individuals and basic freedoms broadly. Already, those policies have led Florida parents to consider relocating, prospective students to cross Florida colleges and universities off their lists, events and conferences to cancel future gatherings, and the United States military to offer redeployment for service members whose families are now unsafe in the state. These laws and policies are detailed below.
Assaults on Medical Freedom
Florida's Boards of Medicine and Osteopathy have adopted policies banning access to lifesaving medical care for transgender youth and the Agency For Health Care Administration has eliminated Medicaid coverage for transgender adults accessing that care
Florida is poised to pass laws creating criminal penalties for medical providers who provide medically necessary care for transgender youth, weaponizing the courts to shred existing child custody agreements and reassign transgender youth to an unsupportive parent, and severely restricting access to prescribed medical care for transgender adults
Florida has passed or is poised to pass bills that restrict access to reproductive health care, including a near-total abortion ban, which threatens to force people to travel out of state or seek unsafe, illegal abortions.
These policies disproportionately harm marginalized communities, including the direct impacts on the transgender community and communities of color and could lead to serious health consequences. Transgender people in Florida are facing the immediate threat of loss of lifesaving, medically necessary care and families risk interference in child custody arrangements at the hands of an unsupportive parent and a weaponized state court system. These attacks pose an imminent threat to the health and safety of all in Florida and potential travelers should be aware of the risks.
Assaults on Academic Freedom
The Florida legislature has sought to strip Diversity, Equity, and Inclusion (DEI) programs from colleges and universities, that help LGBTQ and minority students thrive. The governor has initiated a hostile, right-wing takeover of higher education, and installed partisan allies to implement a conservative overhaul of public universities
His administration has taken aim at AP African American studies, threatening to sever ties with the College Board over the inclusion of queer history and intersectionality in the course, and college majors, including gender studies
These actions by the Governor pose a serious threat to academic freedom, free speech, and the pursuit of knowledge. DEI departments play a crucial role in promoting diversity and inclusion on campus, and their removal undermines the ability of students and faculty to engage in critical discussions about issues of race, gender, and identity.
Furthermore, the replacement of university presidents with political appointees threatens the independence of higher education institutions, and undermines the ability of these institutions to make decisions that are in the best interest of their students, faculty, and staff. These attacks on public education are deeply concerning, and further reinforce the message that Florida is not a welcoming state for people from all backgrounds. We urge individuals, families, entrepreneurs, and students to consider the implications of traveling to or residing in Florida, and to support efforts to defend public education and academic freedom in the state.
Censorship and Erasure of the LGBTQ+ Community
Florida has passed a prohibition on classroom instruction on sexual orientation and gender identity in public schools
This law has already precipitated a raft of damaging impacts in school districts across the state, including

Hundreds of book challenges and bans targeting titles written by LGBTQ authors and/or including LGBTQ characters
The refusal of districts like Miami-Dade to recognize LGBTQ History Month
The removal of rainbow Safe Space stickers
The censorship of graduation speech content to remove references to LGBTQ identities
Warnings to educators and administrators to hide family photos

Lawmakers are currently considering a bill to extend that prohibition through 8th grade, while the Department of Education is set to decide on a policy proposal that would expand it to all grades and revoke teacher licenses over violations
Florida is poised to pass a bill that would ban transgender people from updating their birth certificates to reflect their gender identity
The infamous Don't Say LGBTQ law has made Florida synonymous with the anti-LGBTQ movement to empower government censorship and book banning across the nation. That law, along with additional proposals being considered, has turned the state's classrooms into political battlefields and is telegraphing to LGBTQ families and students that they are not welcome in Florida.
Assaults on Arts, Entertainment, and Sports Participation
Florida has passed a ban on transgender women and girls from participating in school sports consistent with their gender identity
Lawmakers are poised to pass restrictions on certain live drag performances, stage shows, and local pride celebrations, limiting parents' ability to determine what content may be suitable for their families
The far-right's obsession with drag queens has put LGBTQ people in physical danger across the country, but especially in Florida. In 2022 alone, the LGBTQ media organization GLAAD found 141 incidents of anti-LGBTQ protests and threats targeting drag events. Right-wing media like Fox News and Libs Of TikTok have misrepresented what occurs at drag events and taken examples out of context to create fear and misunderstanding. This has had real world consequences, with protests and threats of violence against venues hosting drag shows.
In Florida, Orlando organizers were forced to cancel Drag Queen story hour due to threats from Neo-Nazis. This last December in Lakeland, masked individuals in Nazi gear, waving Nazi flags ambushed a charity event hosted by drag queens while projecting hateful messages onto local buildings.
Assaults on Business
DeSantis has recently signed a bill that restricts businesses from providing diversity and inclusion training to their employees, a blatant attempt to dictate to businesses what they can and cannot do, and to prevent them from training their employees to be better prepared for a diverse workforce and customer base
The Florida legislature is expected to pass SB 1438, which weaponizes state agencies with more power to politically target LGBTQ-friendly businesses who open their doors to live drag performances, with threats of fines, license revocation, and jail time. Individuals that admit minors with an accompanying parent would be charged with first degree misdemeanor crimes.
The governor has weaponized the state legislature against businesses that stand with their LGBTQ employees and clients and against his agenda, most notably wielding two special sessions of the legislature to punish Disney, the state's largest single-site employer
The Miami Herald recently reported that DeSantis-controlled agencies sought to punish and revoke the liquor license of an Orlando establishment that hosted a live drag performance even after the state's own investigators reported that they saw nothing "lewd." The discriminatory targeting of LGBTQ-friendly businesses by the state will have a broader chilling effect over drag performances, an intended consequence of this type of censorship.
Disney has also recently denounced the governor's actions against them, with CEO Bob Iger calling the state's policies "anti-business and anti-Florida."
These laws and actions are harmful to businesses and heir employees, as they undermine efforts to create inclusive workplaces and hinder the ability to effectively engage with diverse customers and clients. It also sends a message that Florida is not a welcoming state for people from all backgrounds and that discrimination is acceptable.
Efforts to Foment Racial Prejudice
Florida has passed a bill that would limit the honest teaching of history and systemic racism in schools
The state passed another that restricts voting access for people of color and is currently considering additional voting restrictions
DeSantis' new elections police have abused their power to aggressively target and prosecute returning citizens, mostly Black Floridians, for voting after official government entities told them they were eligible to vote
These laws create an unsafe and unwelcoming environment for LGBTQ+ individuals, women, people of color and other marginalized communities. They send a message that discrimination and prejudice are acceptable in Florida, and we cannot in good conscience encourage people to visit or move to a state that is openly hostile to their basic human rights.
As a result of these dangerous and discriminatory laws, we urge individuals, families, entrepreneurs and students to reconsider travel plans to Florida and to consider the impact that their travel and economic choices can have on promoting equality and justice for all.
Repealing of Gun Safety Laws
The passage of deadly permitless carry makes Floridians less safe and signals the reversal of the progress made after Pulse and Parkland. Coupled with the state's infamous Stand Your Ground law, Permitless Carry threatens to exacerbate Florida's violent crime rate at a time when the state's homicide rate ranks 20th in the nation, exceeding both California and New York.
LGBTQ Floridians know all too well that the gun lobby's obsession with easy access to deadly weapons can make hatred and bigotry lethal. Gun violence is not abstract or hypothetical — it is stealing our loved ones. Those considering travel to Florida should weigh the potentially deadly consequences of the DeSantis administration's decision to eliminate basic training and permitting requirements in order to concealed carry a firearm.
Attacks on Immigrant Communities
Florida has passed and is poised to pass legislation targeting immigrant communities, with consequences that could include arrest for operating a vehicle, no matter the state you are from, reduced access to health care services, and compromised safety. A bill currently being considered by the Florida legislature could impose criminal penalties on any who shelter, support, or provide transportation to undocumented immigrants. And these moves come just months after Gov. DeSantis trafficked migrants from Texas to Massachusetts in a cruel scheme to use their suffering as campaign marketing material.
The threats posed to immigrants in Florida led the Florida Immigrant Coalition to issue its own advisory urging reconsideration of any travel to the state. That advisory can be found here.
Conclusion
Taken in their totality, Florida's slate of laws and policies targeting basic freedoms and rights pose a serious risk to the health and safety of those traveling to the state. We regret that these attacks have already led many to flee the state and are driving others to consider relocation. And, in a state whose economy is fueled by visitors from around the world, it is with great sadness that Equality Florida has had to take the extraordinary step of responding to inquiries by issuing an official advisory warning about the risks of travel to the state.
Equality Florida will continue providing information and resources to those impacted by these laws and policies. Visit our Open Doors Florida directory to find businesses with nondiscrimination policies and procedures. And if you experience discrimination, report it to our team here or call our Main Office at 813-870-3735.
It is our hope that those Floridians who can, will stay and engage more deeply in the fight against the state's all-out assaults on democracy and freedom. This moment calls for a grassroots movement in defense of justice and equality for all — so that we can turn back the tide of right wing authoritarianism, recommit to building a state that is safe and open to all, and once again celebrate Florida as a free state.
Gay Days 2023 will go on despite DeSantis and anti-LGBTQ animus
Tens of thousands expected at Walt Disney World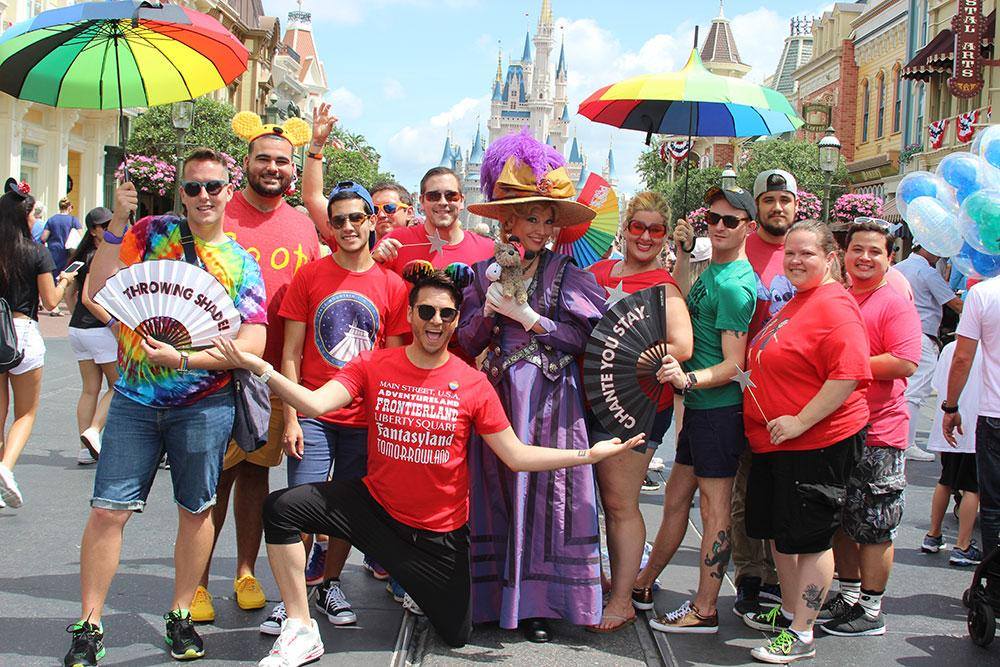 Equality Florida has issued a travel advisory to LGBTQ people that traveling to the state isn't safe given the plethora of anti-LGBTQ laws. On May 23, the Human Rights Campaign joined with Equality Florida urging LGBTQ people to avoid travel to Florida.
Citing six anti-LGBTQ bills passed and signed by Gov. Ron DeSantis, the two groups noted that while not a blanket recommendation against travel nor a call for boycott, the travel advisory outlines the devastating impacts of laws that are hostile to the LGBTQ community.
As Pride month gets underway Thursday, an annual event that is celebrating its 32nd anniversary this year and draws tens of thousands of LGBTQ people to Walt Disney World and the Disney resort areas near Orlando, is slated to commence over the next four day period.
Wearing red shirts to identify themselves, participants in the unofficial Disney Gay Days celebration gather for parties, meet-ups and enjoying a Disney holiday. In an interview with the Associated Press, Joseph Clark, CEO of Gay Days, Inc., said that he is hoping that this year can see upwards of 150,000 LGBTQ people descending on Central Florida to mark the start of Pride season.
In addition to Disney, the LGBTQ folks will also be visiting the neighboring amusement parks of Universal Studios and SeaWorld.
Pride celebrations this year in Florida have taken on a different tone, St. Cloud organizers of the 'PRIDE in St. Cloud' scheduled for June 10 cancelled the event joining a growing list of Pride events being cancelled as a "climate of fear" has overtaken the state in the wake of DeSantis' extreme new anti-LGBTQ laws.
The Pride Alliance of the Treasure Coast notified the greater Treasure Coast community that the Pride parade was cancelled and that Pridefest will only be accessible to residents 21-years-old or older.
The Wilton Manors City Commission as well as the city's mayor voted to amending the permit for Stonewall Pride, Inc., to force compliance of a new state law that expands the definition of "live adult entertainment" to include drag entertainment.
Brandon Wolf, the press secretary for the largest state-wide LGBTQ equality and human rights advocacy group Equality Florida, in a text with the Washington Blade noted: "These are the intended chilling effects of DeSantis' slate of hate legislation. Just as the Don't Say LGBTQ law didn't direct school districts to rip down rainbow stickers, this bill does not ban drag or pride. But it uses vague language and threats to induce self-censorship."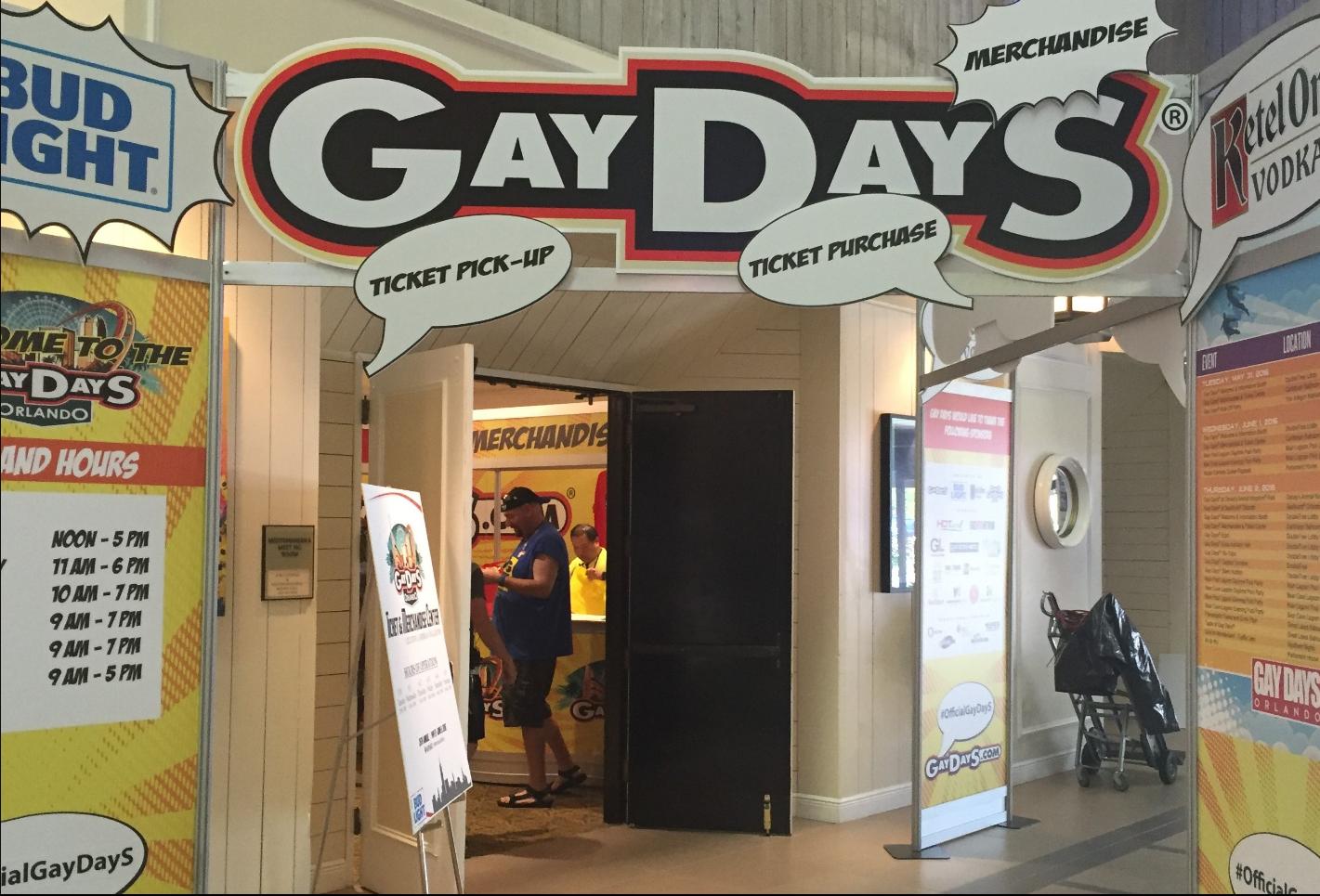 "We continue to be that blue speck in a sea of red, but ultimately laws are laws, and that is the interesting situation we are in," Clark told Deadline, adding that many folks have reached out to ask whether it's safe to visit Florida.
In a Facebook post earlier this week, GayDays® announced the cancellation and "reimagining" of Taste of GayDays® as "due to challenges caused by the current political climate in Florida which recently caused concerns for a large group of our restaurant partners."
"UPDATE: We're deeply sorry to announce the cancellation and 'reimagining' of Taste of GayDays® due to challenges caused by the current political climate in Florida which recently caused concerns for a large group of our restaurant partners. Because of these circumstances, and though we adamantly tried to recruit additional vendors, it became clear that we would be unable to provide the exceptional experience that our guests have come to expect at the Taste of GayDays® Event.
But FEAR NOT! We've planned something special for you all. Join us for the FREE GayDays Orlando 2023 'Taste of GayDays® Entertainment Preview Show' at 6 p.m. on Thursday, June 1! This new event aims to give a preview of several other special events during GayDays® Orlando including performances by some of our Miss GayDays® Pageant competitors, introductions and meet and greets with Mr. GayDays® Leather Competitors and more. Please know — we are committed to delivering extraordinary experiences at GayDays® Orlando.
As we are days away from the start of GayDays Orlando 2023 this was not an announcement we had expected to have to make. We will not let this deter us! We are determined to work towards changing the mindset of people and ensure that future events uphold the high standards that are synonymous with GayDays®. It is because of you, that together, we'll make a difference," the group wrote.
GayDays® at Area Theme Parks | #RedShirtDays schedule linked here: (Link)
Fla. 'Don't Say Gay' ban now applies to K-12 public schools
Rule takes effect in 34 days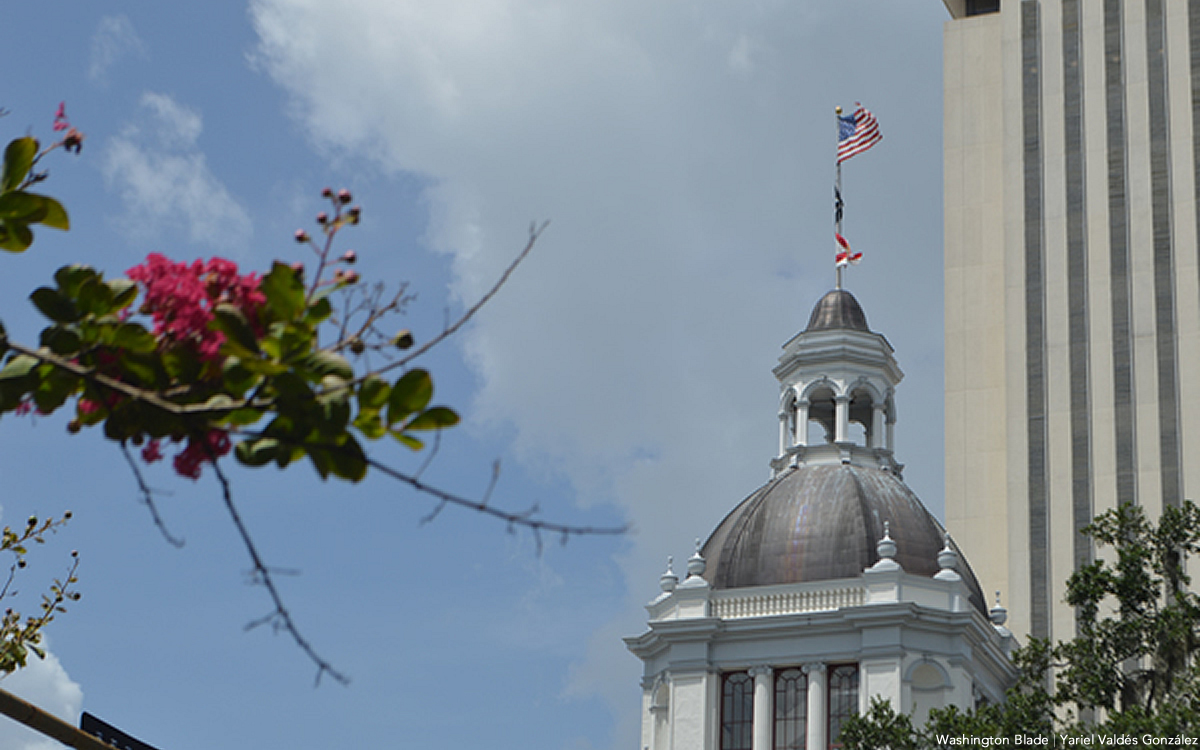 Florida's Board of Education voted Wednesday to implement a rule that expands the state's "Don't Say Gay" law to now prohibit instruction on sexual orientation and gender identity through 12th grade in the state's public schools.
The rule change, which does not require legislative approval, will ban lessons on sexual orientation and gender identity from fourth to 12th grade unless required by state standards or as part of a reproductive health course that parents can opt students out of.
Today's vote was put forth by the Florida Department of Education, both of which are controlled by appointees of Republican Gov. Ron DeSantis, who has publicly stated his opposition to LGBTQ equality and civil rights. The rule goes into effect in 34 days, according to the Florida Department of Education.
LGBTQ advocacy groups and student activist leaders across the state spoke out, including Jack Petocz, a senior at Flagler-Palm Coast High School who had organized and led the statewide protests last spring in opposition to the "Don't Say Gay" bill.
Petocz tweeted defiantly: "This was NEVER about protecting your children. It's all an elaborate plan to ERASE people like me from existence. You won't fucking win."
BREAKING: the Florida Board of Education has just voted to EXPAND Don't Say Gay's restrictions to 12th grade.

This was NEVER about protecting your children. It's all an elaborate plan to ERASE people like me from existence.

You won't fucking win.

— Jack Petocz (@Jack_Petocz) April 19, 2023
Petocz then noted:
As legislators try to erase queer people from public schools, a REMINDER that youth will never comply. We will never accept a world that deems bigotry the status quo and censors our classmates.

They are fucking around, and they're gonna find out one day soon. pic.twitter.com/OTJ8HHwMmw

— Jack Petocz (@Jack_Petocz) April 19, 2023
Petocz was also trolled on his Twitter account by a far-right participant of the Jan. 6, 2021, U.S. Capitol insurrection who homophobically attacked him:
STOP 💀

The idiot who stole Nancy Pelosi's lectern on January 6th just quote tweeted me with such homophobic BS.

Trumpies never fail to surprise me 🤷‍♀️ pic.twitter.com/EugtNWLl4X

— Jack Petocz (@Jack_Petocz) April 19, 2023
Joe Saunders, senior political director for the state's largest LGBTQ advocacy group, Equality Florida, released the following statement:
"Let's put it plainly: this is part of the governor's assault on freedom. Free states do not ban books. Free states do not censor entire communities out of the classroom. Free states do not wage war on LGBTQ+ people to score cheap political points for a man desperate to be president. This policy will escalate the government censorship that is sweeping our state, exacerbate our educator exodus, drive hardworking families from Florida, and further stigmatize and isolate a population of young people who need our support now more than ever. Shame on the DeSantis administration for putting a target on the backs of LGBTQ+ Floridians."
Trial begins for National Black Justice Coalition CEO on conspiracy, fraud charges
Sharon Lettman-Hicks calls allegations 'baseless,' politically motivated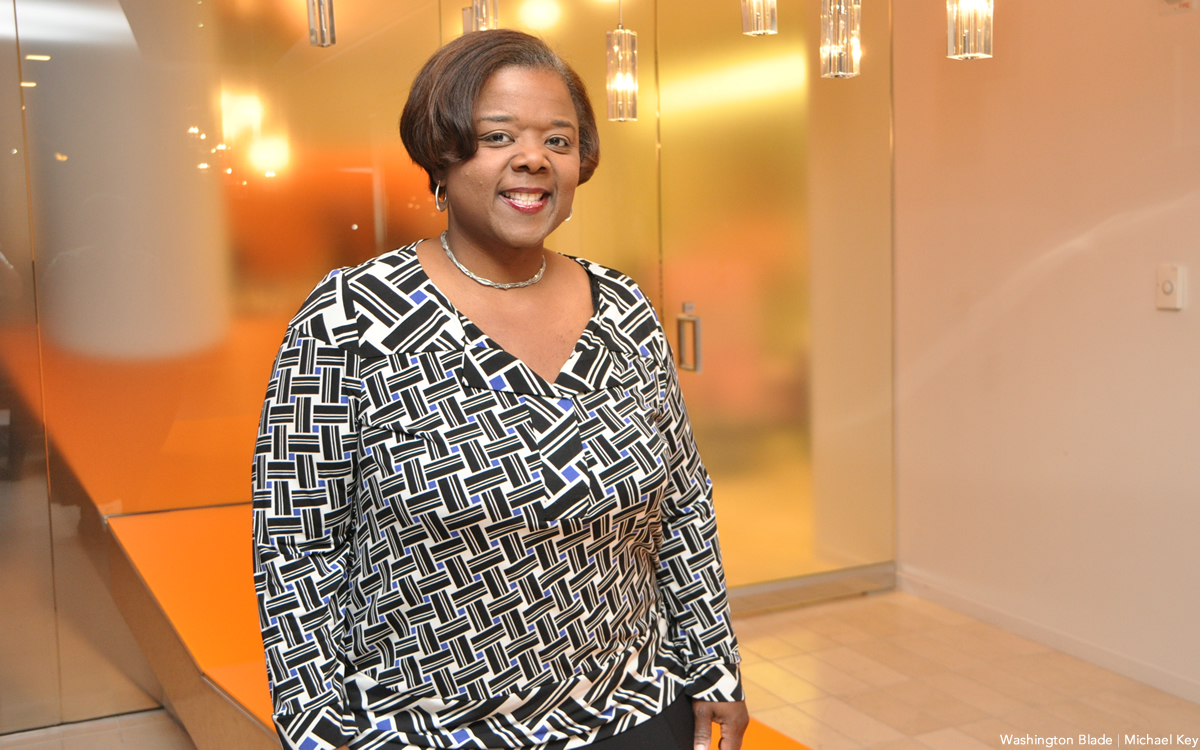 A trial in federal court in Tallahassee, Fla., began on Monday, April 17, for Sharon Lettman-Hicks, the CEO and board chair of the D.C.-based LGBTQ group National Black Justice Coalition, and former Tallahassee mayor and unsuccessful Florida gubernatorial candidate Andrew Gillum.
The trial began about 10 months after a federal grand jury in the Northern District of Florida on June 7, 2022, handed down an indictment charging both Gillum and Lettman-Hicks, who served as a campaign adviser to Gillum, with conspiracy and multiple counts of fraud.
The indictment alleged that Lettman-Hicks and Gillum engaged in an illegal political corruption scheme that began in 2015. It says Lettman-Hicks allegedly helped Gillum improperly funnel money solicited from FBI agents posing as real estate developers with a promise of providing something "very significant in return" for Gillum's support for the developers in his role at the time as mayor of Tallahassee.
The indictment said much of the money Gillum received from the FBI sting operation went for his personal use through a company Lettman-Hicks operated called P&P communications. It charges both Gillum and Lettman-Hicks with 19 counts of wire fraud and one count of attempt and conspiracy to commit mail fraud.
The Tallahassee-based TV news station WCTV reports that last week, on April 11, prosecutors announced they had obtained a new superseding indictment against Lettman-Hicks and Gillum that includes two fewer charges of wire fraud against the two than the previous indictment. WCTV reports the charges that were dropped both involved wire transfers of $66,250 from "Organization E" to Lettman-Hicks' company P&P Communications.
Lettman-Hicks and Gillum, who identifies as bisexual, have strongly denied the allegations against them, calling them politically motivated by Republican politicians who dominate the political landscape in Northern Florida.
At the time the first indictment was handed down, Lettman-Hicks, who is based in Tallahassee, had qualified as a Democratic candidate running for a seat in the Florida State House. She immediately withdrew her candidacy after the indictment was issued.
"I am devastated by these baseless charges, and I have made the painful decision to suspend my campaign," she said in a press release reported by the Tallahassee Democrat newspaper. "I must now focus on fighting for my continued freedom," she said in the release.
Legal observers have pointed out that the FBI's political corruption investigation that led to Lettman-Hicks and Gillum's indictment began in 2015 during the Obama administration, which was in charge of appointing the federal prosecutors involved in the case. Some observers note that Florida state prosecutors associated with the GOP-controlled state government do not appear to have been involved in the case.
Lettman-Hicks was listed this week on the National Black Justice Coalition website as the organization's CEO and board chair. The website says she served as the group's CEO and executive director from 2009 to 2017, when she stepped down as executive director. It says she has been based in Tallahassee during her tenure with the NBJC.
David Johns, the current NBJC executive director, is based in the organization's headquarters in D.C.
A spokesperson for the NBJC did not respond to a request on Monday for comment on Lettman-Hicks' trial that began on Monday.
On its website, NBJC says it has served since its founding in 2003 as "America's leading national civil rights organization dedicated to the empowerment of Black, lesbian, gay, bisexual, transgender, queer+, and same-gender loving (LGBTQ+/SGL) people, including people living with HIV/AIDS through coalition building, federal policy change, research, and education."