Dutch ambassador to U.S. reaffirms country's commitment to LGBTQ, intersex rights
Amsterdam Rainbow Dress displayed at Lincoln Memorial on Monday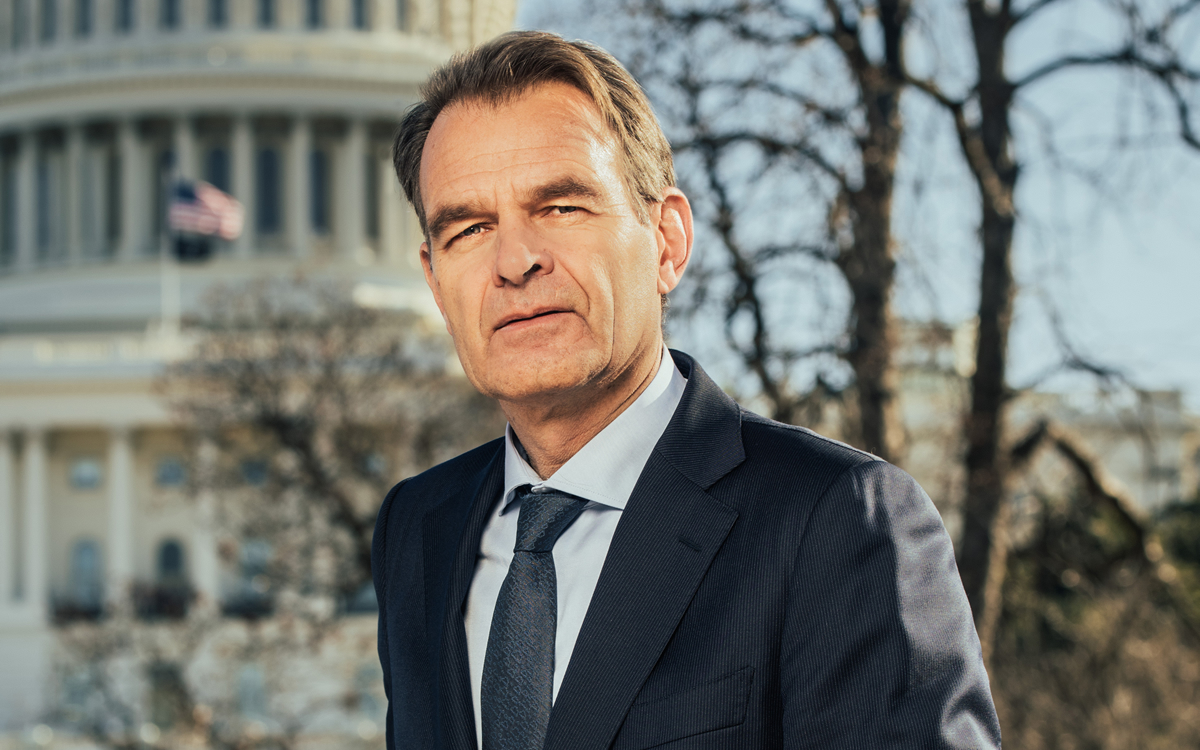 Dutch Ambassador to the U.S. André Haspels on Tuesday said the Netherlands remains committed to LGBTQ and intersex rights in his country and around the world.
Haspels spoke with the Washington Blade a day after the embassy, the Capital Pride Alliance and the Amsterdam Rainbow Dress Foundation showcased the Amsterdam Rainbow Dress at the Lincoln Memorial.
The dress, which has a 52′ circumference, contains the flags of the 68 countries in which consensual same-sex consensual relations remain criminalized.
The Netherlands in 2001 became the first country in the world to extend marriage rights to same-sex couples. The dress' bodice, which is made with Amsterdam's city flag, commemorates this watershed moment in the global LGBTQ and intersex rights movement.
A press release from the Dutch Embassy notes the dress was made in 2016 and was first displayed at Rotterdam Pride.
Models in the U.S., Spain, South Africa, Greece, Australia and other countries have worn it. Makia Green, an LGBTQ and intersex rights activist, and Vagenesis, a drag performer and advocate, wore the dress while it was in D.C.
"We invited the Rainbow Dress to come over to the United States, to Washington, to show our support for LGBTIQ+ rights worldwide," said Haspels. "What better location is there in front of the Lincoln Memorial, because LGBTIQ+ rights are part of a broader aspect of human rights."
"The main issue is to focus on the importance of LGBTQI rights, and also understanding and promoting the fact that it is important to ensure freedom for everyone to decide whom they want to love and to identify and whom they want to identify with as they wish," he added. "That's our goal for the Amsterdam Rainbow Dress."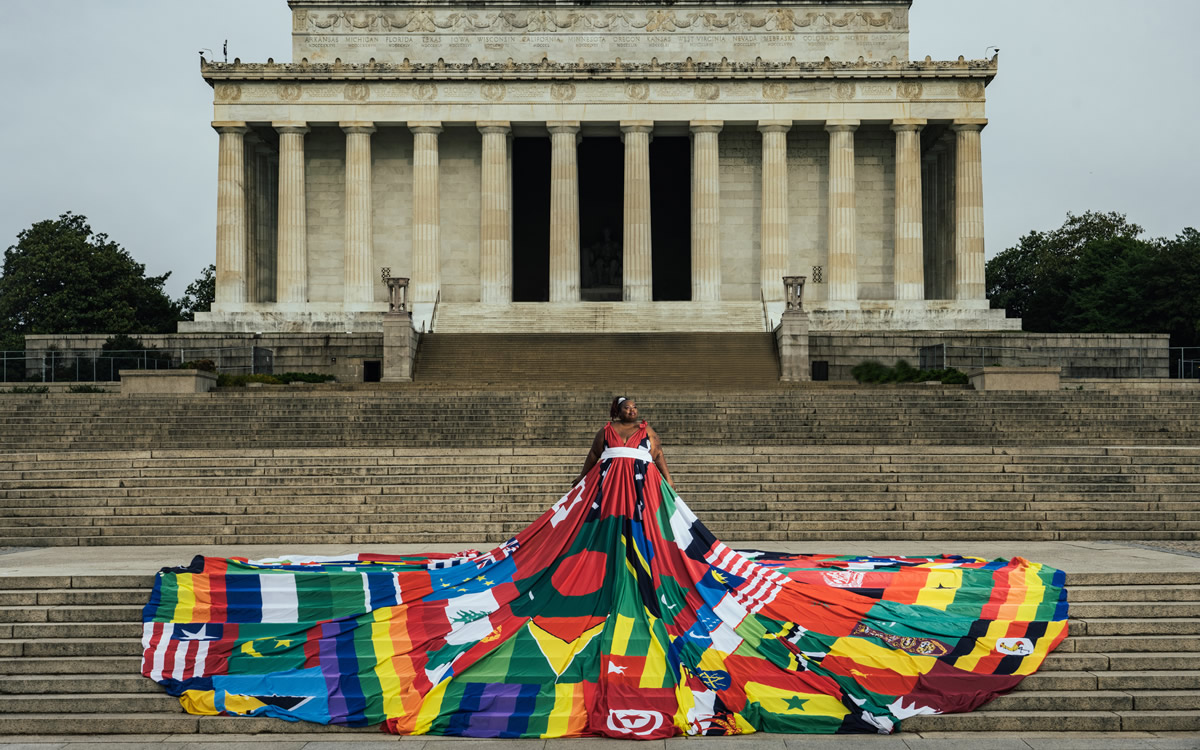 Haspels spoke with the Blade a day before the International Day Against Homophobia, Transphobia and Biphobia, which commemorates the World Health Organization's declassification of homosexuality as a mental disorder on May 17, 1990.
Kyiv Pride on Wednesday noted its staffers visited the Dutch Embassy in the Ukrainian capital, "where the flag of the LGBTIQ+ community was solemnly raised in honor of the Day Against Homophobia, Transphobia and Biphobia."
"This was an extremely important event for our community," tweeted Kyiv Pride.
Today, KyivPride had the honor of visiting the Embassy of the Netherlands, where the flag of the LGBTIQ+ community was solemnly raised in honor of the Day Against Homophobia, Transphobia and Biphobia. This was an extremely important event for our community. @NLinUkraine pic.twitter.com/c48JtIHsTR

— KyivPride (@KyivPride) May 17, 2023
Ukrainian President Volodymyr Zelenskyy on May 4 met with Dutch Prime Minister Mark Rutte and other members of his government while he was in the country. Zelenskyy also visited the International Criminal Court in The Hague.
The ICC in March issued arrest warrants for Russian President Vladimir Putin and Russian Children's Rights Commissioner Maria Lvova-Belova. The Netherlands-based court accuses them of abducting children from Ukraine.
"It is important to continue to support Ukraine in many different ways," Haspels told the Blade. "We continue to support them with military aid, with rehabilitation aid. We also receive refugees from Ukraine."
Haspels said his government continues to gather "information about war crimes to make sure those who are responsible for this terrible war will be held accountable." He also said the Netherlands continues to "welcome all Ukrainians, irrespective of their backgrounds, and who they are."
"They are most welcome," said Haspels.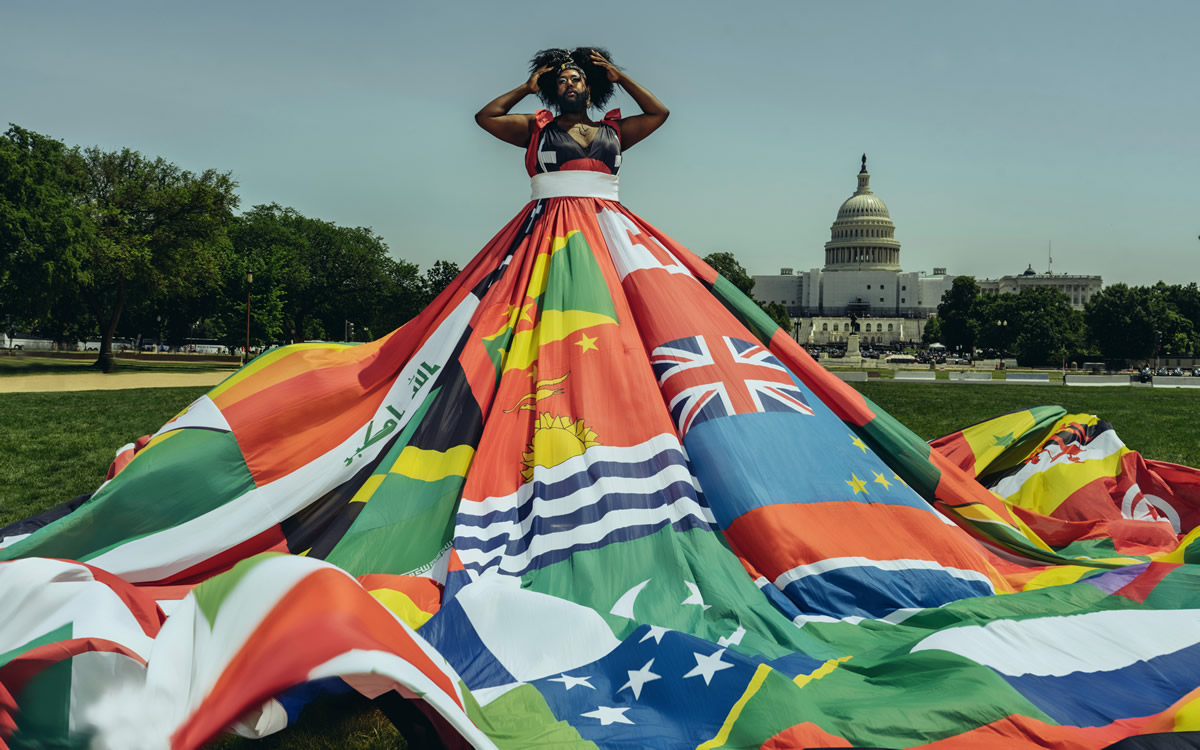 Haspels noted WorldPride 2026 will take place in Amsterdam. (The biennial event will take place in D.C. in 2025.)
The Netherlands is a member of the Global Equality Fund, a U.S. initiative that seeks to promote LGBTQ and intersex rights around the world. Haspels pointed out to the Blade that his country also works with the European Union on these issues, and has invited activists from Uganda and other countries to the Netherlands.
Ugandan lawmakers earlier this month once again approved their country's Anti-Homosexuality Act, which contains a death penalty provision for anyone found guilty of "aggravated homosexuality." The Netherlands is among the countries that have urged Ugandan President Yoweri Museveni to veto the bill.
"We have to be honest, it's not always an easy environment," Haspels told the Blade in response to a question about the Anti-Homosexuality Act and supporting LGBTQ and intersex activists and rights around the world. "Sometimes you have to be cautious also not to bring people, in this case, Ugandan people, into danger."
"It's not easy, but we have no alternative than to continue focusing on these rights and strive for improvement," he added.
'We also can improve'
The Netherlands received a 56 percent score in the annual ILGA-Europe Rainbow Map and Index report that the European LGBTQ and intersex rights group last week. ILGA-Europe made three specific recommendations to the Dutch government.
• Prohibiting medical interventions on intersex minors when the intervention has no medical necessity and can be avoided or postponed until the person can provide informed consent.
• Reforming the legal framework for legal gender recognition to be fair, transparent, based on a process of self-determination and free from abusive requirements (such as GID/medical diagnosis or age restriction.)
• Banning so-called "conversion practices" on the grounds of sexual orientation and gender identity.
Haspels acknowledged his government can do more to extend rights to LGBTQ and intersex people.
"There's the law, and there's the rules and regulations, which are very important," he said. "We also can improve."
Haspels noted there is "still a lot of legislation in preparation in order to improve the situation." Haspels also specifically pointed to violence against LGBTQ and intersex rights activists where the "police did not act responsibly."
"We're struggling with that," he said.
"There's scope for improvement for my country as well, but again, I think the most important thing is to bring it out in the open, to start a discussion," added Haspels. "That's also the idea of the Rainbow Dress, and we're also working together with United States. Also there in the United States, things can still be improved … We follow closely what's going on in other countries, but the most important thing is to have a dialogue."
Latvia elects first openly gay president
Edgars Rinkēvičs has been country's foreign minister since 2011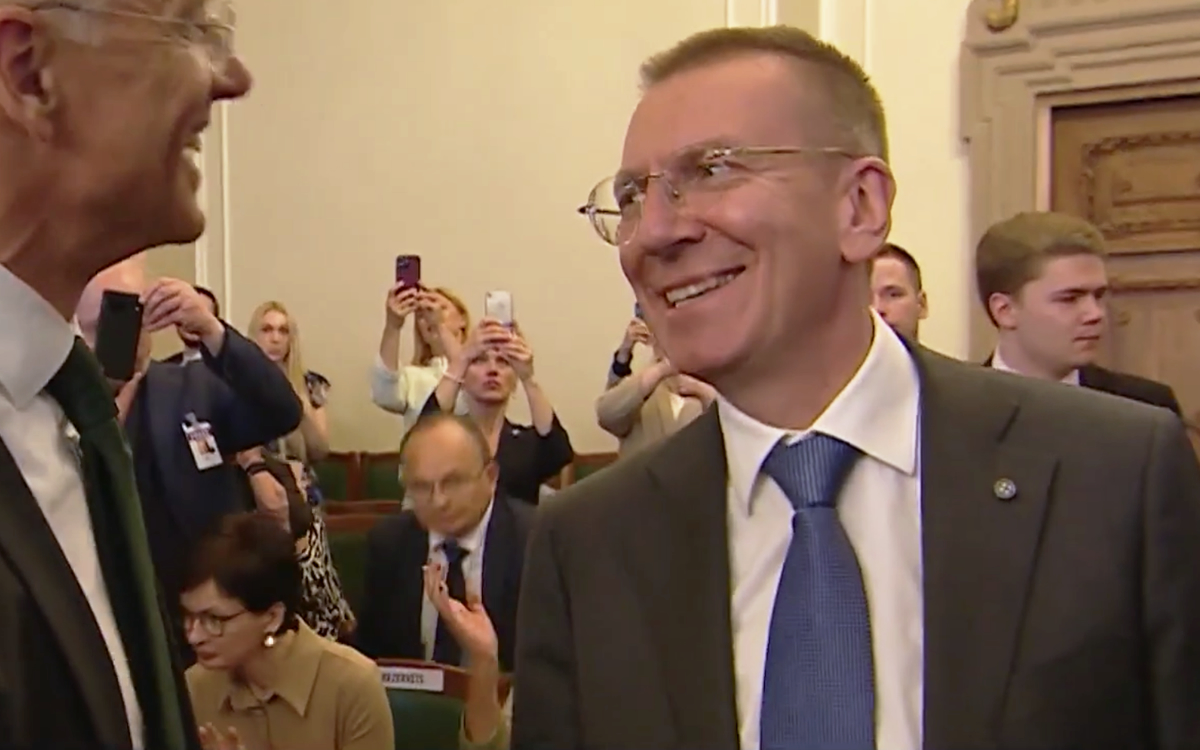 The Latvian Parliament elected Edgars Rinkēvičs as the country's next president in a vote held Wednesday. When he assumes office on July 8, he will be the country's first openly gay head of state, as well as the first openly gay head of state of an EU country or a former Soviet country.
Latvia's president is a largely ceremonial role that is elected by the national Parliament. He won a narrow majority of 52 out of 100 votes on the third ballot, held coincidentally during Pride week in the capital, Riga.
Rinkēvičs has served as Latvia's foreign minister since 2011, a post where he became popular for championing European integration.
In 2014, he became the first Latvian political figure to come out publicly, while the country debated a same-sex civil union law. To date, the Latvian Parliament has still been unable to pass any laws recognizing same-sex couples, despite multiple court decisions ordering it to do so.
Reached for comment after the election, the Latvian LGBTQ advocacy group Mozaika and Riga Pride released a joint statement saying they are thrilled with the election.
"We are thrilled about the fact that Edgars Rinkēvičs will be the next president of Latvia.  First and foremost, he is one of the most popular and professional politicians in Latvia, and with this election he broke the glass ceiling. He is an absolute inspiration to many young people and the LGBTQ community at large. 
We are hopeful that he will stand behind his promise to have human rights and democracy as one of his priorities and we believe he will play an instrumental role to strengthen Latvia's society and will make it safer not just for the LGBT community but for many vulnerable groups," the groups say.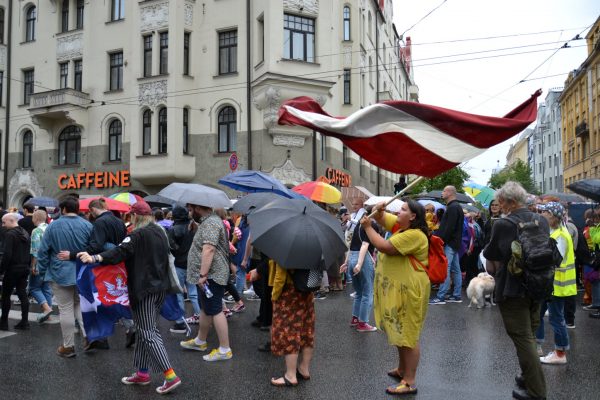 Not everyone has been so thrilled. Former Member of the European Parliament Andrejs Mamikins, tweeted that "God will no longer bless Latvia," in response to the election.
"Today, godlessness won the presidential election in Latvia. Disgrace and misery @edgarsrinkevics," he wrote.
Latvian TV reports that the State Police have opened an investigation into Mamikins' post for possible violations of the law banning incitement to hatred.
Latvia, a deeply conservative Baltic nation of about 1.8 million people about one-third of whom are Russian-speakers, regained its independence amid the breakup of the Soviet Union. Since that time, it has taken a stridently pro-Western political orientation, including joining NATO, the European Union and the Eurozone.
But the country's political elite has never warmly embraced LGBTQ rights. According to ILGA-Europe's Rainbow Index 2023, Latvia scored only 22 percent on a list of legislated rights for LGBT people, placing it 37th among 49 ranked countries.
Latvia's neighbors on the Baltic Sea have also been slow to advance LGBTQ rights, although Estonia's government is expected to advance a same-sex marriage bill in Parliament next week, and Lithuania's parliament passed a civil union bill through a second reading vote in May.
While openly gay and lesbian people have served as prime minister of several other EU countries — including Ireland's Leo Varadkar, Luxembourg's Xavier Bettel and Belgium's Elio Di Rupo — Rinkēvičs will be the first gay person to hold the role of head of state of an EU country. The only other openly gay head of state in modern history was Paolo Rondelli, who was one of the two Captains Regent of the microstate San Marino for six months in 2022.
********************************************************************************
Rob Salerno is a writer, journalist and actor based in Los Angeles, California, and Toronto, Canada.
Student brutally beaten in Ireland because he is gay
Attack against 14-year-old streamed on social media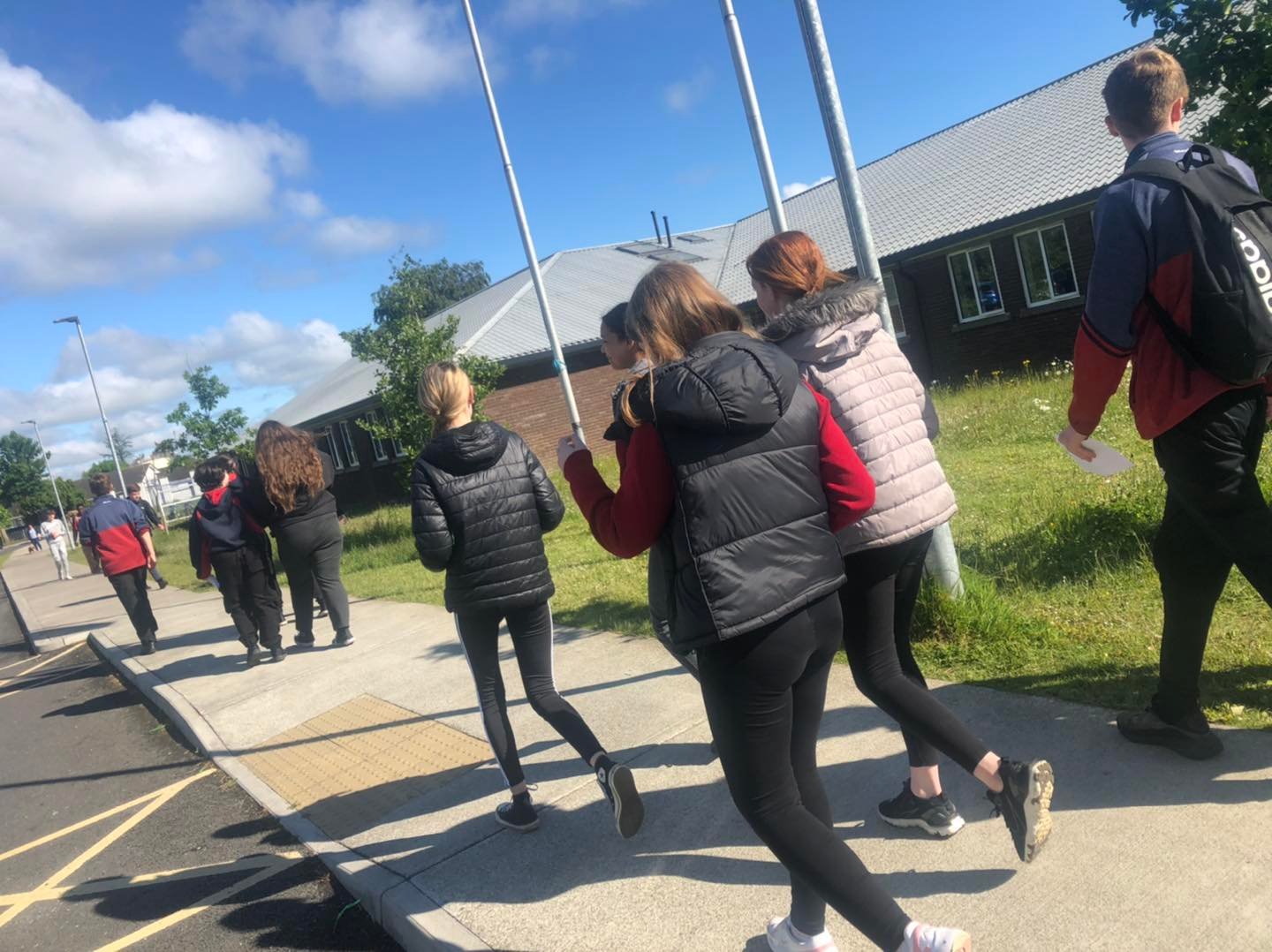 A 30 second video that circulated on TikTok, Twitter and Instagram this past week showed a 14-year-old boy being jumped by a group of other young men, one punching the victim in the face, knocking him to the ground at which point the others joined in kicking and pummeling him.
A spokesperson for An Garda Síochána, the national police service of Ireland, told the Washington Blade that the victim had been transported to Our Lady of Lourdes Hospital in Drogheda, where he was treated for serious facial injuries. The spokesperson also noted that the attack had taken place on May 15 at approximately 2.30 p.m.
Some of the teens in the video are wearing school uniform jackets from Beaufort College, a post-primary school in Navan, a medium-sized city located roughly 34 miles northwest of the Irish capital city of Dublin.
According to witnesses and in an interview with British LGBTQ media outlet PinkNewsUK, the teen was attacked over his sexual orientation. A family member, who wanted to remain anonymous, said the victim had been verbally harassed since the beginning of the last term.
"The whole family is aware of this, and that it's been an ongoing issue," the relative told PinkNewsUK.
The boy, who was hospitalized after the assault, suffered from a concussion, broken teeth and a shoe print on his forehead, the family member and the Garda confirmed.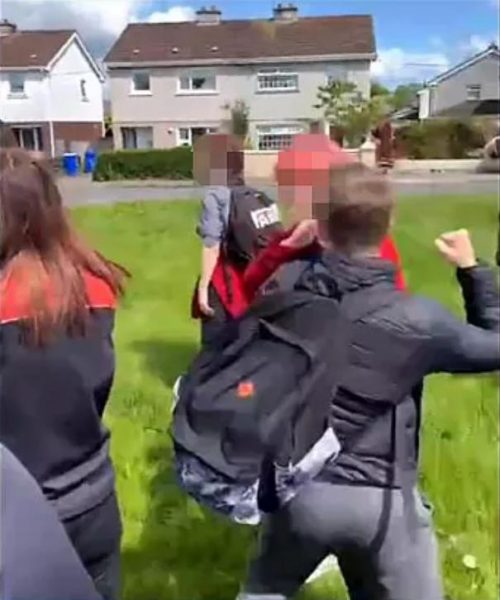 "No 14-year-old should be beaten like that for anything at all, especially because of who he is. He is only a child and it happened across the road from a family member, where he was trying to get to," the family member told Irish media adding: "We are shocked, horrified and upset at what can happen in this day and age. It was a number of people against one boy, while others filmed it and posted it online. That is horrific and wrong."
The Garda spokesperson confirmed that investigators are aware of the video online.
"An Garda Síochána is aware of a video circulating on social media of this incident and out of respect for the victim in this case we would request that people refrain from sharing this video. An Garda Síochána is appealing to any person with information on the assault to contact Navan Garda Station at 046 9079930," the spokesperson said.
Irish Prime Minister Leo Varadkar, who is openly gay himself, condemned the attack on the boy, telling Irish media outlet RTÉ Radio 1 that he hoped "everyone would condemn [the attack] utterly." He added: "I want to send my solidarity to the person who was harmed and injured in this way. I would say to them that life does get better.
"It is very sad that people experience violence and bullying in school, but life does get better and I'd say not to give up. I would say how sad I am that in this day and age we still see this kind of bullying and violence in our schools.
"I understand there is a Garda investigation underway and that the victim has been treated for their injuries [and] I would ask anyone who has information to co-operate with the investigation."
The prime minister also condemned the bystanders in the video who took no action to intervene and to stop the beating.
"I think for a lot of people that maybe had a hard time in school life does get a lot better."
Taoiseach, Leo Varadkar talks to @TodaywithClaire about the violent attack on a student in Co. Meath on Monday. pic.twitter.com/Epw7HPEgAL

— RTÉ Radio 1 (@RTERadio1) May 18, 2023
PinkNewsUK reported that five male teenagers were taken into custody by the Gardaí in Navan on May 19 and have been released without charge.
A Gardaí spokesperson said: "Gardaí in Navan are continuing to investigate the assault of a teenage boy which occurred in Navan on Monday.
"Yesterday, Gardaí arrested five juvenile teenagers in the Navan area for alleged offenses under Section 3 of the Non-Fatal Offenses Against the Person Act, 1999. All five were detained under Section 4 of the Criminal Justice Act, 1984 at Garda stations in the Meath Region.
"The five juvenile teenagers were later released without charge and a file will be referred in the first instance for consideration for admission to the Juvenile Diversion Program in accordance with Part 4 of the Children Act, 2001."
Ireland has a reputation for being LGBTQ-friendly according to Rainbow Europe — ILGA-Europe's annual benchmarking tool. It shows Ireland as in the upper tier of European nations, being scored in seven thematic categories: Equality and non-discrimination; family; hate crime and hate speech; legal gender recognition; intersex bodily integrity; civil society space and asylum.
A recent article by Dylan O'Sullivan writing for Queer Majority noted that Ireland is considered the 9th most gay-friendly country in the world, the fourth country to elect an openly gay head of state, the first country to legalize same-sex marriage by popular vote, and the list goes on. And all this from a country that, as recently as 1993, considered homosexuality a criminal act.
Additional reporting by PinkNewsUK
Spain joins global LGBTQ, intersex rights initiative
The Global Equality Fund is a US-led campaign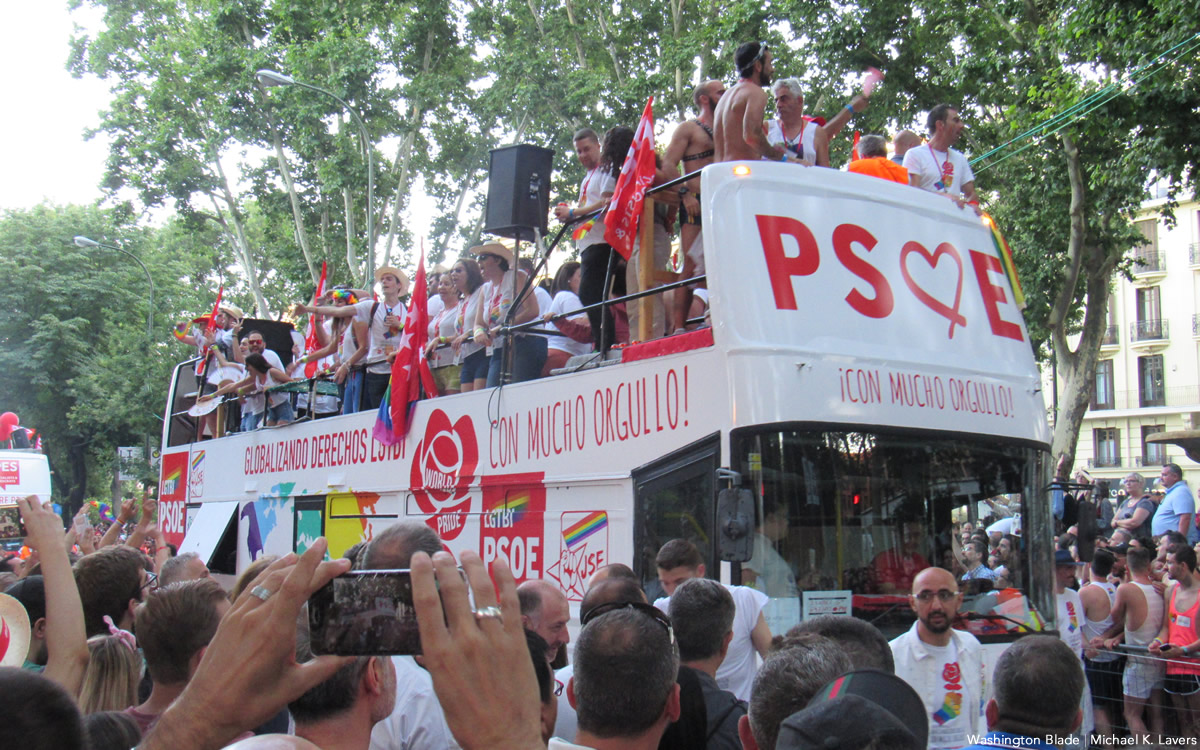 Spain has become the latest country to join a U.S. initiative that seeks to promote LGBTQ and intersex rights around the world.
"The United States and Spain recognize that all human beings should be treated with respect and dignity and should be able to live without fear no matter who they are or whom they love. Promoting and protecting the human rights of lesbian, gay, bisexual, transgender, queer and intersex (LGBTQI+) persons is an important part of our shared foreign policy objectives," reads a statement from the U.S. and Spanish governments the State Department issued on Wednesday.
"Consistent with its commitment to these values, Spain formally announced it would join the Global Equality Fund as a donor partner," it adds.
The statement notes Secretary of State Antony Blinken and Spanish Foreign Minister José Manuel Albares on Wednesday "participated in a signing ceremony to mark this commitment."
Argentina, Australia, Chile, Croatia, Denmark, Finland, France, Germany, Iceland, Italy, Montenegro, the Netherlands, Norway, Sweden and Uruguay contribute to the fund alongside the Arcus Foundation, the John D. Evans Foundation, the M•A•C AIDS Fund, Deloitte, the Royal Bank of Canada, Hilton Worldwide, Bloomberg and Out Leadership.
"Through the Global Equality Fund, like-minded governments, foundations, and corporations provide support to civil society organizations working to promote inclusion and respect for all persons, regardless of sexual orientation, gender identity or expression or sex characteristics," notes the statement from the U.S. and Spain. "The United States and Spain will continue to work to ensure that all people — including LGBTQI+ persons — can live in dignity, freedom, and equality."