22 ways to celebrate Pride month in Delaware
From Wilmington to Rehoboth, there's something for everyone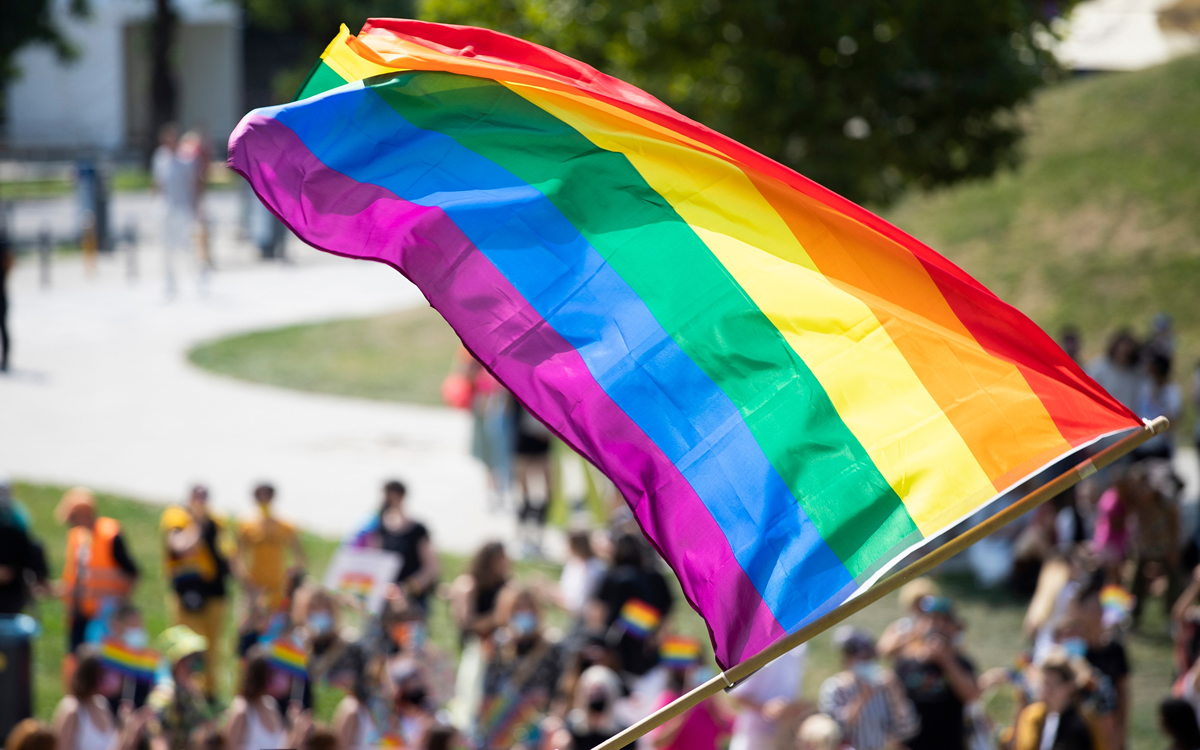 FRIDAY, JUNE 9
QUEER FILM: The Rehoboth Beach Film Society and CAMP Rehoboth kick off the three-day Pride Film Festival featuring 12 movies, ranging from "The Rocky Horror Picture Show" to "Going to Mars: The Nikki Giovanni Project," which explores author Giovanni's life and six decades of work. The schedule has not been announced yet as of publication of this guide. The films will be shown at Cinema Art Theatre at 17701 Dartmouth Rd. #2 in Lewes. $12 per film.
A HISTORY LESSON: Delaware LGBTQ history researcher Carolanne Deal explores the queer history of Sussex County and a new exhibition with parts of Delaware's queer history in the Zwannendael Park by the museum with the same name. 5 p.m. at 102 Kings Highway in Lewes. Free.
SATURDAY, JUNE 10
PRIDE FESTIVAL: Delaware Pride is putting on its annual Pride festival, with more than 100 vendors and many entertainers making up the single largest LGBTA gathering in Delaware, the organization says. Seventeen entertainers are listed on Delaware Pride's Facebook page, including "American Idol" contestant Alisabeth Von Presley – "Lady Gaga meets Pat Benatar with a dash of Michael Jackson," Little Village Magazine writes; Aunt Mary Pat, the drag queen and singer; Jenna Tall, who's won five Miss titles; The Manhattan Prairie Dogs, a dance group that's legal to watch despite prairie dogs being illegal to keep as a pet in New York; and Ryan Cassata, a singer and public speaker on trans issues. That's not even mentioning 83 vendors that are scheduled to attend. 10 a.m.-5 p.m. at 411 Legislative Ave. in Dover. Free.
PRIDE AFTER-PARTY: Double D's Taphouse is hosting an after-party throughout Saturday night for adults 21 and over, hosted by Scarlett Masters (who's also hosting the drag bingo above). 6-10 p.m. at 137 Jerome Drive in Dover. $15.
COUNTRY DANCING: Get yir boots on and saddle up, gays! Atlantic Sands Hotel & Conference Center is hosting a country dance party for gay men and women in Rehoboth. 7 p.m. at 1 Baltimore Ave. on the Boardwalk in Rehoboth. $10.
BRING YOUR GAY ASS OVER HERE: Flash your colors at Wilmington's Crimson Moon bar. Brush up on your gay history to understand why: When it was illegal to be gay, LGBTQ people put a colored handkerchief in their back pocket to signal their queerness to other community members. Community leaders periodically changed that color so they would not reveal their sexuality to undercover cops. Over time, it evolved into what it is today – a way to show who you are and what you're looking for. 9 p.m. at 1909 W. 6th St. in Wilmington. No cover.
SUNDAY, JUNE 11
RUN FOR FUN AT THE FUN RUN: Fun for run, no, run for fun in Rehoboth, organized by a Delaware shoe store, Charm City Run. 8-9 a.m. at 200 Rehoboth Ave. in Rehoboth. Free.
MIDDLETOWN PRIDE: Middletown is hosting its second annual Pride Walk and Festival – with vendors this time. 12-5 p.m. in Middletown. Free.
BINGO FOR A CAUSE: AIDS Delaware is hosting a spring bingo with The Rainbow Chorale in the Mill Creek Fire Company's Chambers, with all proceeds benefitting the two organizations. It's hosted by drag queens Scarlet Masters and Aura Buboyz and organizers encourage guests to dress in Pride attire or your "best ally" attire. Doors open at 5 p.m., games begin at 6 p.m. at 3900 Kirkwood Hwy in Wilmington. $15 for admission and one game board.
SUPPORT AGING LGBTQ+ PEOPLE: Learn about the challenges facing older LGBTQ adults and resources for them in a roundtable discussion hosted by Sussex Pride at the Unitarian Universalists of Southern Delaware's building in Lewes. 6-7:45 p.m. at 30486 Lewes Georgetown Hwy. Free.
THURSDAY, JUNE 15
A NIGHT OUT: Bring your friends and (queer) family to this LGBTQ social event at Constitution Yards Beer Garden. It had a record turnout of about 300 last year, and organizers are hoping to crack 400 this year. 6-9 p.m. at 308 Justison St. in Wilmington. Free.
GAME NIGHT: If going out isn't your thing and you'd prefer a more chill night, fear not: Sussex Pride is hosting a game night in the Epworth United Methodist Church. 6:30-8:15 p.m. at 19285 Holland Glade Rd. in Rehoboth. Free.
FRIDAY, JUNE 16
GET INTO THE HOMO SPIRIT: Listen to CAMP Rehoboth's Chorus singing all-time favorites like Chad & Jeremy's "A Summer Song," Chicago's "Saturday in the Park," and, of course, a Beach Boys medley at Epworth United Methodist Church. Friday and Saturday 7 p.m., and Monday 3 p.m. at 19285 Holland Glade Road in Rehoboth. $25.
GAYEST SONGS EVER: Celebrate the super gay pop hits of yesteryear (and this year) with performer Todd Alsup. 8:30-10:30 p.m. at The Pines, 56 Baltimore Ave. in Rehoboth. $25-150.
SATURDAY, JUNE 17
DRAG BRUNCH: Miss Troy, who is also performing at the Pride Festival, is hosting a drag brunch at The Queen in its Crown Room. The Queen is normally a live music venue but has a history of hosting all kinds of events. 12 p.m. at 500 N. Market St. in Wilmington. $39-61.50
POOL PARTY: If you want to take a splash in the pool while being a little tipsy this is the place to do it. Bring your own booze if desired, and bring food if you wish. 3-9 p.m. at 128 Honey Brook Lane in Felton. Free.
PLAY DUNGEONS & DRAGONS: Take a break from celebrating with a round of Dungeons & Dragons hosted by Sussex Pride at the Groome Church. 6:30-8 p.m. at 601 Savannah Rd. in Lewes. Free.
SUNDAY, JUNE 18
QUEER STORY TIME: Bring your little (or not so little) kids to the Woodlawn Library and read picture books with LGBTQ characters. You must register for the event beforehand here. Masks are strongly encouraged at the event. 11 a.m.-12 p.m. at 2020 W. 9th St. in Wilmington. Free.
BRING YOUR DADDY TO BRUNCH: Goolee's Grill encourages you to bring your dad (or daddy) to this family-friendly drag brunch because it's Father's Day. The event is hosted by the runner up for Rehoboth's Best Drag Queen in the 2019 Blade awards, Regina Cox. 12-2 p.m. at 11 South 1st St. $15.
SATURDAY, JUNE 24
ZOO VISIT: The Brandywine Zoo is holding its annual Pride Day – only the third – with educational programming, a scavenger hunt, and story time. 10 a.m.-3:30 p.m. at 1001 N. Park Dr. in Wilmington. $7 for seniors and youth, $9 for adults.
SUNDAY, JUNE 25
STONEWALL RELIVED: Listen to four actors recreate the 1969 Stonewall Uprising at CAMP Rehoboth with the words of those that were there – reporters, drag queens, trans youth, gay people, and homeless kids that confronted the police, letting out their anger. It wasn't the first LGBTQ uprising of the era, but the most consequential. 4 p.m. & 7 p.m. at 37 Baltimore Ave. in Rehoboth. $25.
FRIDAY, JUNE 30
GAY COMEDY: Standup comedian Jen Kober, an out lesbian from Louisiana, is touring the country and stopping in Rehoboth Beach at The Pines along with Jeff D. She won NPR's Snap Judgment of Comedic Performance of the Year and went viral for her standup about Girl Scout cookies. 7 p.m. at The Pines in Rehoboth.
Did we miss anything? Let the author know at [email protected]
Flight attendants union endorses Sarah McBride
Del. lawmaker would be first transgender member of Congress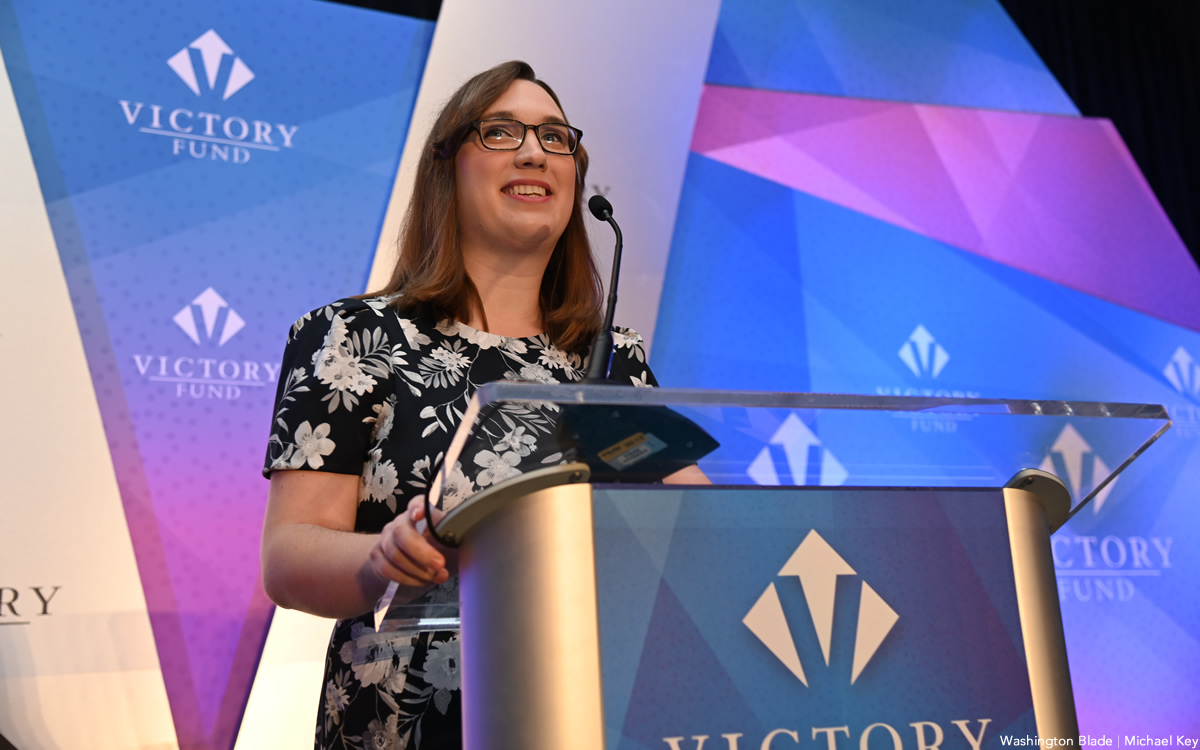 Delaware congressional candidate Sarah McBride has earned the support of the Association of Flight Attendants, the nation's most prominent flight attendant union.
It's the second big labor endorsement for McBride after the United Food and Commercial Workers Local 27's endorsement. The Association of Flight Attendants praised her for spearheading efforts to bring paid family and medical leave to Delaware, which will take effect in 2026.
"Sarah's record in the Delaware Senate shows that she understands how to work collaboratively, build power and make big things happen," the union's president, Sara Nelson, wrote in a press release shared exclusively with the Washington Blade. "That's the kind of leader we need in Congress, and we're proud to endorse her candidacy."
McBride also announced her support for creating a list of abusive passengers and banning them from flying. Each airline has a list of passengers banned from flying, but airlines don't share the lists with each other, though Delta Air Lines has asked them, because of "legal and operational challenges," as a representative for the airline industry trade group Airlines of America told a House committee in September 2021.
"Right now, someone can be violent towards a flight attendant or another passenger and walk directly off of that flight and onto one with a different airline to endanger more people," an Association of Flight Attendants spokesperson wrote in a statement.
The Protection from Abusive Passengers Act would put the Transportation Security Administration in charge of building the database of passengers fined or convicted of abuse and has bipartisan support but has sat idly in committee since March. It failed to pass last year, and civil rights groups including the American Civil Liberties Union have charged that the list would disproportionately target people of color and strip and a better step to reducing hostility would be making flights more comfortable. Reports of defiant and unruly passengers have more than doubled between 2019, before the COVID-19 pandemic, and 2022.
"I thank the Association of Flight Attendants for endorsing our campaign," McBride wrote in the press release. "It's important that we recognize and celebrate the symbiotic relationship between strong, unionized workforces and the continued growth of employers here in our state."
The union representing 50,000 flight attendants across 19 airlines is putting pressure on airlines to grant union demands in contract negotiations. At American Airlines, unionized flight attendants voted to authorize a strike — putting pressure on the airline to accede to its demands. Flight attendants at Alaska Airlines say they are ready to strike but have not voted to authorize one yet. United Airlines flight attendants picketed at 19 airports around the country in August, ratcheting up the pressure.
The union's endorsement adds to a growing list of McBride endorsements, including 21 Delaware legislators, the United Food and Commercial Workers, the Human Rights Campaign, EMILY's List, and Delaware Stonewall PAC. McBride, who would be the first openly transgender politician in Congress, has powerful connections in Washington — including with the White House — and is favored to win Delaware's lone House seat.
A poll commissioned by HRC shows her leading the pack of three candidates vying for the seat — 44 percent of "likely Democratic voters" told pollster company Change Research, which works with liberal organizations. The poll of 531 likely Delaware Democratic primary voters, though, was conducted only online — meaning those with less familiarity or access to the internet may not have been counted — and Change Research's methodology for screening likely voters is unclear. The company also did not provide a breakdown of respondents by age, gender, and race, but says it uses an algorithm to make the results representative.
Nelson said McBride's time in Delaware's state Senate shows her prowess in building power and working collaboratively.
"That's the kind of leader we need in Congress, and we're proud to endorse her candidacy," she wrote.
Sarah McBride 'not running to be the trans representative in Congress'
Delaware politico on agriculture, climate change, and making history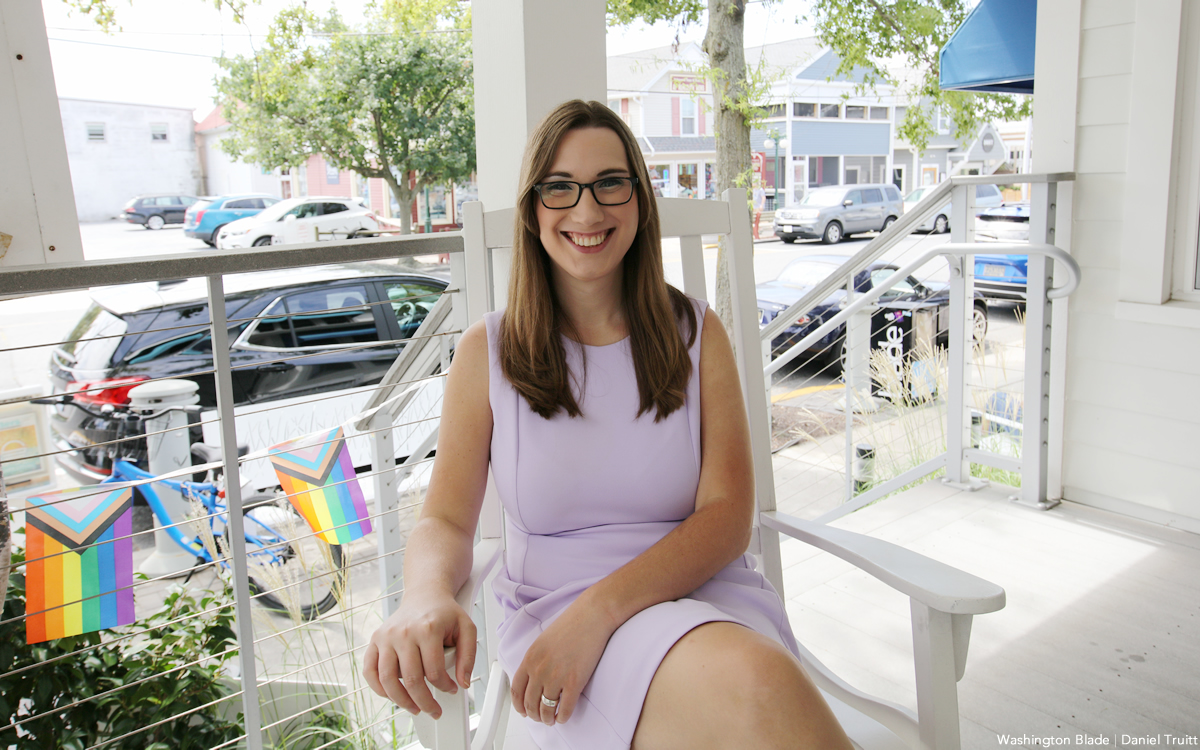 Sarah McBride is running for Delaware's sole seat in the U.S. House of Representatives. If you ask her what the most important issues are for voters, she'll tick off several things: The cost of education, prescription drugs, housing, fear of gun violence, fear of the Supreme Court, the wave of anti-LGBTQ legislation across the nation.
What's not among them? Her gender identity – the fact that she's transgender. But we journalists mention it at every turn – you'd be forgiven for wondering whether we know anything else about her. Even at MSNBC, the cozy cable home for liberals, her identity takes center stage.
"Sarah McBride campaigns to be first openly transgender member of Congress," the lower third blares during McBride's July 15 MSNBC interview.
"McBride on historic run for Congress," another says.
"McBride would be the first transgender member of Congress if elected," a third reads.
And every time her interviewer mentions it, she notes something along the lines of what she told MSNBC anchor Katie Phang: "I'm not running to be the transgender representative in Congress, I'm running to serve Delaware and to make progress on all the issues that matter."
It begins to resemble a tango – only where the two dancers are dancing to two completely different songs. If it annoys her, she won't say so publicly.
"Of course there's going to be discussion about the potential of this campaign to break this barrier and to increase diversity in Congress and to ensure that a voice that has been totally absent from the halls of Congress is finally there in an elected capacity," McBride says in a recent interview with the Blade. "While it's not what this campaign is focused on, while it's not what voters are focused on, it is certainly relevant to the young people who are feeling alone and scared right now."
She's running in a crowded primary against rising Delaware political star Eugene Young and former Delaware State Treasurer Colleen Davis. Curtis Morris Aiken and Alexander Nevin Geise, a Universal Life Church minister, have also filed to run, but neither has a campaign website. The primary is slated for April 2, 2024.
McBride, though, has a unique advantage – national name recognition and a close relationship with the Democratic Party's elite, including President Joe Biden. She formed that relationship working to get Beau Biden, the president's son, elected as Delaware's attorney general in 2010 while studying at American University.
McBride continued to work in politics afterwards, later becoming the university's student body president. In the last few days of her tenure in 2012, she announced something big: She is a woman, she is transgender. The announcement made waves in local and national media. Beau Biden called her to tell her he was proud of her. And then Joe Biden told her he was proud as well when she took a picture with him.
"Hey, kid, I just wanted to let you know I am so proud of you, and Beau is so proud of you, and Jill is so proud of you," Biden, then the country's vice president, told McBride. "And I'm so happy that you're happy."
Some years later, after pressing for legislation protecting trans Delawareans from discrimination, she got the chance to speak at the Democratic National Convention. Her 2016 speech paid tribute to her late husband, endorsed Democratic presidential candidate Hillary Clinton, and advocated for a better tomorrow. It moved some in the thousands-strong crowd to tears – and others to their feet.
"My name is Sarah McBride and I am a proud transgender American," she told the crowd, beaming.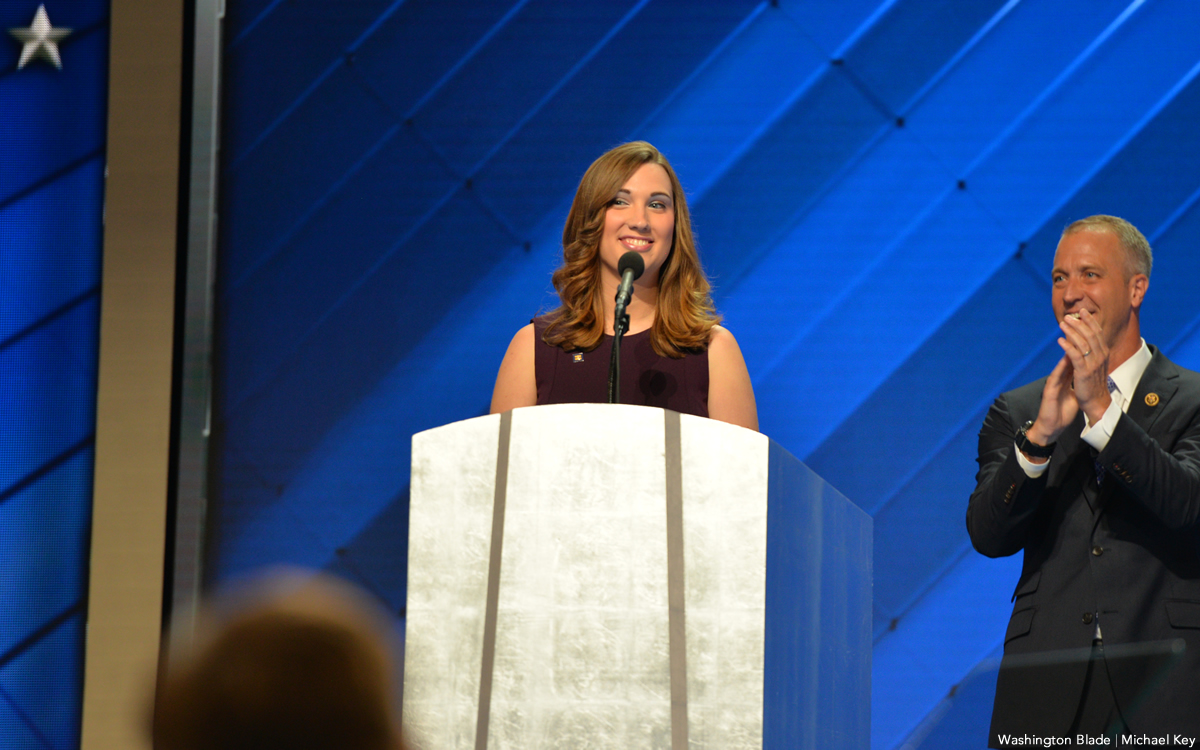 Four years later in 2020, she became the highest-ranking transgender person in the country in her role as a Delaware state Senator representing parts of Wilmington. A year later, President Biden appointed her to the Democratic National Committee's Executive Committee. Her deep entrenchment in politics is reflected in her fundraising: As of the last filing period, July 15, she had already raised more than $400,000. Her opponents haven't had to open their books yet, so we can't compare fundraising.
But if you're holding your breath, waiting for the president's endorsement in the Delaware house race — don't.
"The president is focused on his own race," McBride says.
And McBride is focused on her race, hunting for votes wherever she can. She "fully" expects to go up and down the small state, she says, to every town, municipality, and everything in between to talk to voters. She's not shying away from Delaware's conservative-leaning, rural Sussex County either — despite roughly 60% of Sussex voters voting for former President Donald Trump in the 2020 presidential election.
"No voter is going to agree with me on every issue, and there will be some voters who will disagree with me on most issues, but that won't stop me from fighting for them," she emphasizes. "In the Delaware state Senate, almost every bill that I have passed has passed with bipartisan majorities."
That's Delaware though. National politics are a horse of a different color. Not that that worries McBride – she's progressive and will push for progressive policies, she says, but will work with Republicans as much as she can. Sure, she says, there are major disagreements, but beyond the drama and the fever-pitched headlines, there's actually a lot of agreement – though not enough for her to expect any endorsements from Republicans.
Meanwhile, the so-called culture wars dominate the national conversation. The Human Rights Campaign issued a state of emergency for LGBTQ+ people in the United States, counting a record 75 anti-LGBTQ+ bills signed into law just six months into 2023.
McBride has gotten her fair share of threats herself, to the point where she says she hasn't had a job where she hasn't received death threats and transphobic attacks.
"When I was making the decision whether to run, one of the things I had to grapple with was the risk that comes with it at a moment where politicians have so clearly tried to dehumanize the trans community," she said. "I know that with dehumanizing rhetoric comes dehumanization. And with dehumanization, hate and violence become that much more possible."
Still, she says, anti-trans politicians and activists shouldn't be able to restrict trans people from participating in democracy, to scare trans people into silence. The LGBTQ community is more united than ever, she says.
It's clear the attacks won't silence her – she expects to be a force to be reckoned with if she is elected to Congress, even as a first-term legislator. She points out that she managed to pass a bill for paid family leave starting in 2026 – despite the political observers laughing in her face – through the Delaware Legislature in her first term.
On the issues, though, McBride is harder to pin down beyond the statements on her website. She's running to represent a state whose fifth-largest industry is agriculture, for example, but her website doesn't mention agriculture. McBride says it's just a matter of time.
"We're going to be further building out the policy agenda," she says. "I don't know that anyone has any specific details on foreign policy or agricultural policy on their websites yet."
She then pivots to a familiar talking point – farmers and agriculture workers, just like her, know what it's like to be underrepresented in government. She knows what it's like to be "unseen and unheard" by the government. She knows what it's like to be attacked by her own government. She's secured the endorsement of Delaware's United Food and Commercial Workers. She's running to represent all Delawareans and she's listening to all of them on her tour through the state.
"A campaign is a conversation," she emphasizes.
The time for conversation is quickly running out, though, when it comes to mitigating the climate crisis. Delaware is the lowest-lying state in the country, making it even more vulnerable to rising seas and flooding. The Sierra Club's Delaware chapter has endorsed her twice, but McBride's climate policy proposals are so far murky. The U.S. must become carbon neutral by 2050, she says – something Delaware has already committed to.
We need "bold goals," she says, to achieve carbon neutrality, to prevent the country from emitting more greenhouse gases than its forests, shrubs, grasslands, sea grasses, and more can remove.
So do we need a carbon tax, where emitters have to pay for every ton of greenhouse gases they emit? She didn't directly answer. A ban on new fossil fuel projects? She didn't directly answer. Don't we need to move away from carbon credits, which in theory certify that one ton of carbon dioxide hasn't been released into the atmosphere thanks to the purchase, given how hard it is to prove that toxic gasses weren't released because of the purchase and the questionable investments that are made? It's not an issue that has come up yet, she says. In general, we need to invest in new technologies, figure out ways to reduce the climate crisis impact, find ways to emit less, she emphasizes.
An important step forward, McBride said, is the Inflation Reduction Act. It invested billions into clean energy and tax breaks for electric cars and energy efficient home upgrades and could save roughly 3 billion metric tons of greenhouse gases according to the U.S. Department of Energy. She supports the law despite its greenlighting of the Mountain Valley Pipeline across West Virginia thanks to a deal struck with West Virginia Sen. Joe Manchin.
"Look, I think that most bills that have passed have components that many of us would not like," she says. "And oftentimes those components are necessary to pass the bill."
And she's itching to pass bills and bring a fresh perspective to Congress. It seems few things will stop her — she's determined to put in the work to win.
"This is a real race," she says. "We're leaving no stone unturned."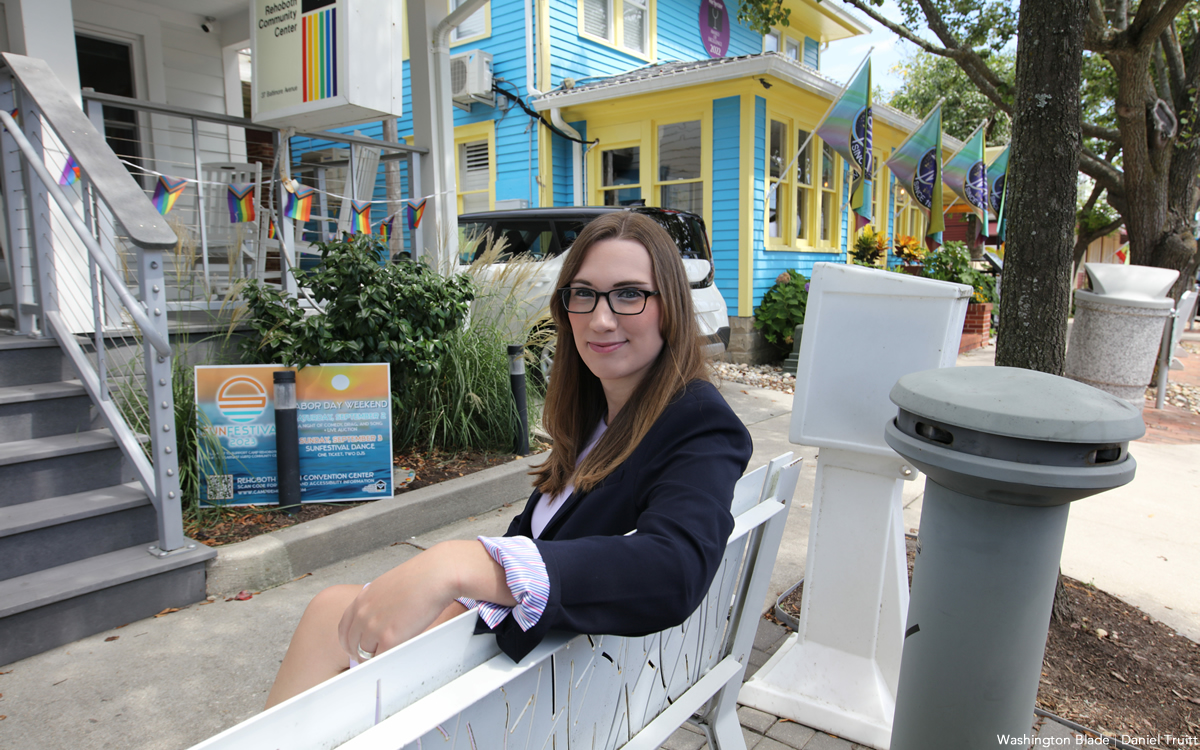 Delaware Stonewall PAC to celebrate 20 years
Blade editor to speak at Sept. 9 event in Rehoboth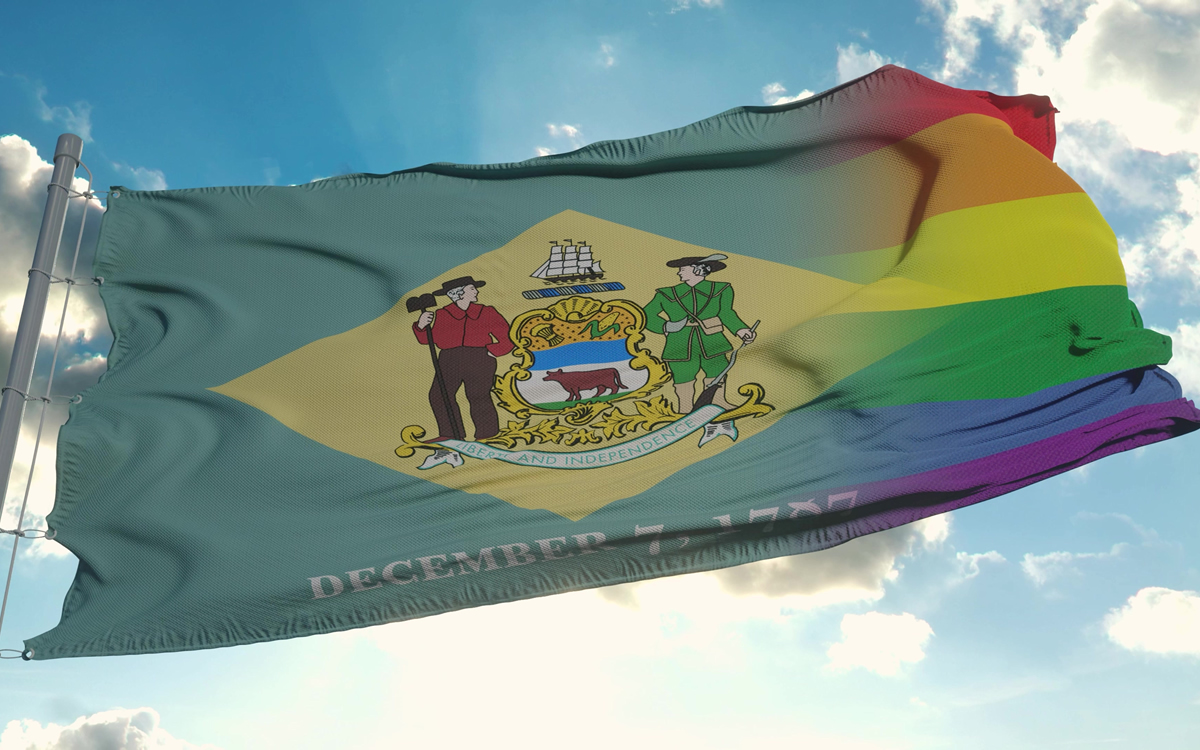 Delaware Stonewall PAC, an organization that advocates for the LGBTQ community in Delaware, will celebrate its 20th anniversary at a reception to be held at Shrimpy's Bar and Grill in Rehoboth Beach, on Saturday, Sept. 9, from 2-4 p.m.
"We will be honoring those who brought us this far," said Dwayne Bensing, president of the PAC, "but we know that there are still battles ahead of us."
In addition to honoring more than 50 officials who have served on the board, there will be a keynote speech by Kevin Naff, editor of the Washington Blade, the oldest LGBTQ newspaper in the U.S. Naff tells the story of where the LGBTQ movement has come in these 20 years in his new book, "How We Won the War for LGBTQ Equality — And How Our Enemies Could Take it All Away."
"I'm honored to join the celebration of this important milestone in Delaware politics," Naff said. "Indeed my Blade tenure coincides with the life of Stonewall PAC, so there's much to discuss."
Many of the state's elected officials and candidates for public office are expected to attend.
One of the founders of the PAC, Peter Schott, said, "I cannot believe how far we have come … but I know our battle for full equality is not over."
Admission to the event is available by going to delawarestonewall.org.