Landmark Namibia Supreme Court ruling sparks anti-gay backlash
May 16 decision recognized same-sex marriages performed abroad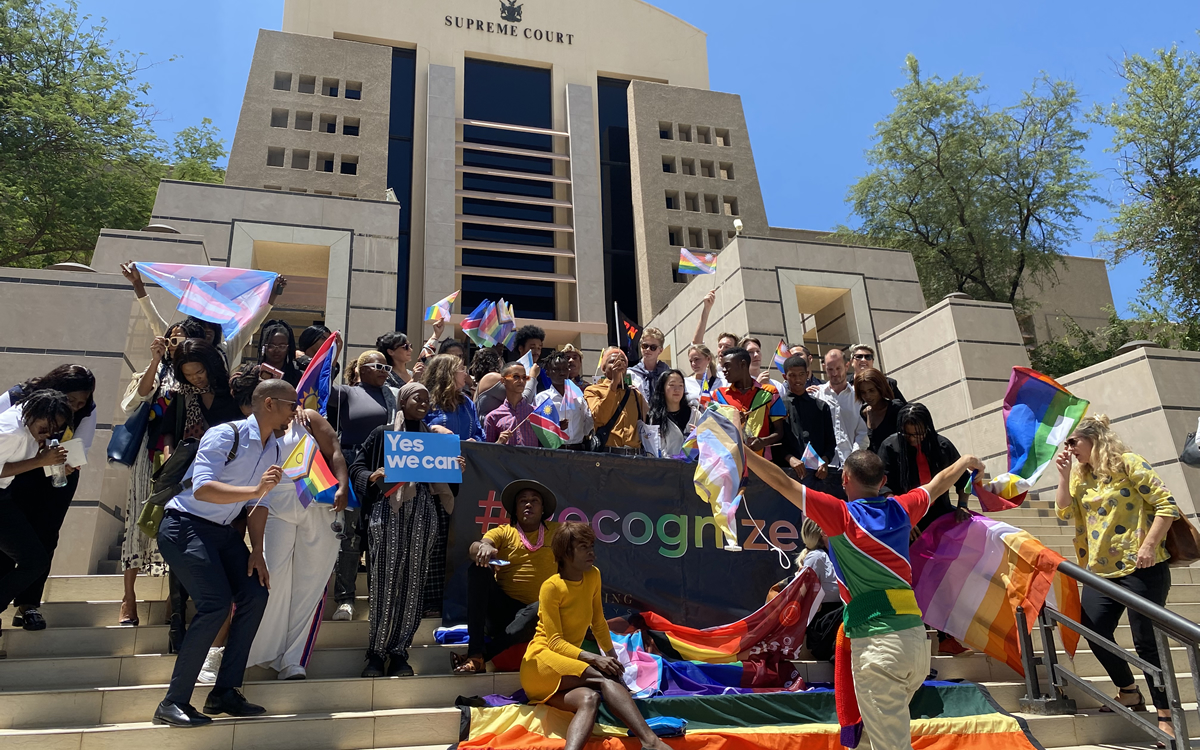 An exciting and transformative moment for the LGBTQ and intersex community in Namibia has been abruptly overshadowed by a barrage of homophobic opposition following a recent ruling by the country's Supreme Court that granted recognition to same-sex marriages conducted in foreign jurisdictions.
The Supreme Court last month delivered a historic judgment, ruling same-sex marriages performed outside the country should be recognized in order to grant foreign spouses in same-sex marriages with Namibian citizens the same immigration rights afforded to opposite-sex couples.
The decision aimed to ensure equal immigration rights for these spouses, aligning with principles of equality and nondiscrimination as enshrined in the Namibian Constitution.
This landmark decision, however, has sparked a wave of opposition, with members of Parliament, prominent political figures and religious groups expressing their discontent. It has also resulted in the mushrooming of "anti-gay" groups that are spreading hate speech and violent rhetoric on social media platforms. 
Prime Minister Saara Kuugongelwa-Amadhila last week said in Parliament that the "government will bring a bill to this house to seek that Parliament modifies … the relevant common law principle in order that same-sex marriages even where solemnized in countries that permit such marriages cannot be recognized in Namibia where the right to marriage is under our laws guaranteed between men and women of mature age."
Article 14 of the Namibian Constitution states: "Men and women of full age, without any limitation due to race, color, ethnic origin, nationality, religion, creed or social or economic status shall have the right to marry and to (find) a family. They shall be entitled to equal rights as to marriage, during marriage and at its dissolution."
Political scientist Henning Melber said while it seems some people assume this excludes same-sex marriages, the constitution does not.
"The wording does not limit equal rights to partners of the opposite sex," he wrote in a recent opinion piece.
Furthermore, human rights activist Phil ya Nangoloh said the right to equality and nondiscrimination of LGBTQ and intersex people is permanently included in the country's constitution.
He said various articles under Chapter 3 of the constitution — the chapter on fundamental human rights and freedoms — are shields which protect all people in Namibia without distinction of any kind.
"This right includes the right of LGBTQ+ people to sexual intercourse and marriage," he said.
However, not everyone sees it that way.
Ephraim Nekongo of the Swapo Party Youth League, the youth wing of the ruling Swapo Party, said he rejected what he perceived as an agenda of cultural imperialism by foreign entities and the majority of Namibians neither recognize nor accept same-sex marriages or homosexuality.
"The Namibian Constitution and the will of the majority of the Namibian people must therefore be respected," Nekongo said. "It is clear that this judgment has undermined our sacred identity as a country and a people."
Environment, Forestry and Tourism Minister Pohamba Shifeta on Monday spoke out against homosexuality, specifically citing that sodomy is a crime under the country's law.
He added the police should arrest those who publicly admit to being part of the LGBTQ and intersex community. Shifeta has promised to ensure that any law aimed at repealing the sodomy law is not approved.
Following allegations that the minister himself was gay, an accusation he vehemently denies, a subsequent legal action has been initiated by him against several individuals from the community who are accused of disseminating rumors about prominent leaders' supposed homosexuality.
LGBTQ and intersex activists and allies held a press conference last week to discuss the threat of violence against the community. They acknowledged the troubling rise in hate speech, incitement of violence and hate crimes specifically targeted at LGBTQ and intersex people around the country.
A monthly drag event hosted in the country's capital, Windhoek, the first weekend of every month was also canceled at the beginning of the month in fear of potential threats.
The polarizing conversation around rights for the LGBTQ and intersex community and the country's apartheid-era sodomy law highlights the need for a national dialogue on LGBTQ and intersex rights, cultural diversity and constitutional interpretation. While this dialogue continues, the future of the plaintiff couples who won spousal immigration rights are once again hanging in the balance.
Home Affairs Minister Albert Kawana in response to the Supreme Court's directive announced the ministry will refrain from processing any resident-related permits for foreign same-sex spouses married to Namibians until he receives guidance from the attorney general's office.
The attorney general's office in a press release said the government is currently conducting a thorough legal assessment of the judgment, taking into account its extensive legal ramifications. The statement further mentioned that the government will provide the public with an official response to the Supreme Court ruling in due course.
South Africa poised to bolster penalties for homophobic attacks, hate speech
Bill awaits approval in Parliament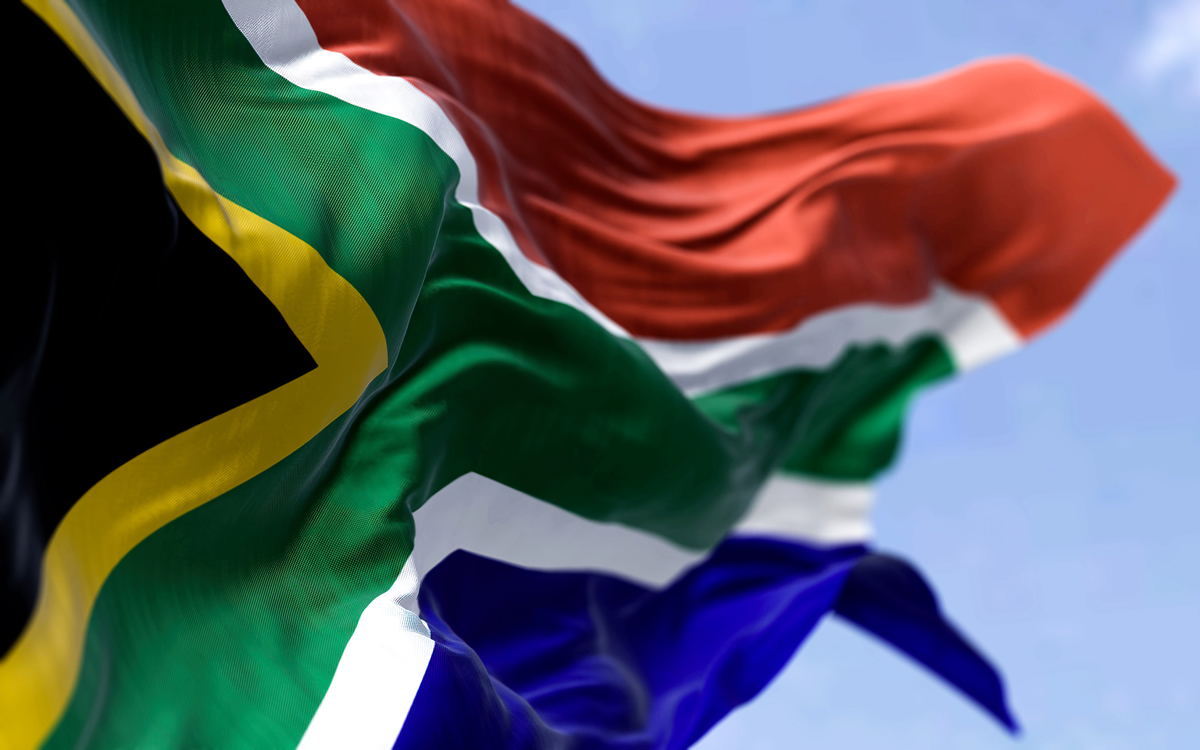 The South African government is one step closer to ensuring any form of homophobia will be subject to hefty penalties that could include a lengthy prison sentence.
Deputy Justice and Constitutional Development Minister John Jeffery on Nov. 22 noted the Prevention and Combatting of Hate Crimes and Hate Speech Bill is now waiting approval in the country's Parliament. President Cyril Ramaphosa will then sign it into law once it is approved.
First introduced in Parliament in 2018, the bill has been contested on its viability and how it would help protect people in South Africa against hate crimes and hate speech, particularly based on race, ethnicity, gender, sexual orientation or any other form of discrimination.
MPs approved the bill in March and then sent it to the National Council of Provinces, which approved it on Nov. 17. The Justice and Correctional Services Committee approved the NCOP's recommendations last Wednesday.
"Section 3 of the bill defines a hate crime as an offense committed where the offender is motivated by prejudice or intolerance towards the victim of the crime because of specified characteristics or perceived characteristics of the victim or another person associated with the victim," reads a Parliament press release about the bill. "These characteristics listed as grounds that could constitute a hate crime include age, albinism, birth, color, culture, disability, ethnic or social origin, gender or gender identity, HIV status, language, nationality, migrant or refugee status, occupation or trade, political affiliation or conviction, race, religion, sex, which includes intersex or sexual orientation."
The press release further notes Section 4 of the bill defines hate speech "as the intentional publishing or communicating of anything that can incite harm or promote hate based on grounds, including, among others, age, sexual orientation and race."
"The bill also provides for penalties such as fines, imprisonment or both for those who are convicted of the offenses," it reads.
Access Chapter 2, a South African LGBTQ rights organization, meanwhile, has now become the first LGBTQ-led law clinic in the country. The Legal Practice Council last week officially registered the group.
Although South Africa is the only African country that protects same-sex sexual relations in its constitution, there has been a surge in anti-gay attacks — kidnappings, hate speech, rape and killings — over the last few years. This trend has prompted many people who identify as LGBTQ to be cautious about disclosing their sexual orientation.
Gerbrandt van Heerden of the Center For Risk Analysis, a market research firm, says there is an urgent need to better equip society, law enforcement agencies and other sectors to fight homophobic attacks.
"Officials such as police, teachers, judges and magistrates should receive proper training and resources regarding LGBT issues," said van Heerden. "Sexuality and sexual health should be included as a subject in the healthcare worker curriculum so that professionals in the field will in future have sufficient skills to manage LGBT patients properly, and be more knowledgeable about their specific healthcare needs."
Van Heerden added companies and employers should receive guidance that helps them understand a hostile-free workplace for LGBTQ people can improve productivity and output and attract talent. Van Heerden also said official data, such as that in the national Census, should include trans South Africans and other members of the LGBTQ community.
"Doing so will demonstrate how serious South Africa and its policymakers are in cherishing and respecting the country's progressive constitution," said van Heerden.
Nigerian fashion industry provides safe haven for country's LGBTQ community
Homosexuality criminalized; lawmakers want to make cross-dressing illegal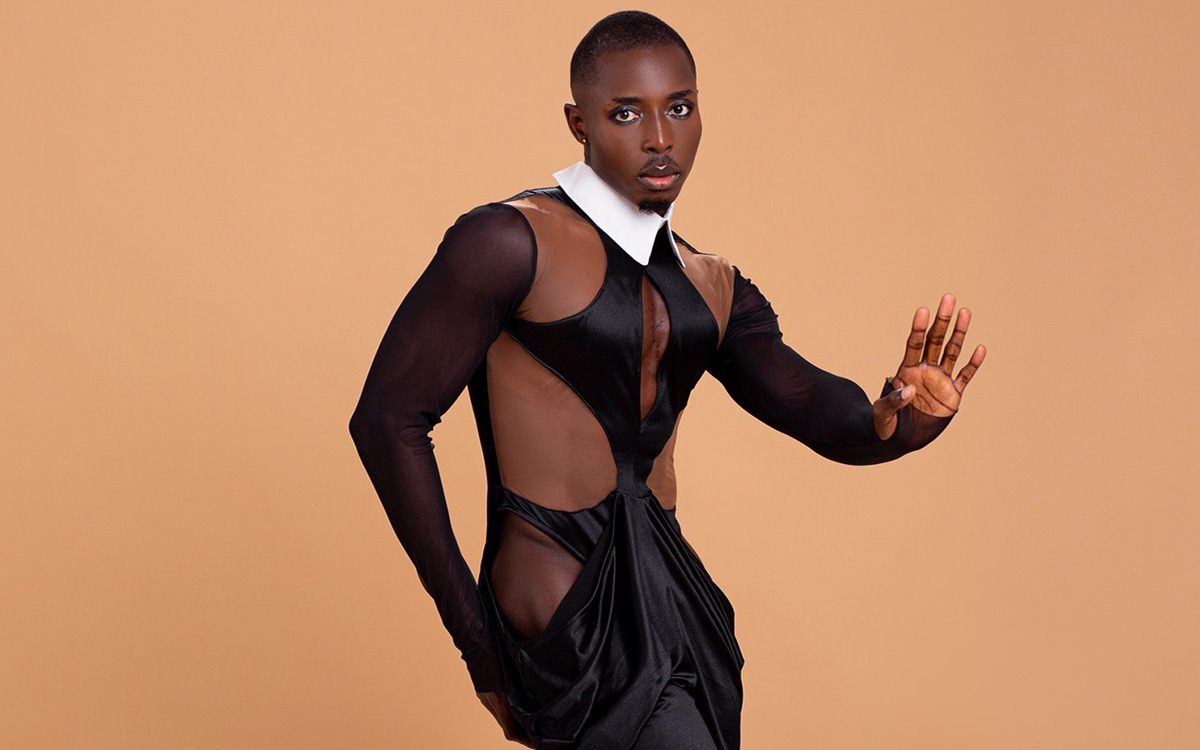 For their SS/24 collection titled Mea Culpa, Emerie Udiaghebi, a young Nigerian androgynous fashion label, ventures into the world of religion, and how conflicted they used to feel growing up as queer and Christian. The collection, built by Udiaghebi, who is a nonbinary designer, is a way for them to add colors to the lackluster they'd felt growing up with a religious background, translating their many experiences into garments they'd have loved to be in while growing up.
"[It] tackles every single feeling, and every single thing it means to be human," Udiaghebi told the Washington Blade. "There's love, there's lust, there's sadness and they are all open to a range of interpretations. This collection was my interpretation, but with garments."
Nigeria's fashion industry has a vibrant tapestry and cultural landscape, and it stands as a bold and expressive thread that weaves together the nation's rich heritage and contemporary trends. Beyond aesthetics, it serves as a powerful form of empowerment, particularly for the queer community that often faces unique challenges in this diverse and dynamic country.
For members of the country's queer community, fashion is more than just a collection of fabrics and garments; it's a means of empowerment.
"Mea Culpa touches a whole lot into my identity, down to how the pieces are constructed," Udiaghebi said, "If you looked closely at the collection, you'd find that no one garment is one thing. They're all elements of themselves."
In a country where LGBTQ individuals often face discrimination, violence and social stigmatization, clothing serves as a powerful tool for self-expression. The ability to choose what to wear can therefore be a liberating act, allowing queer individuals to challenge stereotypes and embrace their authentic selves.
Babatunde Tribe, a nonbinary Nigerian stylist, freelance model and artist, shares these sentiments.
"You see, every outfit I put together has a purpose, a message and a little rebellion against the ordinary," they told the Washington Blade, "It takes a keen eye to notice that I'm not just getting dressed; I'm crafting a visual narrative." 
For people like Tribe, fashion has become this gateway for expression and community building. It's become a way to celebrate their unique identity, and assert their presence in a world that often forces conformity.
Speaking of non-conformity, fashion week events in Nigeria are being swarmed with these incredible expressions. They have also presented themselves as a safe space for the queer community to dress expressively. These events, characterized by their eclectic mix of styles and designers, offer an environment where attendees can freely express their identities through clothing. It's a place where diversity is celebrated, and queer individuals can showcase their unique fashion sense without fear of judgement or discrimination.
Victor, a gay man who attended Lagos Fashion Week highlights in an interview with Dazed Media the significance of these events.
"My most considerable style inspiration would be societal issues like gender norms and discussions around masculinity," he said. "I try to use my style to push these kinds of conversations."
While fashion serves as a source of empowerment for the queer community, the Same-Sex Marriage Prohibition Act remains in place.
This law, which former President Goodluck Jonathan enacted in 2014, same-sex marriage and any form of public displays of affection between individuals of the same sex. The SSMPA not only perpetuates discrimination; but also extends its reach into clothing choices, placing queer people at risk for expressing themselves through what they wear.
The SSMPA has therefore had a chilling effect on personal expressions of style.
Dressing in a way that challenges traditional gender norms can lead to suspicion and harassment. Police officers, often motivated by prejudice or lack of understanding, have targeted individuals based on their attire, further exacerbating the challenges faced by the queer community.
Just recently, Nigerian authorities arrested suspected gay people for attending an alleged same-sex wedding and birthday party in Delta state and Gombe state respectively. MPs last year pushed for a bill that would criminalize cross-dressing in Nigeria — an update to the already existing SSMPA.
Despite the oppressive legal environment, many members of Nigeria's queer community are not deterred. Fashion has become a tool for activism and resistance. Designers, artists and activists are using clothing to raise awareness and advocate for LGBTQ rights. They recognize the power of fashion as a platform to challenge the status quo and fight for greater acceptance.
Queer City Media and other organizations have organized fashion events that celebrate queer identities and challenge stereotypes. These events provide a platform for designers and models to express their creativity while advocating for LGBTQ rights. It's a way for the queer community to make a powerful statement through fashion, showcasing that they refuse to be silenced or marginalized. As Nigeria grapples with complex social and political issues, the role of fashion in empowering the queer community is likely to evolve.
The future of fashion empowerment in Nigeria hinges on the collective efforts of the queer community, fashion industry and allies. As acceptance and understanding grow, so too will the opportunities for queer individuals to express themselves freely through clothing. Fashion weeks, already crucial safe spaces, may continue to expand, inviting a broader spectrum of voices and styles. As the Nigerian fashion scene continues to flourish and the conversation around LGBTQ rights gains momentum, the transformative power of fashion in this diverse nation remains a source of strength and inspiration for many. Nigeria's fashion industry stands as a beacon of empowerment for the queer community. It offers a safe haven where LGBTQ individuals can boldly express themselves, challenge stereotypes and celebrate their unique identities.
Desecration of gay man's body, student's suicide spark concerns in Africa
Activists decry recent incidents in Senegal and South Africa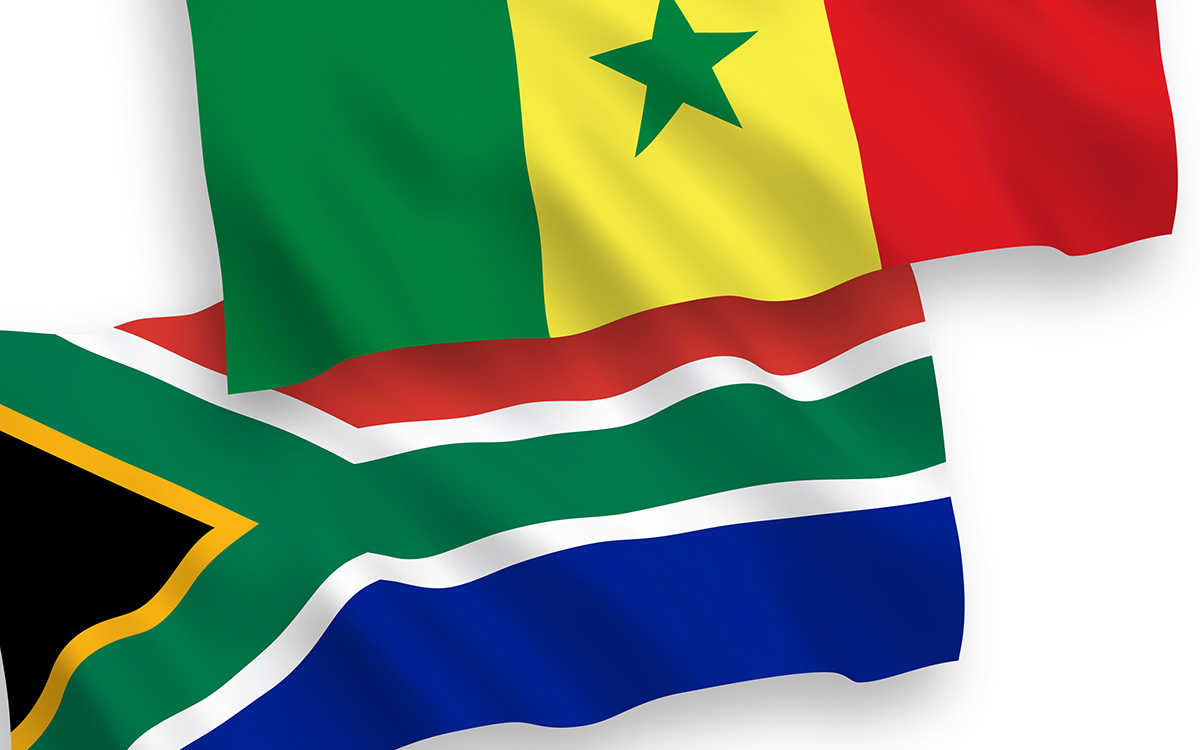 Activists have expressed grave concerns over attacks against LGBTQ people in Senegal and South Africa.
The two countries have a different stance towards LGBTQ people: Consensual same-sex sexual relations remain criminalized in Senegal, while South Africa's constitution explicitly recognizes LGBTQ people. They are nevertheless experiencing anti-gay attacks.
The body of Cheikh Fall, a 31-year-old gay man, which had been buried in the central Senegalese town of Kaolack was exhumed on Oct. 29. Local residents the following day set it on fire in front of a large crowd after they learned about his sexual orientation.
"The Senegalese State is totally uninvolved in the security of 2SLGBTQIA+ persons," Souleymane Diouf, founder of Collectif Free du Sénégal, a Senegalese LGBTQ rights group, in a previous interview with the Washington Blade. "Complaints are rarely filed. When an 2SLGBTQIA+ person reports to the authorities a danger or an imminent threat to their life, little is done for the victim. Also calls for hatred and murder targeting the 2SLGBTQIA+ community go largely unpunished in the country." 
Four men have been arrested in connection with the incident and the Public Prosecutor's Office has condemned it. The Senegalese government, however, continues to consider the introduction of measures that would punish those who identify as LGBTQ people and those who advocate for them.
'Lives are at stake'
Sibusiso Mbatha, a 12-year-old student at Khehlekile Primary School in Ekurhuleni, South Africa, died by suicide on Oct. 25 after his teacher bullied him because he showed "gay tendencies."
"We are really appalled by the manner in which the school reacted to the point that Sibusiso would hang himself," said Mpho Buntse, a spokesperson for Access Chapter 2, a South African advocacy group. "These are the unfortunate incidents we are encountering now in this country. Last year we had again a similar incident and these SOGIE (sexual orientation, gender identity and expression) attacks should be nipped in the bud, especially in a country that constitutionally recognizes everyone regardless of their sexual orientation."
"We urge the government and the police to take a stand against these heinous acts and deal decisively with that teacher," added Buntse. "Our deepest condolences to the Mbatha family. May Sibusiso's soul rest in peace." 
Sibonelo Ncanana, human rights coordinator for OUT South Africa, said the tragic incident should be a wake-up call for the provincial and national education officials.
"To start to rectify this crisis, a comprehensive approach is necessary," said Ncanana. "At a minimum, this includes sensitizing all educators about sexual orientation and gender identity and expression on an ongoing basis. Additionally, school curricula should include affirming representations of diverse families and loving relationships, and there should be an acknowledgement of gender diversity, such as providing at least one gender-neutral bathroom per school."
Ncanana cited the South African Human Rights Commission's recent report on school uniforms, noting students should be able to wear them based on their identity and gender-neutral options should also be made available.
"Public relations visits by education officials to the families of victims of school bullying are simply not good enough. Lives are at stake, and we know what needs to be done," added Ncanana. "The national Department of Education must stop dithering and immediately implement long-awaited mandatory guidelines to create safer and inclusive schools for all LGBTIQ+ learners."
Ruth Maseko of the Triangle Project said the incident speaks of the torture that many students face because of their sexual orientation.
"We are saddened by the passing of a young person whose life has been cut short," said Maseko. "When we are having people this young take their own lives because of the prejudice, judgement and discrimination of others, it should stop people in their tracks and make them examine their prejudice. It is unacceptable."