Wone hearing to discuss S&M devices
A prosecutors' request to introduce evidence that police found a collection of S&M devices in the home of three gay men implicated in the 2006 murder of Washington attorney Robert Wone is expected to be debated Friday during a D.C. Superior Court hearing.
The hearing follows a prosecutors' February court filing seeking permission to submit evidence at trial alleging that defendants Joseph Price, Victor Zaborsky and Dylan Ward engaged in "conduct" not identified in the charges pending against them that could further link them to the murder. The trial is scheduled to begin May 10.
The three have been indicted on charges of obstruction of justice, conspiracy to obstruct justice, and evidence tampering in connection with Wone's August 2006 stabbing death inside their house near Dupont Circle. Authorities have yet to charge anyone with the murder itself.
The men have pleaded not guilty to the charges and have said an unknown intruder killed Wone after entering their home through a rear door while they slept in their respective bedrooms.
According to the prosecutors' filing last month, the new evidence includes a collection of sex toys and S&M books and manuals seized from the defendants' home. Some of the devices are used to tie and restrain someone engaged in S&M activity while other devices seized are used to administer an electric shock to a person's genitals, the prosecutors say.
While noting that these devices are not illegal and their use does not constitute a crime, prosecutors say in the court filing that "said evidence clearly passes" federal rules of evidence "as its probative value is exceedingly high and the prejudicial effect is quite low."
Police have said Wone was restrained, immobilized with a paralytic drug, sexually assaulted and then stabbed to death, most likely in a guest bedroom in the upscale townhouse where the three men lived at the time.
Legal observers say the request to use the S&M devices as evidence at trial suggests that prosecutors might use it to develop a possible motive for the murder that the defense claims is lacking in the government's case.
But in a separate court filing in February, defense attorneys accuse prosecutors of seeking to use the S&M devices, which the defense labels "erotic accessories," as sensational and inflammatory "evidence" that has no relevance to the case and which would prejudice the jury.
"Here there is no evidence that Wone was restrained in any fashion and absolutely no evidence that any one of the erotic accessories was used on Wone for any purpose, never mind in connection with his death," defense attorneys say in their filing.
Among the items seized from the Swann Street home of the three men, according to the prosecutors filing, are "floggers," "assorted dildos," "scrotal harness with weight attachments," and devices designed to administer an electric shock to various parts of someone's body, including the penis and anal area.
The 39-page defense filing, among other things, disputes an assertion by prosecutors' that an autopsy finding traces of Wone's own semen inside his rectum and on his genitals is evidence that he was sexually assaulted before being murdered. Defense attorneys say in their filing that they will present testimony at trial by expert witnesses showing that the traces of Wone's semen on his body did not contain any sperm cells.
The lack of sperm cells indicates that the semen found on the body was due to a normal discharge of various bodily fluids including urine and seminal fluids that occurs when men die and internal muscles relax, the defense filing says.
"There were no obvious, external signs of sexual assault, restraint or electro-torture," says the defense filing. "Indeed, the government itself did not claim that Wone was sexually assaulted until after the FBI tested the forensic swabs [of Wone's genital and anal areas] more than two years after Wone's death," it says.
Investigators said Wone, 32, who was a college friend of Price, spent the night at the men's home after working late in his downtown office. Wone was married to a woman and lived in Oakon, Va. Family members have said he was straight.
Price and Zaborsky, who are domestic partners, and Ward told police an intruder killed Wone after entering the home while they were asleep in their respective bedrooms.
Police and prosecutors dispute that claim, saying there's no evidence of a break-in. They point to an autopsy showing Wone suffered from three "clean," surgical-like stab wounds, with no signs of struggle. They also have said the autopsy indicates the wounds could only have been inflicted if Wone was immobilized by a drug.
But the defense team says in its court filings that the autopsy and chemical tests of the body have not found any traces of a paralytic drug, and it disputes the government's claim that such drugs quickly dissipate within the body and can't be found by chemical tests. The defense filing does not address the issue of the "clean" stab wounds that prosecutors say could only happen if a person is immobilized by an anesthesia-type drug.
Killer 'known to' men?
In their Feb. 5 court filing, which was made public Feb. 15, prosecutors reiterate earlier statements that they lacked evidence to charge anyone with the murder itself. But for the first time, they say that they believe "the killer is someone known to and being protected by" Price, Zaborsky and Ward.
"Given the sophistication and success of the defendants' cover-up of the murder of Robert Wone, the evidence obtained to date does not yet establish beyond a reasonable doubt who actually killed Robert Wone," says the court filing.
"Although the government investigation into the murder continues, there is ample admissible evidence demonstrating the killer is someone known to the defendants, and not, as the defendants told the police, an unknown, unseen, unheard, phantom intruder who entered without force, took nothing from the home, went to the farthest reaches of the second floor of the home, stabbed Robert Wone (while Robert Wone lay immobile), and then fled without a sound and without taking any item from the home or disturbing anything therein," it says.
The government's filing also for the first time suggests that Joseph Price's brother, Michael Price, could be a person of interest linked to the Wone murder.
In October 2006, two months after the murder, D.C. police arrested Michael Price and an accomplice on a charge of burglarizing the Swann Street home where the murder took place, saying they entered the then vacant home using a key that Joseph Price had given Michael Price sometime earlier. At the time, police said they had no evidence to link the burglary to the murder.
In their court filing last month, prosecutors say they found that Michael Price had been enrolled in a course at Montgomery College, studying to be a phlebotomist from June through August of 2006. A phlebotomist is trained to draw blood from patients at hospitals or other medical facilities through the use of special hypodermic needles.
"Course attendance records reflect that Michael Price attended each and every scheduled class beginning on June 7, 2006, and running through July 31, 2006," the government filing says. "However, those same records reflect that the first time he missed class was on Aug. 2, 2006, the night Robert Wone was killed."
The filing adds in a footnote, "It should be noted that Michael Price's partner, Louis Hinton, provided an alibi for Michael Price at the time of the murder."
In a related development, defense attorneys last week filed motions asking that the case against Joseph Price, Zaborsky and Ward be "severed" so that each one would have a separate trial.
These and the filings by prosecutors seeking to introduce the S&M-related evidence are expected to be debated at Friday's court status hearing before Judge Lynn Leibovitz.
Prince George's County library system launches banned book club
First discussion to take place in Hyattsville on June 14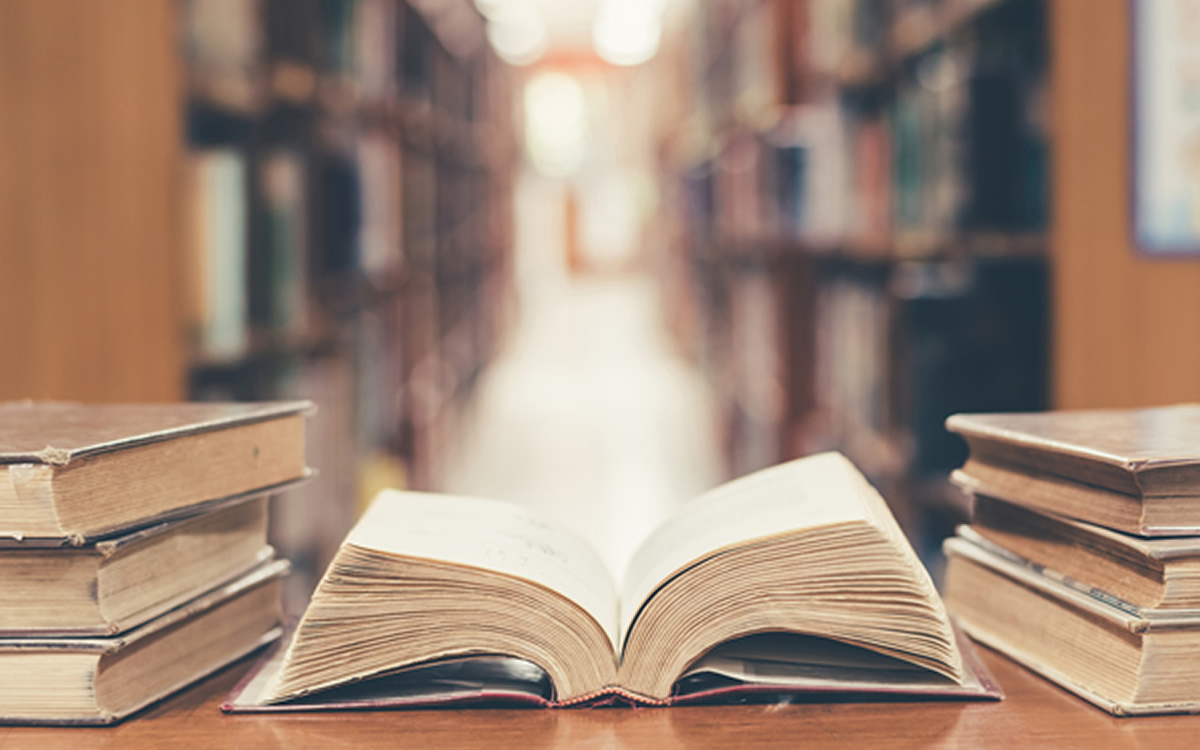 The Prince George's County Memorial Library System has launched its Rock Banned Book Club.
The club will feature monthly discussions of the 13 top banned books from 2022, most of which focus on LGBTQ-specific themes.
The club's first discussion, which will take place at the Hyattsville Branch Library on June 14, will be on "Gender Queer: A Memoir" by Maia Kobabe.
Kobabe's memoir won the 2020 American Library Association Alex Award and recounts Kobabe's exploration of gender identity and sexuality through adolescence and adulthood. According to the American Library Association, the book faced the most censorship challenges of any novel at 151.
"We're seeing nationally the highest rate of challenges to books in libraries since the data has been collected by the American Library Association," Nicholas Brown, acting co-chief executive officer of the library, said. "I think what happens with all of the discourse around book banning is that, oftentimes, not everyone participating in that discourse is actually taking the time to read the full works and discuss them and understand where the author might be coming from and whose stories are being reflected in these books."
Along with the book club, the library system is hosting a Pride celebration at the Hyattsville branch on Saturday from 12 – 4 p.m. It will feature a panel discussion, vogue and runway workshops, free HIV testing and more.
The library system will host its second annual Rainbow Festival on June 24 from 11 a.m. to 2 p.m. at the Bowie Branch Library with family-friendly events like craft stations, story time and a live DJ. In April, the library system won a Top Innovator Award from the Urban Libraries Council for its banned books campaign.
"I think a lot of folks don't always realize that your local public library is kind of the front line of democracy and we always have been," Brown said. "Public libraries across the country are very united on this and if the right to read continues to be under threat like it's been, it is not a good time for the state of our democracy."
Bowser: No credible threats to D.C. Pride events
Mayor spoke with the Blade after flag-raising ceremony at the Wilson Building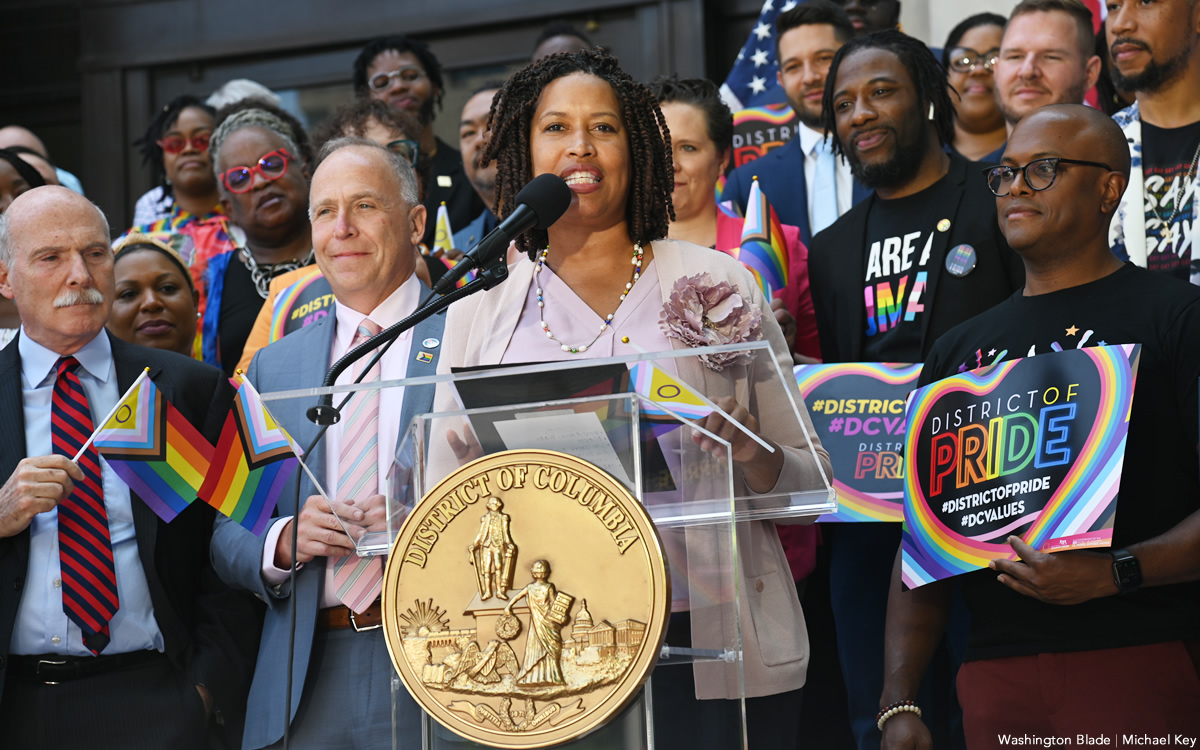 D.C. Mayor Muriel Bowser on Thursday said authorities have not received any credible threats to upcoming Pride events.
"We don't have any to report," she told the Washington Blade.
"MPD is constantly working with all of our agencies to make sure we have safe special events and we're going to keep going with our planning, like we do every year," added Bowser. "There's always a scan for any threats to the District."
Bowser spoke with the Blade after she joined D.C. Council Chair Phil Mendelson, Council members Anita Bonds, Charles Allen, Kenyon McDuffie and Zachary Parker, D.C. Attorney General Brian Schwalb, D.C. Mayor's LGBTQ Affairs Office Director Japer Bowles and other officials and activists in raising the Progress Pride flag in front of the Wilson Building.
The Blade last month reported D.C. police are investigating a bomb threat a Twitter user made against the annual District Pride concert that will take place at the Lincoln Theater on June 29. Bowles in a May 19 statement said his office reported the tweet, but further stressed that "no credible threat at this time has been made."
Moore issues Pride month proclamation
Governor on May 3 signed Trans Health Equity Act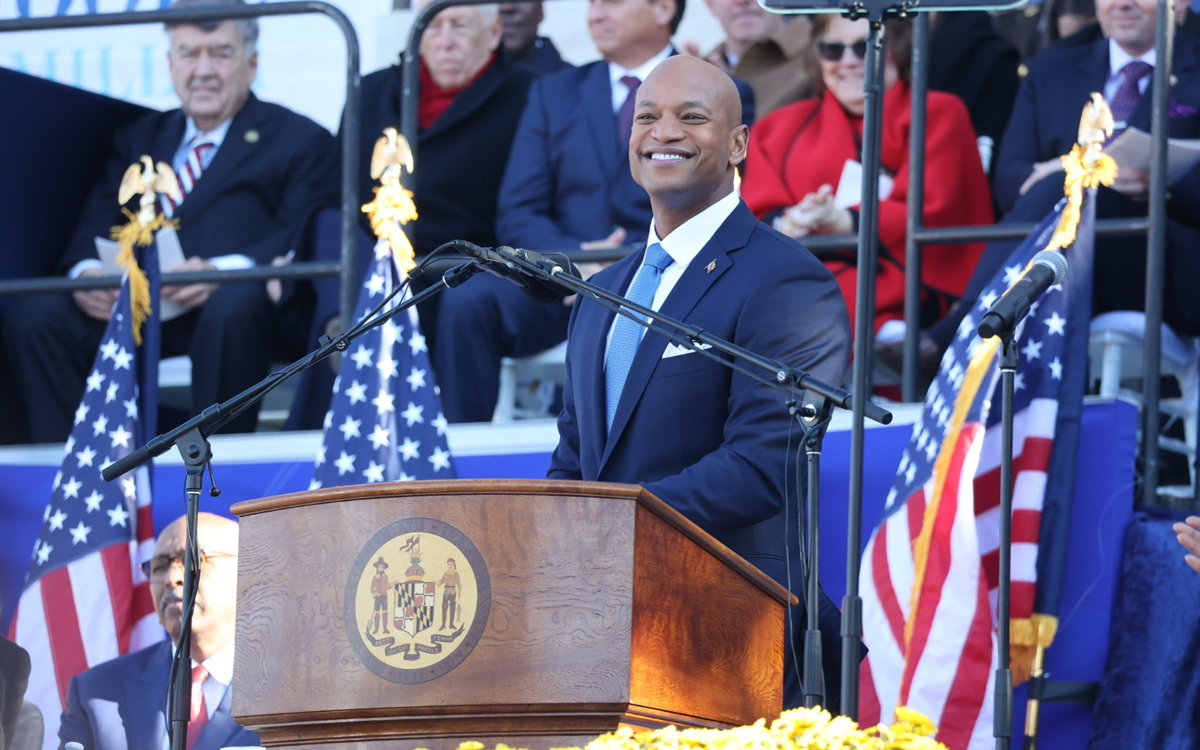 Maryland Gov. Wes Moore on Thursday proclaimed June as Pride month in recognition of "the contributions, resilience, courage and joy of LGBTQIA+ Marylanders," according to a press release.
"In Maryland, we lead with love and inclusion. I want everyone in our LGBTQIA+ community to know that they deserve to be seen for who they are, and our administration will stand with them in the fight for equality and equity," Moore said. "We need to elevate the stories, embrace the courage, and celebrate the humanity of our LGBTQIA+ community — and as long as I am governor, we will take the steps forward to protect and celebrate all Marylanders."
Moore on March 31 became the first governor in Maryland history to recognize the Transgender Day of Visibility and last month he signed into law the Trans Health Equity Act into law, which requires Maryland Medicaid to provide coverage for gender-affirming care beginning next year.
"This month is a celebration of the beauty and uniqueness of the queer community, but it's also a time to reaffirm our commitment to uplifting LGBTQIA+ Marylanders and continuing to fight against hatred, discrimination, and bigotry," Lt. Gov. Aruna Miller said in the same press release that Moore's office released. "LGBTQIA+ Marylanders deserve to be who they are, to live their pride — without fear or having to hide. This administration will always stand alongside and protect the rights of all Marylanders."