Unity is possible
We need each other to win equality

It has always been a challenge getting us together. Our differences — whether sexual orientation, gender identity, race, ethnicity, socio-economic background, or priorities — often get in the way of working together towards our shared dream of full rights and equality.
But last Saturday, the 11th Annual Pride & Heritage Celebration showed that we can get together in spite of our differences.
The Pride & Heritage Coalition is comprised of local Asian Pacific Islander LGBT organizations. Eleven years ago, the leaders of Asian/Pacific Islander Queer Sisters, Asian/Pacific Islander Queers United for Action, KhushDC and the D.C. chapter of the National Asian Pacific American Women's Forum gathered and decided that it was in their best interests to collaborate and promote the welfare of LGBT Asians. In time, these women and men realized that beneath the surface, they shared much in common and enjoyed working and socializing with each other.
This commonality and camaraderie was in full display at the Pride & Heritage reception. Crammed into a church hall were lesbian, gay, bisexual and transgender people of South Asian, Central Asian, East Asian and Southeast Asian descent. Sprinkled in the crowd were straight allies, significant others and family members, as well as a few African Americans, Latinos and whites. The main performer was Kit Yan, the reigning Mr. Transman, known for his slam poetry. Honored that evening was Ben de Guzman, co-director of the National Queer API Alliance, an LGBT activist and Filipino American community leader.
What originally brought these people and groups together — and keeps their coalition strong — is their minority status. Brian Wang, a coalition leader, recounted how he was shocked to learn that Asian faces are scarce in Washington. He had moved here from California, where Asian Pacific Americans are the largest minority. Krishnan, a board member of KhushDC, explained that the South Asian group was formed to provide a safe space for queer South Asians. And Iimay Ho emphasized the importance of groups formed specifically for queer Asian women.
LGBT Asian Pacific Islander leaders also work at maintaining their bond. Earlier on Saturday, the association held its first community retreat. Community organizers and activists convened to strengthen personal relationships and strategize next steps for the coalition.
Perhaps the wider LGBT community can learn from Pride & Heritage. Unity is possible. Difficult yes, but not impossible. In spite of all our differences, as queer people we are the minority. We need each other to win the fight for our rightful place in society. Given the chance, we might even discover that we can get along after all.
You can follow Erwin on Twitter at @ErwindeLeon.
National Gay & Lesbian Chamber of Commerce Certifies Brown, Naff, Pitts Omnimedia, Inc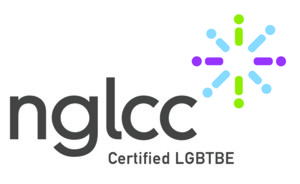 Washington, D.C. — Brown, Naff, Pitts Omnimedia, Inc, the parent company of the Washington Blade and Azer Creative, announced today it has been certified by the National Gay and Lesbian Chamber of Commerce (NGLCC) as an LGBT Business Enterprise. The NGLCC supports and advocates for diversity and inclusion for LGBT-owned businesses. With this certification the Blade's parent company joins more than 510 business and 134 corporate partners of the NGLCC.
Brown, Naff, Pitts Omnimedia, Inc. owns and operates the Washington Blade, the oldest and most acclaimed LGBT newspaper in the country. In 2012, the company launched Azer Creative, a full-service design firm. The company employs more than a dozen full-time LGBT staff.
"We are excited to become one of the 500 LGBT businesses across the country certified by NGLCC," said Lynne Brown, the Blade's publisher and a co-owner of the company. "The LGBT community has been part of our company from the beginning and we look forward to continue that for many years to come."
The Washington Blade was founded in 1969 and is known as the "newspaper of record" for the LGBT community both locally and nationally. Visit washingtonblade.com for more information. Azer Creative is a full-service graphic design firm based in Washington, D.C. Visit azercreative.com for more information. 
Vote now for the 2013 Best of Gay DC!
Choose in dozens of categories among hundreds of nominees, and make your voice heard!
Nominate the 'Best of Gay D.C.' now!
Dozens of categories cover all the best for LGBT Washington. Who deserves the prize this year?