No respect for Equality Maryland staff
Hard work overshadowed by internal problems
Recently there has been a lot of finger pointing and blame going around regarding the state of affairs at Equality Maryland. What has been lost in the discussion, however, is the truly dedicated staff that has worked with myself and other volunteers this past legislative session.
Often working without sleep or food; barely seeing loved ones. Stress. Constant unknowns. Such was the life of Equality Maryland staff during this past tumultuous session. Phone banking, canvassing, stop and dials, lobbying, hearings — there was always something to do. Or rather, there was always too much that needed to be done. Volunteers. Politicians. Members. There were so many personalities and capacities. Many volunteers signed up but did not show up. Some just talked and did not work. Politicians told staff one thing and did another. Plans and actions were constantly thrown out the door and re-worked as politicians delayed hearings, re-scheduled meetings or wavered in their support.
Members were apathetic, couldn't be bothered, or were so annoyed by calls asking for their advocacy that they threatened to withdraw their support entirely. It was as if the staff couldn't win. Whatever they did, someone would be upset; something would inevitably go wrong. Yet, they plowed on, through bone-achingly freezing mornings organizing outside; through hours of seemingly endless driving to canvasses, to trainings, to stopping strangers and asking for support; through night after night huddled around phones and computers, subsisting on caffeine and bad food, and stuck with their co-workers, who, no matter how nice, could be draining after 15 hours of having to share a small, tense office space.
Working for a small non-profit is hard. You will be underpaid, overworked, rarely appreciated and expected to meet standards of perfection that people rarely apply to big businesses. Turnover is understandably high. Sustainable funding is scarce. Yet, this is not an excuse for incompetence. With the help of small groups of professional volunteers, the staff of Equality Maryland did their jobs and did them well. I do not know the executive director or the board or the LGBT caucus. What I do know is this: Having been involved with Equality Maryland since 2004, I have never seen the staff as dedicated and hard-working as this past year.
I do not pretend to speak for anyone other than myself but I do believe that others hold similar sentiments: Whatever the fate of Equality Maryland, I am proud to have served alongside the staff, getting ever closer to a more just and equal future for Maryland. You know who you are. Thank you.
Rachel Zipper was a volunteer coordinator for Equality Maryland in Anne Arundel County and has been involved with the organization since 2004.
National Gay & Lesbian Chamber of Commerce Certifies Brown, Naff, Pitts Omnimedia, Inc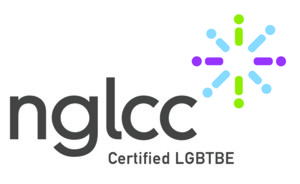 Washington, D.C. — Brown, Naff, Pitts Omnimedia, Inc, the parent company of the Washington Blade and Azer Creative, announced today it has been certified by the National Gay and Lesbian Chamber of Commerce (NGLCC) as an LGBT Business Enterprise. The NGLCC supports and advocates for diversity and inclusion for LGBT-owned businesses. With this certification the Blade's parent company joins more than 510 business and 134 corporate partners of the NGLCC.
Brown, Naff, Pitts Omnimedia, Inc. owns and operates the Washington Blade, the oldest and most acclaimed LGBT newspaper in the country. In 2012, the company launched Azer Creative, a full-service design firm. The company employs more than a dozen full-time LGBT staff.
"We are excited to become one of the 500 LGBT businesses across the country certified by NGLCC," said Lynne Brown, the Blade's publisher and a co-owner of the company. "The LGBT community has been part of our company from the beginning and we look forward to continue that for many years to come."
The Washington Blade was founded in 1969 and is known as the "newspaper of record" for the LGBT community both locally and nationally. Visit washingtonblade.com for more information. Azer Creative is a full-service graphic design firm based in Washington, D.C. Visit azercreative.com for more information. 
Vote now for the 2013 Best of Gay DC!
Choose in dozens of categories among hundreds of nominees, and make your voice heard!
Nominate the 'Best of Gay D.C.' now!
Dozens of categories cover all the best for LGBT Washington. Who deserves the prize this year?