Arrest made in Monday shooting of trans woman in Southeast D.C.
Cause of Saturday's 'suspicious' death of transgender person unresolved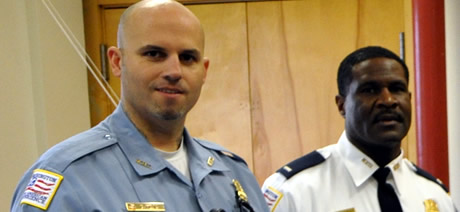 D.C. police on Tuesday arrested a 20-year-old man on a charge of assault with intent to kill for the shooting one day earlier of a transgender woman in the 2300 block of Savannah Street, S.E.
Police said Darryl Willard of Northeast Washington surrendered on Tuesday at First District Police Headquarters and was charged in connection with an arrest warrant obtained by police, who said the victim knew Willard.
The victim, whom police have not identified, suffered a non-fatal gunshot wound to the neck about 2 a.m. Monday at the Savannah Street location and showed up at the Seventh District Police Headquarters to report the incident, police said. She was rushed to a nearby hospital and was in stable condition.
The incident was the fourth reported shooting of a transgender person in D.C. since July. The latest case prompted police officials to call a news conference Monday afternoon to discuss this and other transgender related cases.
Transgender activists Earline Budd and Ruby Corado, who spoke at the news conference, said the latest shooting was among more than a dozen violent attacks against transgender women in D.C. this year.
"The transgender community is now in crisis," Corado said.
Monday's shooting incident came two days after police found the body of an unidentified person initially thought to be a transgender woman on the sidewalk along the 2600 block of 11th Street, N.W., about 5:20 a.m. Saturday, Sept. 10.
The latest incident also came after police arrested a suspect in a separate case on Sept. 10 in which the suspect, whom police have not identified, allegedly threatened three transgender women with a gun on the 4000 block of Minnesota Ave., S.E. None of the victims were injured. Police listed the incident as an anti-transgender hate crime.
Assistant Police Chief Peter Newsham told the news conference that preliminary findings of an autopsy show no signs of trauma or external injuries suffered by the person found dead on 11th Street, N.W. in the city's Columbia Heights neighborhood. He said a final determination on whether the death was a homicide or due to natural causes must await the results of toxicology tests, which could take several weeks to complete.
Transgender activists, who viewed a photo of the deceased person released by the D.C. Medical Examiner's office, said they believe the person was a man, possibly a gay man, dressed in drag rather than someone seeking to permanently change his gender from male to female.
Police released the photo to the media and are appealing to the public for help in identifying the deceased person.
They said investigators initially thought a small discolored area on the person's face, which is visible in the photo, was a bruise caused by a possible assault. But Newsham said investigators later determined that facial make-up was the cause of the discoloration.
The deceased person is described as a 20 to 35-year-old male of Hispanic or Middle Eastern descent, about five-feet-eight inches tall with black wavy hair about three inches long and brown eyes.
"The decedent was wearing a black and purple jacket, blue shorts and was carrying high heel shoes," Newsham told the news conference on Monday.
Anyone with information about the person is asked to contact Third District Det. William Covington at 202-645-9600.
"We're investigating the case as if it were a homicide, just as we do in all unexplained death cases," said police homicide Capt. Michael Farish.
Farish said police found the person to be in possession of money and jewelry, leading investigators to rule out a robbery as the motive in the event the medical examiner rules the death a homicide.
He said the unidentified decedent was also wearing a wristband similar to those used by nightclubs, including gay clubs, to identify customers who are of legal drinking age or to allow paying customers to leave and re-enter a club.
Farish told reporters that detectives contacted several of the city's gay clubs to determine whether the wrist band found on the person matched those used by the clubs. Just one club reportedly used the type of wristband the decedent was wearing, but the club couldn't confirm whether that particular wrist band was used on the night before the decedent was found unconscious, Farish said. He didn't identify the club.
D.C. Council member Jim Graham (D-Ward 1), who represents the area where the unidentified person's body was found, said his office is closely monitoring the case. Graham, who is gay, said he is troubled over the large number of crimes against transgender women in the city in recent months.
Newsham said at Monday's news conference that police had identified a suspect in the shooting of the transgender woman shot early Monday morning on Savannah Street, S.E. He said police expected to make an arrest in the case soon.
Capt. Edward Delgado, director of the police Special Liaison Division, was the first to disclose the shooting in an early morning email to LGBT activists.
"This morning a member of the transgender community walked into the Seventh District Station to report that she sustained a gunshot wound to the neck," said Delgado, whose division oversees the department's Gay and Lesbian Liaison Unit.
"The female was transported to a local hospital and is in stable condition. The Gay and Lesbian Liaison Unit responded to the scene to aid the detectives in their investigation in hope to bring this case to closure," he said.
The incident came less than two months after 23-year-old Lashai Mclean, a transgender woman, was shot to death shortly before 5 a.m. on July 20 on the 6100 block of Dix Street, N.E.
According to police, a transgender woman who was with Mclean at the time of the shooting told investigators two men approached Mclean and asked her a question. Before Mclean could answer them one of the two men fatally shot Mclean with a semiautomatic handgun, police said. The case remains unsolved.
Eleven days later, on July 31, an unidentified male suspect fired a handgun at a transgender woman along the 6200 block of Dix Street, N.E., just one block from where Mclean was shot. The shot missed hitting the victim, police said.
In a statement following the second shooting, police said they were looking into the possibility of a "potential emerging pattern" between the two incidents. No suspects have been identified in the case.
At Monday's news conference, Farish said police chose not to release a composite drawing of the unknown suspect who shot Mclean because the witness was unable to provide enough details about the suspect's appearance.
In a separate incident on Aug. 26, an off-duty D.C. police officer was arrested on a charge of assault with a dangerous weapon for allegedly firing his approved off-duty service revolver at three transgender women and two male friends who were sitting in a car in Northwest Washington.
Two of the transgender women and one of the male friends suffered non-life threatening gunshot wounds in the incident. The victims told police the incident began when words were exchanged between one of the male friends and 21-year veteran D.C. police Officer Kenneth Furr after Furr allegedly propositioned one of the trans women for sex inside a CVS drugstore about 4:40 a.m. that morning.
Transgender activists who know the victims said one of the transgender women involved in the case said Furr became angry when she turned down his request that the two have a sexual encounter.
During Monday's police news conference, Budd and Corado said they were pleased with the response to the latest cases by police officials but expressed concern that at least some rank and file officers continue to show a bias against members of the LGBT community, especially against transgender women.
Inaugural Uptown Pride to take place June 10
Festival to feature drag storytime, makers' market, DJs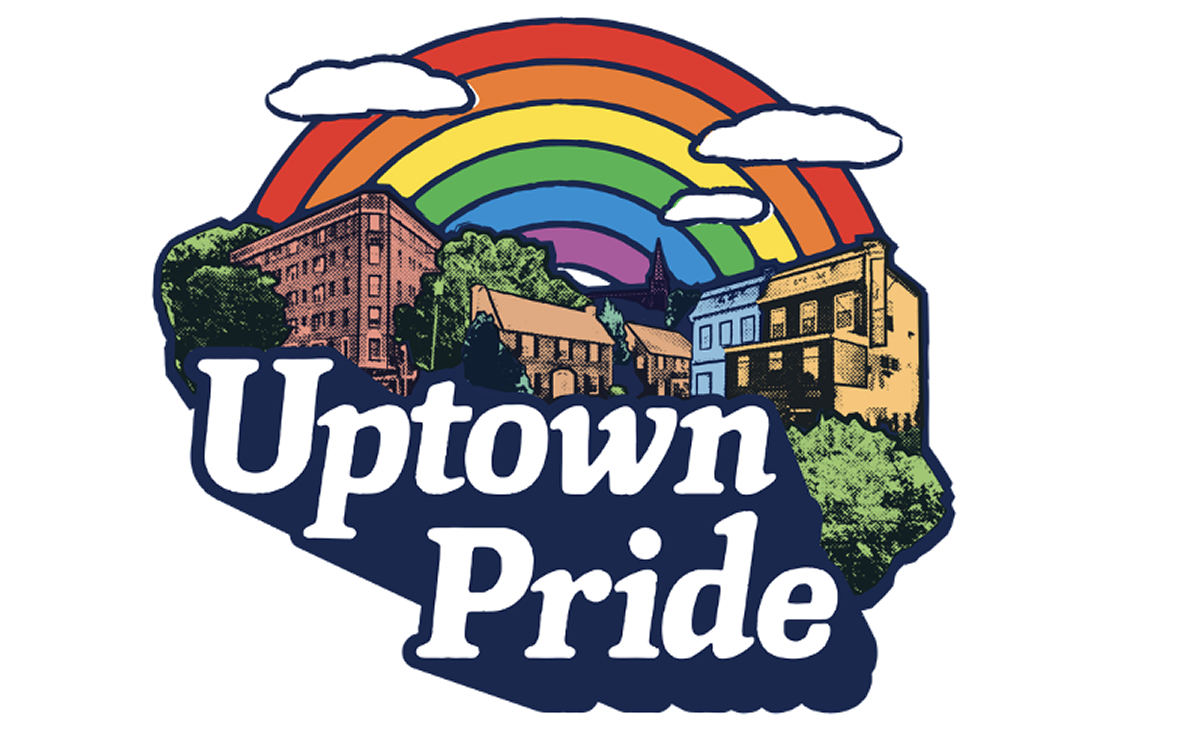 A new Pride festival is coming to D.C.
The inaugural Uptown Pride will be hosted in Sixteenth Street Heights on June 10 with Pride celebrations for Washingtonians of all ages.
The festival, hosted at the intersection of 14th Street, Colorado Avenue and Kennedy Street, NW, will feature a drag storytime, a makers' market, DJs and more. There will also be a raffle for various prizes, with all proceeds going to the Trevor Project, which provides suicide prevention services for LGBTQ teens.
The festival will be from 2-7 p.m. and is partnering with local businesses like Moreland's Tavern, Captain Cookie and Lighthouse Yoga Center for activities and refreshments.
Justin Noble, one of the organizers of the festival, said that the inspiration for the event came out of wanting a Pride experience tailored to the residents of the Sixteenth Street Heights, Petworth and Brightwood neighborhoods.
"It can be a hassle to get to downtown," Noble said. "There needs to be something in our community that supports LGBTQ+ people and the culture and all of that because we're everywhere, right? We are everywhere."
Organizer Max Davis said that the inclusion of children's events like a drag storytime was purposeful, and helps make the event more accessible to LGBTQ families and youth.
"Kids I feel are the most important in as far as just showing them, just visibly showing them that you can live out and you can be queer," Davis said. "There is no more dangerous time than now to be queer, questioning youth … So who better to welcome into the fold than kids who might be questioning their sexuality."
Davis said that a big part of wanting to bring Pride celebrations uptown was to have a physical representation of support for the LGBTQ community.
"I felt like because there wasn't anything going on in Sixteenth Street Heights — the clientele that we were serving up at Moreland's absolutely is supportive, and I never felt that it wasn't a supportive environment — but if you don't have something to actively support that I feel that your support is just words," Davis said. "If our community had someplace to attend even for one day to just be like, 'Hey, I stand with you,' … that is something that every community should have available to them to actively support the LGBTQ community."
Capital Pride announces 2023 honorees, grand marshals
Assistant Secretary of Health Levine among picks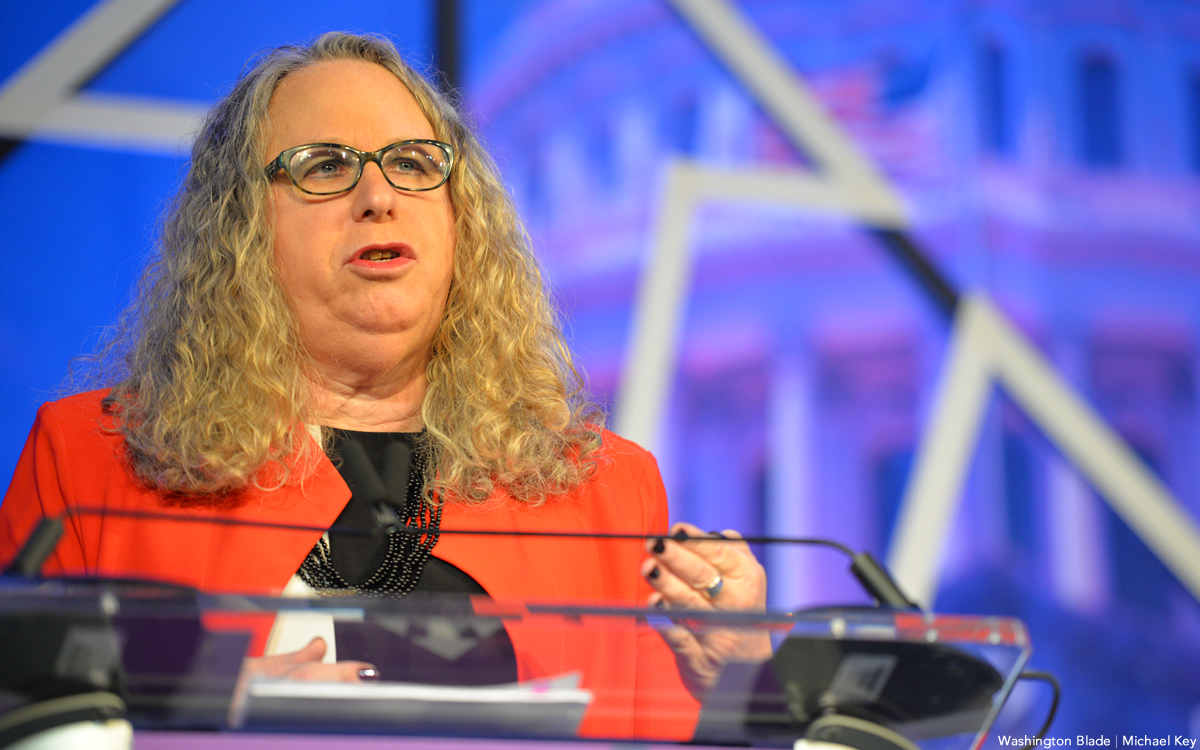 Assistant U.S. Secretary of Health Admiral Dr. Rachel Levine and acclaimed longtime D.C. LGBTQ and transgender rights advocate Earline Budd are among nine prominent LGBTQ community leaders named on Wednesday by the Capital Pride Alliance as its 2023 Capital Pride honorees.
Capital Pride Alliance, which organizes D.C.'s annual Capital Pride parade, festival, and related events, announced in a May 24 statement that it will present the honoree awards to each of the recipients at a ceremony scheduled for 7 p.m. on Friday, June 2, at the Penn Social event and catering hall at 801 E St., N.W.
"The recipients are nominated each year by members of the community," the Capital Pride statement says. "They represent individuals who and organizations that have advanced the causes of LGBTQ+ rights," it says.
The statement says Levine was selected for the Capital Pride Paving the Way Award, which "acknowledges an individual or organization that has provided exemplary contributions, support, and/or advocacy that has positively impacted the LGBTQ+ community, and whose leadership has inspired continued progress."
Levine, who was appointed by President Biden in 2021 as Assistant Secretary of Health, is a longtime pediatrician who also serves as an admiral in the U.S. Public Health Service Commissioned Corps. She became the first openly transgender person to hold the admiralty position.
Capital Pride named Earline Budd as recipient of the Capital Pride Super Hero Award, which "recognizes additional significant and important contributions to the LGBTQ+ community in the national capital region."
The statement announcing the honorees says Levine and Budd will also serve as grand marshals for the June 10 Capital Pride Parade. It says each of the other honorees will serve as parade marshals.
The announcement says the following four people have been named as recipients of the Capital Pride Hero Award:
• Shi-Queeta Lee, the D.C.-based nationally acclaimed drag performer
• Benjamin Rosenbaum, longtime congressional staffer, LGBTQ rights advocate, and LGBTQ Jewish community advocate
• Nancy Canas, president of D.C. Latinx History Project and advocate for the LGBTQ Latinx community
• Abdur-Rahim Briggs, longtime leader of the D.C.-based Project Briggs, which provides philanthropic support for LGBTQ causes.
The following two organizations were named as recipients of the Capital Pride Breaking Barriers Community Impact Award, which recognizes individuals or organizations that have "demonstrated a significant impact to the LGBTQ+ community at either the local or national level and who helped eliminate barriers for social, personal, or professional growth of the LGBTQ+ community:
• Drag Story Hour DMV
• National LGBTQ Task Force
The Bill Miles Award for Outstanding Volunteer Services, which acknowledges "exemplary contributions to the Capital Pride Alliance, its programs, initiatives, or other Pride sponsored activities," is being given to Brandon Bayton, Jr., a longtime Capital Pride volunteer, consultant, and organ transplant advocate, and LGBTQ rights advocate.
"We are fortunate to have such a vibrant honoree selection process, with so many outstanding individuals who were nominated," said Ashley Smith, president of the Capital Pride Alliance Board of Directors. "We are very pleased to celebrate these individuals at the 2023 Capital Pride Honors," Smith said in the CPA statement.
Blade names recipients of two summer fellowships
Kravis, Lev-Tov join LGBTQ news team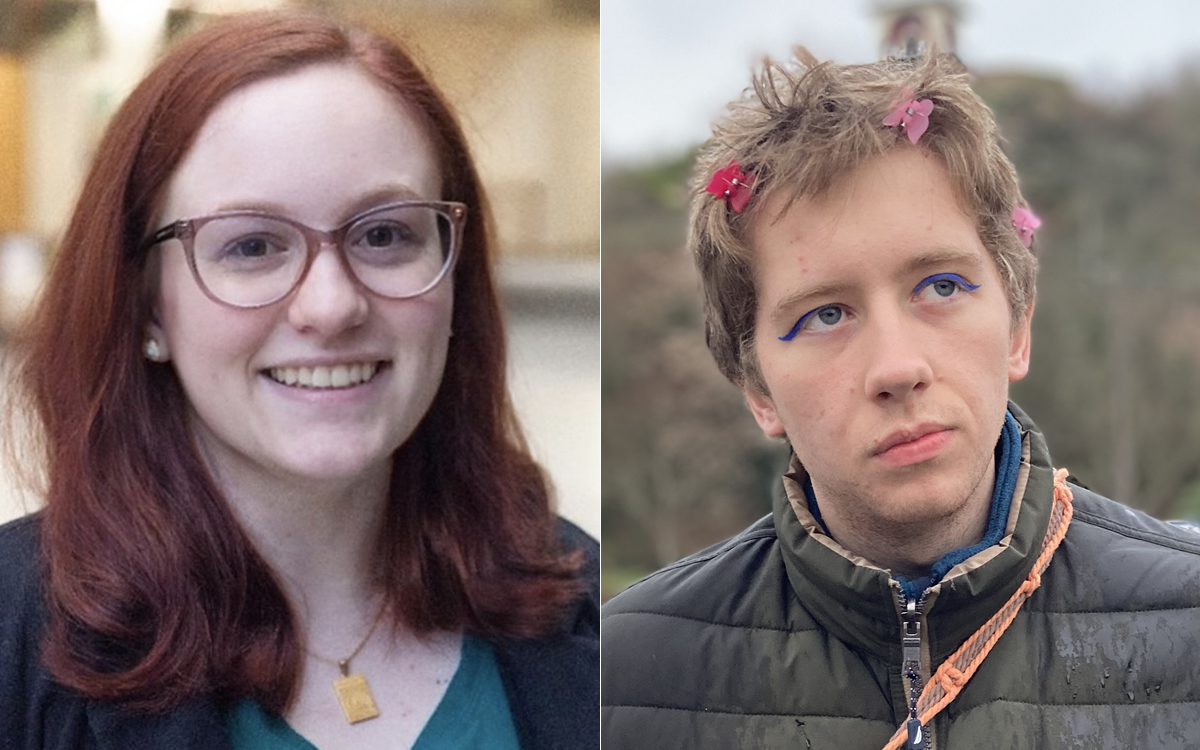 The Blade Foundation this week announced the recipients of its 2023 summer fellowship program.
Isabelle Kravis (she/they) is a senior at American University studying journalism and women's, gender, and sexuality studies. She will focus on covering LGBTQ issues in the local D.C. area for 12 weeks starting this week. The fellowship is made possible by a generous donation from the DC Front Runners Pride Run 5K event.
"I've been reading the Blade since I first moved to D.C. for my freshman year and I'm so excited to be able to contribute to such a historic paper," Kravis said. "I love covering the LGBTQ community because of the diversity of experiences that each queer person has and the joy that queer people bring to everything they do. I'm incredibly lucky to have this opportunity to be able to cover both the city and community that I love."
Joel Lev-Tov (they/them) is a senior at the University of Maryland College Park studying journalism. Lev-Tov also serves as president of the Association of LGBTQ Journalists at College Park. Lev-Tov is the sixth recipient of the Steve Elkins Memorial Journalism Fellowship, which honors the co-founder of CAMP Rehoboth. The fellow covers issues of interest to the LGBTQ community in Delaware, also for 12 weeks. The fellowship is funded by donations from the Rehoboth Beach community.
"I'm extremely excited to start reporting about my community for my community," Lev-Tov said. "The Blade is offering me a special opportunity that I'm very grateful for. I can't wait to start reporting!"
Kevin Naff, editor of the Blade, welcomed Kravis and Lev-Tov to work this week.
"We're all excited to work with Isabelle and Joel this summer," Naff said. "There's never been more news to cover and they will add an important, fresh perspective to our work. Thank you to our donors and to the Front Runners for making this program possible."
For more information on the fellowship program or to donate, visit bladefoundation.org.