May 26, 2012 at 12:38 pm EST | by Michael K. Lavers
Mayor delivers remarks at D.C. Black Pride kick off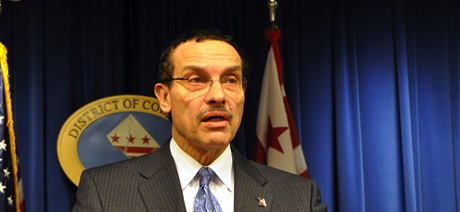 Mayor Vincent Gray and D.C. Congressional Del. Eleanor Holmes Norton were among those who attended D.C. Black Pride's opening reception at the Hyatt Regency near Union Station on Friday night.
"If you are a lesbian, bisexual, if you are transgender, you have a place in the District of Columbia," said Gray. "I'm proud to be the mayor of a city that has that kind of mentality. I'm proud to come here tonight. I'm proud to be with you and I'm proud to be a part of a city that will stand up for the right thing."
Gray made no references to the two former aides who pleaded guilty earlier this week to federal charges that stem from his 2010 mayoral campaign. He stressed, however, that he remains proud of the city's record on marriage rights for same-sex couples, creating employment opportunities for transgender Washingtonians and other issues.
"We're going to continue to do the right thing," said Gray. "We're going to continue to be a leader in this nation."
Earl Fowlkes, chief executive officer of D.C. Black Pride, welcomed Gray's comments.
"It's always an honor to have the mayor of the District come to black Pride," he told the Blade. "This is something that is very important to us. When the mayor comes, it sets a tone… about what a place the District of Columbia is for the people who live here."
D.C. Black Pride took place a week after the National Association for the Advancement of Colored People endorsed marriage rights for same-sex couples during their National Board of Directors' quarterly meeting in Miami. A survey that Public Policy Polling released on May 24  indicates that 55 percent of black Marylanders would vote for the state's same-sex marriage law in a likely November referendum.
President Barack Obama earlier this month publicly backed marriage rights for same-sex couples during an ABC News interview at the White House.
Norton, who submitted a statement into the Congressional Record that officially welcomed D.C. Black Pride to the District, said the group's advocacy has "begun to change America." She specifically applauded D.C. Black Pride for its efforts to fight AIDS and related stigmas among people of color.
"That took a lot of pride, but it took a lot of courage," she said. "It's so important that you kept standing up."
D.C. Councilmember Marion Barry (D-Ward 8) also spoke, while D.C. Black Pride presented Leandrea Gilliam of the Sexual Minority Youth Assistance League with its Wellmore Cook Community Service Award.
The opening reception kicked-off a series of parties, workshops and other events throughout the Memorial Day weekend that included a health and wellness fair at the Francis-Stevens Educational Campus in Foggy Bottom.
Fowlkes stressed that D.C. Black Pride organizers continue to strive to make the annual event as inclusive as possible.
"Black Pride is not just for black people; it's for the entire community," he said. "We really are starting to build an environment where everyone's welcome and everyone feels welcome."