A conversation with Police Chief Lanier
Her thoughts on domestic violence, trans victims and putting the GLLU 'out of business'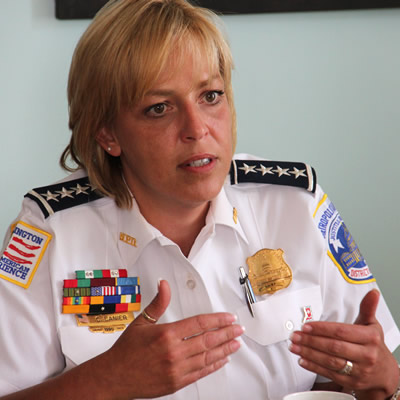 Editor's note: Chief Lanier's exclusive interview with the Blade covered a wide range of topics. Visit washingtonblade.com for the full transcript.
D.C. Police Chief Cathy Lanier said her decision to invite the Anti-Defamation League, a nationally acclaimed civil rights group, to conduct an independent assessment of how the department investigates and reports hate crimes was prompted, in part, by complaints from LGBT activists.
In an exclusive interview with the Washington Blade, Lanier said she believes the department is doing well in investigating and reaching out to the LGBT community in its fight against hate crimes, especially those targeting gay, lesbian and transgender residents.
But she cited concerns raised by some LGBT activists, including transgender advocate Jason Terry, a member of the D.C. Trans Coalition, who have questioned her and the department's commitment to adequately addressing the city's hate crimes problem. Terry has been among the activists who have criticized Lanier's handling of hate crimes and other transgender-related matters during D.C. City Council hearings called to review police policies on hate crimes.
"I did it because a lot of times we compare ourselves with other law enforcement agencies," Lanier said. "So we look at all the things we do and we say we think we're doing really well. And then we go to a hearing and Jason Terry will say you're a bunch of Keystone Cops," said Lanier.
"And I go, 'Wait a minute. I thought everything was going really well.' And when we compare ourselves to other police agencies we're light years above a lot of other agencies," she said. "But you know sometimes just comparing yourself to other law enforcement agencies is not the mark. And so I thought I would have ADL tell me, 'What is the mark?'"
Lanier took the unusual step of enlisting David Friedman, director of the ADL's Washington, D.C., regional Office, to form a special task force to assess the department's response to hate crimes.
Friedman invited the Human Rights Campaign, the nation's largest LGBT civil rights group; the National Center for Transgender Equality; the Leadership Conference on Civil Rights, another nationally recognized mainline civil rights organization; and two university professors considered experts on hate violence to join ADL as members of the task force.
Among other things, the task force will look at how law enforcement agencies in other jurisdictions address hate crimes, a police statement said. The statement said the task force would begin its work by conducting interviews and meetings with LGBT community members to obtain their views on how D.C. police are doing in addressing local hate crimes that target LGBT people.
"What I've asked them to do and what we've all agreed is just come in and take a look at everything we're doing and kind of grade us," Lanier said.
New lead in beating of gay man
In a wide-ranging discussion on a number of other issues, Lanier told the Blade that police investigators have identified a person of interest in the March attack against a gay man on Georgia Avenue in the city's Columbia Heights section.
The victim, who has asked not to be identified, was severely beaten and dragged by three or four male assailants, who punched and kicked him while shouting anti-gay names, causing him to suffer a broken jaw among other injuries, according to accounts by police and the victim.
"I think we will close that case," Lanier said, noting that investigators are looking for a second person implicated in the attack in addition to the person of interest already identified.
That incident, which police listed as an anti-gay hate crime, along with the shooting of a gay man inside a nearby International House of Pancakes restaurant, also listed as a hate crime; and the beating of a transgender woman in Northeast D.C. – all occurring within a two-day period – prompted hundreds of LGBT activists and their supporters to hold a march and rally in the Columbia Heights neighborhood to condemn anti-LGBT violence.
Police have made an arrest in the IHOP shooting case, in which the victim suffered a non-life threatening gunshot wound. Police said no arrests have been made in the attack against the transgender woman, which police said was not listed as a hate crime due to insufficient evidence that it was motivated by hate.
In discussing the changes she has made with the department's Gay and Lesbian Liaison Unit, Lanier said her ultimate goal is to ensure that all members in the department are trained to fully respond to LGBT-related issues, making the GLLU no longer necessary.
"People are people regardless of their sexual orientation, your race, your gender, your religion," she said. "All that shouldn't matter. So my goal is to put the whole thing out of business. In the meantime by spreading the affiliates around and putting more and more affiliates out there with the enhanced training there's a better understanding that there really is nothing different about people."
Lanier was referring to her creation of a GLLU affiliate officers program in which officers from the department's seven police districts respond to LGBT-related police service calls to supplement and expand the work performed by the five full-time GLLU members based in the unit's Dupont Circle headquarters.
The department says there are now 99 affiliate GLLU members, with 10 or more assigned to each of the seven police districts. Lanier said officers cannot become affiliate members of the GLLU until they complete a special training program.
'Domestic violence is huge'
Lanier said that although hate crimes capture much of the attention in the LGBT community concerning police matters, incidents of domestic violence make up a far greater number of cases GLLU officers and police detectives in general are called on to investigate.
"Domestic violence is huge," she said. "Every morning when I look at my crime reports there are two things that stand out that have been unusual over the last year. The number of domestic violence assaults of all kinds and, yes, in all communities, and the robberies. Robbery is huge," she said in referring to citywide trends against all residents.
Following is a partial transcript of D.C. Police Chief Cathy Lanier's June 26 conversation with the Blade. The interview was conducted at the home of gay activist John Klenert, who hosted the session and participated in the discussion:
Washington Blade: What do you expect the newly created task force on hate crimes to accomplish?
Chief Lanier: What I've asked them to do and what we've all agreed is just come in and take a look at everything we're doing and kind of grade us. You've got some of the experts that David Friedman [of the Anti-Defamation League] has brought in who have helped draft hate crimes statutes.
So based on that, the way we capture them, the way we investigate them, the way we report them – are we missing the mark somewhere? If we're missing the mark, yes, give me recommendations on how to go forward. In terms of the outreach, I'm not sure what they're going to find. And again, I'm looking from a law enforcement perspective. They may come back with some completely different recommendations about how we do outreach that's not based on a law enforcement model at all.
But what we're looking for is – How are we doing? And what is it we're missing? And what are the recommendations? How can we improve that so that everybody else feels like we're doing as well as we feel like we're doing?
Blade: By outreach, do you mean alerting people in the community that a hate crime has taken place?
Lanier: Well that's a good question isn't it? For us, outreach has always been – in every community – one is getting information to people about what's going on crime wise, how can you product yourself? What are the crime trends so you know what you need to protect yourself from? And then receiving information back from people in the community about what are they seeing and how do they feel about our response. So it's kind of a two-way communication. That's the biggest part of outreach. I think we're doing that. We report everything. We hear back from the team members in the community in a variety of ways through the multi-team meetings and through email.
But the real outreach is kind of us doing things jointly. So in terms of hate crimes it's great that we report it. It's great that we have relationships with advocates. And I have exactly the same scenario going on right now in sex crimes in general related to sexual assaults in the city. We have these great relationships with all these advocates. We meet monthly. We exchange information two ways.
But what are we doing jointly to prevent these crimes to start with? We have a great team that discusses how we respond to it. But what are we doing to prevent it? So when I think of outreach I think having some of the advocate groups go out with us.
John Klenert: Who determines whether an incident is a hate crime? Is it the Attorney General?
Lanier: It's the United States Attorney.
Blade: Don't the police make the first call on whether a hate crime has occurred in the police report known as the 251 Report?
Lanier: We do mark it on the 251 but that is irrelevant as to whether they classify it as a hate crime. It's not always apparent in the initial investigation. The initial investigation is, say when an arrest is made, when an arrest is made on the scene the investigation is just beginning. That's just the preliminary. Did you break the law? Is there a violation of the law here? From there it becomes this lengthy investigation – grand juries, all those things – that's where the determination is made whether they're going to place actually the enhanced penalty of a hate crime.
It's not something we have any control over. So that creates a little tension for us. And we're a lot more visible and up front than the United States Attorney's office….I'm not saying anything bad. But it's the nature of our business. We're at the front end. So we're where people interact and see all the time. Very few people interact with the U.S. Attorney's office.
Blade: Aren't there some cases that the police list as hate crimes and the U.S. Attorney's office doesn't? One example may be the Marine who was stabbed to death near the 8th and I Street Barracks, where the accused man called the victim an anti-gay name.
Lanier: Here's the challenge that they [the U.S. Attorney's office] have. And believe me; I don't often defend the United States Attorney's office. Our standard is probable cause. So if you look at a continuum of what you need to charge somebody with a crime – with reasonable suspicion you can stop somebody and detain them. With probably cause you can now place them under arrest. Arrest is not guilt, it's just we have probable cause. And then the United States Attorney's office has to take that and continue to push until they get to a point where they feel like there's high probability of conviction.
When there's not a high probability of conviction they have trouble going forward, not just because they like their conviction rate but because judges are not going to push the case through. So they have a much higher standard than we do. I have to give them that. And I know because once we make that arrest my detectives are working around the clock to help them get to where they need for beyond a reasonable doubt. And there's a big jump between probable cause and beyond a reasonable doubt.
Blade: Do they sometimes consult the police when they are deciding whether to offer a plea bargain and lower the charge in a case?
Lanier: No, we do not consult on pleas. Obviously we're the police. When we make an arrest we feel like we've got the right person. Again, they've got to get to a jury or a judge to get to beyond a reasonable doubt. And all these little things can create reasonable doubt.
Blade: Concerning the department's Gay and Lesbian Liaison Unit, can you say where it stands now in terms of the changes you set out to make when you became chief? You made it clear you wanted some changes by adding affiliate GLLU members from the police districts. Is that complete at this time?
Lanier: Well it's still going. We have a core group of five officers that are fully assigned – that's their only assignment. And then we rotate the new affiliates. We rotate a couple of affiliates in for 90 days. When they come out of training two will rotate in. They will stay there full-time for 90 days and then they'll rotate back out.
Blade: Do GLLU officers have to go through a class to be an affiliate member? Are you able to do enough of those? Isn't that where GLOV [Gays and Lesbian Opposing Violence] provides trainers for the classes?
Lanier: They are. And that came out of the meeting here also [meeting between Lanier and community activists]. It was [transgender activist] Ruby [Corado]. Ruby just told this heart-wrenching story on the day I was here. And I said look, if you can tell that story yourself to the police officers you will completely change their perception in how they interact with people. It was a terrible story she told. And she said OK, I'll do it. And that's how the whole concept came about and others said we'll help too. Now they're at a point where they're a little frustrated. They want to get paid.
Blade: They're hoping to get a city grant to cover their costs.
Lanier: Right and the deputy mayor is looking into that. But the recommendation that came out of the meeting last week with the deputy mayor is that there are other city agencies that need to be educated on LGBT issues as well. It's not just the police. And if we're talking about grant funding for organizations to train [we should] put together a more comprehensive approach for all city employees because a person who is either insensitive or not familiar with LGBT issues who's working in any branch of government isn't that a problem?
Blade: Some sources are saying there's a perception now that the GLLU officers are not doing the direct law enforcement work they had been doing in the past. They're saying GLLU officers are no longer investigating cases, they're no longer making arrests, interviewing witnesses or victims, and –
Lanier: There are too many cases for five people to handle – honestly.
Blade: Are they the only ones that can do that?
Lanier: No, no, no, no…The GLLU folks are not detectives. Remember now a detective is on a whole different career track in MPD. There's a lot of work that goes along with being a detective. And investigating crimes should be done by a detective. And believe me that's what the United States Attorney's Office wants because the detective is the one that's going to go through with the prosecution – all those steps I talked to you about – about building beyond a reasonable doubt.
Detectives do that. Uniformed officers do not for the most part. So certainly there's no possible way that a group of five or seven or even 10 GLLU core members could do all those investigations. You wouldn't have a quality investigation if they were trying to do them all. They should go to the district detective unit where the crime occurs.
Remember, the ultimate goal here at the end – I hope that someday we don't need a LGBT anything. People are people. Police officers should be investigating, reporting, patrolling, managing crime regardless of who the suspect is and regardless of who the victim is.
So you know the whole goal is to put the whole thing out of business so that there's no internal discrimination, so there's no external discrimination. People are people regardless of their sexual orientation, your race, your gender, your religion. All that shouldn't matter. So my goal is to put the whole thing out of business.
In the meantime by spreading the affiliates around and putting more and more affiliates out there with the enhanced training there's a better understanding that there really is nothing different about people.
Blade: What can you say about whether some or most of the GLLU affiliate officers are gay?
Lanier: Some are gay; I would say about 60 percent are but not all.
Blade: So there are straight cops that don't mind being part of the GLLU?
Lanier: Not at all. They volunteered. That's all voluntary. And we have a group of volunteers for every class. I mean, it's 2012. I don't know anybody who doesn't have friends or family members. We're people just like everybody else. We all have family and friends that are alcoholics, drug addicts, you know, white, black, whatever.
Blade: In terms of the guidelines for the GLLU, did somebody say recently – it might have been Deputy Chief Diane Groomes, that the GLLU members are not supposed to take official statements at the time they may interview a victim or something like that?
Lanier: They shouldn't be getting statements from suspects until the detective is on the scene. That's the case for any crime because if we're going to go forward with a prosecution, if we have a suspect on the scene, there's procedures that they follow to make sure that statements that are made are not excluded. And we want detectives to handle that. That's for every crime. People will spontaneously make statements and we will copy them down. But in terms of debriefing and interviewing that's the detective's job.
Blade: Can you tell a little about a few incidents that happened in recent years where homophobic graffiti and anti-gay fliers were found in a few of the police districts, including the Third District?
Lanier: There was one in the Third District against an officer that I love dearly, one of the best police officers I've ever worked with. And he's one of the most loved officers in the police department. Whoever did that, it really outraged a lot of people. And sometimes these cops that make these insensitive – you know, what they think are funny jokes or gestures – that's got to stop because that's not funny. So that's why I spoke about that one. The other one at 5-D was Jehovah Witness literature. It was left in the station [by a member of the public].
Blade: The only other one we know about took place at the traffic division station – a flier with a photo making fun of one or two male officers saying they got married.
Lanier: It was in the major crash unit. It wasn't a gay officer. I can tell you that cops make stupid jokes and it's inappropriate. But I can tell you I have been here a long time and I'm still the majority on the police department now, my whole crew. I came on in '89 or '90. So the bulk of the department and my group is the biggest group and I've worked with them for many years. I can tell you the department has changed an awful lot. Women and a lot of people that were in the clique, old school, were treated very, very poorly over the years. This is a very different police department.
Blade: Are you saying these incidents are taking place less frequently?
Lanier: Do we have isolated people who have their own biases? Yes, sure. Do they act out inside the police department for others to see them? Extremely rare, extremely rare. I'm sure there are people out there policing who have biases we don't even know about. What I'm saying is they know that there is no tolerance for it in the police department and they could lose their job for it. So you don't see that outward bias inside the police department. Plus, like I've said, things have changed so much. I don't know anybody that doesn't have friends in just about every community. It's just different now.
Klenert: Do we have any Muslim cops?
Lanier: Oh, sure. And I just signed off to let the Sikh community keep their religious scarf. They have been prohibited from policing and in fact they're suing in New York. So I just signed an order to allow the Sikhs to keep their beards and their turbans.
Blade: In terms of the incidents we were talking about, did anything ever come of the investigations? You said at the time that the Internal Affairs division was investigating them.
Lanier: There was no discipline for the Jehovah Witness literature. It was put there. It should have been thrown out. We don't know how long it was there. And still today they come through the station and they put literature there and we just throw it away because we can't have any religious stuff there.
Klenert: Are the police up to full force?
Lanier: We're at 3,900. At one point we were up to 4,100 and because of the budget cuts it dropped down. We were down below 3,800 for a while. So we're back up to 3,900 now. I can tell you that this city is exploding.
Klenert: There are a lot of people moving in.
Lanier: I just did an analysis of the number of alcohol licenses. Another thing I'm looking at very closely is the alcohol-related assaults. I said let me see the top 10 locations that have the highest clusters of alcohol licenses. How many ABC licenses do you think there are in two blocks in Adams Morgan?
Klenert: About 40?
Lanier: Very good. It's 38. So that's like the gold mark. That's like the most alcohol establishments you can cram into two blocks. I've got another block that's got 36 in a three-block area. I've got another block that's got 18. So now I've got at least 10 little Adams Morgans around the town. H Street, N.E., like I say. The U Street corridor I think has 36. So those are all things that if the city is going to keep thriving – if you go down there on weekends it's Maryland and Virginia tags. People are coming from all over. Our nighttime population is as big as our daytime population…
Blade: What are your thoughts on the mayor's proposal to allow the bars to stay open an extra hour during the week and on weekends?
Lanier: Here's my take on that. Honestly, with all the interactions I have, I have the authority to do emergency closures [of bars] on a very limited basis. And I can tell you the bars I've had to close on an emergency basis – it's the same bars over and over – or it's the same owners. So either the bars are managed very well, which means they don't over serve. They don't bring in entertainment that they know has difficult followers. They have good security. I never have a problem with 85 percent of those businesses in this city. I never have a problem. They can stay open around the clock and I'd never have a problem. The ones that have a problem, they are going to be a problem all the time.
Blade: Regardless of how late they can stay open?
Lanier: That's exactly right. Now in a neighborhood like this, would I want them stumbling through my neighborhood at 4 o'clock as opposed to 3 o'clock? That might be a problem. Crime wise it's not a problem. I think disturbing people might be a problem.
Blade: Looking at the type of crimes I see reported by the GLLU in the crime reports we receive from Capt. Edward Delgado, who oversees the GLLU, it seems like domestic violence is far more prevalent than hate crimes. Is domestic violence the single most frequent type of case the GLLU gets calls for?
Lanier: It is. Domestic violence is huge and even though we've had – I said this to someone. Three years ago 20 percent of all murders were domestic violence related, which is dramatic. That's a lot.
Blade: Is that across the board?
Lanier: It's across the board, across the city. And we've been able to bring it down. We've only had three domestic violence murders this year. Unfortunately, two of those were children, infants. So we've put a couple of pilot programs in place to try and reduce domestic violence lethality and it's worked. It's called lethality assessment for high-risk domestic violence cases. But the number of actual assaults is just phenomenal.
Blade: Do you mean the number of domestic violence related assaults?
Lanier: Yeah. Every morning when I look at my crime reports there are two things that stand out that have been unusual over the last year. The number of domestic violence assaults of all kinds and, yes, in all communities, and the robberies still. Robbery is huge.
Blade: Are the two about the same or would you say domestic violence is a little higher?
Lanier: It's street robberies that are high right now.
Klenert: But the murder rate is down, isn't it?
Lanier: It's way down … So right now if our trends hold – we're at 40 murders today and we're going into the seventh month. If our trends hold we'll come in not only under a hundred but well under a hundred, under 80. …
Blade: The number of LGBT murders are also way down since the 1980s and 1990s. Do you have any idea why that is?
Lanier: I think it's the culture of violence itself. I think in the culture of violence we've finally broken through. I think of the whole tipping point thing. We had to get to a tipping point where not only did we as a city but particularly as a police department say we can prevent murders and we're going to and not, 'Well, we can't stop murders,' which used to be our mentality and also sending that message to the criminal population.
Blade: You've said in the past that under some circumstances the department might not identify a murder victim as being gay on grounds of privacy. But have there been murders of gay men recently that we don't know about because they're not identified as such?
Lanier: I can't think of any off the top of my head – no. But this is the hard part for me. If something happens in an area where there's a lot of transgender prostitution, the first question from the advocates is was that a gay person or a transgender person? It's not really my right to tell people somebody's sexual orientation. And to a certain extent, people do deserve a little bit of privacy. We had a little bit of tension with the advocates in one of the transgender cases because a family member gave us a photo to use for the flier and the photo was pre-transition. That's what the family wanted. How do I go back to mom and say I know this is the photo you want me to use, mom, but the advocates are up in arms because we didn't use this picture? I'm going to respect the family. That's really my tough decision but that's my job. Whatever the next of kin expresses they want I have to honor that. And the advocates don't understand that sometimes. They think we're just being insensitive or at the very least we should show both photos. But you know I'm a mom. If that's what the mom asks, how can I not do that?
Blade: That becomes difficult for the LGBT community because in some cases there is homophobia on the part of the parents and the child who may have been murdered was estranged from the parents.
Lanier: If we had a situation where the parents said no we don't want that to be a part of this but we thought it would be important for us to put that out to the public to help us close the case, we would go back to mom and say look, I know you don't want this out there and you don't want this to be the last photograph of your son or daughter or whatever – I don't think we have as good a chance of finding the killer unless we do this. And I would make that plea. But if I don't think it's relevant to closing the case then I'm going to respect the family. It's a fine line, it really is. It's a difficult line for us to walk…
Long-time LGBTQ activist running for Md. House of Delegates
Patrick Paschall is former FreeState Justice executive director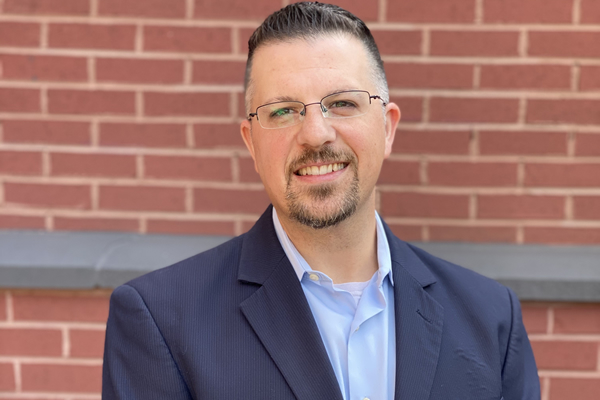 Former FreeState Justice Executive Director Patrick Paschall last week announced via social media that he is running for the Maryland House of Delegates.
"As a proud parent of two kids in Prince George's County public schools, former Hyattsville City Council member, and lifelong civil rights advocate and policy analyst, I've spent my life and career working for equity, community and sustainability for my family," Paschall said in a statement posted to Facebook on Nov. 23.
Paschall, who currently is the American Rescue Plan Program Manager for the city of Hyattsville, previously served as executive director for FreeState Justice from 2015 to 2017.
His LGBTQ advocacy work also includes serving as senior policy counsel for the National LGBTQ Task Force, as an organizer for Pride at Work and as a policy fellow for the National Center for Transgender Equality.
He also worked for Family Equality Council, an organization advocating for the rights of same-sex couples and their children.
"One of the things I'm running on is being a parent," Paschall told the Washington Blade. "We can provide more opportunities for families to succeed in our communities."
Paschall is running to represent District 22, which includes Hyattsville, where he has lived for over 10 years with his two children, who currently attend Hyattsville Elementary School, and his wife, who identifies as pansexual. 
He told the Blade he views his family as a "rainbow family," but pointed out since he and his wife did not have to endure the same difficulties as his friends who are married same-sex couples when they wanted to adopt children.
"When I became a parent, no one stopped by my house to make sure it was an adequate living situation for my child, no one checked to make sure I had a room dedicated to the child and for no other purpose," he said. "But my friends Jamie and Sean went through all of that when they tried to adopt a kid."
Paschall explained that even though he and his wife didn't go through these experiences, there was still room for Maryland to improve in the areas of adoptions and civil rights.
"It strikes me how much privilege I have because the state doesn't design to make it hard for me like it does for so many same-sex couples," he explained.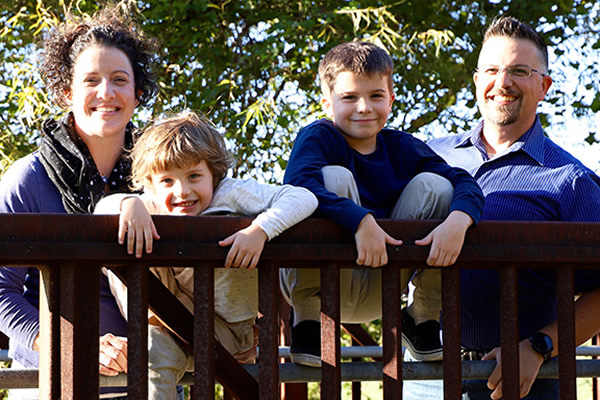 Much like with the recent elections in neighboring Virginia, Paschall said helping parents is an important issue for him — one he wants to carry to Annapolis — if elected "because my district deserves better schools for our kids, more child care options and family support like paid family leave."
"I think that District 22 needs a voice in Annapolis to represent progressive parents and to exercise policy expertise in achieving the values of our community," he added. "And I have the experience to get it done."
D.C. area LGBTQ bars, eateries receive $100K COVID-19 relief grant
Pitchers, League of Her Own received NGLCC, Grubhub funds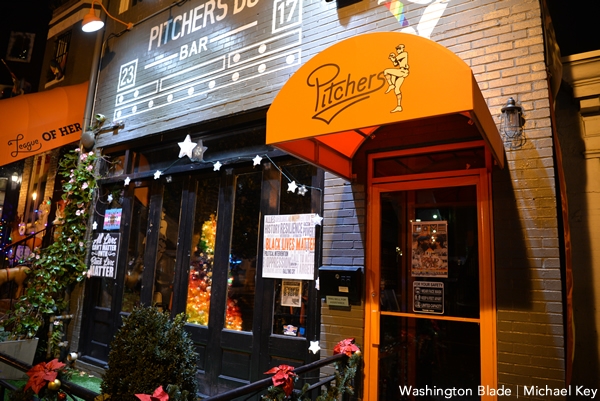 The D.C. LGBTQ sports bar Pitchers and League of Her Own, its adjoining lesbian bar, are among the nation's first LGBTQ bars that serve food as well as alcoholic beverages to receive a $100,000 COVID-19 relief grant under a $2 million Community Impact Grant Program.
The program, aimed at supporting LGBTQ-owned and LGBTQ-allied small businesses struggling from the pandemic, was launched in September as a joint project of the National LGBT Chamber of Commerce, which goes by the initials NGLCC, and the global online food delivery company Grubhub.
In a Tuesday announcement, NGLCC and Grubhub said Pitchers and League of Her Own, which operate as one business in adjoining buildings in D.C.'s Adams Morgan neighborhood, are among the first three recipients of $100,000 grants under the Community Impact Grant Program. The other two recipients are FOODE + Mercantile of Fredericksburg, Va., and Café Gabriela of Oakland, Calif.
"Following this initial round of recipients, more grants will be issued in late 2021 and early 2022," the announcement by the two groups says. In an earlier announcement, the groups said the application period for the grants program took place from September through Oct. 12, and the grants would range in amounts from $5,000 to $100,000.
"The impact of COVID-19 has been debilitating for countless restaurant and bar owners, including the many LGBTQ+-owned restaurants across the country who have persisted through lockdowns, operational changes and labor supply shortages," said NGLCC Co-Founder and President Justin Nelson. "We're grateful to have partnered with Grubhub to offer real lifelines to support businesses throughout the nation," Nelson said.
"Building community in a fun and safe place has been our mission since the very beginning," said David Perruzza, the owner of Pitchers and League of Her Own. "We're relieved and thankful for these funds, and are looking forward to more stable days ahead," Perruzza said.
"As a trans masculine and queer immigrant person of color, I've worked hard and put all my love and energy into building a beautiful and welcoming space in Café Gabriela," said owner Penny Baldado. "I've remained resilient through COVID, and this grant is the injection of funds that we need to continue along our journey to full recovery," Baldado said.
The statement announcing the first three grant recipient says funds for the $2 million grant program were generated by Grubhub's "Donate the Change" program of which NGLCC became a partner in June. Grubhub says the program asks customers receiving food delivered by Grubhub "to round out their order and donate the difference" to the charitable fund.
"COVID has turned the restaurant industry on its head the last 18 months, and at Grubhub, we've been working hard every day to support our restaurant partners across the country," said Amy Healy, Grubhub's vice president of government relations. "As the world starts to return to a new normal, we're proud to partner with the NGLCC and provide these grants to LGBTQ+-owned and LGBTQ+ ally-owned restaurants across the country that are pillars of their communities."
Va. businessman apologizes for burning of rainbow flag poster
'Shocked and horrified': Ashburn incident caught on video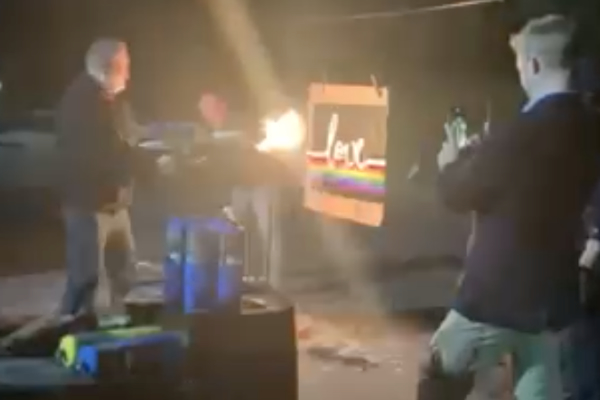 The owner of a Virginia technology company that hosted a private Veterans Day party on the grounds of an Ashburn, Va., brewery in which a company employee used a flame-throwing device to ignite a rainbow flag poster said the selection of the poster was a mistake and he and his company have no ill will toward the LGBTQ community.
The Washington Blade learned about the poster burning from a customer of the Old Ox Brewery in Ashburn, where the incident took place on its outdoor grounds. The customer made a video of the incident with his cell phone and sent a copy of the video to the Blade.
The video, which includes an audio recording, shows a man using a hand-held flame-throwing device to ignite the rainbow poster, which was hanging from a cable and appeared to be mounted on cardboard or a thin sheet of wood. Bystanders can be heard laughing and cheering as the poster is set on fire.
The poster consisted of a variation of the LGBTQ Pride rainbow flag that included the word "love" configured from an upper white stripe on the rainbow symbol.
The customer who took the video, who has asked not to be identified, thought the decision to set the poster on fire was a sign of disrespect if not hatred toward a longstanding symbol of LGBTQ equality and pride.
Chris Burns, Old Ox Brewery's president, shared that view, telling the Blade he and his staff were "shocked and horrified" when they learned later that a rainbow flag poster had been burned on the brewery's grounds. Burns said Old Ox supports the LGBTQ community and participated in LGBTQ Pride month earlier this year.
He said the company that held the private party paid a fee to hold the event on the brewery's grounds, but the brewery did not know a rainbow poster would be burned.
"I'm mortified that our event was interpreted in this way," said Nate Reynolds, the founder and partner of Hypershift Technologies LLC, the Falls Church, Va.-based technology company that organized the Nov. 11 party at Old Ox Brewery. "I can assure you that ZERO ill-will or offense was meant," Reynolds told the Blade in a Nov. 24 email.
"We held a small private party for a few clients, which included a demonstration of Elon Musk's Boring Company 'Not a Flamethrower,'" he said in his message. He was referring to one of billionaire businessman Elon Musk's companies that specializes in boring through the ground to create tunnels for cars, trains, and other purposes.
"After so many being isolated during COVID, we wanted to have an event that was lighthearted and to some small effect, silly," Reynolds said in his message to the Blade.
According to Reynolds, in thinking about what should be used for "fodder" for the flame-thrower, he went to a Five Below discount store and purchased items such as stuffed animals and posters, including a "Space Jam" movie poster as well as what he thought was a poster of the British rock group The Beatles.
"When I pulled the Beatles poster out of the tube it was instead the 'Love' poster," he said, referring to the rainbow flag poster the Blade asked him about in an earlier email.
"All I focused on was the 'Love' wording and not the rainbow and did not draw the conclusion that the poster was an icon that represents the LGBTQ community," Reynolds said. "It was my own ignorance of not connecting the symbolism of the poster. If I had realized it was a symbol of the LGBTQ community, I would not have used it," he said.
"I feel terrible, and I want to emphasize that I am solely responsible for this mistake – not the Old Ox Brewery," he wrote in his message. "Nobody at Old Ox had anything to do with this activity."
Reynolds added, "Hate has no place in my heart, and I sincerely apologize for any offense that could have been drawn from what I now realize was poor judgement on my part. I simply didn't correlate this poster with the LGBTQ pride symbol."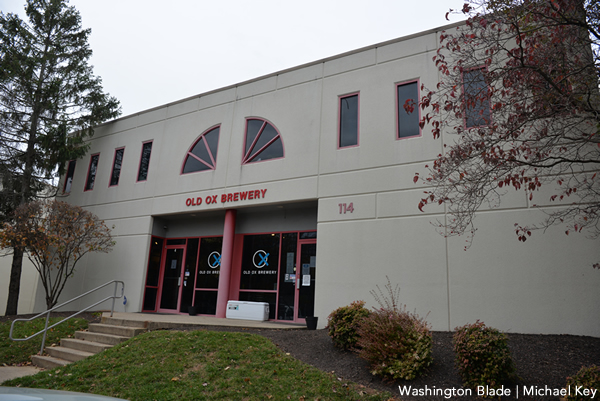 Before Reynolds issued his statement of apology, Burns, the Old Ox Brewery co-owner, told the Blade in an email he was "saddened and upset" over the rainbow poster burning on the grounds of his brewery.
"We do not wish to benefit from this event," he said in his email message. "Therefore, Old Ox is donating 100% of the revenue generated from the private event to GLSEN."
GLSEN is a national LGBTQ advocacy group that focuses on education and support for LGBTQ youth. Burns said Old Ox Brewery also donated proceeds from a Pride month event it organized earlier this year to GLSEN.
LGBTQ activists and organizations contacted by the Blade said they were unfamiliar with the variation of the rainbow flag with the word "love" that was the subject of the poster burning incident. The poster is available for sale at Five Below stores in the D.C. metropolitan area for $5.
Small print writings on the poster show it is produced by Trends International LLC, which describes itself on its website as "the leading publisher and manufacturer of licensed posters, calendars, stickers and social stationery products." The Blade couldn't immediately determine who designed the poster.
The video of the poster burning incident can be viewed here: