A conversation with Police Chief Lanier
Her thoughts on domestic violence, trans victims and putting the GLLU 'out of business'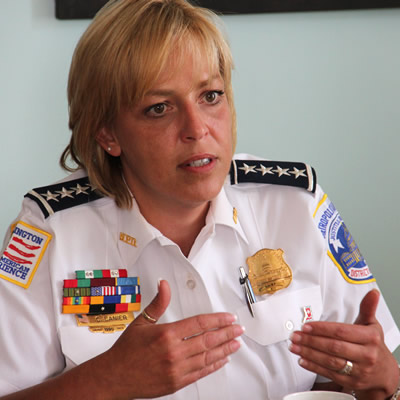 Editor's note: Chief Lanier's exclusive interview with the Blade covered a wide range of topics. Visit washingtonblade.com for the full transcript.
D.C. Police Chief Cathy Lanier said her decision to invite the Anti-Defamation League, a nationally acclaimed civil rights group, to conduct an independent assessment of how the department investigates and reports hate crimes was prompted, in part, by complaints from LGBT activists.
In an exclusive interview with the Washington Blade, Lanier said she believes the department is doing well in investigating and reaching out to the LGBT community in its fight against hate crimes, especially those targeting gay, lesbian and transgender residents.
But she cited concerns raised by some LGBT activists, including transgender advocate Jason Terry, a member of the D.C. Trans Coalition, who have questioned her and the department's commitment to adequately addressing the city's hate crimes problem. Terry has been among the activists who have criticized Lanier's handling of hate crimes and other transgender-related matters during D.C. City Council hearings called to review police policies on hate crimes.
"I did it because a lot of times we compare ourselves with other law enforcement agencies," Lanier said. "So we look at all the things we do and we say we think we're doing really well. And then we go to a hearing and Jason Terry will say you're a bunch of Keystone Cops," said Lanier.
"And I go, 'Wait a minute. I thought everything was going really well.' And when we compare ourselves to other police agencies we're light years above a lot of other agencies," she said. "But you know sometimes just comparing yourself to other law enforcement agencies is not the mark. And so I thought I would have ADL tell me, 'What is the mark?'"
Lanier took the unusual step of enlisting David Friedman, director of the ADL's Washington, D.C., regional Office, to form a special task force to assess the department's response to hate crimes.
Friedman invited the Human Rights Campaign, the nation's largest LGBT civil rights group; the National Center for Transgender Equality; the Leadership Conference on Civil Rights, another nationally recognized mainline civil rights organization; and two university professors considered experts on hate violence to join ADL as members of the task force.
Among other things, the task force will look at how law enforcement agencies in other jurisdictions address hate crimes, a police statement said. The statement said the task force would begin its work by conducting interviews and meetings with LGBT community members to obtain their views on how D.C. police are doing in addressing local hate crimes that target LGBT people.
"What I've asked them to do and what we've all agreed is just come in and take a look at everything we're doing and kind of grade us," Lanier said.
New lead in beating of gay man
In a wide-ranging discussion on a number of other issues, Lanier told the Blade that police investigators have identified a person of interest in the March attack against a gay man on Georgia Avenue in the city's Columbia Heights section.
The victim, who has asked not to be identified, was severely beaten and dragged by three or four male assailants, who punched and kicked him while shouting anti-gay names, causing him to suffer a broken jaw among other injuries, according to accounts by police and the victim.
"I think we will close that case," Lanier said, noting that investigators are looking for a second person implicated in the attack in addition to the person of interest already identified.
That incident, which police listed as an anti-gay hate crime, along with the shooting of a gay man inside a nearby International House of Pancakes restaurant, also listed as a hate crime; and the beating of a transgender woman in Northeast D.C. – all occurring within a two-day period – prompted hundreds of LGBT activists and their supporters to hold a march and rally in the Columbia Heights neighborhood to condemn anti-LGBT violence.
Police have made an arrest in the IHOP shooting case, in which the victim suffered a non-life threatening gunshot wound. Police said no arrests have been made in the attack against the transgender woman, which police said was not listed as a hate crime due to insufficient evidence that it was motivated by hate.
In discussing the changes she has made with the department's Gay and Lesbian Liaison Unit, Lanier said her ultimate goal is to ensure that all members in the department are trained to fully respond to LGBT-related issues, making the GLLU no longer necessary.
"People are people regardless of their sexual orientation, your race, your gender, your religion," she said. "All that shouldn't matter. So my goal is to put the whole thing out of business. In the meantime by spreading the affiliates around and putting more and more affiliates out there with the enhanced training there's a better understanding that there really is nothing different about people."
Lanier was referring to her creation of a GLLU affiliate officers program in which officers from the department's seven police districts respond to LGBT-related police service calls to supplement and expand the work performed by the five full-time GLLU members based in the unit's Dupont Circle headquarters.
The department says there are now 99 affiliate GLLU members, with 10 or more assigned to each of the seven police districts. Lanier said officers cannot become affiliate members of the GLLU until they complete a special training program.
'Domestic violence is huge'
Lanier said that although hate crimes capture much of the attention in the LGBT community concerning police matters, incidents of domestic violence make up a far greater number of cases GLLU officers and police detectives in general are called on to investigate.
"Domestic violence is huge," she said. "Every morning when I look at my crime reports there are two things that stand out that have been unusual over the last year. The number of domestic violence assaults of all kinds and, yes, in all communities, and the robberies. Robbery is huge," she said in referring to citywide trends against all residents.
Following is a partial transcript of D.C. Police Chief Cathy Lanier's June 26 conversation with the Blade. The interview was conducted at the home of gay activist John Klenert, who hosted the session and participated in the discussion:
Washington Blade: What do you expect the newly created task force on hate crimes to accomplish?
Chief Lanier: What I've asked them to do and what we've all agreed is just come in and take a look at everything we're doing and kind of grade us. You've got some of the experts that David Friedman [of the Anti-Defamation League] has brought in who have helped draft hate crimes statutes.
So based on that, the way we capture them, the way we investigate them, the way we report them – are we missing the mark somewhere? If we're missing the mark, yes, give me recommendations on how to go forward. In terms of the outreach, I'm not sure what they're going to find. And again, I'm looking from a law enforcement perspective. They may come back with some completely different recommendations about how we do outreach that's not based on a law enforcement model at all.
But what we're looking for is – How are we doing? And what is it we're missing? And what are the recommendations? How can we improve that so that everybody else feels like we're doing as well as we feel like we're doing?
Blade: By outreach, do you mean alerting people in the community that a hate crime has taken place?
Lanier: Well that's a good question isn't it? For us, outreach has always been – in every community – one is getting information to people about what's going on crime wise, how can you product yourself? What are the crime trends so you know what you need to protect yourself from? And then receiving information back from people in the community about what are they seeing and how do they feel about our response. So it's kind of a two-way communication. That's the biggest part of outreach. I think we're doing that. We report everything. We hear back from the team members in the community in a variety of ways through the multi-team meetings and through email.
But the real outreach is kind of us doing things jointly. So in terms of hate crimes it's great that we report it. It's great that we have relationships with advocates. And I have exactly the same scenario going on right now in sex crimes in general related to sexual assaults in the city. We have these great relationships with all these advocates. We meet monthly. We exchange information two ways.
But what are we doing jointly to prevent these crimes to start with? We have a great team that discusses how we respond to it. But what are we doing to prevent it? So when I think of outreach I think having some of the advocate groups go out with us.
John Klenert: Who determines whether an incident is a hate crime? Is it the Attorney General?
Lanier: It's the United States Attorney.
Blade: Don't the police make the first call on whether a hate crime has occurred in the police report known as the 251 Report?
Lanier: We do mark it on the 251 but that is irrelevant as to whether they classify it as a hate crime. It's not always apparent in the initial investigation. The initial investigation is, say when an arrest is made, when an arrest is made on the scene the investigation is just beginning. That's just the preliminary. Did you break the law? Is there a violation of the law here? From there it becomes this lengthy investigation – grand juries, all those things – that's where the determination is made whether they're going to place actually the enhanced penalty of a hate crime.
It's not something we have any control over. So that creates a little tension for us. And we're a lot more visible and up front than the United States Attorney's office….I'm not saying anything bad. But it's the nature of our business. We're at the front end. So we're where people interact and see all the time. Very few people interact with the U.S. Attorney's office.
Blade: Aren't there some cases that the police list as hate crimes and the U.S. Attorney's office doesn't? One example may be the Marine who was stabbed to death near the 8th and I Street Barracks, where the accused man called the victim an anti-gay name.
Lanier: Here's the challenge that they [the U.S. Attorney's office] have. And believe me; I don't often defend the United States Attorney's office. Our standard is probable cause. So if you look at a continuum of what you need to charge somebody with a crime – with reasonable suspicion you can stop somebody and detain them. With probably cause you can now place them under arrest. Arrest is not guilt, it's just we have probable cause. And then the United States Attorney's office has to take that and continue to push until they get to a point where they feel like there's high probability of conviction.
When there's not a high probability of conviction they have trouble going forward, not just because they like their conviction rate but because judges are not going to push the case through. So they have a much higher standard than we do. I have to give them that. And I know because once we make that arrest my detectives are working around the clock to help them get to where they need for beyond a reasonable doubt. And there's a big jump between probable cause and beyond a reasonable doubt.
Blade: Do they sometimes consult the police when they are deciding whether to offer a plea bargain and lower the charge in a case?
Lanier: No, we do not consult on pleas. Obviously we're the police. When we make an arrest we feel like we've got the right person. Again, they've got to get to a jury or a judge to get to beyond a reasonable doubt. And all these little things can create reasonable doubt.
Blade: Concerning the department's Gay and Lesbian Liaison Unit, can you say where it stands now in terms of the changes you set out to make when you became chief? You made it clear you wanted some changes by adding affiliate GLLU members from the police districts. Is that complete at this time?
Lanier: Well it's still going. We have a core group of five officers that are fully assigned – that's their only assignment. And then we rotate the new affiliates. We rotate a couple of affiliates in for 90 days. When they come out of training two will rotate in. They will stay there full-time for 90 days and then they'll rotate back out.
Blade: Do GLLU officers have to go through a class to be an affiliate member? Are you able to do enough of those? Isn't that where GLOV [Gays and Lesbian Opposing Violence] provides trainers for the classes?
Lanier: They are. And that came out of the meeting here also [meeting between Lanier and community activists]. It was [transgender activist] Ruby [Corado]. Ruby just told this heart-wrenching story on the day I was here. And I said look, if you can tell that story yourself to the police officers you will completely change their perception in how they interact with people. It was a terrible story she told. And she said OK, I'll do it. And that's how the whole concept came about and others said we'll help too. Now they're at a point where they're a little frustrated. They want to get paid.
Blade: They're hoping to get a city grant to cover their costs.
Lanier: Right and the deputy mayor is looking into that. But the recommendation that came out of the meeting last week with the deputy mayor is that there are other city agencies that need to be educated on LGBT issues as well. It's not just the police. And if we're talking about grant funding for organizations to train [we should] put together a more comprehensive approach for all city employees because a person who is either insensitive or not familiar with LGBT issues who's working in any branch of government isn't that a problem?
Blade: Some sources are saying there's a perception now that the GLLU officers are not doing the direct law enforcement work they had been doing in the past. They're saying GLLU officers are no longer investigating cases, they're no longer making arrests, interviewing witnesses or victims, and –
Lanier: There are too many cases for five people to handle – honestly.
Blade: Are they the only ones that can do that?
Lanier: No, no, no, no…The GLLU folks are not detectives. Remember now a detective is on a whole different career track in MPD. There's a lot of work that goes along with being a detective. And investigating crimes should be done by a detective. And believe me that's what the United States Attorney's Office wants because the detective is the one that's going to go through with the prosecution – all those steps I talked to you about – about building beyond a reasonable doubt.
Detectives do that. Uniformed officers do not for the most part. So certainly there's no possible way that a group of five or seven or even 10 GLLU core members could do all those investigations. You wouldn't have a quality investigation if they were trying to do them all. They should go to the district detective unit where the crime occurs.
Remember, the ultimate goal here at the end – I hope that someday we don't need a LGBT anything. People are people. Police officers should be investigating, reporting, patrolling, managing crime regardless of who the suspect is and regardless of who the victim is.
So you know the whole goal is to put the whole thing out of business so that there's no internal discrimination, so there's no external discrimination. People are people regardless of their sexual orientation, your race, your gender, your religion. All that shouldn't matter. So my goal is to put the whole thing out of business.
In the meantime by spreading the affiliates around and putting more and more affiliates out there with the enhanced training there's a better understanding that there really is nothing different about people.
Blade: What can you say about whether some or most of the GLLU affiliate officers are gay?
Lanier: Some are gay; I would say about 60 percent are but not all.
Blade: So there are straight cops that don't mind being part of the GLLU?
Lanier: Not at all. They volunteered. That's all voluntary. And we have a group of volunteers for every class. I mean, it's 2012. I don't know anybody who doesn't have friends or family members. We're people just like everybody else. We all have family and friends that are alcoholics, drug addicts, you know, white, black, whatever.
Blade: In terms of the guidelines for the GLLU, did somebody say recently – it might have been Deputy Chief Diane Groomes, that the GLLU members are not supposed to take official statements at the time they may interview a victim or something like that?
Lanier: They shouldn't be getting statements from suspects until the detective is on the scene. That's the case for any crime because if we're going to go forward with a prosecution, if we have a suspect on the scene, there's procedures that they follow to make sure that statements that are made are not excluded. And we want detectives to handle that. That's for every crime. People will spontaneously make statements and we will copy them down. But in terms of debriefing and interviewing that's the detective's job.
Blade: Can you tell a little about a few incidents that happened in recent years where homophobic graffiti and anti-gay fliers were found in a few of the police districts, including the Third District?
Lanier: There was one in the Third District against an officer that I love dearly, one of the best police officers I've ever worked with. And he's one of the most loved officers in the police department. Whoever did that, it really outraged a lot of people. And sometimes these cops that make these insensitive – you know, what they think are funny jokes or gestures – that's got to stop because that's not funny. So that's why I spoke about that one. The other one at 5-D was Jehovah Witness literature. It was left in the station [by a member of the public].
Blade: The only other one we know about took place at the traffic division station – a flier with a photo making fun of one or two male officers saying they got married.
Lanier: It was in the major crash unit. It wasn't a gay officer. I can tell you that cops make stupid jokes and it's inappropriate. But I can tell you I have been here a long time and I'm still the majority on the police department now, my whole crew. I came on in '89 or '90. So the bulk of the department and my group is the biggest group and I've worked with them for many years. I can tell you the department has changed an awful lot. Women and a lot of people that were in the clique, old school, were treated very, very poorly over the years. This is a very different police department.
Blade: Are you saying these incidents are taking place less frequently?
Lanier: Do we have isolated people who have their own biases? Yes, sure. Do they act out inside the police department for others to see them? Extremely rare, extremely rare. I'm sure there are people out there policing who have biases we don't even know about. What I'm saying is they know that there is no tolerance for it in the police department and they could lose their job for it. So you don't see that outward bias inside the police department. Plus, like I've said, things have changed so much. I don't know anybody that doesn't have friends in just about every community. It's just different now.
Klenert: Do we have any Muslim cops?
Lanier: Oh, sure. And I just signed off to let the Sikh community keep their religious scarf. They have been prohibited from policing and in fact they're suing in New York. So I just signed an order to allow the Sikhs to keep their beards and their turbans.
Blade: In terms of the incidents we were talking about, did anything ever come of the investigations? You said at the time that the Internal Affairs division was investigating them.
Lanier: There was no discipline for the Jehovah Witness literature. It was put there. It should have been thrown out. We don't know how long it was there. And still today they come through the station and they put literature there and we just throw it away because we can't have any religious stuff there.
Klenert: Are the police up to full force?
Lanier: We're at 3,900. At one point we were up to 4,100 and because of the budget cuts it dropped down. We were down below 3,800 for a while. So we're back up to 3,900 now. I can tell you that this city is exploding.
Klenert: There are a lot of people moving in.
Lanier: I just did an analysis of the number of alcohol licenses. Another thing I'm looking at very closely is the alcohol-related assaults. I said let me see the top 10 locations that have the highest clusters of alcohol licenses. How many ABC licenses do you think there are in two blocks in Adams Morgan?
Klenert: About 40?
Lanier: Very good. It's 38. So that's like the gold mark. That's like the most alcohol establishments you can cram into two blocks. I've got another block that's got 36 in a three-block area. I've got another block that's got 18. So now I've got at least 10 little Adams Morgans around the town. H Street, N.E., like I say. The U Street corridor I think has 36. So those are all things that if the city is going to keep thriving – if you go down there on weekends it's Maryland and Virginia tags. People are coming from all over. Our nighttime population is as big as our daytime population…
Blade: What are your thoughts on the mayor's proposal to allow the bars to stay open an extra hour during the week and on weekends?
Lanier: Here's my take on that. Honestly, with all the interactions I have, I have the authority to do emergency closures [of bars] on a very limited basis. And I can tell you the bars I've had to close on an emergency basis – it's the same bars over and over – or it's the same owners. So either the bars are managed very well, which means they don't over serve. They don't bring in entertainment that they know has difficult followers. They have good security. I never have a problem with 85 percent of those businesses in this city. I never have a problem. They can stay open around the clock and I'd never have a problem. The ones that have a problem, they are going to be a problem all the time.
Blade: Regardless of how late they can stay open?
Lanier: That's exactly right. Now in a neighborhood like this, would I want them stumbling through my neighborhood at 4 o'clock as opposed to 3 o'clock? That might be a problem. Crime wise it's not a problem. I think disturbing people might be a problem.
Blade: Looking at the type of crimes I see reported by the GLLU in the crime reports we receive from Capt. Edward Delgado, who oversees the GLLU, it seems like domestic violence is far more prevalent than hate crimes. Is domestic violence the single most frequent type of case the GLLU gets calls for?
Lanier: It is. Domestic violence is huge and even though we've had – I said this to someone. Three years ago 20 percent of all murders were domestic violence related, which is dramatic. That's a lot.
Blade: Is that across the board?
Lanier: It's across the board, across the city. And we've been able to bring it down. We've only had three domestic violence murders this year. Unfortunately, two of those were children, infants. So we've put a couple of pilot programs in place to try and reduce domestic violence lethality and it's worked. It's called lethality assessment for high-risk domestic violence cases. But the number of actual assaults is just phenomenal.
Blade: Do you mean the number of domestic violence related assaults?
Lanier: Yeah. Every morning when I look at my crime reports there are two things that stand out that have been unusual over the last year. The number of domestic violence assaults of all kinds and, yes, in all communities, and the robberies still. Robbery is huge.
Blade: Are the two about the same or would you say domestic violence is a little higher?
Lanier: It's street robberies that are high right now.
Klenert: But the murder rate is down, isn't it?
Lanier: It's way down … So right now if our trends hold – we're at 40 murders today and we're going into the seventh month. If our trends hold we'll come in not only under a hundred but well under a hundred, under 80. …
Blade: The number of LGBT murders are also way down since the 1980s and 1990s. Do you have any idea why that is?
Lanier: I think it's the culture of violence itself. I think in the culture of violence we've finally broken through. I think of the whole tipping point thing. We had to get to a tipping point where not only did we as a city but particularly as a police department say we can prevent murders and we're going to and not, 'Well, we can't stop murders,' which used to be our mentality and also sending that message to the criminal population.
Blade: You've said in the past that under some circumstances the department might not identify a murder victim as being gay on grounds of privacy. But have there been murders of gay men recently that we don't know about because they're not identified as such?
Lanier: I can't think of any off the top of my head – no. But this is the hard part for me. If something happens in an area where there's a lot of transgender prostitution, the first question from the advocates is was that a gay person or a transgender person? It's not really my right to tell people somebody's sexual orientation. And to a certain extent, people do deserve a little bit of privacy. We had a little bit of tension with the advocates in one of the transgender cases because a family member gave us a photo to use for the flier and the photo was pre-transition. That's what the family wanted. How do I go back to mom and say I know this is the photo you want me to use, mom, but the advocates are up in arms because we didn't use this picture? I'm going to respect the family. That's really my tough decision but that's my job. Whatever the next of kin expresses they want I have to honor that. And the advocates don't understand that sometimes. They think we're just being insensitive or at the very least we should show both photos. But you know I'm a mom. If that's what the mom asks, how can I not do that?
Blade: That becomes difficult for the LGBT community because in some cases there is homophobia on the part of the parents and the child who may have been murdered was estranged from the parents.
Lanier: If we had a situation where the parents said no we don't want that to be a part of this but we thought it would be important for us to put that out to the public to help us close the case, we would go back to mom and say look, I know you don't want this out there and you don't want this to be the last photograph of your son or daughter or whatever – I don't think we have as good a chance of finding the killer unless we do this. And I would make that plea. But if I don't think it's relevant to closing the case then I'm going to respect the family. It's a fine line, it really is. It's a difficult line for us to walk…
Gay couple assaulted on D.C. street by attackers shouting 'monkeypox faggots'
Police list Aug. 7 incident in Shaw as suspected hate crime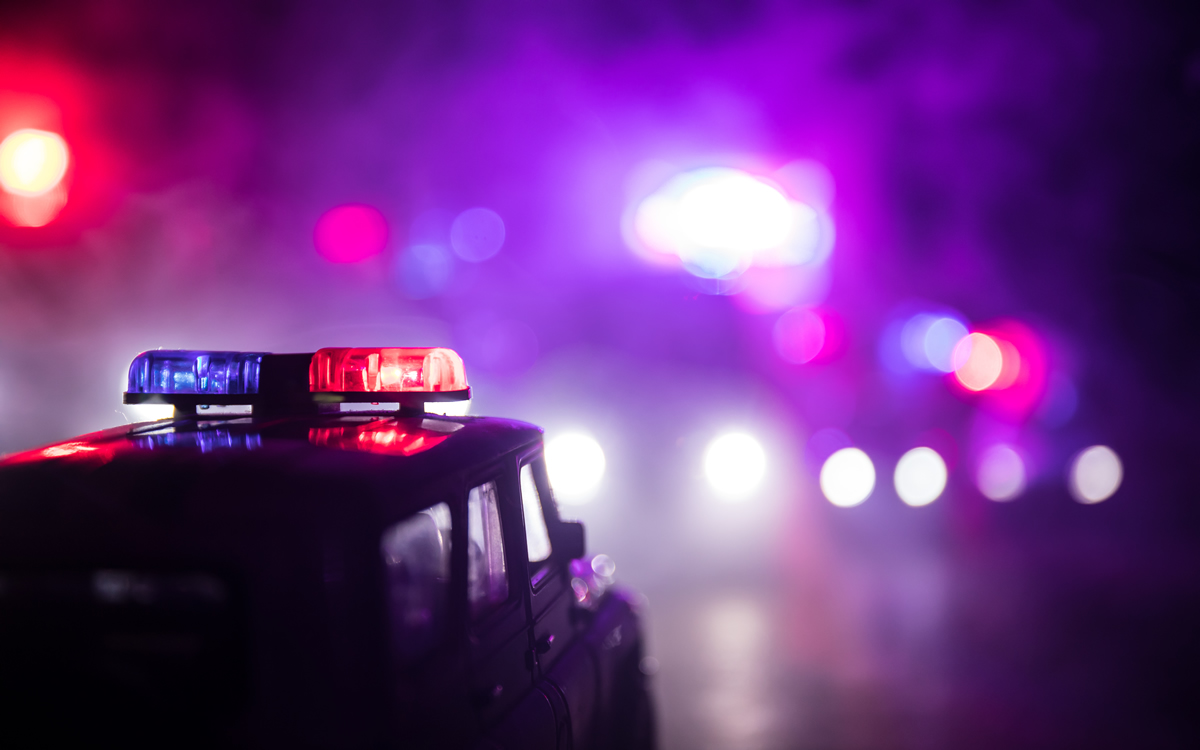 Two young men appearing in their late teens shouted the words "monkeypox faggots" at a gay male couple walking along 7th Street, N.W. in the city's Shaw neighborhood on Sunday, Aug. 7, before punching the two men in the face and head in an incident that D.C. police have called a suspected hate crime.
The gay men were treated and released at Howard University Hospital for head and facial bruises, with one of the two receiving stitches for a deep cut on his upper lip, according to one of the victims who spoke to the Washington Blade.
The victim, an Alexandria resident who asked that he and his partner, a D.C. resident, not be identified by name, said the attackers were part of a group of four or five young men appearing to be between 17 and 19 years old and two young women accompanying them. He said the group crossed paths with the gay couple around 5:40 p.m. in front of a store on the 1700 block of 7th Street, N.W., as the couple was walking to a nearby bus stop on Rhode Island Avenue.
The victim who spoke to the Blade said a nearby witness called D.C. police, who arrived within a few minutes as the two attackers and the other young men with them fled the scene. He said although an ambulance arrived on the scene, one of the police officers drove the couple to nearby Howard University Hospital, where they spent about six hours in the emergency room.
The couple had spent part of that 90+ degree day at the city's Banneker Pool and later stopped at the Kiki gay bar on U Street, N.W. before taking what the victim who spoke to the Blade said was a leisurely walk from Kiki via 7th Street on their way to the bus stop, where they planned to take the bus to his boyfriend's Northeast D.C. house.
As the couple walked south on 7th Street about a block from their destination on Rhode Island Avenue they crossed paths with the group of teenagers in front of a store that a D.C. police report says was at 1731 7th St., N.W.
"They were about 17 to 19 years old," the victim who spoke to the Blade said. "And one of them started saying stuff like, hey, look at these monkeypox faggots and some not so nice stuff like that," he said.
"We turned around to walk away and one of them came up behind me and got my attention and then sucker punched me and then hit me again and then hit my boyfriend in the face," the victim said. "And another person hit him in the face as well," he said. "And then someone across the street called the cops. And then the cops came, and they scattered off."
To the couple's surprise, the two young women remained on the scene and apologized for the actions by the guys they were with.
"So, I said something like thanks for the apology, but this is the kind of people you hang out with," the victim recounted. "And one of them said their dad was gay, and they kind of walked away before the cops got there," he said. "It was nice of them to apologize I guess for the other people."
The D.C. police report lists the incident as having two offenses, a simple assault against the two men and a misdemeanor destruction of property related to the destruction of a pair of sunglasses worn by one of the two men that were damaged in the assault against him.
The report also lists the incident as a suspected "Sexual orientation – Anti-Gay" hate crime.
As in all incidents of violent crime, D.C. police call on members of the public to contact the police with information about an incident like this to call police at 202-727-9099 or text a tip to the department's TEXT TIP LINE at 50411.
Lesbian activist assaulted with barstool at D.C. lounge
Police say victim's claim of anti-gay hate crime under investigation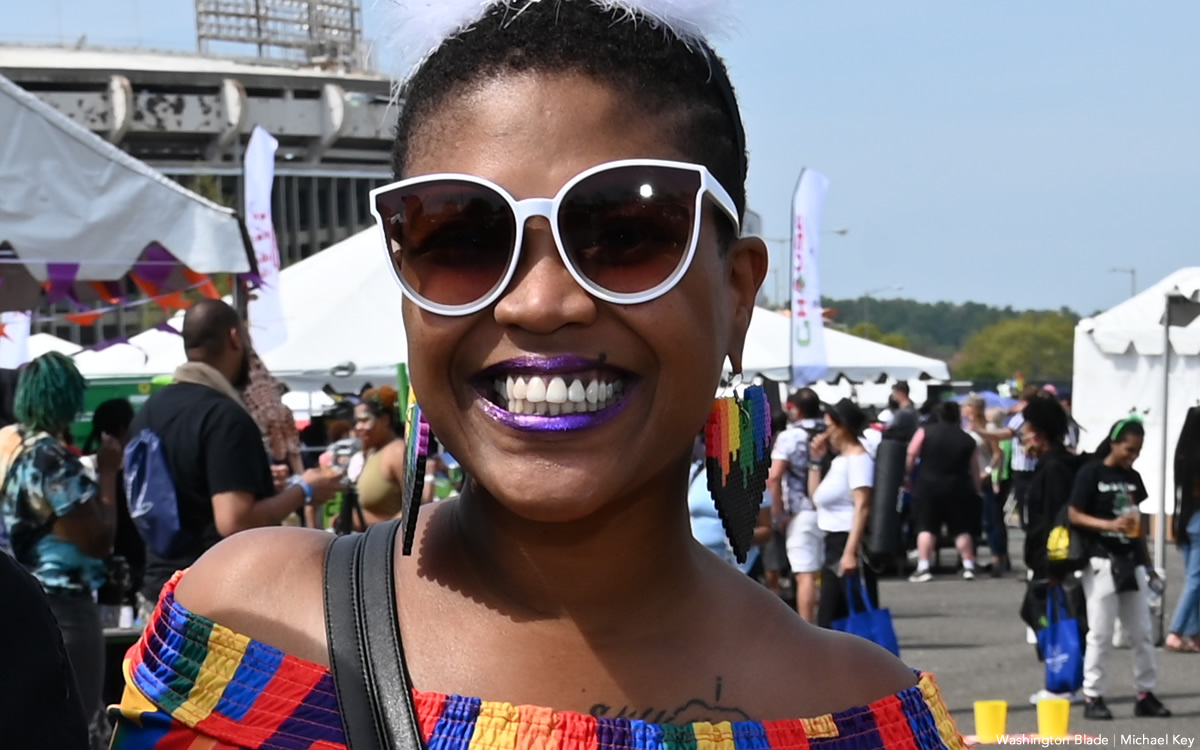 D.C. police say they are actively investigating an Aug. 3 incident in which lesbian activist and Ward 8 community leader Aiyi'nah Ford says she was hit three times in the head with the metal legs of a barstool swung by a man yelling anti-gay names at her.
A police report says the incident took place at the Player's Lounge, a restaurant and bar at 2737 Martin Luther King Jr. Ave., S.E., in the city's Congress Heights neighborhood shortly before and after midnight on Aug. 3 and 4.
Ford, who witnesses say was covered in blood when she stepped outside the restaurant after other patrons intervened, was taken by ambulance to George Washington University Hospital for treatment of a head and scalp injury that required multiple stitches.
Ford and an employee at Player's Lounge said the man who allegedly committed the assault is a regular customer at the restaurant but is known to people only by his nickname of Black. A police spokesperson said that as of Monday no arrest had been made in the case but that it remains under "active investigation" by a detective with the department's Seventh District in Southeast.
A police report obtained by the Blade lists the incident as an assault with a dangerous weapon, but it does not classify the incident as a hate crime.
"There is no indication at this time that this incident was motivated by hate/bias," said D.C. police spokesperson Alaina Gertz in response to a question by the Blade about the police report. "Should further interviews with the complainant reveal information that suggests that this should be a hate crime, the report can be amended with the new information," Gertz said.
"Anyone who has knowledge of this incident should take no action but call police at 202-727-9099 or text your tip to the Department's TEXT TIP LINE at 50411," Gertz said in an email message. "The Metropolitan Police Department currently offers a reward of up to $10,000 to anyone who provides information that leads to the arrest and conviction of the person or persons responsible for a violent crime committed in the District of Columbia," she said.
Ford told the Blade she believes she made it clear to the police officers who spoke with her at the scene of the incident that the man who assaulted her called her anti-gay names, including "dyke bitch." In a video of herself talking about the incident that she posted on Facebook Ford refers to the assault against her as a "gay-bashing."
The police report says officers arrived on the scene while Ford was being treated by paramedics with the D.C. Fire and Emergency Medical Services Department.
"Victim 1 stated that she was talking to a friend of hers at the location when another person who frequents the location interjected himself and began to curse at Victim 1," the police reports states. "The verbal altercation escalated, and Victim 1 stated Suspect 1 began to assault her with a bar stool," the police report continues. "Other patrons at the bar broke up the altercation and Suspect 1 fled," according to the report.
It adds, "Witness 1 corroborated Victim 1's story and stated that Suspect 1 frequents the area but doesn't know his name, only his nickname."
Ford told the Blade the incident began while she and three or four Player's Lounge customers were engaged in a conversation about local community issues, including the city's violence interruption program. Ford said that, among other things, she expressed her strongly held opinion that the violence interruption program was not working and was a "joke."
It was around that time, she said, that the man who assaulted her approached the group and interjected himself into the conversation and indicated that he was interested in possibly becoming one of the violence interrupter program volunteers or participants. Ford said the man, who appeared to be over six feet tall, began referring to women as "bitches" and hurled other curse words.
"So, we're all going like, what?" Ford said of her and the others' reaction to the man's comments. At that point, most of those she was speaking with left the restaurant because it was close to its 11 p.m. closing time.
"And I'm like, who are you talking to?" Ford said she recalls asking the man. According to Ford, he responded by repeatedly reciting the words "dyke bitch" in a hostile way.
"At that point I immediately knew he was talking to me because I'm the only openly lesbian person in that space that frequents there regularly and who was in that room," Ford told the Blade.
She said she questioned the man's motives, including whether he could become a violence interrupter, and the two began to argue back and forth until, according to Ford, he walked up to her and stood almost shoulder to shoulder next to her.
"He continues to call me all kinds of homophobic slurs," Ford said. "He calls me all kinds of bitches and continues to encourage the bar staff to get me to shut up before he shoots me and whatever else he will do to bring my death," Ford said.
"Before I know it, he has picked up this barstool and hit me in the head," said Ford. "He takes a second barstool and proceeds to hit me again," she said, adding that he hit her a third time in the head with one of the barstools, each time with the metal legs of the stool.
Ford said she has learned that the man who assaulted her has told people she spit on him, which he considered to be an assault by her against him. Ford called that allegation a lie, saying she absolutely did not spit on the man.
When the Blade contacted Player's Lounge for comment, a man who answered the phone arranged for Teresa "Auntie" Smith, one of the longtime employees who was present at the time of the incident, to speak with the Blade. Smith said while she was getting ready to close the restaurant she saw and heard what sounded like a heated argument between Ford and the man known as Black, but she said she was busy doing something in another part of the room and did not see the assault take place.
But she said both Ford and Black, whom she has known for a long time from their role as regular customers, were each saying "very mean things" that she had not heard either of them say before. Among other things, she said she heard Ford say to Black that he engaged in "oral sex with other men."
When asked about Smith's claim that she raised the issue of oral sex with Black, Ford said, "Yes, after he called me a dyke bitch I most certainly did." Ford added, "It sounds like she's saying that I deserved to be hit with a barstool. Nothing a woman says to a man that is yelling and encroaching on her personal space justifies hitting her in the head three times with a weapon," Ford said.
"We at Players had a very sad incident on Wednesday night," the restaurant said in an Aug. 5 post on its Facebook page about the assault case. "We are mostly family here and we look out for each other. We are so sorry for what happened and hope she will be ok," the message says. "We are still trying to sort out the details of what happened, but we know that no one here would support gay bashing or any type of violence."
Phil Pannell, a longtime D.C. LGBTQ rights and Ward 8 community activist, said he has organized LGBTQ community events at Player's Lounge, saying it has the reputation of being an LGBTQ-friendly establishment for many years. He told the Blade that he was surprised upon learning of the assault against Ford because he was unaware of that type of incident ever having occurred at Player's Lounge.
Ford, among other things, serves as executive director of the Future Foundation, a Ward 8-based community organization that provides services to local teenagers and their families. The organization's website says one of its programs, called LGBTQ+ You, has provided a "safe space" drop-in facility for LGBTQ youth living in the city's east of the Anacostia River neighborhoods.
AIDS Action Baltimore to honor John Waters at 35th anniversary commemoration
Honorees to include John Waters and Pat Moran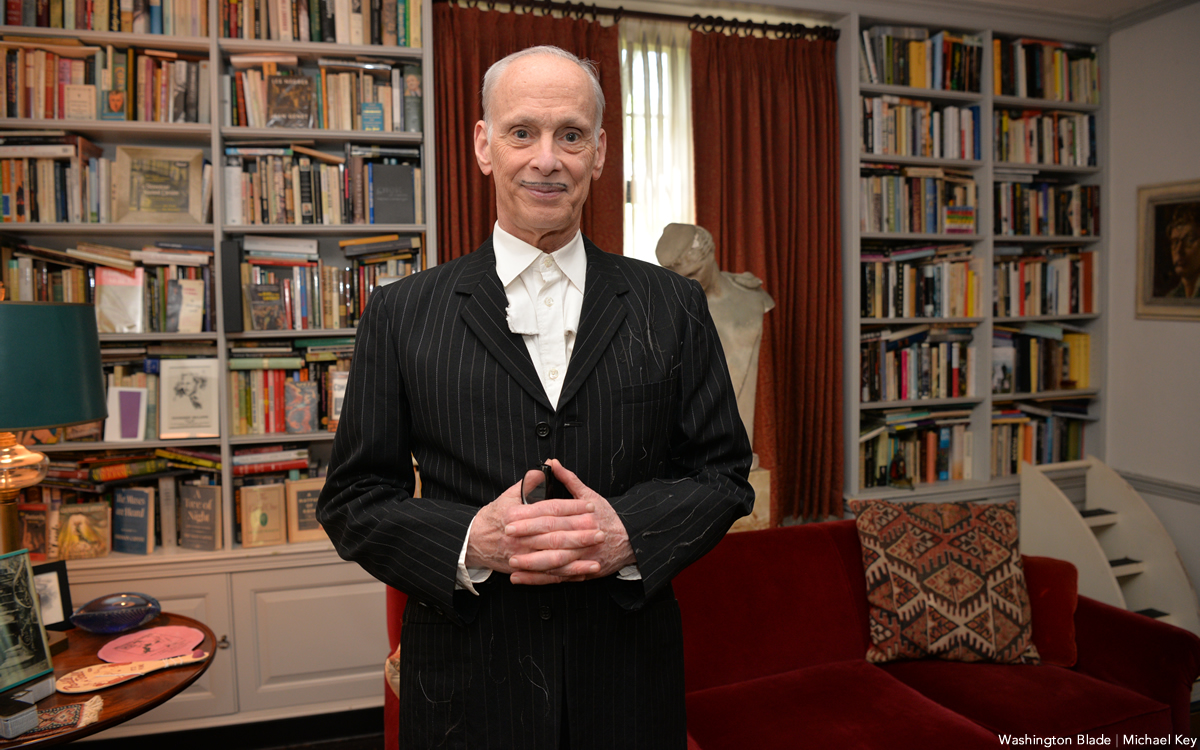 AIDS Action Baltimore will mark 35 years of service next month by paying tribute to six people who have helped keep it in operation, including filmmaker John Waters and his friend and movie industry colleague Pat Moran.
AIDS Action Baltimore's 35th Anniversary Commemoration, planned for Sept.18, is a cocktail reception and brunch that's also a fundraiser for the non-profit organization, which was started in 1987 to fight HIV/AIDS and provide a safety net for people living with HIV/AIDS and experiencing a financial emergency.
"John has supported us from the beginning," said Lynda Dee, co-founder and executive director of the organization. "All of his movie premieres benefitted AIDS Action Baltimore. Without his help, we wouldn't be here today."
Waters has directed 16 movies and written 10 books, and he was named in June to receive a star on the Hollywood Walk of Fame. Based in Baltimore, he has two museum exhibits coming up, "Coming Attractions: The John Waters Collection," an exhibit of art from his personal collection that he's donating to the Baltimore Museum of Art, at the museum from Nov. 20, 2022, to April 16, 2023, and "Pope of Trash," a career retrospective at the Academy Museum of Motion Pictures in Los Angeles next summer.
Moran is a three-time Emmy Award-winning casting director who has worked closely with Waters and others on films and television shows made in Baltimore. She is one of three co-founders of AIDS Action Baltimore, along with Dee and Garey Lambert, who passed away in 1987.
Waters said he's pleased to support AIDS Action Baltimore.
"I'm really happy to be involved," he said. "Pat was one of the first people that started it. I've been a supporter always just because I believe I'm lucky I didn't die of it. Plain and simple. I give money as a superstition that I won't ever get it. And Lynda Dee is a tireless AIDS warrior. The gay community owes her great, great credit … It's an organization in Baltimore that has kept many, many people alive … I'm just honored to help them in any way I can."
Other honorees include:
Richard Chaisson, professor of medicine at the Johns Hopkins University School of Medicine and principal investigator of the Hopkins Center for AIDS Research;
Carla Alexander, assistant professor of medicine at the University of Maryland School of Medicine, a fellow of the American Academy of Hospice and Palliative Care, and an internationally recognized expert for those living with HIV disease;
Debbie Rock, a disco singer-turned-HIV activist who is the founding CEO of LIGHT Health and Wellness, a non-profit that provides a range of services for children, families and individuals in Baltimore affected by poverty, addiction, mental illness, HIV/AIDS and other chronic illnesses, including day care and respite care for children with HIV/AIDS; and
Carlton Smith, a community health worker with the state of Maryland, founder of the Center for Black Equity, and chair of the Ryan White Planning Council, which provides medical care and support services for people with HIV in Baltimore. 
Since 1987, AIDS Action Baltimore has helped more than 8,750 people, distributing $3.145 million in assistance for items such as rent and utilities. It also has a number of programs to fight HIV, from town hall meetings to testing assistance to prevention campaigns, including outreach efforts to at-risk populations.
According to the Centers for Disease Control and Prevention, 31,676 people aged 13 and older were living in Maryland with diagnosed HIV at the end of 2020, and an estimated 3,559 people in Maryland were living with undiagnosed HIV at the end of 2019.
Dee wrote in June that the COVID-19 pandemic has made it more difficult for AIDS Action Baltimore to provide the services it does.
"COVID-19 is eating a large percentage of U. S. Health and Human Services funding," she wrote she in an open letter to friends of the organization. "We are in danger of losing all our hard-won treatment and prevention gains. Because of COVID-19, it is much harder to obtain the money we need to fight HIV."
That's why AIDS Action Baltimore holds events such as the one next month, she added: "We are still doing our best to help ourselves."
AIDS Action Baltimore's 35th Anniversary Commemoration will be held at the Belvedere (1 E. Chase St.) in Baltimore, from 11 a.m. to 2 p.m. on Sept. 18. Tickets cost $175 per person or $1,750 for a table of 10. They're available at aidsactionbaltimore.org or by calling 410-437-AIDS.