Film, food and fun
D.C. Shorts kicks off ninth annual festival Thursday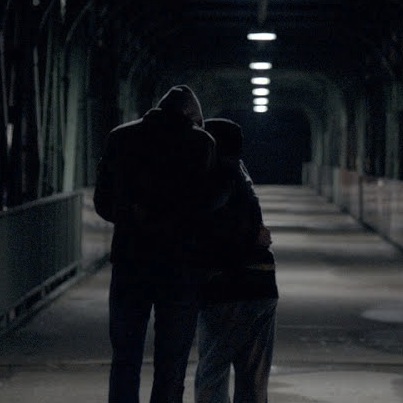 The D.C. Shorts Film Festival
September 6-16
Various venues
Ticket prices start at $12 and include an online only option
The numbers behind the ninth annual D.C. Shorts Film Festival are staggering: 140 films under 20 minutes long, 27 countries, four venues, eight chefs, 16 showcases, 11 days, five parties and six screenplays staged by local actors. Luckily, Jon Gann and his talented colleagues have it under control and their excellent website guides audience members easily through the festival.
Gann, the openly gay founder and director of the Festival, became interested in filmmaking when he became disenchanted with his work in media relations.
"I owned a graphic design firm for many, many years and I was tired of producing stuff that I thought was great that clients thought was schlock and stuff I thought was schlock that they thought was great, so I decided to go to film school," he says.
His most notable film to date is the award-winning "Cyberslut," a nine-minute confession of an unnamed man obsessed with finding sex on the Internet. In intimate and riveting detail, the film tracks his fascination of the online hunt, the frequent disappointment at the first meeting and the occasional ecstatic encounter that sends him back to the computer to hunt again. As the narrator wryly notes, "a computer lets you make more mistakes faster than any other invention in human history, with the possible exception of handguns and tequila."
Gann's experience with film festivals ("Cyberslut" has had 47 screenings worldwide, making it one of the most successful gay-themed short films) inspired him to create a different kind of film festival.
"I travelled to festivals all over the world and that's when I realized that many festivals were about food and parties and sponsors but not necessarily about films or filmmakers," Gann says. "That's when I said I need to do something that's different. The focus of my festival was going to be on filmmakers and if I did that right, then the food and the money and the parties would come."
Gann has established a system to make the Festival a supportive environment for filmmakers.
"We give feedback to all the filmmakers who enter, whether they make it into the festival or not. We allow them to see their scores and the judges' comments. That has helped some filmmakers recraft their final edit to make it tighter."
Gann also realized he wanted to focus on short films (less than 20 minutes). He thinks that "there's a hunger for really good short content. If Internet use is any indication, people like to see a story in a few minutes." He adds that short films are also a great way for fledgling artists to learn their craft.
"As a filmmaker," he says, "if you're able to tell a succinct story that grabs the audience's attention and is emotionally gripping in a few minutes, then you know what you're doing as a storyteller. And that to me is impressive."
So, in 2004, Gann started the D.C. Shorts Festival, financed largely with money from his own checking account. The first year, 75 films were submitted and 32 films were presented in three screenings for enthusiastic audiences. Looking back on the experience, he says, "It made me a nervous wreck but the whole thing was a big success. We sold out all the tickets and had to turn people away, which was amazing. And it's grown from there."
Today, D.C. Shorts is the largest short film festival on the East Coast.
There were more than 850 submissions for the 2012 Festival. After a rigorous selection process, 140 movies were chosen for screening. The films, with run times ranging from one to 20 minutes, are being presented in 16 showcases. Each showcase lasts around 90 minutes. An interactive online tool called "The Film Finder" helps audience members select the programs they're most interested in seeing. Browsers can sort by showcase, country of origin, genre (documentary, animation, horror, comedy, drama and so on) and interest area (including LGBT, local films and celebrities).
The showcases will be presented at four venues throughout the D.C. region, including the E Street Cinema, the U.S. Navy Memorial, the Atlas Performing Arts Center and the new Angelika Film Center in Fairfax.
In addition to the showcases, there are a variety of other events for filmmakers and film fans to enjoy. For example, patrons can enjoy:
• Free lunch time screenings at the E Street Cinema in downtown D.C.
• Free family and teen screenings at the new Angelika Film Center in Virginia
• A screenplay competition where six scripts (selected from 185 submissions) are given a staged reading by local actors and directors. The winner will receive a cash prize ($1,000 when the award is made and $1,000 when the film is completed) and a slot in the 2013 Festival.
• Free seminars for aspiring and practicing filmmakers
• "The Best of DC Shorts" showcase which features movies selected by audiences during the festival's opening weekend
• An Awards Brunch with accolades from the festival jury, the festival director, audience members, and a peer award from the filmmakers themselves
• And, a variety of legendary parties that offer "food and drink and DJs and dancing and lots of chances to meet filmmakers."
Gann adds that that this year's festival has an emphasis on films about food and includes partnerships with area restaurants.
"We have a big food-film program this year," he says. "We've paired eight films with local chefs who've prepared special dishes based on those films. At those films, you can actually sample the food at the end of the screening."
For example, "Murder Mouth" by first-time Australian filmmaker Madeleine Parry is a documentary showing how, "Madeleine decides that unless she kills it, she can't eat it." The film is paired with Ed Witt's recipe for Crostini with Lamb Tartare, which will be served to audience members after select screenings. Like Maddie in the film, the chef from 701 argues that, "Modern day carnivores have become so disconnected from their food that they are unable to identify it without the labels from the grocery store."
Queer themes
Several selections in this year's Festival have LGBT storylines

The D.C. Shorts Film Festival includes 10 films with explicitly LGBT content. They are sprinkled throughout the showcases, often in interesting combinations with other films.

The most delightful, a modern day fairy tale called "The Maiden and the Princess," is actually part of the free Family Showcase on Sept. 15 at the Angelika Film Center. Directed by American filmmaker Ali Scher, this charming film tells the story of Emmy, who is teased by her classmates and rebuked by her parents when she kisses another girl.

Luckily Hammond, a narrator with the Grand High Council of Fairy Tale Rules and Standards intervenes. He transports himself (in fairy godmother drag) and Emmy into a musical fairy tale that reassures Emmy that her feelings are perfectly normal and that convinces Hammond's stodgy superior to let him put the "fairy" back in fairy tale.

Scher was very clear about her aim in making the film, saying "My goal with this project is to cut through the silence and facilitate honest communication between children and parents about sexual orientation." She affirms that she made the movie so that "no kid ever has to feel ashamed of who they are. We as a society need to encourage individuality in children, even if it means exposing them to things we are afraid of."

A much darker story is told in "Hatch" by Austrian director Christopher Kuschnig, who won a student Oscar for the film. "Hatch" tells the stories of two couples whose lives intersect on a wintry night in Vienna and the baby whose fate will be changed by the decisions they make. Kuschnig succeeds in using an innovative narrative and visual style to capture both the inner dynamics of each couple and the broader social implications of their desperate acts.

"'Hatch' is much more than the story of one couple's wrenching decision and another's criminal act," he says. "I was particularly interested in each couple's distinct dynamics and how these events on this particular night could challenge their assumptions of each other, and therefore alter their relationships and eventually their lives."

Some of the other LGBT films in the Festival are "The Queen of My Dreams," a Bollywood influenced take on a young lesbian's coming-out story; "Cobra," which takes a grieving father from the funeral of his estranged son to the bar where his son performed; and "The Gay Who Wasn't Gay Enough," a hard-hitting take on conformity in the gay community. — BRIAN T. CARNEY
PHOTOS: High Heel Race
Spectators cheered along drag queen contestants for the 24th annual event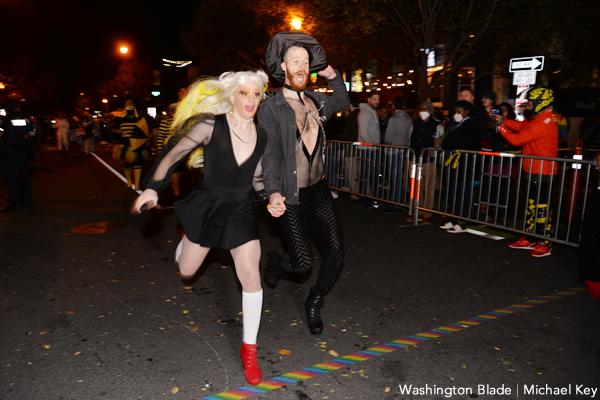 The 34th annual High Heel Race was held along 17th Street on Oct. 26. The winners this year were @dragqueenathena and "Dan." D.C. Mayor Muriel Bowser, D.C. Police Chief Robert Contee and members of the D.C. Council joined drag queen contestants and hundreds of spectators for the event.
(Washington Blade photos by Michael Key)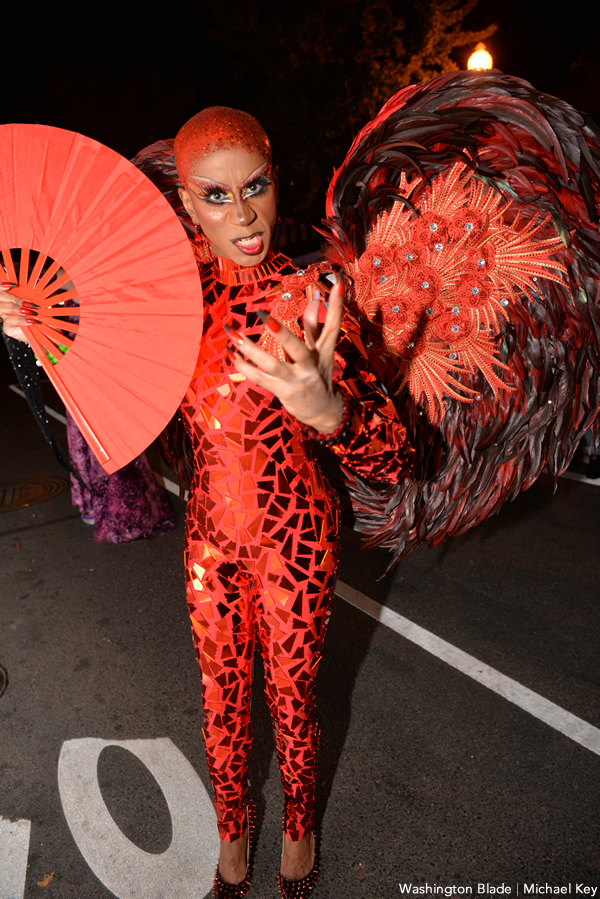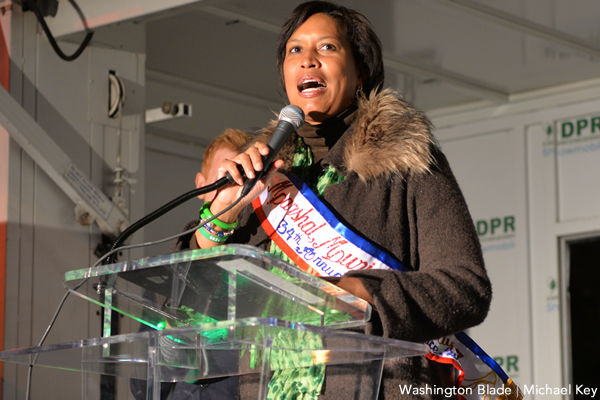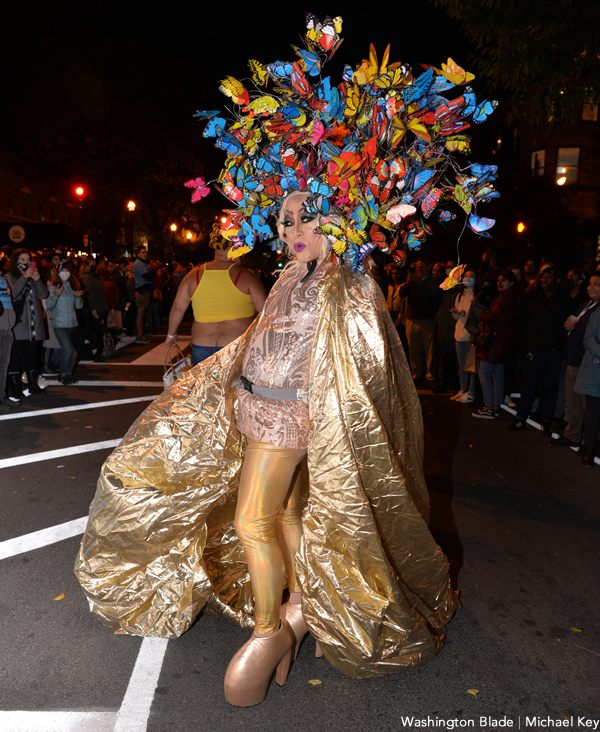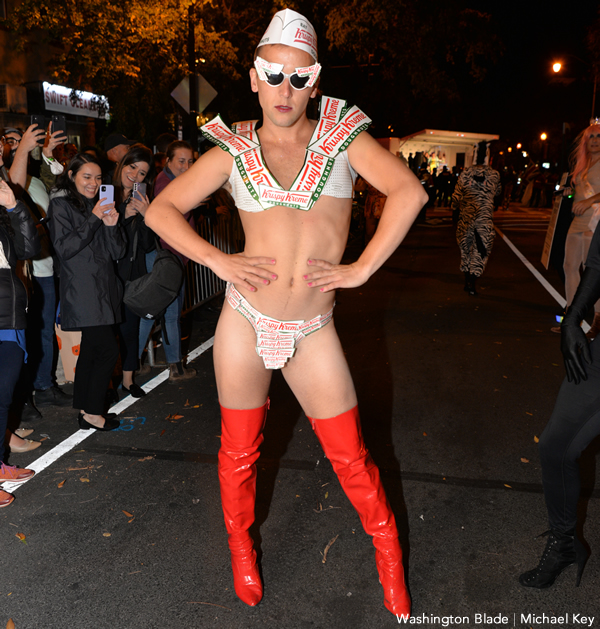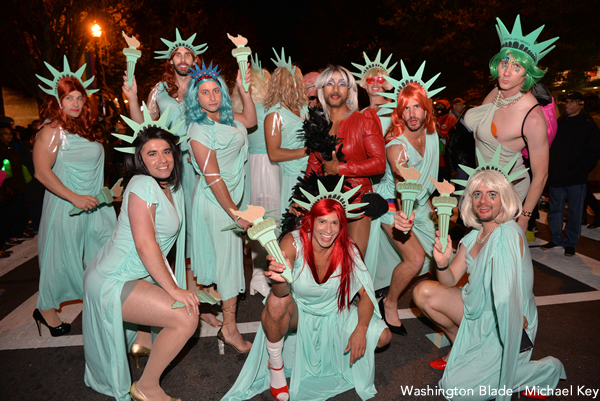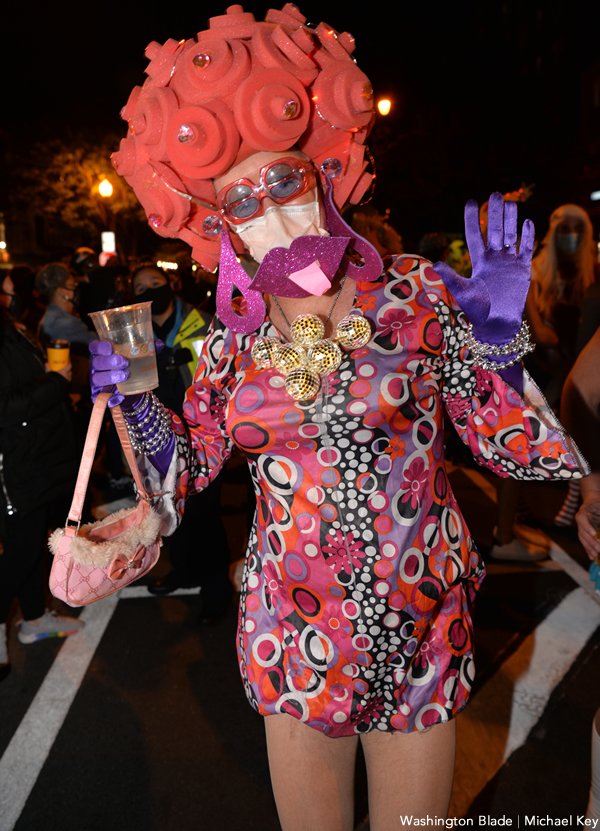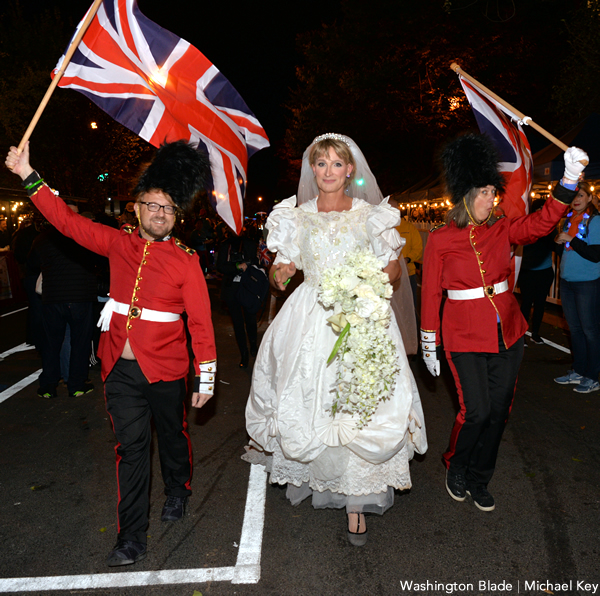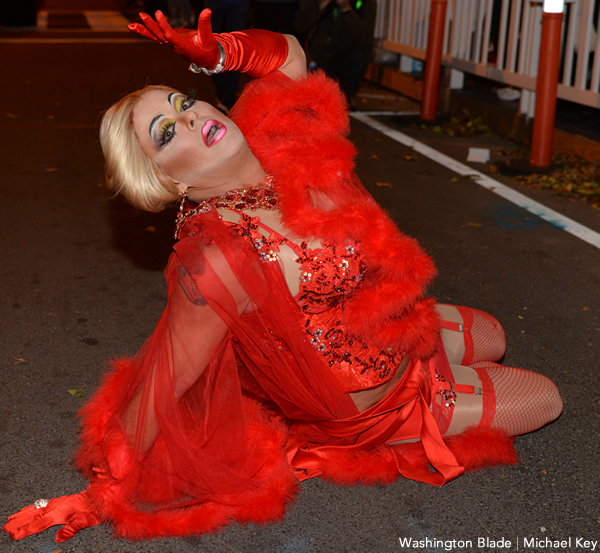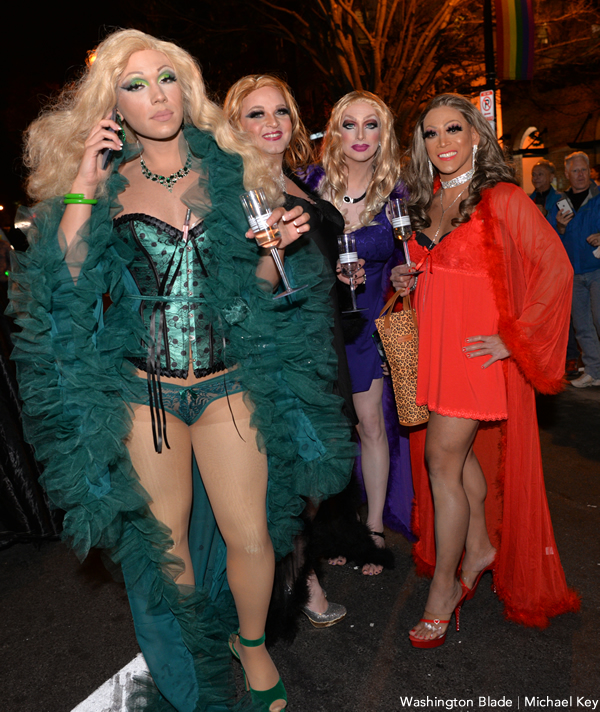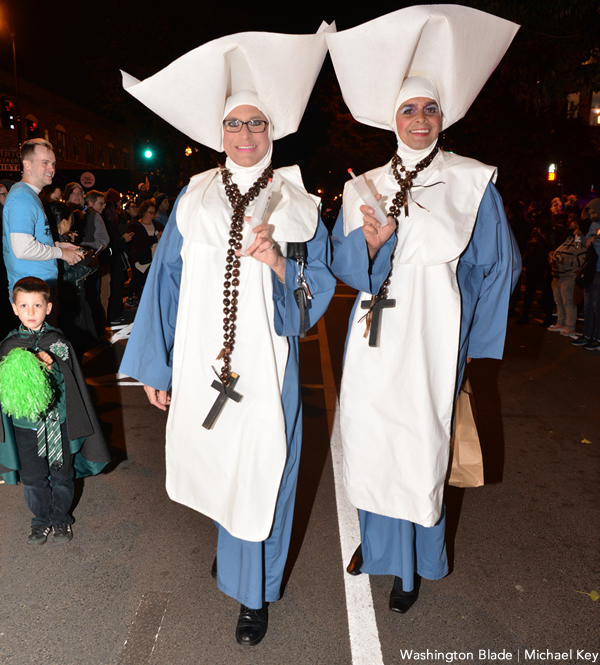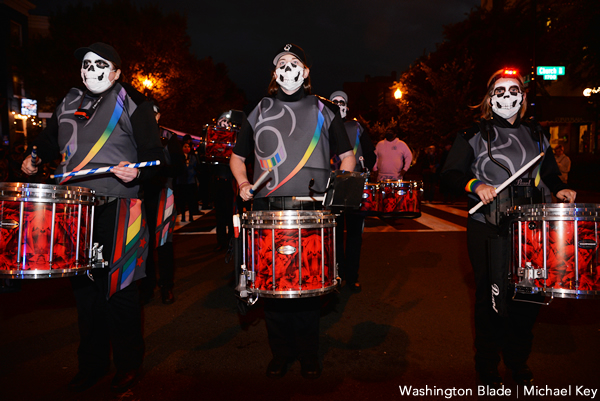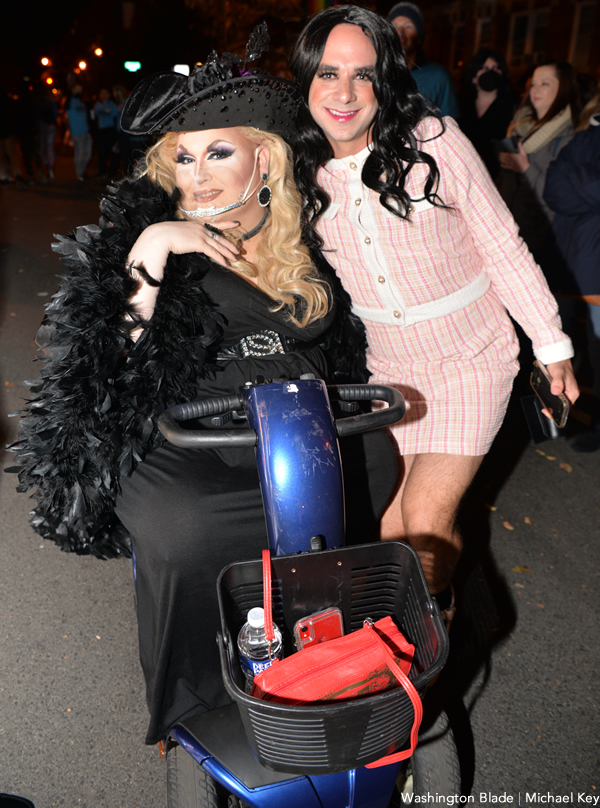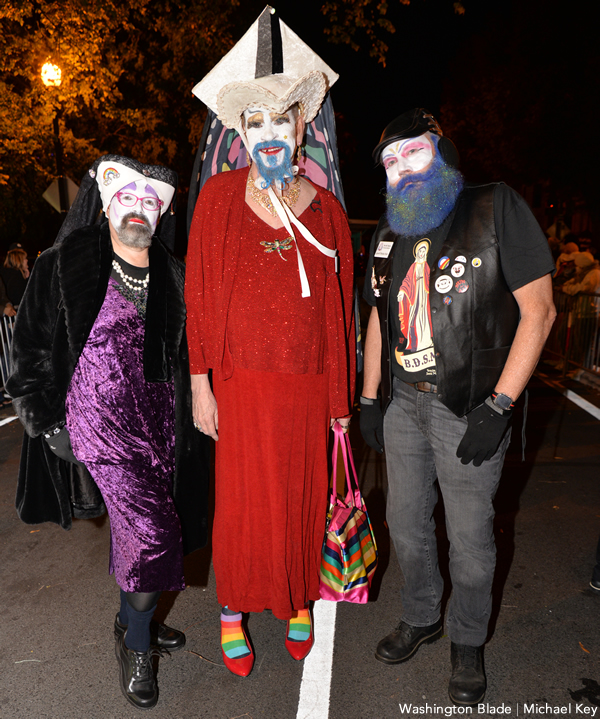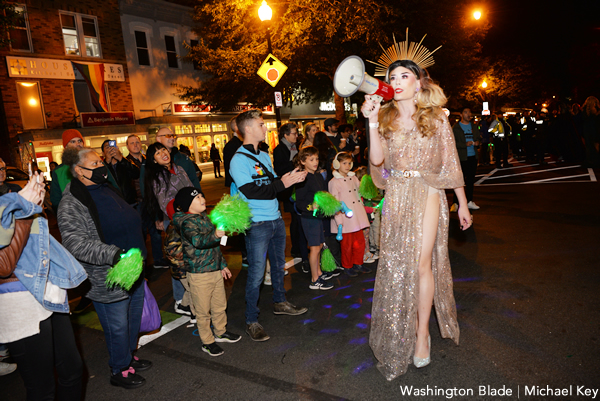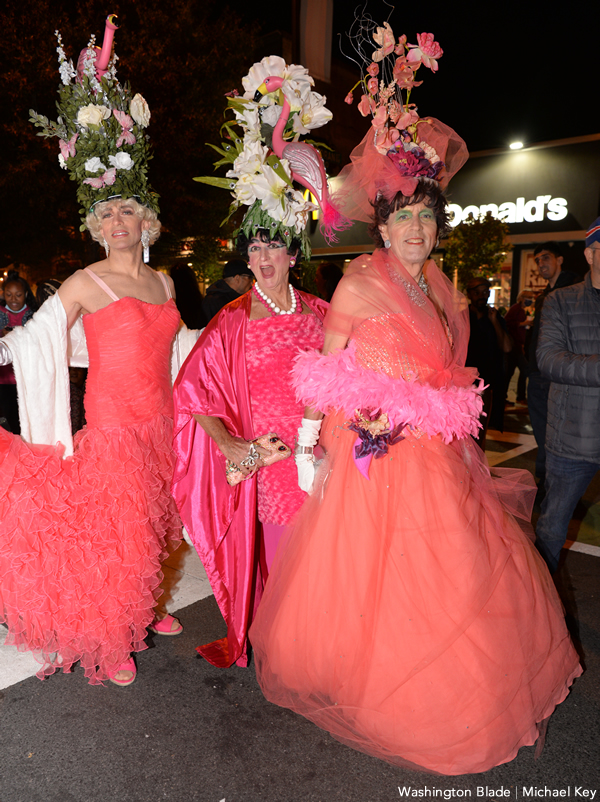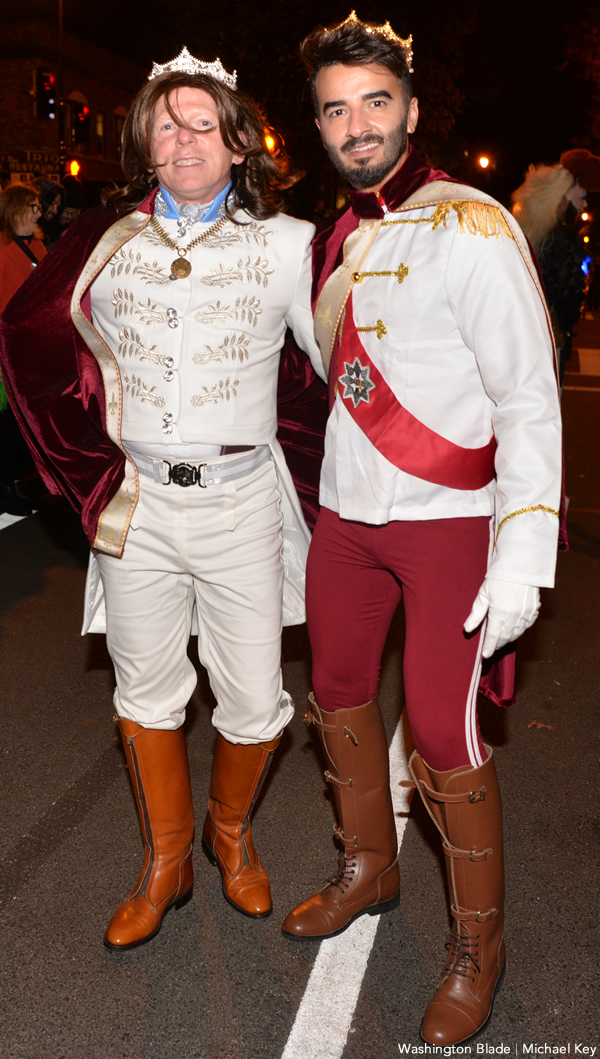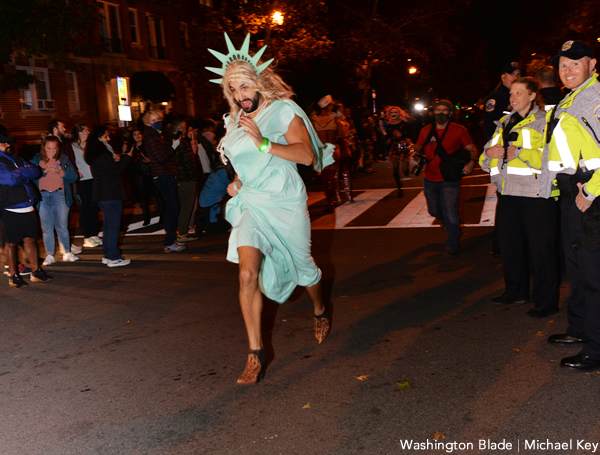 New music documentary is 'Velvet' perfection
A piece of pure cinema that exemplifies its genre while transcending it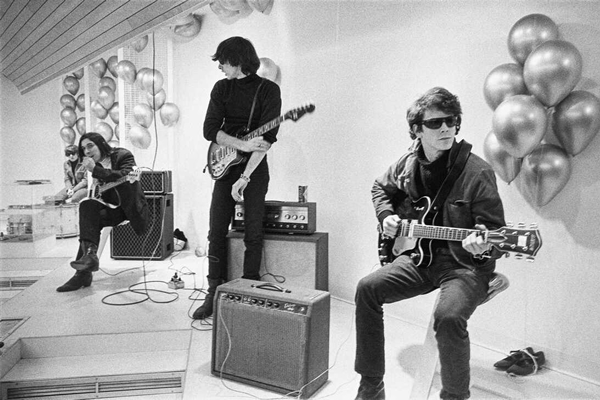 When it comes to great music documentaries – the ones that stick with you after you watch and make you want to come back to them again and again – there is one ingredient that stands out as a common thread: immediacy.
From D.A. Pennebaker's fly-on-the-wall chronicle of young Bob Dylan's 1965 tour of the UK in "Don't Look Back," to Martin Scorcese's joyful document of The Band's final concert performance in "The Last Waltz," to Jonathan Demme's thrilling cinematic rendering of the Talking Heads in performance at the peak of their creative genius in "Stop Making Sense," all of these now-revered films have endured – indeed, even grown – in popularity over the years because they captured the talent, the personality, and the power of their subjects on celluloid and preserved it for the ages, allowing generations of audiences, fans and soon-to-be-fans alike, to feel as if they were there.
But none, perhaps, have ever done it quite so viscerally as Todd Haynes' "The Velvet Underground." This is a remarkable feat when you consider that the films listed above, as well as most of the other highly regarded "rockumentaries" of the past, were all concert films, showing the performers at their center in the full bloom of their musical gifts, and Haynes' film is not that. It's something else, something singular, a piece of pure cinema that exemplifies its genre while transcending it entirely.
The basic outline of the band's story is well known, now. Coalesced in the early '60s New York art scene around a pair of charismatic geniuses (John Cale and Lou Reed), the Velvet Underground was swept into the orbit and under the wing of Andy Warhol, who turned them into the house band at his famous "Factory," added to their mix an exotic European chanteuse named Nico, and launched their record career by producing their first album – and designing an instantly iconic cover for it featuring a banana, to boot. They were, for a while, the darlings of the New York underground set, birthing a handful of additional albums across the latter years of the decade; but their sound, which was experimental, rough, and a far cry from the flower-power sound being embraced within the status quo of Middle American music fans, did not catch on. That, combined with the volatility of the relationships at its core, ensured an ignoble and unsung dissolution for the band; though its two front men went on to forge expansive solo careers on their own, the Velvets themselves remained a kind of blip, an ephemeral presence in the history of rock – and the history of New York – remembered by anyone who wasn't actually on the scene as nothing more than a buzzy band they never actually heard with a catchy name and a familiar album cover.
As one of the voice-over interviewees in Haynes' movie points out, however, the counterculture wasn't actually the counterculture – it was the culture. The rest of the world just didn't know it yet. Decades later the Velvet Underground is credited with, among other things, providing early inspiration for what would become the punk rock movement, to say nothing of influencing the aesthetic palate of (surely without exaggeration) thousands of musicians who would go on to make great music themselves – often sounding nothing like the Velvets, but somehow cut from the same raw, edgy, white-hot honest cloth, nonetheless. Yet in their moment, they were doomed before they had even begun to become a sideshow attraction, hurling performative realness in the face of a curious-but-disinterested glitterati crowd that was already embodying the superficial fakeness that would be so aptly monikered, both as an ethos and a watchword, as "Plastics" by Buck Henry and Mike Nichols in "The Graduate" barely a year after their first album was pressed.
Frankly, it's the kind of story that makes for a perfect rock 'n roll legend, and the kind of legend that deserves to be explored in a film that befits its almost mythic, archetypal underpinnings. There's nobody more qualified to deliver that film than Todd Haynes.
Haynes, of course, is a pioneer of the '90s "New Queer Cinema," whose body of work has maintained a consistent yet multi-faceted focus on key themes that include outsider-ism, dysfunctional socialization, and the fluid nature of sexuality and gender. Each and any of these interests would be enough to make him a perfect fit as the person to tell the story of the Velvet Underground, but what gives him the ability to make it a masterpiece is his ongoing fascination with music and nostalgia. Beginning with his controversial debut short "Superstar: The Karen Carpenter Story," the musical landscape of his formative years has been inseparable from his milieu, and films such as his glam-rock fantasia "Velvet Goldmine" or his post-modernist Dylan biopic "I'm Not There" have dotted his career like cornerstones. Likewise, his painstaking recreation of the past in period pieces like "Far From Heaven," "Carol," or "Wonderstruck" has proven his ability not just to capture the look and feel of a bygone era, but to transport audiences right back into it.
In "The Velvet Underground," it's more like he transports the era to the audience. His comprehensive chronicle is not just the story of the band or its members, but the story of the time and place that allowed them to exist, in which a generation waking up from the toxic artificiality of their parents' "American Dream" took creative control of the future through an unprecedented explosion of art and culture. Art was a by-any-means-necessary endeavor that now demanded a fluency across various forms of media, and a blending together of any and every thing that worked to get the message across. And yes, sometimes the media itself was the message, but even within that depressingly superficial reality was room for an infinite layering of style and substance that could take your breath away.
That description of the era in which the Velvet Underground thrived, in which Andy Warhol turned the shallow into the profound (whether he knew it or not), in which music and film and photography and poetry and painting and every other form of expression blended together in a heady and world-changing whirlwind, is also the perfect description of Haynes' film. Yes, there are famous veterans of the age sharing their memories and their insights, yes there is copious archival footage (including the godsend of Warhol's filmed portraits of the legendary faces in his orbit), yes we get to hear about Lou Reed's struggle with his sexual identity – and it's refreshing that Haynes makes no effort to categorize or finalize that aspect of the rock legend's persona, but merely lets it be a fact. But even though "The Velvet Underground" checks off all the boxes to be a documentary, it's something much more. Thanks to Haynes' seamless blend of visuals, words, history, and – always and above all – music, it's a total sensory experience, which deserves to be seen in a theater whether you subscribe to Apple TV or not. It puts you right in the middle of a world that still casts a huge shadow on our culture today.
And it's unforgettable.
PHOTOS: Best Of LGBTQ DC party
Blade's 20th annual awards celebrated at Hook Hall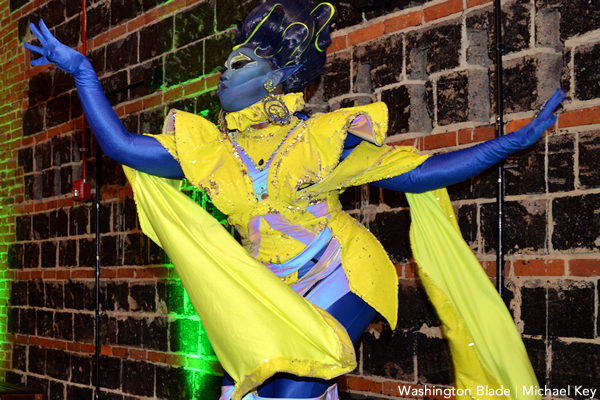 The Washington Blade presented the 20th annual Best of LGBTQ D.C. Awards at a party at Hook Hall on Thursday, Oct. 21. To view this year's winners, click here.
Event sponsored by Absolut, DC Brau and Washington Regional Transplant Community.
(Washington Blade photos by Michael Key)