5 takeaways from Election Day
Obama's marriage support was a good political move and other observations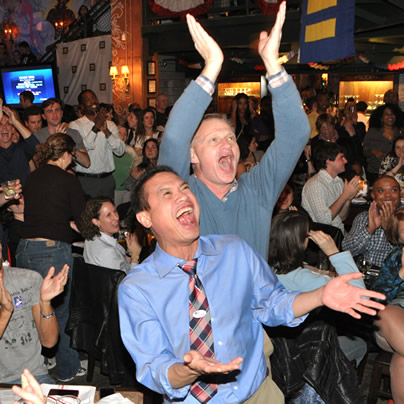 Hailed as a watershed moment for the LGBT movement, Election Day yielded several milestones that political observers say will have a profound impact on the advancement of LGBT rights and marriage equality going forward.
Here are five takeaways from an evening that saw wins for marriage equality at the ballot and the election for the first time of an openly gay U.S. Senate candidate — not to mention the re-election of a U.S. president who endorsed marriage equality.
1. The sky's the limit for gay candidates seeking political office
Lesbian U.S. Senate candidate Tammy Baldwin made history when she became the first openly gay person elected to the U.S. Senate in a highly contested race against former Wisconsin Gov. Tommy Thompson. She'll be part of a record number of as many as seven openly gay, lesbian and bisexual candidates elected to Congress and 121 candidates endorsed by the Gay & Lesbian Victory Fund elected to various offices throughout the country.
Baldwin's sexual orientation was virtually a non-issue during the campaign. The only time it came up was when Brian Nemoir, a Thompson campaign official, circulated a video of her dancing at a gay Pride festival and told media outlets, "Clearly, there's no one better positioned to talk 'heartland values' than Tammy." The incident resulted in negative press for Thompson, who apologized for his aide's action.
The glass ceiling broken by Baldwin could be a hopeful sign for other LGBT officials seeking office — such as lesbian New York City Council Chair Christine Quinn, who's likely to run for mayor of the nation's largest city in 2013 — that sexual orientation needn't be a factor even when pursuing the highest offices in the nation.
Dan Pinello, who's gay and a political scientist at the City University of New York, said Baldwin's election "was a remarkable achievement" as was the the election of additional openly gay people to the House.
"An LGBT candidate no longer has to worry about facing his or her sexual orientation in terms of it being an impediment in running for public office," Pinello said. "Tammy Baldwin most clearly demonstrates that, her being elected the first openly gay or lesbian senator."
Some barriers have yet to fall. Gay Republican Richard Tisei failed in his bid to unseat incumbent Democrat Rep. John Tierney from a House seat in Massachusetts, which means the LGBT contingent in Congress will be entirely Democratic and an openly gay non-incumbent Republican has yet to win election to Congress. No transgender candidate has won election to Congress, although Stacie Laughton, a Democrat, was elected in New Hampshire as the first openly transgender person to a state legislature in the country.
Denis Dison, a Victory Fund spokesperson, noted that 40 state legislatures will now have LGBT representation and said the priority for his organization over the next 10 years is to elect an openly LGBT person to each state throughout the country.
"That matters greatly at the state level; it matters greatly at the municipal level," Dison said. "There are some states out there where there's one out elected official, and that's kind of a very tenuous position, and we want to make sure that we are building capacity — and that's states that people don't talk about very much: the Nebraskas and Kansas."
2. Obama's support of marriage equality was a good political move
At the time President Obama completed his 19-month "evolution" in May and announced his personal support for marriage rights for gay couples, many political observers feared a backlash against him at the polls.
Many predicted — as it turns out, correctly — that states once considered battlegrounds —Missouri, North Carolina and Indiana — would fall in the Republican column because of their large evangelical populations. Whether Obama would be able to make the difference in the Electoral College to reach 270 votes was unclear.
But the result was positive — most initially in terms of financing for the Obama campaign. According to an analysis from National Public Radio, donations to Obama nearly tripled in the immediate period after the announcement. The campaign took in nearly $9 million over three days, compared to $3.4 million in the three previous days. The Washington Blade reported anecdotally that while many major donors had already maxed out their contributions, Obama's new support for marriage equality resulted in his supporters making more small donations to the campaign.
Richard Socarides, a gay New York advocate who pushed Obama to support same-sex marriage, said coming out for marriage equality helped Obama not only in terms of donations before the election, but energized LGBT voters to come to the polls.
"I think it excited Democrats and young voters and gay and lesbian voters," Socarides said. "His margin of victory in the popular vote was less than his vote among gays and lesbians, so I think gays and lesbians turned out for him."
Socarides pointed to exit polling showing gay voters made up 5 percent of the electorate and 77 percent of them voted for Obama — an increase from the 2008 election — as evidence the gay vote is significant and helped Obama claim victory.
The youth vote was also significant in the election. According to the early National Exit Poll conducted by Edison Research, Obama won 60 percent of the youth vote, compared to 36 percent for Romney. Voters from ages 18 to 29 represented 19 percent of the electorate, which is an increase of one percentage point from 2008.
Pinello said Obama's support for marriage equality helped drive to the polls younger voters, who are generally more supportive of same-sex marriage.
"The Obama campaign used marriage equality as a means to target younger voters to turn out in greater numbers as has been the case in the past," Pinello said. "I think that was probably fairly wise of the Obama campaign. I think they succeeded in strengthening and increasing the size of their base in doing so."
3. LGBT support alone won't save Republicans in moderate districts
Despite the apparent support that Obama won as a result of coming out for marriage equality, Republicans in office who were supportive of LGBT issues didn't fare as well in the 2012 election.
In Massachusetts, Tisei was notable among those Republicans. Also of note is freshman Rep. Nan Hayworth (R-N.Y.), a co-sponsor of the Employment Non-Discrimination Act, who lost to gay Democrat Sean Patrick Maloney; Rep. Judy Biggert (R-Ill.), who voted for "Don't Ask, Don't Tell" repeal even before the Pentagon report came out in favor of open service; and Rep. Mary Bono Mack (R-Calif.), who during her five terms in Congress voted against a Federal Marriage Amendment and in favor of ENDA and hate crimes legislation. U.S. Senate candidate Linda McMahon in Connecticut was also defeated; she supported Defense of Marriage Act repeal.
These Republicans were supported by gay GOP groups. The American Unity PAC, which was working to support pro-LGBT Republicans, notably spent a total of $420,000 in advertising to protect Bono Mack; $260,000 in Connecticut for McMahon; $540,000 in Biggert's campaign; $530,000 in the Tisei race and $260,000 in ad buys on behalf of Hayworth. But each of these investments ended in losses.
Jeff Cook, senior adviser to the American Unity PAC, blamed the losses on the general poor showing by the Republican Party during the 2012 election and said the party as a whole needs to adapt to survive.
"It was a tough night for Republicans in most of the country," Cook added. "The impact was particularly felt in moderate, swing districts where our party's brand too often has limited our candidates' appeal. It's increasingly clear that there is a need to modernize the Republican Party, not only to win full inclusion for gay and lesbian Americans, but to ensure that the GOP can compete and win in the 21st century."
Cook noted that Reps. Ileana Ros-Lehtinen (R-Fla.) and Richard Hanna (R-N.Y.), pro-LGBT Republicans who were also recipients of funds from the American Unity PAC, won re-election. These candidates weren't in as highly contested races.
4. The national trend in favor of marriage equality is real
Four states yielded good news for supporters of same-sex marriage on Tuesday night: Maine approved a voter-initiated referendum legalizing same-sex marriage; voters in Maryland and Washington upheld same-sex marriage laws passed by the legislatures put up for referenda; and Minnesota voters rejected a constitutional amendment that would have restricted marriage to one man, one woman.
The wins were a remarkable turnaround after loses in years past, breaking a losing streak in 32 states where same-sex marriage lost at the ballot. Moreover, the wins also validate national polls showing a gradual rise in support for same-sex marriage, which has led to a bare majority supporting marriage rights for gay couples.
Lanae Erickson, a lesbian and director of social policy and politics for the moderate group Third Way, said the election demonstrated marriage equality is coming into the mainstream after having been a hot-button issue for many years.
"I think this election showed that marriage and LGBT issues are no longer going to be a divisive social issue in the way they have been in the past," Erickson said. "It definitely shows that the losing season that we had is relegated to history and now we're in a new season where we can win frequently if not most of the time, especially on marriage."
The victories have spurred talk about which states will be next to legalize same-sex marriage as Illinois and Minnesota are in position to take action in 2013. In New Jersey, Gov. Chris Christie has said he would favor allowing a referendum on same-sex marriage, but LGBT advocates in the state have dismissed that option.
Pinello warned that the marriage equality side won by a slim margin in these states — in Washington State, for example, the marriage law was approved by 52 percent as votes continued to trickle in — and said LGBT advocates shouldn't attempt to place the issue on the ballot in a year other than a presidential election when the youth and progressive turnout isn't high.
"If activists were to decide then to try it again in other states like Oregon, for example, in 2014, an off-year election, I think it might be a mistake because, again, the part of the population who are LGBT friendly tend not to turn out as much in off-year elections," Pinello said.
5. The influence of anti-gay groups is waning
The Election Day results were a disaster for social conservative groups trying to stop the legalization of same-sex marriage and elect Republican presidential nominee Mitt Romney.
The day after the election, the National Organization for Marriage's Brian Brown issued a statement saying the American public still favors marriage between one man, one woman, but his organization was up against "a huge financial advantage" from marriage equality supporters.
In an email message to supporters on Wednesday, the Family Research Council's Tony Perkins dismissed the results at the ballot, saying, "And while homosexuals may be celebrating an end to our movement's perfect record, they still have a long way to go to match the 32 states where Americans voted overwhelmingly to protect the union of a man and woman."
Erickson said although NOM is a one-issue group and unlikely to change its tune even in the wake of its losses, social conservative groups may seek to veer away from demonizing LGBT people.
"I think a lot of the other social conservative groups will turn their attention toward other issues because they realize that the momentum on this one just is not in their favor," Erickson said. "They're pushing a lot, for example, to say, 'Yeah, younger people are trending better on LGBT issues, but they're more pro-life than their older counterparts and we can still get them on immigration and we can still get them on abortion."
One question is whether heads will roll at these organizations as a result of their failures on Election Day. Will Brown and Perkins be forced to step down? The Huffington Post reported on Wednesday that a Republican operative said billionaire donors who contributed to the Republican Party are "livid" about the election results. Similar heat may be coming down on social conservative groups.
Pinello said conservative organizations will likely have more difficulty finding funds as donations dry up in the wake of their defeats.
"I think their momentum has been taken away; they've been deflated," Pinello said. "They're no longer guaranteed a win, so, donors, I think would be much more circumspect about whether this is the best place to put their money."
Immigrant rights groups demand ICE release transgender, HIV-positive detainees
Letter notes Roxsana Hernández case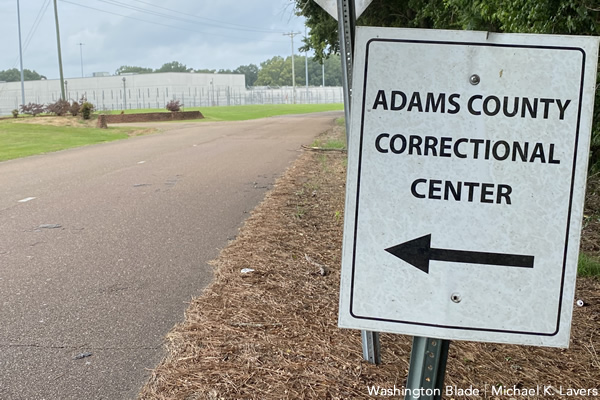 Eight immigrant advocacy groups this week demanded the release of all transgender and HIV-positive people who are in immigrant detention facilities.
Immigration Equality, the National Center for Lesbian Rights, the Transgender Law Center, the Santa Fe Dreamers Project, the Center for Victims of Torture, Familia: Trans Queer Liberation Movement, Mijente and the National Immigrant Justice Center made the request in a letter they sent to Homeland Security Secretary Alejandro Mayorkas and acting U.S. Immigration and Customs Enforcement Director Tae Johnson on June 16.
"As you know, transgender and HIV-positive people are severely suffering in U.S. immigration detention facilities," reads the letter. "Those who do not perish from mortally deficient medical negligence are regularly mistreated, isolated and sexually assaulted."
The letter notes DHS "for years" has "attempted to create conditions of confinement that are safe for these historically disenfranchised minorities."
"This has been a fool's errand," it says. "Under both Democrat and Republican leadership, DHS has wasted millions of taxpayer dollars attempting to overcome a simple and inevitable truth: It is not possible for the U.S. government to house transgender and HIV-positive asylum seekers safely. Every progressive policy, every well-meaning protocol and every specialized facility has utterly failed. This has to stop. It is in your exclusive power to put an end to this ongoing human rights atrocity."
"What makes this situation even more intolerable, is that the vast majority of the transgender and HIV-positive people suffering in immigration detention fled to the U.S. to escape persecution and torture," adds the letter. "To these asylum seekers, the U.S. is more than a symbol of liberty. It is one of the few places in the world where they may hope to build a safer future. And yet, by detaining trans and HIV-positive people in such inhumane and unsafe conditions, the U.S. government is subjecting them to some of the same kinds of mistreatment they sought to escape."
The groups in their letter demand ICE and U.S. Customs and Border Protection "to immediately release all transgender and HIV-positive people in their custody" and "review its system for identifying transgender and HIV-positive individuals, and work with stakeholders to ensure that it is effective and safe." The groups also seek the creation of a policy "that deems all transgender and HIV-positive individuals non-detainable."
The letter notes the case of Roxsana Hernández, a trans asylum seeker from Honduras with HIV who died in a New Mexico hospital on May 25, 2018, while she was in ICE custody.
Hernández's family in a lawsuit it has filed against the federal government and five private companies who were responsible for Hernández's care allege she did not have adequate access to medical care and other basic needs from the time she asked for asylum at the San Ysidro Port of Entry in San Diego on May 9, 2018, to her arrival at the Cibola County Correctional Center, a privately-run facility in Milan, N.M., a week later.
ICE in 2017 opened a unit for trans women at the Cibola County Correctional Center. It closed last year.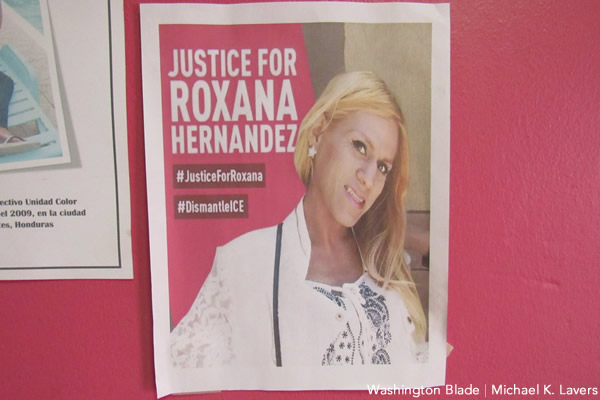 The letter also notes the case of Johana "Joa" Medina León, a trans woman with HIV from El Salvador who asked for asylum in the U.S. in 2019 after she suffered persecution in her home country because of her gender identity.
Medina was in ICE custody at the privately-run Otero County Processing Center in Chaparral, N.M., until her transfer to a hospital in nearby El Paso, Texas, on May 28, 2019. ICE on the same day released Medina from their custody.
"She became worse, worse, worse," Medina's mother, Patricia Medina de Barrientos, told the Washington Blade in an exclusive interview in the Salvadoran capital of San Salvador that took place a few weeks after Medina's death. "She asked for help because she was a nurse, but they refused. She was denied help. There was no medical attention."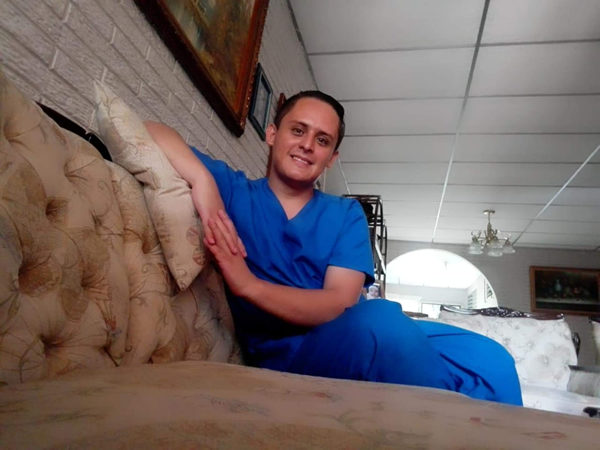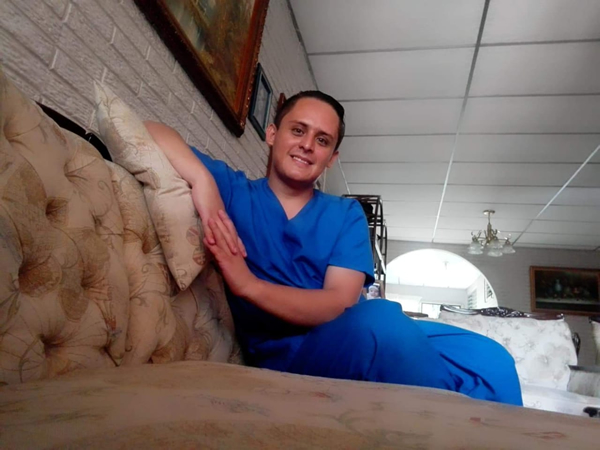 The letter also includes testimonials from dozens of other trans and/or HIV-positive people who say they suffered physical abuse and survived sexual assault while in ICE custody. They also allege they did not receive adequate health care — including access to hormones and antiretroviral drugs — while in detention.
"Throwing LGBTQ and HIV-positive asylum seekers into prison is cruel, expensive and dangerous. For transgender and HIV-positive people, it can even be deadly," said Immigration Equality Policy Director Bridget Crawford in a statement. "In response to years of consistently documented abuses against the community, the government has implemented ineffective half-measures that have utterly failed. That is why we have demanded that DHS release all transgender and HIV-positive people immediately. No one should ever be locked into prison because they fled persecution based on their sexual orientation, gender identity, or HIV status. Doing so during a pandemic is a human rights atrocity."
Immigration Equality is among the groups that have previously demanded ICE release all trans people who are in their custody. Advocacy organizations have also called for the release of people with HIV in ICE custody, especially during the COVID-19 pandemic.
DHS, which oversees ICE, has not responded to the Blade's request for comment on the June 16 letter.
Anti-LGBTQ Colorado baker loses Trans birthday cake court case
Phillips violated Colorado's ant-discrimination law citing the fact that at issue was a 'product' not freedom of speech or expression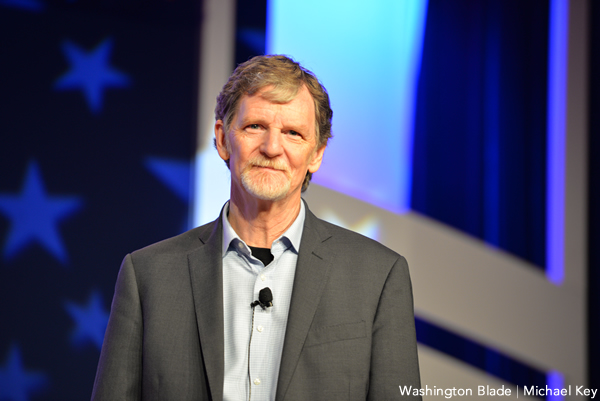 DENVER – A Colorado State District Court Judge ruled against the baker who had previously refused to bake a cake for a same-sex wedding and won at the U.S. Supreme Court a partial narrow victory in that case in 2018.
CBSN Denver reported that Denver District Judge A. Bruce Jones order that Jack Phillips violated Colorado's anti discrimination law Tuesday citing the fact that at issue was a 'product' not freedom of speech or expression.
In court documents, Jones said that Phillips refusal to make the plantiff, Autumn Scardina a cake made with blue icing on the outside and pink on the inside to celebrate her gender transition on her birthday because of her transgender status but without a written message, was in violation of the law. Phillips was ordered to pay a $500 fine.
Jones noted in his ruling that Phillips testified during a trial in March that 'he did not think someone could change their gender' and he would not celebrate "somebody who thinks that they can."
"The anti-discrimination laws are intended to ensure that members of our society who have historically been treated unfairly, who have been deprived of even the every-day right to access businesses to buy products, are no longer treated as 'others,'" the judge wrote.
The Scottsdale, Arizona based Alliance Defending Freedom, an anti-LGBTQ legal group that has been place on the Southern Poverty Law Center's Hate Watch List for spreading propaganda and lies about LGBTQ people, told CBSN that the group would appeal Jones' ruling.
"Radical activists and government officials are targeting artists like Jack because they won't promote messages on marriage and sexuality that violate their core convictions," ADF's general counsel, Kristen Waggoner, said in a media statement.
The maximum fine for each violation of Colorado's Anti-Discrimination Act is $500. But it was not clear from the ruling if the fine was for the two attempts that Scardina made to order the cake or just one.
BREAKING: A court has ruled Jack Phillips should be punished for not designing a cake celebrating a gender transition, an act that would violate his conscience.

Jack has been enduring this harassment for a decade and it must STOP.@AllianceDefends will appeal this decision.

— Kristen Waggoner (@KWaggonerADF) June 16, 2021
Supreme Court rules for religious agency seeking to reject LGBTQ families
Unanimous decision bottled up to context of city contract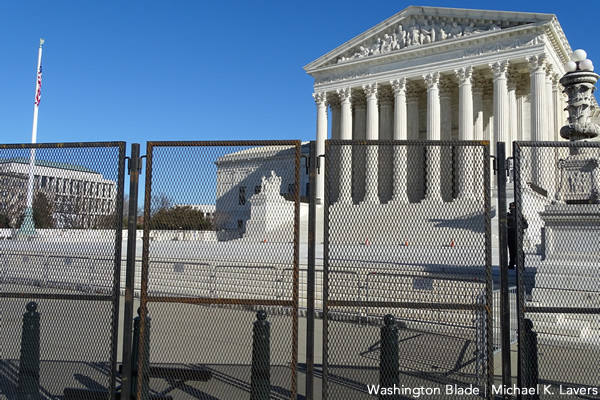 The U.S. Supreme Court ruled on Thursday in favor of a religious-affiliated foster care agency seeking to refuse child placement into LGBTQ homes, issuing a decision with limited reach that determined the City of Philadelphia's enforcement of a contract with non-discrimination provisions violates freedom of religion under the First Amendment.
In a surprise twist, the ruling was unanimous with nine justices on the court agreeing to the result in favor of Catholic Social Services, with Chief Justice John Roberts writing the opinion. As noted by SCOTUSblog, the court seemed much more divided in oral arguments, although inclined to rule for the foster care agency.
"The refusal of Philadelphia to contract with CSS for the provision of foster care services unless the agency agrees to certify same-sex couples as foster parents cannot survive strict scrutiny and violates the Free Exercise Clause of the First Amendment," Roberts writes.
Although Catholic Social Services had also contended a freedom of speech right under the First Amendment to reject same-sex couples, Roberts adds the court didn't reach a conclusion on that part of the argument.
Becket Law, which had argued in case on behalf of Catholic Social Services, crowed in a statement over its win at the Supreme Court.
"It's a beautiful day when the highest court in the land protects foster moms and the 200-year-old religious ministry that supports them," said Lori Windham, senior counsel at Becket. "Taking care of children, especially children who have been neglected and abused is a universal value that spans all ideological divides.
A key portion of the Roberts decision that could limit its reach is language specific to Philadelphia's contract with the city allowing for discretion on enforcement, which he says means the measure isn't generally applicable measure.
"Section 3.21 of the contract requires an agency to provide services defined in the contract to prospective foster parents without regard to their sexual orientation," Roberts writes. "But section 3.21 also permits exceptions to this requirement at the 'sole discretion' of the Commissioner. This inclusion of a mechanism for entirely discretionary exceptions renders the non-discrimination provision not generally applicable."
The American Civil Liberties Union, which had argued before the Supreme Court in the case and sided with the City of Philadelphia, claimed a small victory after the decision.
"The decision will not affect any foster care programs that do not have the same system for individualized exemptions that were at issue here," Leslie Cooper, deputy director of the ACLU LGBTQ & HIV Project, said in a statement. "This is good news for the more than 400,000 children in foster care across the country, who are the ones who get hurt the most if placement decisions are made based on an agency's religious beliefs rather than the child's best interest. And this decision does not allow discrimination in other taxpayer-funded government programs such as homeless shelters, disaster relief programs and health care."
Marianne Duddy-Burke, executive director of the LGBTQ Catholic group DignityUSA, initially issued a statement saying the decision opened the door to discrimination against LGBTQ families, but subsequently updated it with a reaction more attune to the decision's language.
"While we are disappointed in the specifics of today's ruling, we are relieved that the court did not allow a broad exemption to nondiscrimination provisions in foster and adoption care," Duddy-Burke said. "It remains deeply problematic that some religiously affiliated agencies continue to seek the ability to ban same-sex couples from opening their hearts and homes to children in need and undermine our hopes for expanding our families. The biases that lie at the heart of this case need to be eradicated."
David Flugman, a lawyer at the New York-based Selendy & Gay PLLC whose practice includes LGBTQ rights, said in a statement the technical nature of the Fulton is "sure to invite even more litigation."
"Today the Supreme Court held, on narrow, technical grounds, that the City of Philadelphia's attempt to ensure that Catholic Charities abide by the same non-discrimination provisions applicable to all other city contractors could not withstand Catholic Charities' religious right to refuse to screen loving same-sex couples to act as foster parents," Flugman writes. "The Court did not take up Catholic Charities' invitation to scuttle the 30 year-old test for free exercise claims that was announced in Smith v. Employment Division, which held that a neutral law of general applicability could survive even if it burdens religious practice."
The Supreme Court reversed and remanded decision of the U.S. Third Circuit of Court of Appeals, which had ruled in favor of City of Philadelphia enforcing its contract with Catholic Social Services. Both the appeals courts and the lower trial court had come to the opposite conclusion of the U.S. Supreme Court.
Notably, although the City of Philadelphia in addition to the contract it struck with Catholic Social Services has in a place LGBTQ non-discrimination ordinance, the Supreme Court determines that measure doesn't apply in the context of foster care services because it's limited to the services "made available to the public."
"Certification is not 'made available to the public' in the usual sense of the words," Roberts writes. "Certification as a foster parent is not readily accessible to the public; the process involves a customized and selective assessment that bears little resemblance to staying in a hotel, eating at a restaurant, or riding a bus."
Fatima Goss Graves, CEO of the National Women's Law Center, said in a statement the decision from the Supreme Court "is a harmful loss to the children in the foster care system in Philadelphia as well as the countless LGBTQ parents."
"Weakening the government's ability to protect their civil rights is hardly in their best interest, and we're committed to ensuring this loophole is not stretched to further justify hatred or prejudice," Graves added. "We must protect the right of every person to live without fear of discrimination because of who they are or who they love, and we must hold that value particularly close when it comes to the best interest of LGBTQ youth and the families who love them."