Queery: Serge Seiden
The Studio Theatre director answers 20 gay questions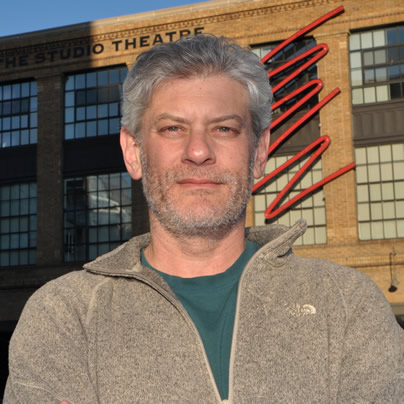 Serge Seiden is having a good week. His latest directing effort at The Studio Theatre, "The Motherfucker With the Hat" has been extended for two weeks and now runs through March 24 (details at studiotheatre.org) and Friday night, the playwright, Stephen Adly Guirgis, is visiting from New York to see the production.
For Seiden, it's the latest in a long string of successful Studio productions including "Grey Gardens," "My Children! My Africa!," "Souvenir: A Fantasia on the Life of Florence Foster Jenkins," "The Long Christmas Ride Home" and many others. He has also appeared as an actor in many productions both at Studio and at other theaters in the area. He's worn many hats there but is currently associate producing artistic director. He started there as an usher in 1986, a year after arriving in Washington.
"I just became a Studio groupie," he says.
More seriously, though, he's ponderous about his career.
"I would say what has fueled me is devotion to a craft and it's really like any other kind of craft, painting, pottery or even a sport," the 50-year-old Searsmont, Maine, native says. "When you become devoted or fueled by a need for achievement, of artistic, I don't want to say success, but you really know what your standard is and you have your own aspirations for excellence and you know what excellence in your craft is, you become kind of obsessed with getting there and that takes a long time. It's definitely not something where you think, 'Oh, I think I'll go work there for awhile.'"
Seiden is enjoying "Motherfucker" but says he's finding the piece is not really what audiences think it will be going in.
"It's something you can laugh at and laugh with but by the end, you find you're really drawn in," he says. "People are saying, 'Oh, I can see myself in that situation.'"
Around the time he was 40, Seiden and a colleague (Studio's education director Roma Rogers) decided to have a child together. Son Gavin is now 9. They share a three-floor home in Columbia Heights (he's on the top floor, she's on the second floor and they have common space on the first). With many of his nights spent working at the theater (she works mostly days), he says it works well.
He and Gavin enjoy reading the morning comics together, making up voices for the various characters.
Seiden is single and enjoys gardening in his spare time.
How long have you been out and who was the hardest person to tell?
I've been out since the early '80s when my roommate and I came out to each other at Swarthmore College. I remember I was literally physically shaking. And then there was some, ahem, "sexual healing." Telling my parents was depressing because they were so worried that I'd have a miserable, lonely life.  Luckily, that didn't happen.
Who's your LGBT hero?
Lypsinka. I just adore John Epperson's shows (three of which we've done at Studio Theatre).  I would also include Glenna Plaisted, the headmistress of an elementary school my sister attended. She encouraged me to apply for a high school scholarship.  Glenna typically wore jodphurs, riding boots, tweed jackets and smoked a pipe. And she pretty much saved my life. I guess she knew me better than I knew myself at the time.
What's Washington's best nightspot, past or present? 
Mmmm … The Studio Theatre!
Describe your dream wedding.
It would be set in the Caribbean on a very un-developed beach. There would be a lot of guests — friends, colleagues and family. The food would be spicy. Everyone would wear sandals and linen (with bathing suits underdressed — or not). The ceremony might just have to involve Shakespeare and the actor Ted van Griethuysen. Joy Zinoman would direct the whole thing, of course. The music would be classical guitar. Romance Anonimo would have to be included. Could we get Christopher Parkening? There might have to be some a cappella singing, too. After the ceremony there would be swimming and caipirinhas until sunset and when everyone was sufficiently relaxed, batala drummers would call everyone to some ecstatic beach dancing under the stars.
What non-LGBT issue are you most passionate about?
The environment.
What historical outcome would you change? 
Any outcome that would relieve human misery and death. It's hard to pick just one outcome to change, right? How do you prioritize?
What's been the most memorable pop culture moment of your lifetime?
Rock Hudson on the cover of Newsweek in 1985.
On what do you insist?
Empathy.
What was your last Facebook post or Tweet? 
From Las Terrenas in The Dominican Republic: "Last drinks on the beach …"
If your life were a book, what would the title be?  
"Two Boys in Art"
If science discovered a way to change sexual orientation, what would you do?
Nothing
What do you believe in beyond the physical world? 
That we can't know and it's OK not to know what's beyond the physical world. The physical world is plenty mysterious enough for me.
What's your advice for LGBT movement leaders?
The struggle is international.
What would you walk across hot coals for?
My son.
What LGBT stereotype annoys you most?
Forced frivolity.
What's your favorite LGBT movie?
"My Beautiful Laundrette"
What's the most overrated social custom?
Are there any social customs left that rate at all?
What trophy or prize do you most covet?
More leisure time.
What do you wish you'd known at 18?
That I should have kept practicing the piano.
Why Washington?
I came to D.C. to work on the Hill. I was a chauffeur and mail clerk for Sen. George Mitchell. I stayed in D.C. because of The Studio Theatre, which has been my artistic home since 1986. The rewards have been innumerable.
What to watch for during an open house
Check condition of kitchen, flooring, windows, and more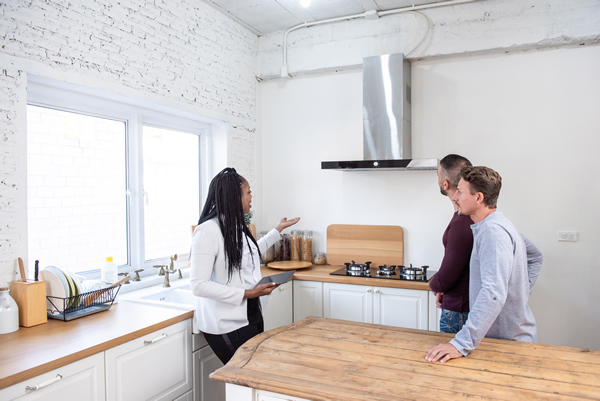 Anyone who knows me might say that I am detail obsessed. This has proven to be an amazing asset when looking at real estate. When I scour through listings for clients I am analyzing the photos, floor plans, and square feet of each property to ensure that everything flows properly into what my clients are looking for in their home. These items I search for also tell the tale of how recently renovated a property is, how well loved it was and a general idea of how much will be needed to make improvements and get it into the condition and aesthetic of which my clients are dreaming. When the time comes to see property in person, the fun begins and I am going to provide a few simple tips that you can use on your Sunday open house strolls that we all love to do.
The following is by no means an exhaustive list of things that I, and other individuals, keep an eye out for when touring homes, but these are perhaps the most noticeable and least controversial. Let me state here (for my lawyer warned me) I am by no means a home inspector, contractor, interior designer, etc.
• The kitchen truly is the heart of the home, especially with the holidays approaching. Some obvious items to identify are the cabinets. Are they soft close or can you slam them shut in an argument and really get your point across? If they are not soft close this means that likely they are on the older side and as such most items in the kitchen are also on the older side. In the kitchen I focus mainly on items that are difficult to remove, like cabinetry and counter surfaces. Appliances, while sometimes costly, can easily be replaced due to wear and tear.
• Moving through the house I take note of windows. What material are they made out of? Are they operational or painted shut? And how many are there? This last piece is CRUCIAL. This not only comes to mind when you need to replace windows but more immediately for the purpose of window coverings — it all adds up quickly.
Flooring is next on the list. Not so much that the warm wood tones will clash with my client's furniture, but more so the condition of the flooring and how much there is. Again, similar to the windows, coming from a place of utility and replacement. What condition is the flooring in and what type? If I'm lucky enough to find original wood floors my clients have been searching for, how many times have they been refinished and can they be refinished again? If not, then how large is the home and what's the cost to replace the flooring. As I pointed out earlier, on behalf of my lawyer, I am not a structural engineer either. I would take note of any low points or dips in the flooring and if needed, consult an engineer to take a look at the support pieces of the home.
Moving onto electrical components. An easy thing to look for is outlets. Identify the type of outlets a home has. We are fortunate here in the DMV to have a plethora of older homes. This comes with its own set of challenges. If you see an outlet that only accepts a two-prong plug then likely the electrical system is older and will need to be upgraded. Looking at the electrical panel for the home is also a very important step. If there are two prong outlets and glass fuses in the electrical panel then this is a great time to call Chip and Joanna Gaines as this home will likely need a massive overhaul.
Again, this is in no way an exhaustive list of things to identify as you are house hunting but rather some items that I always look for and point out when advising clients with perhaps one of the most expensive and scariest purchases of their lives. These items above are not meant to condemn a home but instead identify if a home is a good fit for you based on a more in-depth look. Paint and light fixtures can be changed, similar to hair color, but it's a bit harder to change one's heart. Ensuring the overall structure of the home and the more expensive components are in working order and have several useful years left is paramount. 
Justin Noble is a Realtor with Sotheby's International Realty licensed in D.C., Maryland, and Delaware for your DMV and Delaware Beach needs. Specializing in first time homebuyers, development and new construction as well as estate sales, Justin is a well versed agent, highly regarded, and provides white glove service at every price point. Reach him at 202-503-4243 or [email protected]. 
Investing in real estate: What you need to know
From REITs to flips, tips for getting started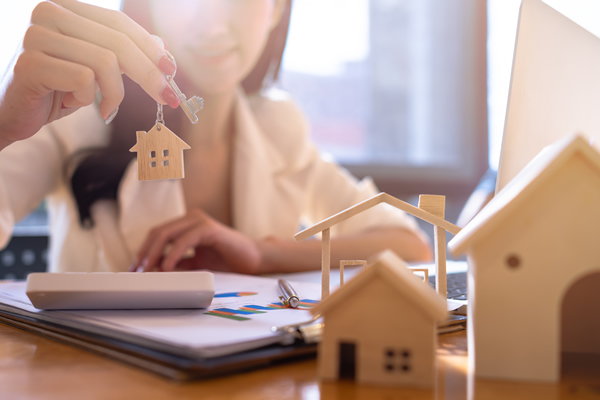 In many cases, buying or selling a home is a very personal experience. Many people buy a home with the intention of living there – making memories, building a family, becoming part of a community. The same is true of sellers. Selling a home, in many cases, is simultaneously difficult and exciting – it means the ending of one chapter and the beginning of another. While the majority of buying and selling experiences may be personal – increasingly, others in the market are interested in real estate not just to find a home, but also to make a great investment.
In our current market, it's easy to see why real estate can often end up being quite a profitable investment. In 2021, sellers often saw huge profits on the sale of real estate – but even in years where profits aren't quite as significant as this year, real estate has often proven to be a sound and reliable long-term investment strategy. Real estate investments can add diversification to your portfolio, and a very successful venture, particularly if you buy and sell when the circumstances are right.
Over the last several years, many gay neighborhoods around the country have shown steady appreciation, leading investors, and particularly LGBTQ investors, to consider whether the time is right to consider adding real estate to their investment portfolio. For those considering real estate as an investment strategy, here are a few helpful tips:
• Consider REITs: For those just getting started with real estate investment, Real Estate Investment Trusts, or "REITs" for short, might be a good option. These provide the opportunity to invest in real estate without owning the physical real estate yourself. They are often compared to mutual funds, and you invest in a company, a REIT, which owns commercial real estate like office buildings, apartments, hotels, and retail spaces. Generally, REITs pay high dividends, which make them a popular investment in retirement, as well as for investors not wanting to own one particular piece of property.
• Consider investing in rental properties: Rental income can often be a steady, reliable source of income if you do your due diligence researching the property itself, the surrounding neighborhood, and the potential community of renters. While maintaining a rental property will certainly require some investment of time and energy on your part, it can be a profitable long-term investment and one that is appealing to many people.
• Put your skills to work: If you have a skill set that includes being able to renovate and upgrade homes – or if you know a trusted person or team of people who does, flipping a home that could use some renovation can be quite a profitable investment indeed. Getting a home that could use some extra TLC at a good price and updating it can result in a sales price that is significantly higher than the purchase price. This can certainly be a very good investment – and a fulfilling project too.
• Be willing to listen and learn: When trying something new, it is almost always helpful to talk to those with experience in that area. Investing in real estate is no different. Having a mentor who can give you some tips and advice from their own experience is invaluable.
• Get to know the neighborhood: When making any real estate decision, whether you're going to live in a home yourself or purchase property for investment purposes, knowing the neighborhood and community you're interested in is important. A key part of that will be finding a real estate agent who knows and loves the community that you're interested in, and who understands the market in that area. This can make all the difference between a smooth and successful process, and a stressful one.

(At GayRealEstate.com, we are dedicated to our mission of connecting LGBTQ home buyers and sellers with talented, knowledgeable, and experienced real estate agents across the country who can help them to achieve their real estate goals. Whether you're interested in buying or selling a home that you live in personally, or buying and selling for investment purposes, we can connect you with an agent who knows and loves the community, and who can help you achieve your goals. Contact us at any time. We look forward to helping you soon.)
Jeff Hammerberg is founding CEO of Hammerberg & Associates, Inc. Reach him at
303-378-5526 or [email protected].
Bistro du Jour transports you from Wharf to Seine
New casually sophisticated restaurant a welcoming, inclusive space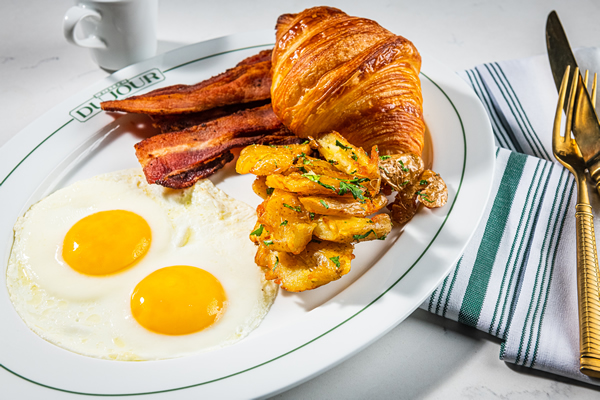 Delights run morning to night at The Wharf's new Bistro du Jour, a casually sophisticated French outpost sliding into a prime waterfront space.
Courtesy of gay-owned KNEAD Hospitality + Design, this new restaurant flaunts a menu born from a Seine-side bistro, serving coffee in the morning hours to Champagne in the evening. Its all-day culinary oeuvre begins with coffee (from La Colombe) and omelettes, and ends with items like a towering and meaty bi-patty cheeseburger L'Americain.
Taking over the sweet spot vacated by Dolcezza, Bistro du Jour is a sister to Mi Vida and The Grill, KNEAD group's two other Southwest waterfront locales. The group also runs several other formal and large-format restaurants they have populated across the city.
Why bring French to the Wharf?
"We have been here for almost four years and we knew what the area was missing and acted on it," says one of the co-owners, Jason Berry. "We wanted something where people could come in at all hours of the day and find something they wanted, from coffee and pastry to a full-on sit down at night."
The Bistro opens at 7:30 a.m. serving that local La Colombe coffee, plus flaky, buttery pastries from KNEAD's partner Mah-Ze-Dahr Bakery. Breakfast service starts at 8 a.m. with brioche doughnuts, quiches, a "massive" Belgian waffle, and French toast topped with a blueberry compote and sweetened whipped cream.
Executive Chef Treveen Dove – transferred after three years at another KNEAD spot, Succotash Prime) – oversees the offerings, a tour of the "greatest hits" of a typical Parisian bistro.
"Oeufs Sur Le Plat is to die for, with the griddled buttered bread topped with a sunny side up egg, sautéed mushrooms and a Mornay sauce… It's so rich and delicious."
By 11 a.m., the Bistro transitions to other traditional French fare, like French onion soup, tuna Niçoise salad, steak frites, mussels in a white wine and garlic butter, and a croque madame sandwich dripping with gruyere and creamy Bechamel. One unique offering is whipped brown butter with radishes and crostinis. There are also gougeres, warm cheese puffs shot through with gruyere.
Come 4 p.m., the dinner menu fills out even more, with additional dinner items confit de canard (duck leg with green lentils and red wine shallots); and a robust, earthy coq au vin (braised chicken with bacon, mushrooms and mashed potatoes); and a lamb shepherd's pie with mashed potatoes that would be at home on a French Alps farm.
Due to space limitations, the Bistro lacks a sit-down bar. Yet beverage director Darlin Kulla, who has been a part of the KNEAD family for more than four years, has put together a focused menu of six craft cocktails. You'll find not only a French 75 (gin, lemon verbena, lemon, bubbles), but also a Manhattan and a "Champs Elysees" with cognac, chartreuse, lemon, and bitters.
The bar itself carries only one brand of each liquor: one gin, rum, and vodka. " If you want vodka, you're having Grey Goose," notes Reg with a smile.
Given the cuisine, there is a considerable French wine list topping 60 bottles, leaning heavily on Champagne and sparkling wine. There are almost 20 red, white, rose, and Champagne options by the glass and carafe, as well. The bar rounds out its stock with French aperitifs and bottled beer.
Notably, the majority of the restaurant's seating is situated on the building's exterior, in a newly constructed all-season patio enclosure with almost 70 seats. The owners designed the space to maximize waterfront views, capacity, and flexibility. During warmer days, the Potomac breeze is welcome to flutter around coffee-sippers; in the colder months, the windows roll down for a fully enclosed and conditioned space. The patio's banquettes arrived directly from France, and twinkling strung lights sway from the ceiling.
The interior is done up in Mediterranean greens, pinks, and creams. Big windows welcome in daytime natural light, but allow for a dim, mood-lit atmosphere in the evening. Traditional bentwood bistro chairs dot the space and antique-style tin tiles reflect a classic Parisian flair. Over at the bar, the glassware display was created from a single panel of antiqued brass. At the rear, a daytime counter offers coffee, pastries, and drinks.
As Bistro du Jour's owners are both gay men, they note that, "Our restaurants are intended to be welcoming to all guests of all backgrounds, beliefs and demographics. We cater to everyone, which is the only way to lead a hospitality organization."
"When you're part of a minority group in society," they say, "the only way to lead your restaurants is as inclusive, welcoming, and hospitable leaders."
Though smaller than their other ventures, a French bistro right on the teeming, pedestrian-heavy Wharf "was the perfect fit," they say.