Religious exemption inspires heated debate at ENDA panel
Wolfson challenges current language in LGBT anti-discrimation bill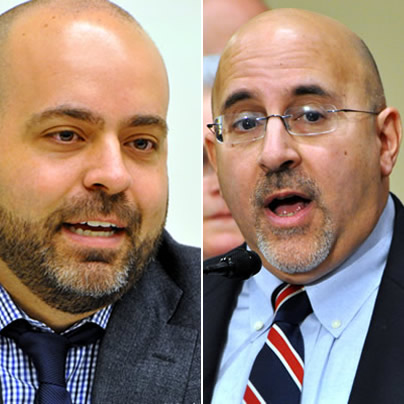 NEW YORK — The appropriate scope of the religious exemption in the Employment Non-Discrimination Act continues to stir debate as a prominent marriage equality advocate on Thursday made a surprise endorsement of narrowing the broad provision in the bill.
Evan Wolfson, president of Freedom to Marry, said he shares the "grave concerns" expressed by the American Civil Liberties Union over the religious exemption — which he said would "carve coverage by certain kinds of entities for LGBT people" — during a panel as part of Freedom to Work's premier "Situation Room" in New York City.
"I do have grave concerns about the specific language in the specific bill," Wolfson said. "That's one of the points of difference I have with Freedom to Work on this current bill."
Currently, ENDA has a religious exemption that provides leeway for religious organizations, like churches or religious schools, to discriminate against LGBT employees. That same leeway isn't found under Title VII, which prohibits religious organizations from discriminating on the basis of race, gender or national origin.
Wolfson and Tico Almeida, president of Freedom to Work and proponent of the religious exemption, were the lone speakers on the second panel of the day. Wolfson's main purpose on the panel was to talk about the lessons the campaign to pass ENDA can learn from the marriage equality fight.
Almeida initially responded by saying the religious exemption has value in allaying concerns from Republican lawmakers who are undecided on ENDA.
"I would say that in a bunch of Republican meetings we spend a majority of the time talking about the religious exemption and exactly how it will apply, what the case law is," Almeida said.
Almeida co-wrote the current version of the religious exemption when working as a staffer for Rep. George Miller (D-Calif.). It was passed as an amendment on the U.S. House floor in 2007 to a gay-only version of ENDA by a vote of 402-25.
But Almeida qualified his support for the religious exemption by saying he believes religious organizations shouldn't be able to receive federal funds if they discriminate against LGBT people. But, Almeida continued, the mechanism to prohibit this discrimination isn't ENDA; rather, it should be a workplace non-discrimination executive order signed by President Obama.
"I think there's complete uniformity that we are all pushing for a federal policy that if you take and profit from federal dollars, you must follow American values, you must pledge not to discriminate against LGBT folks — and if you get caught, there should be consequences," Almeida said.
But Wolfson quickly retorted as the panel developed into a heated debate between him and Almeida that seemed to become almost hostile as the session closed.
"We have a body of laws across the country that include sexual orientation and gender identity as prohibited discriminatory classifications alongside race, sex and others — and they have all followed generally a certain kind of exemption — as had Title VII and the Civil Rights Act, and so on," Wolfson said. "The problem with this current draft of ENDA is that exemption goes far beyond what that body of experience has taught us is the right balance."
Wolfson added the argument in favor of ENDA to undecided lawmakers should be to look at existing law throughout the states as opposed to enshrining "new and unnecessary and dangerous exemptions from non-discrimination law."
"By the way, calling them religious exemptions implies that there's some religious problem to be solved," Wolfson said. "There is no religious problem to be solved: what these are are licenses to discriminate."
Almeida, a Catholic, responded by saying he thinks attitudes should change within the church by action from members of that particular faith.
"I don't believe civil rights statute in the form of Title VII and ENDA should be used to force the Catholic Church to make a change to its policies," Almeida said. "I think we will push them, and it may take decades, and it may take more than my lifetime, but we will push them in other ways."
Almeida added he doesn't understand the argument the religious exemption in ENDA is a new approach because he said he "literally copied and pasted it from Title VII."
Besides, Almeida also said groups that oppose ENDA's religious exemption missed an opportunity to propose an amendment when the Senate Health, Education, Labor & Pensions Committee voted on the bill in July. Also, he challenged them to make public the language they would prefer instead.
"I would love for those organizations to publicly communicate to the LGBT community and to Congress what is their proposal," Almeida said. "They made a big fuss …,  and they didn't seek an amendment at markup. They didn't ask any of our progressive champions, and there are very progressive champions on that committee, or if they asked, then they got rejected."
Wolfson countered by saying Almeida's proposal to change the Catholic Church from within is "completely irrelevant" to the conversation of putting a "license to discriminate" in a statute.
"Nobody is saying that the Catholic Church should be sued or told what to do as a matter of law when it comes to doctrine or the church, or ministers," Wolfson said. "That's misleading language that might confuse people in a way that you didn't intend."
Additionally, Wolfson said Almeida was mischaracterizing the religious exemption in ENDA by saying it's lifted from Title VII. Almeida conceded that point on the panel.
"To say that something has some degree of religion in it, but now that it's in the marketplace, it can now fire not just the priest, but the janitor, that's an exemption that doesn't exist in Title VII or any other parts of law," Wolfson said.
Concluding his argument, Wolfson said the religious exemption issue must be resolved because it's giving fuel to the anti-LGBT forces seeking to thwart ENDA passage.
"The religious exemption language thing is mostly a distraction, it's a non-and-wrong solution to a non-problem, but becomes important if it get put into law," Wolfson said.
Ian Thompson, legislative representative for the ACLU, told the Blade after the panel he commends Wolfson for endorsing a narrower religious exemption for ENDA, calling the news "a great development."
"As a leader of the freedom to marry movement, he knows as well as anyone the importance of rejecting overly broad religious exemptions," Thompson said.
Further, Thompson responded to Almeida's claims that narrower language on religious institutions hasn't been proposed by pointing to existing law.
"The alternative to ENDA's unprecedented religious exemption has been and remains crystal clear," Thompson said. "Just as our civil rights laws have never permitted blank checks to discriminate based on race, sex, national origin, age, and disability, they must not now do so based on sexual orientation and gender identity."
Discussion of the religious exemption also came up during the first panel of the day, which consisted of six speakers from a bipartisan group of LGBT organizations. Paul Schindler, editor-in-chief of Gay City News, asked the panel if they were comfortable with the language.
Gregory Angelo, executive director of the National Log Cabin Republicans, started off the discussion by saying he was "comfortable" with the current wording because it's hard enough selling the bill as it is.
"Without naming names, there are meetings that I have had with Republicans — both in the House and the Senate — where there's some Republicans who don't feel those religious protections go far enough," Angelo said. "We're pushing back against that. I think the protections as they exist now are strong, they're solid."
Melissa Sklarz, a transgender Democratic activist from Stonewall Democrats of New York City, seemed to support the exemption on a temporary basis as a way to win support for the bill, saying it won't hold up in court and is just "a barrier to try to win allies" on the Republican side.
"It's a good idea," Sklarz said. "We watched them fight LGBT equality in 'Don't Ask, Don't Tell' and we've watched it in marriage. As they keep throwing things at ideas that prevent equality, they will not stand up. If this is going to win allies among the moderate and right-wing so we can get it to the floor, then great."
Asked by Schindler whether under the current religious exemption he could be fired at a Catholic hospital or a Mormon book store, Almeida replied, "It depends."
"It depends on the facts," Almeida said. "Law has very few bright line tests, and neither the Title VII religious exemption, nor the ENDA religious exemption, list types of organizations. So, courts have created factors that are considered."
Almeida said courts have established that for-profit businesses are eligible for the religious exemption under existing law. But he acknowledged that organizations like the Catholic Church and Catholic Charities will be able to continue to discriminate against LGBT people in hiring and firing decisions.
"By tying the ENDA religious exemption explicitly to the Title VII religious exemption, that gives us the most clarity, and as a byproduct, and for me it's just a byproduct, it's going to be the one to help us win," Almeida said.
EXCLUSIVE: Outgoing Rep. Cicilline on future of LGBTQ rights and life after Congress
Gay congressman departs office this week; led major LGBTQ legislative victories
Speaking with the Washington Blade by phone on Tuesday from Rhode Island, U.S. Rep. David Cicilline (D-R.I.) was optimistic about the outcome of the debt ceiling negotiations that have roiled Capitol Hill, the White House, and Wall Street for weeks.
"My sense of it is there are enough Democratic and Republican votes to get it to the president's desk," said the congressman, who would fly back to Washington in the evening with the expectation that a vote would be held the following day.
Even amid the chaos and back-and-forth travel this week, Cicilline was ready to look back on the landmark legislative accomplishments of his distinguished career in politics, which have included groundbreaking advancements for LGBTQ rights.
And despite the ascendancy of anti-LGBTQ attacks from the right, including from much of the Republican caucus, he told the Blade there is ample reason to be optimistic that the chamber's pro-equality work will continue in his absence.
As announced back in February and effective on Thursday, Cicilline will retire from Congress to lead his state's largest philanthropic organization, the Rhode Island Foundation, having represented its 1st Congressional District in the U.S. House since 2011.
A former attorney, Cicilline was tapped to lead the House Judiciary Committee's Subcommittee on Antitrust, Commercial, and Administrative Law as well as the House Foreign Affairs Committee's Subcommittee on the Middle East, North Africa, and Global Counterterrorism.
Particularly in recent years, the congressman became one of the most powerful House Democrats, elected to leadership in 2017 as a co-chair of the House Democratic Policy and Communications Committee and picked in 2021 by then-House Speaker Nancy Pelosi (D-Calif.) to serve as one of the nine members tasked with managing the House's second impeachment of former President Donald Trump.
Among other legislative achievements, Cicilline is widely credited with leading the House's passage, twice, of the biggest civil rights bill since the 1964 Civil Rights Act – the Equality Act, which would prohibit anti-LGBTQ discrimination in areas from education and housing to employment and public accommodations.
While the Senate failed to pass the Equality Act, Cicilline said, "I'm handing that work off to [U.S. Rep.] Mark Takano [D-Calif.], who I know will take it over the finish line" once Democrats win control of the House again.
The congressman told the Blade that he hopes his leadership on this bill will be remembered as a key part of his legacy – and was adamant that its passage through both chambers is now a question of "when" rather than "if."
"The majority of Americans support the Equality Act, and a majority of voters in every single state support nondiscrimination protections for LGBTQ+ people," so "this is about the Republican conference in Congress catching up with the American people," Cicilline said.
Congress is beginning to look more like America in at least one respect, though. After his first election to the House, Cicilline was one of only three openly LGBTQ members serving in Congress (having already made history in 2003 as the first openly gay mayor of a state capital, Providence, R.I.).
Today, "I'm leaving with 10 colleagues in the House and two in the Senate," he said, "so that's great progress."
"The calvary has arrived" with "young new members who are going to lead the next wave of this fight" such as openly LGBTQ U.S. Reps. Robert Garcia (Calif.), Becca Balint (Vt.), Eric Sorensen (Ill.), and Ritchie Torres (N.Y.), Cicilline said.
Echoing comments from his final speech on the House floor last week, the congressman also expressed his faith and confidence in party leaders with whom he has worked closely, including Democratic House Minority Leader Hakeem Jeffries (D-N.Y.)
Tonight, I addressed the House of Representatives for the final time as a Member of Congress.

As a lifelong Rhode Islander, it is only fitting that my final message is one of HOPE — hope for our democracy and our Congress.

Watch here:https://t.co/2HTSNuuk1P

— Congressman David N. Cicilline (@RepCicilline) May 24, 2023
Hopes and expectations for the current Democratic conference's ability to deliver on behalf of LGBTQ Americans were buttressed late last year by passage of the Respect for Marriage Act, legislation co-led by Cicilline that codified fundamental rights for same-sex couples that might otherwise be erased if the U.S. Supreme Court overturns or weakens its constitutional protections for marriage equality.
How to combat the rightwing crusade against LGBTQ and especially trans Americans
However prepared Cicilline believes his colleagues are to meet the moment, the congressman is also up to speed on the unprecedented challenges presented by the current political climate with respect to LGBTQ rights.
This year, state legislatures have introduced hundreds of bills targeting trans Americans, which endeavor to restrict their access to everything from lifesaving healthcare to public bathrooms. At the same time, anti-trans rhetoric has escalated to such an extent that a rightwing pundit speaking at CPAC said "transgenderism must be eradicated from public life entirely," which some interpreted as a call for genocide against the community.
Legislatively, Cicilline said it is all part of a cynical political strategy adopted by Republicans. Having concluded that their crusade against same-sex marriage was no longer winnable, the party sought another way to fight against LGBTQ rights, eventually polling anti-trans positions and messaging that successfully motivates "the most extreme parts of their political base," he said.
"Our Republican colleagues have weaponized the trans community in such a way that they think it's politically advantageous to attack even trans kids," which is "really horrific" especially considering the potential for tragic real-world consequences, including targeted violence against the trans community, Cicilline said.
"I hope people who are seeking public office will be conscious of that and will be responsible, but unfortunately, I think there are some who are so driven by their desire for power, that they're prepared to do almost anything to get there," the congressman added.
Some conservatives hope their polarization of and fear mongering about trans issues will drive a wedge, providing sufficient incentive or a permission structure for LGB Americans to turn their backs on the trans community, Cicilline said, but "That's not gonna happen."
"We are standing in lockstep with our trans brothers and sisters, and we're just not going to allow them to be attacked in this way," he said.
Broadly speaking, Cicilline said elected Democrats must "stand up for the queer community, speak out, condemn this kind of [anti-LGBTQ/anti-trans] legislation, and let the American people see the contrast" between the Democratic Party, which "stands for inclusion and has fought for LGBTQ+ equality" and the GOP, which is pushing "these very toxic and dangerous and un-American attacks on the LGBTQ community."
The congressman noted that working against the interests of LGBTQ Americans is nothing new for congressional Republicans. "With just a couple of exceptions," he said, the House GOP caucus voted against the Equality Act's nondiscrimination protections, which stem directly from America's most basic foundational values of fairness and equality.
"So that means I have colleagues in the Congress of the United States on the Republican side who fundamentally rejected the legislation that would grant me and others in my community full equality as citizens of this country, [colleagues who would] allow discrimination to continue against our community," Cicilline said.
When it comes to navigating interpersonal working relationships with anti-LGBTQ Republicans in the chamber, though, "I frankly don't really care how they feel about us," the congressman said. "That's irrelevant to me."
Cicilline to continue advocating for LGBTQ Americans after Congress
In addition to the Equality Act, Cicilline said that if Democrats recapture control of the House, he expects to see renewed momentum for a bill that he authored, the Global Respect Act, and another for which he was an original cosponsor, the LGBTQI+ Data Inclusion Act. Both were passed by the House but not by the Senate and therefore remain "unfinished business," he said.
The Global Respect Act, Cicilline said, "will allow the U.S. to impose visa sanctions on anyone who commits gross human rights violations against the LGBTQ community," while the latter bill would mandate that federal surveys must include data collection on sexual orientation and gender identity.
Other legislative efforts that Cicilline has led, in areas from antitrust to foreign policy to gun violence, also include some "unfinished business" – bills that might see movement in the next Congress that carry the potential, in many cases, to measurably impact the lives of all Americans.
For instance, Cicilline, who has been at the vanguard of Congress's work modernizing and strengthening antitrust law, remains hopeful about the eventual passage of six bills that he introduced in 2021, all designed to increase competition in digital markets.
These would curb the monopolistic power of dominant tech platform companies whose business models center engagement as the primary mechanism to drive advertising revenue – even though, as these firms are aware, content that tends to earn more engagement tends to be that which is incendiary, offensive, hateful, false, or misleading, violent or otherwise outrageous.
Looking beyond Congress, Cicilline said he is eager to continue advancing "equality and justice for our community" at the Rhode Island Foundation, building upon the organization's existing work "supporting the organizations that are doing really important work to support the LGBTQ community."
Cicilline acknowledged that leading an "explicitly non-partisan organization" will be a departure from his work in Washington – though perhaps not to the extent one might imagine.
"You know, our community remains, in this country, a marginalized community," the congressman said. "In fact, it's the only community, still, in America, that it's legal to discriminate against."
At this point, rather than pivoting back to discussing the need for passage of the Equality Act, Cicilline instead explained that because of the lack of national nondiscrimination protections, he is even more eager to include the LGBTQ community in the foundation's work advancing diversity, equity, and inclusion.
DeSantis stumbles into 2024 race with chaotic, disorganized announcement
Fla. governor defended the state's anti-LGBTQ policies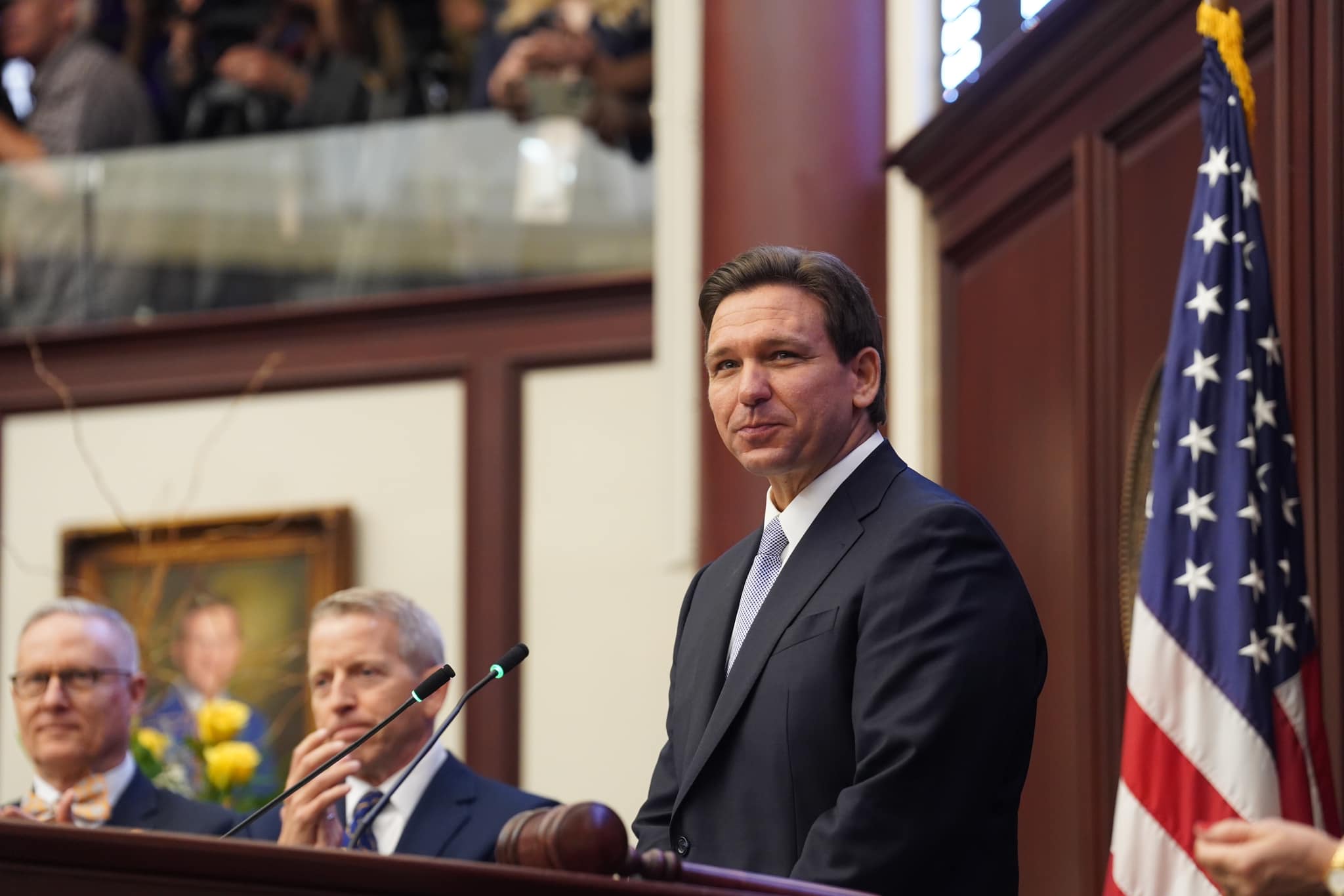 More than 300,000 Twitter users were logged in at 6 p.m. ET on Wednesday to hear Republican Florida Gov. Ron DeSantis begin his 2024 presidential campaign in an announcement address featuring the social media platform's owner, Elon Musk.
Moments after moderator David Sacks kicked off their conversation, however, the audio cut out due to technical glitches that persisted for nearly half an hour as the event was steadily hemorrhaging listeners.
Those who joined or rejoined the event at various times after about 6:30 p.m. ET might be forgiven for thinking the topic was Musk rather than DeSantis, who is widely considered the candidate likeliest to unseat former President Donald Trump as the Republican Party's frontrunner for the nomination.
At one point, for instance, U.S. Rep. Thomas Massie (R-Ky.) entered the chat to tell the polarizing billionaire tech entrepreneur, "I'm one of your biggest fans" and brag, "I'm one of the first members of Congress to own a Tesla," the electric carmaker founded by Musk.
Following reports on Tuesday of DeSantis' unorthodox plans to announce his run for president, pundits saw a golden opportunity for the Florida governor to generate buzz around his campaign, which seemed to lose momentum leading up to its official launch.
Responding to questions from Sacks, DeSantis defended Florida's spate of anti-LGBTQ policies, like last year's "Don't Say Gay" law, which criminalizes classroom discussion of LGBTQ subjects and, earlier this month, was broadened to cover more grade levels.
LGBTQ groups, Democratic Florida lawmakers, and other critics argue the law was written with discriminatory intent, to create a chilling effect that will discourage educators from creating welcoming environments for LGBTQ students.
Disney came out against the measure, kicking off an ongoing spat with DeSantis, who said on Wednesday that the company "obviously supported injecting gender ideology in elementary school."
The governor also objected to what he characterized as the media's misleading coverage of Florida's adoption of policies restricting the educational materials made available in schools.
LGBTQ groups air objections to DeSantis' presidential run
In advance of Wednesday's conversation with Musk, DeSantis filed paperwork with the Federal Election Commission formally declaring his plans to enter the race as LGBTQ and other civil rights advocacy groups registered their objections to his candidacy as well as to Florida's policies under his leadership.
"Dangerously out of step with average Americans' views on freedom and equality, DeSantis has weaponized his position as governor to target and punish anyone he considers his political enemy, including LGBTQ+ families," Human Rights Campaign President Kelley Robinson said in a statement Wednesday.
Following Tuesday's statement from the LGBTQ Victory Fund, which called DeSantis a "transphobic bigot" who has "no place in government — let alone the White House," the LGBTQ Victory Institute on Wednesday said his entry into the race is "bad news for America — and even worse for anyone who's part of a community he's targeted while in office as governor."
Over the weekend, the NAACP issued a travel advisory for Florida because of "DeSantis' aggressive attempts to erase Black history and to restrict diversity, equity and inclusion programs in Florida schools."
HRC and Equality Florida followed suit on Tuesday with a jointly issued travel notice that cites the potential impact of the state legislature's recent passage of six anti-LGBTQ bills, several of which have already been signed into law.
White House Press Secretary Karine Jean-Pierre declined to specifically address the travel advisories during Tuesday's press conference, but said Florida Republicans "have attacked diversity. They've attacked inclusion efforts. They've limited the teaching of Black history. And they've launched attacks on the LGBT youth, immigrants, educators and women's reproductive freedom."
"That's what you have seen from lawmakers in Florida," Jean-Pierre said, adding that the Biden-Harris administration will "continue to speak out against discriminatory policies."
DeSantis to announce presidential bid in a live conversation Wednesday with Elon Musk
Victory Fund denounces Florida guv as 'transphobic bigot'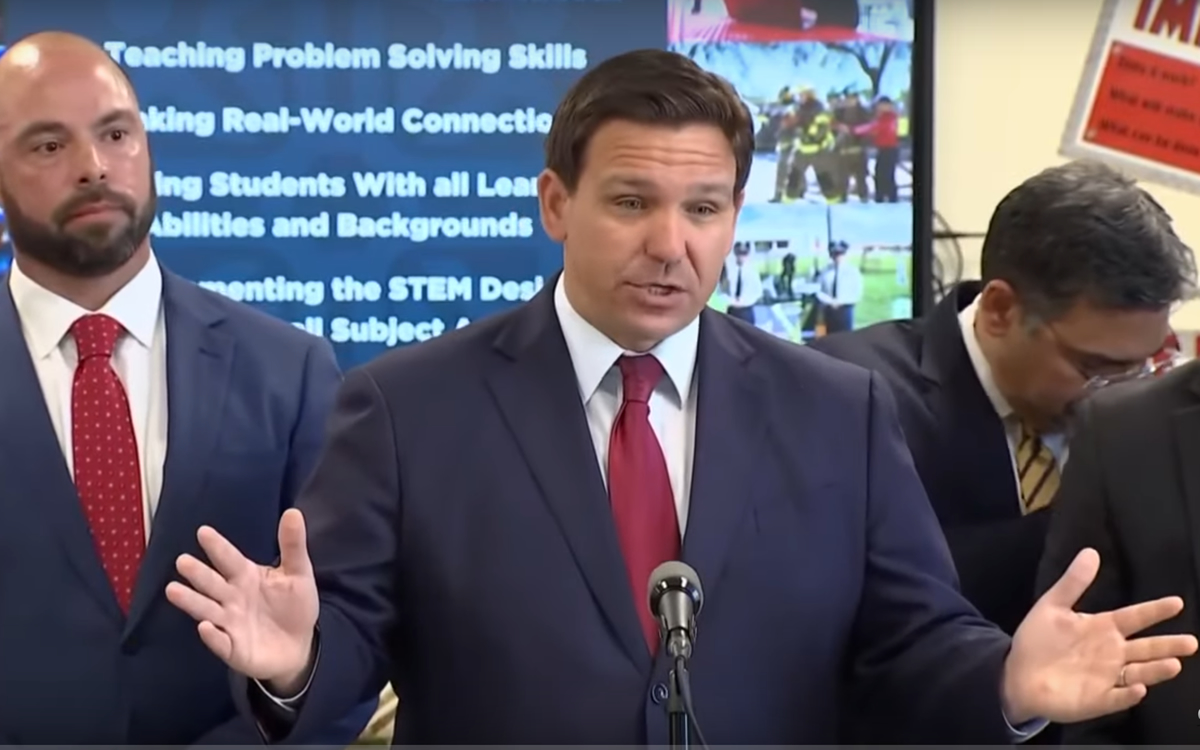 Florida Gov. Ron DeSantis (R) will reportedly announce plans to run for president in 2024 during a live conversation with Elon Musk Wednesday evening on Twitter Spaces.
The unorthodox move might generate renewed interest in DeSantis, who was long expected to enter the primary race against former President Donald Trump, the Republican frontrunner, but seemed to lose momentum as the official launch of his campaign drew nearer.
It also comes on the heels of DeSantis signing last week a slate of anti-LGBTQ bills including an expansion of Florida's "Don't Say Gay" law, which criminalizes classroom discussion of LGBTQ subjects.
Musk, who has a trans daughter from whom he has been estranged, has expressed his affinity for DeSantis in the past while also courting other public figures known for expressing transphobic views, such as the comedian Dave Chappelle.
The polarizing and often pugilistic billionaire was widely blamed for allowing anti-LGBTQ and especially transphobic abuse to proliferate on Twitter since he purchased the social media platform last year.
On Twitter, Musk has occasionally complained about or mocked the use of personal pronouns by trans and nonbinary people, and he was widely criticized last year for promoting a false and baseless anti-LGBTQ conspiracy about the violent attack on Paul Pelosi.
The LGBTQ Victory Fund denounced DeSantis's candidacy on Tuesday ahead of his announcement, writing, "Transphobic bigots like Ron DeSantis have no place in government, let alone the White House," the LGBTQ Victory Fund wrote in a statement issued Tuesday.
"Not only does Governor DeSantis' appalling record against LGBTQ+ people and communities of color disqualify him from the Presidency, the rhetoric he will spew on the campaign trail as he and Donald Trump race to the bottom will have long-term consequences for our community and LGBTQ+ kids in particular.
"LGBTQ+ leaders are our best defense against hate, which is why his announcement is a rallying cry to the LGBTQ+ community and our allies that we must redouble our efforts to elect pro-choice LGBTQ+ candidates in 2023 and 2024. On Election Day, our message must be resounding: we are not going back."