Texas Nat'l Guard pressured to grant benefits to gay troops
Lambda gives 10 days for adjutant general to respond to request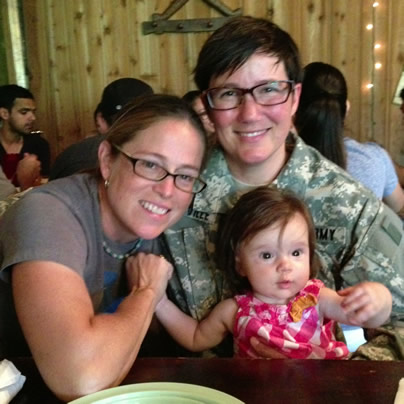 The Texas National Guard is being pressured to revisit its policy blocking gay troops from enrolling at state-run facilities to receive spousal benefits as one LGBT legal group is seeking a response within 10 days.
In a letter dated Sept. 13, Paul Castillo, staff attorney for Lambda Legal, writes that Texas Military Forces — which comprises the state national guard — should change its current policy because it "fails its troops and their families."
"The discriminatory treatment of lesbian and gay spouses of service members, including those in the Army National Guard in Texas, is illegal," Costillo writes. "It also is detrimental to good order, discipline and morale and fails to accord all soldiers dignity and respect — guiding principles of the military."
The letter — addressed to Texas Adjutant General Maj. Gen. John Nichols — requests a response from Texas Military Forces within 10 days. The Texas National Guard didn't respond to the Washington Blade's request to comment on the letter this week.
The Pentagon, beginning Sept. 3, allowed gay troops in legal same-sex marriages to receive federal spousal benefits allocated to married straight service members — such as health and pension benefits — in the wake of the Supreme Court decision against the Defense of Marriage Act.
But Texas Military Forces has said it cannot enroll the spouses of gay troops into the Defense Enrollment Eligibility Reporting System, or DEERS, because state law in Texas prohibits same-sex marriage. Instead, Texas Military Forces is telling gay married troops in the state to seek out installations run by the federal government to apply for benefits.
Texas is the one of three states that reportedly isn't enrolling the same-sex spouses of gay troops into DEERS. Others are Louisiana and Mississippi. The national guards in other states — even the ones where same-sex marriage isn't legal — have been enrolling gay couples.
As reported by the Blade, Alicia Butler, an Austin, Texas, attorney, and her spouse, Judith Chedville, an Army nurse and Iraq war veteran, were denied spousal benefits at Camp Mabry in Texas when they sought to apply for them. The letter indicates that Lambda is representing the couple.
Although Texas Military Forces has cited state law as the represent why it must withhold spousal benefits to gay troops like Butler and Chedville, Costillo calls this reasoning "dubious" because the couple was seeking federal benefits and the installation receives federal funds.
"Our client did not ask you to identify and provide any state-specific benefits, in recognition of her marriage, only to comply with the military's polices — a condition of the extensive federal funding you receive," Costillo writes.
But Lambda isn't the only group asking Texas Military Forces to change its position. The LGBT group known as the American Military Partner Association made public a letter this week from 16 members of the Texas State House calling on Nichols to process benefits for same-sex military spouses at National Guard facilities in Texas.
"We call on you to respect Texas' military families, to reconsider your position, and to follow the lead of virtually every other Adjutant General for the National Guard of the United States by, without further delay, enrolling all eligible spouses of National Guard service members at facilities operated by Texas Military Forces," the letter states.
Also on Friday, the American Military Partner Association made public additional guidance indicating that Texas Military Forces not only won't enroll same-sex couples into DEERS, but is also prohibiting them from becoming official members of family readiness groups or attend "Strong Bonds" marriage enrichment retreats.
Stephen Peters, president of the American Military Partner Association, said the denial of benefits at Texas National Guard installations has "gone far beyond the ability of same-sex spouses to process for federal benefits at national guard facilities."
"Considering Major General Nichols, the head of the Texas National Guard, has decided to defy the Defense Department and go so far as to threaten to prevent same-sex military spouses from participating in family readiness groups or even attend marriage enrichment retreats, who in the chain of command is making sure these military families are taken care of and get the support and benefits they need and deserve?" Peters concluded.
In first, gay Democrat and gay Republican face off in congressional race
GOP candidate was present at Stop the Steal rally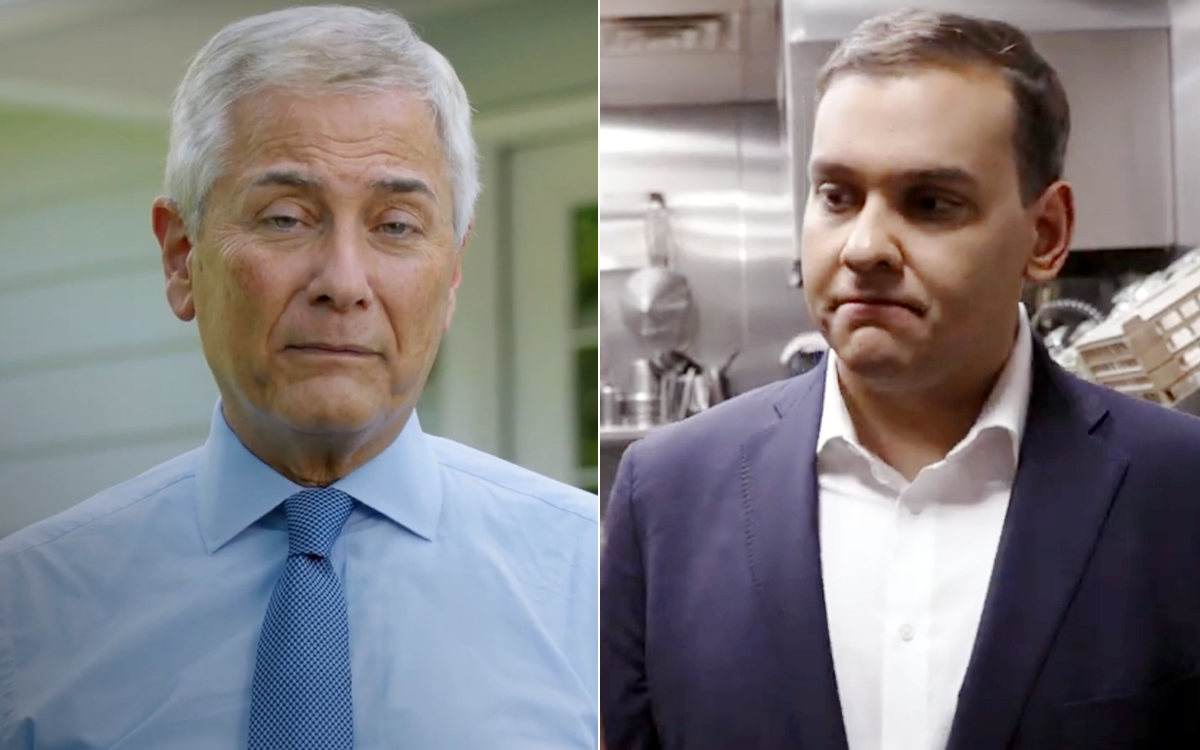 The race in New York's 3rd congressional district is seen as critical in the mid-term elections as Republicans are poised to retake the House and Democrats are trying to preserve their razor-thin majority. But the New York race holds another important distinction as the two candidates — Robert Zimmerman and George Santos — are openly gay, marking the first time out gay candidates from the two major parties have squared off in a House race.
In separate interviews with the Washington Blade, the candidates had markedly different takes on the nature of the historic first, with one saying his sexual orientation influenced his approach to politics and the other utterly rejecting its importance.
Zimmerman, a progressive Democrat and communications official who supports causes like LGBTQ rights, abortion rights, and gun reform, said being gay and closeted in his youth living on Long Island in the 1970s shaped his view of politics.
"I went to speak to an educator I trusted, and he suggested to me I try a doctor to make me better, because in those days, that was the path, conversion therapy," Zimmerman said. "And I certainly didn't do that, but it just reflects how isolating that period was, but I guess out of that period, that sense of isolation, it helped me to look at the world around me and see a lot of other folks who felt unseen and unheard, and it helped me find my voice that brought me to protest lines, brought me into political activism."
The first protest for Zimmerman, he said, was in front of the Democratic Party's headquarters. He's now a member of the Democratic National Committee in New York. Zimmerman said his political activism also brought him to the office of his member of Congress, where he became a congressional intern and later a member of his senior staff.
Santos, a conservative Republican, downplayed the importance of being a gay congressional candidate and said he doesn't make it an issue in his campaign, although he conceded,"it feels awesome that the opportunities are equal for everybody in this country."
"It's great to see that opportunities are equal to all in this country," Santos said. "It's always been that way. … So I don't make it a campaign issue as far as I don't campaign on that issue. It's not a campaign issue for me. I think it's a distraction, really about the real issues plaguing our country right now. I'd rather talk about that stuff all day long than talk about my sexual preference."
Key issues for Santos, he said, were many of the same issues Republicans are running on as part of the 2022 mid-term elections, such as inflation, the cost of energy, and crime, which he said are issues that affect every American to varying degrees regardless of their socioeconomic status.
Although he downplays the significance of his sexual orientation, Santos would have the distinction if elected as the first openly gay Republican in Congress since the departure of former Rep. Jim Kolbe in 2009. Santos would also have the distinction of being the first openly gay non-incumbent Republican candidate elected to Congress.
Not exactly fitting the mold of gay members of Congress seen in the past, Santos has aligned himself with a conservative ideology. He has called abortion rights "barbaric," and spoken favorably about the Florida "Don't Say Gay" bill signed into law by Florida Gov. Ron DeSantis. Footage exists of Santos saying he was at the Ellipse for the rally with former President Trump that preceded the Jan. 6 insurrection at the U.S. Capitol.
Santos didn't deny that he was present at the "Stop the Steal" rally, but said he "did not go" to the U.S. Capitol building on Jan . 6 and downplayed the significance of his presence at the rally.
"I just don't see how that's relevant to this interview, and to what we're doing in 2022," Santos said. "I just really think the American people deserve journalists to really focus on the future. I really liked this interview to be about proposals and what I'm going to present in Congress come 2023 instead of looking at two years ago, and really reminiscing on that."
Amid news stories of Republican candidates continuing to deny the outcome of the 2020 election, Santos indicated he wasn't among them. Asked whether President Biden won the 2020 election, Santos replied, "He's the president of the United States, I never contested that." Asked whether Biden is president because he won the election, Santos replied, "Of course."
Albert Fujii, spokesperson for the LGBTQ Victory Fund, said the records of both candidates made it easy for the organization, which endorses openly LGBTQ people running for public office, to decide whom to support.
"Victory Fund proudly endorsed Robert Zimmerman because of his life-long LGBTQ advocacy, commitment to public service and fierce pro-equality and pro-choice vision for America," Fujii said. "We believe abortion rights are LGBTQ rights and since our inception have always required candidates be pro-equality and pro-choice to receive our endorsement."
Fujii added Santos never approached the Victory Fund to seek an endorsement. Gay Republicans have sometimes criticized the organization as being a partisan tool of Democrats.
Political outsiders have rated New York's 3rd congressional district as "leaning Democratic." Although some initial polling was favorable to Santos as Republicans had an advantage with inflation and gas prices being a major issue, the tide appears to have turned nationwide after the Supreme Court ruling against Roe v. Wade served as a wakeup call to the Democratic base.
Zimmerman said the ruling in the Dobbs case has stirred a high level of activism, predicting LGBTQ rights would be next on the chopping block due to the concurrence of U.S. Associate Justice Clarence Thomas, who called for revisiting the decision in favor of same-sex marriage.
"You're seeing a level of energy and activism as a result of the Dobbs decision," Zimmerman said. "That is truly unprecedented for a midterm election When you take away 50 years of protection for women, and people also understand that's just the opening bid. They're coming after our rights of the LGBTQ+ community next, and they're coming after our rights in so many other areas. You've seen a level of engagement, coalition building, and activism that is really unprecedented."
Santos, presenting a different take on the Dobbs decision, said he thought the ruling "was great" and "gave the states back its power of the Tenth Amendment."
"I don't think it affects us here in New York," Santos said. "I do understand that there's other states with different decisions, but that's precisely what the Tenth Amendment does — it gives the rights back to the state so that on a more hyperlocal concentrated issue, the people's constituency, get to pick what they think is best for them."
Thomas's concurring opinion in the Dobbs decision is also not a threat, Santos said, although he criticized it as an "unfortunate moment."
"He had an unfortunate moment in a dissenting opinion that the majority did not sign on," Santos said. "Clearly, that's why it has no legal value. It's nothing more than a legal essay. A legal essay written by a Supreme Court justice with — I'm just going to go out on a limb and say not the brightest moment in his career."
One of the consequences of the Dobbs decision was the introduction in Congress of legislation knowns as the Respect for Marriage Act, which would seek to codify same-sex marriage into law regardless of whether or not the Supreme Court decides to revisit it.
Santos, asked whether he's in favor of the bill, replied, "If the bill is put through committee properly? Yes." Santos went on to say he had calls from Republicans about the legislation and told them it's the law of the land and a matter of "if you feel comfortable supporting my right to marry my spouse of my choosing."
"My only hang up with it is I really wish to give it more legitimacy and not leave any questions open for pundits on both sides of the aisle … let's just get it passed," Santos said. "I mean, I have no issue. Of course I'd vote for it."
When the Blade pointed out he appeared to be leaving the door open to vote "no" based on objections of not going through the regular order of the committee process, Santos denied that was the case: "I didn't say that. I just said I want it to be that way, so there's no questions about it. I never in any instance suggested to you I would say 'no.'"
Senate to hold off on marriage vote until after mid-term election
Key vote was expected as soon as next week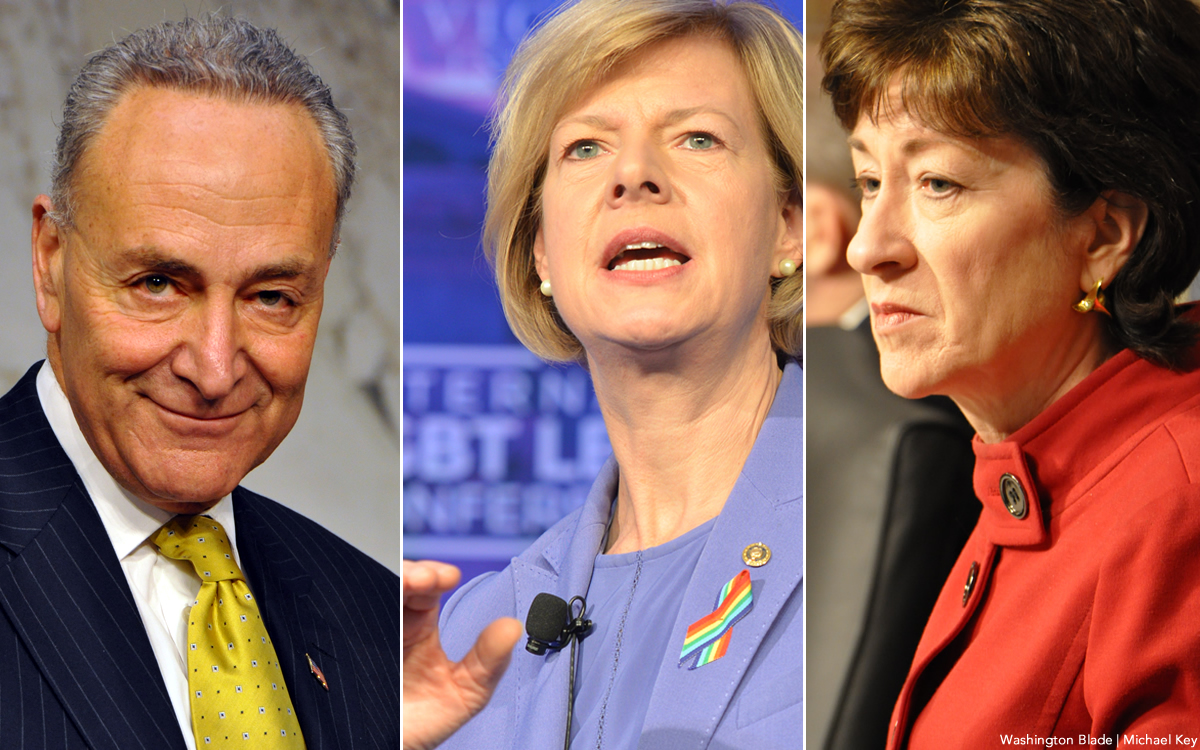 Despite indications the U.S. Senate would soon take up legislation seeking to codify same-sex marriage into law, the legislation now appears to have to wait until after the mid-term elections.
Sen. Tammy Baldwin (D-Wis.) issued a joint statement Thursday with Sens. Susan Collins (R-Maine), Rob Portman (R-Ohio), Kyrsten Sinema (D-Ariz.) and Thom Tillis (R-N.C.) announcing the delay in the vote.
"The Respect for Marriage Act is a simple but important step which provides certainty to millions of Americans in loving marriages," the statement says. "Through bipartisan collaboration, we've crafted commonsense language that respects religious liberty and Americans' diverse beliefs, while upholding our view that marriage embodies the highest ideals of love, devotion, and family. We've asked Leader Schumer for additional time and we appreciate he has agreed. We are confident that when our legislation comes to the Senate floor for a vote, we will have the bipartisan support to pass the bill."
Baldwin, speaking to reporters after the weekly meeting Democratic caucus, was more specific about the time frame and said the vote would have be after the congressional mid-term election, according to a report in Politico.
"I'm still very confident that they bill will pass but we will be taking the bill up later, after the election," Baldwin was quoted as saying.
Senate Majority Leader Charles Schumer (D-N.Y.) signaled he would commitment to having a vote on the marriage bill before the year's end after the announcement of a delay.
"Because Leader Schumer's main objective is to pass this important legislation, he will adhere to the bipartisan group of senators' request to delay floor action, and he is 100 percent committed to holding a vote on the legislation this year before Justice Thomas has a chance to make good on his threat to overturn Obergefell," said Justin Goodman, a Schumer spokesperson.
Baldwin as well as fellow Democrat Sen. Kyrsten Sinema (D-Ariz.) as well as Sen. Susan Collins (R-Maine) and Sen. Thom Tillis (R-N.C.) — each leaders in talks on the legislation — were seen Thursday huddling in discussion on the Senate floor, according to Punchbowl News' Jake Sherman.
It's unclear why the vote is now delayed until after the election. The expectation was Senate Majority Leader Charles Schumer (D-N.Y.) would soon start the procedural process and file cloture to call for 60 votes to end a filibuster on the bill, which would mean as soon as next week.
Sen. Roy Blunt (R-Mo.), who had signaled he may be able to vote on the legislation and reportedly met with Baldwin earlier in the day, suggested the explanation may be the belief a vote at a later time would bolster the chances of success.
"We should have a vote when you've got the votes. They'll get more votes than November and December than they get on Monday," Blunt was quoted as saying. "If I wanted [it] to pass and I was the majority leader and I wanted to get as many votes as I could possibly get, I'd wait until after the election."
The Human Rights Campaign, which had made lobbyist for the Respect for Marriage Act part of its LGBTQ work, issuing a statement lambasting the Republicans upon the announcement of the delay for not having not 10 votes to approve the Respect for Marriage Act right now.
"The Respect for Marriage Act is an incredibly necessary, popular and bipartisan bill – and the and the lack of 10 Republican yes votes right now is extremely disappointing," said Joni Madison, interim president of the Human Rights Campaign. "Marriage equality – for both LGBTQ+ and interracial couples – is not and should not be a partisan issue, and to treat it as such is an insult to the millions of families who are impacted."
Lawmakers were working on language for an amendment to accommodate religious objections in hopes it would attract further Republican supporters. A proposed measure, Democratic aides told the Blade, would have mirrored the existing 1993 Religious Freedom Restoration Act, but go further.
Prior to the announcement the vote would be delayed, lawmakers had appeared to have finished work on the religious freedom provision.
According to Politico, Collins told reporters she and a handful of other senators had finished their work hashing out changes designed to clarify religious freedom safeguards. Baldwin and Collins, Politico reported, expected the text of the legislation to be released on Thursday.
Senate may cue up marriage vote soon, but 60 votes not assured
Some Republican leaders doubt there's sufficient support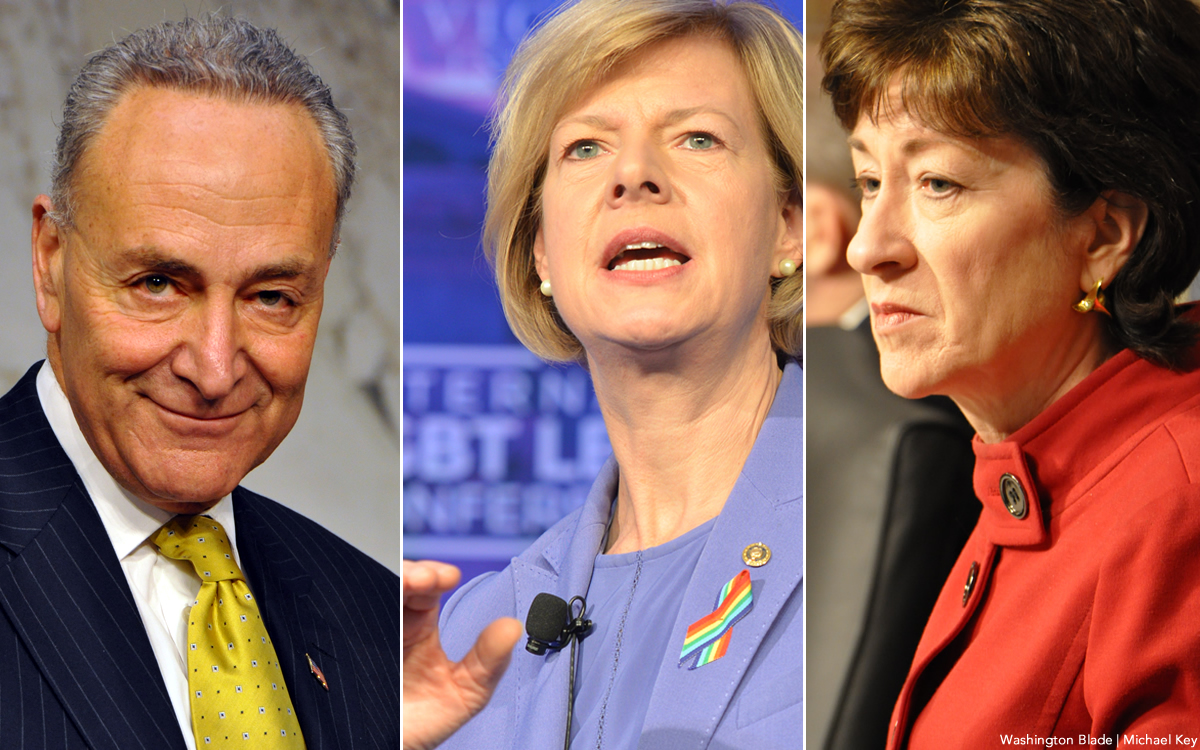 Legislation seeking to codify same-sex marriage may be cued up as soon as this week in the U.S. Senate after lawmakers returned from August recess, although reaching the 60-vote threshold to end a filibuster is unassured.
Senate Majority Leader Charles Schumer (D-N.Y.) took to the Senate floor on Wednesday to make the case for the Respect for Marriage Act, which he said was needed in the aftermath of the U.S. Supreme Court's decision overturning Roe v. Wade.
"Over the past few months, both sides have engaged in good-faith conversations about how to pass marriage equality into law," Schumer said. "I truly hope – for the sake of tens of millions of Americans — that there will be at least ten Republicans who will vote with us to pass this important bill soon. Democrats are ready to make it happen — and willing to debate reasonable compromises on the specifics — so I urge my colleagues on the other side to join us."
The likeliest scenario, as of Wednesday, was for Senate Democrats to start the procedural process Thursday to set up for votes on the Respect for Marriage Act early next week, two Democratic aides familiar with the bill told the Blade.
Sen. Tammy Baldwin (D-Wis.), the only open lesbian in the Senate, has been a proponent of the legislation and would be a likely candidate to go to the floor to seek a vote on the legislation.
Whether or not there are 60 votes in the Senate to end a filibuster is another matter. Supporters of the legislation have been bullish about obtaining 10 Republican votes to aid the united Democratic caucus in cutting off debate to move forward with the bill, but only four Republicans have signaled support in some capacity: Susan Collins (Maine), Rob Portman (Ohio), Thom Tillis (N.C.) and Ron Johnson (Wis).
"As for vote count, still the same," one Senate Democratic aide told the Blade on Wednesday. "We don't have 10 firm commitments from Republicans, but we are close and believe that the votes are there without the firm commitments."
Johnson also has indicated his support would be conditional upon the inclusion of language to accommodate objections to same-sex marriage on religious grounds. Language being drafted by Baldwin and Collins for such an amendment, Democratic aides familiar with the bill told the Blade, would affirm the 1993 Religious Freedom Restoration Act, but go no further.
A competing amendment on religious exemptions, however, is expected to come from Sen. Mike Lee (R-Utah), according to a report in Politico. His office didn't immediately respond Wednesday to the Blade's request to comment on the nature of the amendment or the support obtained for the measure.
Concerns that there aren't enough votes to advance the Respect for Marriage Act were piqued last week in the aftermath of an article in Politico with the headline: "Same-sex marriage bill teeters on verge of GOP filibuster." The article points out numerous Republicans who are possible "yes" votes, such as Sens. Mitt Romney (R-Utah), Pat Toomey (R-Pa.) and Lisa Murkowksi (R-Alaska), have yet to declare outright support for the legislation.
Murkowski, who was an early Republican supporter of same-sex marriage, stands out in the group as among the Republicans who have yet to declare a position on the Respect for Marriage Act, although a spokesperson for the Alaska Republican confirmed to the Blade she remains undecided.
"Sen. Murkowski has long supported marriage equality," said Hannah Ray, a Murkowksi spokesperson. "She is reviewing the House-passed bill and tracking negotiations in the Senate over possible modifications to the text of the Respect for Marriage Act introduced by Sens. Baldwin and Collins, so at this time she has not announced how she will vote."
The conclusion of the Politico article that sufficient support remains in question, however, appears largely based on quotes from senior Republicans in the Senate who reportedly cast doubt about whether enough members of their caucus would break away to support the bill. Senate Minority Whip John Thune (R-S.D.) was quoted as saying right now no one knows "the exact answer" on the number of votes; he reportedly added he hasn't done a formal whip count.
Sen. John Cornyn (R-Texas) was reportedly more blunt in his assessment: "I don't see 10 Republicans," Cornyn was quoted as saying. "I assume if people were inclined to support it, they would have already declared in support of it."
Blade readers will remember Cornyn was the member of the Senate Judiciary Committee who pressed now U.S. Associate Justice Ketanji Brown Jackson during her confirmation hearing about the U.S. Supreme Court's 2015 decision in favor of same-sex marriage, asking her whether she could understand observers being surprised by the outcome.
Despite Cornyn's projections, Republicans in the Senate have had a history of keeping their cards close to their vests on measures relating to LGBTQ rights before some ultimately break away to vote in the favor of the legislation. Such has been the case in the past 12 years with "Don't Ask, Don't Tell" repeal and the Employment Non-Discrimination Act.
Bolstering the prospects for the Respect for Marriage Act is that the bill would reaffirm existing law as opposed to make changes. The legislation also wouldn't codify same-sex marriage into the U.S. code, but rather repeal from the books the Defense of Marriage Act, which the Supreme Court struck down in 2013, and require states to recognize same-sex marriages performed elsewhere.
A final push for the legislation among its supporters was evident in recent days as expectations for a vote increased. The Human Rights Campaign was set on Thursday to deliver to the Pittsburgh office of the undecided Toomney letters urging him to support the Respect for Marriage Act
Within the Republican Party, more than 400 prominent Republicans signed a letter organized by the LGBTQ group Freedom for All Americans and issued on Tuesday urging support for the Respect for Marriage Act. Among the co-signers are former Republican National Committee chair Ken Mehlman, who's gay; Mehmet Oz, the Republican Senate nominee in Pennsylvania; and former president George W. Bush's daughter Barbara Bush.
"As Republicans and conservatives, we believe strong families and lasting relationships strengthen communities, and civil marriage is a fundamental freedom central to individual liberty and the pursuit of happiness," the letter says. "We stand with the 71 percent of Americans today, including a majority of registered Republicans, who support the freedom to marry for all Americans."
Baldwin, for her part, said in a statement to the Blade on Wednesday she continues to remain optimistic about reaching the necessary 60 votes on the Respect for Marriage Act and work continues behind the scenes on those efforts.
"I am continuing my work to build the Republican support needed to pass our bipartisan legislation to protect marriage equality and ensure Americans in same-sex and interracial marriages are guaranteed the same rights and freedoms of every other marriage," Baldwin said. "These loving couples deserve this certainty and the American people overwhelmingly agree."