Gay, bi lawmakers criticized for joining GOP on Obamacare vote
Sinema, Maloney sought to delay individual mandate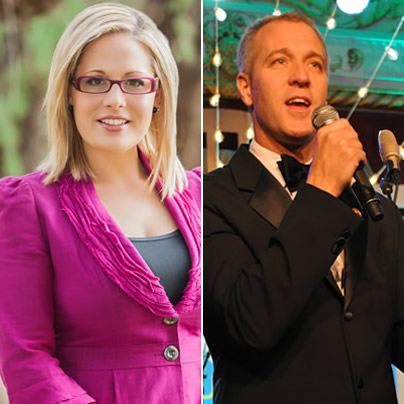 Two Democratic members of Congress — one gay and one bisexual — are incurring the wrath of LGBT activists for voting with House Republicans to delay certain portions of Obamacare in exchange for keeping the government in operation.
Reps. Sean Patrick Maloney (D-N.Y.) and Kyrsten Sinema (D-Ariz.) were among nine Democrats on Monday who voted for a Republican-led resolution that provided funds for the government for fiscal year 2014, but included a provision delaying the individual mandate and requiring members of Congress and their staffs to pay the full cost of insurance without the government subsidy.
Additionally, Maloney voted for another measure that includes the above policy items in addition to calling for a conference committee with the Senate, which would likely mean some give on health care reform.
Both Maloney and Sinema also joined Republicans on Sunday to vote for repeal of the tax on medical devices as part of Obamacare.
Each House proposal was rejected by the Senate, which has insisted on a bill that only continues funding for the government, leading to the stalemate that caused the government shutdown on Tuesday.
Michael Rogers, a D.C.-based LGBT rights advocate, said the vote means Sinema and Maloney are Democrats in name only.
"I am a progressive so I wish Sinema and Maloney were more concerned about the American people than with their reelection," Rogers said. "When Democrats stand for Democratic principles we win. If these two people won as out LGBT people, surely they would not have been tossed out sticking with their caucus. It is sellouts like Sinema and Maloney who, as DINOs, are more than willing to cave in to the crazy demands of the right."
Michaelangelo Signorile, a gay New York activist and radio host on SiriusXM, took to Twitter to express his indignation.
Gay ConservaDems took $$ from progressives, Sinema and Maloney, voted #shutdown. Make sure they meet fate of Christine Quinn @DenisDison

— Michelangelo Signorile (@MSignorile) October 1, 2013
John Aravosis, who's gay and editor of AMERICAblog, also had harsh words for the two lawmakers, who ran as openly gay/bi candidates and took donations from the LGBT community.
"I think it's abominable," Aravosis said. "No Democrat, let alone a gay or bisexual one, should be working to undercut health care protections for Americans, let alone helping John Boehner do anything."
The other openly gay lawmakers in the U.S. House — Reps. Jared Polis (D-Colo.), David Cicciline (D-R.I.), Mark Takano (D-Calif.) and Mark Pocan (D-Wis.) — didn't join Maloney or Sinema in these votes.
Maloney and Sinema voted against the most drastic proposal from House Republicans to attach a one-year delay of health care reform to the spending bill for fiscal year 2014.
In a statement, Maloney defended his vote for delaying the individual mandate by pointing to the administration.
"I strongly support the president's decision to give employers more time to comply with the law, and I believe that we should give families the same flexibility we're giving to our small businesses," Maloney said.
Maloney also explained his support for eliminating health care subsidies for government employees by saying the playing field for public and private workers should be equal.
"Families and businesses in the Hudson Valley are not getting special subsidies from Obamacare and neither should members of Congress or the White House," Maloney said.
In a separate statement, Sinema defended her votes by saying they ensure individuals can sign up for health care plans without "being punished" for failing to purchase adequate healthcare coverage.
"It's now been proven that too many states are not ready to implement the marketplaces," Sinema said. "It's not fair to punish people who don't have the information they need to make informed decisions. Arizona's hard-working families need transparency and certainty about this healthcare law and its implementation. A one-year delay of the individual mandate will ensure that Arizonans get that certainty."
Sinema also said health care subsidies for government employees shouldn't happen with a government shutdown in effect.
"Additionally, I supported tonight's amendment because members of Congress should not ask the government to pay for their healthcare while Americans at home suffer during government shutdown," Sinema said.
Neither the office of House Minority Leader Nancy Pelosi (D-Calif.) nor the Democratic National Committee responded to the Blade's request for comment on Sinema and Maloney joining House Republicans. Shin Inouye, a White House spokesperson, is on furlough and unable to respond to media requests.
The Gay & Lesbian Victory Fund, which endorsed the openly gay/bi candidates and called for donations from LGBT people for the candidates, didn't respond to a request for comment. The Human Rights Campaign also endorsed both candidates and didn't immediately respond to a request for comment.
Sinema and Maloney have been active on LGBT-specific issues since their election to Congress. They voted for an LGBT-inclusive version of  the Violence Against Women Act reauthorization and signed a friend-of-the-court brief urging the U.S. Supreme Court to strike down the Defense of Marriage Act.
Dana Beyer, a Chevy Chase, Md.,-based transgender activist, said the LGBT community shouldn't judge Sinema and Maloney too harshly for their votes because "these late night political machinations are generally theater" and don't say anything about the lawmakers' overall voting records.
"This issue isn't about the LGBT community; it's about America," Beyer said. "They should be judged on a much broader set of criteria and values than this one vote, and I hope people take the context into account."
Comings & Goings
Jarvis lands lead consultant role at Meridian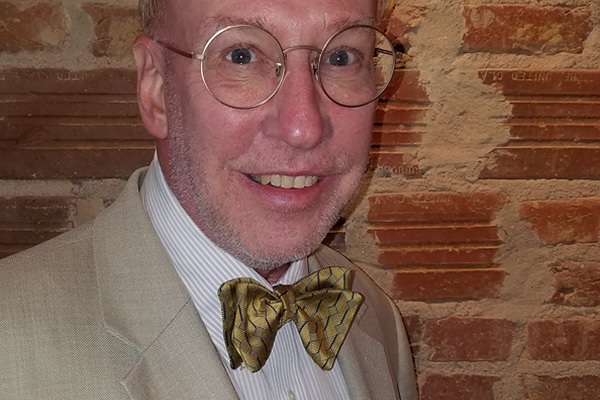 The Comings & Goings column is about sharing the professional successes of our community. We want to recognize those landing new jobs, new clients for their business, joining boards of organizations and other achievements. Please share your successes with us at: [email protected].
The Comings & Goings column also invites LGBTQ+ college students to share their successes with us. If you have been elected to a student government position, gotten an exciting internship, or are graduating and beginning your career with a great job, let us know so we can share your success.
Congratulations to Ted Jarvis on his new position as Lead Consultant with Meridian Compensation Partners, in D.C. He will work on executive compensation, governance research and development. When asked for a response to news of his new role, Jarvis told this story: "I was on the prowl for a new job, I contacted the CEO of Meridian, who worked closely with me during our years at Towers Perrin. After half an hour on the phone, he asked: 'Send me a list of things you really like to do.' I followed up with a list of activities that continually engage my interest. Within a few days he mailed me a job description that reiterated my list almost word-for-word. I feel truly blessed to have a job so aligned with what I enjoy doing. This is going to be great."
Prior to working for Meridian, Jarvis worked as Managing Director with Main Data Group in D.C. and Wilton Manors, Fla. He has also worked as Global Director of Executive Compensation Data, Research & Publications, Mercer, in D.C.; principal with Willis Towers Watson; and as a research consultant with McKinsey & Company. Jarvis is a member of the Lotos Club (New York); a benefactor at Drew University (Morristown, N.J.). He funded two undergraduate prizes (Wettstein Drama Prize; Norton Wettstein and Jane Brown Memorial Prize for Outstanding Academic Achievement); a benefactor, Woodmere Art Museum (Philadelphia): funded William Joseph Coverley-Smith Prize, awarded annually at the Juried Art Competition; and a benefactor, St. Thomas's Episcopal Church (Rochester, N.Y.).
Jarvis earned his MBA from The University of Chicago, Booth School of Business; his bachelor's (cum laude); his Ph.D. (ABD) major in music history, literature and theory from NYU. He earned a Fulbright Scholarship to the University of Vienna.
Las iglesias en Cuba están más preocupadas por la educación sexual que por el Código de las Familias
Los adventistas publicaron una carta dirigida al presidente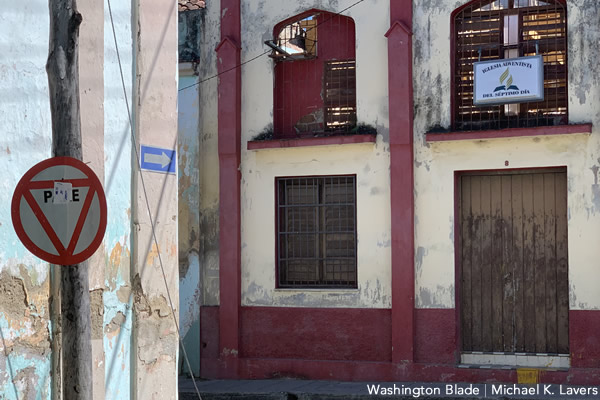 Tremenda Nota es el medio socio del Washington Blade. Esta nota salió en su sitio web el 16 de junio.
CÁRDENAS, Cuba — Una declaración oficial de la Iglesia Adventista del Séptimo Día confirma que la preocupación de algunas iglesias cristianas contrarias a los derechos LGBTI+, está más motivada por el programa de educación sexual integral aprobado por el Ministerio de Educación (Mined) que por el Código de las Familias.
Los adventistas, en una carta pública dirigida al presidente cubano Miguel Díaz-Canel Bermúdez, manifestaron estar "preocupadas" por la Resolución No. 16/2021, aprobada por el Mined el pasado 26 de febrero con el propósito de establecer un programa educativo con enfoque de género que promueve la inclusión de personas LGBTI+, entre otros temas.
La declaración adventista, aunque dice estar en "desacuerdo" con "los ajustes que se quieren hacer al Código de Familia", solicitó puntualmente al gobierno "no exponer a nuestros niños, niñas y adolescentes a la ideología de género en las escuelas".
"Finalmente, en caso de implementarse el programa de ideología de género en nuestras escuelas que este sea opcional, ya que no existen escuelas cristianas", insistieron los adventistas.
La resolución aprobada por el Mined declara: "El respeto a la diversidad sexual, como fundamento ético y de protección de los derechos de las personas y de rechazo a prácticas y comportamientos homofóbicos, transfóbicos e inhumanos".
La solicitud principal de la declaración adventista coincide con lo manifestado por otras denominaciones cristianas en sus recientes posiciones públicas. La Convención Bautista de Cuba Occidental, por ejemplo, también recomendó que la educación sexual sea ofrecida como una opción no obligatoria, bajo supervisión del Centro Nacional de Educación Sexual (Cenesex).
"Sería doloroso que muchos ciudadanos dignos se vean en la disyuntiva de no llevar a sus hijos a la escuela (asumiendo las consecuencias de ese acto de desobediencia civil) o entregarlos mansamente al bombardeo sectario de una ideología que rechazamos", dijeron los bautistas.
La Liga Evangélica de Cuba, en su declaración publicada este 10 de junio, enfatizó en que se garantice la libertad religiosa y expresó que personas LGBTI+ "tienen derecho a luchas por sus demandas y pedir igualdad ante la ley".
Los adventistas, en la misma línea que los metodistas, quienes solicitaron al gobierno una Ley de Cultos que refuerce la libertad religiosa, dijeron en su carta que si las autoridades finalmente legislan a favor de la igualdad LGBTI+, también proteja a quienes defienden "el punto de vista contrario a la ideología de género", para evitar que sean acusados de homofobia "por proclamar y vivir los principios bíblicos".
Los metodistas advirtieron sobre el peligro de "criminalizar nuestra defensa del diseño original de la familia, el matrimonio y la identidad humana".
Las últimas declaraciones de las iglesias cristianas parecen dar como un hecho inevitable que el Código de las Familias adoptará el matrimonio LGBTI+ y se han enfocado en defender el derecho de los cristianos a profesar la fe que deseen sin ser molestados y la facultad de los padres para elegir la educación de los hijos menores de edad.
La resolución del Mined que han criticado estas iglesias, ya está en vigor. El Código de las Familias, la ley que debe resolver si el matrimonio será un derecho de las parejas LGBTI+, será presentado al parlamento en julio próximo. Después de ser aprobado por la Asamblea Nacional del Poder Popular, será sometido a referendo.
US condemns murder of prominent transgender activist in Guatemala
Andrea González murdered days after vice president visited country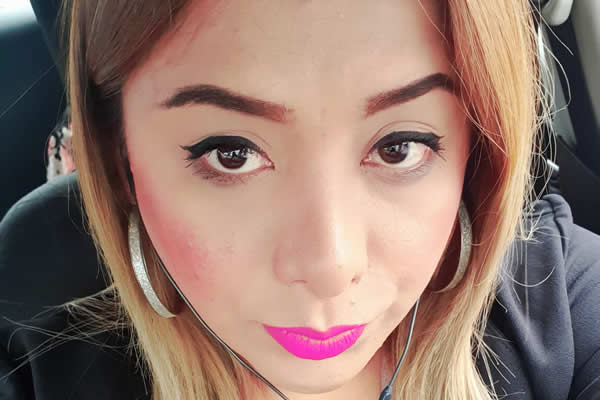 The U.S. has condemned the murder of a prominent transgender activist in Guatemala.
Reports indicate Andrea González, executive director of Organización Trans Reinas de la Noche, a trans advocacy group, was shot to death in broad daylight on June 11 near her home in Guatemala City. Las Reinas de la Noche in a statement posted to its Twitter page mourned González.
"Reinas de la Noche is in mourning over the irreparable loss of Andrea González, a leader and activist for the human rights of trans people," said Reinas de la Noche. "Her legacy will endure in each one of us, and her light will never be extinguished."
🇬🇹 #HistoriasDeVida 🏳️⚧️

Las Reinas de la Noche nos encontramos de duelo por la perdida irreparable de Andrea González, lideresa y activista por los derechos humanos de las personas Trans, su legado perdura en cada una de nosotras, que su luz nunca deje de brillar. pic.twitter.com/0jhEphoaan

— OTRANS Guatemala (@InfoOTRANS) June 12, 2021
The U.S. Embassy in Guatemala noted González participated in the State Department's International Visitors Leadership Program that invites human rights activists, journalists and civil society members to the U.S. to meet with their counterparts and American officials.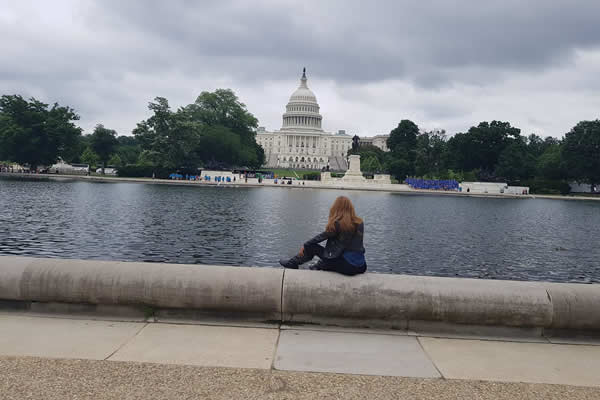 González also worked with the U.S. Agency for International Development.
"The U.S. Embassy in Guatemala mourns the death of Andrea González," said the embassy in a statement.
Lamentamos la muerte de Andrea González, directora de Junta Directiva @InfoOTRANS, exbecaria #IVLP @StateDept y colaboradora de @USAIDGuate. pic.twitter.com/ZByrRELpES

— US Embassy Guatemala (@usembassyguate) June 12, 2021
USAID Administrator Samantha Power and U.S. Ambassador to Guatemala William Popp on Wednesday visited Reina de las Noche's headquarters to express their condolences over González's murder.
.@PowerUSAID y #EmbPopp expresaron a @InfoOTRANS sus condolencias por fallecimiento de Andrea González, exbecaria @StateIVLP y colaboradora @USAIDGuate. Somos orgullosamente diversos en identidad, pero unidos en el compromiso compartido con la libertad y la dignidad de todos. pic.twitter.com/oPZXxgbrqI

— US Embassy Guatemala (@usembassyguate) June 17, 2021
Acting Assistant Secretary of State for Western Hemisphere Affairs Julie Chung in a statement noted González was killed days after Cecy Ixpata, who was also affiliated with Reinas de la Noche, was killed in Salamá, the capital of Guatemala's Baja Verapaz department.
Salamá is roughly three hours northeast of Guatemala City.
"We condemn the outrageous murders of two transgender women in Guatemala," said Chung. "We believe all such violence must be investigated and the perpetrators held accountable."
Chung added the murders are "particularly saddening as we celebrate the contributions of LGBTQI+ activists around the world during Pride month."
We condemn the outrageous murders of two transgender women in Guatemala. We believe all such violence must be investigated and the perpetrators held accountable.

Particularly saddening as we celebrate the contributions of LGBTQI+ activists around the world during #PrideMonth.

— Julie Chung (@WHAAsstSecty) June 14, 2021
Violence and discrimination based on gender identity remains widespread in Guatemala.
Two activists who work with LGBTQ Guatemalans and Guatemalans with HIV/AIDS are among the 18 members of Guatemala civil society who participated in a roundtable with Vice President Kamala Harris in Guatemala City on June 7.
Harris has previously noted that violence based on gender identity is one of the "root causes" of migration from Guatemala and other Central American countries. State Department spokesperson Ned Price last month noted to the Blade during an interview ahead of the International Day Against Homophobia, Biphobia and Transphobia that protecting LGBTQ migrants and asylum seekers is one of the Biden administration's global LGBTQ rights priorities.