The challenges facing LGBT seniors
'Survivor' generation coping with isolation, health concerns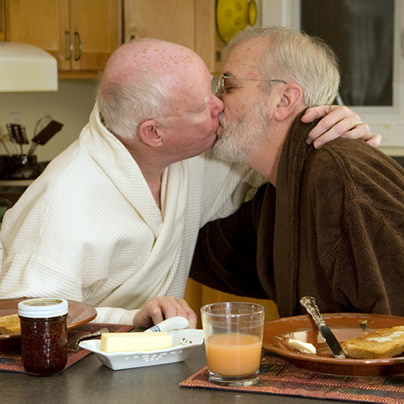 It's often said that LGBT people are an invisible minority. While it's true that some LGBT people intentionally "out" themselves, the vast majority of us are indistinguishable from our family members, neighbors or friends. Unless we verbally disclose our sexual orientation or gender identity, others would never know this facet of our identity.
Within this invisible culture is yet another, more invisible group. These are LGBT seniors – those over the age of 60 years, who are either settled into long careers, relationships and retirement settings or living alone and in social isolation and no longer "seen" by younger LGBT folks.
Many of us came of age long before the Stonewall Rebellion in 1969. Many of us lived the majority of our lives "in the closet," spent years in psychoanalysis trying to "be normal," or found a special partner and an intimate social group but rarely ventured beyond that safe zone. We started the LGBT organizations that younger people now take for granted. We survived our brothers who died of AIDS, sisters who died of breast, cervical or ovarian cancers, or those who died from alcoholism and drug overdoses trying to numb the pain of their loneliness. We are survivors and the efforts we made to build the movement of equality and fair treatment for all LGBT people is just now coming to fruition.
Now we face far more personal challenges. Like our heterosexual counterparts entering the "Golden Years," we face the issues of retirement, growing health concerns, and the considerations of what to do when we can no longer care for ourselves. We also have to deal with increasing isolation, as we lose family, friends and partners and our ability to be social becomes more and more limited.
But, as LGBT people, we have the added burdens of entering our elder years still facing discrimination, lack of understanding of our needs, and the reality that many of us won't have families of our own to help care for us.
Many, if not most, seniors, regardless of sexual orientation or gender identity, will at some point need to rely on publicly and privately financed long-term care services: home health care services and senior centers in order to stay in their homes or in the homes of partners, friends or relatives; assisted living or skilled nursing facilities if continuing to live at home is no longer feasible. LGBT seniors face a long-term care system that is unaware of their particular needs, if not actually hostile.
Clearly, LGBT seniors face unique challenges that they may not be able to face alone. And Whitman-Walker Health is here to help with not only medical care, but mental health services and legal help.
We currently offer two therapy groups for LGBT seniors age 60 and older (one group for lesbians, bisexual women and transwomen, the other for gay and bisexual men and transmen) for issues related to aging. These groups are professionally facilitated and can be covered by Medicaid, Medicare or private insurance. Call 202-939-7631 if interested. We also offer a "Gay Men Over 50" peer support group. Call 202-797-3580 to register.
Recently, our Legal Services Program has expanded to help LGBT seniors obtain adequate long-term care and health care services; address discrimination; obtain all of the Social Security, Medicare, Medicaid and other public benefits to which they are legally entitled; and protect their visitation and decision-making rights in hospitals, rehabilitation facilities, nursing homes, assisted living facilities and other long-term care settings.
Let's help each other continue to survive and thrive as we get old together.
Joe Izzo is a 65-year-old gay man, trained as a geriatric social worker, and has been a psychotherapist in Mental Health Services at Whitman-Walker Health for 22 of his 27 years as a full-time staff member.
Can we relearn being social?
One D.C. resident predicts a post-COVID Roaring Twenties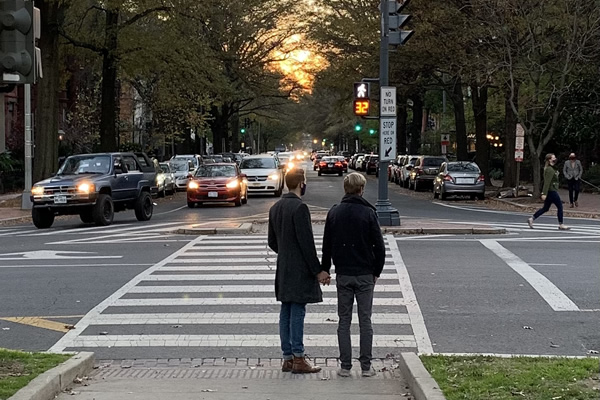 Will vaccines and the end of lockdown mean we have to relearn how to socialize? How has our year off of in-person events, meet-ups and dating changed how we'll socialize?
Pre-vaccine, we had solutions. Some of us had sidewalk-spaced visits; others stayed indoors and got their fix online; and a portion joined the Pod Movement. Forty-seven percent of Americans joined a pod.
I was among the 53 percent who didn't pod. I met some needs through calls with friends, my daughter and healthy parents (ages 92 and 85), and by seeing friends in distanced encounters.
As more of us get vaccinated, will the social light switch finally flip up on June 1? Even Dr. Fauci can't say for certain.
According to an expert from Whitman-Walker Health, folks may not dive right back into their pre-pandemic routines.
"There remains a lot of uncertainty about [how] a post-pandemic life will look. It's important to recognize the pandemic has been a collective trauma. There will be collective and individual impacts once the pandemic subsides," they said. "For example, life after [9/11] meant an increased sense of vulnerability, hyper-vigilance and anxiety. It's likely we'll see similar impacts."
Matt Friedman, 52, of Truxton Circle coincidentally mentioned 9/11, saying "there was a lot of talk of people cocooning after 9/11, and we may see a similar trend."
How long until we can confidently attend a concert/sporting event?
"I would be comfortable being with small groups of friends when I know we are all vaccinated. I'll feel fine eating inside restaurants or shopping after I've been fully vaccinated," said MF.
"I'll feel safe once I, and the majority of the [local] population, are vaccinated," wrote Craig in Alexandria
For me personally, it will depend on my trust of the event/context and other people.
Then there's in-person dating. I've almost sworn off it since March 2020. Others have run the gamut from a few worries to strict celibacy.
As the dating floodgates open, what will people do? Craig and Matt shared that once vaccinated, they'll be okay with dating, though maybe it will be a low priority.
Craig's dating hesitation, "the game itself, lol!"
When asked about when to date, Matt said, "I haven't given this much thought."
Deciding it's time to date is one thing; doing so is another.
Americans won't fully vaccinate. According to NBC4, half of our previous president's supporters will decline getting a vaccine.
New dating will bring questions. Some of us may be rusty with the first date awkwards, the fumbling hands, and dating protocols.
Will we want:
Mask/no mask?
Proof of a vaccine?
Pfizer or Moderna?
Indoor/outdoor date?
Intimate moments: What will/won't we do?
We may experience dating's new importance (or its lack.) A year without may have been a welcome excuse to quit the game. Others will want a home run, ASAP.
I'm fine with whenever. What's another few weeks? The pandemic has made me see priorities and focus on quality time vs. a hookup. I won't jump into social gatherings unless I want to go.
"After over a year of spending less time in public, social circles, it will be interesting to see what dating looks like. Folks have left relationships, other relationships have strengthened, and there will be folks who enjoy [dating] extensively. Other folks may have realized they crave a deeper connection. I am curious to see who lands in which place," Julio J. Fonseca (he/him), 46, in Dupont Circle said.
The pandemic's made us rethink our working lives, so it makes sense we'd reconsider our social time. Going into summer 2021, what will we do/not do this year versus the summer of 2019? Freewheeling or caution?
"There may be a renaissance of social spaces … a 'new Roaring Twenties' feel. I don't think things will ever feel exactly how they did before the pandemic," Julio predicts. "I have learned the type of social engagements I enjoy versus things I had been doing out of a feeling of obligation. Managing the type of engagements and social settings that are more meaningful will be high on my self-care [list]. There will be a few months where people will get sick of seeing me because I will be everywhere." 
Until St. Fauci says "go," a vaccinated, trial-and-error-period may be our game plan. Matt captures the D.C. spirit with, "I plan to give all of my friends giant, vaccinated hugs."
Advance medical directives protect health care decisions
Important considerations, even if you're married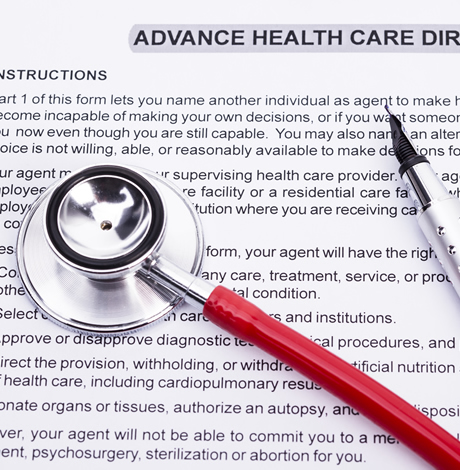 If you became unable to speak, who would make your medical decisions? That's the question being raised throughout the country on April 16.
That date marks the 10th Annual National Healthcare Decisions Day, a nationwide event promoting the importance of healthcare choices and advance care planning. This day is a reminder for us all to take steps to ensure that our wishes are followed in times of crisis.
Advance medical planning is of particular importance to the LGBT community, because our support systems frequently fall outside of what is known as traditional "family" structures. The friends and loved ones you rely on and know best may have little power to speak for you when you need it most, unless you take specific steps ahead of time.
"Not having a health care proxy or an advance medical directive in place can be difficult," said Kelli Abbott, community outreach counselor with the SAGECAP (SAGE Caring and Preparing) program at The LGBT Health Resource Center of Chase Brexton Health Care.
"It's important to have someone in charge of your health care decision-making, regardless of your relationship with that person," Abbott adds. "If you don't and, no close family are present in your life, these decisions could end up being made by doctors or family you may have no relationship with."
The issues will be the focus of a Lunch and Learn workshop hosted by the SAGECAP program on Thursday, April 13 at Chase Brexton Health Care's Mt. Vernon Center, 1111 N. Charles St. in Baltimore.
Presented by Susan Francis of Maryland Volunteer Lawyers Service, the workshop will detail the critical documents needed to secure advance medical directives for LGBT individuals and their chosen families. These directives provide legally binding instructions to caregivers about the patient's wishes if they are not able to make those decisions themselves. Issues concerning making a will and delegating power of attorney will also be discussed.
The Maryland Volunteer Lawyers Service offers free advance planning for low- to moderate-income Marylanders, and intake for appointments with the organization's attorneys will be available at the end of the session.
There are two important ways to protect yourself: you can make your own decisions in advance by putting your wishes into a formal document often known as a Living Will, or you can use an advance directive to designate a Health Care Proxy (sometimes called a Health Care Agent, Surrogate, or Power of Attorney) who will make medical decisions on your behalf. Many people do some combination of the two, but it all depends on the individual person and situation.
It's important to note that simply completing advance directives isn't enough; the people who might use them need to know that they exist and be able to access them when the time is needed. Give copies to your physicians, talk to friends and loved ones about them, and have detailed discussions with anyone you plan to name as a health care proxy (you should also provide them with the original copies of the forms). You might consider carrying a note in your wallet stating that you have an advance directive, along with instructions on where to find it or who to call in an emergency.
Thanks to marriage equality, same-sex spouses now have significantly more protection—a legal spouse would be the first in line to speak for someone who is incapacitated. That doesn't make advance planning any less important, though. You should talk with your spouse specifically about your wishes, in the same way you would when designating a health care proxy, and you should be sure that you understand their wishes as well. This isn't a matter of mistrust; knowing the patient's own wishes can significantly ease the burden of making important decisions at a difficult time.
No one likes to talk about the "what ifs" of medical and end-of-life care, but it's a necessary step that we each need to take to protect ourselves. The theme of this year's National Healthcare Decisions Day is "It Always Seems Too Early, Until It's Too Late." Please don't put off these important steps until it's too late—protect yourself now by putting your advance directives in place.
For more information, visit lgbtagingcenter.org.
Monte Ephraim is with the LGBT Health Resource Center of Chase Brexton Health Care.
Coping with Post-Trump Stress Disorder
Turn off CNN, engage with your friends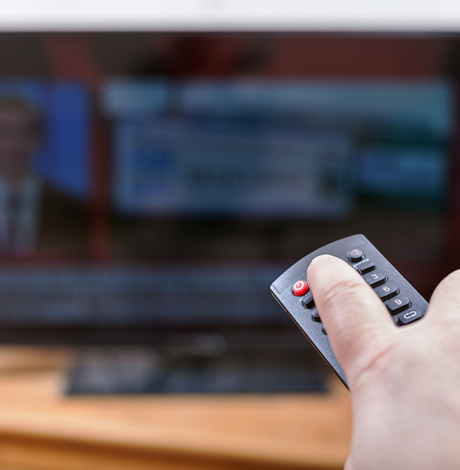 OK, so that last column wasn't my last column. I didn't get what I wanted for my birthday. We still don't have a woman president.  Apparently it's too soon. Even Saint Mother Theresa couldn't get the job. She used a private email server named God.
The way I remember election night, everything seemed to go downhill after the election of Illinois's new Sen. Tammy Duckworth. Then it was a Duck Dynasty downer all night long. The next mourning I was in a fetal position under the covers, moaning, "Alexa, play Bonnie Raitt's 'I Will Not Be Broken.'" All day I received your birthday wishes/condolences.
The mourning couldn't last long. I had some rewriting to do.
Work has gotten me through many crises — Reagan, AIDS, the Bush stolen election, 9/11, the invasion of Iraq, economic collapse.
Two nights after 11/9, I had a show at Gotham Comedy Club in NYC. That night all the comics ahead of me said they would leave the political jokes to me. Thanksabunch came early this year. I started my set the same way I did after Reagan was inaugurated in 1981. I put my head back and screamed. I invited them to join me. After their first scream, I said, "Do it again." After the second, I played a dead-voiced dominatrix, "I can't hear you." During the third sustained, bench-clearing brawl of a primal scream, I wondered what it sounded like out on 23rd Street.   
Like many of you I had been looking forward to beginning to deal with my PTSD – Post Trump Stress Disorder. I wanted to stop thinking everyone was an idiot. I hated hating people. I was tired of sneering at Trump women, "Why do you hate yourself so much?" But Post is now Permanent.
In our house we have not watched television, read the paper or listened to NPR since election night. One of my triggers is CNN's white slab of a John King fingering his wailing wall, while Wolf howls, "We've got some important breaking news." Info-nuggets seep through. That basket of deplorables was actually a cabinetful. Jeff Sessions as attorney general? Egad. I am pretending it's Leslie Jordan.
My neighborhood is a locked-down, no-fly zone. Except for police helicopters, all night long. It's not the wall, but the area is walled off. We can't sit still long enough to shelter at home, so we've joined the protests at Columbus Circle, site of one of Trump's many erections throughout town. I wonder as I scream into the night how many protesters actually door-knocked, phone-banked or even voted. But whatever. Now they are feeling the burn.
Here's some things.   
Don't isolate. Friday night of the Zombie Apocalypse I went with friends to New York City's Congregation Beit Simchat Torah. I figured the Jews knew how to get through times like these. Rabbi Sharon Kleinbaum forcefully reminded us that "never again" means "never again." Earlier that day she and three other rabbis had stood vigil outside a mosque during Friday Muslim prayers to show their solidarity.
The next day, I went to emcee/sit shiva at the Democracy Alliance conference in D.C. I visited the brilliant new African American Museum of History and Culture. Their long, courageous struggle against brutal odds contextualized our current moment of struggle. Donald Trump is merely the white head on the fatherlode of white racism.
Second thing, don't medicate. Unless it's food in your reactivated potluck groups. Start one for heaven's sake.  Sometimes food is love in a good way. Call an emergency dinner meeting of your friends. In our next book group we were supposed to discuss "Being Mortal" by Atul Gawande. Because we are all feeling mortally fragile, we've decided instead to spend the time checking in with each other and talking about the way forward.
We're all bringing different dishes to the table. I have mine. Abolish the Electoral College. It's like Trump U. Two times in 16 years it has left us in huge debt. Abolish electronic voting. Before the mid-term elections. Start now to take back the Senate in 2018. During mass deportations and compiling lists of Muslims, the Teahaddists are going to pinkwash their treachery by using their love of the white Gs, maybe the Ls, what are the Bs and definitely not the Ts to show what compassionate humans they are.  Swallow a prism; shit a rainbow.
Third thing. For your own sake, don't tell me it's not going to be as bad as I think. Too late. And don't ruin the surprise, but for the holidays I'm having cloisonné uzi pins made for each study group member.
Kate Clinton is a longtime humorist. She writes regularly for the Blade.