Love's dark side
Baryshnikov delights in tight Chekhov interpretations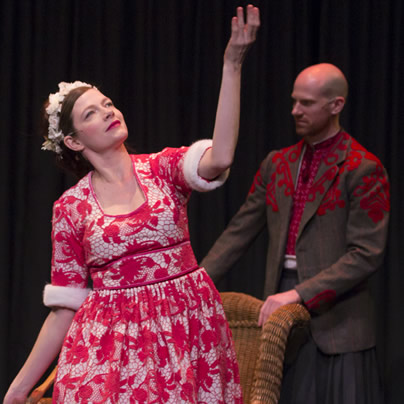 'Man in a Case'

Through Dec. 22

Shakespeare Theatre Company

Lansburgh Theatre

450 7th Street, NW

202-547-1122
Don't go to "Man in the Case" expecting to see Baryshnikov leaping across the Lansburgh stage wearing tights and bathed in a spotlight. That's not happening. What you will see is a superb production with the legendary Russian ballet superstar acting in an ensemble, marvelously interpreting two lovelorn Chekhov characters, and — despite his protestations in recent interviews — even dancing a little.
Adapted and staged by Paul Lazar and Annie-B Parson and of the New York-based Big Dance Theater (Parson also choreographs), "Man in a Case" is an experimental retelling of two anti-love stories by Russian dramatist and short story writer Anton Chekhov. Baryshnikov plays each story's very different protagonists.
After a long day outdoors, two hunters (Jess Barbagallo, Chris Giarmo) are exchanging tales. The first is about Belikov (Baryshnikov), a Greek teacher whose solitary, regimented life is briefly upended when he falls in love with Barbara (Tymberly Canale), a giddy Ukrainian extrovert who loves to sing and dance. The relationship's undoing is Barbara's avid bicycling. Uptight Belikov can't abide such unorthodox behavior. In the second, shorter piece, Baryshnikov plays an educated young farmer who falls in love with his only friend's young wife (again the excellent Canale). Both romances end badly.
Using video, imagery, sound and movement, the adaptors/directors employ an experimental but easily followed narrative. As the audience is still being seated, some actors and a video and sound designer (Keith Skretch and Tei Blow, respectively) gather around a refectory table onstage.
With house lights still up, Baryshnikov enters from a side door in the orchestra section and climbs on to the stage almost unnoticed. Then the action begins in earnest. As the classics teacher, clad in a heavy black coat, Baryshnikov is fastidious and precise. In the latter wistful memory piece, Baryshnikov serves as narrator.  His well-modulated voice sounds Russian learned via a British tutor. His lovesick farmer's movements are slower, almost languorous. The great dancer is an excellent actor.
In 1974, Baryshnikov (now 65) defected from Russia where he was a rising star at the Kirov Ballet. At the New York City Ballet he shot to stardom as a world famous dancer. He also choreographed and acted in some films. Younger audiences might only know him as Carrie Bradshaw's dispassionate artist boyfriend from "Sex and the City." Today, he remains all grace and agility. (As Belikov he turns a few backward somersaults down a steep flight of stairs, and as the farmer, he is partner in a beautiful sort of modern pas de deux.)
The production is tight — an absolute pleasure to watch from beginning to end. If anything, it's too short at 75 minute. But better to be left wanting more than less. With its whimsical video projections and clever touches, the production still captures the wit, sadness and honest description of the human experience found in Chekhov's short stories. It's also surprise-filled, delightful and full of feeling. A wicker love seat changes into a frenzied, carnival ride. Belakov's bed morphs into a virtual curtained isolation tank. Peter Ksander's set design and Oana Botez's costumes are contemporary and period, further cementing Chekhov's timelessness and undeniably universal appeal.
American novelist Eudora Welty once said, "Reading Chekhov was just like the angels singing to me." Some wildly divine and singular praise, indeed; but seeing Baryshnikov do Chekhov in Big Dance's production is exhilarating in its own right. It's something not be missed.
Arab-American playwright delves into queer themes in 'Unseen'
Mosaic production entwined with heartbreak and humor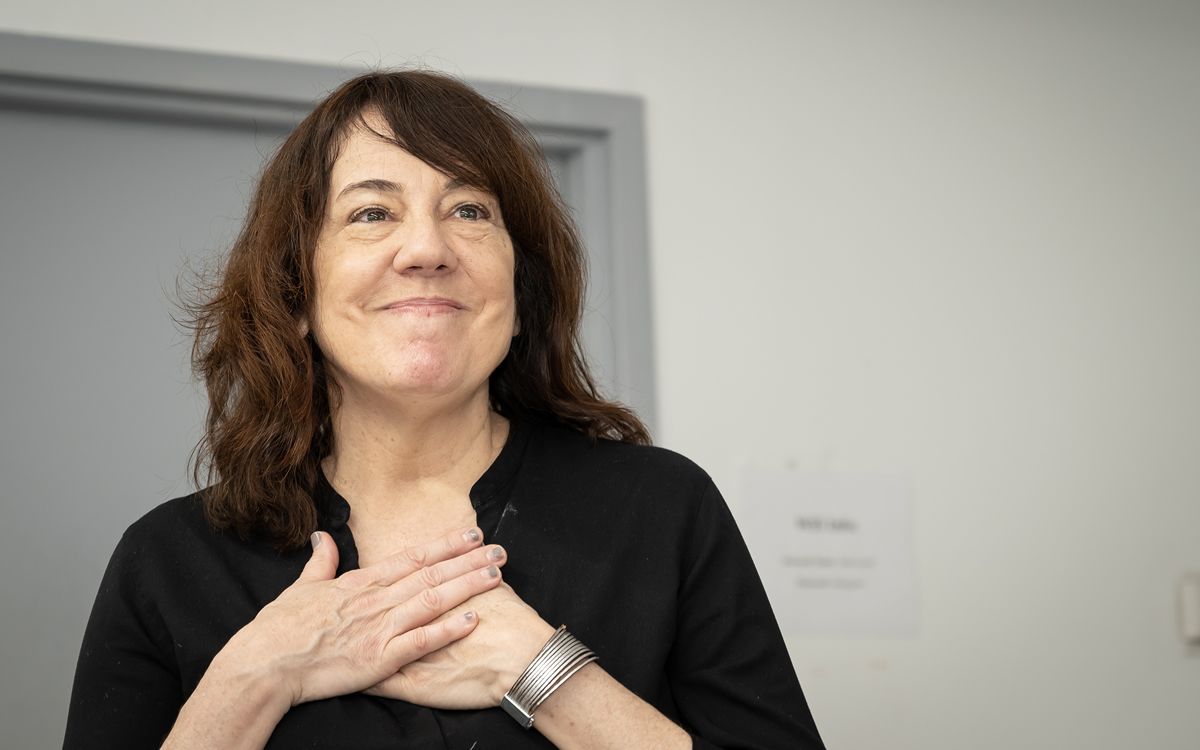 'Unseen' 
Through April 23
Mosaic Theater Company at Atlas Performing Arts Center
1333 H St., N.E.
$50-$64
Mosaictheater.org
New York playwright Mona Mansour is best known for exploring her Arab-American identity, but with her most recent work "Unseen," now playing at Mosaic Theater, she delves into queer themes, shining a light on her own sexuality.
"Doing a gay-themed play had been nagging at me for a while," explains Mansour via phone from a cozy coastal town in Connecticut where she's taking a short break from the city with her girlfriend, a children's book author. "So, when I started writing about a woman with a camera, it just seemed to fit."
Entwined with heartbreak and humor, "Unseen" focuses on Mia, an American conflict photographer who wakes up in her off-and-on girlfriend Derya's apartment in Istanbul with no idea of how she got there. In a cross-cultural, time-shifting journey, Mia, neither sanctimonious nor self-congratulatory about her work, wends through Istanbul, Gaza, Syria, and an art gallery in Philadelphia, confronting personal and professional challenges.
At turns, the women's relationship can be described as estranged, fiery, adversarial, sexy, and romantic.
"With each rewrite I increasingly stacked the deck in Mia and Derya's favor," says Mansour "Early on, one might have said, 'boy, I don't know about these two.' But now, there's love along with the contentiousness."
But will the women make it as a couple? Mansour suggests an after-play thing where the audience makes bets.
"What's clear is that Mia can't keep going on as she has been, and though the play doesn't take us to this, what I think personally is that we as a country can't keep going in the way we have either. Those are things I think are around the play, but for me as writing, putting those ideas into a play into a character's mouth, I feel like I shut down. It's tricky.
"Theater is a tough business and kicks your ass but there's a reason we all do it," she continues. "I'm a cynical person in a lot of ways, but I'm definitely not interested in writing plays that when the lights come up, the first thing people say is 'where are we going for cocktails?'. Those are fine too, and I've done silly plays in the past, but just not now."
Mansour likes a Washington audience. Her play "The Vagrant Trilogy," a stunning piece about a displaced Palestinian family in exile, debuted at Mosaic in 2018 before moving to New York's Public Theater last year. She credits the play with her having recently received the prestigious Arts and Letters Award in Literature from one of the country's foremost cultural bodies, The American Academy of Arts and Letters.
Growing up in a Southern California suburb, the daughter of a Lebanese immigrant father and an American mother from Seattle, Mansour was obsessed with Patty Hearst's kidnapping and battles of World War II. She says, "We weren't the rich family who took off for a week in Tahoe, though sometimes I would have liked that. We had a stream of cousins coming to stay with us during the Lebanese Civil War."
For Mansour, coming out to her parents shortly after meeting her first girlfriend in the mid-90s was a mixed bag: "It was a thing for my 'moderny' Lebanese dad," she says. "But my mother accepted it instantly." She recalls a gay friend at the time saying "I'm gay for 14 years and haven't told my mom. You've been gay for five minutes and have already come told your mom and hugged it out."
Before writing, Mansour acted, including a stint studying at Second City Chicago and improvising with the Groundlings Sunday Company: "I was good enough to know when I wasn't good. I write way above what my own punching ability was, but I always feel like someone else can do it." And with "Unseen," she has written three meaty tracks for three women, here played by Katie Kleiger, Dina Soltan, and Emily Townley. Directed by Johanna Gruenhut.
"As the bringer of images, Mia is part of a system, a system that I, Mona, think about all the time. But you can't address a system of endless wars in 90 minutes," she says.
Without spelling it out, Mansour's work makes audiences think about the big questions. "That's my hope," she adds. "I want them to come to that same psychic space without literally leading them there and plopping them down in a chair. You know, even when I agree with someone, I don't like to be lectured."
Gay actor went after role in 'Angels in America' like a bloodhound
Nick Westrate on the importance of remembering AIDS in the '80s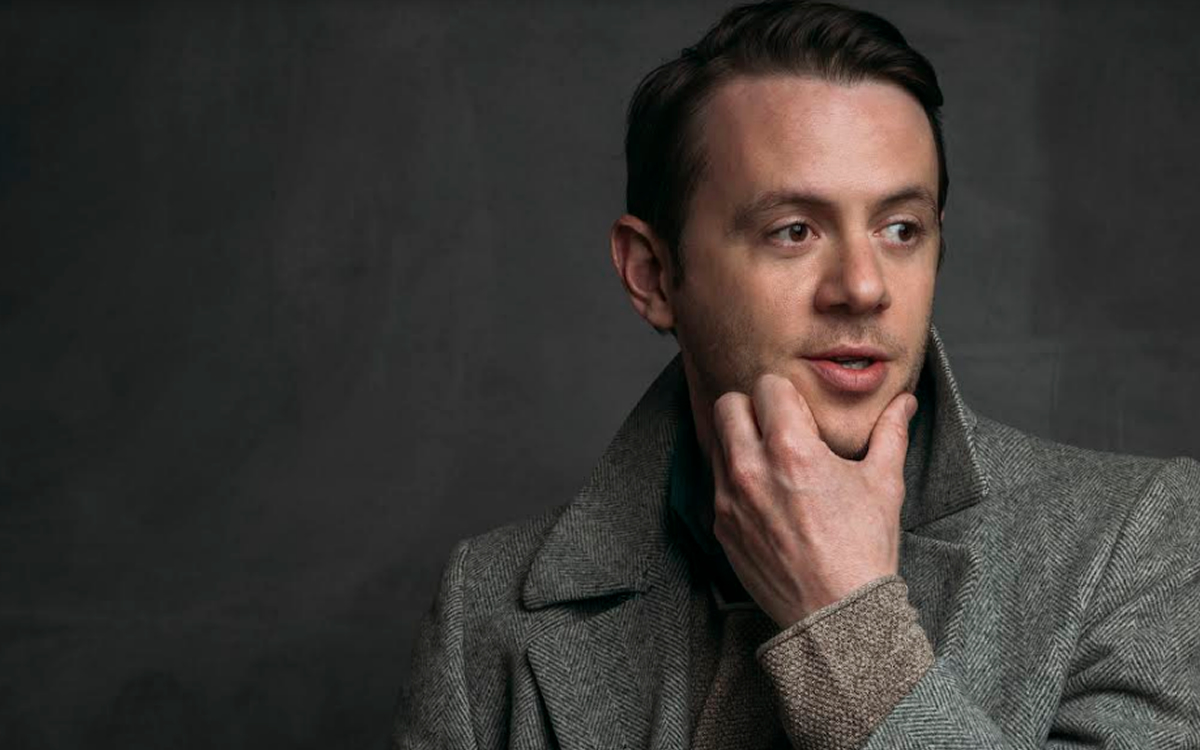 'Angels in America, Part One: Millennium Approaches'
Through April 23
Arena Stage
1101 Sixth St., S.W.
$56– $95
Arenastage.org
By playing Prior Walter in Tony Kushner's "Angels in America, Part One: Millennium Approaches" at Arena Stage, New York actor Nick Westrate is hitting a professional milestone. The part of Prior, a young gay New Yorker besieged by AIDS and abandonment, is a role he's long wanted to do, and almost did several times, but somehow it never worked out until now with Arena's staged-in-the-round production helmed by Hungarian director János Szász. 
Set in mid-80s New York City, the 1993 Pulitzer and Tony and Pulitzer-winning epic is an American tragedy tempered by humor. After Prior is diagnosed with AIDS, his partner Louis leaves him for Joe, an ex-Mormon conservative whose wife Harper is having a Valium-fueled nervous breakdown. Thrown into the mix are – among others—loathsome lawyer Roy Cohn (a vicious, closeted conservative who died of AIDS in 1986), the ghost of Ethel Rosenberg, and an angel who appears to Prior and decrees his role as a prophet, a mantle Prior struggles with donning.
For the out actor, saying the playwright's words is both a thrill and responsibility: "Tony Kushner is the most remarkable living playwright we have. His words are poetry, and he makes poetry practical and the political personal. He's second to none in that way."
Westrate grew up on a Christmas tree farm in southern Michigan. At 17, he left his home state for New York to study acting at the Juilliard School. After a busy but rough start, an eclectic and successful career ensued.
His ample stage credits include originating roles for Harvey Fierstein's "Casa Valentina" and Theresa Rebeck's comedy "Bernhardt/Hamlet." He toured in "The King's Speech" as Bertie (the monarch who overcame a debilitating stutter to inspire a nation), played feckless young Leo in Ivo van Hove's "The Little Foxes" and the depressed Donald in the 2010 off-Broadway revival of "The Boys in the Band." On television, he was Robert Townsend for three seasons on AMC's "Turn: Washington's Spies," and on film, he starred in William Sullivan's "American Insurrection."
When asked how the part of Prior came to him, Westrate replies without hesitation, "I sought after it like a bloodhound." Short version is Westrate heard Szász was doing "Angels" at Arena. He liked his work but didn't know how to contact him, so he reached out to an Eastern European contact who put them in touch. They met in New York in October and hit it off. After a few hours of reading sections of the play together, director and actor decided to join forces.
"It was a fit, and I knew that Arena had the resources and integrity to do it well," he adds.
WASHINGTON BLADE: You're too young to remember the early days of AIDS. How do you tap into the terror?
NICK WESTRATE: A lot of reading, things like Randy Shilts' "And the Band Played On" and Paul Monette's great memoir "Borrowed Time." And the more you learn about people and how cases of the virus ravaged their bodies, the more terrifying it becomes. You can only take in so much at a time and luckily, I've had a long runway to prepare for this.
Terror is also knowing the joy and liberation before the fall. How free gay life was becoming and how much fun everyone was having. If this had never happened, we'd be so much further along. We would have discovered 400 genders by now and wouldn't have Ron DeSantis braying about it. AIDS was such a huge missile into the soul of our community.
BLADE: And the physicality of the role? Prior becomes increasingly ill throughout the play.
WESTRATE: A lot of things. Again, there's reading including media material and actual accounts – there's a great book called "From A Burning House," a nonliterary compilation of short letters from people living with the virus. There's artistic preparation involving the movement director and costume and wig and makeup designers as well, and figuring out how to express all that.
Also, I lost 30 pounds to play the part. Because of the long run up to the play, I was able to do it gradually.
BLADE: Tell us about the cast.
WESTRATE: Half the cast are queer people. It's so amazing to do this play with gay people — the references and understanding is there. You don't have to apologize; the kissing isn't weird. There's an almost immediate intimacy of doing this play together that's very beautiful.
I've worked with straight actors in gay plays who've asked "OK, why Judy Garland?" Or they tell me how they've researched to be gay. It's borderline offensive. But when you're with gorgeous queer people it just happens so naturally so easily. [Castmates] Billie Krishawn, Justin Weaks, Michael Kevin Darnall and I have such a shorthand with each other. We have a text chain and send it each other weird GIFs. It's a lot of fun.
BLADE: You had an auspicious meeting with János Szász in October. How's working with him?
WESTRATE: He's a marvel. Not only does he direct without an agenda but he brings a unique perspective: János was driven out of Hungary by fascist leader Viktor Orbán for being Jewish and leftist. He and his wife and children are refugees in this country. An interesting viewpoint, especially at this time when refugees are streaming across borders in Europe, America, the Middle East, and Africa.
BLADE: In this moment of trans and drag persecution do you think about that?
WESTRATE: All the time. Prior and Belize [Prior's best friend played by Justin Weaks] are former drag queens.
BLADE: Talk about the sand.
WESTRATE: Yes, there's a lot of sand [28,000 pounds of sand to fill a 30-foot diameter circle at six inches deep]. János was very moved and inspired by footage from "How to Survive a Plague" that shows people throwing the ashes of loved ones over the fence and on to the White House lawn. It's important for János that we're doing this play in the ashes of the dead.
BLADE: For some gay theatergoers "Angels" is a tough show. They're hesitant to revisit that time.
WESTRATE: I understand if you don't want to see it on a specific day but gird your loins and put on your grownup panties and come to the theater, it needs to be witnessed and attention must be paid.
The crisis filled the tanks of the bigoted and the hateful and shifted us politically and personally in ways we still can't fathom. And that's why it's so important why we're doing this play and keep doing this play and never stop talking about it.
I have my aunts (gay men who've survived the crisis) coming to see the show, and I'm here for those who aren't here. I get emotional just talking about it. It's a huge responsibility that none of us are taking lightly.
BLADE: It's timely?
WESTRATE: Not long ago we had a president who was barking "bring me my Roy Cohn." Looking around America, you might wonder how the fuck did we get here. Why are we persecuting our most vulnerable people? Why are so many so greedy, specious, and blind? Come see this play. This is where so much of it started.
BLADE: Clearly it means a lot to you.
WESTRATE: I've loved the play since I started to love plays. And I've seen many productions: the most recent Broadway version, Michael Greif's on Broadway, Ivo van Hove's at BAM. Mike Nichols' film. Doing a full production is very important to me.
I've worked with a lot of the great gay writers like Mart Crowley and Harvey Fierstein and Edmund White and now my friend Tony Kushner. It's meaningful for me to do these pieces from not only the American theatrical canon but also the gay canon.
BLADE: Thanks for taking time.
WESTRATE: Nothing makes me happier than talking about this play and this production.
New play explores bringing a partner home to meet traditional Indian parents
Olney's 'A Nice Indian Boy' contains multiple surprises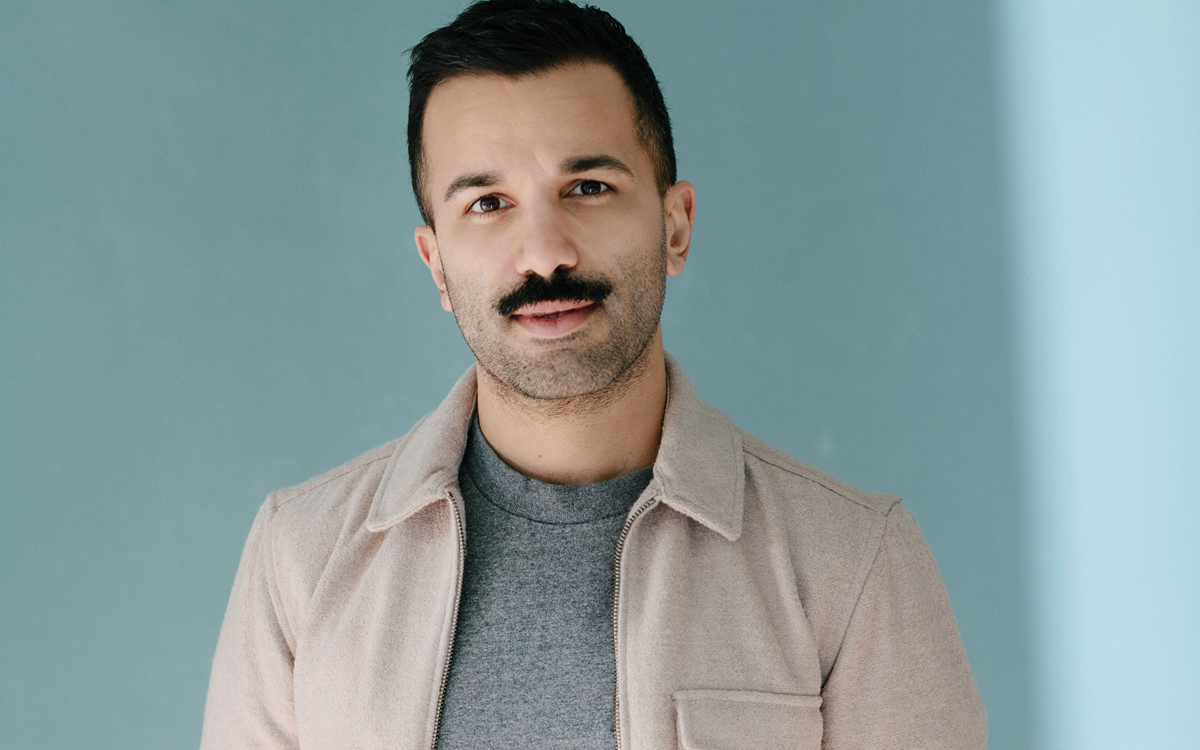 'A Nice Indian Boy'
Through April 9
Olney Theatre Center
2001 Olney-Sandy Spring Road, Olney, MD 20832
$54 -$79
Olneytheatre.org
Zi Alikhan is queer, first-generation South Asian-American, and culturally Muslim. He's also an accomplished rising director whose background lends a unique insight into his latest gig, staging Madhuri Shekar's "A Nice Indian Boy," currently playing at Olney Theatre Center.
"I've never worked on anything that's felt more personal," says Alikhan, who turns 36 next week. "It's a tender, funny, layered story about Naveen, a queer first generation South Asian American who for the first time is bringing a partner home to meet his traditional Indian parents who live in the Bay Area. It's also about what that means inside the culture and the community."
Like Naveen (Carol Mazhuvancheril), the boyfriend Keshav (Noah Israel) is a Marathi-speaking Hindu conversant with Indian culture. If Naveen's parents were ever going to accept a boyfriend for their son, he'd be the one. But there's a glitch. Keshav is white, the adopted son of an Indian family. And his whiteness isn't the play's only surprise.
As director, Alikhan took a large role in casting the production. He recalls how Carol and Noah walked in the audition room "wearing these characters like their own clothes," adding that "they're funny, anxious, knocked over by love, when they're meant to feel those ways. There's a close proximity between the spirits of the characters and the actors playing them."
During rehearsals, he was thrilled to enter a room filled with Indian actors who are Hindu, Muslim, Jain, Catholic, and Christian and together spoke four of India's almost 300 spoken languages, proving the notion that a monolithic India is patently absurd.
Coming into the project as both friend and collaborator with playwright Madhuri Shaker, he felt an odd sense of homecoming. He says, "The conversations of queer identity that feel lifted from my own life. And conversations about the constant work that goes into understanding my parents and them understanding me, written with an extremely effortless, light touch in the way that only Madhuri can do, all felt familiar too."
Growing up in the suburbs of Sacramento, young Alikhan was told he could go to college for anything he wanted except theater. Not an unusual stance for most immigrant parents, he says. An order he obeyed until he no longer could.
So, he studied sociology for two years at UC Berkely and did summer stock during breaks. No longer able to resist his true calling, he transferred to New York University and earned a degree in Musical Theatre Performance. But the years following graduation were tough: "I'm 5'7" and queer and brown. It was hard to be in an industry that didn't know what to do with me."
Frustrated and eager to work, Alikhan transitioned from actor to director largely to carve out a space for himself and other creatives like him. Now he counts "being able to create safe and generative space for people who might otherwise not be able to find it inside larger institutions" as his favorite part of the job.
Now it's not unusual for the New York-based director to find himself working in 100-year-old, established theaters where he's the first South Asian American who's ever directed in its history. His presence alone assists in creating an inviting space for community that hasn't historically seen themselves as part of that theater's history.
Surprising to some, the relatively young, brown director's dream projects lie in the American canon, especially Rodgers and Hammerstein whose midcentury works ask and redefine what it means to be an American. He enjoys looking at plays from the past and reframing them around those who were there but never allowed to be in the center of the story, and making those works feel very new without changing a line.
He adds, "Creatives of color in the theater community will agree there are many unconscious ways that we've been told our stories and families don't belong and if we do it's only in a very specific way. That's changing a lot."
And have the parents come around? He says they have. In the fall of 2022, he took them to the opening night of "Sanctuary City," an important work about refugees that he directed for the esteemed Pasadena Playhouse in California.
"They'd come to other things, but this was different: a special performance with step and repeat and media and hundreds of people. I think they got some comfort from that."