HIV/AIDS returning to the spotlight?
Following victories on marriage, advocates say decades-old issue will get renewed look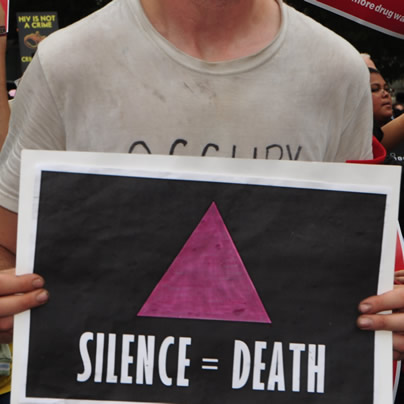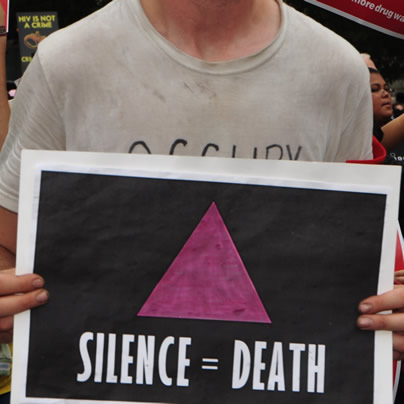 After years of being overshadowed by other issues like marriage equality and "Don't Ask, Don't Tell," an issue that decades ago was at the center of the gay rights movement is once again moving to the forefront.
Following hard-fought victories for marriage rights at the Supreme Court, in states throughout the country and across the globe, the persistence of HIV/AIDS is grabbing new attention as recent news stories have documented progress toward a cure and the disease's continuing impact on gay youth and people of color.
Sean Strub, founder of POZ magazine, said LGBT leadership is taking a renewed look at the issue in response to community pressure and stubbornly high infection rates among young gay men — particularly men of color — which he said are "skyrocketing and simply impossible to ignore."
In the past week, two separate articles in the mainstream media were published following World AIDS Day that documented the persistence of the HIV/AIDS epidemic among gay and bisexual men.
One article, which appeared on the front page of the New York Times, reported the disease is "rapidly becoming concentrated" among poor, black and Latino men who have sex with men.
Jonathan Mermin, director of HIV prevention at the Centers for Disease Control, is quoted as saying reaching these men is "the Holy Grail" in confronting HIV/AIDS.
Although his agency has granted millions of dollars to local health departments, Mermin reportedly couldn't identify any city or state that has succeeded in lowering infection rates among young men of color.
An op-ed published on CNN.com written by Perry Halkitis, associate dean of New York University's Global Institute of Public Health, raised the question of whether there's a "gay generation gap" with regard to the perception of HIV. Halkitis points to the growing rate with which young gay men have unprotected sex now that the disease is perceived as chronic, but not fatal.
"The disease may not be front and center — it may not be the primary presenting problem faced by young gay men, as it was for me at age 18 in 1981 — but it is a concern," Halkitis writes. "However, it's a concern that must be spoken about and dealt with differently for this 'new' AIDS generation."
According to data from the Centers for Disease Control, gay, bisexual and other men who have sex with men remain the most profoundly affected by HIV.
In 2010, an estimated 29,800 men were infected with HIV after having sex with another man  — a 12 percent increase from the 26,700 new infections among this group in 2008. In 2010, men who have sex with men accounted for 63 percent of all new HIV infections nationwide.
At the same time as the disease gets renewed attention from the gay community, Strub said young gay men infected with HIV face new challenges — even though the disease is no longer a death sentence — because of the lack of solidarity with other gay men.
"People with HIV no longer inspire a sympathetic response from the public, especially not the gay public, but are more often seen and defined — particularly by the public health and criminal justice systems — as potential threats," Strub said. "We're living longer so we're around to infect longer, viral vectors, potential infectors, an inherent risk to society."
Meanwhile, advocates working on HIV/AIDS contend the issue has always belonged to the gay community, but is rising again in prominence for various reasons.
Richard Socarides, a gay New York Democratic activist, was among those predicting HIV/AIDS will "emerge as a major issue for the gay community."
"Especially now, as a whole new generation of young gay men face issues relating to safe sex head on for the first time," Socarides said. "But now in a context where 'silence' may not equal death but instead, a long-term chronic but treatable disease."
Mark Mazzone, a spokesperson for the LGBT military group SPART*A, said he thinks HIV will come to forefront for advocates working on LGBT military issues in the wake of "Don't Ask, Don't Tell" repeal and the Supreme Court ruling against the Defense of Marriage Act.
"I think this will return as an LGBT military issue simply because of the lack of education given to our service members and the high risk behaviors mostly younger LGB men engage in, which need to be mitigated through a comprehensive training and prevention program," Mazzone said.
Mazzone said service members become non-deployable once they're discovered to have HIV; can't commission as an officer or warrant officer; can't fly aircraft or work in any jobs requiring a flight physical; are restricted to stateside duty assignments (with the exception of the Navy); and are not eligible for special schools such as Ranger, Special Forces or other special ops jobs.
And the nation's largest LGBT group says that it continues to make a priority efforts to bring the HIV/AIDS epidemic to an end.
Fred Sainz, vice president of communications for the Human Rights Campaign, said HIV/AIDS has been and continues to be at the forefront for LGBT groups like HRC.
"Until the scourge is gone, fighting HIV/AIDS has, is and will remain a top priority for the LGBT civil rights movement," Sainz said.
Strub said in recent months he's seen HRC devote more attention to HIV/AIDS.
"I am heartened by HRC's outreach to HIV advocates in the last several months and am cautiously optimistic we will see a greater commitment from them in 2014, on HIV issues, than we have seen in recent years," Strub said.
One HIV/AIDS issue that has particularly risen in prominence is the HIV criminalization laws in some states. Under such laws, an HIV-positive person can face criminal charges for failing to disclose their HIV status before engaging in sex.
LGBT and HIV/AIDS advocates have railed against the laws, saying they send an inaccurate message regarding prevention responsibility, create a disincentive to receiving testing and may discourage disclosure of HIV status. According to Lambda Legal, 39 states have HIV-specific criminal statutes or have brought HIV-related criminal charges, which have resulted in more than 160 prosecutions in the United States in the last four years.
Sen. Chris Coons (D-Del.) introduced on Tuesday legislation in the Senate known as the Repeal Existing Policies that Encourage and Allow Legal ("REPEAL") HIV Discrimination Act, which would require an interagency review of federal and state laws that criminalize certain actions by people living with HIV.
"A disturbing number of state and local criminal laws pertaining to individuals with HIV/AIDS are rooted not in science, but in outdated fear," Coons said in a statement. "They run counter to effective public health strategies, discourage HIV testing, and perpetuate unfair stigma and discrimination against people living with HIV/AIDS – people who are our friends, family, and neighbors."
In May, Rep. Barbara Lee (D-Calif.) introduced the House version of the legislation along with Ileana Ros-Lehtinen (R-Fla.). According to the Library of Congress, the bill has 37 sponsors, although Ros-Lehtinen is the only Republican co-sponsor.
In Iowa, the punishment for being found guilty of violating Code 709C can be imprisonment for up to 25 years and registration as a sex offender.
Donna Red Wing, executive director of the LGBT group One Iowa, said in the wake of securing marriage equality in her state, working with local HIV groups to repeal her state's HIV criminalization law has become the No. 1 legislative priority for the organization.
"Over the years, I've been troubled that as the face of AIDS changes, fewer and fewer LGBT organizations are engaging in this struggle," Red Wing said. "It seems like the right thing to do, you know? Because in the early days, if it wasn't for our people, if it wasn't for the LGBT communities, we would not be where we are today."
Although the Iowa Legislature is no longer in session, Red Wing said efforts are underway to move forward legislation with lawmaker reconvene in January.
"We already have laws that deal with communicable diseases, and the fact that HIV/AIDS gets this special treatment and these enhanced sentences is so draconian," Red Wing said. "A communicable disease is a communicable disease is a communicable disease, and there should be nothing special and no enhanced sentences for people living with AIDS/HIV."
The potential for discovering a cure for the disease has also received significant attention amid new developments from the Obama administration as part of the goal of achieving an "AIDS-free generation."
Last week, President Obama announced he's redirecting $100 million over the course of three years at the National Institutes for Health to an initiative with the goal of developing a cure for the disease.
"The United States should be at the forefront of new discoveries in how to put HIV into long-term remission without requiting live-long therapies, or better yet, eliminate it completely," Obama said.
A NIH official later clarified for the Blade the $100 million will be on top of another $60 million previously directed toward the effort and comes from grants for other initiatives that have expired at the agency.
But the prospects for a cure were dealt a blow last week, following media reports that two men who had hoped they were cured of HIV after bone marrow transplants found they still had the virus.
After the two men underwent life-threatening procedures intended for cancer, they initially were virus-free as of July in four months in one case and two months in another and stopped taking their HIV medication. But doctors announced last week that virus has reemerged in their systems.
Despite the reemergence of the virus in the systems of the two men, doctors said they learned from the procedure that even if you make HIV seemingly disappear, it can hide in the body — possibly held up in the organs and inside the intestines — and reactivate.
Strub said while efforts to eliminate the disease are important, changing the way society looks at HIV/AIDS should also be a priority.
"The advocacy needs are immense, but one of the most important — to which we in the LGBT community can contribute to greatly — is in reducing stigma by supporting and empowering people with HIV and refocusing on the human rights approach, rather than just a biomedical approach, to HIV prevention."
Brazil LGBTQ activists, HIV/AIDS service providers fear Bolsonaro reelection
Presidential election to take place in October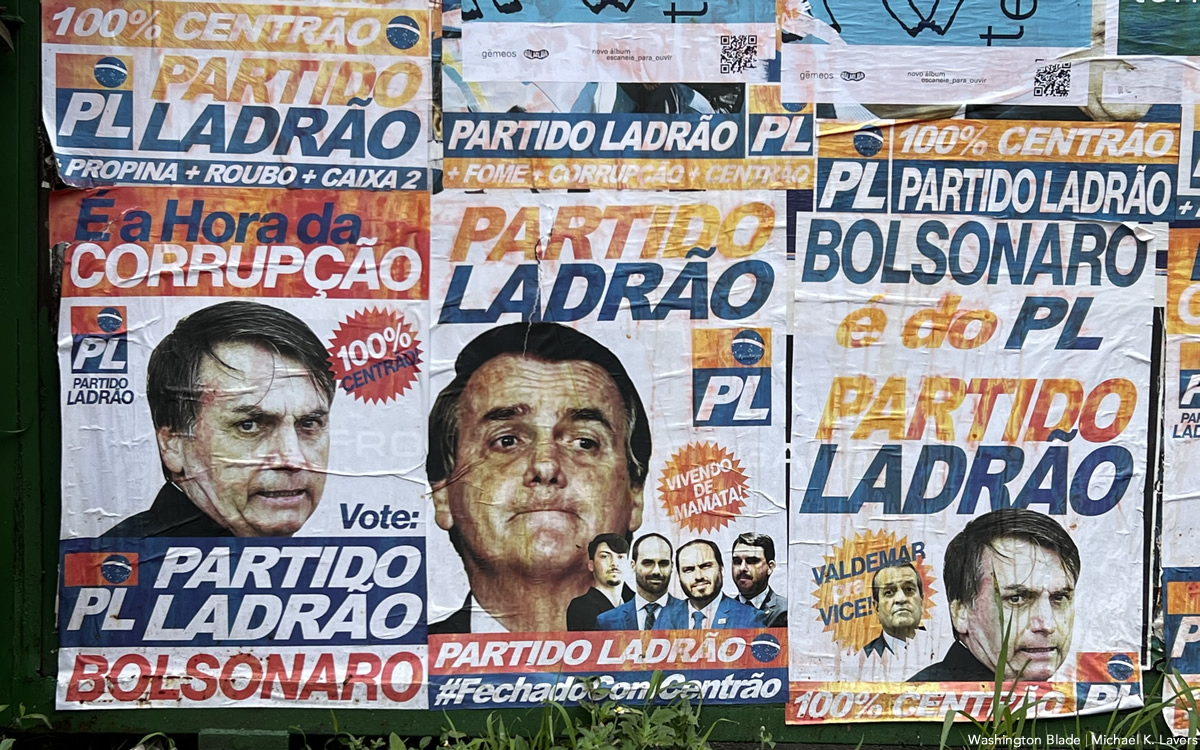 SALVADOR, Brazil — Fernanda Fonseca was the coordinator of the Brazilian Health Ministry's program to prevent mother-to-child transmission of HIV, syphilis and viral hepatitis B in 2019 when she attended the International AIDS Society's Conference on HIV Science in Mexico City.
Fonseca, who attended the conference in her personal capacity, made a presentation that focused on the issue. Her husband, who at the time coordinated the Brazilian Health Ministry's viral hepatitis program, also traveled to Mexico City.
One of Brazilian President Jair Bolsonaro's sons soon posted to Twitter a picture of a doctored presentation "about trans community rights, and LGBT community rights" that an unnamed "couple" had made at the conference. The "couple" who Bolsonaro's son targeted was Fonseca and her husband.
"He was like, this is what the government is standing for," Fonseca told the Washington Blade on March 16 during an interview at a coffee shop in Salvador, a city in northeastern Brazil that is the capital of Bahia state.
Bolsonaro took office as Brazil's president on Jan. 1, 2019, after he defeated then-São Paulo Mayor Fernando Haddad in the second round of the country's presidential election that took place the previous October.
Fonseca noted one of the first things Bolsonaro did as president was to remove HIV from the name of the Health Ministry department that specifically fights HIV/AIDS in Brazil.
It was previously the Department of Vigilance, Prevention and Control of Sexually Transmitted Infections, HIV/AIDS and Viral Hepatitis. It is now called the Department of Chronic Conditions and Sexually Transmitted Infections.
Bolsonaro fired the department's director, Adele Benzaken, after he took office. Fonseca said her position was also eliminated without her knowledge while she was on maternity leave.
Fonseca eventually resigned. She now works for AIDS Healthcare Foundation Brazil as its country medical program director.
"They destroyed my department," she said. "When I came back (from maternity leave), no one was answering my calls."
Fonseca is one of the many HIV/AIDS service providers and LGBTQ activists with whom the Blade spoke in Brazil — Salvador, São Paulo and Rio de Janeiro — from March 12-21. They all sharply criticized Bolsonaro and expressed concern over what may happen in Brazil if he wins re-election later this year.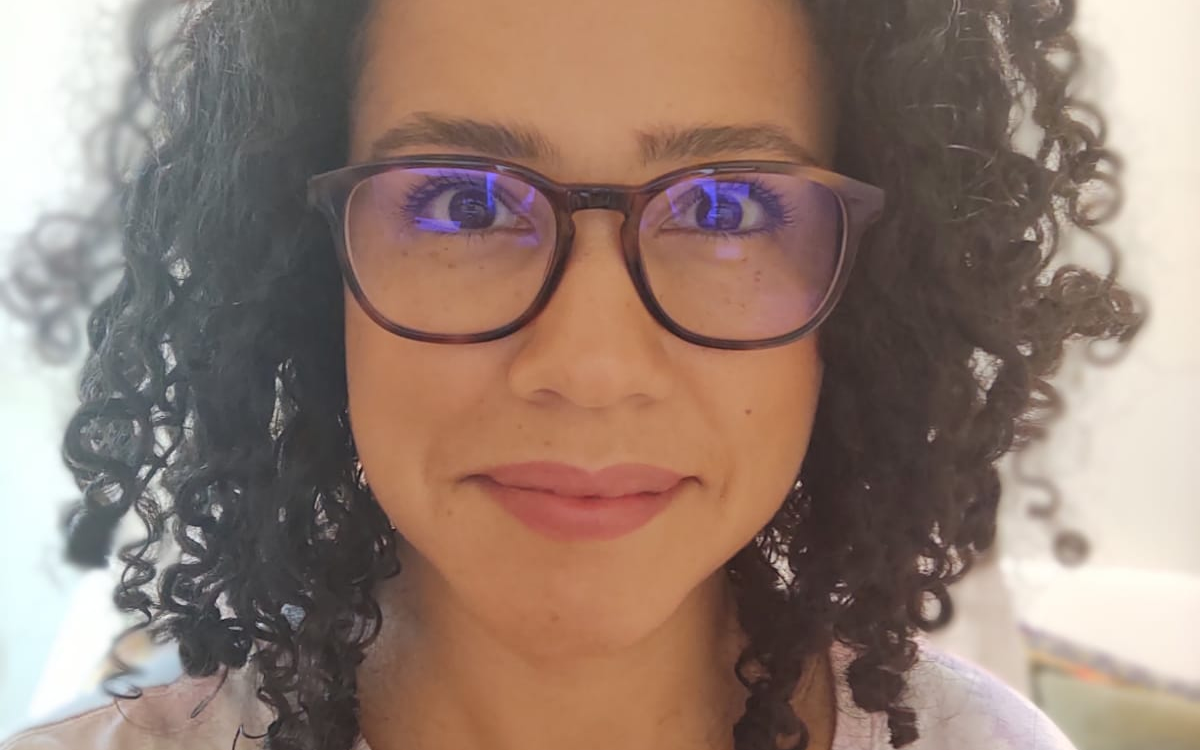 Bolsonaro is a former Brazilian Army captain who represented Rio de Janeiro in the country's Congress from 1991-2018.
Fonseca told the Blade that Bolsonaro has banned the Health Ministry from buying lubricants, while adding he "wanted to shut down everything related to HIV."
"It's very specific. It's very homophobic," she said. "I don't know who informs him."
AIDS Healthcare Foundation Brazil Program Manager Beto de Jesus during a March 14 interview at his office near São Paulo's Praça da Republica noted Bolsonaro has suggested COVID-19 vaccines can cause AIDS.
"To him, the question of AIDS is connected to faggots," said De Jesus.
São Paulo's Municipal Health Secretary distributes free condoms on the city's subway system. The Brazilian Health Ministry has donated to AIDS Healthcare Foundation antitretroviral drugs that it provides to Venezuelan migrants who receive care at their clinics in Colombia.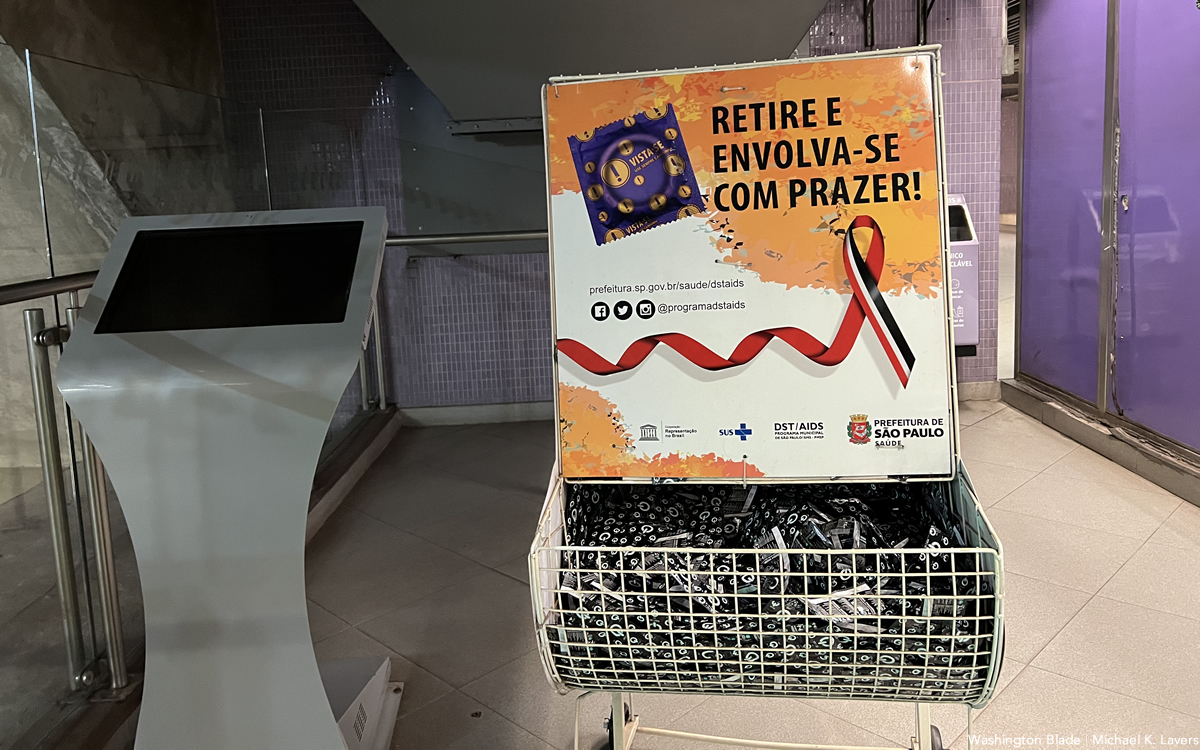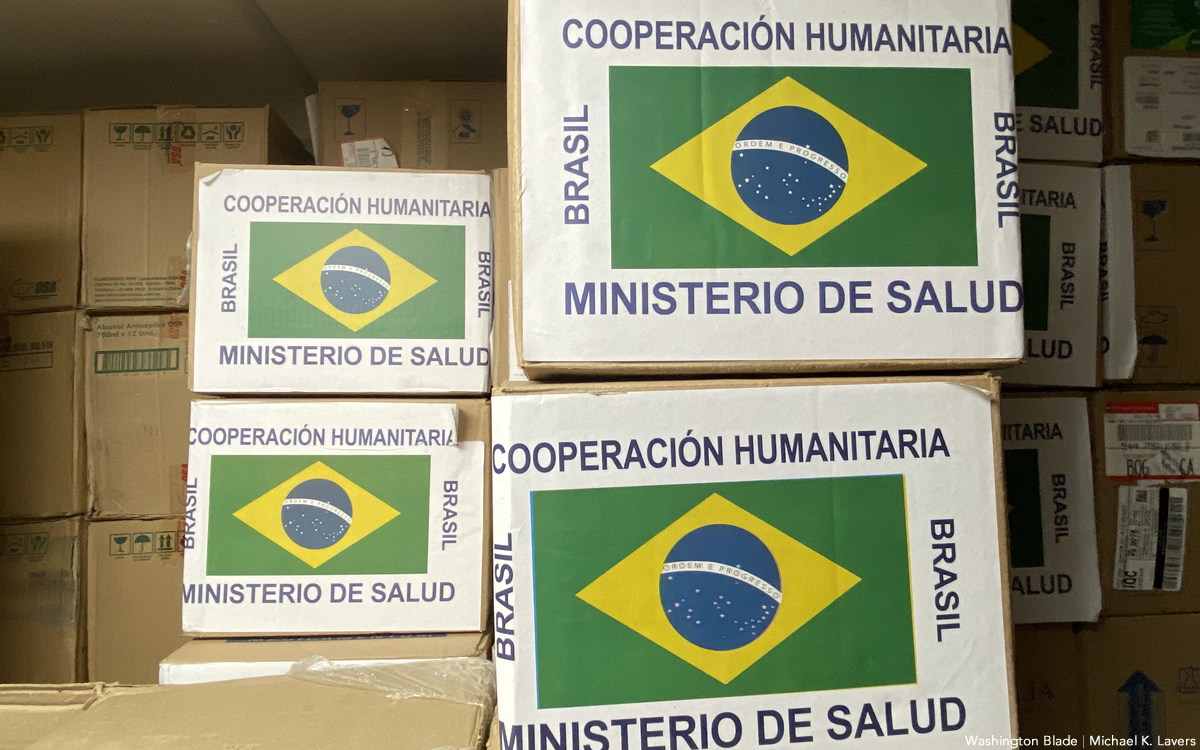 Bolsonaro, among many things, has encouraged fathers to beat their sons if they think they are gay. (His son, Rio Municipal Councilman Carlos Bolsonaro, is reportedly gay.)
Jair Bolsonaro in March 2019 during a press conference with then-President Trump in the White House Rose Garden stressed his "respect of traditional family values" — he's twice divorced and married his third wife, Michelle Bolsonaro, in 2017 — and opposition to "gender ideology."
A report that Human Rights Watch released earlier this month notes Bolsonaro "has a long history of mischaracterizing and vocally opposing gender and sexuality education, including on the grounds that it constitutes 'early sexualization'." Bolsonaro has supported legislation that would limit LGBTQ-specific curricula in the country's schools, even after the Brazilian Supreme Court struck down local and state laws on the issue.
Jair Bolsonaro was not president when Rio Municipal Councilwoman Marielle Franco, a bisexual woman of African descent, and her driver, Anderson Gomes, were murdered in Rio's Lapa neighborhood on March 14, 2018.
Ronnie Lessa, one of the two former police officers who has been arrested in connection with the murders, lived in the same large condominium in Rio's exclusive Barra da Tijuca neighborhood in which Jair Bolsonaro lives. Franco's widow, Rio Municipal Councilwoman Mônica Benício, on March 19 said this fact is "just a coincidence."
Benício during the interview that took place at a coffee shop in downtown Rio stressed Jair Bolsonaro's rhetoric against LGBTQ Brazilians, women and other groups was "known" before he became president. Benício also acknowledged it resonates with a segment of Brazilian society.
"It is an absolutely despicable posture and incompatible with a posture of the president of the republic," said Benício.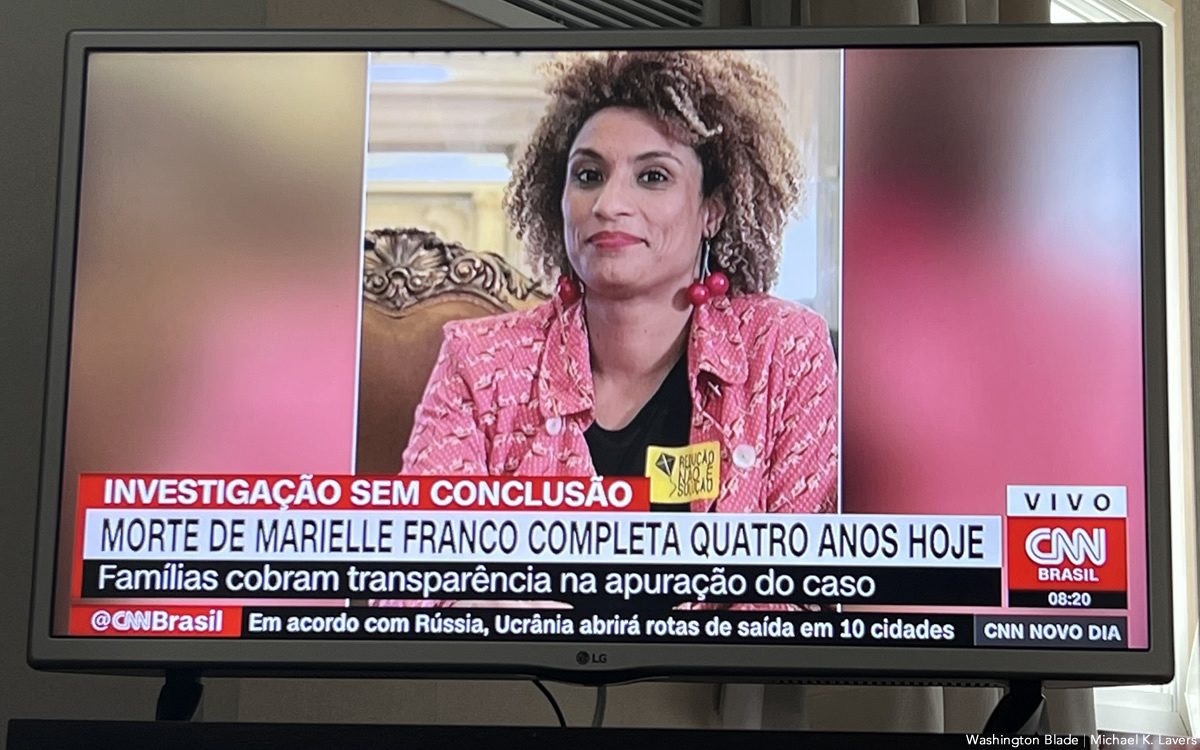 Two Brazilian LGBTQ rights groups — Aliança Nacional LGBTI and Grupo Gay da Bahia — in a report they released on May 10 notes 300 LGBTQ Brazilians "suffered violent deaths" because they were murdered or died by suicide. The organizations specifically note Salvador is the most dangerous state capital for LGBTQ people.
The report notes 28 percent of the murder victims were killed with knives, machetes, scissors, hoes and other weapons. One of them was stabbed 95 times.
"The cruelty of how many of these executions were committed demonstrates the extreme hatred of the criminals, who are not content with killing, disfigure the victim washing their murderous homophobia in the spilled blood," said Aliança Nacional LGBTI President Toni Reis in the report's introduction.
Grupo Gay da Bahia President Marcelo Cerqueira on March 15 told the Blade during an interview in Salvador that race, poverty, class, machismo and family structures all contribute to the area's high rate of violence against LGBTQ people.
"There are many relationships with asymmetrical power dynamics," he noted.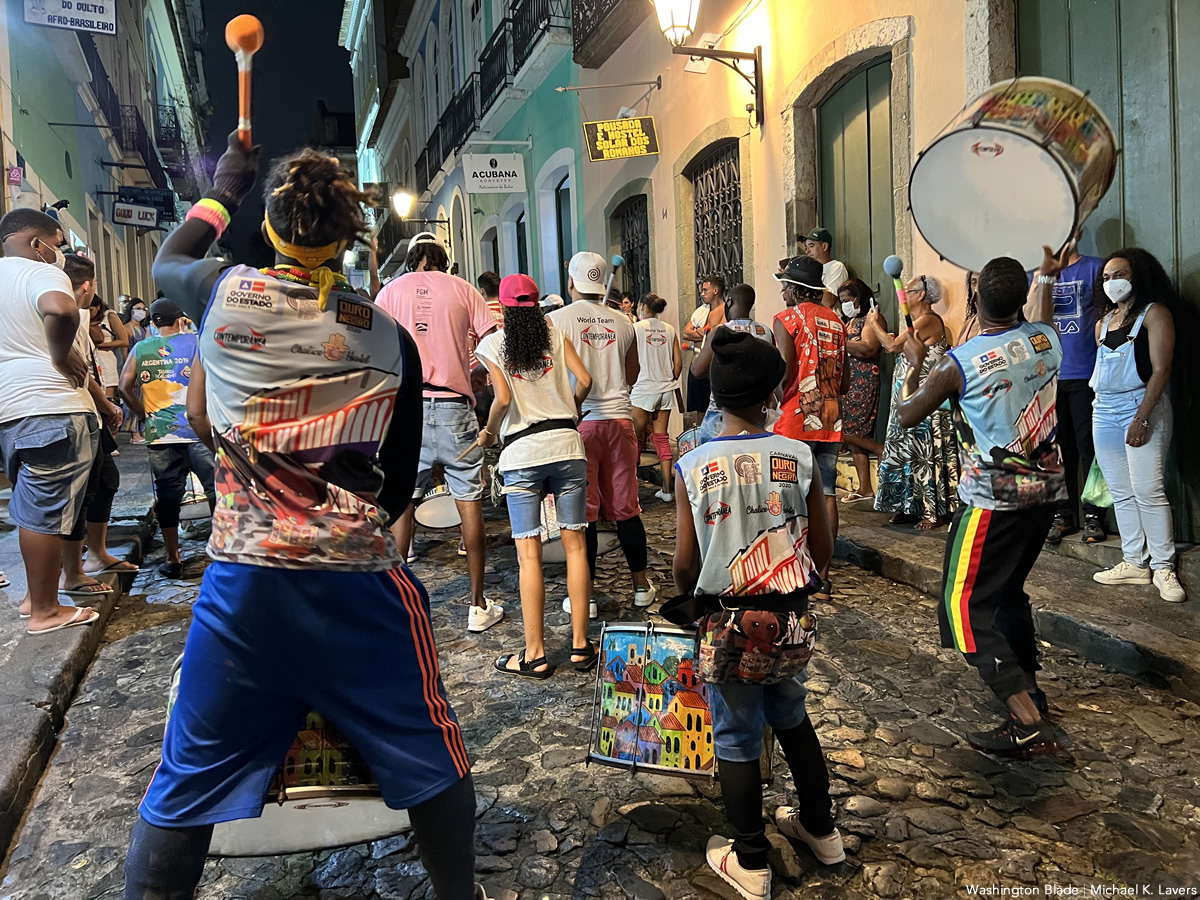 Keila Simpson is the president of Associaçao Nacional de Travestis e Transexuais (National Association of Travestis and Transsexuals), a Brazilian transgender rights group known by the acronym ANTRA.
She noted to the Blade on March 16 during an interview at her office in Salvador's Pelourinho neighborhood that the Supreme Court in 2018 ruled trans Brazilians can legally change their name and gender without medical intervention or a judicial order. Simpson said trans Brazilians nevertheless continue to suffer from discrimination, a lack of formal employment and educational opportunities and police violence because of their gender identity. She also added efforts to combat violence against LGBTQ Brazilians have become even more difficult because Bolsonaro is "propagating violence against LGBTQ people every day."
"It increases the possibility of people who are already violent by nature to continue committing violence," said Simpson.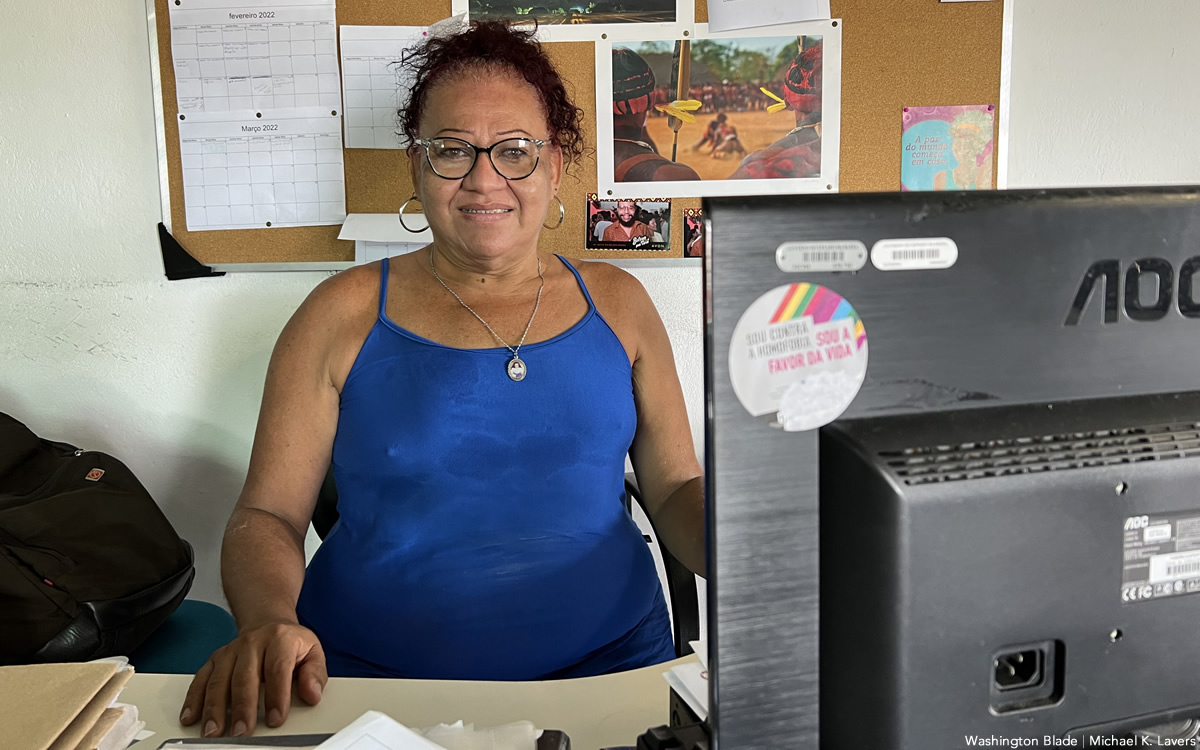 Mariah Rafaela Silva, a trans woman of indigenous descent who works with the Washington-based International Institute on Race, Equality and Human Rights, agreed when she and her colleague, Isaac Porto, spoke with the Blade at a restaurant in Rio's Ipanema neighborhood on March 21.
"If I would choose a word to define Bolsonaro it would be danger," said Silva. "He represents a danger to the environment. He represents a danger to diversity. He represents a danger to Black people. He represents a danger to indigenous people."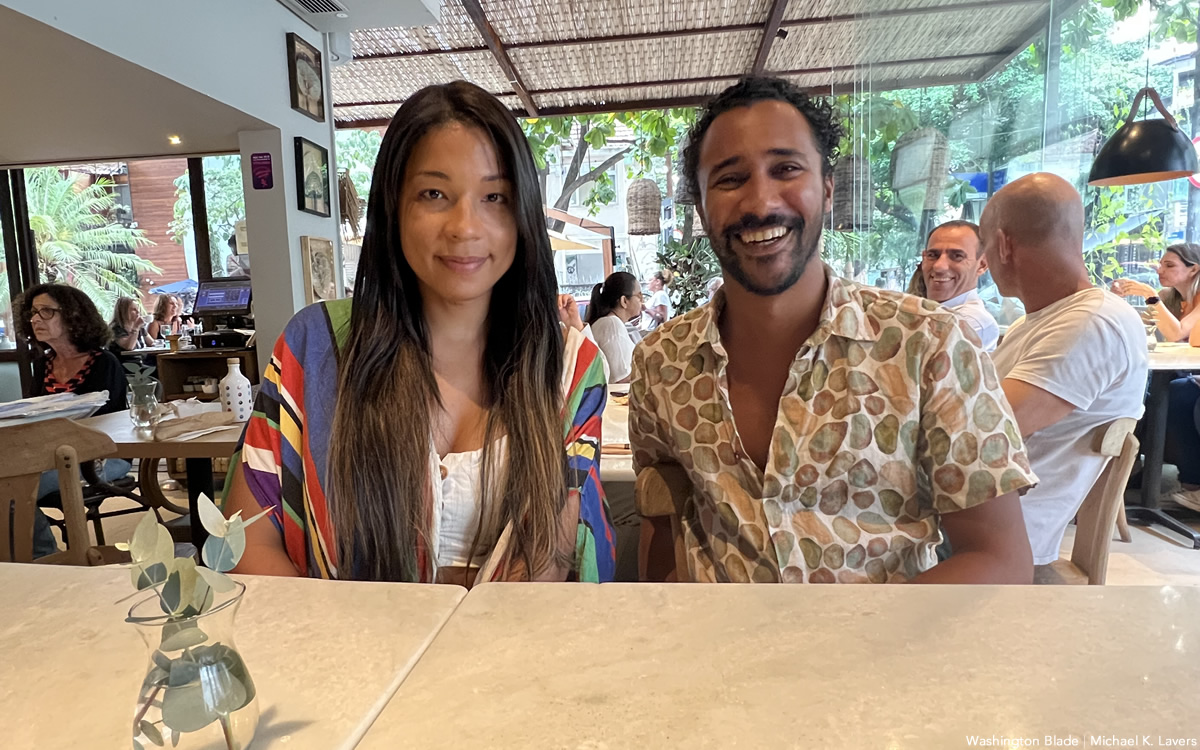 Rio de Janeiro (State) Legislative Assemblywoman Renata Souza is a Black feminist who grew up with Franco in Maré, a favela that is close to Rio's Galeão International Airport, and worked with her for 12 years.
Souza in March traveled to D.C. and met with Center for Health and Gender Equity President Serra Sippel, White House Gender Policy Council Senior Advisor Rachel Vogelstein and other officials and women's rights activists. Souza on Tuesday noted to the Blade that she also denounced Franco's murder, the "escalation of police violence and Black genocide in Brazil's peripheries and favelas" and called for international observers in the country for the presidential election when she spoke at the Organization of American States and to members of Congress.
"President Bolsonaro is the expression of a capitalist political project that serves private national and international interests related to the military-industrial complex, religious fundamentalism, agribusiness and the predatory exploitation of natural resources," said Souza. "This project's social base comes from the formation of an ideal of barbarism through the use of violence as language and hate as a fuel that spreads a misogynist, racist and fundamentalist culture, discriminatory customs and policies that predatory to nature and to being human."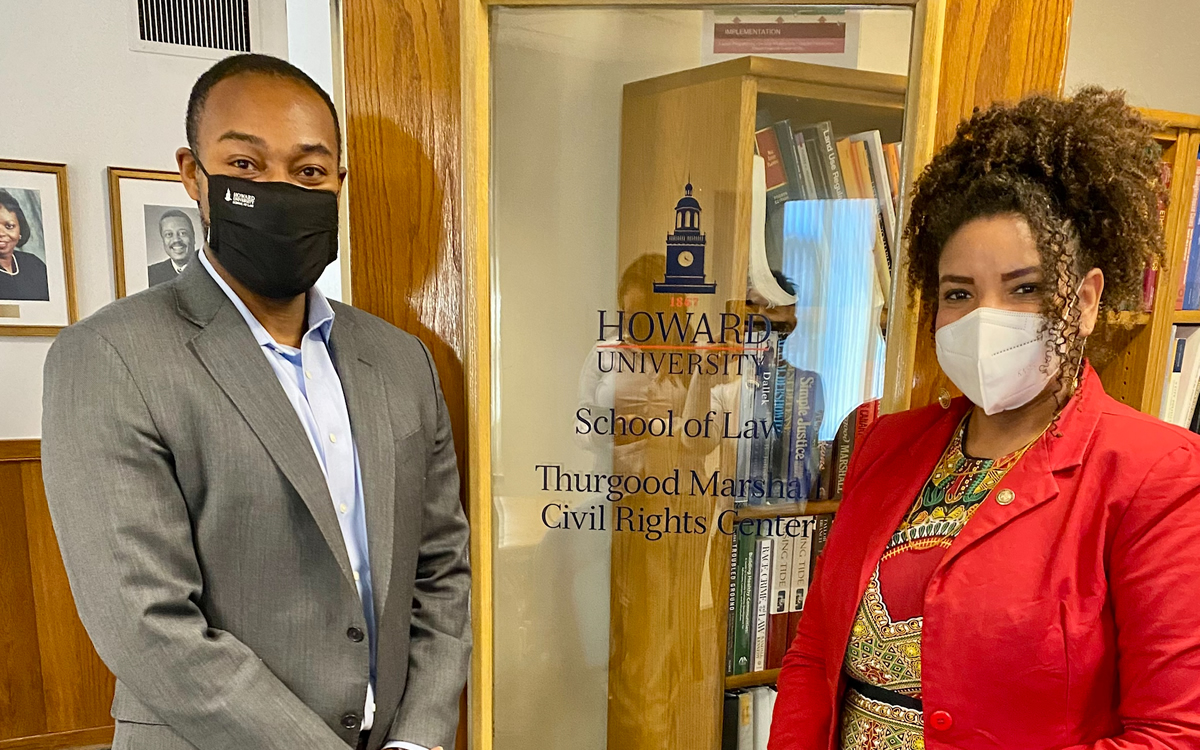 The first round of Brazil's presidential election will take place on Oct. 2.
Polls indicate Bolsonaro is trailing former President Luiz Inácio Lula da Silva. Bolsonaro has already sought to discredit the country's electoral system, even though a group of more than 20 would-be hackers who gathered in the Brazilian capital of Brasília last week failed to infiltrate it.
Da Silva, who was Brazil's president from 2003-2010, is a member of the country's Workers' Party.
Sergio Moro, a judge who Jair Bolsonaro later tapped as his government's Justice and Public Security Minister, in 2017 sentenced Da Silva to 9 1/2 years in prison after his conviction on money laundering and corruption charges that stemmed from Operation Car Wash. The Supreme Court in November 2019 ordered Da Silva's release.
Marina Reidel, a trans woman who is the director of the country's Women, Family and Human Rights Department, on Monday told the Blade to email a request for comment on Jair Bolsonaro's anti-LGBTQ record to a spokesperson. The Blade has yet to receive a response.
Julian Rodrigues, who was the coordinator of the Workers' Party's National Working Group from 2006-2012, on Tuesday from São Paulo noted Da Silva in 2004 created the Health Ministry's "Brazil without Homophobia" campaign that he described as a "pioneering program for LGBT rights." Rodrigues also highlighted Da Silva created the Culture Ministry's Diversity Secretariat that, among other things, funded community centers and sought to make police officers and other law enforcement officials more LGBTQ-friendly.
Simpson noted the Health Ministry when Da Silva and President Dilma Rousseff were in office funded projects that specifically helped sex workers and other vulnerable groups.
Rousseff was in office in 2013 when the Supreme Court extended marriage rights to same-sex couples across the country. Michel Temer was Brazil's president in 2018 when the Supreme Court issued its trans rights decision.
The Supreme Court on May 24, 2019, issued a ruling that criminalized homophobia and transphobia. Bolsonaro, who took office less than five months earlier, condemned the decision.
The Supreme Court in May 2020 struck down the country's ban on men who have sex with men from donating blood. Brazil in 1999 became the first country in the world to ban so-called conversion therapy.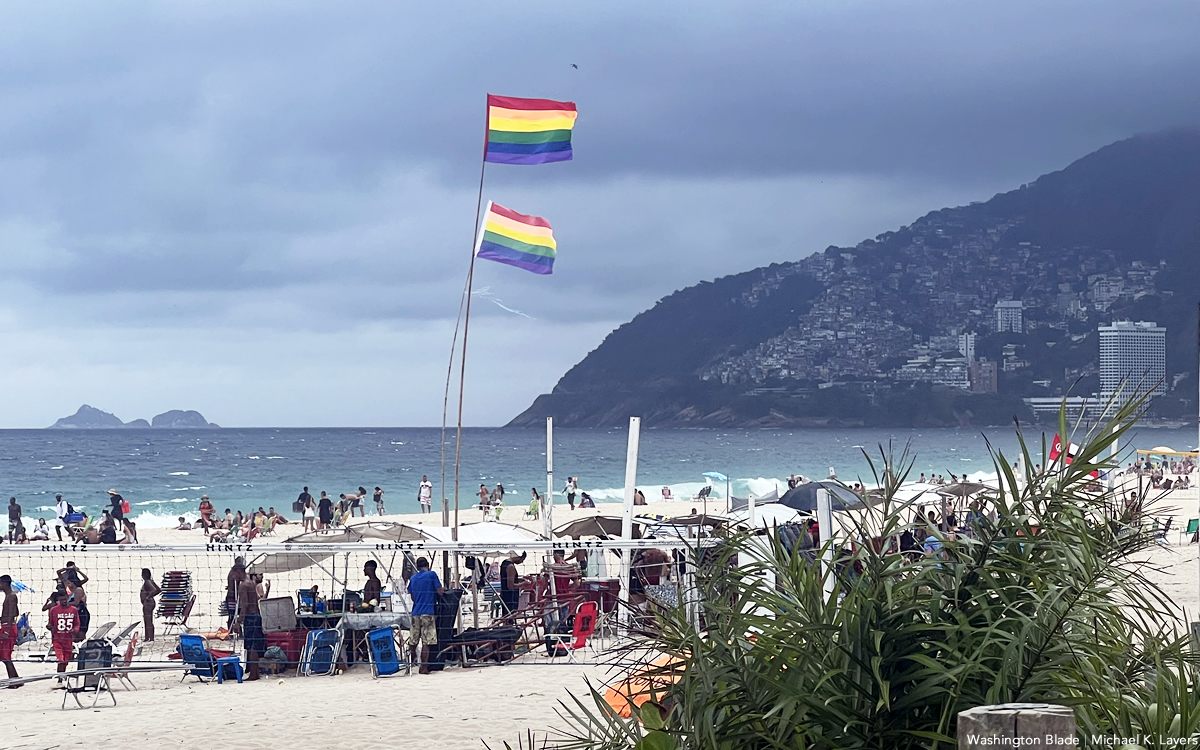 Rodrigues described Bolsonaro and his administration as "an extreme right-wing, authoritarian and fascist government that uses racial prejudice, gender prejudice and prejudice against LGBTs as engines to mobilize its conservative and reactionary social base."
"It is a very dangerous government for Brazil's democratic freedoms," Rodrigues told the Blade. "The entire Brazilian LGBT movement is fighting ardently to defeat the Bolsonaro government and elect Lula, a progressive president who is committed to the rights of LGBTQ people and all Brazilian people."
A gay man who was on Rio's Ipanema Beach with his husband on March 20 told the Blade they support Jair Bolsonaro because they feel he has fought corruption in Brazil. They did, however, add that Jair Bolsonaro "should keep his mouth shut."
Fonseca said her father voted for Bolsonaro in 2018 because he "hated" Da Silva.
"We don't live in a democratic state anymore," said Fonseca, who noted the Supreme Court eventually absolved Da Silva. "We can't trust the police force. We can't trust the legal system."
"People who think like him now they believe they can say that, they have the right to say homophobic things, racist things. They can because our president says them, so it's ok," added Fonseca. "We need to remember that it's not ok. I don't think they are the majority, So I think when we have a leader again that is strong, we are going back on track."
Cerqueira echoed Fonseca.
"(Bolsonaro) managed to energize prejudiced people who were not vocal before," Cerqueira told the Blade on March 15 during an interview in Salvador. "People were afraid to say that I was racist, that I was homophobic, that I was prejudiced. Nowadays everybody wants to be homophobic."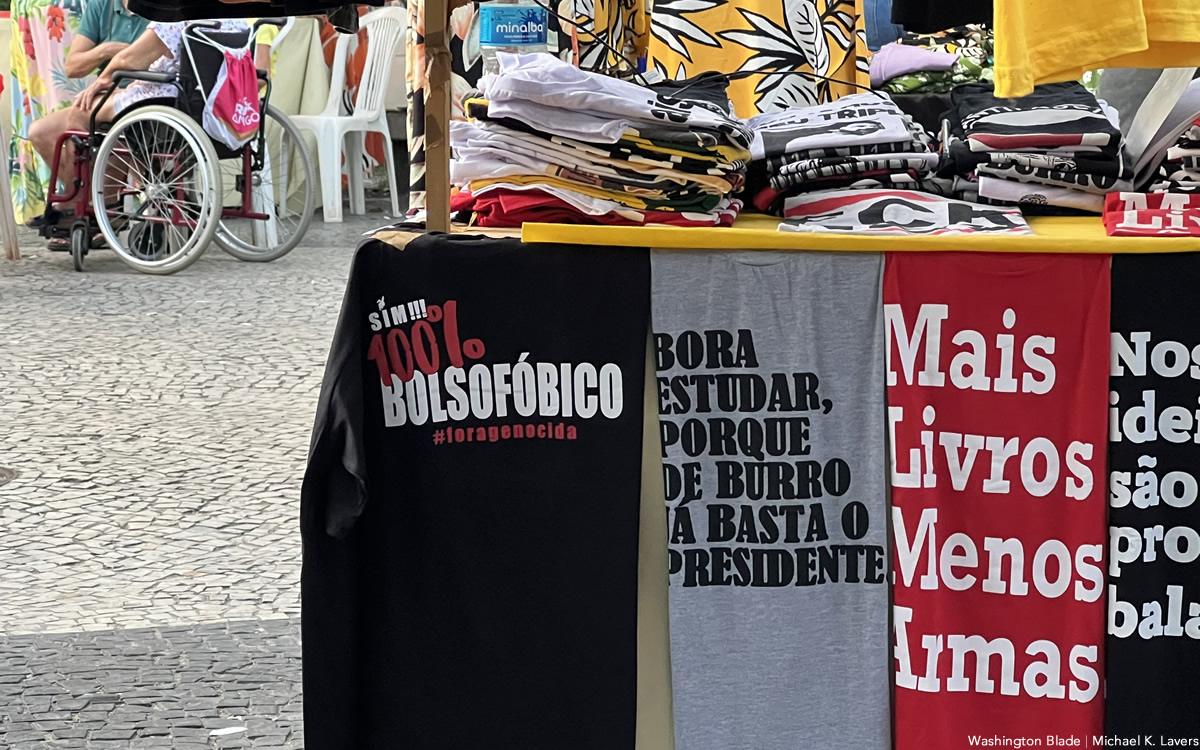 Porto noted conservatives continue to dominate the country's Congress and Brazilians who are Black and/or LGBTQ lack political power. He told the Blade the situation in a post-Bolsonaro Brazil is "going to be complicated"
"Brazilian society has not changed," said Porto. "There is a movement of people who are organized and recognize themselves as equal."
"There's a lot of damage that we have to repair," added Silva.
Texas to resume abuse investigations into families with trans children
"To be clear the Supreme Court has not directed Commissioner Masters & DFPS to continue investigating parents of trans youth for child abuse"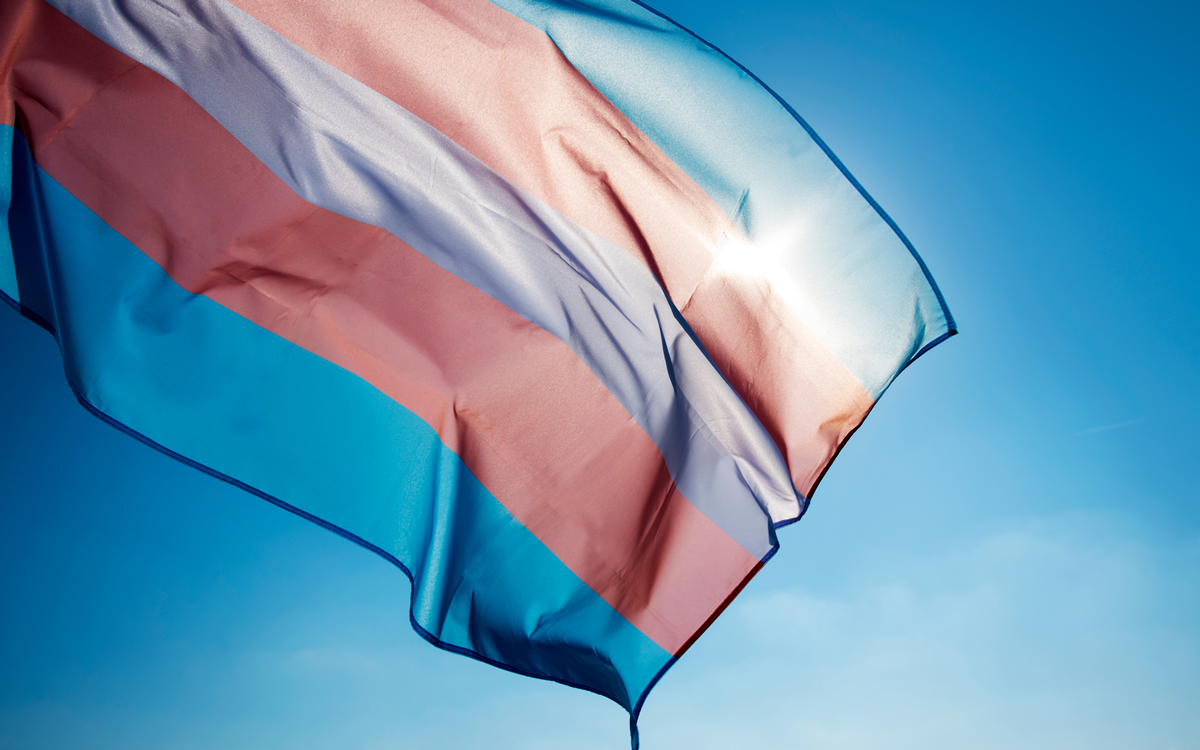 In a statement issued Thursday, the Texas Department of Family and Protective Services (DFPS) agency announced that it will resume abuse investigations into families with transgender kids.
"DFPS treats all reports of abuse, neglect, and exploitation seriously and will continue to investigate each to the full extent of the law," the statement read.
The Dallas Morning News reported that the DFPS statement, while not addressing the investigations into medical treatments for trans youth, indirectly indicated that these probes will now continue.
Current state law does not explicitly define gender affirming medical treatments, such as puberty blockers and hormone therapy as child abuse. A DFPS spokesman did not comment when asked if the agency plans to continue investigating such treatments as child abuse, the Dallas Morning News noted.
The Texas Supreme Court ruled last week that DFPS can continue to investigate families in the state who provide medically necessary care for their Trans children, excluding the parties in the litigation that brought the matter forward in a lawsuit filed in March.
In its decision, the court emphasized that neither Attorney General Paxton nor Governor Abbott has the power or authority to direct DFPS to investigate the provision of medically necessary lifesaving health care for transgender youth as child abuse. But the court limited the order blocking all investigations to the specific plaintiffs who filed suit.
Trans activist Landon Richie who has been deeply involved in the efforts to mitigate the anti-trans actions by Texas lawmakers and has led protests against the transphobic actions by Texas Governor Greg Abbott and Attorney General Ken Paxton told the Blade:
"To be clear, the Texas Supreme Court has not directed Commissioner Masters and DFPS to continue investigating parents of trans youth for child abuse. While the decision means now only the named plaintiffs in the lawsuit have protection, it reiterates that Attorney General Paxton's opinion and Governor Abbott's letter are not binding and not enforceable, meaning DFPS's actions moving forward are at the discretion of Commissioner Masters only and not the state leadership's directives. The Texas Supreme Court allowing for the district court to provide a temporary injunction is a good sign for people's protection.
It bears reminding families in Texas and around the country that today's decision (and yesterday's regarding gender-affirming care at UT Southwestern and Texas Children's) reaffirms what we already know: opinions are only opinions and the people in power cannot abuse that power to abuse trans people. We know decisions can change at a moment's notice and that this fight will take years, but to our families and communities under attack, please remain strong and take a moment to breathe. We're in this together. "
An employee of DFPS who was a litigant in the lawsuit is represented by the ACLU of Texas.
Brian Klosterboer, an attorney with the ACLU of Texas who is on the team representing that unnamed employee, said the state's decision to reopen the cases is unfortunate and unlawful. He said his team believes that the high court's decision removes any responsibility for Texans to report trans youth getting treatments, the Dallas Morning News reported.
"We are going to be closely monitoring what the agency does. We would encourage families that have any reason to believe that they have an investigation to seek legal help," Klosterboer said.
"Abbott's letter and Paxton's opinion did not change Texas law," he added. "Gender affirming health care is still legal in all 50 states."
"Don't Say Gay" student leader says school stopping run for student leadership
Jack Petocz organized a state-wide student protest against Florida's "Don't Say Gay" bill & annoyed administrators suspended him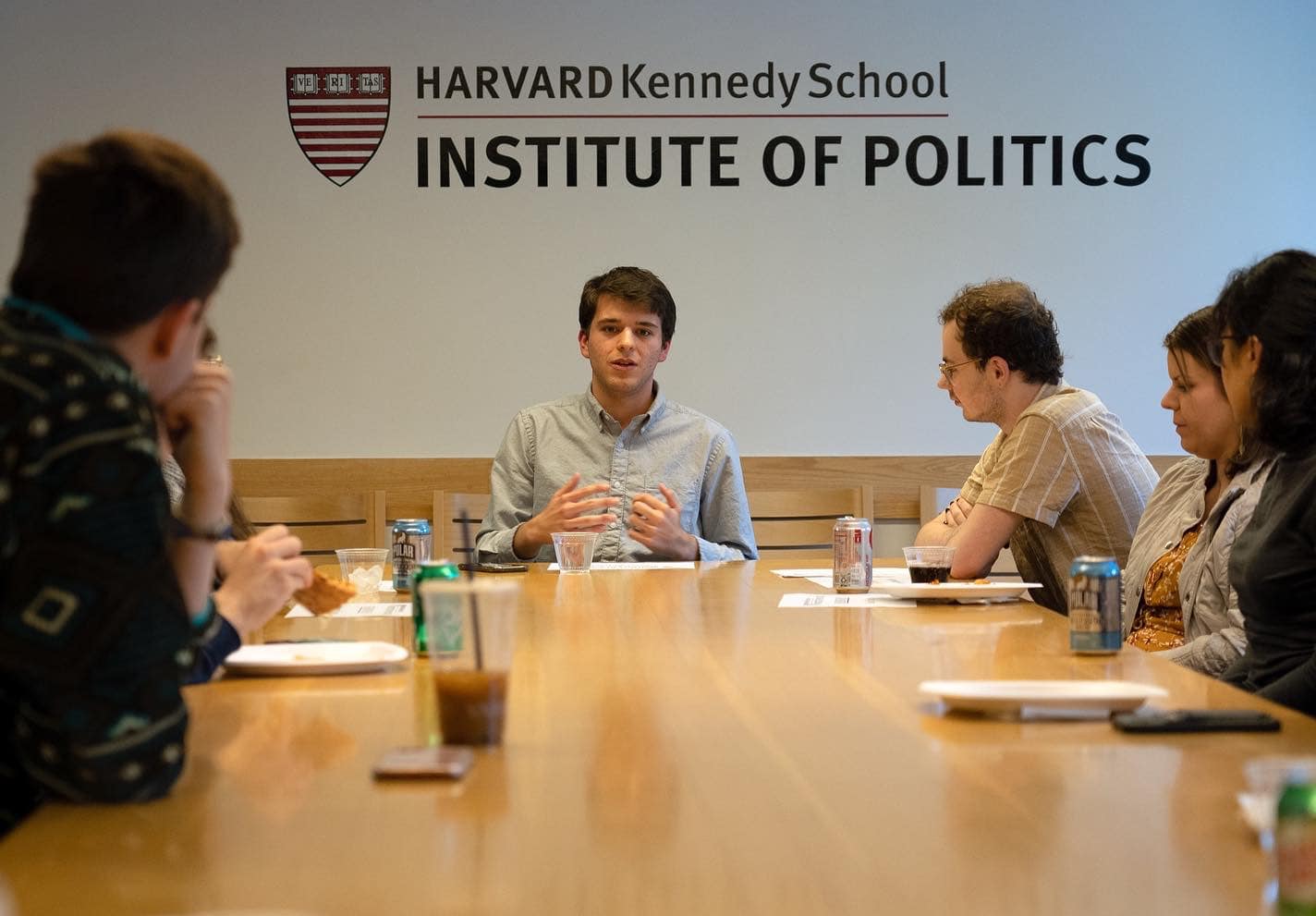 Jack Petocz, a Flagler Palm Coast High School junior, organized a state-wide student protest against Florida's "Don't Say Gay" bill this past March, and at his school, annoyed administrators suspended him.
On Tuesday, Petocz said that the school's disciplinary action is now preventing him from running for senior class president.
"When I returned, the administration assured me that no further disciplinary action would be taken. A month later, they broke this verbal agreement and placed a level 3 referral on my record. Now, due to this high level of discipline, I am being prevented from running for senior class president. I am continuing to be punished for standing up for my identity and against widespread hatred."
The suspension over the student walkout became a viral moment that propelled the 17-year-old into the national spotlight and into the national discourse over a spate of harsh laws targeting the LGBTQ+ community.
17-year-old Cameron Driggers, a student LGBTQ+ activist-organizer of the group Recall Flagler County School Board and co-leader of the walk-out, his friend's suspension inspired him to create a petition on Change.org to pressure Flagler Palm Coast High School Principal Greg Schwartz to rescind his seemingly arbitrary decision to suspend Petocz.
One protest at the school over its suspension of Petocz brought together a grizzled and proud Out gay U.S. Marine Corps veteran accompanied by his fellow vets, who alongside with Driggers and the other young adolescent activists protested in a rally in front of the school at the same time Petocz and his father were inside meeting with Flagler Palm Coast High School Principal Greg Schwartz, hoping to get him to rescind his seemingly arbitrary decision to suspend Petocz.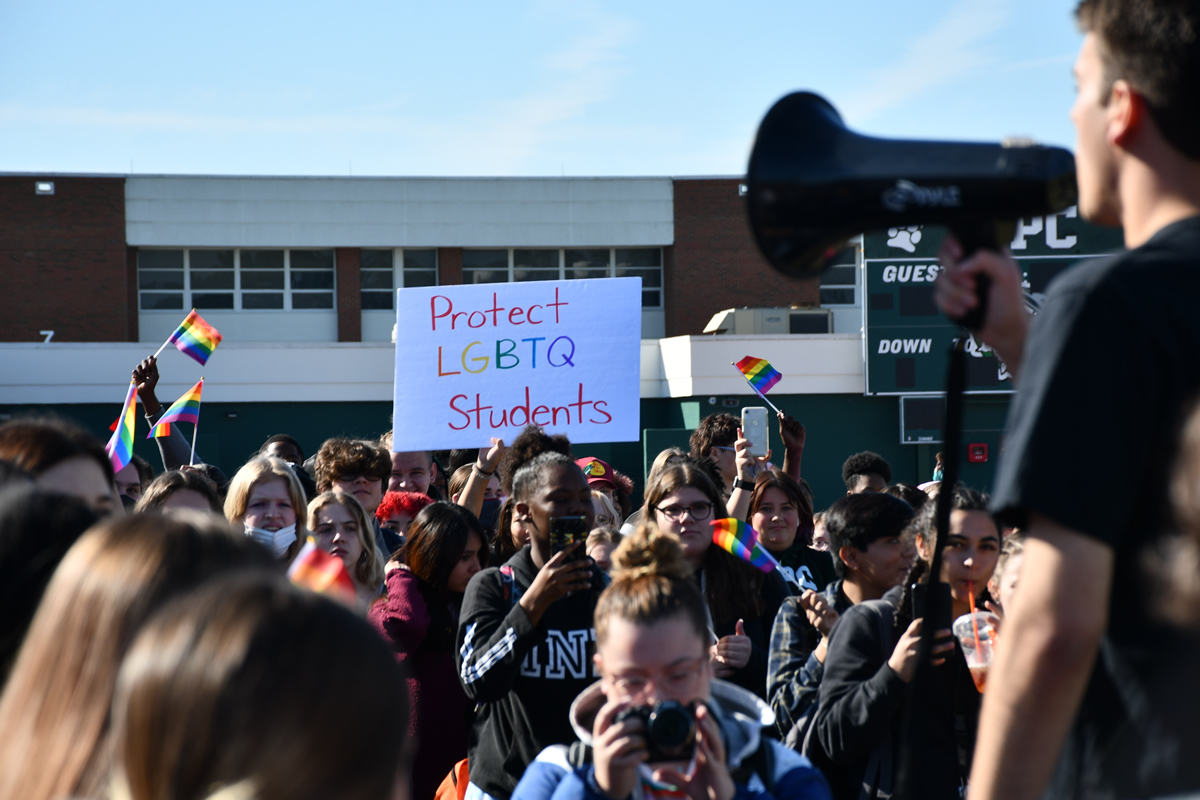 Later on during the day Driggers posted to the Change.org petition the news that Principal Schwartz had backed off.
"Recall FCSB is pleased to announce that Jack's suspension has ended and he is back on-campus. We are grateful for the thousands of people around the globe that shared, tweeted and protested in support of Jack, the organizer behind the state-wide Don't Say Gay Walkout. Over 7500 signatures were collected on a condemnation of Principal Greg Schwartz' conduct last Thursday. With Jack back on campus, Recall FCSB will continue to empower student leaders in and out of school," Driggers wrote.
Principal Schwartz also committed to removing the 'disciplinary action' from Petocz's school record.
On Tuesday, Petocz announced that Principal Schwartz and other school officials are barring him from running for an elected student office.
My name is Jack Petocz. I am the high school junior who led walkouts in opposition to the "Don't Say Gay" bill and was suspended for passing out pride flags. Now, I'm being prevented from running for senior class president. No matter what, I won't stop fighting for my community. pic.twitter.com/5lG6EYIXo2

— Jack Petocz (@Jack_Petocz) May 17, 2022
In response to the news, PEN America issued the following statement from Jonathan Friedman, director of the Free Expression and Education program:
"By going back on their word and imposing a red mark on Jack Petocz's disciplinary record, the Flagler Palm Coast High School administration appears bent on retaliating against him for organizing the walkout against the 'Don't Say Gay' bill. This is unconscionable. Jack exercised his right to protest as a citizen, and he led the walkout with the school's approval. No student ought to be intimidated or punished by school authorities for their political speech, and the school already told him he would not be disciplined. This is especially troubling alongside news of other efforts to censor or intimidate students raising their voices for LGBTQ+ rights across Florida. The leaders of Flagler Palm Coast High School should remove this infraction from his record so that he can run for class president just like any other student."
On Twitter, Petocz urged people to contact his school to get officials to reverse this latest decision.
If you want to help me fight, click the link below to send an email to administrators and the superintendent of my district. It's ridiculous queer kids have to be punished while fighting for our rights. https://t.co/oBOKZDLavb

— Jack Petocz (@Jack_Petocz) May 17, 2022