HIV/AIDS returning to the spotlight?
Following victories on marriage, advocates say decades-old issue will get renewed look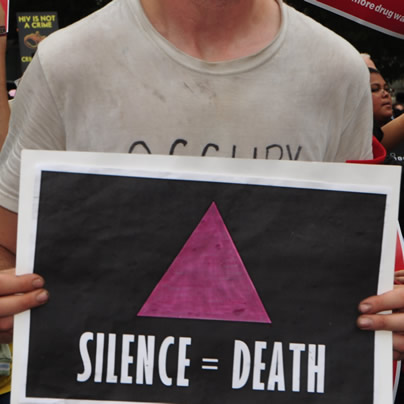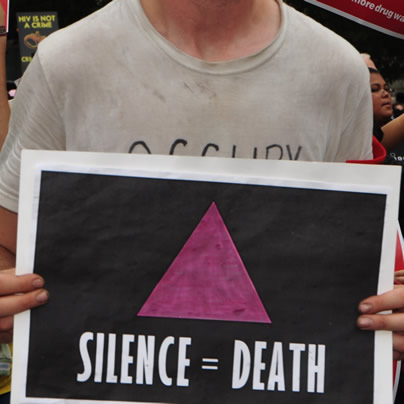 After years of being overshadowed by other issues like marriage equality and "Don't Ask, Don't Tell," an issue that decades ago was at the center of the gay rights movement is once again moving to the forefront.
Following hard-fought victories for marriage rights at the Supreme Court, in states throughout the country and across the globe, the persistence of HIV/AIDS is grabbing new attention as recent news stories have documented progress toward a cure and the disease's continuing impact on gay youth and people of color.
Sean Strub, founder of POZ magazine, said LGBT leadership is taking a renewed look at the issue in response to community pressure and stubbornly high infection rates among young gay men — particularly men of color — which he said are "skyrocketing and simply impossible to ignore."
In the past week, two separate articles in the mainstream media were published following World AIDS Day that documented the persistence of the HIV/AIDS epidemic among gay and bisexual men.
One article, which appeared on the front page of the New York Times, reported the disease is "rapidly becoming concentrated" among poor, black and Latino men who have sex with men.
Jonathan Mermin, director of HIV prevention at the Centers for Disease Control, is quoted as saying reaching these men is "the Holy Grail" in confronting HIV/AIDS.
Although his agency has granted millions of dollars to local health departments, Mermin reportedly couldn't identify any city or state that has succeeded in lowering infection rates among young men of color.
An op-ed published on CNN.com written by Perry Halkitis, associate dean of New York University's Global Institute of Public Health, raised the question of whether there's a "gay generation gap" with regard to the perception of HIV. Halkitis points to the growing rate with which young gay men have unprotected sex now that the disease is perceived as chronic, but not fatal.
"The disease may not be front and center — it may not be the primary presenting problem faced by young gay men, as it was for me at age 18 in 1981 — but it is a concern," Halkitis writes. "However, it's a concern that must be spoken about and dealt with differently for this 'new' AIDS generation."
According to data from the Centers for Disease Control, gay, bisexual and other men who have sex with men remain the most profoundly affected by HIV.
In 2010, an estimated 29,800 men were infected with HIV after having sex with another man  — a 12 percent increase from the 26,700 new infections among this group in 2008. In 2010, men who have sex with men accounted for 63 percent of all new HIV infections nationwide.
At the same time as the disease gets renewed attention from the gay community, Strub said young gay men infected with HIV face new challenges — even though the disease is no longer a death sentence — because of the lack of solidarity with other gay men.
"People with HIV no longer inspire a sympathetic response from the public, especially not the gay public, but are more often seen and defined — particularly by the public health and criminal justice systems — as potential threats," Strub said. "We're living longer so we're around to infect longer, viral vectors, potential infectors, an inherent risk to society."
Meanwhile, advocates working on HIV/AIDS contend the issue has always belonged to the gay community, but is rising again in prominence for various reasons.
Richard Socarides, a gay New York Democratic activist, was among those predicting HIV/AIDS will "emerge as a major issue for the gay community."
"Especially now, as a whole new generation of young gay men face issues relating to safe sex head on for the first time," Socarides said. "But now in a context where 'silence' may not equal death but instead, a long-term chronic but treatable disease."
Mark Mazzone, a spokesperson for the LGBT military group SPART*A, said he thinks HIV will come to forefront for advocates working on LGBT military issues in the wake of "Don't Ask, Don't Tell" repeal and the Supreme Court ruling against the Defense of Marriage Act.
"I think this will return as an LGBT military issue simply because of the lack of education given to our service members and the high risk behaviors mostly younger LGB men engage in, which need to be mitigated through a comprehensive training and prevention program," Mazzone said.
Mazzone said service members become non-deployable once they're discovered to have HIV; can't commission as an officer or warrant officer; can't fly aircraft or work in any jobs requiring a flight physical; are restricted to stateside duty assignments (with the exception of the Navy); and are not eligible for special schools such as Ranger, Special Forces or other special ops jobs.
And the nation's largest LGBT group says that it continues to make a priority efforts to bring the HIV/AIDS epidemic to an end.
Fred Sainz, vice president of communications for the Human Rights Campaign, said HIV/AIDS has been and continues to be at the forefront for LGBT groups like HRC.
"Until the scourge is gone, fighting HIV/AIDS has, is and will remain a top priority for the LGBT civil rights movement," Sainz said.
Strub said in recent months he's seen HRC devote more attention to HIV/AIDS.
"I am heartened by HRC's outreach to HIV advocates in the last several months and am cautiously optimistic we will see a greater commitment from them in 2014, on HIV issues, than we have seen in recent years," Strub said.
One HIV/AIDS issue that has particularly risen in prominence is the HIV criminalization laws in some states. Under such laws, an HIV-positive person can face criminal charges for failing to disclose their HIV status before engaging in sex.
LGBT and HIV/AIDS advocates have railed against the laws, saying they send an inaccurate message regarding prevention responsibility, create a disincentive to receiving testing and may discourage disclosure of HIV status. According to Lambda Legal, 39 states have HIV-specific criminal statutes or have brought HIV-related criminal charges, which have resulted in more than 160 prosecutions in the United States in the last four years.
Sen. Chris Coons (D-Del.) introduced on Tuesday legislation in the Senate known as the Repeal Existing Policies that Encourage and Allow Legal ("REPEAL") HIV Discrimination Act, which would require an interagency review of federal and state laws that criminalize certain actions by people living with HIV.
"A disturbing number of state and local criminal laws pertaining to individuals with HIV/AIDS are rooted not in science, but in outdated fear," Coons said in a statement. "They run counter to effective public health strategies, discourage HIV testing, and perpetuate unfair stigma and discrimination against people living with HIV/AIDS – people who are our friends, family, and neighbors."
In May, Rep. Barbara Lee (D-Calif.) introduced the House version of the legislation along with Ileana Ros-Lehtinen (R-Fla.). According to the Library of Congress, the bill has 37 sponsors, although Ros-Lehtinen is the only Republican co-sponsor.
In Iowa, the punishment for being found guilty of violating Code 709C can be imprisonment for up to 25 years and registration as a sex offender.
Donna Red Wing, executive director of the LGBT group One Iowa, said in the wake of securing marriage equality in her state, working with local HIV groups to repeal her state's HIV criminalization law has become the No. 1 legislative priority for the organization.
"Over the years, I've been troubled that as the face of AIDS changes, fewer and fewer LGBT organizations are engaging in this struggle," Red Wing said. "It seems like the right thing to do, you know? Because in the early days, if it wasn't for our people, if it wasn't for the LGBT communities, we would not be where we are today."
Although the Iowa Legislature is no longer in session, Red Wing said efforts are underway to move forward legislation with lawmaker reconvene in January.
"We already have laws that deal with communicable diseases, and the fact that HIV/AIDS gets this special treatment and these enhanced sentences is so draconian," Red Wing said. "A communicable disease is a communicable disease is a communicable disease, and there should be nothing special and no enhanced sentences for people living with AIDS/HIV."
The potential for discovering a cure for the disease has also received significant attention amid new developments from the Obama administration as part of the goal of achieving an "AIDS-free generation."
Last week, President Obama announced he's redirecting $100 million over the course of three years at the National Institutes for Health to an initiative with the goal of developing a cure for the disease.
"The United States should be at the forefront of new discoveries in how to put HIV into long-term remission without requiting live-long therapies, or better yet, eliminate it completely," Obama said.
A NIH official later clarified for the Blade the $100 million will be on top of another $60 million previously directed toward the effort and comes from grants for other initiatives that have expired at the agency.
But the prospects for a cure were dealt a blow last week, following media reports that two men who had hoped they were cured of HIV after bone marrow transplants found they still had the virus.
After the two men underwent life-threatening procedures intended for cancer, they initially were virus-free as of July in four months in one case and two months in another and stopped taking their HIV medication. But doctors announced last week that virus has reemerged in their systems.
Despite the reemergence of the virus in the systems of the two men, doctors said they learned from the procedure that even if you make HIV seemingly disappear, it can hide in the body — possibly held up in the organs and inside the intestines — and reactivate.
Strub said while efforts to eliminate the disease are important, changing the way society looks at HIV/AIDS should also be a priority.
"The advocacy needs are immense, but one of the most important — to which we in the LGBT community can contribute to greatly — is in reducing stigma by supporting and empowering people with HIV and refocusing on the human rights approach, rather than just a biomedical approach, to HIV prevention."
Victory Fund honors Maine House speaker at D.C. conference
Ryan Fecteau is gay Catholic University alum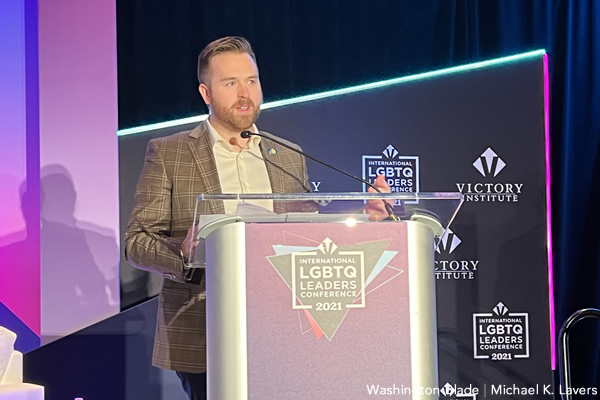 The Victory Fund on Saturday honored Maine House Speaker Ryan Fecteau on the last day of its International LGBTQ Leaders Conference in D.C.
Fecteau — an openly gay Catholic University of America alum — won a seat in the Maine House of Representatives in 2014. He became the chamber's speaker in 2018.
"Hate and intolerance will not derail us," said Fecteau after Florida state Rep. Carlos Guillermo Smith presented him with the Tammy Baldwin Breakthrough Award, which is named after U.S. Sen. Tammy Baldwin (D-Wis.). "Our community will not be intimidated."
The Victory Fund on Friday honored Guatemalan Congressman Aldo Dávila, a gay man who is living with HIV.
Victory Fund honors gay Guatemalan congressman at D.C. conference
Aldo Dávila a vocal critic of country's government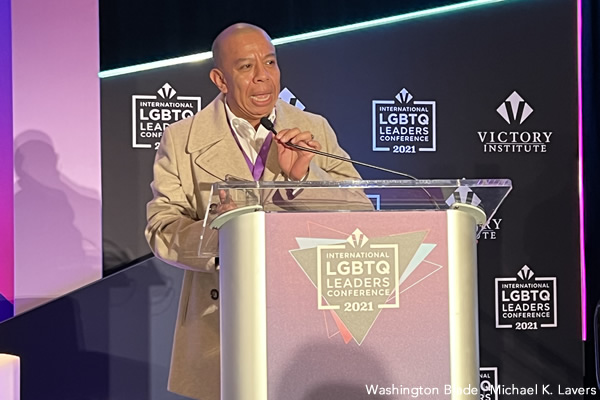 The Victory Fund on Friday honored an openly gay Guatemalan congressman who has faced death threats because of his efforts to fight corruption in his country.
Dávila — a member of the Winaq movement, a leftist party founded by Rigoberta Menchú, an indigenous human rights activist and Nobel Peace Prize winner — in 2019 became the first openly gay man elected to Guatemala's congress. Dávila, who also lives with HIV, had previously been the executive director of Asociación Gente Positiva, a Guatemala City-based HIV/AIDS service organization.
Supporters of President Alejandro Giammattei have lodged several formal complaints against Dávila after he publicly criticized the government over corruption, its response to the pandemic and other issues.
Three men on April 19 approached Dávila's vehicle near Guatemala's National Library and tried to rob him. One of Dávila's bodyguards shot one of the men, but the two other assailants fled the scene before police officers and passersby arrived.
Dávila told the Washington Blade in September during an interview at a Guatemala City hotel that he and his partner installed cameras in their apartment after someone killed their dog.
Two female police officers who arrived at the hotel with Dávila sat in the lobby while he spoke with the Blade. The government a few weeks later reduced his security detail.
"Guatemala is living through the worst democratic crisis in the last 40 years," said Dávila after he accepted the Victory Fund's Global Trailblazer Award at its 2021 International LGBTQ Leaders Conference that is taking place in-person at the JW Marriott in downtown D.C. "Guatemala right now is being paralyzed by corruption and impunity and my voice is uncomfortable because of this."
Dávila became emotional at the end of his remarks.
"I will keep fighting for our rights," he said.
Comings & Goings
Nathanson takes role at Outright Action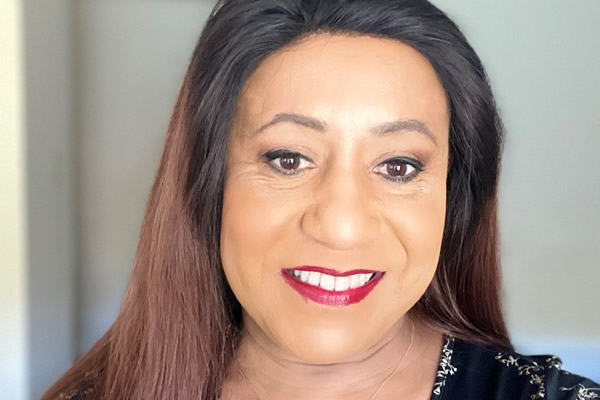 The Comings & Goings column is about sharing the professional successes of our community. We want to recognize those landing new jobs, new clients for their business, joining boards of organizations and other achievements. Please share your successes with us at: [email protected]
The Comings & Goings column also invites LGBTQ+ college students to share their successes with us. If you have been elected to a student government position, gotten an exciting internship, or are graduating and beginning your career with a great job, let us know so we can share your success.
Congratulations to Rikki Nathanson on her new position as Senior Advisor – Global Trans Program with OutRight Action International in New York. Nathanson will be based in D.C.
"I am absolutely thrilled to be taking on this new role as Senior Advisor in OutRight's Global Trans Program," said Nathanson. "I have finally found the perfect fit for me: as a trans woman who has been fighting for equality not only for myself, but for others globally, this position is not only a job, it's intrinsically part of who I am. So, what better way to live, nurture and grow myself."
Nathanson will be working closely with all program staff to ensure a cohesive and intentional approach to gender issues throughout OutRight's programs, including its approach to gender ideology movements. She will lead new initiatives on gender advocacy and policy change, focused but not limited to legal gender recognition and anti-discrimination legislation and policies.
Prior to this Nathanson was director of housing programs at Casa Ruby in D.C. She has also held a number of other positions including: founder/executive director of Trans Research, Education, Advocacy & Training (TREAT), Zimbabwe; chairperson Southern Africa Trans Forum, SATF, Cape Town, South Africa; executive director, Ricochet Modeling Agency, Zimbabwe; and company secretary for Dunlop Zimbabwe Limited, Zimbabwe.